Canelé (Los Angeles, CA)
Canelé
3219 Glendale Blvd, Los Angeles, CA 90039
323.666.7133
www.canele-la.com
Thu 05/14/2009, 06:05p-08:35p
My last post covered the 5x5 Chef's Collaborative dinner at
Providence
. At that meal, Chef Cimarusti and I talked briefly about Canelé, so it's sort of an interesting stroke of coincidence that my next post would be about the place! I was brought here by Aaron of
Food Destination
, who is organizing a series of dinners to commemorate his departure from sunny Los Angeles to the mean streets of upper Manhattan. Also attending were Christine of
Folie à Choisauce
, Danny of
Kung Food Panda
, Fiona of
Gourmet Pigs
, Josh of
Food GPS
, and Matt of
Mattatouille
.
Canelé represents the joint efforts of partners Chef Corina Weibel and General Manager Jane Choi. Weibel had previously worked at such notable establishments as Campanile and Lucques, and with Canelé, she puts forth unfussy, unpretentious fare served in an honest neighborhood setting. Choi, on the other hand, hails from New York, where she ran the show at French eateries Balthazar and Pastis.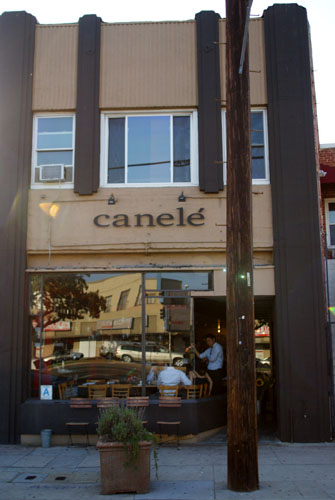 Located on the site of the former Osteria Nonni, Canelé is situated in the quaint northeastern LA neighborhood of Atwater Village. Parking is street, and can be tough to secure on Glendale Blvd; try the nearby residential side streets instead (I parked on Brunswick Ave).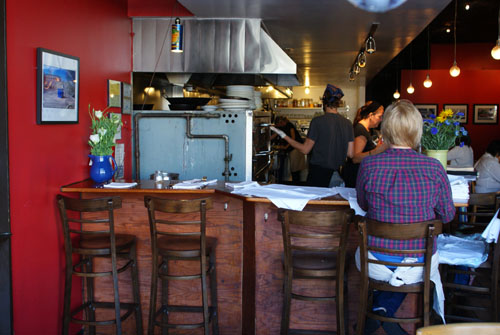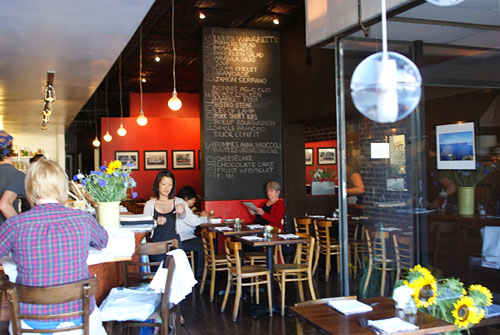 The interior is simple, unassuming, and inviting, consisting of a bar (where you can get a good glimpse of the kitchen), a small dining room, and a communal dining table out in front (note: no reservations are taken). The menu can be seen written on a large chalkboard.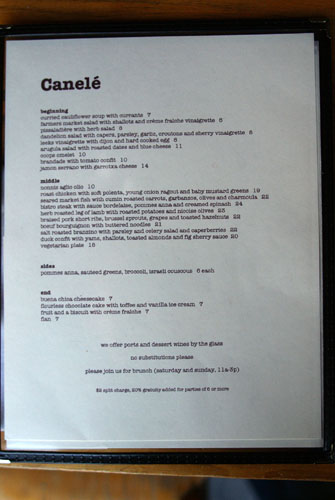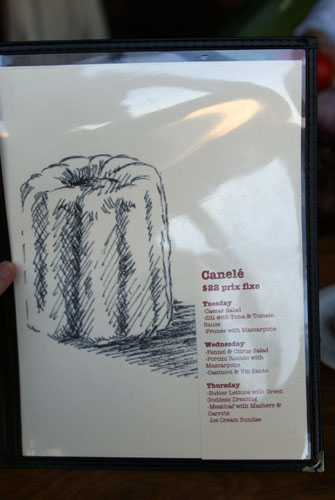 Canelé features seasonal Mediterranean-inspired fare accented by Cal-French influences. The menu is small and focused, but still allows for plenty of variety. In addition, the restaurant is now featuring $22 three-course prix fixe options Tuesday through Thursday; these are simpler menus, focusing heavily on comfort foods. There was also an appealing selection of daily specials, announced by our server. Click for larger versions.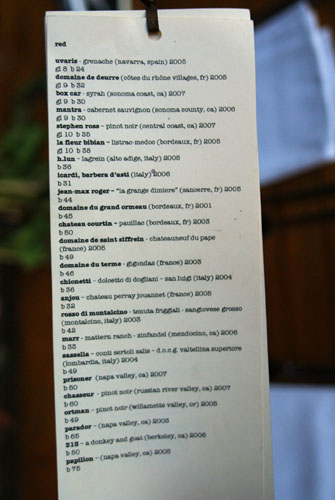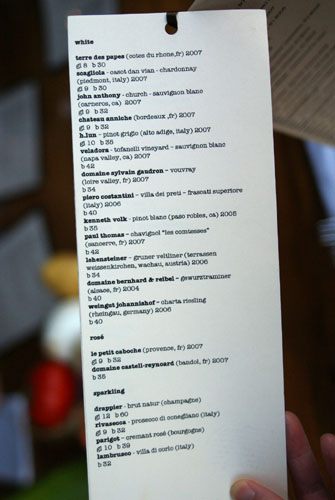 Much like the menu, the wine list is short, yet sweet, featuring high-quality, value-conscious selections from lesser-known producers. Corkage is only $10. Click for larger versions.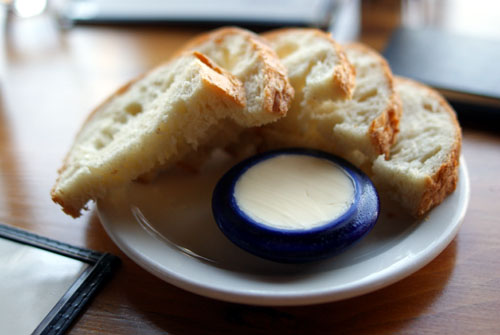 Bread and butter were competent but unremarkable.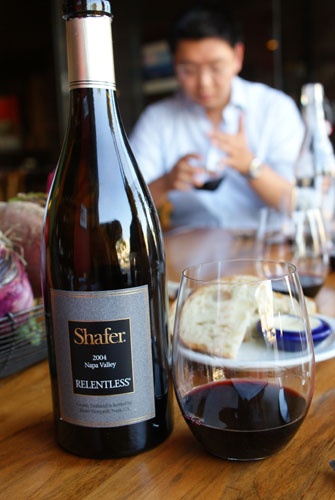 Christine had mentioned her preference for Syrah, so I pulled a bottle of the 2004 Shafer Relentless Syrah from my cellar. A blend of Syrah and Petite Sirah, the wine had a remarkably powerful, aromatic nose of dark fruit that was detectable from across the table. On the palate, I noted bold, brash notes of dark berries, raisin, rock, and spice, all finishing slightly hot and subtly tannic. Note the service using Riedel's "O" series of stemless glassware.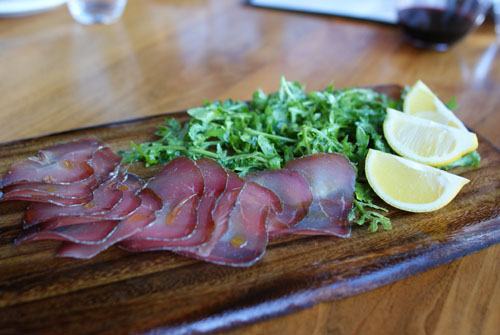 Amuse Bouche: Bresaola
To start, were brought a platter of bresaola, basically salted, cured, and dried beef. It was served in a traditional manner, paired with olive oil, arugula, and lemon. The olive oil drizzle heightened the richness and gravity of the meat, but the use of arugula (or rocket, as Aaron prefers to say) took the bresaola to another level, with the bitterness of the greens providing a superb contrast to the beef.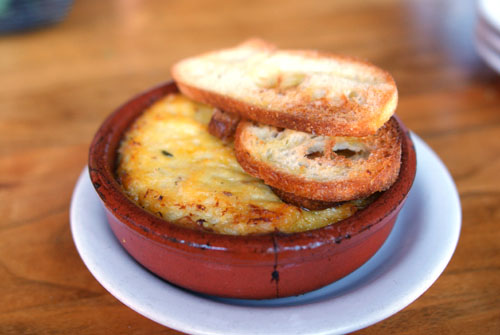 Brandade with Tomato Confit [$10.00]
Brandade simply refers to a purée of salt cod, olive oil, and milk. Garlic and potato can also be added, as was the case recently at
Church & State
. Here, the cod, eaten alone, was delicate in flavor, with a nice, lingering saltiness on the finish, but fairly heavy. The brandade was paired with a tomato confit, which provided a sweetness to cut through the richness of the dish; however, I felt that the sweetness was almost too jarring in this instance.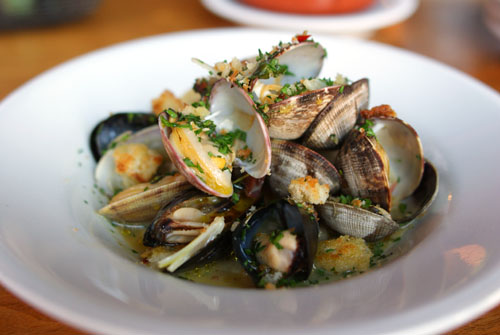 Mussels and Clams [$13.00]
Here, we have a classic preparation of mussels and clams, one of the better variations I've had in recent memory actually. The mollusks were done such that their natural, briny flavor was still intact, but not overpowering. Rather, their taste went superbly with the garlicky broth, and they even had a slightly spicy finish. Aaron was keen on pointing out the superiority of this preparation vis-à-vis that which we had recently at
Pizzeria Ortica
.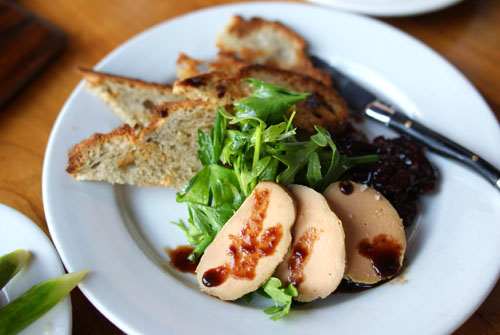 Duck Liver Pate with Cherry Compote [$14.00]
We have here what amounts to a pâté de foie gras, served with a sweet cherry compote, arugula, and toast. The liver by itself was actually surprisingly mild, and thus the sweet compote really provided a great complement, reminding me a bit of the foie gras terrine at
XIV
. Experiencing the foie with the arugula was enjoyable as well.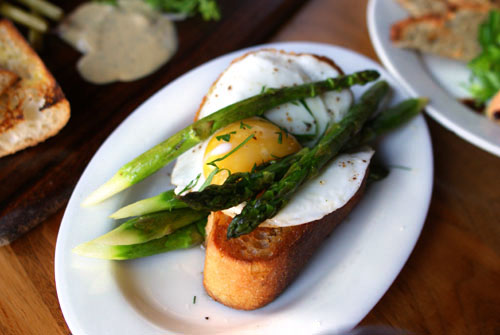 Asparagus with Toast, Brown Butter Sauce, and Fried Egg [$11.00]
This asparagus special turned out to be my favorite appetizer. The asparagus itself had great consistency and a crisp, subtly biting flavor. The key though was the egg, which provided a rich, creamy contrast to foil the sharpness of the asparagus. I actually found the bread unnecessary.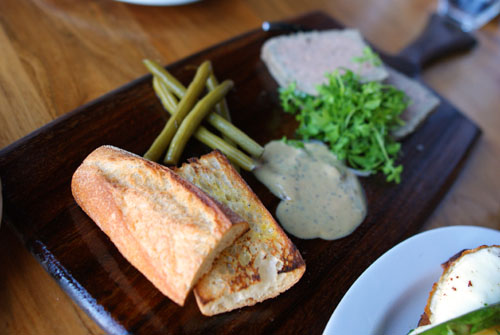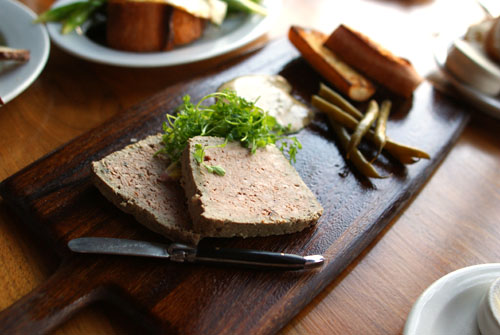 Lamb Terrine with Caraway-Beer Sauce and Pickled Green Beans [$11.00]
The terrine, taken alone, was uninspiring. However, when eaten with the tangy caraway sauce, the amalgam was simply superb, with the sauce drawing out flavors and really adding a fantastic complexity to the dish. Interestingly, Aaron compared the terrine's consistency to that of "tuna salad!"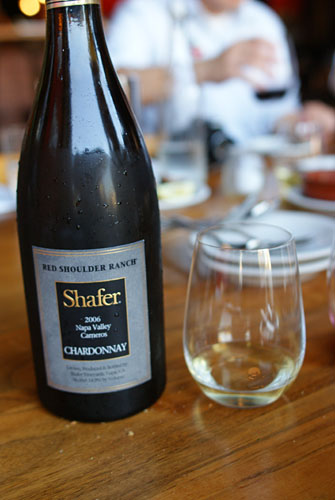 With the starters dispensed with, we decided to pop a bottle of 2006 Shafer Red Shoulder Ranch Chardonnay, also from my stash. A great wine, the Shafer had a pronounced, fruity bouquet punctuated by hints of apple. This continued onto the palate, where it was joined with by a crisp minerality, notes of stone fruit, great acidity, and just a touch of spice. It was powerful, yet elegant--overall a very balanced, very good wine.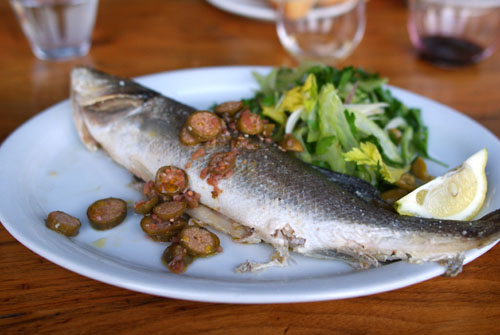 Salt Roasted Branzino with Parsley and Celery Salad and Caperberries [$22.00]
Unlike with the appetizers, we ordered our own entrées. My selection was the branzino, or European seabass, which Christine also picked. The fish's flesh was nicely tender and juicy, but not overly oily, with a flavor that was actually quite mild. The branzino's delicate saltiness was complemented nicely by the zesty caperberries and tangy salad. Excellent with the Chardonnay.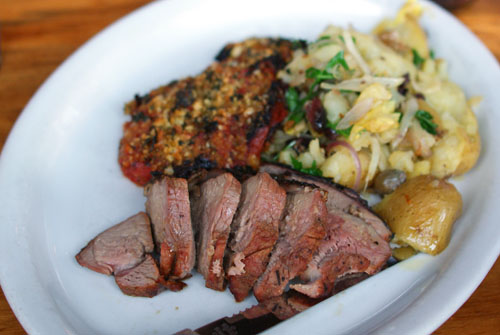 Herb Roasted Leg of Lamb with Roasted Potatoes and Nicoise Olives [$23.00]
Ordered by Aaron and Danny. I was able to sample a small piece of the meat only here. I noted a pleasing, tender consistency and an enjoyable, though slightly nondescript, flavor--it wasn't gamy at all. We all thought that it would've been better had it been cooked a bit rarer.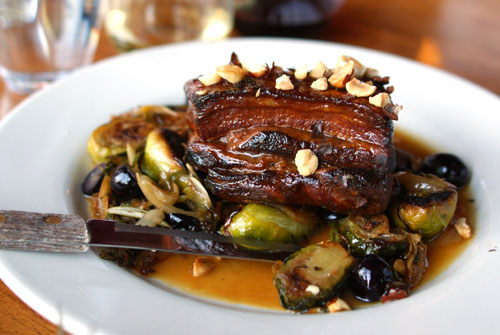 Braised Pork Short Ribs with Brussel Sprouts, Grapes, and Toasted Hazelnuts [$22.00]
Probably my favorite main course, the short ribs possessed a flesh that was tender and fatty but not overwhelmingly so. It went superbly with the Syrah. As much as I enjoyed the pork, I think I liked the Brussels sprouts even more; their bitterness was fantastic in tempering the weight of the ribs. Matt was the one who had this.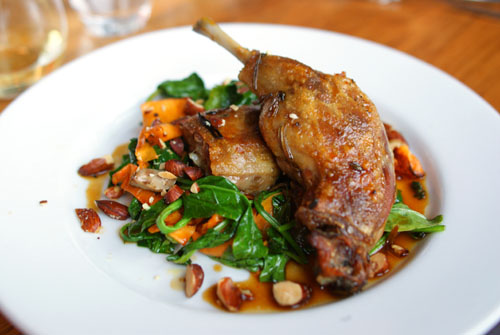 Duck Confit with Yams, Shallots, Toasted Almonds, and Fig Sherry Sauce [$20.00]
Fiona and Josh had the duck. I was only able to taste a few small slivers of meat. From what I could gather, it seemed like a fairly standard preparation--good but nothing to write home about.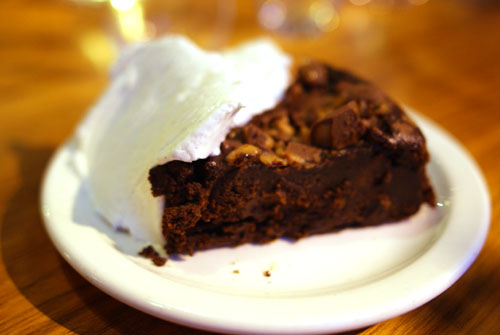 Flourless Chocolate Cake with Toffee and Vanilla Ice Cream [$7.00]
Moving on to dessert, flourless cakes are usually very dense, so this version was actually a bit lighter than I expected, though it was still very rich, and very chewy. Chocolate and ice cream is a textbook pairing, but it works, with the vanilla ice cream balancing the over-the-top sweetness of the cake.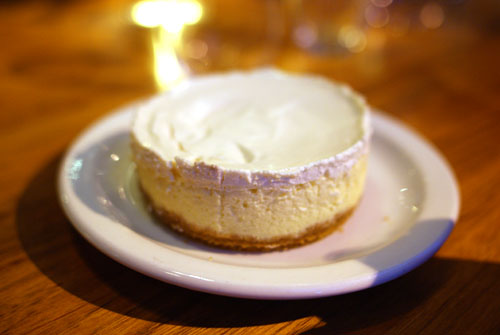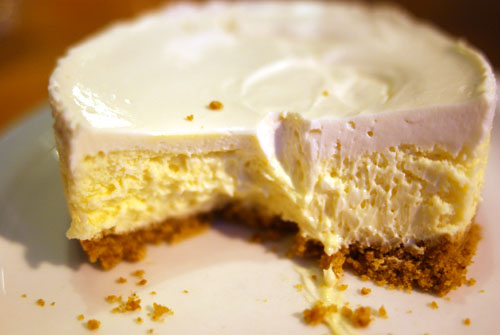 Buena Chica Cheesecake [$7.00]
The cheesecakes here are individually made in small portions. The example here had a hint of lemon over a base of creamy, custard-y cheese; it was dense, but not too heavy. For me though, the best part was the crumbly crust. Don't ask me where the "buena chica" comes from.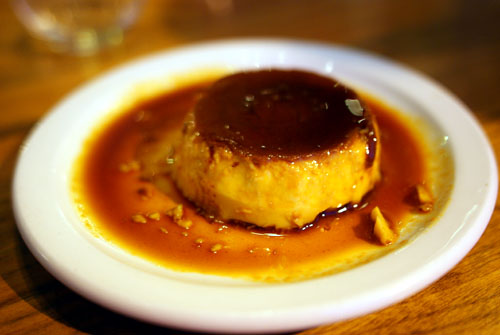 Flan [$7.00]
Flan, or crème caramel, consists of a rich custard base topped with caramel. As such, this was a prototypical example of the dessert. Not very interesting, but tasty.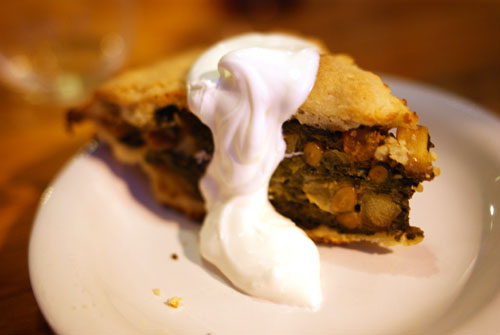 Tarte [$7.00]
This was a special dessert, but unfortunately I don't recall the exact name. In any case, it was made with an intriguing array of ingredients: Swiss chard, spinach, raisin, apple, and crème fraîche. As you can imagine, it had an "interesting" flavor that was a combination of sweet and savory. I didn't love it, and actually found it rather disconcerting to eat.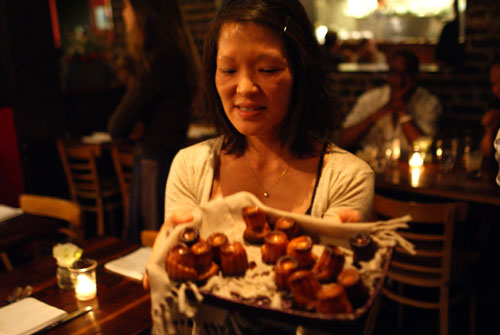 At the end of the meal, Jane Choi presented us with a tray of canelés. A dinner here just wouldn't seem complete without sampling the restaurant's namesake pastry.
Michael Cimarusti described the food at Canelé as "good" and "simple." I agree on both those accounts. I wouldn't come here to be blown away. Rather, come for uncomplicated but deftly-prepared fare, made using fresh, seasonal ingredients; come to experience the warmth of the staff and of your fellow patrons; come for the friendly "neighborhood" feel. Canelé is
Mattatouille
's favorite restaurant; I can sort of see why now.
---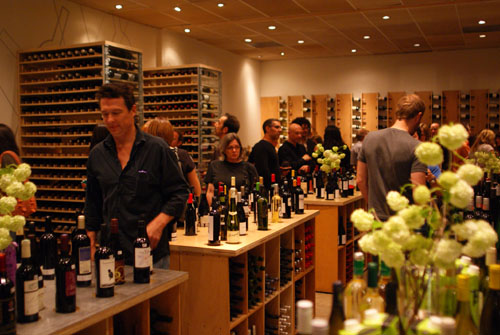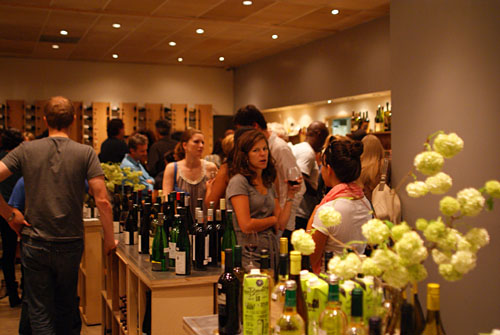 After dinner, we parted ways with Josh and drove down the street to
Silverlake Wine
(2395 Glendale Blvd, Los Angeles, CA 90039; 323-662-9024). Much to my surprise, the place was positively buzzing when we arrived.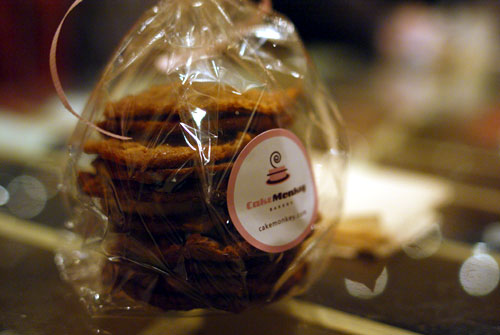 After grabbing some Li'l Merri's from
Cake Monkey
and a duo of wines, we staked out a corner in the back. The Li'l Merri's are basically oatmeal cookies sandwiched with maple vanilla buttercream--phenomenal.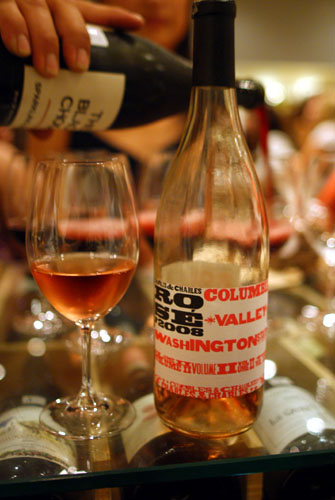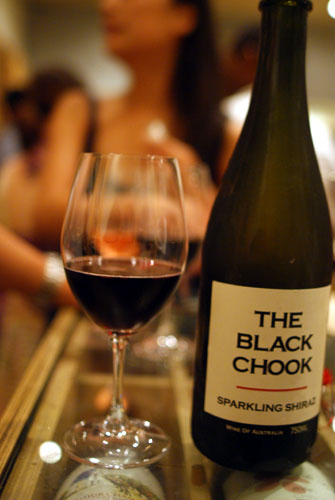 The first bottle we chose was the 2008 Charles & Charles Syrah Volume II Talcott Vineyard. A 100% Syrah wine from Columbia Valley, Washington, it was pretty much everything I'd want in a still rosé--light, refreshing, and fruity. Next up was the Australian Black Chook Sparkling Shiraz. I don't have sparkling red wines very often, but perhaps I should! Very jammy and full-bodied, but with just enough bubbles to lighten the mood. A fun wine, the Black Chook went wonderfully with the Li'l Merri's.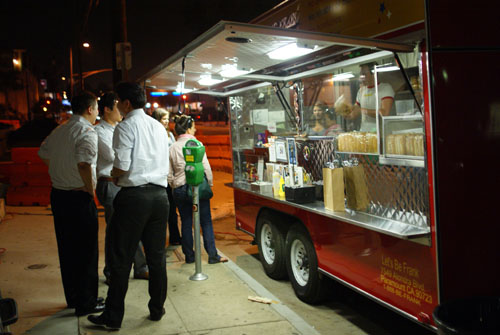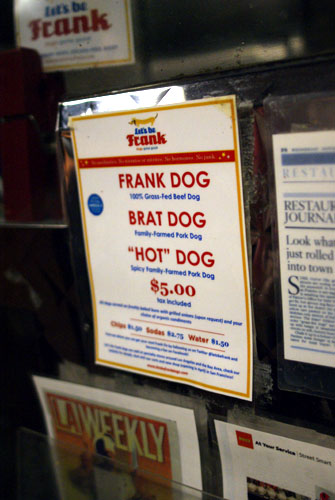 My main reason for coming to Silverlake wasn't necessarily the wine, but for the
Let's Be Frank
hot dog truck, which sets up shop Thursday nights from 5:00-10:30.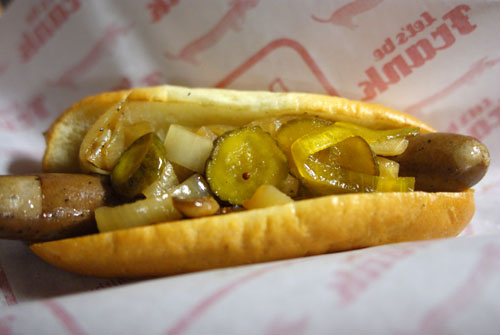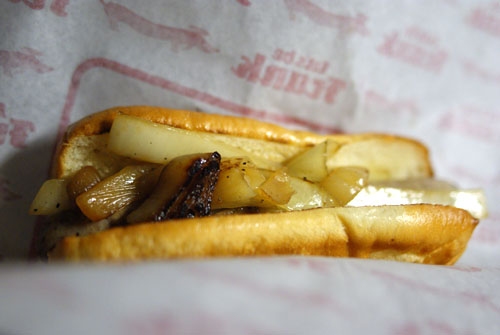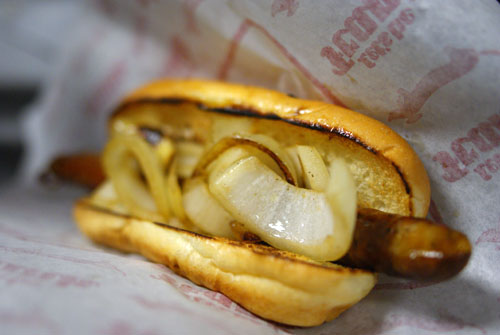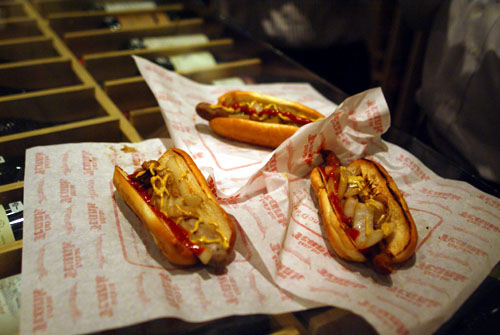 The truck was offering up three types of dogs: the Frank Dog (100% Grass-Fed Beef Dog), the Brat Dog (Family-Farmed Pork Dog), and finally, the "Hot" Dog (Spicy Family-Farmed Pork Dog). All were $5 each and came served on freshly baked buns with grilled onions and pickles; we also topped them with ketchup and mustard. My favorite was the "Hot" Dog; its mildly spicy flavor was key for me, and the addition of tangy pickles and onions elevated the dog even further. The Frank Dog, on the other hand, had the best snap, and was tops texturally. It was Aaron's favorite, though he still prefers Pink's or Wurstküche. The Brat Dog, relatively speaking, was middle-of-the-road.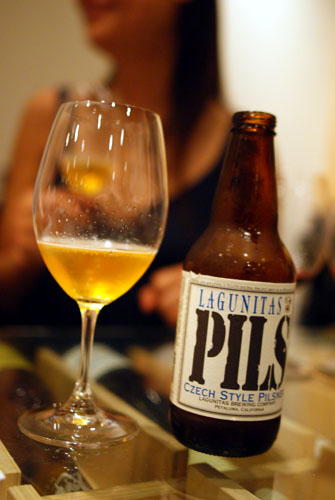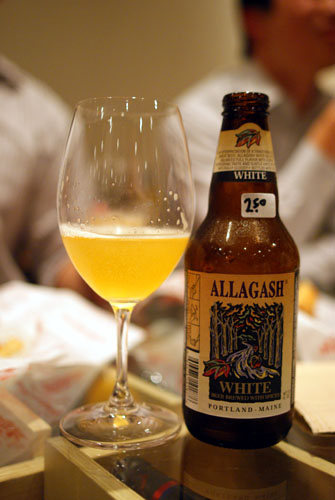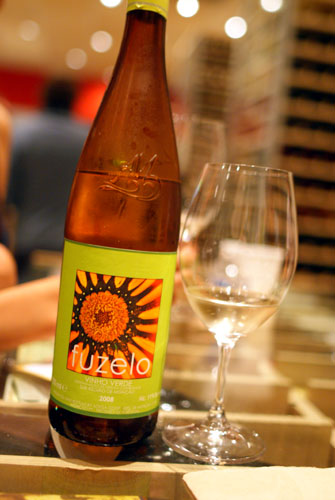 To wash down the franks, beer was most certainly called for. First up was the Lagunitas Pils, a Czech Style Pilsner from Lagunitas Brewing Company in Petaluma, California. What struck me about this beer was the aroma, which was immensely earthy and bready, with a touch of hops. The taste, meanwhile, was more subdued, with citrus, a mild hoppy bitterness, and a lovely amount of spice--crisp, clean, and very nice. The second brew was the Allagash White from Allagash Brewing Company in Portland, Maine. This beer also had an amazing nose, filled with yeast, spice, and citrus. Those flavors continued onto the palate, where they were joined by a some vegetal notes--smooth, balanced, superb. Finally, to wrap things up, we got a bottle of the 2008 Adega de Monção Vinho Verde Fuzelo. Really a quintessential example of the Vinho Verde style, it was light, refreshing, and fruity, with a marked acidity and effervescent body. A great summer wine--very quaffable!
---
Fiona had left during our outing at Silverlake Wine, and Aaron took off afterwards. The remaining four of us walked down the street to
Cha Cha Lounge
(2375 Glendale Blvd, Los Angeles, CA 90039; 323-660-7595), described by Matt as "
the
hipster bar."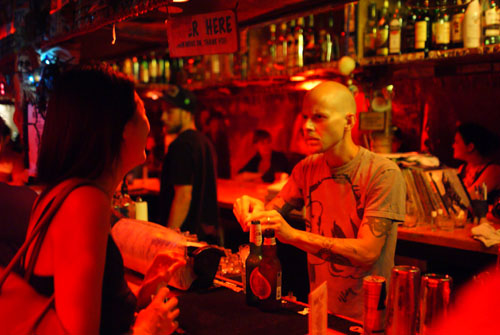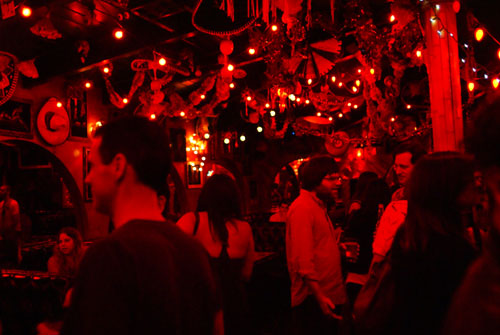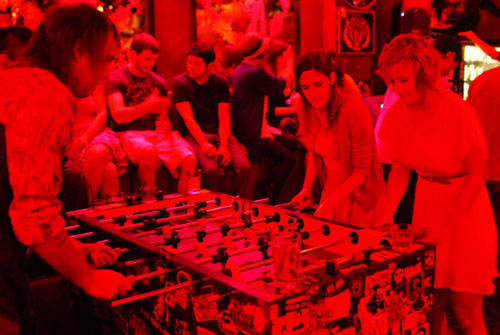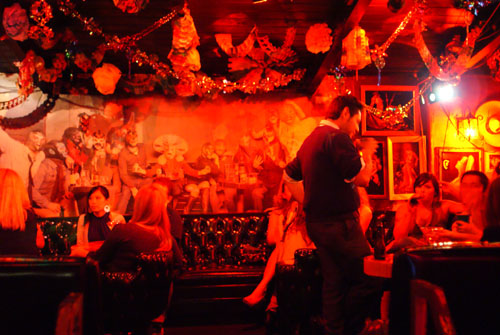 If I had to describe Cha Cha in one word, it'd be "red." Despite the promise of cheap PBR, I had a Stella for $5. Their Bloody Mary's (replete with pickled
haricot verts
) aren't bad, either.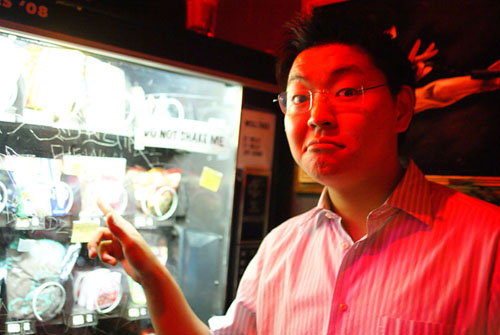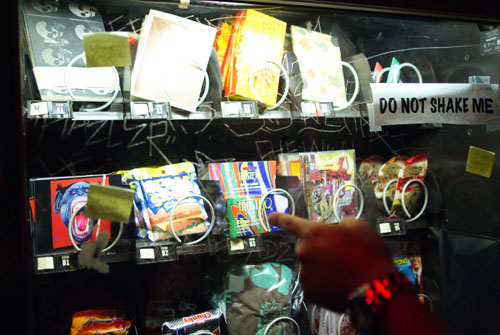 Here, we see Matt examining the Cha Cha's vending machine. Despite some interesting selections, such as extra large condoms and novelty tampons, Matt opted for a mere Twix bar.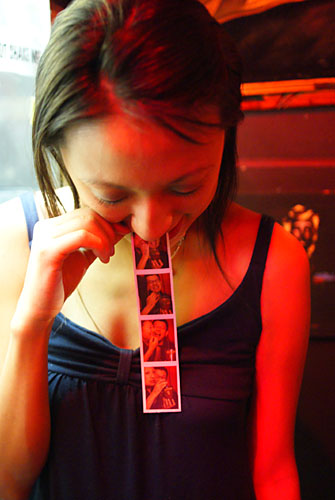 The most interesting thing about Cha Cha, I thought, was the photo booth. I failed to snap a photo of the actual booth, but for only $2, you can get four drunk photos taken. Sweet!