5x5 Chef's Collaborative (Los Angeles, CA) [3]
5x5 Chef's Collaborative
5955 Melrose Ave, Los Angeles, CA 90038
323.460.4170
www.providencela.com
Thu 04/28/2009, 09:30p-12:35a
Once again, Providence kicked off the annual 5x5 Chef's Collaborative dinner series. Now in their third year, these dinners were started in order to foster a stronger community among chefs and restaurateurs in Los Angeles. In addition to providing the chefs with a chance to network and cook some great meals, a portion of the proceeds from the dinners benefit the Southern California Special Olympics. Here's the complete 2009 schedule:
• Tuesday, April 28 at Providence (guest chef Alessandro Stratta of Alex, Las Vegas, NV)
• Sunday, May 17 at Mélisse (guest chef Gabriel Kreuther of The Modern, New York, NY)
• Monday, June 15 at Grace (guest chef Sean McClain of Spring, Chicago, IL)
• Sunday, August 23 at Water Grill (guest chef Curtis Duffy of The Avenues, Chicago, IL)
• Monday, September 21 at Angelini Osteria (guest chef Paul Bartolotta of Bartolotta, Las Vegas, NV)
In each dinner, each of the five "core" chefs and one guest chef prepare one dish in a multi-course meal; in addition, the host restaurant's pastry chef is responsible for dessert. This year's fab five are: Gino Angelini (Angelini Osteria, Minestraio Trattoria), Michael Cimarusti (
Providence
), Josiah Citrin (
Mélisse
), Neal Fraser (
Grace
), and David LeFevre (
Water Grill
). Fraser replaces Walter Manzke, who was let go from
Bastide
last year prior to the beginning of the 2008 dinner series; Manzke is currently heading the kitchen over at
Church & State
. And just in case you were wondering, the inaugural group consisted of: Cimarusti, Citrin, and LeFevre, along with Angelo Auriana (
Valentino
) and Christophe Emé (
Ortolan
).
Also present at this dinner were Brian and Will of
FoodDigger
, Danny of
Kung Food Panda
, Mike of
Right Way to Eat
, and Ryan of
Only Eat What Feeds Your Soul
. My original intent was to attend all five dinners this year, but unfortunately that won't be possible. On May 17th, I plan on returning to
Alinea
in Chicago--the restaurant that started it all. And on June 15th, I should be enjoying a 14-course "kaiseki" meal at Bar Charlie in Las Vegas. The last two 5x5 dinners are still open, however.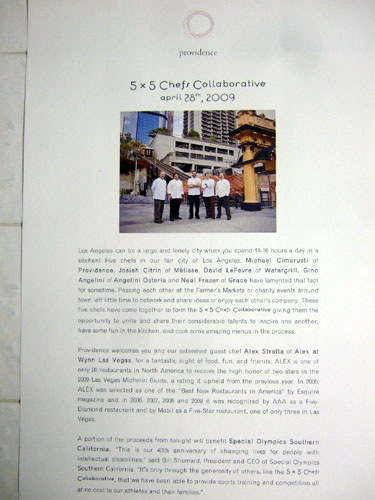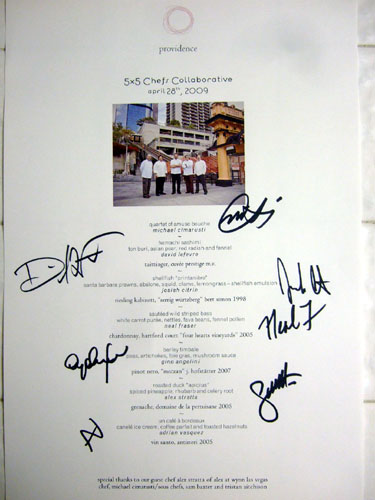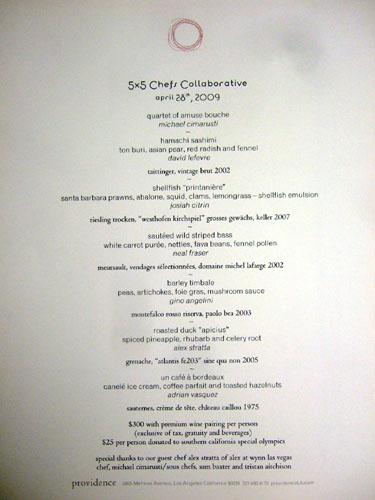 The seven-course 5x5 menu [$150] was the only menu option naturally, but we did have the choice of going with either a standard wine pairing [$65] or a premium version [$150]. One of the things I look forward to is securing a menu signed by all seven chefs (FYI: in the photo, the chefs are at the base of the Angels Flight funicular railway near Bunker Hill in Downtown LA). Click for larger versions.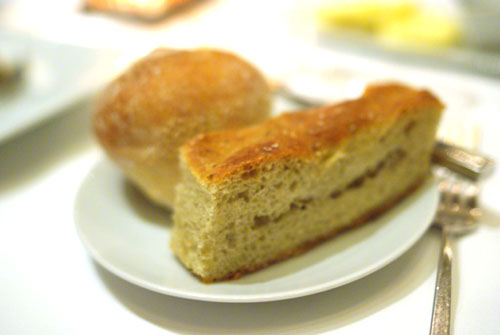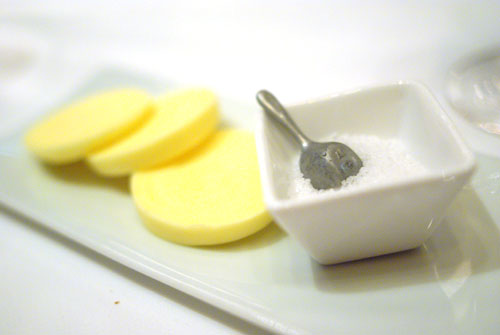 The two types of bread on offer were an olive focaccia and a plain roll. As always, in addition to lovely, subtly sweet pats of butter, salt was duly provided.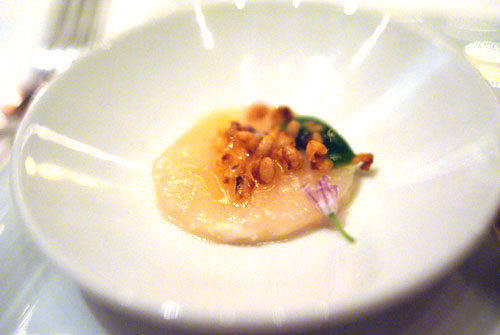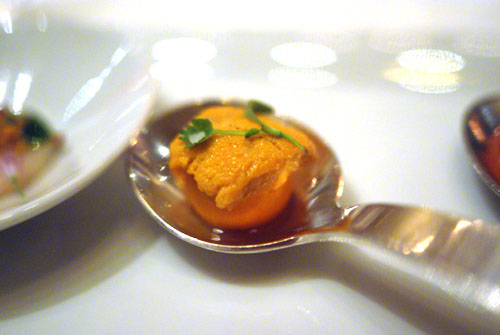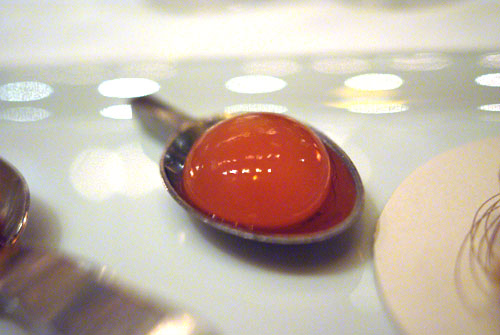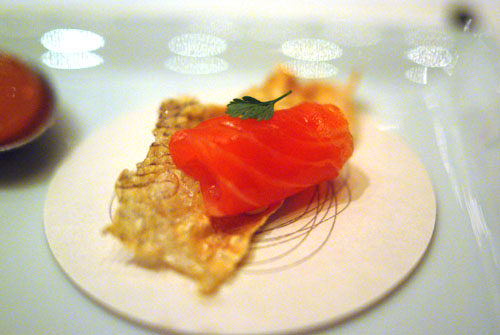 Amuse Bouche: quartet of amuse bouche
[by Michael Cimarusti of Providence]
We started with a selection of amuse bouches from Cimarusti. First was a sliver of Hokkaido scallop over a bed of Sriracha and mayonnaise, topped with crispy puffed rice. What made this bite was the rice, which had an almost popcorn-like savor. It complemented the sweetness of the scallop, and added a great textural contrast to the creamy mollusk as well. Next up, we had a dollop of uni over tomato. The sea urchin roe was subtly sweet and creamy as expected, but was deftly foiled by the tart, tangy tomato--quite nice. Third was a Greyhound cocktail spherification. A Greyhound is a vodka or gin based cocktail enhanced with grapefruit juice. I think that the essence of the drink was captured nicely here, with the sphere exploding in my mouth with an intensely grapefruit-y burst; very fun and refreshing. Finally, we were presented with Tasmanian sea trout over salmon skin, with soy sauce crème fraîche. The crisp, salty salmon skin was an excellent contrast to the mild, creamy trout--absolutely lovely. Overall, this was a superb way to kick things off.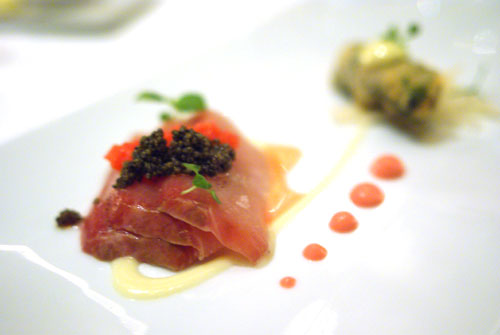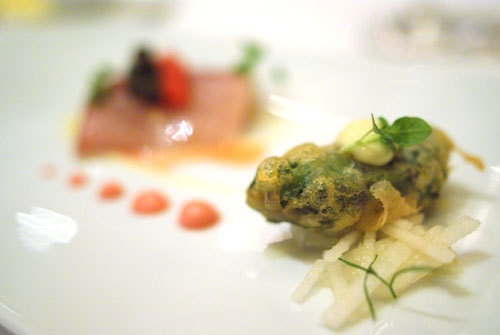 1: hamachi sashimi
|
ton buri, asian pear, red radish and fennel
[by David LeFevre of Water Grill]
taittinger, cuvée prestige m.v.
Sashimi is always a fitting start to a meal. The hamachi here had a great texture: tender, not too fatty, with a mild, slightly savory flavor. It came topped with
tonburi
, the dried seed of the cypress tree, which gave the fish a lovely, salty zing; the yellowtail was further heightened by the tart crème fraîche and radish sauce. The hamachi was paired with a Dungeness crab and shiso tempura, over Asian pear. The crab's natural sweetness was a great counterpart to the mintiness of the shiso, while that sweetness was further accentuated by the pear. Interestingly, the wine pairing, the Taittinger, was the exactly same wine we started off with last year. Really a quintessential expression of the style, its crisp, dry flavor was a superb complement to the sashimi.
2: shellfish "printanière"
|
santa barbara prawns, abalone, japanese sword squid, clams, lemongrass-shellfish emulsion
[by Josiah Citrin of Mélisse]
riesling kabinett, "serrig würtzberg" bert simon 1998
The idea behind this dish was to celebrate the arrival of spring--a lofty goal, but I think Citrin did an admirable job. Rather than simply melding into a homogeneous mélange of sorts, every element here made its unique presence felt. I was able to experience different tastes and textures in each bite, and the briny, ocean-y smack of the seafood was elevated even further by the tangy emulsion of lemongrass, as well as the subtly sour sorrel panna cotta. The course was paired with a Riesling Kabinett, which was actually less fruity and grassier than I'd anticipated. It also had a blunt acidity that actually went well with the food; a sharp acidity would've overwhelmed the delicate flavor of the shellfish.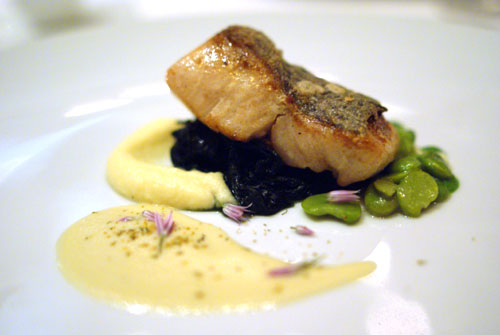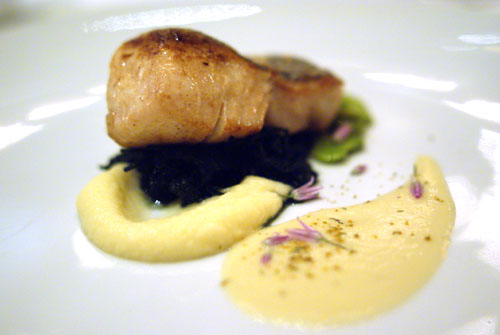 3: sautéed wild striped bass
|
white carrot purée, nettles, fava beans, fennel pollen
[by Neal Fraser of Grace]
chardonnay, hartford court "four hearts vineyards" 2005
Here, I really enjoyed the fish's soft, flaky texture in concert with its rich, fatty flavor, intensified by the savory skin (which could've been a touch crisper). The bass would've been too monolithic on its own, so fortunately it was paired with the nettle, which provided a slightly bitter flavor contrast. The favas, meanwhile, gave the dish a fantastic crunch. Although I wasn't a huge fan of the Chardonnay initially, at first finding its grassy minerality overpowering, the fish really tempered it, bringing out the fruit flavors I was looking for, providing for a better, more multifaceted wine.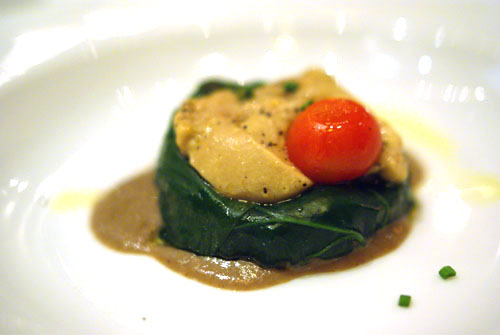 4: barley timbale
|
peas, artichokes, foie gras, mushroom sauce
[by Gino Angelini of Angelini Osteria]
pino nero, "meczan" j. hofstätter 2007
When eating this, I immediately thought of the sault farrow dish (
L'Epeautre
) I had at
Joël Robuchon
. It was really the texture that stood out here: slightly hard, chewy, yet yielding. Think of it as barley risotto wrapped in spinach and topped with foie gras, tomato, and porcini sauce. The barley had a rich, heavy flavor with a touch of sweetness; had it not been for the astringency of the spinach and tartness of the tomato, it would've been too overwhelming. The foie gras was interesting as well; it started out very mild, but its flavor got progressively stronger on the finish; in any case, it was one of the best hot preparations of foie I'd had in a while. The wine here, an Italian Pinot Noir basically, showed nice dark berry flavors with a bit of spice and acidity--it was light, but powerful enough to stand up to the dish.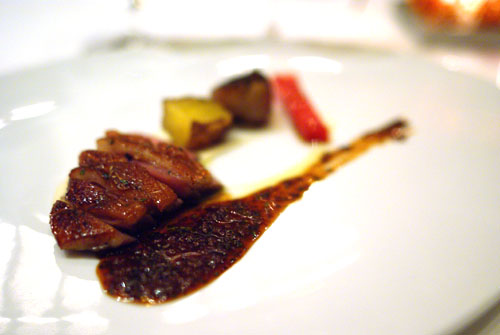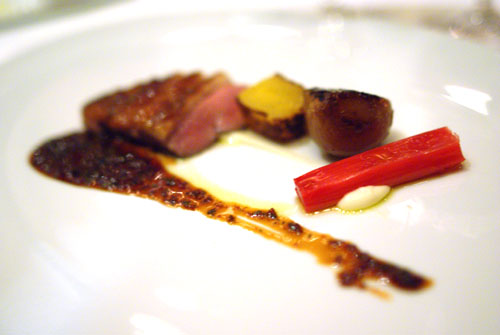 5: roasted duck "apicius"
|
spiced pineapple, rhubarb and celery root
[by Alex Stratta of Alex]
grenache, domaine de la pertuisane 2005
Our final savory, this course pays homage to Marcus Gavius Apicius, a legendary Roman gourmand. Apicius is known for his use of seasonings made with wine, vinegar, honey, and spices, hence this roasted duck with shellfish glaze, herbs, and red wine vinegar reduction. While the bird itself was tasty, somewhat like a Chinese roast duck, its accoutrements resulted in the whole amalgam being a bit too sweet and spicy, overpowering the natural flavor of the duck. The pineapple especially was too severe, though I really enjoyed the celeriac. This intense bird needed an equally intense wine, and the Grenache was well up to the task. Apparently made from the fruit of 98-year old vines, the Pertuisane put forth a spicy, herbal, fruity profile that really stood up to the duck.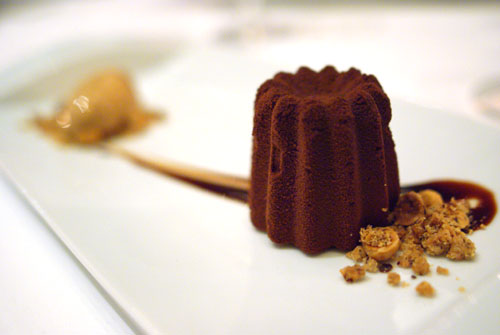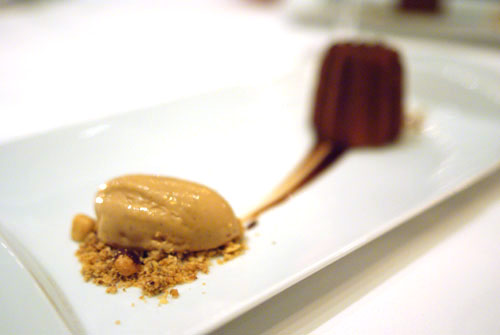 6: un café à bordeaux
|
canelé ice cream, coffee parfait and toasted hazelnuts
[by Adrian Vasquez of Providence]
vin santo, antinori 2005
A Bordeaux specialty, the canelé is a type of small French pastry traditionally made from egg, milk, and flour. Now, instead of just a mere canelé, Vasquez fills his "canelé" cake with a cold liquid café au lait center, and moves the canelé's rum-vanilla flavor to the ice cream. To top it off, he tosses in hazelnuts and barley, giving the dessert a wonderfully nutty finish. The interplay of textures and tastes was simply fantastic, and I wasn't surprised to hear that the dish had become part of Providence's regular dessert menu. The wine we had here was a Vin Santo, a type of Italian dessert wine from Tuscany made with Trebbiano and Malvasia grapes. Its flavor was not unlike that of sherry, with a dryness and nuttiness that balanced the sweetness of the dessert.
There is a restaurant in Los Angeles called
Canelé
, and as an aside, I asked Chef Cimarusti, who was at the table during dessert, what he thought of the place. He responded that he visited when the restaurant first opened, and thought that it provided good, simple food. Apparently, Canelé is also the favorite restaurant of blogger
Mattatouille
.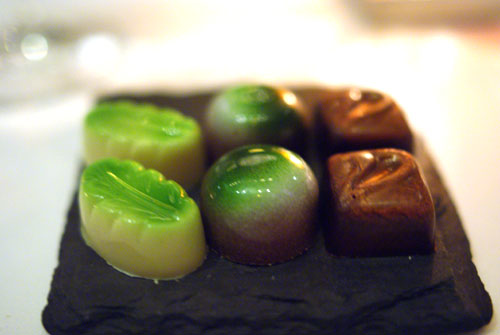 Mignardises
With the meal nearly over with, we were brought a two small plates of house-made candies. Left to right, they were: white chocolate with kalamansi and mint (a nice interaction between sweet, sour, and minty); milk chocolate with coconut green tea (my favorite); and dark chocolate with coffee and erfah (a typical coffee and chocolate pairing).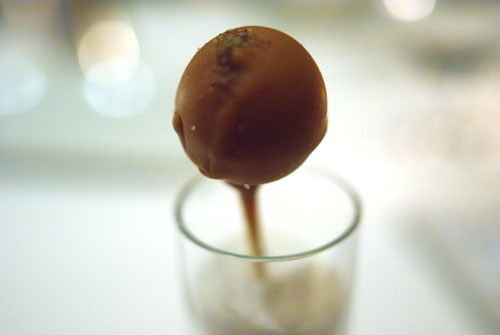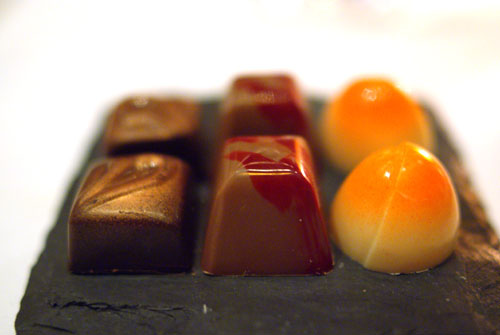 Mignardises 2
After the first serving of candies, we asked for Providence's infamous lollipops. Unfortunately, they only had three left. Since I'd never had one before, I was allowed one of the milk chocolate lollys topped with cardamom. It wasn't what I expected; I was picturing an ice cream-like center (à la
Michael Mina
), but instead, upon mastication, I got a bracing burst of passion fruit liquid that coated my mouth! One of my dining companions found the sensation rather disconcerting. To compensate those that didn't get the lollipop experience, another plate of chocolates were given, this time: dark chocolate with coffee and erfah once again; white chocolate with hazelnut and jelly; and apricot and saffron.
The 5x5's just keep getting better. Compared to
last year's
event at Providence, the dishes seemed to be stronger on average, and the meal as a whole was more balanced, more cohesive. However, at the same time, the dishes still showed off the differences in style, flair, and approach among the chefs. I'm already looking forward to next year!