Thang Long Restaurant (Westminster, CA)
Thang Long Restaurant
9550 Bolsa Ave, Westminster, CA 92683
714.531.9400
www.yelp.com/biz/thang-long-restaurant-westminster (Yelp, restaurant has no web site)
Sun 06/21/2009, 01:40a-02:10a
Saturday, June 20 was the date of my 10-year high school reunion. I wasn't too keen on going at first, but goaded on by some of my classmates, I caved and shelled out $108 at the door to attend. The event itself was held at Don The Beachcomber in Huntington Beach (one of those kitschy tiki restaurants), and given the sorry excuse for food that we had there, I was left wondering what all the money had gone toward.
Nevertheless, it was fun to see everyone again, to see who went on to becoming smashing successes after high school, and to see who floundered out the gate, who got drafted in the NFL, who got fat, who came out of the closet, who married rich. But perhaps--and I hate to be clichéd here--the more things change, the more they stay the same. Talking to people, it seemed like the bulk of them were just like they were in high school, plus 10 years of age, a few extra pounds, and perhaps a child or two--the popular kids are still popular, the prettiest girl in our class still is, and E.T. is still, far and away, the life of the party. All this had gotten me into a rather introspective mood, as in
what have I accomplished over this past decade?
In any case, after the party ended, a few dozen of us made our way to O'Malley's on Main in Seal Beach, an Irish pub. I'd just finished a pint of Guinness before I had to leave. It turns out that one of my colleagues had gotten into a scuffle with the bouncer there, and it was on me to simmer down the situation. We successfully avoided a more serious altercation, but my buddy was pretty wasted, so we needed to get him sobered up before he could drive home...
...Enter Thang Long. Somewhere along the line, it was decided that a piping hot bowl of pho would be perfect for such a task; the problem was that we needed a place that'd be open at 1:00AM. Ryan of
Only Eat What Feeds Your Soul
(yes, we actually went to the same high school) suggested Thang Long, specifically for their filet mignon pho. Off we went.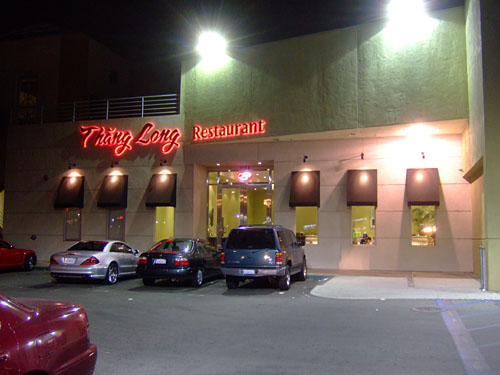 Interestingly, there are actually two restaurants named Thang Long in the same strip mall. The first it
Pho
Thang Long (which was once housed at 15579 Brookhurst), and the second is Thang Long
Restaurant
. The former, I gather, is supposed to specialize in pho, while the latter apparently has a larger selection of dishes (though still has a large pho selection). But from what I hear, the consensus is that the Restaurant actually has better pho, so go figure.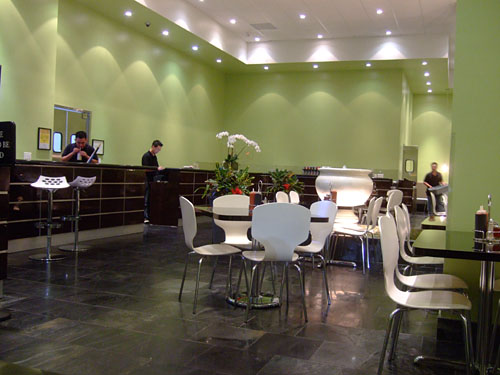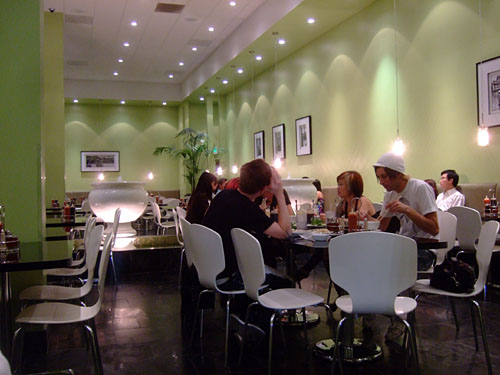 Pho Thang Long is famous (or infamous, rather) for its contemporary decor, replete with 20-ft ceilings, orange walls, and a waterfall. Well, Thang Long Restaurant doesn't fall far from the tree, with the same high ceilings, green walls, and a fountain. A stark contrast to the "ghettoness" of your typical pho joint no?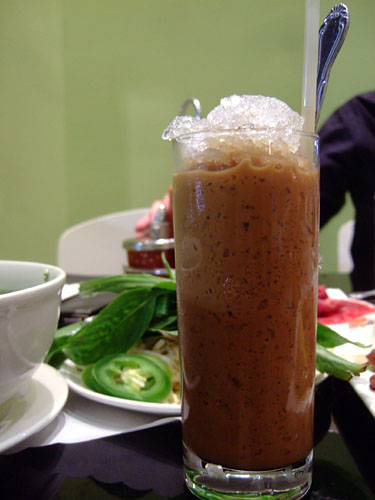 Ca Phe Sua Da [$2.00]
| Iced Filtered Coffee with Milk
Ca phe sua da
literally translates to "iced coffee with milk," and is basically a concoction of coffee mixed in with condensed milk, poured over ice. It was a great combination of sweet and bitter, and rather strong to boot.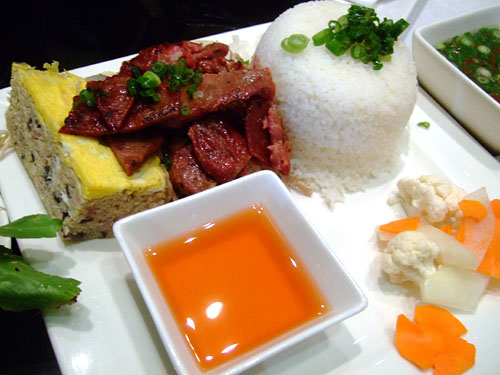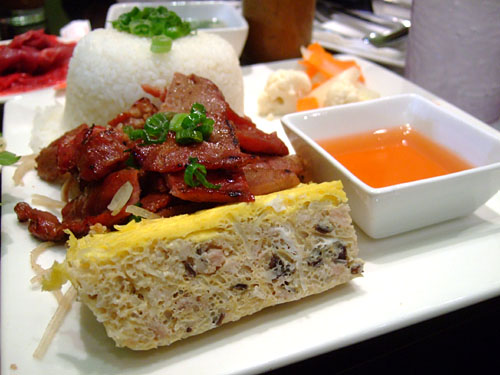 Com Tam Bi Cha, Heo Nuong [$6.95]
| Rice with Shredded Pork, Steam Egg & Charbroiled Pork
Before the pho, we shared a plate of broken rice, served with
heo nuong
(grilled pork),
bi
(shredded pork), and
trung hap
(steamed egg), accompanied by pickled vegetables and
nuoc cham
dipping sauce. The pork itself was competent enough, though perhaps a bit dry, while I preferred the rice drenched in
nuoc cham
. My favorite bit was actually the steamed egg "omelet."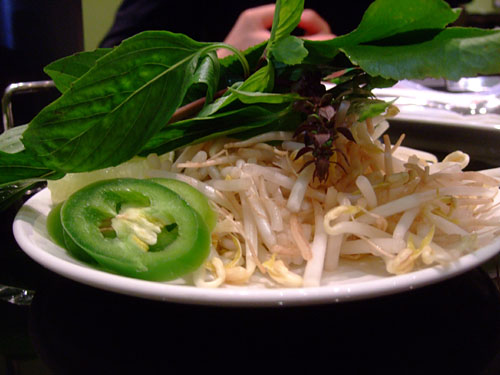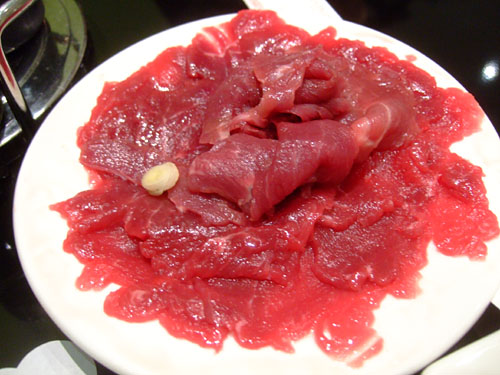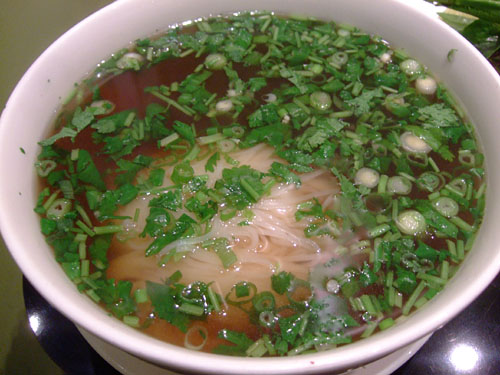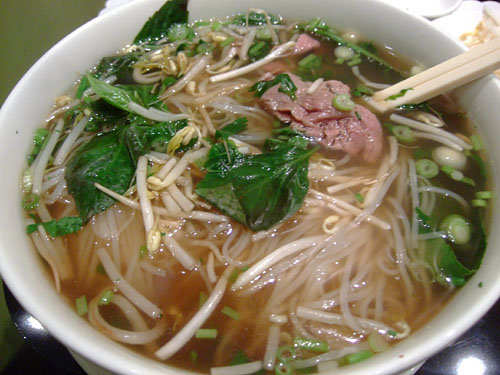 Pho Tai Filet Mignon, Large [$6.95]
| Rare Filet Mignon Steak
Now this is what we came for. We were first presented with a plate of the requisite pho accoutrements: bean sprouts, chili peppers, lime, Thai basil, and
ngo gai
(sawtooth herb). Next was a plate of thinly-sliced filet mignon, in a lovely shade of crimson. Finally came the large bowl of noodles and broth, intermixed with diced cilantro and onion; we eagerly tossed in the garnishes, threw in a few slices of beef, and tucked into the pho. I gotta say that the filet was one of the best cuts of meat that I've had with pho--extremely tender, it slid down my throat and kept me wanting more. The rest of the dish was quite tasty, though not heads-and-shoulders above other versions I've had. As usual, the various veggies, the sprouts and basil especially, provided a tangy, vegetal counterpoint to the richness of the soup, making for an enjoyable experience.
The pho here, at least the filet mignon pho, was pretty solid--I hand it to Ryan for finding this place. Though at the same time, I wonder if it'd still hold up in a non-late night, non-buzzed situation. Whatever the case, by the end of the meal, my buddy was just about sober, and was able to drive home just fine. I guess that makes Thang Long a winner in my book.