Charlie Trotter's (Chicago, IL)
Charlie Trotter's
816 W Armitage Ave, Chicago, IL 60614
773.248.6228
www.charlietrotters.com/restaurant/
Wed 05/20/2009, 06:30p-09:55p
If there's one restaurant in Chicago that deserves the moniker of iconic, then Charlie Trotter's would be it. I'd missed out on Trotter's during my last visit to Chicago, so I was determined to make it here this time. Since Trotter is largely a self-taught chef, I was especially curious to experience his cuisine, which relies on a progression of small courses, layered upon each other, and flavored with light, delicate vegetable- and herb-based sauces, stocks, and essences (an approach that seemingly recalls
Jean-Georges
Vongerichten's philosophy of "light intensity"). His end goal, thus, is balance, not only between the food, but also the wine, which Trotter views as integral to a meal.
Trotter attended the University of Wisconsin at Madison, and it was here that he developed his interest in cooking from his roommate (I wonder if he ever made his way over to
L'Etoile
). After graduating in 1982 with a degree in political science, Trotter traveled extensively, dining at the top establishments in the United States and Europe, experiencing what leading chefs could offer, and all the while, crafting the beginnings of his own style. Trotter then cooked professionally for several years, moving between Chicago, San Francisco (where he attended the California Culinary Academy, but never graduated), and Florida, before opening his eponymous eatery in 1987--yes, the place has been around for over two decades, and in the fast-paced world of fine dining, that's practically a lifetime.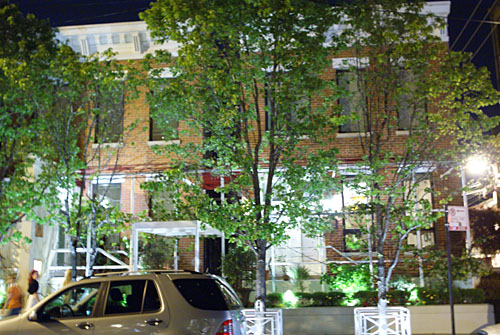 Partially obscured by greenery, Charlie Trotter's is discreetly situated in an innocuous-looking 100 year old brownstone in Chicago's Lincoln Park district, a stone's throw away from
Alinea
(Grant Achatz even worked here briefly before going to
French Laundry
, but clashed with Trotter's management style).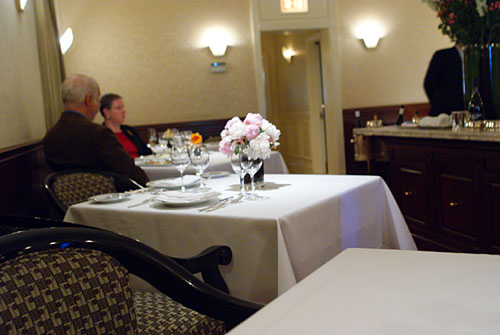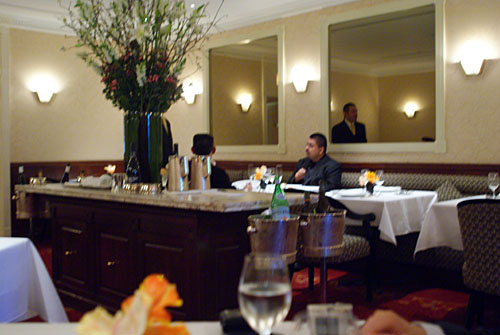 The restaurant is divided into three distinct dining areas, decorated in an elegant, but unexciting style. We were seated in the first floor room, which seats around 30. There are also South and North dining rooms, as well as a semi-private salon table seating up to 10 diners, and a Studio Kitchen for 20. Total capacity is around 100.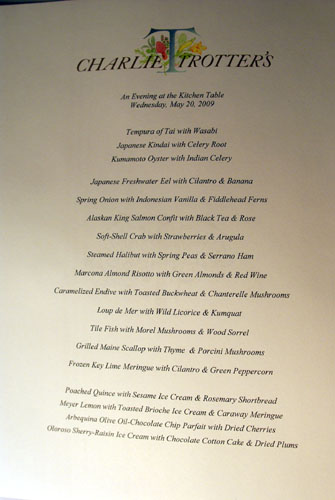 Each night, the kitchen serves up a choice of three dégustations: the Grand Menu [$165], the Vegetable Menu [$135], and finally, the Kitchen Table Menu [$225]. We, of course, chose the most luxurious option, complemented with the optional wine pairing [$150]. Trotter was one of the first to come up with the idea of a kitchen table, and his version is actually located directly in the kitchen, with nothing separating diners from its hustle and bustle. It seats up to six, and is the hardest table to secure in the entire restaurant. Fortunately, the Kitchen Table Menu is available in the main dining room as well.
The Kitchen Table menu is created spontaneously, and ours is shown above; click for a larger version. Unfortunately, it had several glaring errors (courses 7 through 10 are completely wrong, one of the amuses is missing, and one of the amuses is incorrect) and didn't list any of the wine that we had. Thus, some of the descriptions below will be based only on my notes, and we can pretty much forget about identifying the wine pairings. This was a notable fault in service, and I must ask: why is it so hard to come up with a correct list of dishes and accompanying wine pairings? I had no such problem at
Moto
,
L2O
,
Alinea
, or
TRU
. Our server indicated that the restaurant would send over a proper menu, but as of this writing (June 13, over three weeks later), such a thing has not occurred.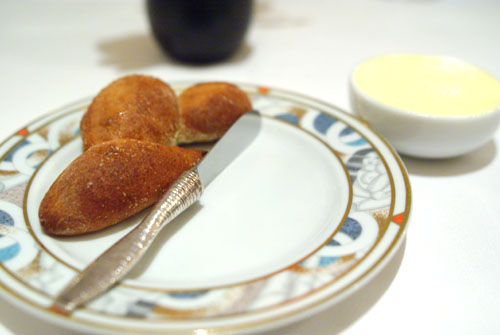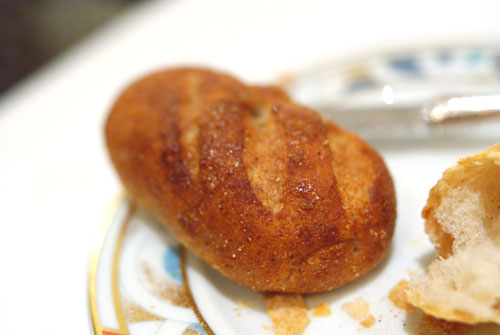 Throughout the meal, we were brought a progression of breads, paired with a soft, mild butter. First up was a tough, slightly sweet whole wheat
pain epi
; next was a chewy, onion-y chive-ricotta bread, followed by a brittle, fluffy French baguette, finally finishing with a sweet-savory bacon-maple syrup rye bread (tastes like breakfast), which reminded me of Chinese
cha siu baau
pork buns!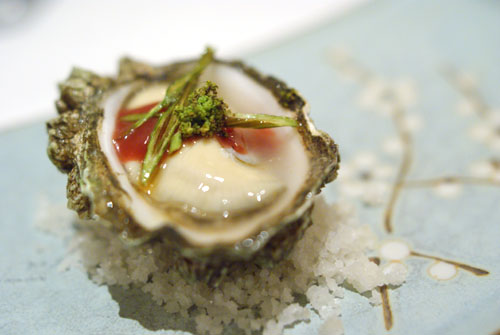 Amuse Bouche 1: Kumamoto Oyster with Indian Celery
Champagne, Laurent Perrier Brut L-P, NV
The meal started out with a quartet of amuse bouches. First up was this beautiful Kumamoto, topped with plum sauce and hot and sour Indian celery. The oyster had a sweet attack due to the plum sauce, while the finish was imbued with the mollusk's signature crisp brininess. The celery added some interesting notes to the midpalate, but could've been spicier. Interestingly, the amuses were paired with the Laurent Perrier Brut L-P, the exact same Champagne that we had at
Moto
the night before. This time around though, it was much sweeter and less yeasty, though it did get significantly drier after I had the oyster.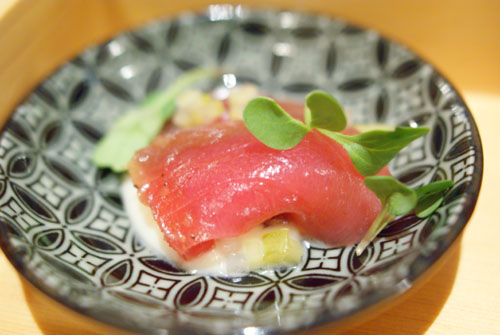 Amuse Bouche 2: Japanese Kindai with Celery Root
Champagne, Laurent Perrier Brut L-P, NV
Next up was a very special type of tuna: kindai, the world's first sustainably-raised bluefin. Kindai is produced by the Kinki University Fisheries Culture and Nursery Center in Kagoshima Prefecture, and is noted for its superior flavor and ecological friendliness. Each week, only a handful of pieces of tuna are shipped to the US, so kindai's a scare commodity. In addition to Trotter's,
L2O
also has it, as do
Per Se
,
Le Bernardin
,
French Laundry
, the
Dining Room
at the Ritz, and
Manresa
. In any case, getting back to the kindai here, it was quite strongly flavored for tuna, with distinctly briny finish and a texture that was chewier than I'm used to. The celery was instrumental in balancing it out.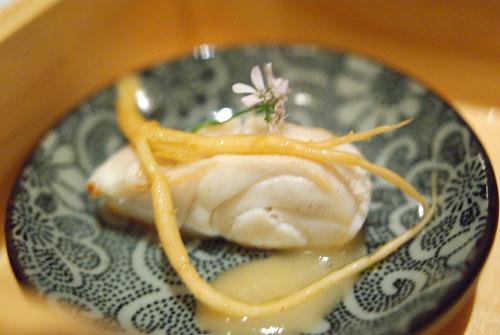 Amuse Bouche 3: Japanese Tai
Champagne, Laurent Perrier Brut L-P, NV
Number three was listed on the menu as a "tempura" but it clearly wasn't. It was, however, also a Japanese fish, a tai snapper. It had a great, dense, firm consistency and a sweet, delicate flavor, thanks in part to the accompanying miso-based sauce. The pairing of the root vegetable did wonders in terms of texture.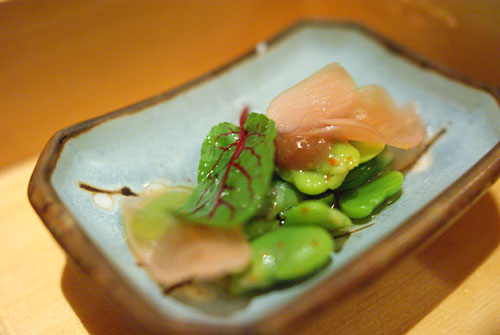 Amuse Bouche 4: Fava Beans with Pickled Watermelon Radish
Champagne, Laurent Perrier Brut L-P, NV
Closing things out, we had a plate of fava beans, tarted up with Chinese chili sauce and watermelon radish. Those two elements added contrasting hot and acerbic components to the mild, tender beans. A simple course, but one that effectively set the stage for the main meal to begin.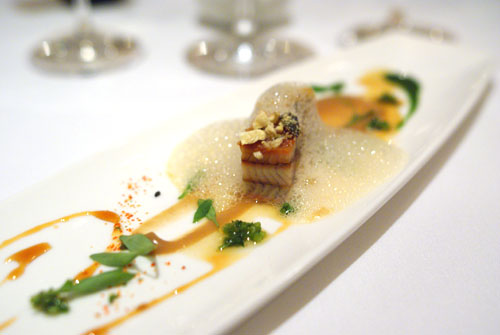 1: Japanese Freshwater Eel with Cilantro & Banana
Riesling, Dr. Loosen
Our first proper course of the evening was Japanese unagi terrine with roasted banana, pickled cilantro, and
togarashi
(
shichimi
) spice. It was an interesting dish that recalled the essence of unagi
kabayaki
, or grilled eel coated with a sweet soy-based sauce. The resultant mishmash was cool, dense, and sweet, and the notes of banana were quite apparent, distracting even. These fruity flavors were balanced out somewhat by the
togarashi
(a blend of seven spices), which stood in for the pepper typically used as a condiment. The paired wine was a Riesling from noted producer Weingut Dr. Loosen. It showed prototypical notes of honey, stone fruit, and blossoms, backed by a crisp acidity; it went well with the sweeter nature of this course.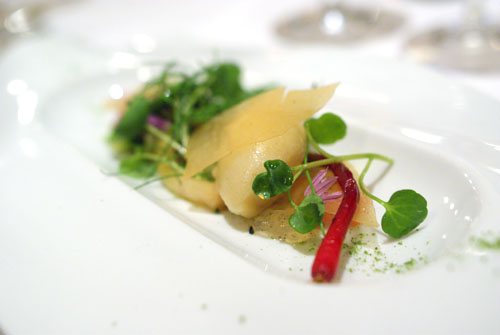 2: Spring Onion with Indonesian Vanilla & Fiddlehead Ferns
Another Riesling
One of my favorite courses, this was a troika of onions (spring, cipollini, Spanish) paired with Indonesian vanilla granita and fennel. The onions were a joy to eat, displaying a great tangy-sweet flavor complex with a crisp, snappy consistency. The granita was a superb complement, with its sweet-savory flavor and cold temperature contrast. We had another Riesling paired with this course, a drier, more mineral-focused example than matched the leaner flavor profile of this dish.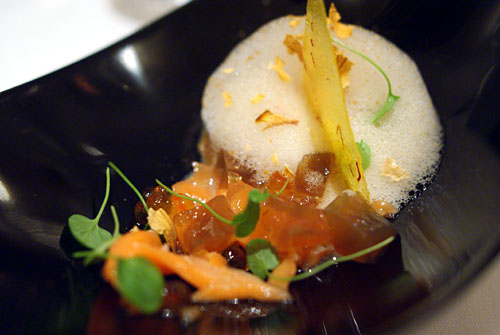 3: Alaksan King Salmon Confit with Black Tea & Rose
Something from Guigal
This was a fascinating dish that looked like it could've come out of
Alinea's
kitchen: salmon confit, black tea gelée, dehydrated rose petals, ikura, saffron-sugar tuile. An intriguing study in seemingly disparate tastes, the black tea provided a subtle sweetness, but this was contrasted by the ikura, which gave the dish a briny, tangy finish accented by floral notes of rose. There was textural play as well, between the soft salmon, jelly-like gelée, and hard/sticky tuile. However, all this hoopla overpowered the salmon, rendering the fish's signature flavor too faint.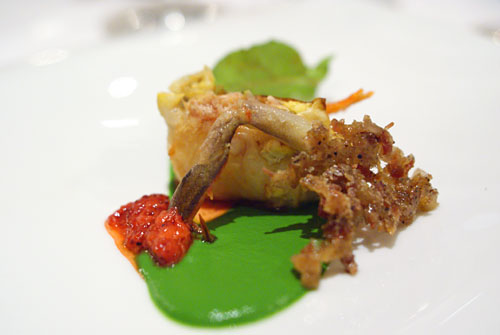 4: Soft-Shell Crab with Strawberries & Arugula
An Archetypal Rosé
Next was a small fritter of soft-shelled crab, over arugula purée and strawberry, with pig's feet. Not usually a huge fan of soft-shelled crab, I was a bit skeptical at first, but it worked out quite well. The crab was very flavorful on its own, and together with the crunchy pig's trotter, formed an intensely savory duo that was nicely tempered by the sugariness of the strawberry and the delicately bitter rocket. The key here really was to eat everything together. The paired rosé wine was lovely and light, with a crisp nose, lively acidity, and subtly sweet flavor quintessential of the style.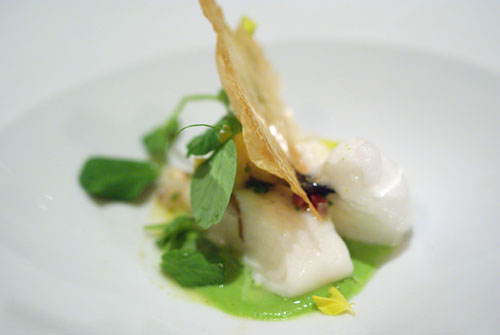 5: Steamed Halibut with Spring Peas
A Paul Jaboulet Aîné Viognier
We have here steamed halibut and steamer clams, with spring pea purée and a shellfish emulsion. My dining companion was a fan of this dish, and even asked if it was prepared in a sous vide fashion; it wasn't, but apparently it
was
marinated in a Cryovac package. It really did have a great texture--tender, but not mushy--and a delicate, briny flavor that was accentuated in the citrus steaming process. The pea purée added a lovely tanginess to the fish, and the clams proved to be a fantastic textural contrast. Overall, this was a very balanced dish that went nicely with the soft, heavier, mineral-driven Viognier.
6: Marcona Almond Risotto with Green Almonds & Red Wine
Sherry: Amontillado?
This was a rich risotto, accented by a red wine emulsion. The use of marcona almonds gave the dish a sweet nuttiness and a lingering almond finish, which was balanced by the vegetal flavors of the green almonds and sorrel. Simple but effective, it was the best risotto I've had in a while, and went nicely with the paired sherry, a Amontillado with a nutty flavor that recalled the almonds.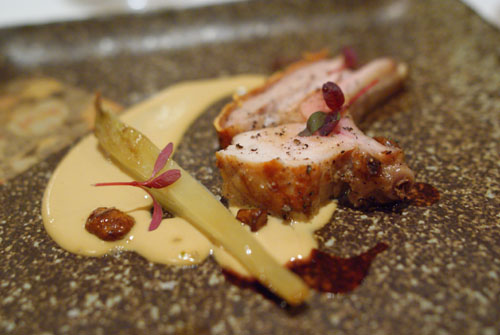 7: Roasted Suckling Pig with Caramelized Endive
Pinot Nero a.k.a. Pinot Noir
Pork usually leaves me unimpressed, but this was a superb preparation. The meat itself was tender and delicious, but the best part was the skin, which had a fantastic crunch and powerful flavor. The weight of the pork was deftly balanced by the tartish bitterness of the included endive. The wine here was also quite good--a spicy, tangy Pinot Nero (basically Italian Pinot Noir) that matched the flavor of the pork.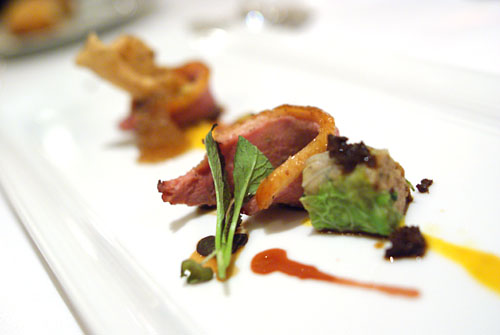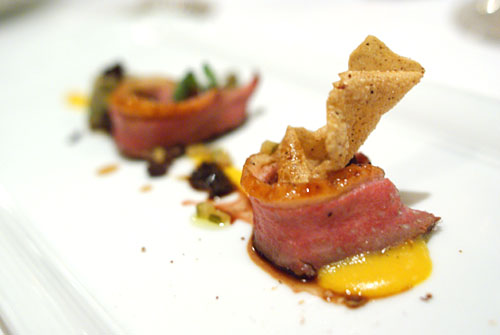 8: Muscovy Duck with Kumquat
Pinot Noir a.k.a. Pinot Nero
A lovely presentation of Muscovy duck here--it had a rich duck flavor with a bit of spiciness to it. The tender flesh was perked up by the application of a sourish kumquat sauce; and furthermore, the dish was also served with the duck's strongly flavored, slightly crunchy napa cabbage-wrapped gizzard, which provided a nice counterpoint to the meat. Pinot Noir and duck is almost always a safe combination, and that held true here, with the wine showing typical notes of tart red fruit and smoke that highlighted the bird.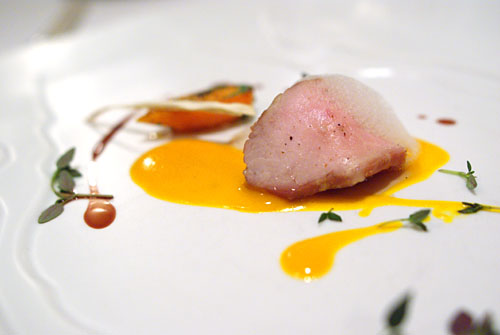 9: Veal with Horseradish and Red Wine
Typical Tempranillo
I've been disappointed with veal many times before, so this dish was a pleasant surprise. It was done up with a horseradish emulsion, red wine essence, and Thumbelina carrot. The veal was a joy to eat alone, with its soft, tender flesh and lovely herbal notes. The meat's accoutrements added layers of flavor, with the carrot providing a pointed sweetness that was especially noticeable.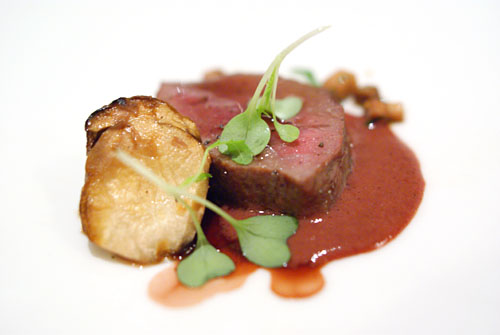 10: Grilled Bison with Porcini Mushrooms
Rubicon Estate Cab
Our last savory course. I don't get to try bison or buffalo too often, so I relish every chance I get to taste it. The meat was grilled conventionally here, and served with a boudin (a type of sausage) purée and porcini. It was not what I expected. The bison had a slightly gamy flavor that was mitigated by bean-y, grassy notes and the earthiness of the mushrooms. The dish finished with a slightly smoky aftertaste from the sauce, which linked up well to the wine, a typical Cabernet, slightly hot, with hints of smoke backed by jammy fruit flavors.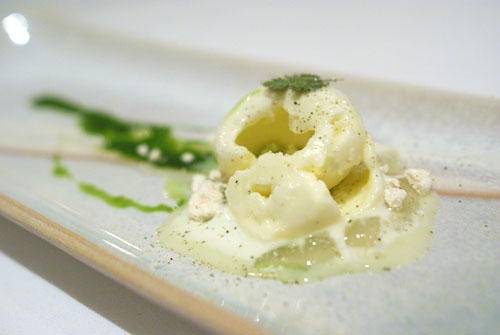 11: Frozen Key Lime Meringue with Cilantro & Green Peppercorn
Our parade of desserts started off with a bang. I don't think I've ever had a frozen meringue before, so it was nice to experience its biting, acetous, minty flavor, which was expertly tempered by the sharpness of the candied cilantro, leading to a lingering cilantro finish. You could say that this was like a palate cleanser.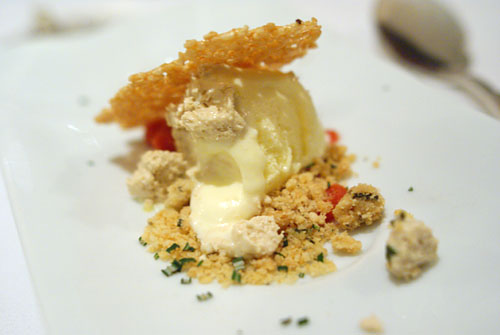 12: Poached Quince with Sesame Ice Cream & Rosemary Shortbread
Tokaji with 5 Puttonyos
The sesame ice cream with halva (sesame candy) were fantastic together, really capturing the essence of sesame and imbuing my senses with its nuttiness, a nuttiness that was superbly foiled by the tartness of the quince. In addition, the use of halva and shortbread provided a great temperature and texture contrast to the dish.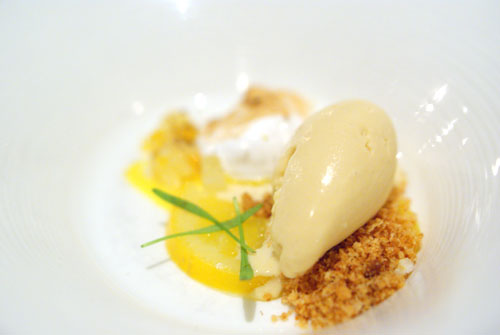 13: Meyer Lemon with Toasted Brioche Ice Cream & Caraway Meringue
Tokaji with 5 Puttonyos
The ice cream was superb, effectively stealing the show here, with a taste that was simultaneously sweet, rich, and bready, really capturing the essence of brioche. The sour lemon and pungent caraway did a nice job in pairing with the ice cream, which easily could've been eaten alone.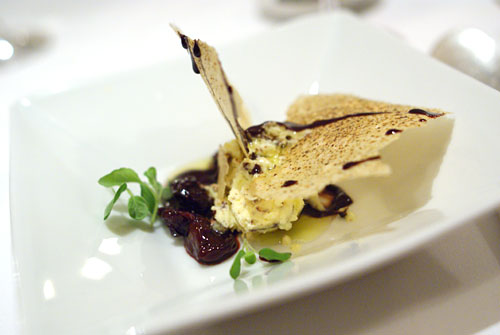 14: Arbequina Olive Oil-Chocolate Chip Parfait with Dried Cherries
Garnacha
Is it just me, or does this resemble a butterfly? The olive oil and chocolate combination formed a pleasing savory-sweet-bitter interplay, which was accented to great effect by the tartness of the cherries. The accompanying salty tuiles, meanwhile, added a great textural element and gave the dish a lingering savory finish. The paired Grenache had a light nose, with plenty of berry fruit and spice on the palate, leading to a short, tart finish. It was quite subdued for a dessert wine, and thus did not overpower the complex yet delicate flavors of this dessert.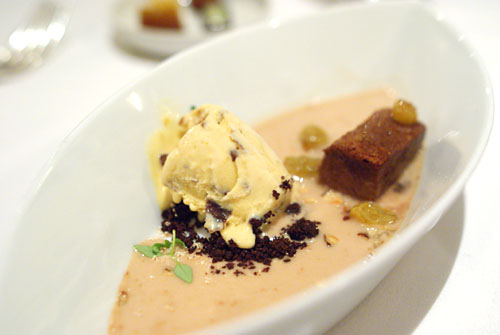 15: Oloroso Sherry-Raisin Ice Cream with Chocolate Cotton Cake & Dried Plums
Garnacha
Oloroso is sherry that's been subjected to oxidative aging. This results in a sweet, nutty flavor that was uniquely presented in the ice cream here, while the addition of raisins into the mix provided some nice sour notes. The raisins linked up nicely with the plums and also the cake, which seemed absolutely saturated; there were even bitter elements to the dessert that I couldn't quite put my finger on. Overall, a complex, multifaceted dessert that paired nicely with the wine.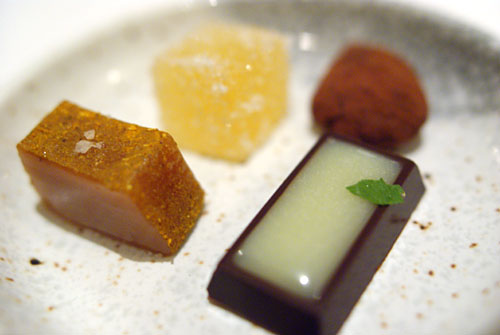 Mignardises
Interestingly, our server didn't tell us what the mignardises were. Instead, she challenged us to identify them ourselves! I'm proud to say that we got it mostly right. We have here a pineapple gelée, an almond dragée (basically a chocolate-covered almond), a floral-spicy angelica-chocolate ganache (which reminded me of an Andes Chocolate Mint), and a delightful curry caramel.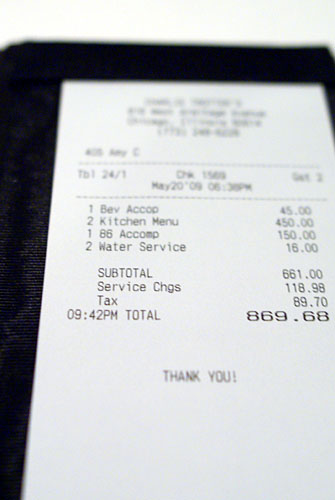 The damage. Note the 18% service charge, which was the same as at
Moto
, and a bit less than at
L2O
. Is this mandatory gratuity a Chicago thing? Tacking on 18-20% for a party of two is almost unheard of in LA.
I admit that I had this image of Charlie Trotter's as somewhat of a grande dame of Chicago dining. I sort of expected it to be staid, solid, a bit conventional--I'm glad I was wrong. Despite the advent of avant garde eateries such as
Alinea
in Chicago, Trotter's has held its own, not standing still, but constantly evolving, constantly improving. The restaurant hasn't veered down the molecular path, but has found a way to remain fresh, to remain relevant within the confines of Trotter's culinary philosophy. Heck, the kitchen even prides itself on never serving the same dish twice. Put simply, there's a reason that Charlie Trotter's has been around, thriving in fact, for 20 years--I sure hope he sticks around for another score.