Old Vine Café (Costa Mesa, CA)
Old Vine Café
2937 Bristol St, Costa Mesa, CA 92626
714.545.1411
www.oldvinecafe.com
Thu 06/11/2009, 07:00p-10:00p
It's official:
Aaron has left the building
. To commemorate his departure, bloggers have been holding a series of farewell dining excursions over the past couple of months--
Canelé
, for example. Since all the events had been LA-focused, Ila of
I Nom Things
proposed an OC event at one of her favorite spots. Joining us were Matt of
Rumdood
and Ryan of
Only Eat What Feeds Your Soul
.
The place was none other than Old Vine Café. Old Vine serves up breakfast (which it's especially well-known for), lunch,
and
dinner, and also houses a wine and specialty food shop. Chef Mark McDonald, a Laguna Culinary Arts graduate (who also studied at the Italian Institute for Advanced Culinary and Pastry Arts), creates a seasonal menu of California-inspired continental fare highlighting the influences of France, Italy, and Spain. Meanwhile, at the front of the house, brother Brandon runs the show and implements the restaurant's wine program.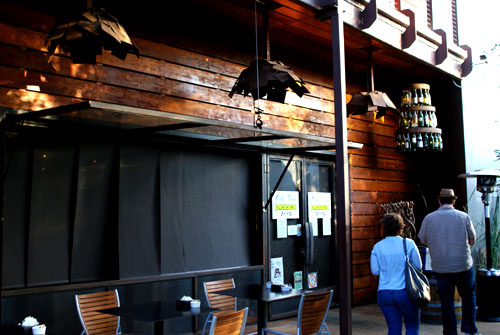 Old Vine Café is situated in The CAMP, a so-called "nontraditional shopping center"--basically a strip mall gussied up with wood,
lots
of wood. The restaurant's neighbors include a Bikram Yoga studio, a vegan eatery, and a tattoo parlor, basically exactly what's needed to attract The CAMP's target clientele of hipsters, hippies, and other "alternative" folks...

...yet the people at Old Vine seemed so ordinary, so...
OC
. No matter, the dining room is a small and intimate affair, accommodating around two dozen or so patrons in a quaint, comfortable setting. Or, take a seat outside, weather permitting.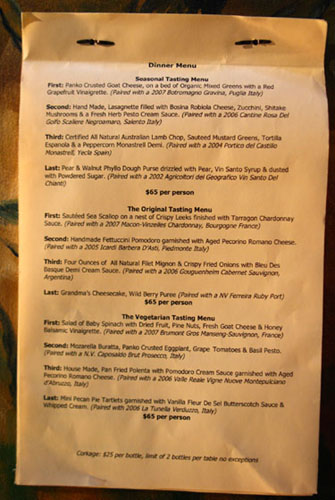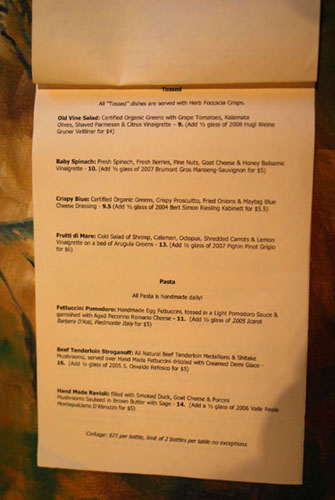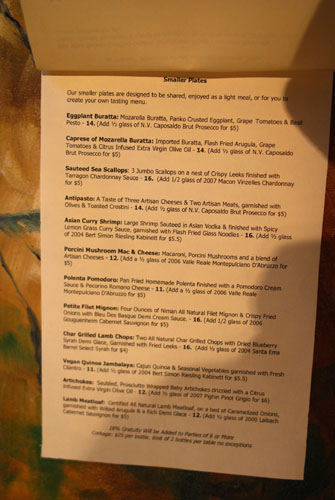 Diners can chose from a dynamic selection of small plates, or, go for one of the three tasting menus offered, each priced at an attractive $65
including wine
. I was able to sample the Original as well as the Seasonal Tasting Menus, denoted as "A" and "B" below, respectively. Click for larger versions.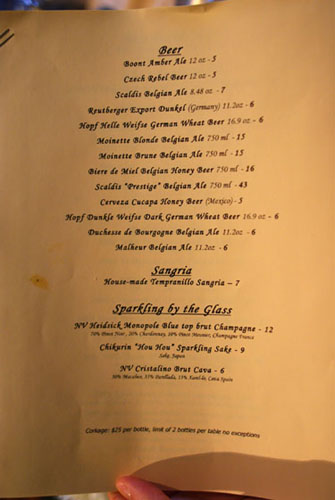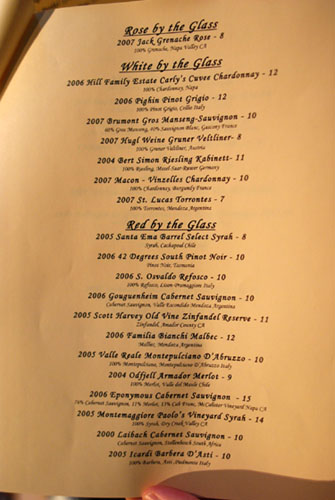 To pair with the food, Old Vine presents a focused selection of crafts beers, along with an international array of value-conscious wines, with many offerings available by the glass; click for larger versions. One appealing option is to purchase a bottle from the attached wine shop, pay a corkage fee, and open it in the restaurant.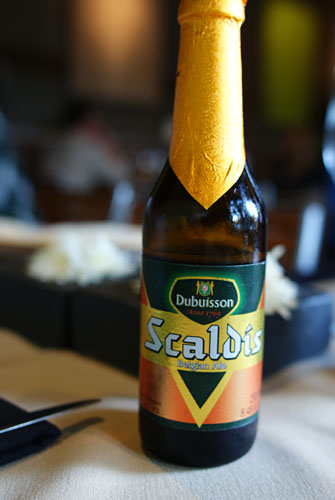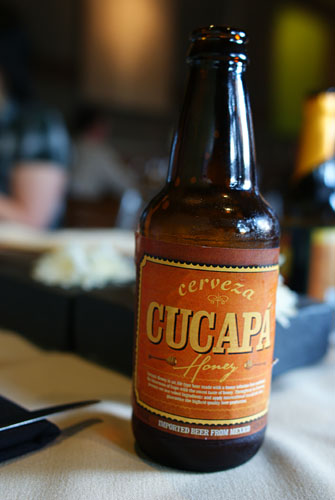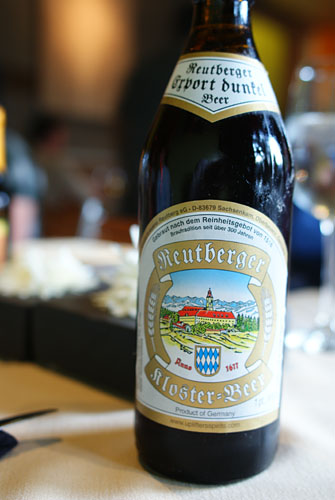 While waiting for the man of the hour to arrive, I ordered up a Scaldis [$7], a lovely, malty Belgian ale that hid its prodigious 12% ABV well. Ryan, meanwhile, chose a saccharine, seductive Cerveza Cucapa Honey Beer [$5] from Mexico, and Matt imbibed a German, the Reutberger Export Dunkel [$6]. Ila, bucking the beer trend, chose something more feminine, the house-made Tempranillo Sangria [$7]. It was pretty much everything I'd expect from Sangria--light, fruity, refreshing--though Ila and I disagreed about the relative merits of the presence of
chopped fruit bits in the punch
.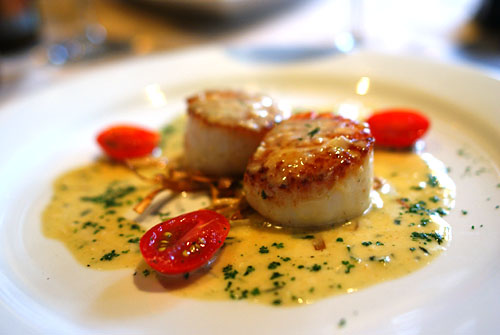 A1: Sautéed Sea Scallop on a nest of Crispy Leeks finished with Tarragon Chardonnay Sauce
2007 Macon-Vinzelles Chardonnay, Bourgogne France
The first thing that struck me about these scallops was their texture--incredibly soft, tender, and delicate--just about perfect. Their taste was also quite delicate, too much so in fact. The mollusk's brininess was present, but in very small amounts, and unfortunately the accoutrements presented did not fully highlight the scallops' flavor. The crisp leeks, however, did provide a great textural contrast. The wine here was a Bourgogne Blanc, one that paired very well with the scallops, especially considering their Chardonnay-based sauce. The Macon-Vinzelles was grassy and minerally, very nice overall, with a slightly hot finish that was tempered by the food.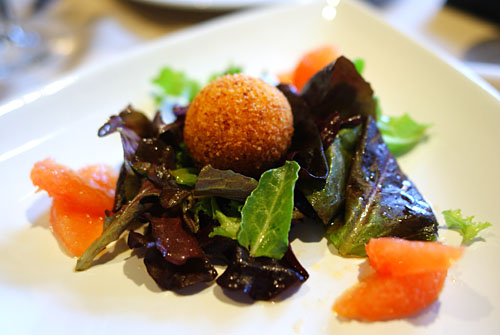 B1: Panko Crusted Goat Cheese, on a bed of Organic Mixed Greens with a Red Grapefruit Vinaigrette
2007 Botromagno Gravina, Puglia Italy
As I bit into the rough sphere in front of me, I found a delightfully mild goat cheese that was soft, creamy, and just a bit tart. This stood in stark contrast to the sphere's exterior, coated in crunchy breadcrumbs, resulting in a lingering savory finish. Next, I had the cheese with the rest of the dish, and enjoyed the sweetness of the grapefruit, as well as the power of the bitter greens, and how both elements intertwined deftly with the chèvre. As for the wine, I wasn't a huge fan of the Botromagno Gravina upon first tasting it, finding the wine a bit too lean for me, with very notable earthy and soapy notes. Fortunately, it got better with the food, as its flavors of stone fruit, spice, and minerals became more apparent.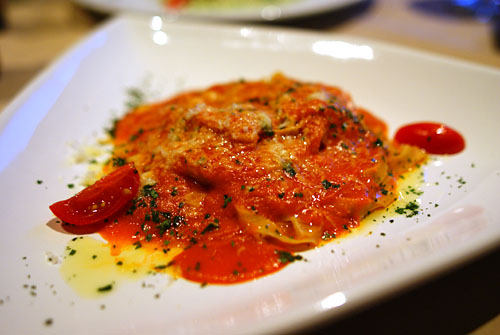 A2: Handmade Fettuccini Pomodoro garnished with Aged Pecorino Romano Cheese
2005 Icardi Barbera D'Asti, Piedmonte Italy
Pomodoro
means "tomato" in Italian, and refers to a way of cooking pasta with a tomato-based sauce. It is really a simple, classic Italian preparation and in this case, the pleasant tartness of the sauce, along with basil and olive oil, nicely complemented the heavy fettuccine pasta. The tomato's tanginess also matched the acidity of the wine, a Barbera from producer Icardi that showed hints of smoke and rock, bound with overarching aromas of berry fruit.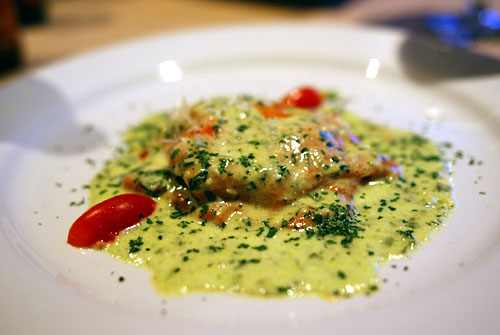 B2: Hand Made, Lasagnette filled with Bosina Robiola Cheese, Zucchini, Shitake Mushrooms and a Fresh Herb Pesto Cream Sauce
2006 Cantine Rosa Del Golfo Scaliere Negroamaro, Salento Italy
Lasagnette refers to a narrower version of lasagna, and here, the pasta was filled with a lovely amalgam of ingredients and coated in a pesto cream sauce. The result was a dish that was heavy on the basil and the cheese (not a bad thing), resulting in an earthy, heady flavor, heightened by the zucchini and shiitake--quite tasty. As for the wine, I believe that this was my first experience with the varietal Negroamaro. It is a wine from Southern Italy, and combined notes of dark fruit, earth, smoke, and meat into a round, somewhat rustic blend--a solid, but not superb pairing for the lasagnette.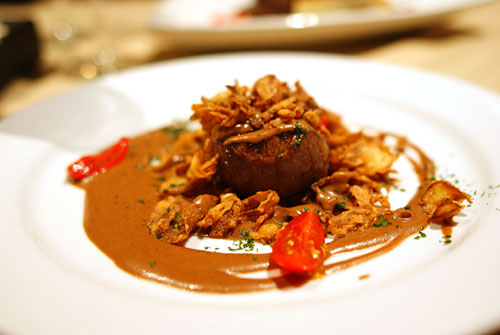 A3: Four Ounces of All Natural Filet Mignon and Crispy Fried Onions with Bleu Des Basque Demi Cream Sauce
2006 Gouguenheim Cabernet Sauvignon, Argentina
Filet mignon is almost always a safe choice. Here, the steak itself was solid, nicely tender, but not spectacular. Though I do enjoy blue cheese, the Bleu Des Basque demi was a bit too strong for me, masking the natural flavor of the beef. The onion notes were also powerful, albeit not as distracting, and I enjoyed their crispness. The wine was typical for a Cabernet, though perhaps less fruit-forward and more influenced by smoke and rock.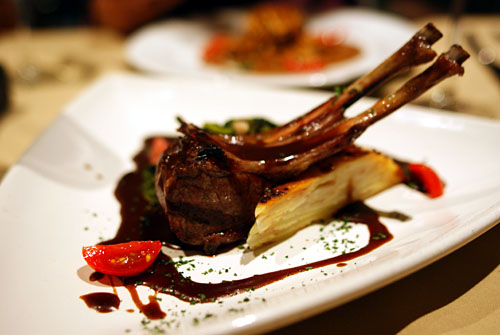 B3: Certified All Natural Australian Lamb Chop, Sautéed Mustard Greens, Tortilla Espanola and a Peppercorn Monastrell Demi
2004 Portico del Castillo Monastrell, Yecla Spain
Unfortunately, I was less interested in the lamb than in the greens and potato here! The meat was merely competent, and lacked the boldness and intensity of a really great lamb. Nevertheless, the dish was saved by the mustard, which provided a fantastic bitter contrast to offset the meat, as well as the delicious, hearty Spanish omelet. The wine was also Spanish in origin, a Monastrell, a.k.a. Mourvèdre. It was a softer, rounder libation compared to the preceding Cab, with a notable viscosity and plenty of peppery and gamey flashes--a nice pairing.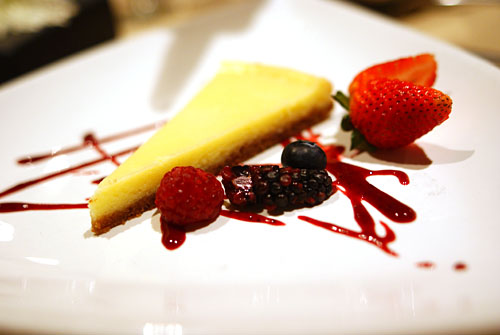 A4: Grandma's Cheesecake, Wild Berry Puree
NV Ferreira Ruby Port
My grandma never make cheesecake like this before. The creamy custard portion was very lemon-y indeed, though this was offset somewhat by the berry purée and fresh fruit. Now Port would normally seem like a rather heavy pairing here, but since this was a Ruby version, it was still light and bright, matching the character of the dessert.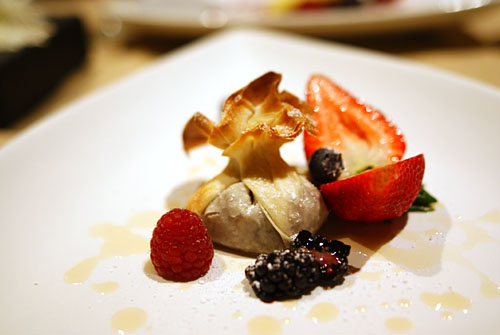 B4: Pear and Walnut Phyllo Dough Purse drizzled with Pear, Vin Santo Syrup and dusted with Powdered Sugar
2002 Agricoltori del Geografico Vin Santo Del Chianti
My final course of the night was this "purse," an amalgam of pear and walnut that really demonstrated a considerably nuttiness, balanced by the tart flavors of fruit. As such, the paired Vin Santo was very befitting, with the wine's inherent sweet nuttiness complementing the walnut for an almost amaretto-esque effect.
I walked away from Old Vine feeling pretty good about the place (though admittedly, I was a
quite
buzzed). The food is straightforward, simple, not mind-blowing (there were certainly misses), but solid, honest, and unpretentious. The brothers' commitment to featuring fresh, seasonal produce is apparent, and the restaurant presents a "neighborhood" type feel that invites me to come back. It's really a refreshing change from the "corporate" dining scene that seems oh-so-common behind the Orange Curtain.