Moto (Chicago, IL)
Moto
945 W Fulton Market, Chicago, IL 60607
312.491.0058
www.motorestaurant.com
Tue 05/19/2009, 06:50p-11:00p
Many chefs, including
Alinea's
Grant Achatz, eschew being labeled a child of molecular gastronomy; however, at least one chef embraces the title: Moto's Homaro Cantu. Cantu has been called many things, from culinary genius to a flavor of the month, cooking's
l'enfant terrible
, and perhaps most poignantly, an inventor who accidentally ended up as a chef. Growing up in Portland, Cantu endured a troubled childhood, slacking his way through school and having close calls with the law. Though always curious (and always taking things apart), Cantu's first application of his innate inquisitiveness to cooking came when he was twelve, working at a fried chicken restaurant.
Cantu eventually graduated from the Le Cordon Bleu program at Portland's Western Culinary Institute, and afterwards, staged at dozens of restaurants along the West Coast, all the while crafting his own style. In 1999, at the age of 22, Cantu moved to Chicago to work under Charlie Trotter, who was one of his early inspirations. Cantu worked at Trotter's for four years, attaining the position of sous chef. In 2003, Cantu was recruited by restaurateur Joseph De Vito to open a new restaurant; De Vito originally envisioned something relatively safe, say Asian fusion, but after tasting Cantu's unique creations, was persuaded otherwise--Moto opened on January 12, 2004.
Moto, which in Japanese can translate to "idea," "taste," or "desire," is one of the restaurants most linked with molecular gastronomy. Though that movement is associated with blending food and science, Moto's objective is to apply principles of
both
science and art to cuisine. The kitchen is, therefore, simultaneously a canvas and a laboratory, focusing not only on comestibles, but on tools, packaging, and delivery. The output of said kitchen utilizes classical ingredients intertwined with such novelties as Class IV lasers (Cantu first demonstrated this in 2006), helium, Cantu's "food replicator" (an inkjet printer that creates "edible surfaces"), ion particle guns, and, of course, liquid nitrogen.
The goal here, though, is not merely shock value. Cantu has stated that his desire is to challenge convention, to change the way that people perceive and consume food. Accordingly, the postmodern cuisine at Moto tends toward reinvention or transformation, the deconstruction of what can amount to "comfort food" and its subsequent resurrection and reconstitution in a familiar, yet totally different form. Thus, good or bad, I knew that Moto'd at least be interesting.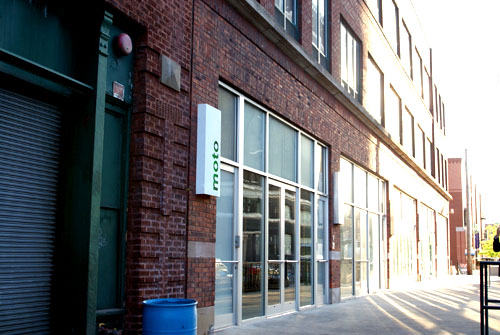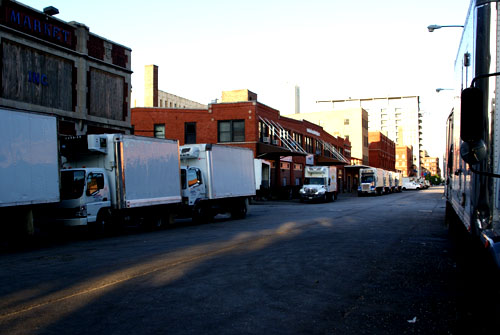 Moto is situated in Chicago's Fulton Market neighborhood. The area was originally a meatpacking and food-warehousing district, but has evolved into a somewhat trendy locale, home to art galleries, apartment lofts, boutiques, and upscale restaurants (it reminded me of the
R23's
surroundings). There are still, however, numerous active warehouses in the vicinity, many of which handle fresh fish products; that fact explains the rather malodorous stench that occurs just outside the restaurant. Moto's sister restaurant, Otom, lies almost immediately to the west.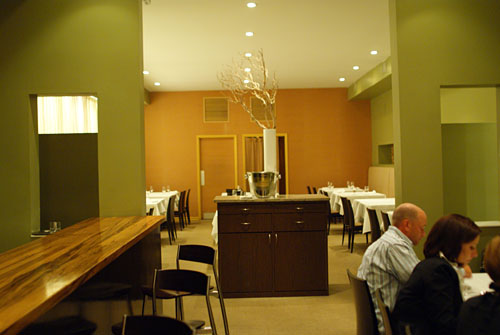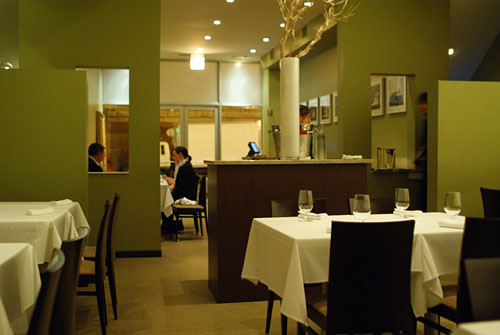 Given Moto's repute, the restaurant's interior was much more restrained that I'd imagined, awash in subtle shades of lime green (Cantu's favorite color). Up in front, the lounge handles 20 diners, while there is also a private room for 30. However, we were seated in the main dining room, which accommodates 46.
Interestingly, seated next us was Chef Domenic Chiaromonte of
Match
restaurant near Toronto. Chiaromonte worked under Chicago's own Charlie Trotter, and, much like Cantu, is a noted proponent of molecular gastronomy and food as art. If you're heading up to Toronto, I'd put Match on your list to consider.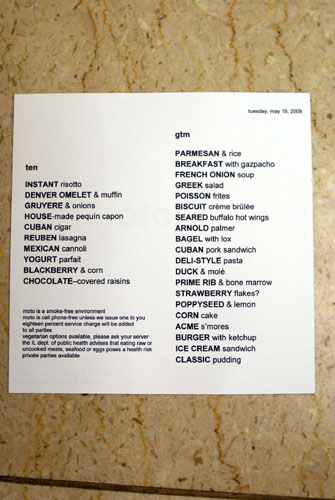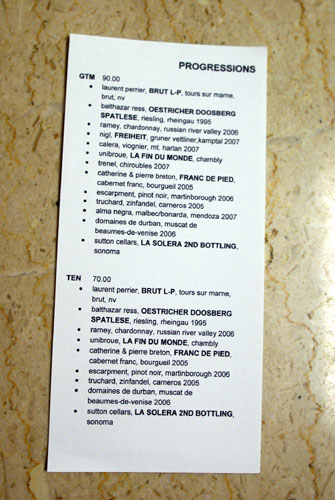 Each night, Moto offers up a 10-course tasting menu for $115, or the 20-course GTM (Grand Tasting Menu) for $175. The 10-courser is actually comprised of a subset of dishes on the GTM, but with different names; below, I've included both sets of nomenclature. Wine pairings, selected by Sommelier Matthew Gundlach, can be had for a reasonable $70 or $90, respectively. Click for larger versions.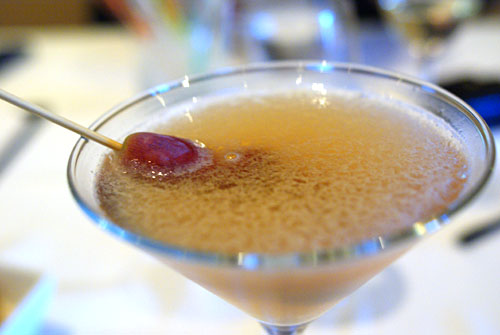 As we've been prone to doing as of late, we started off with a couple cocktails. I ordered up a Fulton Sunset [$12], consisting of gin, white grape juice, brandy, and lime. The grape juice gave the drink a sweet attack, with the gin and brandy coming into play later. Meanwhile, the spear of frozen grapes added a playful touch, and also served as a powerful foil to the alcohol.
My dining companion initially wanted a cucumber gimlet, but Moto didn't have cucumbers in stock. Our server tried to procure one from Otom next door, but no luck there either, so in its place was the Martini Library [$10]. The "library" consisted of red, blue, green, and white, with each color corresponding to a different drink: negroni, gin martini, melon martini, lemon drop. The drinks themselves were done by the book, so it was really the presentation that made this "cocktail" interesting. The use of pipettes made the drink visually stunning, and we had great fun squeezing the individual tubes into our mouths.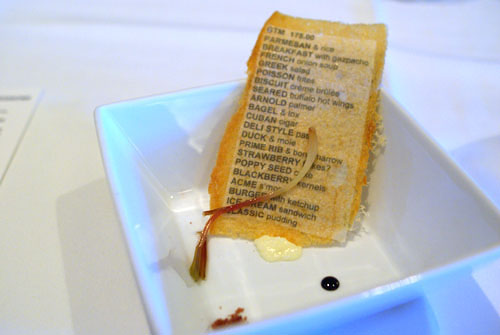 Amuse Bouche: Tuscan Garlic Bread Menu
I mentioned Moto's signature "edible surfaces" earlier, made with the help of an inkjet printer. Here is the most famous use of that technology: the infamous edible menu. Cantu uses a vegetable-based ink to print on a soybean and potato starch "paper." That paper is then affixed to a slice of garlic bread, and served with pickled ramps, balsamic vinegar, ramp butter, and pink Hawaiian salt. Taste-wise, the menu was fairly ordinary, but was nicely accented by the tanginess of the ramps.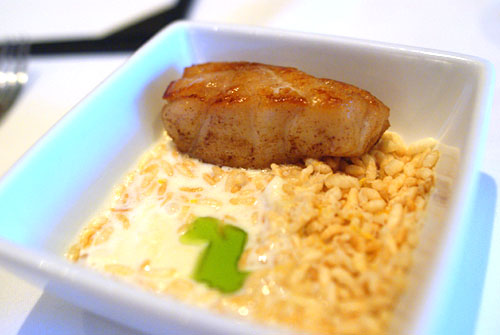 1: PARMESAN & rice / INSTANT risotto
laurent perrier, BRUT L-P, tours sur marne, brut, nv
Our first course consisted of puffed jasmine rice, Parmesan, basil oil, and a fish our server called "blueberry bass;" the fish is more traditionally known as blackfish or tautog, a type of wrasse. But no matter the name, the fish was good eatin', with a pleasing firm texture, lean consistency, and rich flavor. The key with this dish, though, was the "instant" risotto. It had a fantastic crunchy texture which went beautifully with the fish, especially when mixed with the cheesy Parmigiano and basil oil. The paired Champagne was prototypical of the style, showing plenty of bready notes along with some fruity/floral flavors. A great start to the meal.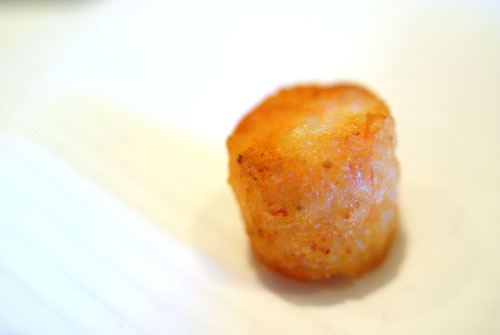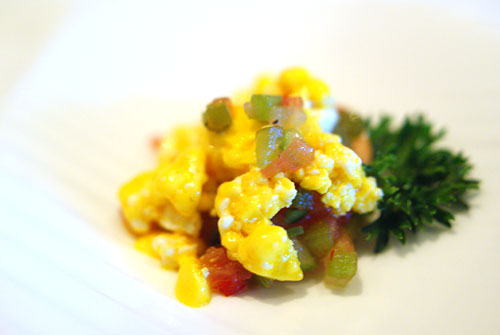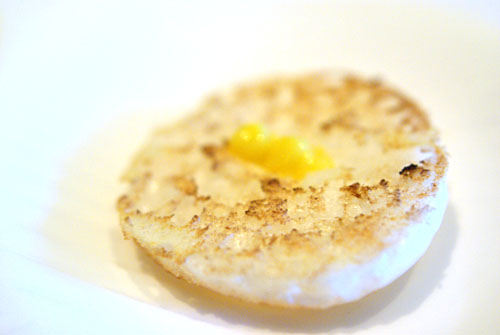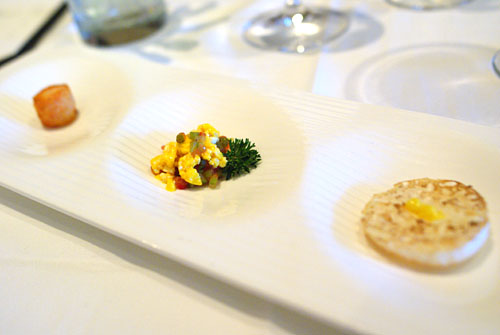 2: BREAKFAST with gazpacho / DENVER OMELET & muffin
balthazar ress, OESTRICHER DOOSBERG SPATLESE, riesling, rheingau 1995
We have here three seemingly disparate "breakfast" items that, when taken together, supposedly replicate the flavor of gazpacho (Spanish chilled tomato-based vegetable soup). First was a shrimp cake Tater Tot, which was a bit too tough for me, and tasted like an Asian-style shrimp paste cake. In the middle was a preparation of "scrambled egg," but really containing no egg at all. Instead, it was made of carrot juice and olive oil, and further flavored with cucumber, pepper, and tomato; the end result was sweet and refreshing--the veggie components of the "gazpacho." Finally, taking the place of stale bread, we had a puffed garlic "English muffin," with vegan popcorn butter. Think of a savory, unbelievably ethereal meringue and you get the idea. I ended up tasting each component individually, and was left wanting. It was only when I put it all in my mouth that everything "clicked." It wasn't a dead ringer for gazpacho, but rather a reasonably good approximation. The paired wine was a Riesling Spätlese, which had an intensely honeyed bouquet reminiscent of Sauternes. However, that nose belied its flavor, which was drier and not heavy at all, actually providing a nice crisp accompaniment to the course--quite remarkable for a 14 year old Riesling!
3: FRENCH ONION soup / GRUYERE & onions
ramey, chardonnay, russian river valley 2006
The French onion soup here had most of the traditional ingredients at play: gruyere cheese, caramelized onion, and onion chip (to take the place of croutons), all in an onion soup stock. As you'd expected, it was a heavy potage with a correspondingly heady aroma. Flavor-wise, there were no tricks here; it tasted as it should. What was interesting was the onion chip, which had a great crunch and reminded me of Asian shrimp crackers. The paired Chard, from Ramey, was about what I expected from a California bottling. It was decent on its own, lightly honeyed and oaky, with a buttery finish. However, the intensity of the soup really changed the character of the wine, bringing out its latent acidity and crisp minerality.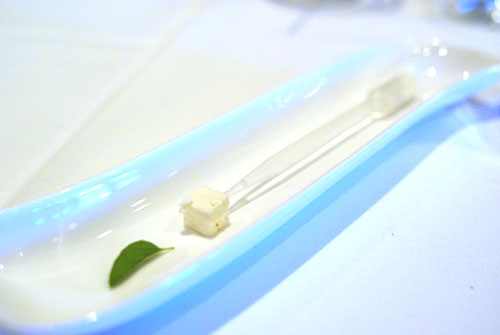 4: GREEK salad
Contained in the pipette was a so-called Greek salad liquid, containing the quintessence of cucumber, tomato, onion, and oregano--the building blocks of a real Greek salad. The pipette was embedded in a cube of feta cheese, another essential Greek ingredient; the final piece of the puzzle was a small basil leaf. I really enjoyed the bracing, refreshing liquid and how it worked in tandem with the heavy, substantial piece of cheese. The marrow of Greek salad was nicely captured here.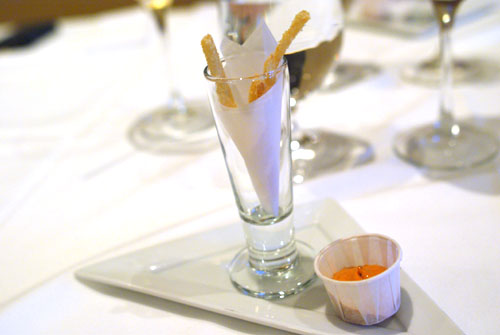 5: POISSON frites
nigl, FREIHEIT, gruner veltliner, kamptal 2007
Cantu's version of the ubiquitous
pommes frites
substitutes monkfish for potato. The end result was that the "fries" had a firm, chewy texture not unlike that of fried squid. They were wonderfully salty, as fries should be, so the included paper cup of chili cheese sauce, which was reminiscent of the little flavor packet that comes with instant ramen, wasn't strictly necessary. Give me an entire basket of this!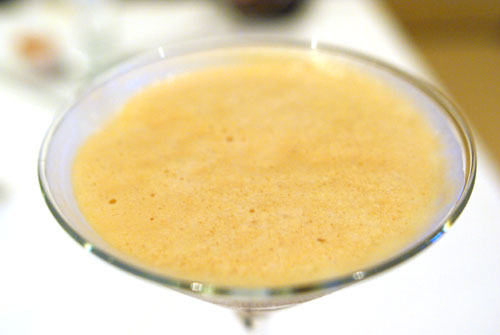 It was time for me to reload on the cocktail front. Here we have a Stormy Night [$12], a concoction of dark rum, fresh ginger, and egg white froth. Both my dining companion and I agreed that this tasted like a root beer float! It was the interplay of creamy, bittersweet, and eggy flavors that did it.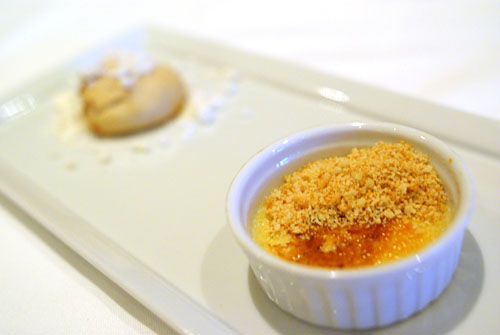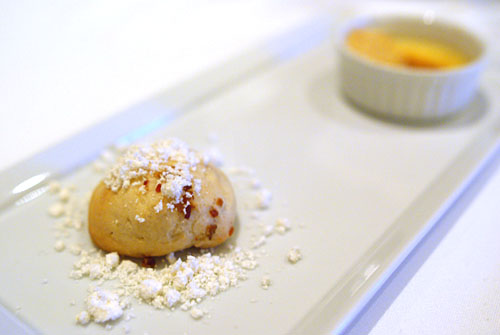 6: BISCUIT crème brûlée
calera, viognier, mt. harlan 2007
First we have a rich, savory honey-soy crème brûlée topped with maple flake. Then comes a bacon cookie with white truffle powder. Taken alone, the crème brûlée wasn't anything special; the cookie, however, was sugary, yet simultaneously salty, with an intoxicating aroma of truffle. Eaten together, the two provided a fascinating interplay of sweet and savory, of different tastes and textures. The wine, a Viognier, showed light tropical fruit flavors with a touch of vanilla. It linked up nicely with the saccharine aspects of the food, while balancing out the more pungent components.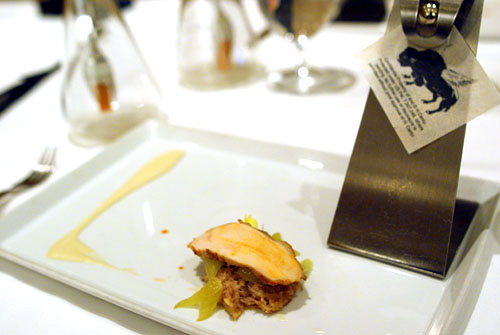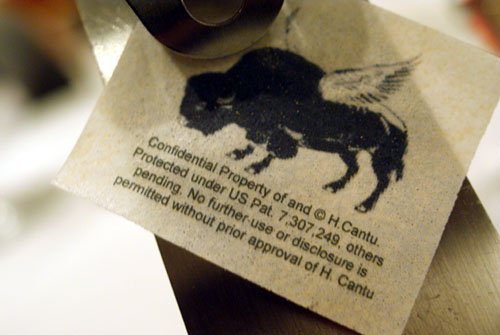 7: SEARED buffalo hot wings / HOUSE-made pequin capon
unibroue, LA FIN DU MONDE, chambly
Buffalo wings, Moto style, consisting of chicken leg and breast, braised celery, pecan chili, blue cheese celery purée, and more of that edible paper (this time flavored with Buffalo wing sauce). The chicken itself reminded me of chicken salad, and the cheese was similar to the cheese that comes with Handi-Snacks (a childhood staple of mine)! Eating everything together was immensely enjoyable, making this my favorite course of the night. A note about the somewhat tongue-in-cheek name of this course: a capon is a castrated male chicken, and a pequin is a type of chile pepper, also known as "bird pepper." And the wine pairing? Well forget hoity-toity wine, we're having wings here, so beer is the potable of choice! But since this was Moto, they wouldn't be so gauche as to pair a Natty Light (the beer I'd usually drink with wings). Rather, we got a Unibroue's La Fin Du Monde, a delectable Tripel ale with lovely stonefruit, spice, and herbaceous notes that really showed well with the chicken.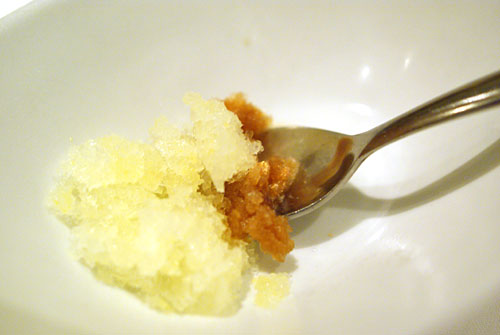 8: ARNOLD palmer
A bit of a palate cleanser after the gravity of the previous course. An Arnold Palmer is one of my nonalcoholic drinks of choice, and is comprised of an equal split of lemonade and iced tea (a mix of black and white tea, here). Anecdotally, the drink came about when a bartender at a country club resisted mixing lemonade in Palmer's iced tea. In any case, it was served here in granité form, and after adjusting to the bracing coldness of the dish, I found that the lemon clearly dominates, with the tea almost providing a savory counterpoint.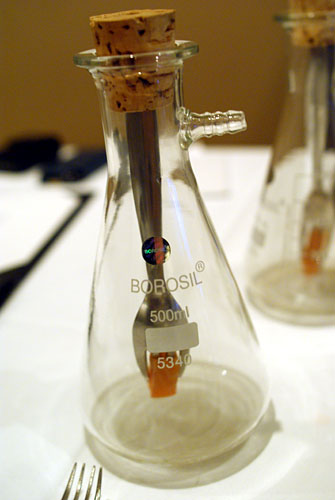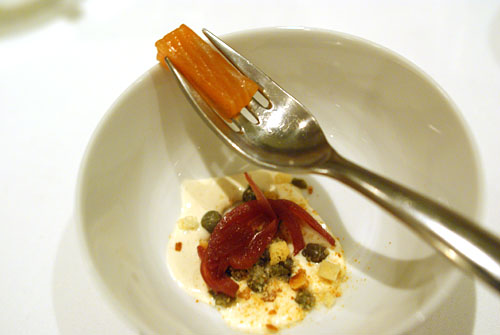 9: BAGEL with lox
trenel, chiroubles 2007
After the "BISCUIT crème brûlée" course, we were brought these beakers and told that they contained salmon and thyme smoke. The idea was to smoke the salmon at the table while we ate (à la Cantu's "polymer box"). After a couple courses, the salmon was ready, and we were given a bowl filled with bagel cream cheese, bagel croutons, red wine onion, and capers. The fish itself was akin to a very smoky preparation of smoked salmon, with a slightly dry consistency. Unfortunately, the accoutrements dominated the flavor of the salmon when eaten together, and its natural flavor was lost. I really would've appreciated more fish, in order to balance out the flavors a bit. A fierce course like this requires an equally fervid wine. The Beaujolais was definitely up to the task, showing plenty of meaty, smoky flavors; it was too much for me by itself, but was tempered nicely by the food.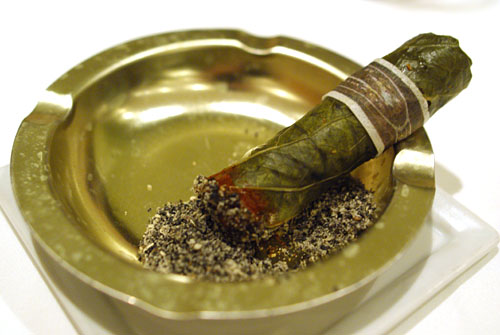 10: CUBAN pork sandwich / CUBAN cigar
catherine & pierre breton, FRANC DE PIED, cabernet franc, bourgueil 2005
A traditional Cuban sandwich contains pork (both roasted and ham), cheese, pickles, and mustard; it was popular amongst cigar factory workers, so the presentation here does make some sense. And about that presentation, I must say that it was one of the most shocking I've seen in a while! Cantu's interpretation of the classic is made from pulled pork, pickled cucumber and onion, white bread, red bell pepper purée, an edible paper band, a collard green wrap, and dusted with black and white sesame "ash." The result is a tasty dish, with the pork providing a lovely sweet-smoky contrast, the pickles giving a pleasing tang, and the collard greens adding a great snap and crispness. Clearly, this dish isn't just about the taste though, which is typical. Rather it's about the relationship of appearance and associated perceptions. When I saw this, my mind was thinking "cigar," thus indicating to me that eating such a thing would be quite displeasurable. However, when I bit into the "cigar," I tasted something delicious, and that ensuing disconcerting feeling caused by these two contradictory ideas, that cognitive dissonance, is what makes this dish brilliant.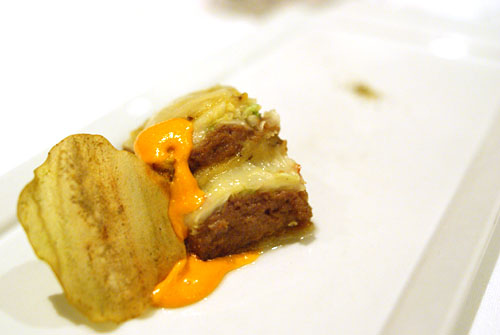 11: DELI-STYLE pasta / REUBEN lasagna
escarpment, pinot noir, martinborough 2006
Think lasagna, but done with items you might find at your local
delicatessen
: corned beef, Swiss cheese, sauerkraut, dill potato chip, and caraway-semolina dressing--most all the ingredients needed for a Reuben sandwich. The beef was great with the cheese, a classic combination really, while the tart kraut was effective in balancing its weight. The caraway, meanwhile, mimicked the nature of rye bread, and the dill recalled the essence of smoked salmon and dill pickles. A powerful dish, it needed a masculine wine to pair with. The Escarpment was up to the task, demonstrating loads of black cherry, pepper, and smoke, with a distinctly tannic finish.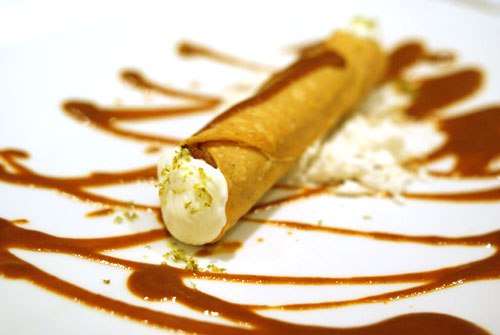 12: DUCK & molé / MEXICAN cannoli
truchard, zinfandel, carneros 2005
Here, Cantu toys with our expectations and perceptions once again. When this was brought to the table, I immediately thought "cannoli" and had sweet thoughts dancing in my mind. Instead, upon tasting it, I was presented with a sensation not unlike eating a fancy taquito. Yes, this was an admixture of braised duck meat and sour cream, rolled in a crispy tortilla, topped with jalapeño powder and laced with mole sauce. The duck alone was great--tender, juicy, and flavorful. It was balanced by the tartness of the sour cream and nicely accented by the mole, which contained elements of both smoky and sweet (mole contains cacao, so it was a good stand in for chocolate sauce here). I quite enjoyed the paired wine, a Zin from Truchard. It was a heavy wine that displayed lots of raisin, dark fruit, and mint, layered over a base of smoke and earth.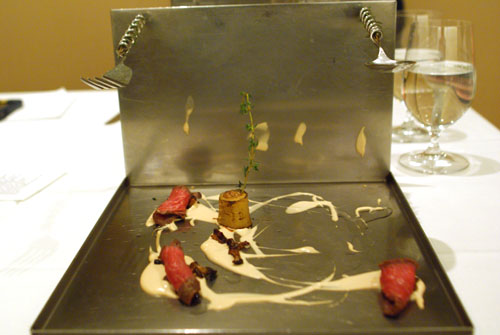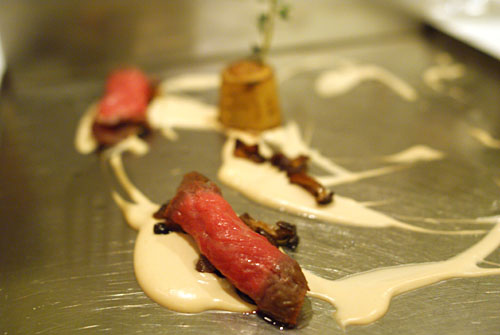 13: PRIME RIB & bone marrow
alma negra malbec/bonarda, mendoza 2007
Our last savory course came on a so-called "battleship plate," named in honor of the board game by Milton Bradley (another childhood standby of mine, though my favorite is still Connect Four!). Attached to the plate are Cantu's aromatic utensils: forks and spoons with corkscrew handles holding sprigs of thyme and rosemary--the effect was similar to that of the burning rosemary centerpiece at
Alinea
. On the plate were three pieces of triple-seared prime rib, a bit of parsley-black truffle bone marrow wrapped in potato, and mushroom, all tied together by a cauliflower-white truffle purée spread about the plate in an apparent homage to Jackson Pollock. Despite all this, the flavors here were very traditional. The beef was superb, and easily stood on its own. The complex of the mushroom and purée was quite salty, and so it was best to use only a small dollop of the stuff with the beef, to infuse the meat with a just a subtle bit of that signature truffle aroma. The marrow, meanwhile, was surprisingly light, and I loved the use of potato as a sort of faux bone.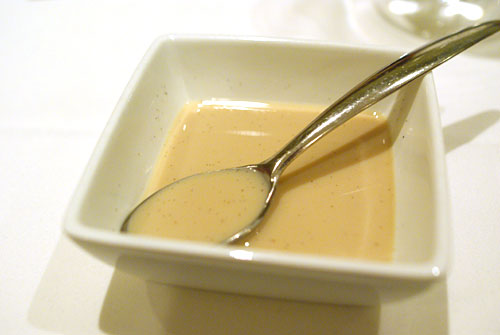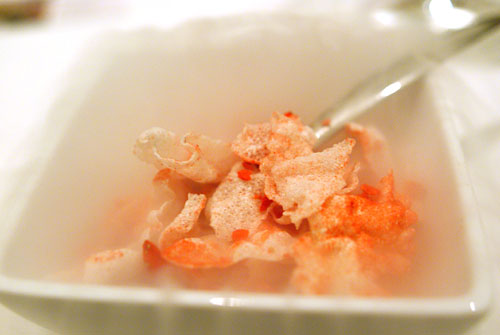 14: STRAWBERRY flakes? / YOGURT parfait
With the savories dispensed with, it was time to witness the desserts of Pastry Chef Ben Roche. We were first brought this shallow square bowl, filled with vanilla-infused sweet soy milk. Later, our server arrived with a canister of liquid nitrogen and proceeded to scoop out bits of frozen corn flakes and strawberries. The overall effect was like eating corn flakes with dehydrated strawberry, with the added benefit of liquid nitrogen adding a bit of gaseous fanfare, à la José Andrés' "Dragon's Breath" at
Saam
. The best part of this, though, was the leftover milk, which was intensely sweet and cinnamon-y, like the leftover milk from a bowl of Cinnamon Toast Crunch!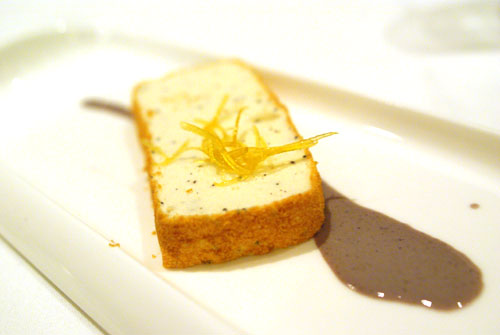 15: POPPYSEED & lemon
Lemon poppy cake, topped with candied lemon zest, with blueberry lavender cream. While this looked like a simple piece of cake, it was actually much more interesting. The dessert had a fantastic consistency that was half way in between cake and ice cream--a real "ice cream cake," if you will. Think of ice cream, but suspended in a matrix of bread, giving it a incredible light, airy, gossamer texture. The cake's delicate lemon flavor was then accented by the sharp lemon zest and sweet blueberry cream, all over a backdrop of poppy seed.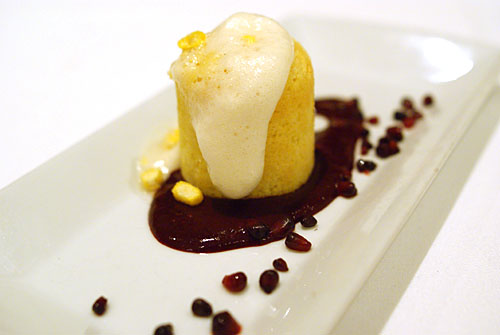 16: CORN cake / BLACKBERRY & corn
This was a hot corn cake with a caramel center, topped with saffron-lemongrass foam, with blackberry purée and blackberry chunks. The cake itself was akin to cornbread--heavy and dense, with the subtle sweetness of the corn apparent. It was fairly monolithic unfortunately, though this was partly tempered by the use of a tart blueberry sauce. A bit underwhelming, I think that this might have been better had it been served chilled.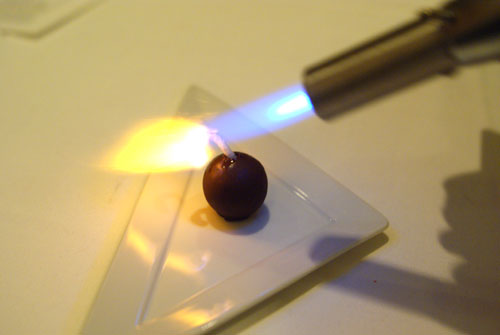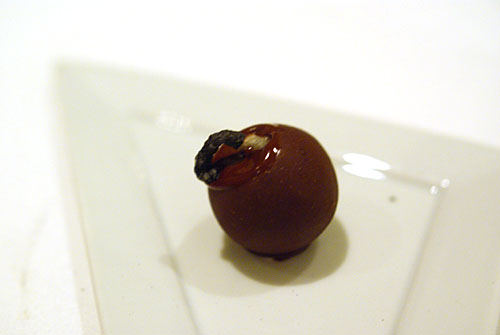 17: ACME s'mores
A popular campfire treat, s'mores (short for "some more") consist of marshmallow and chocolate sandwiched between graham cracker. Cantu's version is a chocolate sphere with marshmallow base and fuse, filled with graham cracker liquid. The "ACME" is in reference to the Acme Corporation ("A Company that Makes Everything"), Wile E. Coyote's vendor of choice in his never-ending quest to catch the Road Runner. Our server used a blowtorch to light the "fuse," and instructed us to eat the
bombe
in one bite. Once in my mouth, it exploded instantly upon mastication, coating my tongue with its sweet liquid filling (the sensation was like that of the lollipops at
Providence
). The taste was similar to that of an actual s'more, even down to the bitter flavor of the charred marshmallow.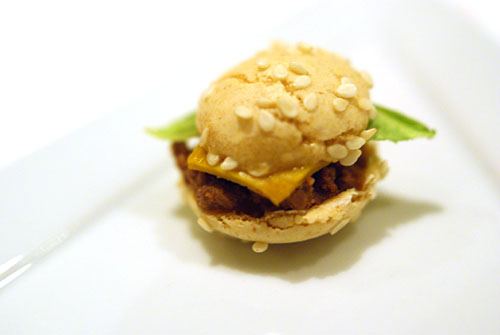 18: BURGER with ketchup
domaines de durban, muscat de beaumes-de-venise 2006
At around 1.5 inches in diameter, this would be a strong contender for the title of the world's smallest hamburger (that's not really a hamburger). What we had was ground chocolate, banana purée, maraschino, and lettuce, sandwiched in a sesame-peanut bun. I liked the concept here, but the peanut was just too overpowering, making the dessert taste like a Snickers bar.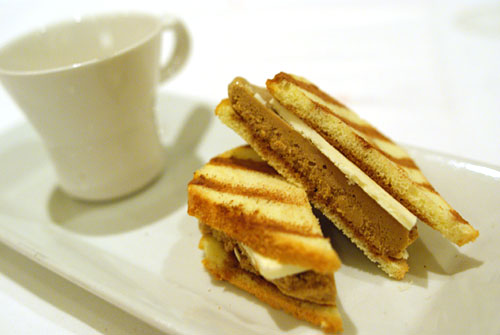 19: ICE CREAM sandwich
This was an ice cream sandwich,
literally
. The "meat" was coffee ice cream, while mascarpone ice cream doubled for the "cheese." The bread was made from ladyfingers, replete with cocoa powder "grill marks." The resulting amalgam recalled tiramisu, with a rather dominant coffee flavor. The sandwich was served with a delightful cup of warm biscotti soup, which provided a rich, spicy contrast to the dessert.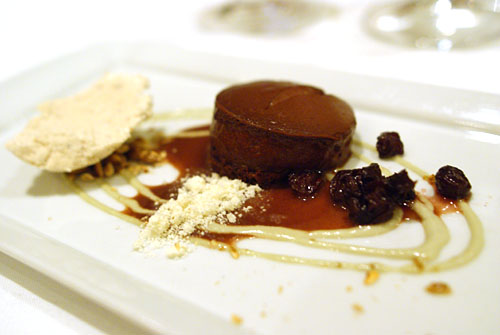 20: CLASSIC pudding / CHOCOLATE-covered raisins
sutton cellars, LA SOLERA 2ND BOTTLING, sonoma
Dark chocolate brownie, raisins, coconut ice cream smoked with corn, raisin and pumpkin purées, and vanilla powder. The key here was the interaction between the sweet and sour components of the dessert, with the chocolate and raisins performing a passable interpretation of chocolate-covered raisins. However, the best part for me was the ice cream, which was uncommonly dense and heavy, with the sweetness of coconut balanced by the savory component of the corn. This wasn't a bad dessert, but I expected a stronger, more forceful close to the meal.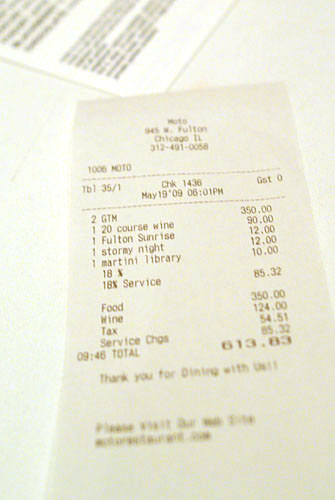 And finally, the check. Note the 18% service charge, even for a party of two. At least it was less than the 20% at
L2O
!
If we examine just the flavor of the food at Moto, we would come to the conclusion that it's solid, but somewhat pedestrian. However, that would be missing the point. If we view Moto's
raison d'être
as challenging perceptions and the status quo, then it is much more successful to be sure. Cantu combines classical flavors and hypermodern technique with his almost childlike waggishness, resulting in inherently deconstructivist cuisine that is whimsical and playful more than anything, but also creative, artistic, jarring, fanciful, and thought provoking. That last point is an important one. The food isn't as much about taste as it is about how that taste is achieved--the food is cerebral in a sense. It caused me to really think, to contemplate, which, given the amount of viand I consume in the name of haute cuisine, is a worthy achievement indeed.