Restaurant Guy Savoy (Las Vegas, NV)
Restaurant Guy Savoy
3570 Las Vegas Blvd, Las Vegas, NV 89109
702.731.7110
www.caesarspalace.com/casinos/caesars-palace/restaurants-dining/restaurant-guy-savoy-detail.html
Sat 06/13/2009, 06:00p-08:30p
It'd been a while since my
last visit to Las Vegas
, so a return trip was appropriate, especially considering that it was my birthday weekend. I had a Cirque du Soleil show to catch later that night at the Bellagio, so a light dinner at Guy Savoy (pronounced
ghee sah-vuah
) at Caesars Palace was in order for meal #1 in Vegas.
But first, a bit of history: Monsieur Savoy was born in 1953 in Nevers, a commune in central France in the Bourgogne region. A couple years later, his family moved to Bourgoin-Jallieu, a commune in the Isère department of southeastern France. His mother ran a small restaurant, and living near Lyon, the so-called culinary epicenter of France, Savoy was exposed to an environment that imbued within him a love for great, seasonal food. As a result, at age 15, a young Guy Savoy already knew that he was destined to become a chef.
Shortly thereafter, Savoy began apprenticing at various establishments in the country, beginning with chocolatier Louis Marchand. In 1970, he moved to the famed restaurant Les Frères Troisgros in Roanne, then to Chez Lasserre in Paris, to Lion d'or in Geneva, and to L'Oasis in La Napoule. In 1977, Savoy was recruited by Claude Verger to run the kitchen at La Barriere de Clichy in Paris. Then, in 1980, Savoy opened his eponymous restaurant on Rue Duret in Paris, which proved quite successful, garnering its first
étoile Michelin
after only a year, and its second in 1985. In 1987, Restaurant Guy Savoy moved to the nearby Rue Troyon, where it sits today; the restaurant achieved 3-star status in 2002, and it was also in this year that Savoy was voted "Chef of the Year" (
Chef de l'Année
) by his peers.
Savoy also owns four other eateries in addition to his namesake: Atelier Maitre Albert (a
rôtisserie
), Les Bouquinistes, and Le Chiberta, all in Paris, and, of course, the subject of this post, Restaurant Guy Savoy in Las Vegas. The restaurant opened in May 2006, and is a close counterpart to its Parisian brother, with a menu that is about 90% identical. Savoy's son Frank (formerly of the one-star Le Chiberta) runs the show in Vegas and oversees service that is formal, yet not overly stuffy, with a right amount of levity and warmth. In fact, the younger Savoy greeted me upon entering; his charisma was palpable, and he jokingly offered to dine with me upon hearing that my dining companion had cancelled on me (I then asked if he was going to pay!).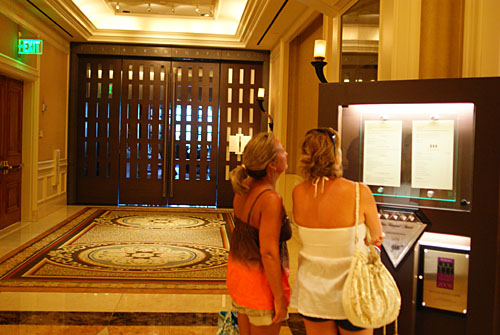 Restaurant Guy Savoy is situated on the second floor of the Augustus Tower, across from the Qua Spa and the hotel's wedding chapels, and well away from the hustle and bustle of the casino floor. The entrance marked by large slatted double doors, set in dark wood--they recall the doors of the original Rue Troyon location (much in the same way
French Laundry's
signature blue doors are duplicated at
Per Se
).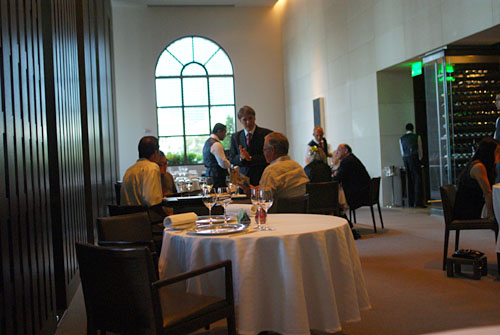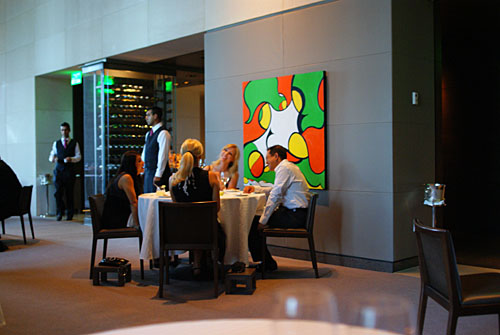 The dark wood motif continues in the Jean-Michel Wilmotte-penned interior, where it's nicely contrasted by the light beige walls adorned with contemporary art--the overall look is serious and sleek, modern and minimalist. Large windows drape the space in natural light, and also provide a view of the "Eiffel Tower" (the Paris restaurant has no such view!). The restaurant seats around 75 diners, in the main dining room pictured above, as well as in three private salons--Axelle, Eliott, Leah--named after some of Savoy's grandchildren. Finally, a chef's table in the kitchen seats six.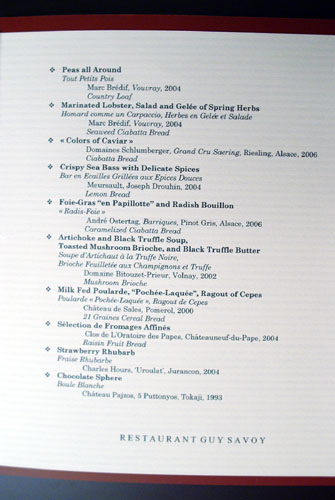 A few dining options are available. There is a three-course $98 Pre-Theater Menu, a $190 TGV Menu ("a 90-minute experience"), and a $290 Menu Prestige (shown above, click for larger version), featuring an array of Savoy's best-known dishes, as executed by Executive Chef Eric Bost. You can also go à la carte, buy why? For smaller budgets, an appealing option is the "Bites and Bubbles" menu of small plates, available in the restaurant's "Bubble Bar." Or, on the opposite side of the spectrum, there is the newly-created Krug Menu, a $750 six-course menu paired with Krug Champagne, including vintages 1985, 1988, 1990, and 1995 (no Clos du Mesnil or Clos d'Ambonnay though unfortunately).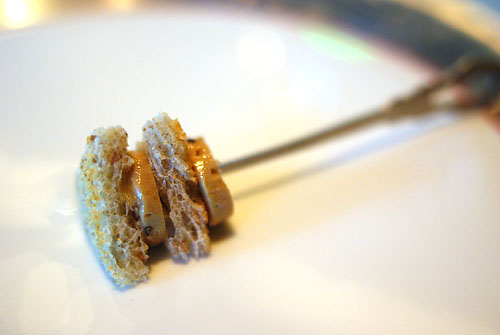 Canapé 1: "French Club"
Upon being seated, I was brought this "French Club," consisting of alternating layers of duck foie gras and brioche. The initial flavor was quite mild, with the bread taking a more dominant role; however, as I chewed, the essence of foie gras became stronger and stronger, ending in a manner not unlike that of a foie gras terrine. Also notable was the textural contrast between the intentionally stale bread and the creamy foie.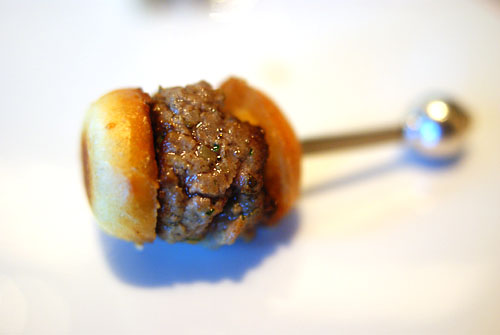 Canapé 2: "French Burger"
Next was another micro-sandwich, the "French Burger" of cooked beef tartar with Parmesan cheese. It was ridiculously tender and flavorful, with a bit of a tangy finish to boot. If only full-sized burgers could be this intense!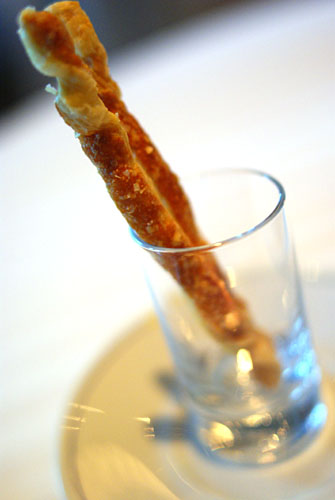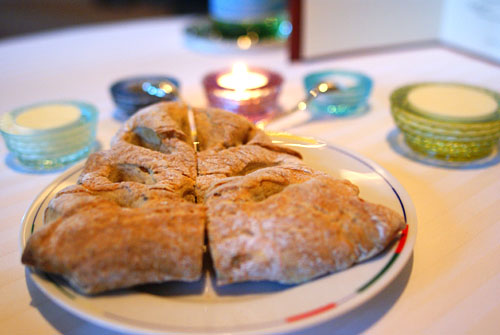 At this point, some bread was brought out--first, a plate containing a large loaf of black pepper-rosemary country loaf, and then a shot glass holding a pair of bread sticks. The sticks were especially notable, as I was expecting something rather hard and brittle, but instead got bread that was flaky and cheesy. They were delicious, reminding me of the gruyere gougères at
CUT
. Bread was served with unsalted butter, pepper, salt, and salted butter.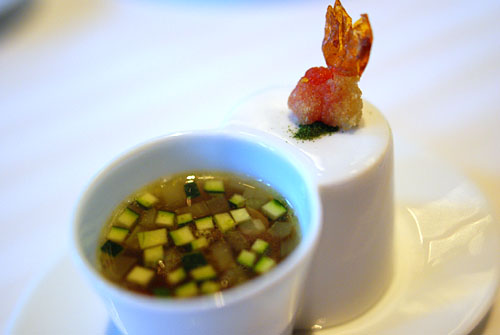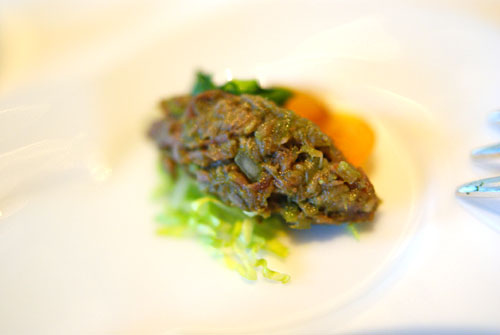 Amuse Bouche Trio
Next was the formal amuse bouche course. I first tasted the parsley-based minestrone soup with celery, tomato, and cucumber. It was a light but hearty potage, with a tangy, vegetal, even nostalgic taste that harked back to my childhood. I then had a tiny tomato tempura, a small bite with a lovely tart, creamy, cool center balanced by a savory, crunchy exterior. But wait, there's more! Lift the plate and you'll find a quenelle of warm beef salad with romaine and tomato. This was my favorite of the troika, and reminded me of a braised preparation of beef, but lighter. It had a profound depth of flavor and tender, yielding texture--excellent.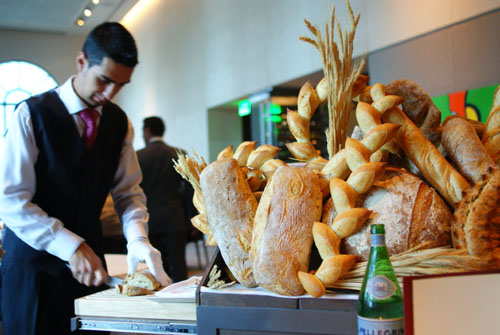 I was then presented with the most impressive display of bread I'd ever witnessed (yes, even more impressive than at
Robuchon
!). There was no way I was going to remember all the varieties; I mentioned this to the bread server (pictured above), and he suggested a
bread pairing
. I'd never experienced such a thing before, so of course I responded affirmatively.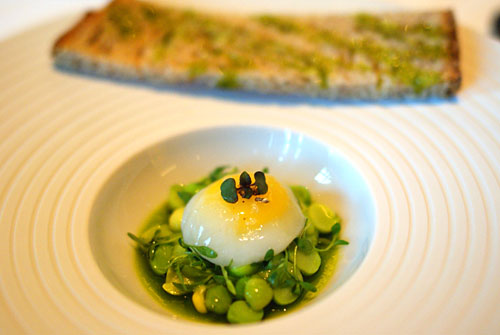 Special Course: Peas all Around
| Tout Petits Pois
Marc Brédif, Vouvray, 2004
Country Loaf
Now, I don't if it was because I was taking photos of the food, or perhaps everybody gets this, but my meal proper started with a dish that wasn't listed on the menu (it was from the TGV, in fact). I'm not complaining, however, as it turned out to be one of my strongest courses of the night! We have here twice peeled (to extract maximum pea flavor) English peas, over a pea gelée, in a pea purée, dressed in chive oil, mixed with what I believe were curly cress microgreens, topped with a quail egg (which my server proceeded to slice open), and served with a country loaf brushed with more chive oil. My server stated that the dish was meant to represent the transition of seasons from spring to summer, and indeed, it was a breath of fresh air, like eating freshly picked greens. The very quintessence of pea was captured so forcefully, so elegantly in this dish. The peas' flavor was so sharp, so shiny, while the microgreens provided a delightfully bitter, tangy, lingering finish that was deftly balanced by the rich, creamy, decadent egg--sort of the polar opposite of the veggies. A light, bright dish like this deserves a wine in the same vein, and the Vouvray from producer Marc Brédif fit the bill perfectly, showing sweet, fruity citrus and grass notes over a slightly effervescent body--a great start.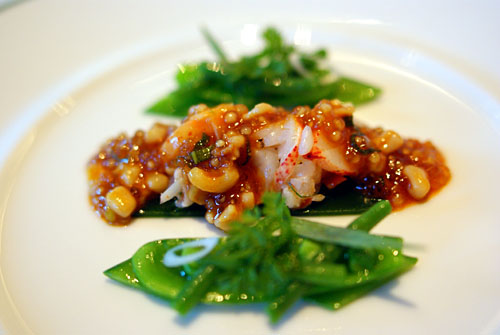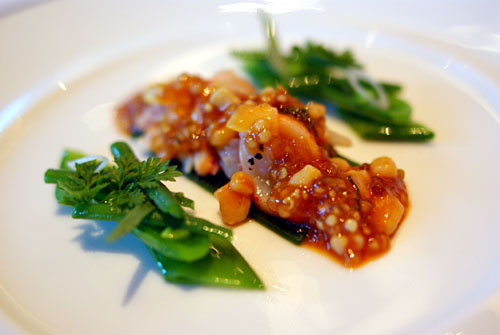 1: Marinated Lobster, Salad and Gelée of Spring Herbs
| Homard comme un Carpaccio, Herbes en Gelée et Salade
Marc Brédif, Vouvray, 2004
Seaweed Ciabatta Bread
Now we get to my "official" first course, which was only a little less wondrous than the Petits Pois. There's lobster, sure, over a chevril-tarragon gelée, topped with calamari and tapioca cooked in a lobster sauce, then flanked by an haricot vert-pea herb salad on either side. The lobster itself had a just about perfect, snappy texture, and was imbued with a great citrus tang--I would've been happy just eating it alone. But that would be missing the point. The calamari sauce added a superb savoriness and depth to the crustacean, while the use of tiny tapioca pearls provided a fantastic chewy textural element. And I still haven't gotten to the salad, which contributed yet another dimension to the course, with its great crunchiness from the peas and its crisp vegetal contrast, lightening the whole amalgam. Finally, we have the bread, a seaweed ciabatta. What was interesting about it was that initially, it tasted just like any other bread; it was only until further mastication that its seaweed flavors were revealed. The pairing of the briny, ocean-y seaweed with the natural flavor of lobster: brilliant. Another excellent course.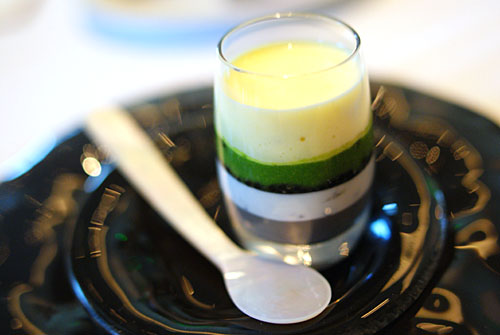 2: « Colors of Caviar »
Domaines Schlumberger, Grand Cru Saering, Riesling, Alsace, 2006
Ciabatta Bread
Next was one of Chef Savoy's most well-known creations, a multilayered affair of caviar vinaigrette, topped with caviar crème fraîche, topped with Ossetra caviar, topped with haricot vert purée, topped with hot egg sabayon, all eaten with a traditional mother of pearl spoon. Upon sniffing, I noted an eggy nose from the sabayon, while the first bite revealed a flavor progression of sabayon, haricot vert, caviar, and haricot vert again, in that order. Bite number two was sabayon-caviar-crème fraîche-caviar, and subsequent bites were subtly different, depending on how the various layers were intermixed. This was a fascinating study in different textures, tastes, and temperatures--I wanted a bigger glass! It was interesting to note that, in order to accentuate and not overwhelm the delicate flavor of the caviar dish, the bread server paired a simple, mild, plain ciabatta with the course. The wine too, needed to underscore the caviar without dominating it. I thought that the Schlumberger did a great job, with light floral and mineral flavors in a pleasingly dry Riesling.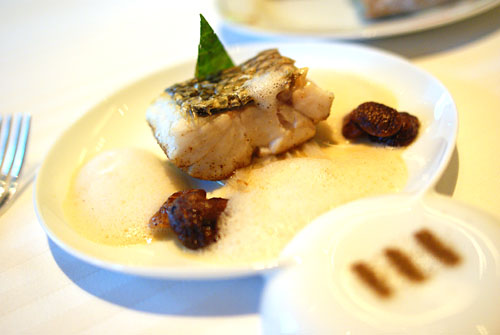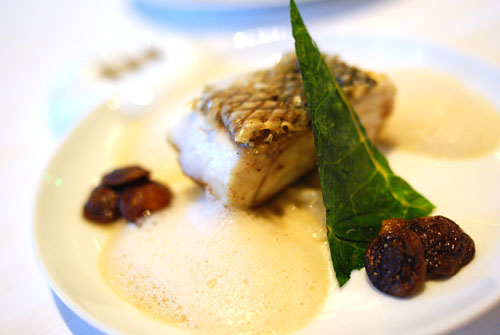 3: Crispy Sea Bass with Delicate Spices
| Bar en Ecailles Grillées aux Epices Douces
Mersault, Joseph Drouhin, 2004
Lemon Bread
Another one of M. Savoy's signature dishes is this sea bass, cooked skin side down (to make it crispy), topped with a ginger-vanilla fish stock foam, served with white and green Swiss chard and baby shiitake mushroom, and garnished with a commixture of spices including black pepper, fennel, and Sichuan pepper. Smelling it, the dish gave out an intense vanilla nose due to the foam, and eating the fish alone, this vanilla essence proved too powerful for the sea bass, overpowering the fish's natural flavor. So what to do? The key was to pair the fish with the other items on the plate. The chard, for example, tempered the vanilla's sweetness with a refreshing bitterness, while the shiitake added vegetal and earthy notes to balance out the bass, and the spices, naturally, provided a spicy finish to foil the fish. Even the bread played a role, with the bits of lemon zest and lemon confit contributing a sour tang, neutralizes the fish's sweetness. Texture-wise, I had no complaints, as the flesh was rare and tender, replete with a wonderfully crisp, savory skin.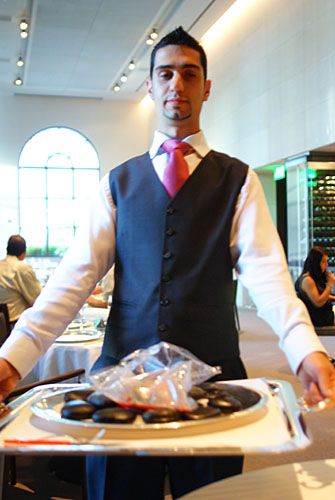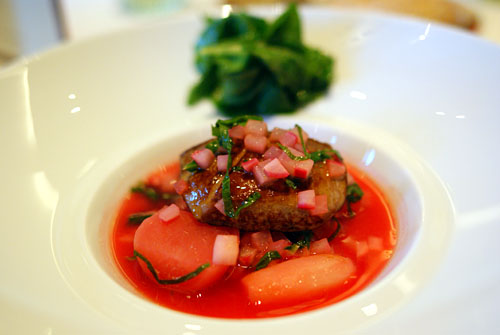 4: Foie-Gras "en Papillote" and Radish Bouillon
| « Radis-Foie »
André Ostertag, Barriques, Pinot Gris, Alsace, 2006
Caramelized Ciabatta Bread
I'm generally not a huge fan of cooked foie gras, much preferring the liver in terrine or pâté form, so I wasn't expecting much from this course--big mistake. The kitchen starts with Hudson Valley Moulard duck foie gras, which is pan-seared, then cooked
en papillote
. This means that the foie is sealed in a plastic pouch and then cooked; the food thus steams in its own juices, along with cherry vinegar and pink radishes. The transparent, bloated pouch is then brought to the table, where it's cut open, revealing the foie's intoxicating bouquet (a mix of unctuous and bitter aromas), before being brought back to the kitchen to be plated. The result of all this hoopla was arguably the best cooked foie gras I've ever had. My problem with seared foie is usually that it's too sweet, due to accoutrements like pineapple compote or apricot marmalade. After eating this, I must ask, why suffer with overly saccharine foie gras when you could do it bitter? The radish really cut the weight of the foie gras, which would've been far too overwhelming and monolithic on its own. Using the radish leaves added a bitter, vegetal, spicy, pungent smack that took foie gras to new heights for me.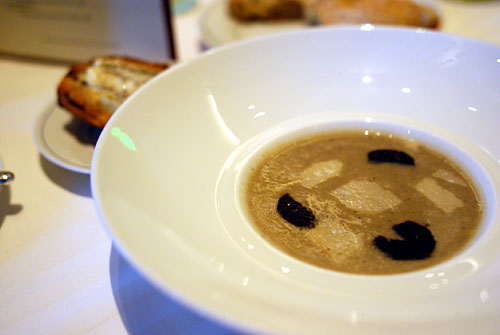 5: Artichoke and Black Truffle Soup, Toasted Mushroom Brioche, and Black Truffle Butter
| Soupe d'Artichaut à la Truffe Noire, Brioche Feuilletée aux Champignons et Truffe
Domaine Bitouzet-Prieur, Volnay, 2002
Mushroom Brioche
Arguably Guy Savoy's most famous dish, we have here a soup of artichoke, topped with shaved Parmesan and sliced black truffle. The resultant aromas of this soup was about as heady as you could imagine, abound in the smells of truffle and cheese, two elements which continued onto the soup, which was absolutely saturated with flavor, held back tenuously by the relative levity of artichoke. Really, it was the soup that was the star, not the sliced truffle itself per se. The potage's counterpart was the brioche, which was stuffed with mushrooms and spread with truffle butter. It was a rich, flaky, soft bread that my server encouraged me to dip in the liquid. This was a simple, yet prodigious, duet of flavors that stood up nicely to the wine, a Volnay from Bitouzet-Prieur that was simultaneously light, juicy, tight, and fruity.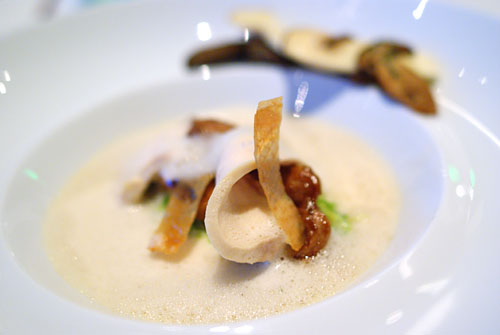 6: Milk Fed Poularde, "Pochée-Laquée", Ragout of Cepes
| Poularde « Pochée-Laquée », Ragout de Cepes
Château de Sales, Pomerol, 2000
21 Graines Cereal Bread
Though this was a chicken dish, it was quite unlike any other chicken I've had before--it was milk-fed, fattened young neutered hen, "poached-lacquered," with a chiffonade of cabbage, garnished with a duo of raw and cooked porcini (a.k.a.
cepes
). The chicken itself was quite firm, dense, heavy, with a creamy, mild flavor that was somewhat nondescript on its own. What made this dish was were the vegetables, with the cabbage providing a light, crunchy complement and the raw mushrooms--the best part of the dish--expertly balancing the weight of the chicken. What was interesting was that the bird stood up admirably to the red wine pairing, and not just any red wine, but Bordeaux, a Pomerol no less. The Château de Sales was a smooth, mature-tasting wine, with plenty of smoke, leather, and meat.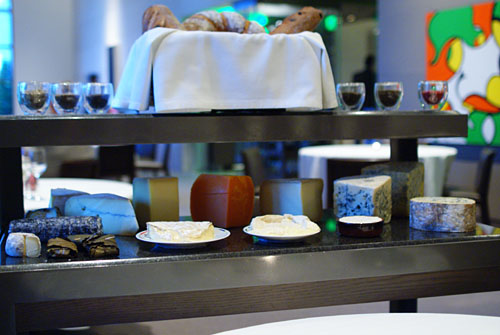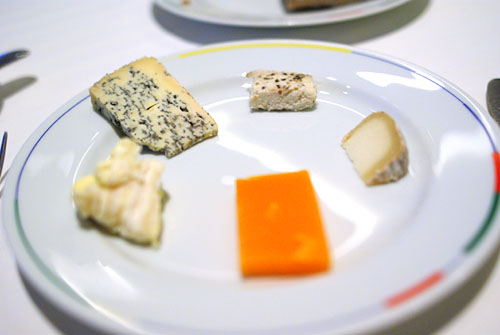 7: Sélection de Fromages Affinés
Clos de L'Oratoire des Papes, Châteauneuf-du-Pape, 2004
Raisin Fruit Bread
I always appreciate a good cheese cart, and Savoy's was certainly up there in terms of quality. I also must give credit to the cheese server, who took his time to make sure that I understood what every cheese was. I ended up choosing a varied quintet of fromage, paired with raisin-fruit and pine nut-cherry breads. Clockwise from midnight:
Cabécou Feuille - My first selection was a soft goat cheese from southern France, one that's dipped in plum brandy and sprinkled with peppercorns before being wrapped in chestnut leaves. The result was a mild, slightly tangy, very peppery cheese that was quite unlike any I'd had before.
Crottin de Chavignol - Arguably the most famous of Loire Valley cheese. A goat's milk cheese, the Crottin was slightly tangy and a bit nutty, with a medium body--I quite liked it. Don't eat the rinds on this one.
Mimolette - A hard cows milk cheese with a cheese mite-infested crust, this is one I had at Michael Mina's XIV on opening night. Originally created to resemble Edam, the cheese had a dry, savory, nutty flavor that went very well with the wine.
Saint-Marcellin - Next was this soft cow's milk cheese from the Isère region of France. A rich, creamy cheese, it was my favorite of the bunch, showing lovely nutty and earthy flavors--very nice.
Fourme d'Ambert - A fairly prototypical bleu, this was a semi-hard pasteurized cow's milk cheese from Auvergne, injected with Vouvray moelleux. This is another one that I had at XIV.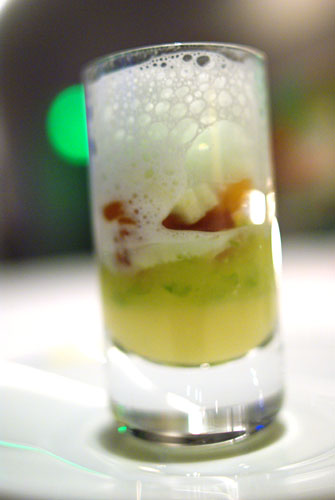 Intermezzo: "All About Green Apple"
Time for a little palate cleanser before the desserts: a green apple gelée, topped with green apple sorbet, green apple foam, and mixed with brioche. The cool, crisp, sharp, tart essence of green apple was superbly captured here, making for a rather bracing experience. The addition of brioche added a crisp texture contrast, and contributed a marked bready flavor, making the whole amalgamation somewhat reminiscent of apple pie.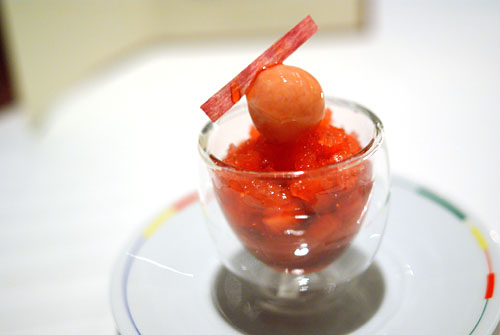 8: Strawberry Rhubarb
| Fraise Rhubarbe
Charles Hours, 'Uroulat', Jurançon, 2004
The first proper dessert was a study in different textures based on strawberries: strawberry gelée, chopped strawberries, strawberry crunch, all topped with strawberry juice. The sweet berry flavor was moderated somewhat by the slight sourness of the rhubarb sorbet, while the gelée provided a great textural counterpoint, and the sorbet a nice temperature contrast. This was a light dessert, so I was pleased with the pairing of the Uroulat, which was off-dry rather than sickly sweet, crisp not heavy, with plenty of apple and stone fruit flavors.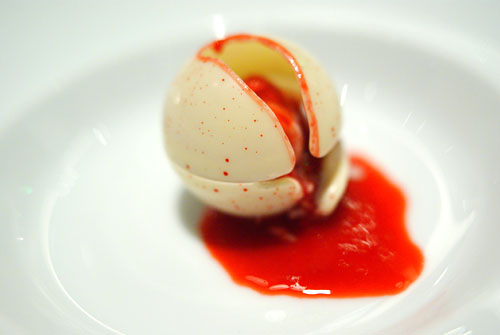 9: Chocolate Sphere
| Boule Blanche
Château Pajzos, 5 Puttonyos, Tokaji, 1993
The dessert came presented initially as a red-speckled white sphere. My server subsequently proceeded to pour on a raspberry consommé, which effectively broke through the outer shell, revealing a filling of raspberry sorbet and tuile. Though the chocolate shell was quite thin, it was surprisingly heavy, so the tart raspberry was effective in balancing it out. A heavier wine pairing was in order here, and the Tokaji worked nicely. Being a 1993, the wine was a bit older than I'm accustomed to having, with a taste that was more complex, more oxidized than normal.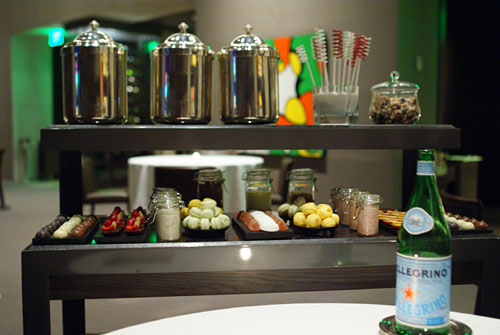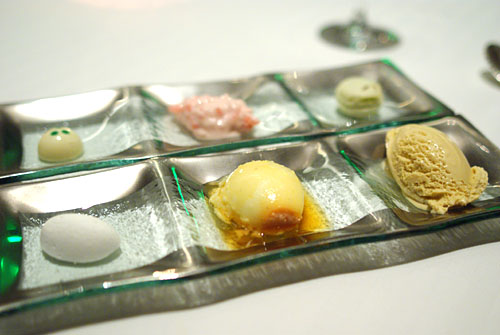 Mignardises
Now it was time for the funnest part of the meal: the mignardise cart! I was quite full by this point, so I tempered myself, limiting my selection to only six items. They were: (1) white chocolate with basil, with the strong basil mellowing the chocolate; (2) a surprisingly restrained praline rice pudding; (3) an herbal, then sweet fennel macaron; (4) crème caramel, basically a crème brûlée without its caramelized top; (5) a subtle lychee marshmallow; and (6) brown butter ice cream, with a rich, heavy caramel flavor.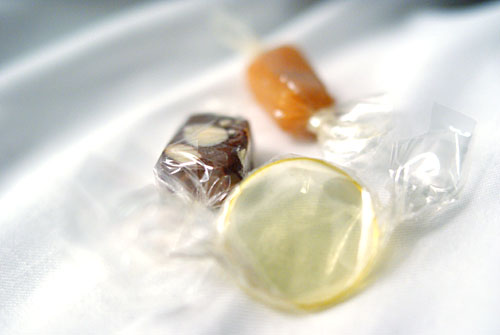 Grab a few chartreuse and caramel candies on the way out.
During this meal, I kept thinking to myself that Guy Savoy may be deserving of a three-star Michelin rating. Given my last meal at
Picasso
, a fellow Vegas two-star, it seemed to me that Savoy and company were clearly in another league culinarily. And even looking back at the New York three-stars I visited over the holidays, the food at Savoy excited me more than that at
Jean Georges
or
Le Bernardin
, and perhaps even at
Per Se
. Overall, I came out
quite
impressed--the place exceeded my expectations, showcasing the kitchen's dedication to quality produce, precise technique, and culinary creativity. The food is unabashedly French, yet seems to be so much more, demonstrating some of the boldest, brashest tastes I've encountered in a while, with focused, lively flavors that seem to jump off the plate. Prediction: it took the original Guy Savoy 22 years to gain that third
étoile
, Vegas won't take nearly as long.