Hachi (Los Angeles, CA)
Hachi
12009 Wilshire Blvd, Los Angeles, CA 90025
310.473.9603
www.hachi.us
Fri 06/19/2009, 07:05p-10:00p
A relative newcomer to the Japanese cuisine scene in LA, Hachi is a sushi bar-
cum
-robata that opened in November 2008. The restaurant is actually part of Takee International's restaurant group, which also operates the Manpuku series of yakiniku joints (in Los Angeles, Costa Mesa, and even Tokyo). Having heard pretty good things about Manpuku, I felt that I'd be in good hands here, though the fact that Hachi serves items like the Philadelphia Roll did put me on guard somewhat. Indeed, there are some fanciful rolls here, with some fusion "Nobu-style" dishes thrown in for good measure as well. The focus, though, is on sushi and yakitori/kushiyaki, with the robata items grilled using Kishu bincho charcoal from Wakayama Prefecture (generally considered the highest quality).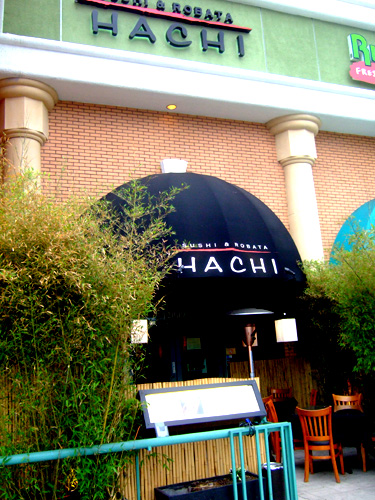 Situated next to a Rubio's, Hachi is located in the Brentwood Place shopping center. Parking is located in the same structure, and, thankfully, is easy and free.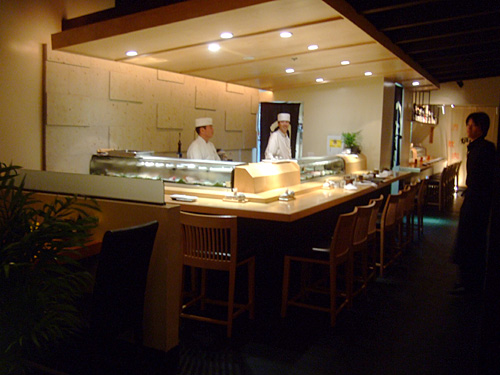 Inside, you'll find two bars, one for sushi (where we were seated), and one for the robata grill, while tables line the walls. The decor is pleasant, contemporary, comfortable, though not breathtaking.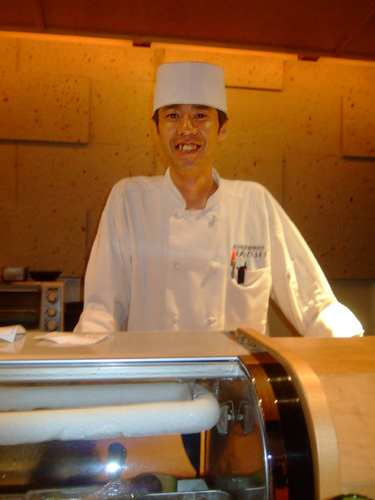 As one of my dining companions had a prior relationship with the restaurant, we were seated directly in front of Executive Sushi Chef Masa Yamamoto, a 20-year veteran who began his career in the Ginza district of Tokyo, home to some of the City's finest sushi restaurants. After honing his skills in Japan, Yamamoto-san moved to the States, where he last worked at Gonpachi in Beverly Hills. Sushi Chef Nobu Shishido (formerly of Take Sushi in West Hollywood) was also present behind counter, but I believe everything we had (save for the grilled items) was from Yamamoto-san.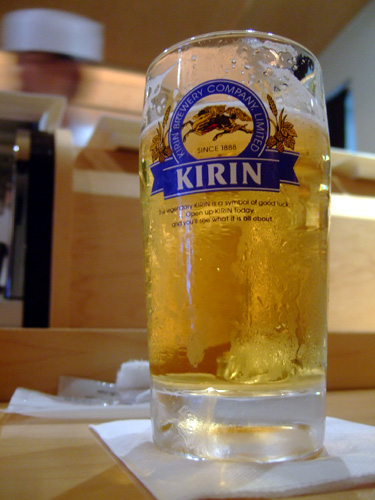 After arriving 30 minutes late (gotta love that LA traffic), I eagerly tucked into a mug of Kirin Draft [$4.50], which really hit the spot (Kirin on draught is somehow so much better than the bottled variety). We then proceeded to order a few glasses of sake to pair with the beginning of our omakase meal. The sake was the Suigei ("Drunken Whale") Tokubetsu Junmai [$12] from Kochi Prefecture's Suigei Shuzo brewery, made with
akitsuho
rice with a 55%
seimaibuai
. It was a rather "rustic" tasting sake, crisp with hints of caramel and spice, leading to a bit of heat on the finish--a good food sake.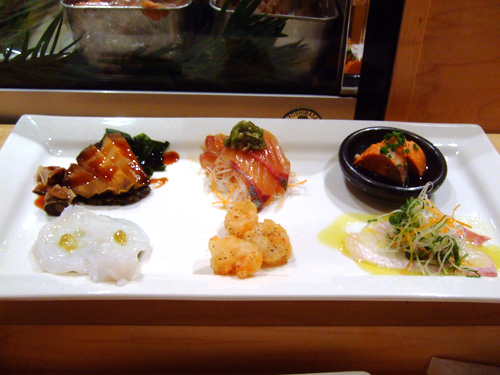 Though an omakase option is not listed normally as part of the menu, it is a very viable option at Hachi, priced at a reasonable $90. We thus began with this sextet of
sakizuke
(think amuse bouches).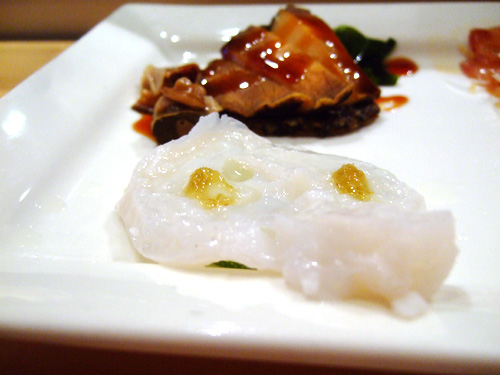 1a: Hokkaido Tako
First up was thinly sliced Hokkaido octopus sashimi, served with lime, sea salt, and yuzu kosho. The salty-spicy character of the yuzu kosho was a superb complement to the mild, slightly sweet octopus, and I enjoyed the tako's soft, creamy, lightly chewy consistency; it was a great change from the cooked octopus one normally gets at sushi places. Very nice.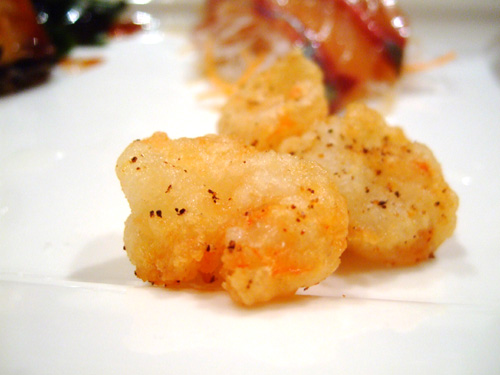 1b: Rock Shrimp Tempura
The next few bites take a page from the Nobu Matsuhisa playbook. Peppery, crunchy, salty, the shrimp make for great snacking. Nothing particularly unique, but I could eat them all day--yum!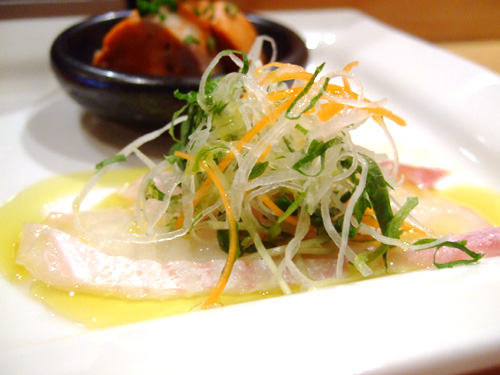 1c: Hirame Sashimi
Here we have hirame sashimi, over olive oil, topped with shredded daikon and scallion. I liked the crispness and the tanginess provided by the fish's accoutrements, but the olive oil was a bit strong for me, masking some of the hirame's natural sapor.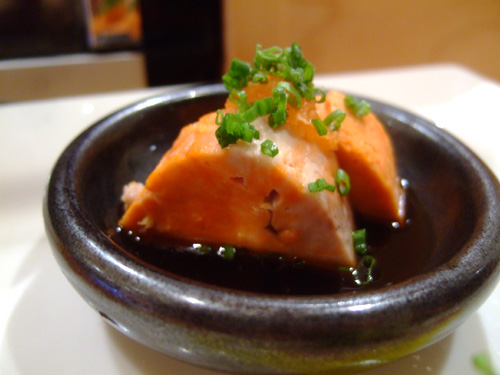 1d: Ankimo
Ah ankimo, otherwise known as monkfish liver--here it was served in a ponzu sauce and topped with
momiji oroshi
(grated daikon with chili pepper) and chives. It was everything I'd want from ankimo: creamy, soft, with a mild tinge of liver flavor--very good.
1e: Shima Aji Sashimi
Shima aji, or striped jack, done in a "zuke" (pickled) style, topped with wasabi stem, in a mixture of soy and dashi, over shredded daikon. I believe this was the first time I've had wasabi stem, which possesses the heat of wasabi, but in a slightly heavier, less biting form. I had to temper its application, as to not overpower the fish. In moderation, it was a fitting complement to the shima aji, as was the daikon, which countered some of the wasabi's heat.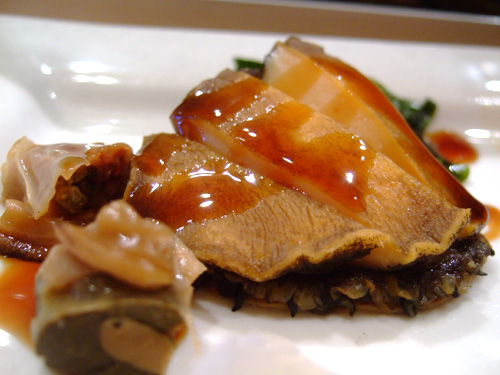 1f: Steamed Awabi
We concluded with steamed abalone. It was an immensely tender preparation, and quite savory as well. I would've liked the mollusk's natural sweet brininess to have been more apparent however.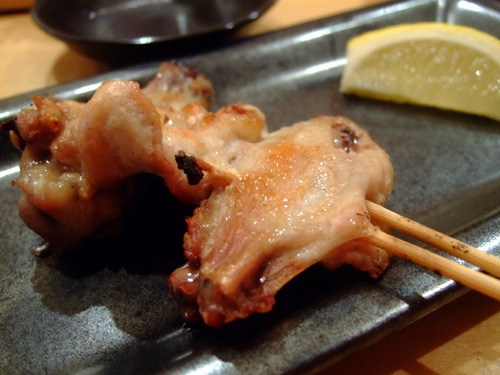 2: Chicken Wing
The first item from the robata grill was
tebasaki
. The wings were a good combination of tender and gelatinous, imbued with
tebasaki
's signature smoky chicken flavor. A bit of lemon heightened the experience even more.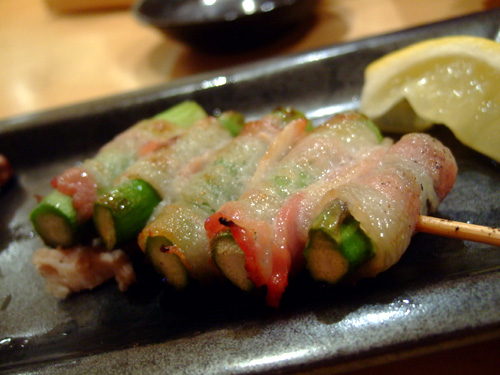 3: Asparagus with Pork Belly
The
tebasaki
was followed up by
asuparabekon
, or bacon-wrapped asparagus. As a fan of both bacon and asparagus, there was almost no way this could be bad. And indeed, the fatty, savory pork did a great job in adding saltiness and body to the vegetal, bitter asparagus. Very good.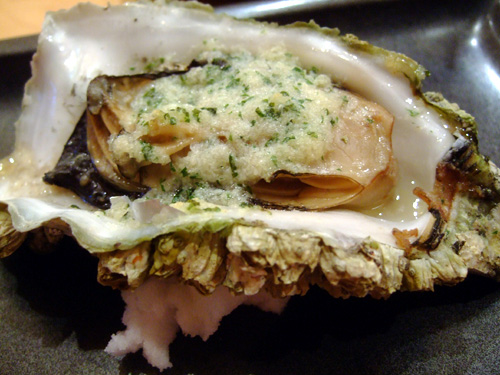 4: Chacoal Grilled Oysters topped with Garlic Butter
This was a Pacific oyster from Seattle, grilled with a garlic-butter sauce. Now, this was a
big
oyster, but went down easy, as the mollusk's intrinsic briny intensity was balanced deftly by the rich, savory sauce. I quite enjoyed this--one of the better oysters I've had.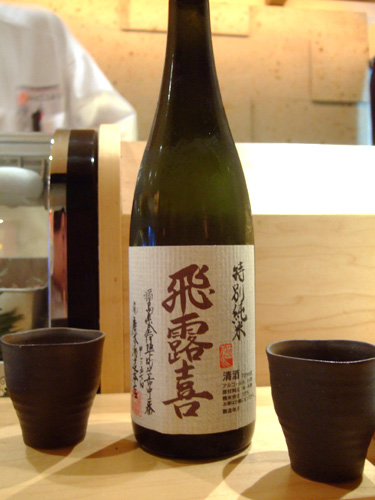 With the Suigei dispensed with, the next sake we had was a bottle of the Hiroki Tokubetsu Junmai [$72], a 55%
seimaibuai
,
yamada nishiki
sake from Fukushima Prefecture. Though similar in spec to the Suigei, it was a totally different beast--sweeter, more floral, more viscous. Yet, at the same time, it was still clean and refreshing, with a pleasing acidity--delicious.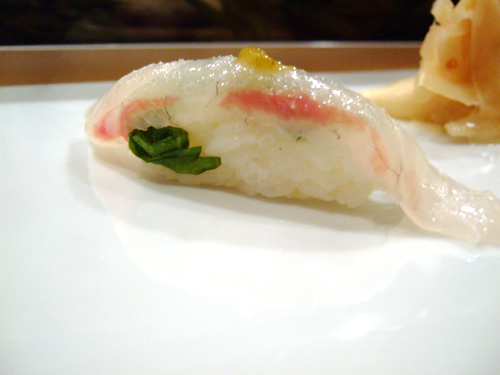 5: Tai
With that, we were ready to move into the sushi portion of our meal. First up was snapper, topped with a dot of yuzu kosho, shiso, olive oil, and salt. The shiso and yuzu kosho formed a great contrast to the silky, creamy fish, adding layers of flavor to the tai. Excellent.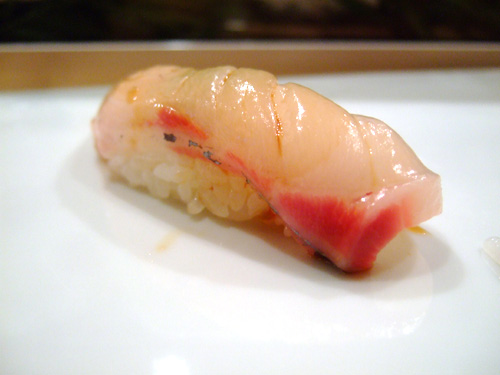 6: Shima Aji
A straightforward shima aji, or striped jack, from Japan. I found the fish meaty, yet tender, with the soy providing a wonderful flavor complement and the rice proving likewise in the texture department. Such a different preparation than the sashimi above.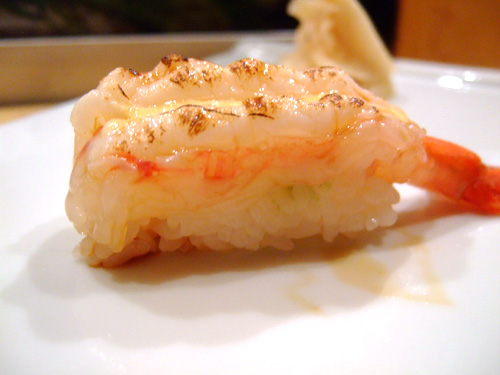 7: Amaebi
This was local (Santa Barbara likely) sweet shrimp that wasn't so sweet. Amaebi is usually served completely raw, but here, the shrimp was seared on top. This gave it a great contrast between the creamy, sweet bottom and the smoky, seared top, tempering the brininess of the shrimp in the process. Superb.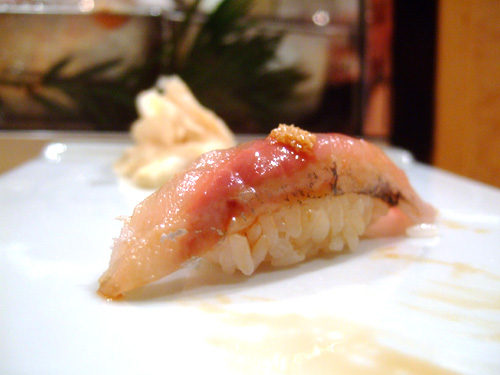 8: Aji
Aji is fast becoming one of my favorite sushi fishes, and this reminded me as to why. This was simply Spanish mackerel from Japan, topped with a bit of ginger. It was this ginger that was the key, providing a biting, acerbic tang that balanced the oiliness and fishiness of the mackerel. A highlight of the meal.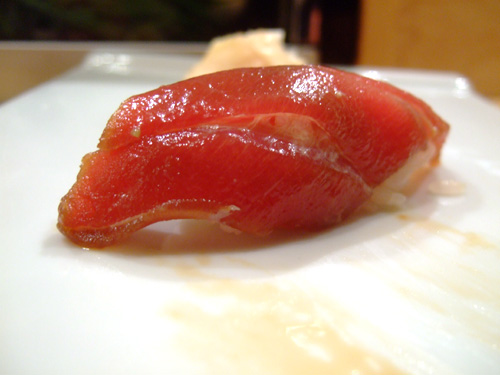 9: Hon Maguro Akami
Akami
refers to the red meat of tuna, basically what you normally get unless you're having some sort of toro. In any case, this was bluefin marinated in soy sauce. It was a bit more interesting that your typical tuna, with a soft, yielding consistency, salty flavor, and strong wasabi finish.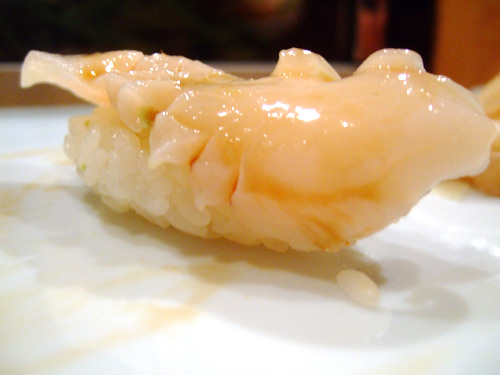 10: Shiro Mirugai
Interestingly, a distinction was made here between regular mirugai (giant or geoduck clam) and this
shiro
mirugai, which apparently is slightly different. The difference, I'm told, is that the shiro mirugai is larger than the mirugai typically found in Japan. In any case, it was served here simply with soy and wasabi. The clam had crunchy but yielding texture and a sweet, briny flavor finished with a wasabi kick. Nice.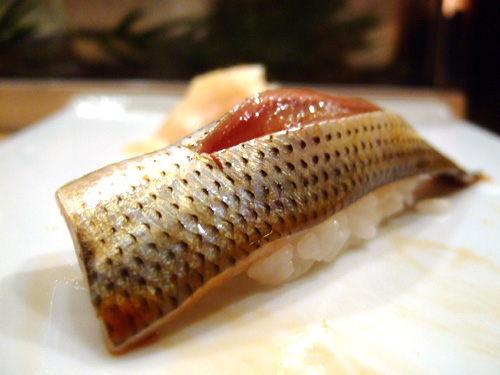 11: Kohada
Making a relatively rare appearance here was kohada, or Japanese gizzard shad. Kohada is a quite distinctive fish, with a firm consistency and a strong, ocean-y flavor. I'm told that June is the best time of the year for baby kohada, or
shinko
.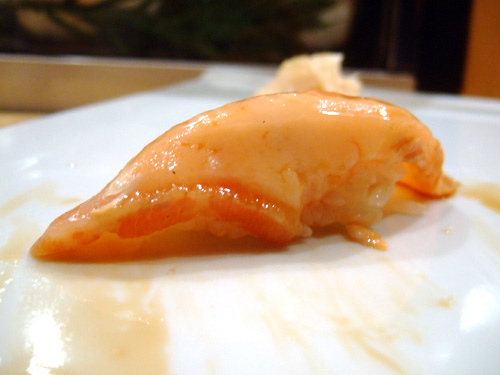 12: Sake-No Harasu
This was salmon, but not normal salmon, rather salmon belly, marinated in sake (
kasuzuke
I believe). This treatment resulted in a smoky, savory flavor atypical of the fish, as well as a very tender, fatty consistency.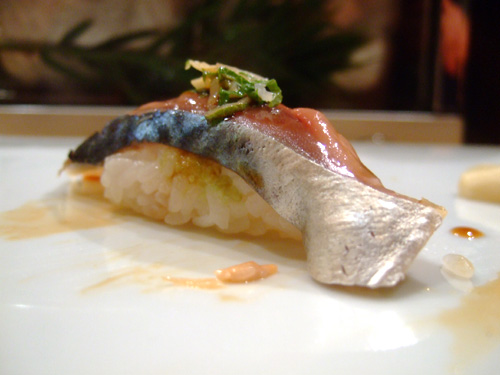 13: Saba
As with the aji, saba is also a type of mackerel, and here it was served with ginger like the aji, but also with scallion. Similarly, these two accoutrements cut the fishiness of the saba, which I found to be stronger tasting than the aji.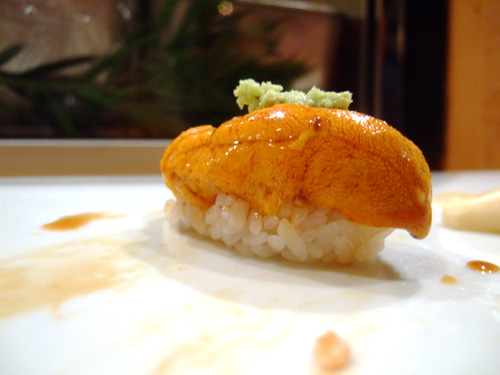 14: Uni
Sea urchin roe, in
nigirizushi
form, rather than the more common
gunkanmaki
shape. The uni's signature briny, sweet flavor was there, balanced by the use of wasabi, but it was served a bit too cool for me, resulting in a somewhat jarring sensation that blunted the course.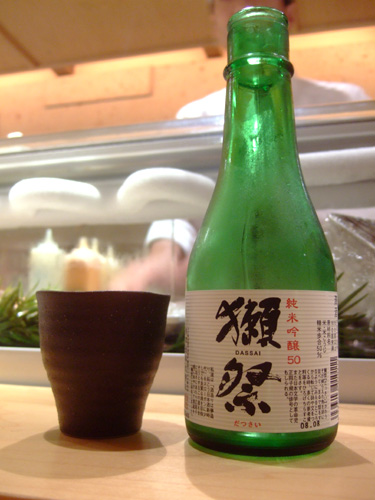 Our final sake selection was a 300mL bottle of the Dassai 50 Junmai Ginjo [$25], made by Asahi-Shuzo Sake Brewing in Yamaguchi Prefecture. "Dassai" means "otter festival," and refers to the presence of otters in the area's rivers in the past, and how said otters would scatter their fish catch on the shores, as if they were celebrating a festival of sorts. The name also references revolutionary haiku poet Masaoka Shiki, who called himself Dassai due to his proclivity to scatter reading material over the floor of his residence. In any case, the Dassai represents a sake that's smooth, sweet, subtle, yet complex--my favorite of the three.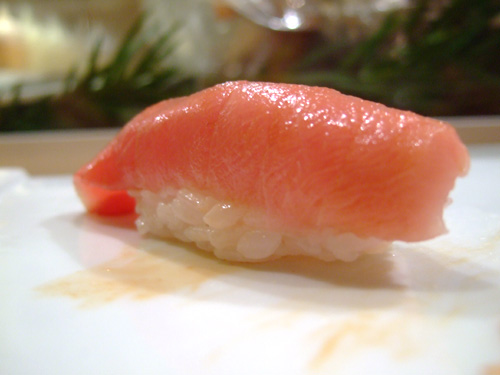 15: Hon Maguro Chu-Toro
Chu-toro is a middle ground between akami (above) and the over-the-top unctuousness of o-toro. It is, of course, blue fin belly, and was notably creamy in consistency, not too oily, with a delicate flavor heightened by wasabi.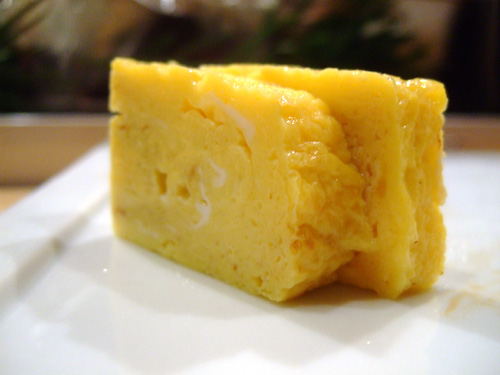 16: Tamago
The tamago marked the end of the string of sushi. The example here was quite cold, with a sweet flavor initially leading to a lingering eggy finish.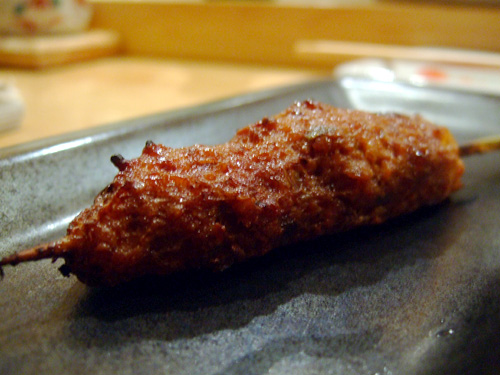 17: Tsukune
We decided that we needed one more yakitori item, and thus ordered up a round of
tsukune
, or chicken meatball. This was a very rich, very savory preparation, and though tasty, I would've liked more of the chicken's natural flavor to shine through.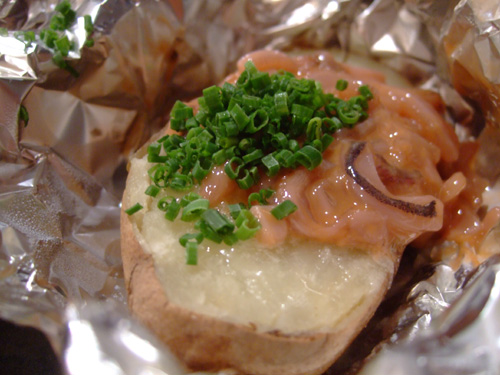 18: Jaga Butter Shiokara
Now this was somewhat of a first for me.
Ika no shiokara
is fermented squid guts and legs, and, as you'd expect, it had a rather strong, pungent, salty, fishy smack to it. However, it wasn't offensive, and paired well with the relatively mild grilled potato, butter, and chives. The dish is designed to go well with sake, and Yamamoto-san was even kind enough to treat us to another bottle of the Dassai, on the house (we'd run out already by this point). I have had a similar dish,
hotaruika no shiokara
, made with whole firefly squid, at
Urasawa
before.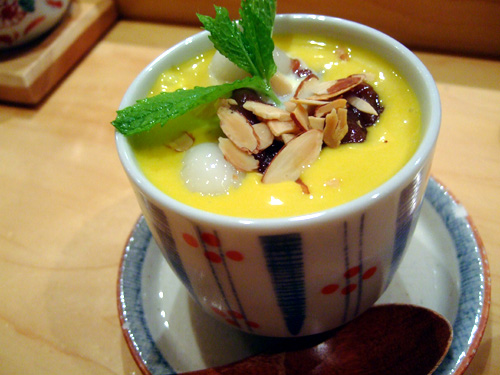 19: Pumpkin Zenzai
Finally, it was time for dessert, a pumpkin
zenzai
, basically a red bean and pumpkin (
kabocha
) soup, served with mochi balls, ice cream, and almonds. It was almost a chawanmushi-like experience, with the mochi providing a great chewy textural element, the almond adding a lingering nutty finish, and the ice cream balancing the richness of the dish, while also adding a cool temperature contrast. Dessert was served with
agari
, a green tea. The tea's bitterness was great in mitigating the sweetness of the course and cleansing the palate.
Hachi is a welcomed addition to the Westside sushi scene, and I savored my time here considerably. I was able to enjoy a fairly traditional omakase meal, but at the same time, it looked like plenty of tables were enjoying their Red Dragon rolls and other fusion-y dishes. Clearly, the chefs know what they're doing, satisfying a wide range of palates--my only concern is that Hachi may be trying to do too much at once.