Pizzeria Uno (Chicago, IL)
Pizzeria Uno
29 E Ohio St, Chicago, IL 60611
312.321.1000
www.unos.com
Mon 05/18/2009, 11:55p-12:25a
A visit to Chicago just wouldn't be complete without a sampling of the City's pizza. After dinner at
L2O
, we were full, but not stuffed--we had pizza on the brain. We'd actually asked our servers at L2O, Christina and Christine, for some recommendations, and they'd tossed out names like Pie-Eyed, Piece, and Pizano's. Thus, on our cab ride back, we made some phone calls, but none of the places would take our order! Exhausted, we told our cabbie to head over to the grande dame of Chicago pizza: Pizzeria Uno. On my last trip to the City, I'd tried Giordano's and Gino's East, so this time around, it seemed fitting to try a pie from the last member of the Chicago pizza triumvirate.
Yes, according to the official company line, the famous Chicago-style deep-dish pizza was created in 1943 by Uno's founder and University of Texas footballer Ike Sewell. Some, however, claim that Uno's employee Rudy Malnati invented it (his son Rudy Jr. runs Pizano's, while another owns Lou Malnati's)--that actually seems more plausible to me. Or, perhaps, the pizza was the creation of co-owner Rick Ricardo; this would corroborate the assertion that Pizzeria Uno was actually known as Pizzeria Ricardo originally. I'm not sure which line to believe; perhaps the truth has been lost to history.
In any case, due to the restaurant's success, Sewell opened Pizzeria Due just up the street in 1955, and also launched Mexican eatery Su Casa in 1965. Uno's started franchising around 1980, and currently operates over 200 restaurants in the US and abroad. The company is now based in Boston and, ironically, doesn't have any restaurants in Chicago proper outside of the three mentioned above. Uno also runs concessions at airports and stadiums, and markets a brand of frozen pizzas.
As for the restaurants themselves, menus have expanded to include scores of non-pizza items, and the original deep-dish is only a small part of the selection. However, it is important to note that the flagship Pizzeria Uno retains, for the most part, the original menu. Because of this, it offers up a slice of pizza history, and as a result, is a popular destination for both tourists and native Chicagoans. I've heard that a pizza order can take nearly an hour to fulfill, so I guess there are benefits to showing up at midnight!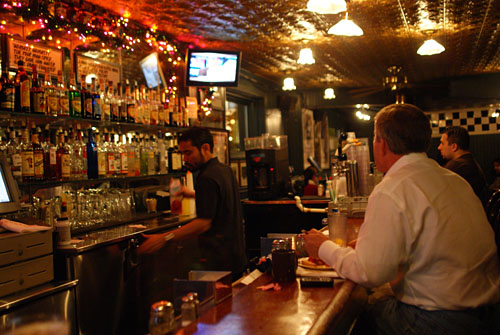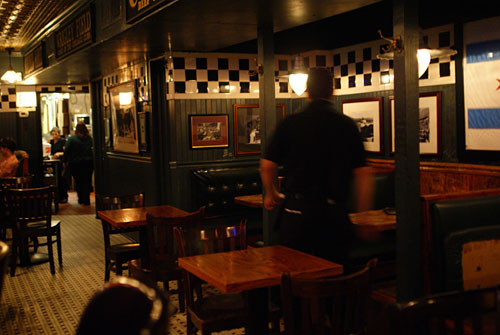 Once the cab dropped us off, we entered and promptly took a seat at the bar. The decor is about what I expected--charming in its own way, albeit a bit cramped.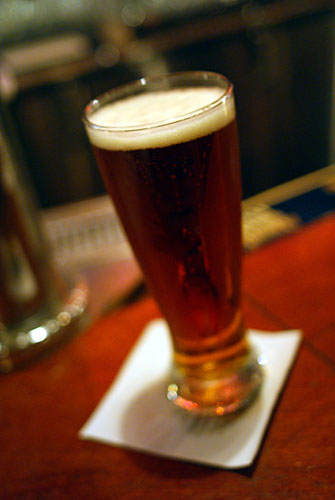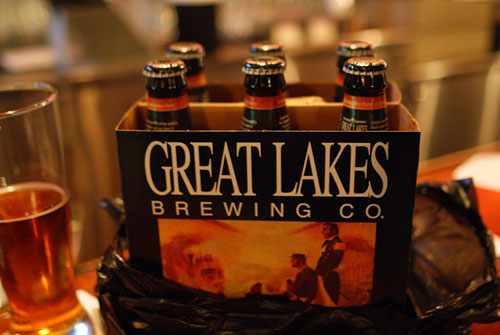 Knowing that the pizza would take a while, I ordered up a pint of the house amber ale [$5.99]. It was solid, though not stellar, with a slight malty sweetness, balanced with an overarching mild hoppiness. Since we'd be taking the pizza to go, we also picked up a six-pack of Great Lakes Commodore Perry IPA from Ben'z Liquors a few doors down. As expected, it was a bitter, hoppy beer with some sweet citrus and vegetal flavors to balance it out; it went well enough with the pizza.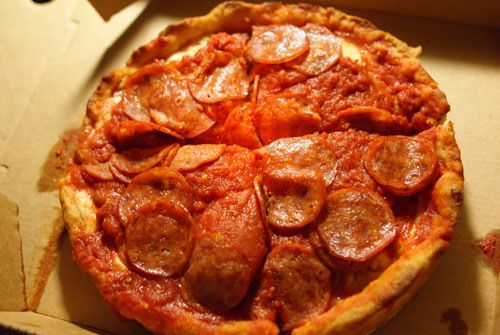 Small Deep-Dish Pizza with Sausage and Pepperoni [$16.08]
So here we are, back at the hotel, eager to tear into some pie. Uno's pizza is pretty prototypical of the traditional Chicago deep-dish style. It starts with a substantial crust, laid out into a pan, with the sides pulled up high. This "bowl" is then covered with cheese, meats, and various other toppings, before being finished with tomato sauce. The end result was a tasty contraption, with a pleasing interplay between meat, cheese, and sauce. While the pepperoni was fairly typical, the sausage was something special: it was more like a patty and had a nice herbal tang to it. The sauce, meanwhile, could've been tarter, but that wasn't a big deal. My only real complaint was the crust, which was a bit too buttery, a bit too tough, and a bit too imposing for my tastes. Despite that, the pizza on the whole was quite enjoyable--I wouldn't mind one now in fact! Nevertheless, I think I still prefer Giordano's.