Wurstküche (Los Angeles, CA)
Wurstküche
800 E 3rd St, Los Angeles, CA 90013
213.687.4444
www.wurstkucherestaurant.com
Tue 06/23/2009, 08:20p-10:40p
Wurstküche means "sausage kitchen" in German, and I think that descriptor sums up the place nicely. Opened in November 2008, the restaurant is the brainchild of two young (first) cousins: Joseph Pitruzzelli and USC alumnus Tyler Wilson, aged 27 and 23, respectively. I'd been curious about the place ever since it debuted, and finally made it out after being invited by Selina, a reader of this blog. Joing us were her brother Peter and a bevy of her girlfriends.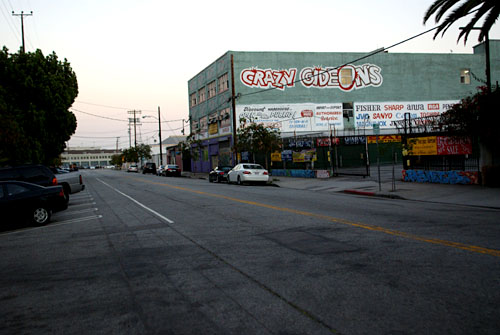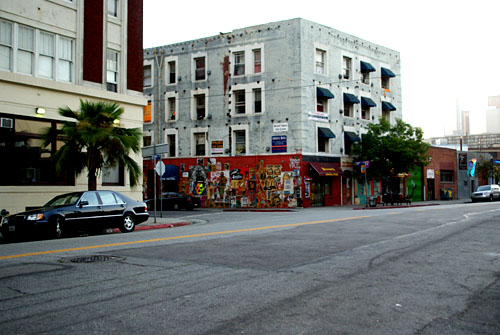 The restaurant, situated in a former print shop, is located in Los Angeles' historic Arts District, an area along the eastern side of Downtown, bordered by the Los Angeles River (which places it a stone's throw away from
R23
, and right down the street from Crazy Gideon's). Not surprisingly, given that it was formerly known as the Warehouse District, the Arts District is filled with older industrial and warehouse buildings, many of which have been transformed into trendy lofts, shops, and eateries over the course of the area's gentrification.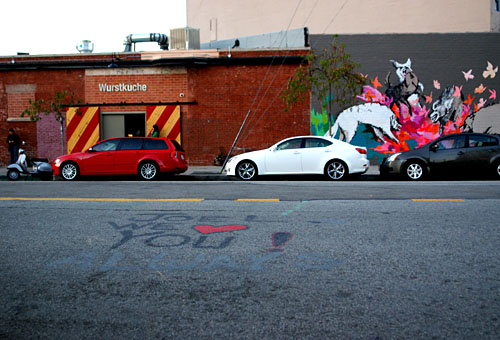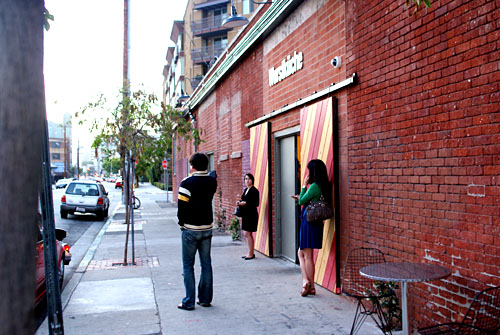 It's pretty hard to miss Wurstküche, given its unique sliding red and yellow doors, not to mention the huge mural (dogs attacking birds?) painted next door. You'll also notice a few people milling around outside, inevitably waiting for their friends to show up (and yes, I was one of those people).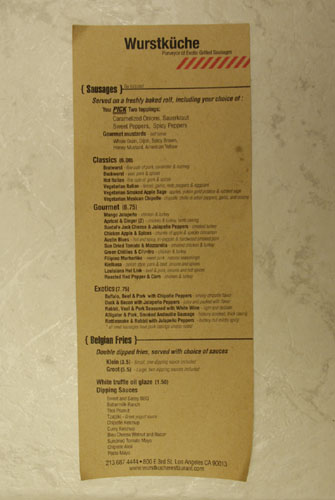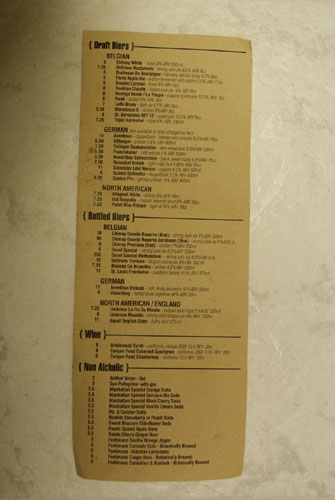 The line to order should be just about out the door, so this gives you plenty of time to peruse the menu shown above (click for larger versions). Wurstküche's web site describes it as a "purveyor of exotic grilled sausages," and with roughly two dozen cased meats on offer at any given moment, that's certainly a true statement. However, I'd wager that the beer, 24 on tap and even more in bottles, is almost as big of a draw (note the presence of Pabst Blue Ribbon--one of my dining companions stated that the PBR was for the hipsters, because it's "ironic").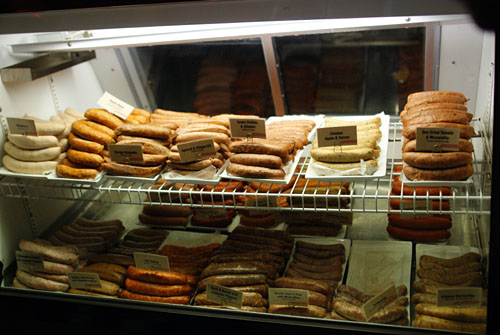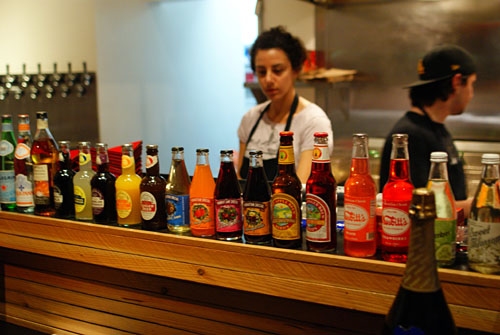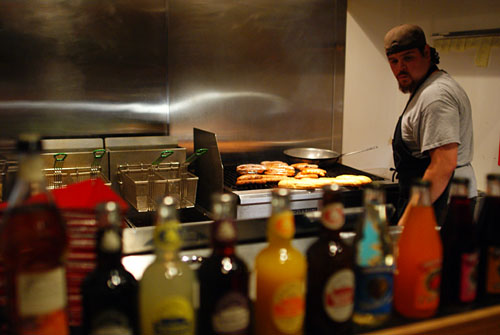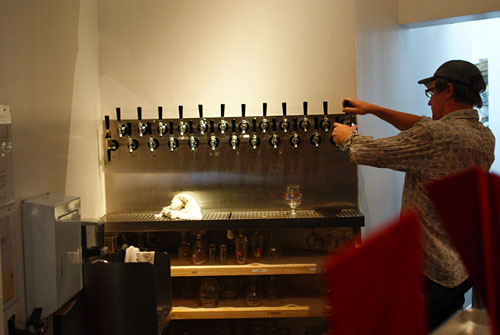 Once inside, you'll find yourself in a small front room, the centerpiece of which is the refrigerated sausage case. Disappointingly, none of the sausages are made at the restaurant; the rattlesnake one comes from Utah I've heard. While waiting in line (and you
will
wait, thanks to the single queue), you can watch the lone grill master cook said sausages, and pick out a beer (or soda, if you swing that way). And about that beer, I find it rather strange that you're served your first glass here (as in the last photo), but subsequent servings must be handled elsewhere--weird. This peculiar setup may be due to the fact that the cousins originally envisioned this front room solely for eating, and the voluminous back room solely for drinking.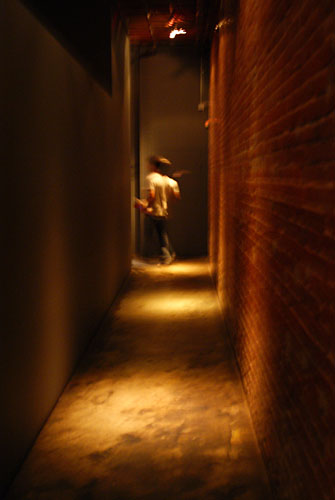 Just make your way down this rather long hallway...

...To find this, a dining-
cum
-beer hall. Note the exposed brickwork, high ceilings, bare wooden beams, concrete flooring, and long communal benches--
très chic
?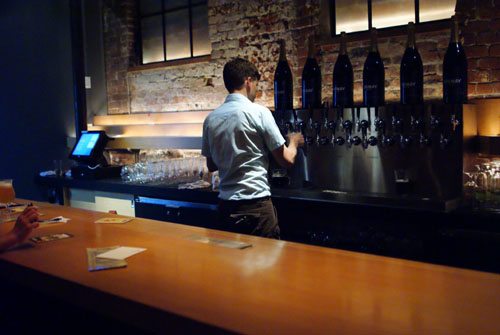 One side of the room is dominated by a lengthy blonde wood bar, offering 24 kinds of beer on draught.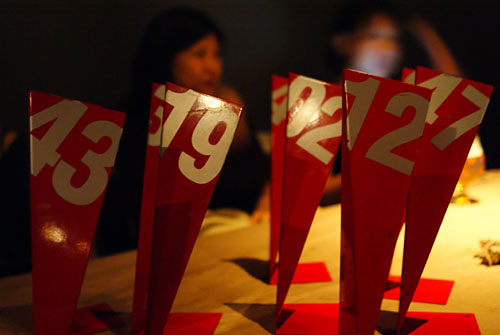 Food is brought to your table from the antechamber documented above, Carl's Jr. style. We had a group of about ten people, so a problem with this setup is that food can be brought at vastly different times; by the time I got my sausages, several of my dining companions had already finished their meal!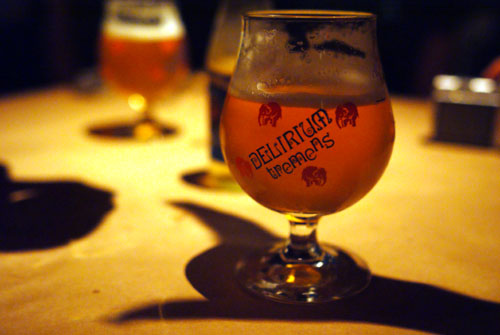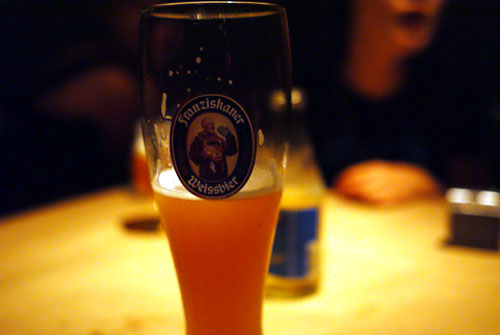 Now, for the beer. I started with a Houblan Chouffe [$8], a Belgian Indian pale ale from one of my favorite producers, Brasserie d'Achouffe. I'm not usually huge on IPAs, but this was good I'll admit, with far more floral, wheat, and herbal notes than I'd expected; it was like a IPA-Tripel hybrid in a sense. Though the bartender would disagree with me on this point, I still prefer the brewery's La Chouffe bottling. For round two, I went with the Spaten Optimator [$6], a Doppelbock from Spaten-Franziskaner-Bräu of München. It was a hearty beer, but not too heavy, with lovely chocolate and dark fruit notes. In addition to these two beers, I also sampled some of my dining companions' selections, including the Franziskaner Hefeweizen [$5.50] and Unibroue's La Fin Du Monde [$7.25], a Belgian-style Tripel that one member in my party likened to "soup."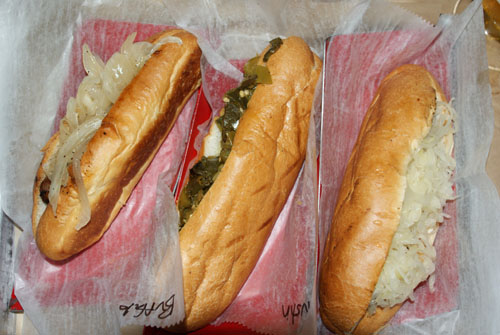 Feeling ambitious, I went for three dogs. In hindsight, I could've easily done one, probably two more.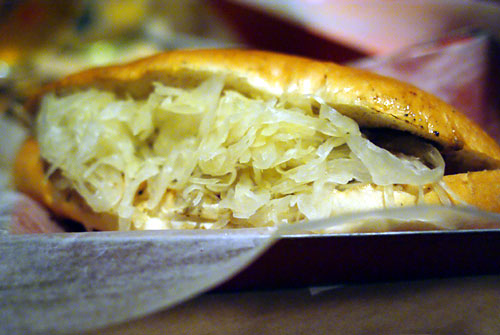 Bratwurst [$6.00]
| fine cuts of pork, coriander & nutmeg (with sauerkraut)
I started with the classic: a pork bratwurst, with coriander and nutmeg, topped with kraut. I first noted the sausage's casing, which had an absolutely fantastic snap and crunch to it. The meat itself was very fine, very flavorful--savory, yet perfectly complemented by the tangy sauerkraut. Of this troika, the brat was the most traditional, but also the best.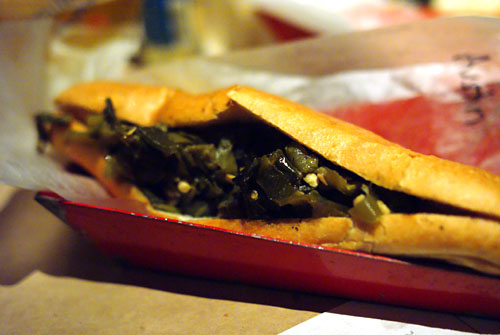 Austin Blues [$6.75]
| hot and spicy, tri-pepper & hardwood smoked pork (with spicy peppers)
Figuring that this was going to be a piquant sausage anyway, I decided to top Austin Blues with spicy peppers. That was a mistake. The peppers turned out far too vegetal for the dog, distracting me from the pleasant spicy-smokiness of the sausage. Texture-wise, the sausage didn't have quite as much bite as the Brat, and had a chunkier consistency as well. My least favorite of the trio.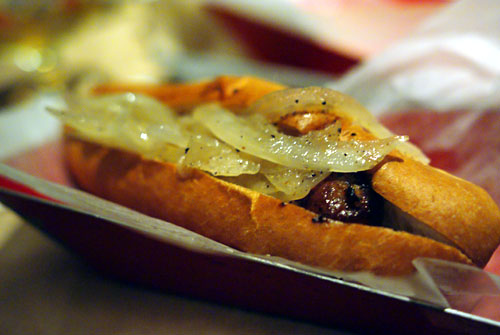 Buffalo, Beef & Pork with Chipotle Peppers [$7.75]
| smoky chipotle flavor (with caramelized onions)
The meat, an amalgam of buffalo, beef, and pork, was difficult to describe; it had a slight tang to it, and a pleasant smokiness from the chipotle. In terms of body, it was very chunky indeed, almost breaking apart instantly upon mastication; the casing was nothing spectacular. The star of the show here were the caramelized onions, which were simply superb, adding a much needed bracing pungency to the sausage.
Though I don't have a photo, I did get to try Wurstküche's vaunted Belgian Fries, and they were wondrous indeed, with a medium thickness, just the right amount of crunch, and the perfect amount of saltiness. I also had them with two of the housemade dips, Curry Ketchup and Pesto Mayo, but the fries easily stood on their own. And if you're wondering about the name: "French" fries were actually a Belgian creation, mistakenly attributed to the Gallic people.
So, in the end, I had one exemplary sausage in the Bratwurst, and two other competent ones, along with some terrific beer. I can definitely see the appeal of this place, though the long waits and odd setup are going to keep me away somewhat. That's not stopping others though. Business is booming, and the restaurant is reportedly grossing $50,000 per week. Those are some pretty serious numbers for a "hot dog" joint, and I wonder how long they can keep it up. Wurstküche: a fad, or here to stay?