The Tasting Kitchen (Los Angeles, CA)
The Tasting Kitchen
1633 Abbot Kinney Blvd, Los Angeles, CA 90291
310.392.6644
www.thetastingkitchen.com
Wed 10/07/2009, 07:10p-11:15p
The story of The Tasting Kitchen begins with the story of a Swede: Conny Andersson. Chef Andersson opened up AK Restaurant + Bar, his Swedish-tinged eatery on Abbot Kinney, in November 2008. However, despite good press and solid business, Andersson shuttered AK in June of this year, due to "creative differences" with the restaurant's owners. Andersson is currently looking for another location in Southern California to reintroduce AK.
After that debacle, AK's owners were in search of a new chef, and found him in the form of Casey Lane, an alum of Clarklewis restaurant in Portland (despite what
Sherry
says, Lane never worked at Oliveto in Oakland under Paul Bertolli). Once Lane got the job, the former Texan brought over some of his pals from Clarklewis, including front-of-the-house manager-
cum
-sommelier Maxwell Leer. Lane and his team were to implement a temporary restaurant concept: a "tasting kitchen" based on a small, daily-changing, farm-to-table menu incorporating seasonal, local produce. A completely new restaurant was to debut in the fall, but The Tasting Kitchen has proven rather successful, and is here to stay, at least for the time being. Rumors abound, however, that the somewhat clunky name will change once the restaurant goes through a light remodel.
My meal at The Tasting Kitchen was made possible by
Jai
, a reader of this blog who just happens to know the sous chef, Dylan Hallas (who previously cooked with
Top Chef
-ers
Michael Voltaggio
and Marcel Vigneron over at
The Bazaar
). The two met while teaching cooking classes for the
Southeast Asian Community Alliance
, and are currently working with the group to build a community garden in Lincoln Heights. Joining us were Bobby, Cory, Sissy from the SEACA, and Tim.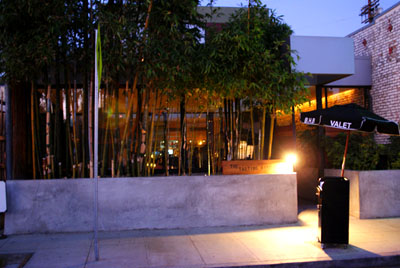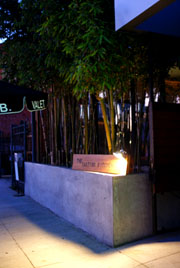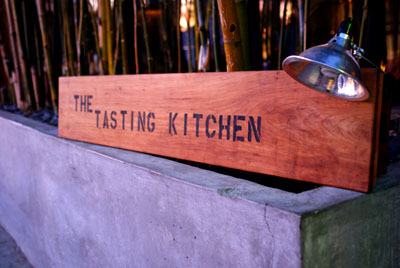 The Tasting Kitchen resides on a popular stretch of Abbot Kinney in Venice, right next door to Wabi-Sabi and a stone's throw away from Gjelina. If you look closely at the last photo, you can see the screw holes in the concrete previously used to hold up the letters "AK;" the current signage does look temporary indeed. Parking can be tricky in the area, so consider the valet for $5.


Inside, you'll find a lively (some would say noisy), cozy, contemporary space--big windows with a view of a small bamboo forest, a snazzy fireplace, high ceilings, and loads upon loads of wood. The downstairs is bisected into a main dining area (above), as well as a bar with communal seating (below). For a more toned down experience, an upstairs room is available as well. A word to photographers: lighting can be pretty atrocious, and only got worse as the night progressed. At the end of the dinner, I resorted to hoarding candles, and even then, my exposures at ISO1600 and f2.0 were in the 1/6s-1/10s range.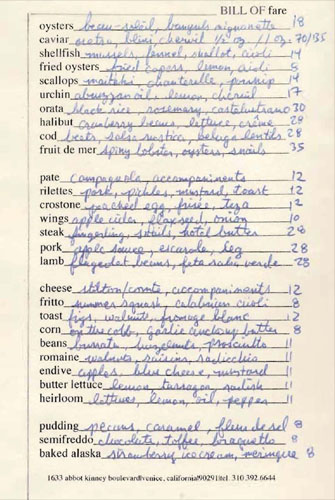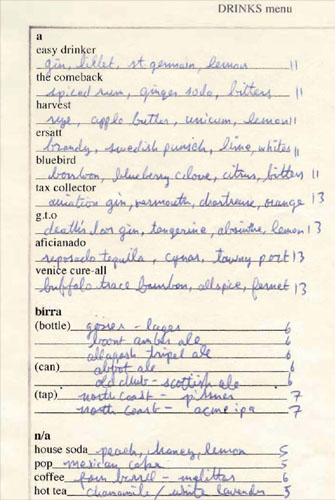 The first thing that you'll notice about the menu is the large number painted on the cover; this signifies the day of service. We were on #86, but since I forgot to take a copy of the menu home, the menu shown above is #88 (thanks to
Jai
for picking up a copy and scanning it for me). The bill of fare is written daily, influenced by ingredients gathered from three local farmers markets. The food is fairly eclectic, a motley mix of French, Italian, Moroccan, and Spanish flavors creating a wide selection of dishes that simultaneously seem familiar, yet fascinating. Rather than ordering from the carte, we went for the off-menu tasting menu, priced at $55 per person. The drink menu reflects the sensibilities of the food, and The Tasting Kitchen offers up a reasonably-priced selection of cocktails and wines by the glass. Leer seems to be particularly fond of Italians, specifically obscure ones, and favors listing grape varietals but not producers on the brief wine list. Click for larger versions.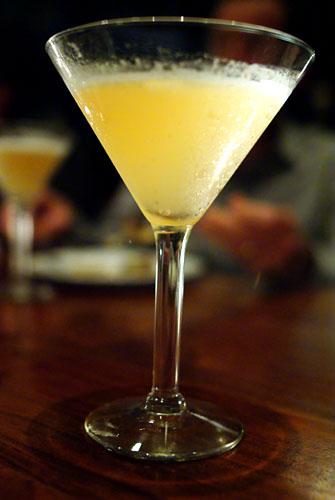 The entire party started with the restaurant's signature cocktail: the Ersatt (brandy, swedish punsch, lime, whites) [$11]. The word is derived from
ersatz
, which is Germanic in origin and roughly translates to "replacement," as in TTK replacing AK--spiffy. The drink, fortunately, was quite delicious, concurrently tart and sweet, with a slight frothiness and just a hint of alcoholic burn.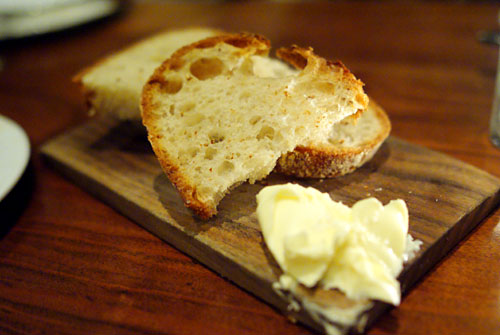 Bread, apparently sourced from Nancy Silverton's La Brea Bakery, was quick to arrive on our table. Butter, meanwhile, was sweet, soft, spreadable, and supremely scrumptious.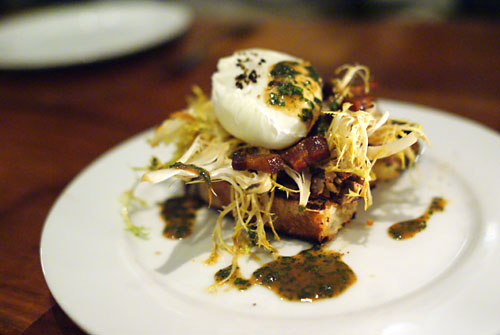 1: Chicken liver crostone, poached farm egg, frisée, warm bacon vinaigrette
We started off with one of my favorite courses of the night. The combination of toast, liver, salty lardons, and light frisee was superb, a near-perfect amalgam of flavors and textures tied together by the overarching creaminess of the egg. The chicken liver, meanwhile, made its presence known in a long, lingering finish. Superb.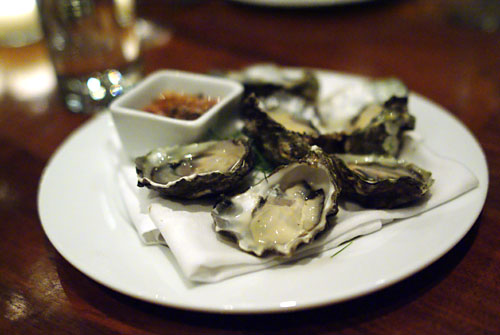 2: Oysters, beau-soleil, cabernet mignonette
Next were a half dozen Beau Soleil oysters hailing from New Brunswick, Canada. They were just the kind I like: crisp, firm yet snappy, sweet with a slight brine--delicious on their own but well accented by the tangy mignonette. Be careful not to add too much sauce though, or you'll overwhelm the mollusk's natural flavor.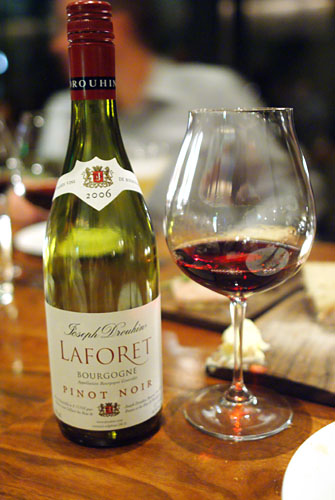 Tim was kind enough to bring a bottle of the 2006 Joseph Drouhin Bourgogne Laforet, a light, easy-drinking Burgundy with plenty of refreshing fruit character, bright acidity, and a minerally, slightly-tannic finish. Delicious.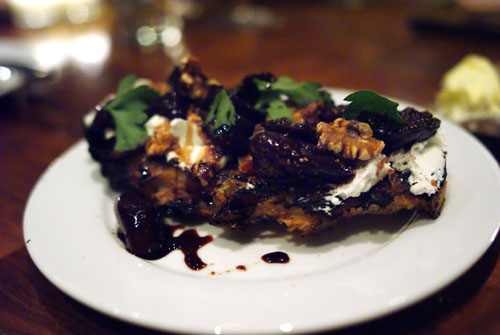 3: Bruschetta, balsamic roasted figs, goat cheese, walnuts, aged balsamic
This dish was not very photogenic unfortunately. Nevertheless, the key for me here was the goat cheese, its tangy, creamy essence playing foil to the marked sweetness of the balsamic and figs. At the same time, the walnuts provided a nice nutty component while giving the bruschetta a well-placed crunch. However, I would've preferred more cheese and less figs, as the course was a bit too sweet for me.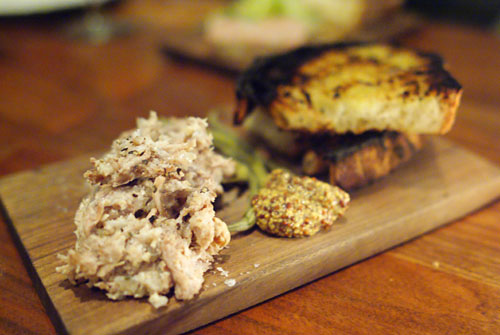 4: rillettes, pork, pickles, mustard, toast
Here we have the oft-lauded pork rillettes, basically pork slow-cooked in fat and shredded, served here with whole-grain mustard, pickled haricot verts, and of course, toast. This was one of the highlights for me; I really loved the rillettes' distinctly porcine taste, which was at the same time subtle yet profound. I could've eaten the meat by itself, but the tanginess of the mustard and pickles did offset the gravitas of the pork, and having it with the bread was immensely enjoyable to say the least.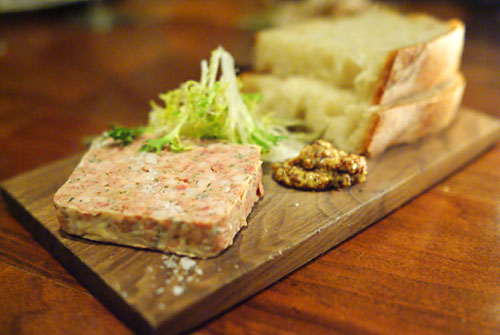 5: pate, campagnola, accompaniments
Another similar pork-y preparation was the country-style pork pâté. Flavor-wise, it was somewhat similar to the rillettes, but lighter and less fatty, and was completely different in terms of texture obviously--rustic and gritty. Since it was more delicate in taste, with a subtle spice, I preferred to use less mustard here, and eating it with the untoasted bread was phenomenal.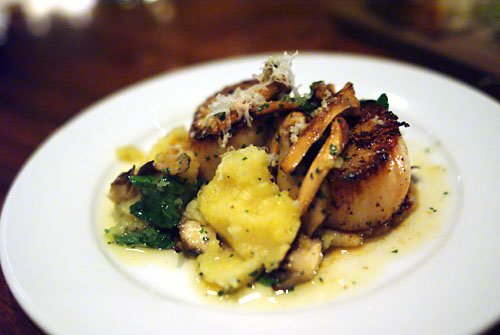 6: Scallops, parsnip puree, chanterelles, hen of the woods mushrooms
Following were a duet of perfectly cooked scallops, done up to a firm yet springy consistency, with a flavor that was still subtly sweet with a great caramelized twang. I appreciated the use here of two types of mushrooms, which added an earthy depth to the comparatively mild bivalves. The parsnip, meanwhile, contributed a contrasting vegetal element to the dish. Very nice.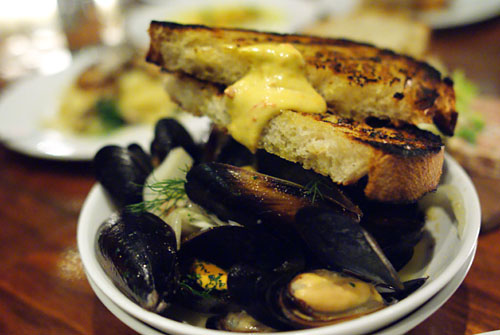 7: Mussels, fresh flageolet beans, fennel pollen, calabrian salsa
This was one of the better preparations of mussels I've had in a while. Subtly briny in sapor, they were complemented beautifully by their bitter/tangy vegetable accoutrements, and the flageolet beans in particular. The bread, though not absolutely necessary, did go nicely with the mussels.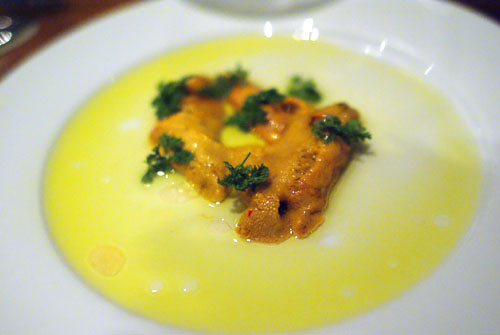 8: Live urchin, abruzzan olive oil, lemon, sea salt
I was a bit afraid that the various accompaniments here would completely dominate the sweet flavor of the uni, but rather, the lemon, olive oil, and salt highlighted the urchin's natural savor, making it a great topping for bread.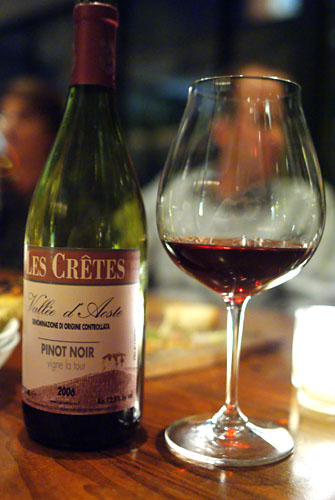 At the urging of Maxwell, Jai ordered up an Italian Pinot Noir to compare to the Burgundy we just had: the 2006 Les Crêtes Valle d'Aosta Pinot Noir Vigne La Tour [$48]. This one was much more in-your-face I thought, with considerably more fruit on the nose, and more minerality on the palate. The overall effect was of a more rustic, weightier, more decadent wine.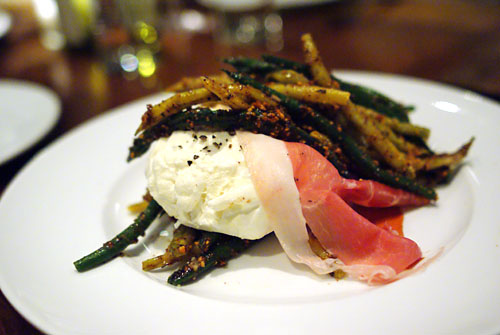 9: Green beans, burrata, prosciutto, hazelnuts
Here, we have green and yellow beans studded with hazelnut bits, atop a dollop of burrata enrobed in a veil of Prosciutto. The flavors worked together--the mild tanginess of the cheese intertwined with the salty ham, perked up by the sweet/nutty beans. Very good.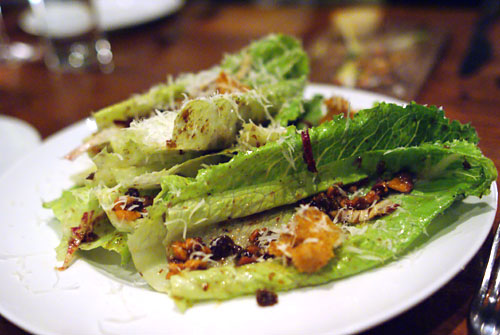 10: Butter lettuce, pt. reyes blue, tarragon cream
I really enjoyed the lettuce itself--crisp, refreshing, pure--as well as the crunchy croutons and the use of a cheese topping. However, I thought that the dressing was somewhat heavy-handed, rendering the salad too sweet.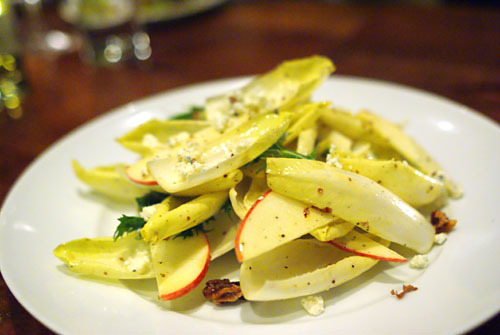 11: Endive salad, apples, blue cheese, mustard vinaigrette
This next salad was much more successful. I loved the interaction between the slightly bitter endive and the juicy, sweet apple, elevated even further by the overarching tang of the blue cheese topping, which was especially prominent on the finish.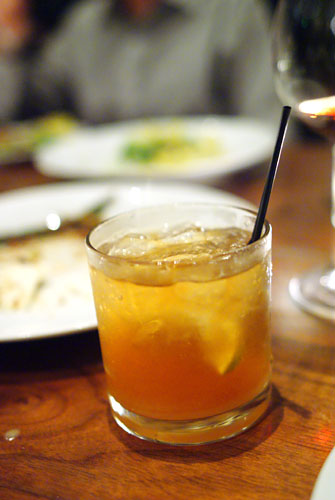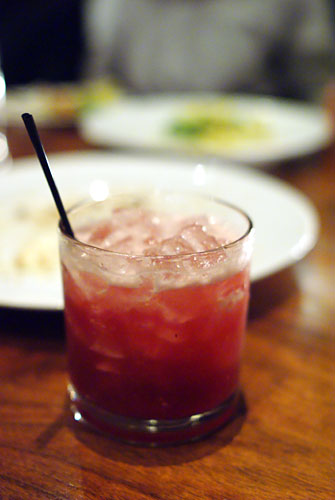 At this point, Jai and I decided to order up another round of cocktails. I chose The Comeback (spiced rum, ginger soda, bitters) [$11], named after a former speakeasy ("Comeback Inn") that used to occupy the site of the restaurant; the drink was notable for its lingering spicy finish, which left my lips tingling. Jai had the Bluebird (bourbon, blueberry clove, citrus, bitters) [$11], which was sweet, creamy, and delicious, with just a bit of burn.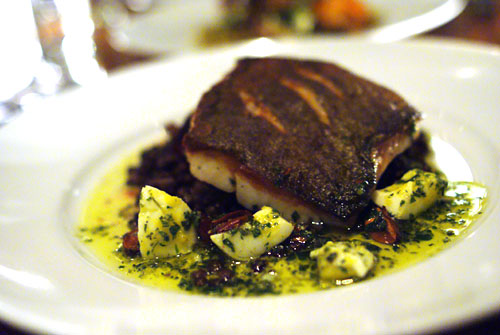 12: Black cod, beluga lentils, market beets, salsa rustica
I'm not huge on black cod, but courses like this are definitely helping me come around. I appreciated its soft, flaky consistency and mildly oily body, along with its rich flavor and savory skin. Taking the dish to another level were the beluga lentils, their robust, earthy flavor proving to be a fantastic foil to the fish. I could've done without the beets though.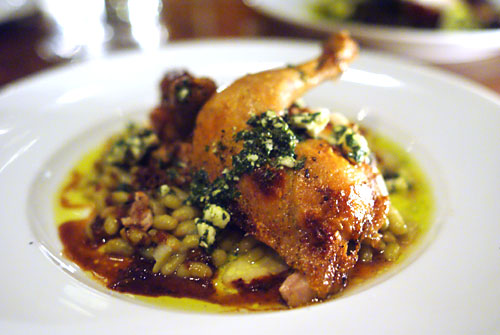 13: Roast hen, flageolet beans, feta salsa verde
Textbook roasted chicken: juicy, tender, flavorful, with an immensely flavorful skin--I enjoyed gnawing on my wing. My favorite part of this dish, however, were the flageolets, which, along with the tangy salsa verde, formed a perfect accompaniment to the bird.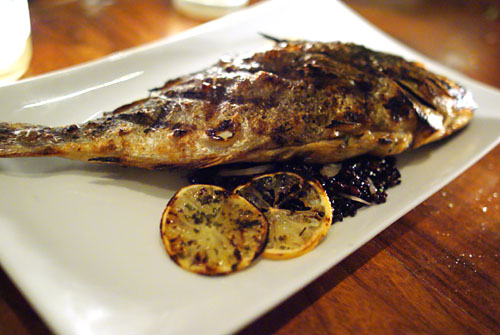 14: Grilled orata, forbidden rice, olive relish
This was my first time with orata (a.k.a. daurade or gilt-head bream), a highly prized food fish native to the Mediterranean that's especially sought after in Italy. It was prepared in a manner that seemed to recall that other famous Italian fish, branzino. The similarities were more than cosmetic: starkly white flesh, a fine, soft texture, slightly dry but with a bit of fat, clean yet quite savory, though not as heavy as branzino. I rather liked it.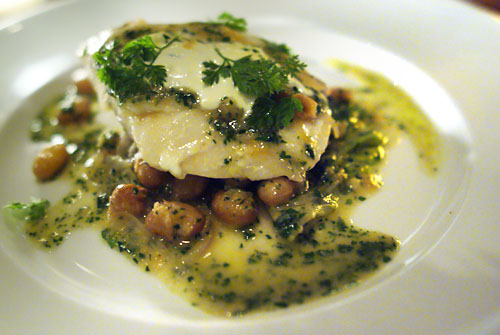 15: Halibut, fresh cranberry beans, vermouth butter, stewed lettuce
Our third and final fish was halibut. They must've saved the best for last, as this was arguably my favorite course of the entire meal. The fish was expertly cooked to a very pleasing texture--flaky, firm yet yielding--with a taste that was delicate and mild, yet profound. The combination of halibut, weighty beans, and tangy sauce formed a perfectly balanced, delicious complex. Excellent.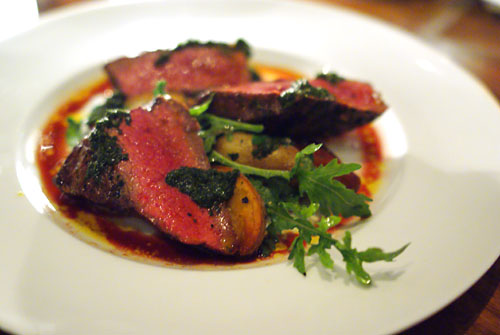 16: Flatiron steak, fingerling potatoes, padron peppers, chimichurri
In the midst of all this wagyu rage, this is proof that steak doesn't have to be obscenely marbled to be delicious. Deftly cooked to a lovely consistency, the meat wasn't overly tender, but rather possessed a nice, juicy chew. We enjoyed a good amount of pure, savory beef flavor accented by a great char and a superb chimichurri condiment.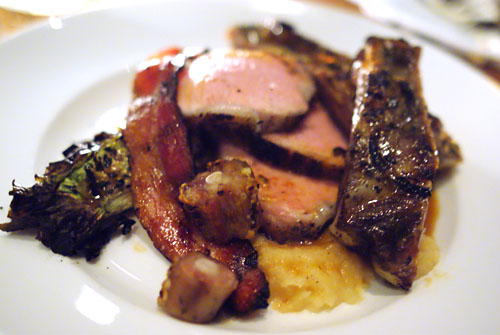 17: Grilled pork loin, grilled ribs, bacon, pork tail, escarole, apple sauce
This porcine platter consisted of a quartet of pork: tenderloin, belly, ribs, and tail (which I didn't get to try). I first tasted the belly, which was akin to a smoky bacon--hard to go wrong with this. Next were the ribs, basically a barbeque presentation, a nice interplay between sweet and savory. Last and unfortunately least was the tenderloin, which had too much of a sugary/spicy component for me, drawing attention away from the pork's natural sapor.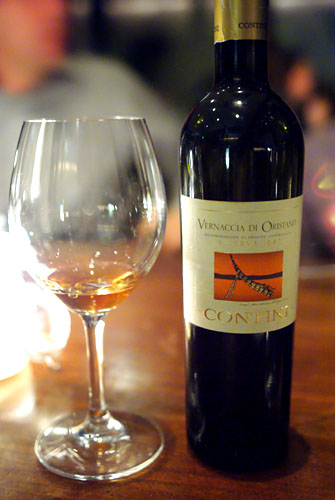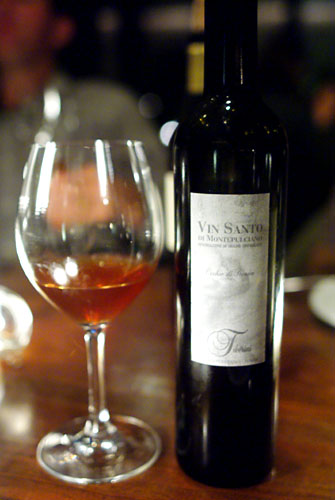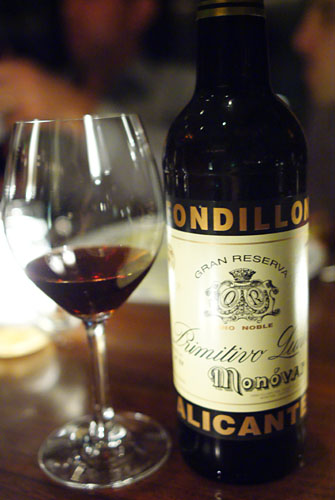 And with that, we were off to dessert. Though Jai had Port on his mind, Maxwell thought otherwise, and brought out a troika of sweet wines for us to tipple. First was the 1987 Attilio Contini Vernaccia di Oristano Riserva from Sardinia. This was a Sherry-like wine, dry and nutty with a bright acidity. Number two was my favorite of the trio, the 1996 Tiberini Vin Santo di Montepulciano Occhio di Pernice, which was notable not only for its intensely sweet and subtly nutty flavor, but for its extremely limited availability (no results on either
WineZap
or
Wine-Searcher
). Finally, we had the 1948 Primitivo Quiles Alicante Fondillon Gran Reserva Solera, a lovely Port- or Madeira-esque wine showing surprisingly fresh notes of raisin over a slighty woody backbone.
18: Blueberry jelly turnover, lemon curd, ice cream
Our first dessert was a turnover-like pastry, filled with a heavy, jammy berry filling. I appreciated how the ice cream tempered its flavor, while the pastry's flaky, crispy exterior provided some textural variation.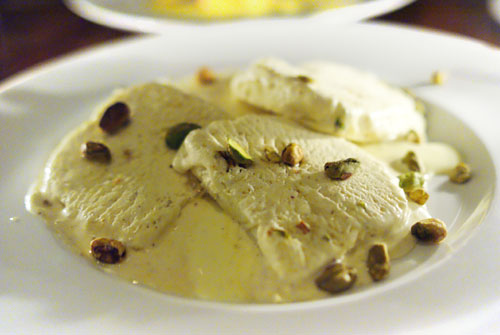 19: Semifreddo, pistachio
This next dessert was fantastic, easily my favorite of the group. Think of the semifreddo as a half-frozen ice cream, but lighter and fluffier. It had a sweet, but not overly sugary flavor that was perfectly accented by the use of pistachios, giving the combination a scrumptious, sweet-nutty smack.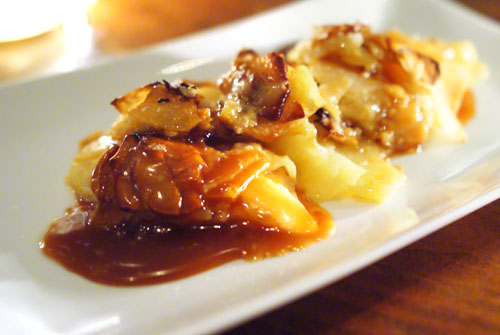 20: Bread pudding, caramel
Finally was bread pudding, soft and supremely saccharine, with a bit of fruitiness as well. Tasty, but the caramel was a touch strong for me.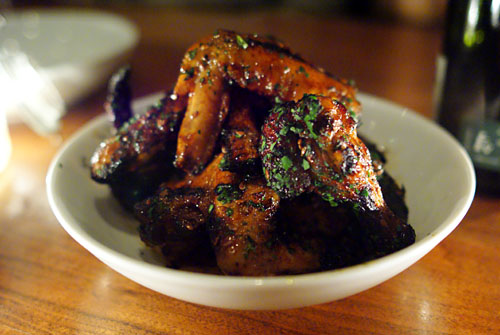 21: Wings, apple cider glazed
SIV's
review of The Tasting Kitchen came out on the day of our visit, and in it, she raved about the chicken wings. Naturally, we had to try some for ourselves. Irene called them "sticky and delicious," and while I don't argue with the sticky part, I found the wings a bit too sweet for my tastes, though once I got past the skin, I did enjoy the savory meat.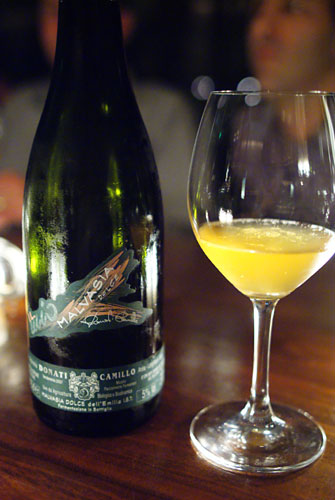 To pair with the wings, Maxwell poured us a couple glasses of the 2007 Donati Camillo Dolce Malvasia dell'Emilia IGT [$15]. It was almost cider-like in nature, sweet and drinkable with a mild effervescence and lots of spicy-citrus notes. Quite delicious.
We left The Tasting Kitchen full and sated, with no desire to go to the Nom Nom truck up the street at The Brig (which Tim had proposed earlier in the night). Certainly, not every dish was a hit (not surprising given the velocity of menu turnover), but I do appreciate what Lane and company are doing here. The food here is unpretentious, honest, informal, and profoundly uncomplicated--sometimes conventional, sometimes unpredictable, but nearly always fun. Let's hope that The Tasting Kitchen outlives its predecessor, and more importantly, maintains the same level of energy and execution once the new name and new digs come around.