LudoBites at Royal/T (Culver City, CA)
LudoBites and Royal/T Get In Bed Together
8910 Washington Blvd, Culver City, CA 90232
310.559.6300
www.ludobites.com
Tue 12/01/2009, 07:30p-11:30p

August 22nd marked the
last day
of the second iteration of Ludovic Lefebvre's widely-lauded "guerilla style pop-up" restaurant LudoBites. For the uninitiated, the concept aimed to create a "
bistronomy
" of sorts, by marrying the seemingly antithetical objectives of haute cuisine, intimacy, and democratic pricing. LudoBites at Breadbar ran from May 19th, and despite its short lifespan, proved to be a smashing success, a turning point in LA's culinary landscape, even.
Before the doors even shut at Breadbar, patrons were already speculating as to where Ludo would end up next--would he find a permanent home, or would he continue to "pop-up" at various establishments in the Southland? Though rumors and
tweets
were plentiful in those final weeks of August, it was eventually announced that LudoBites, the third, would run from for 13 days in December. The location would not be Breadbar, however, but cosplay café-
cum
-retail shop-
cum
-art gallery
Royal/T
in Culver City. LudoBites and Royal/T Get In Bed Together (a rather unwieldy
nom
, I must say) thus represents an intersection of food and art, with LudoBites running in conjunction with Curator Jane Glassman's exhibit "In Bed Together."
LudoBites at Royal/T began taking reservations on November 3rd, via email only. I, of course, jumped on this with ferocious velocity (the event sold out within days), and was able to secure a reservation for six on December 2nd, opening night...
or is it
? It turns out that upstart food enthusiast community web site
FoodDigger
played a pivotal role in getting the word out for the last LudoBites, and because of this prior relationship, was able to convince Ludo and company to open
one night earlier
, to serve a small party of 16 guests in a FoodDigger-sponsored dinner.
Though I'd attended previous FoodDigger TastEvents before, this was arguably the most exciting one ever--you only had to consider the fact that our very own
Jonathan Gold
was invited (Gold, however, had to decline unfortunately, as he was going to be in Guadalajara eating tamales, or something like that). Though we didn't get Gold, we did get a dozen of Los Angeles' most well-regarded food writers: Caroline of
Caroline on Crack
, Cathy of
Gastronomy
, Danny of
Kung Food Panda
, Elina Shatkin from the
LA Times
, Fiona of
Gourmet Pigs
, HC of
LA and OC Foodventures
, Javier of
Teenage Glutster
, Josh of
Food GPS
, Lindsay William-Ross from
LAist
, Liz of
Food She Thought
, and Sonja of
The Active Foodie
. Rounding out the group were
Brian
,
Marshal
, and
Will
from FoodDigger, as well as Rachel Hirschfeld, a member of Les Dames d'Escoffier (a society for women in the restaurant and hospitality industries) and founder of
Petriarch.com
.



This was my first time at Royal/T, which was opened by philanthropist-slash-art collector Susan Hancock in April 2008. The space is housed in long, thin, 10,000sqft building, broken up into various exhibition areas, a VIP lounge, retail store, and restaurant.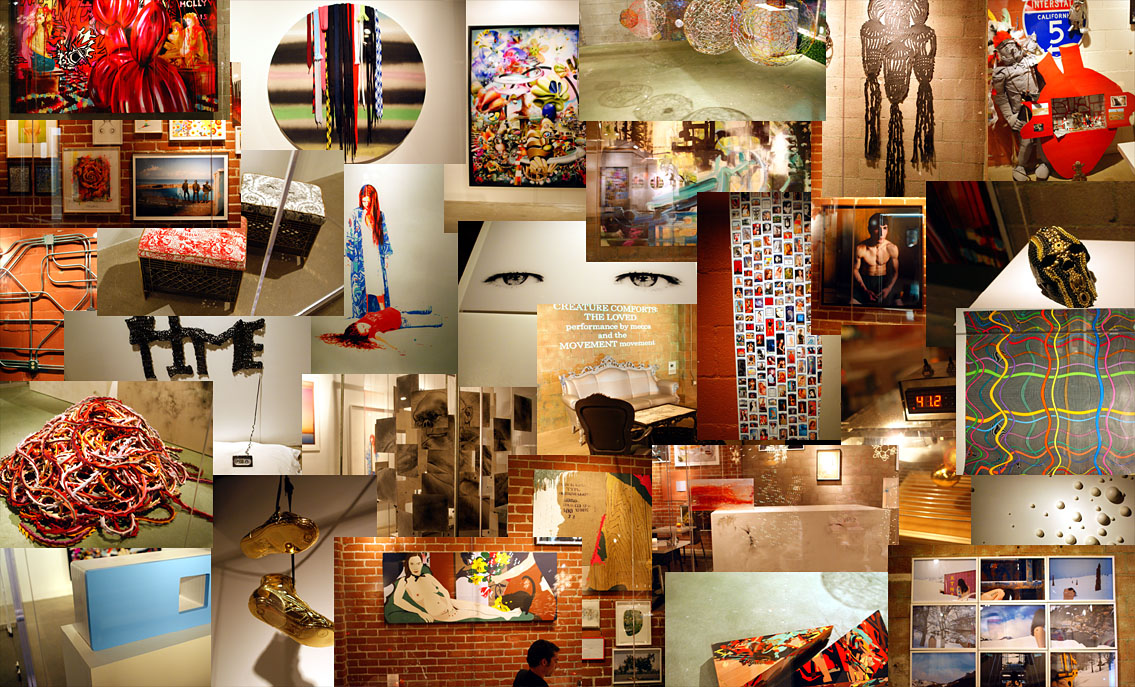 The art at Royal/T rotates regularly, with this latest exhibition being ARTeamLA founder Jane Glassman's "In Bed Together." The collection debuted on November 20th, and represents Glassman's vision for a collaborative art exhibit, featuring 50 works by 50 artists selected by 50 art professionals. The idea, thus, is to draw attention to how each specific role, each person in the art world is somehow dependent and interconnected with one another. Examples of the art are shown in the collage above.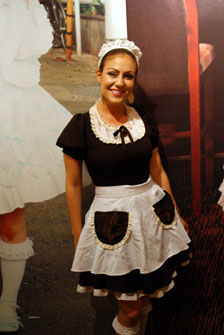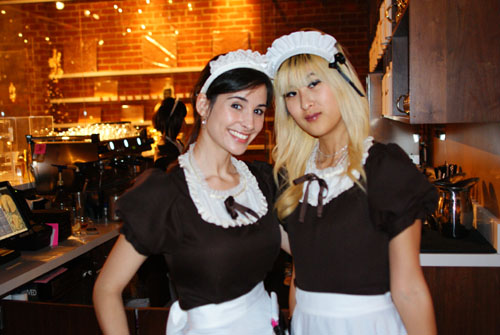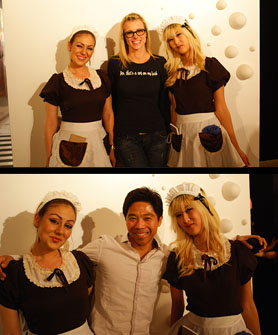 Royal/T is, of course, known for its cosplay servers, and here we see LudoBites veteran Daria decked out in a maid's outfit!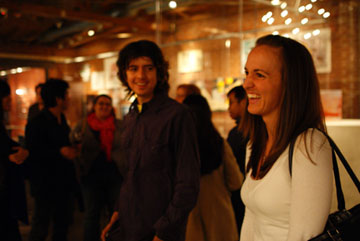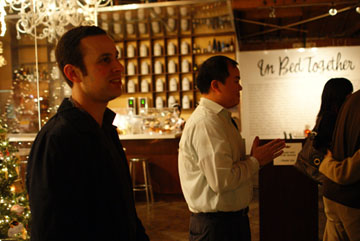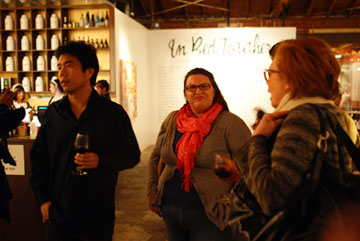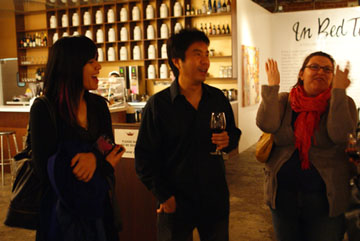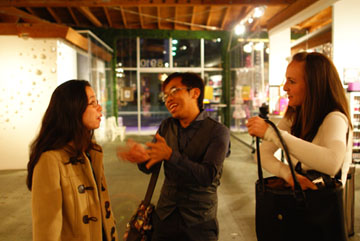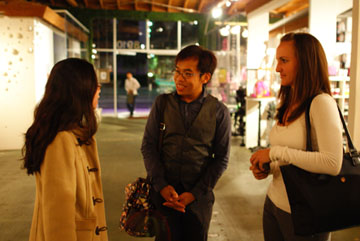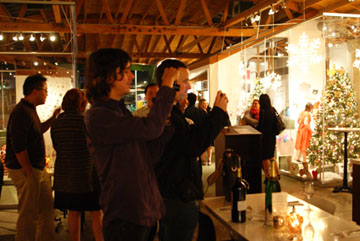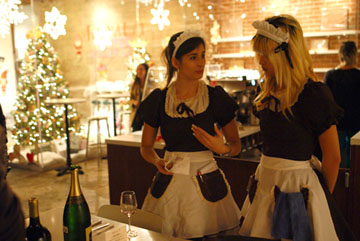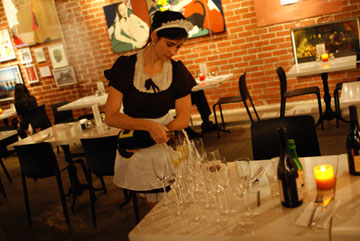 While waiting for dinner to begin, the group was left to mill around, polishing off a bottle of the 2006 Santomas Big Red and a magnum of Chartogne-Taillet Champagne Brut Millésimé Merfy in the process.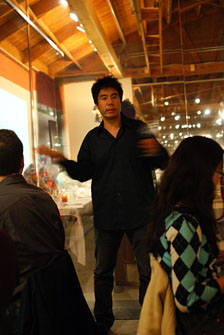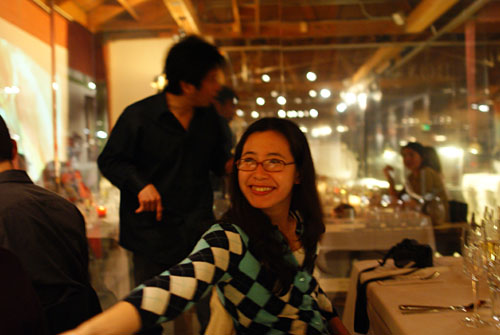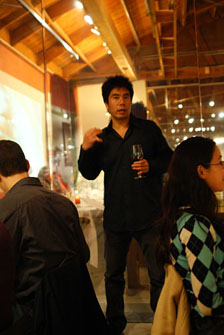 Once we sat down,
Marshal
spoke briefly about
FoodDigger
and the concept behind it. He highlighted the site's Flavor Match algorithm, a unique feature that aims to match the food preferences of users, in order to create more meaningful restaurant review results.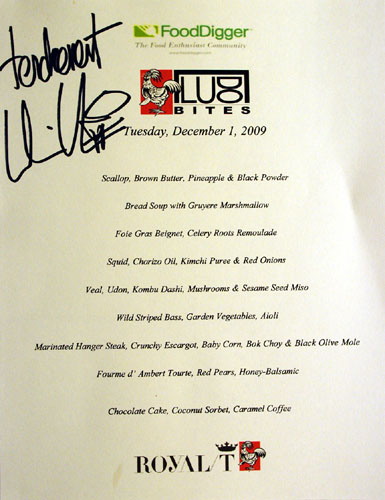 Above, we see the night's menu, comprised of a whimsical selection of small plates; click for a larger version. As for the libations,
Domaine LA
has created a small, focused wine list of about a dozen bottles for the restaurant, priced very reasonably at roughly $15 above retail. I will note that, although the previous versions of LudoBites were known for their lax BYOB policy, Royal/T does have a liquor license, and thus corkage will be enforced at $15 per bottle. On this night however, wine pairings were graciously provided by the FoodDigger staff.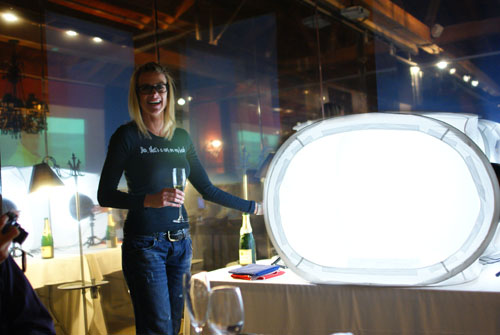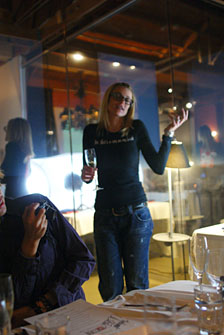 Here, we see Krissy showing off her brand new soft box. At my
last LudoBites meal
, I struggled with the lighting at Breadbar, and facetiously suggested that she consider setting up a soft box in the restaurant's next incarnation. Little did I suspect that Krissy would actually take the suggestion to heart!

Before the meal began, Krissy poured us glasses of Bernard Remy Champagne Grand Cru. Then, Ludo came out to say a few words and joined us in a toast. He was duly impressed by the bubbly, as seen in the last photo!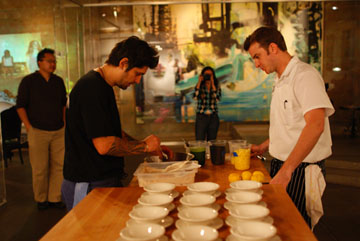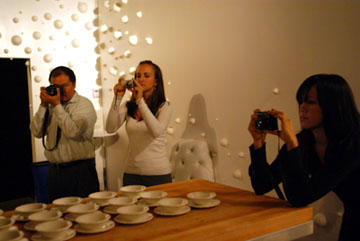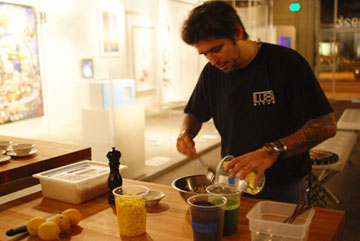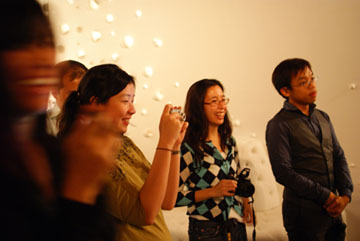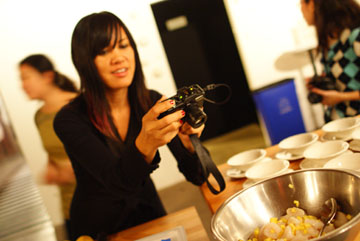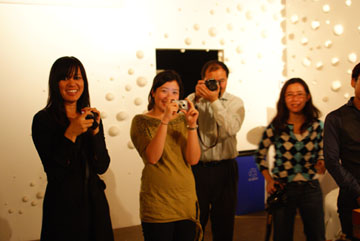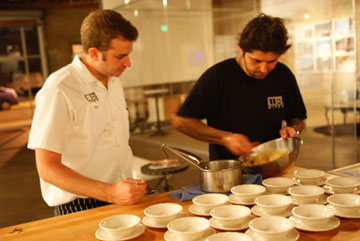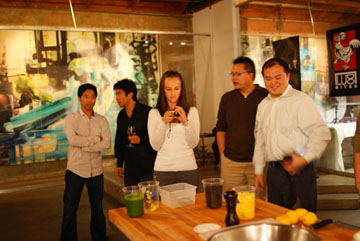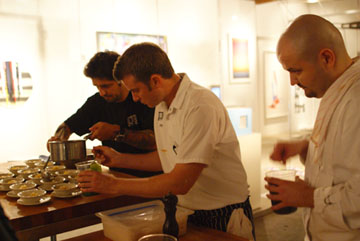 We were invited out to watch the preparation of the first course...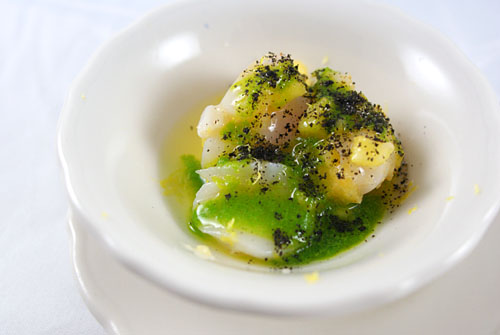 1: Scallop, Brown Butter, Pineapple & Black Powder
2008 Telmo Rodríguez Rueda Basa Blanco
Ludo explained that the scallops were initially raw, but were then topped in the
beurre noisette
to be "cooked." I was afraid that this would impart an overly heavy flavor to the bivalves, but fortunately, that wasn't the case. Rather, the scallops remained delicate in flavor, and their sweetness was deftly accentuated by the use of pineapple, which also contributed a great tanginess to the dish. The so-called "black powder" (really squid ink powder), meanwhile, added an interesting finish to the mollusks.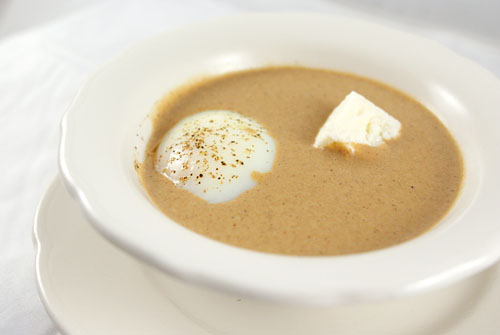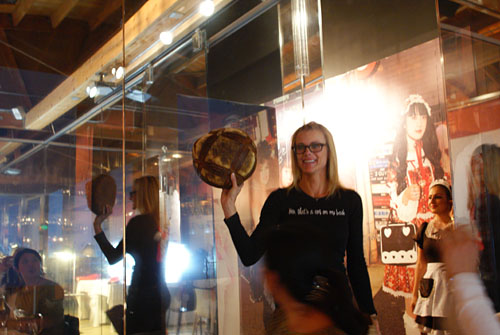 2: Bread Soup with Gruyere Marshmallow
2008 Telmo Rodríguez Rueda Basa Blanco
Upon reading the description of this dish, I was expecting a soup with some chunks of bread within. Rather, what I got instead was a homogenous potage imbued with the very marrow of bread (the actual loaf, from Breadbar, is shown in the second photo). Javier summed it up nicely by stating that it was like "sipping on pure toast." As you'd imagine, the soup was a bit austere on its own, so the key for me was the poached egg, which added a lovely creaminess to the dish. The Gruyère, meanwhile, was surprisingly mild, and provided a nice cool temperature contrast.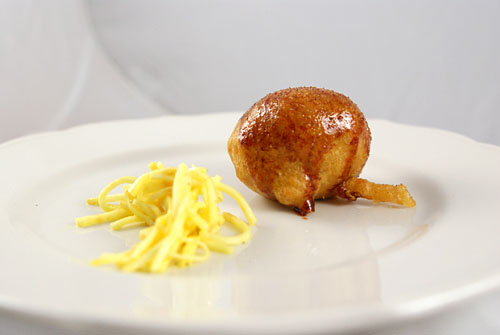 3: Foie Gras Beignet, Celery Roots Remoulade
2003 Château Charmail
The beignets themselves were pure decadence: a sweet attack leading to the pure, sensuous essence of a full two ounces of rich, decadent liver. The inspiration for this dish came from Parisian restaurant Citrus Étoile, which Ludo visited in September. The Chef
tweeted
twice
about the brilliance of the beignets, and here at LudoBites he presents his own interpretation of the dish. Along with the red Port glaze, he pairs the pastries with his
céleri rémoulade
, or sliced celeriac with a tangy remoulade. Its piquant, vegetal, even curry-tinged flavor was a superb counter to the luxuriousness of the foie (I wanted more of it!). I remarked that a smaller size would make the beignet easier to eat, but according to Ludo, if you go too small, you risk overcooking the foie.
4: Squid, Chorizo Oil, Kimchi Puree & Red Onions
2003 Château Charmail
The squid itself was deftly cooked, imbued with the pure, briny soul of the cephalopod. It was definitely kicked up a notch by the savory chorizo and the fantastic, pungent kimchi in particular. The onions, meanwhile, adding a bracing bitter tang, while the eggplant paper contributed an earthy smokiness. This was a great way to pique the palate after the sheer opulence of the preceding foie gras.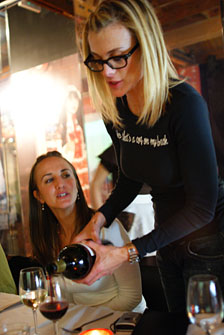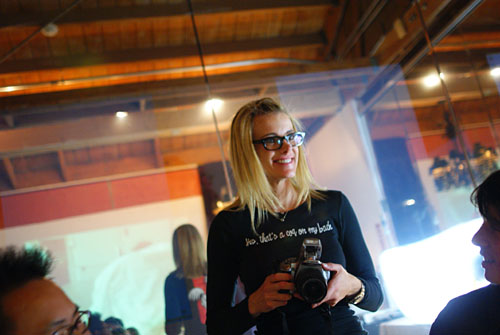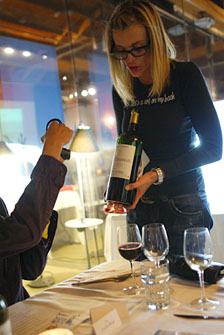 Throughout the night, Krissy helped ensure that service went off without a hitch.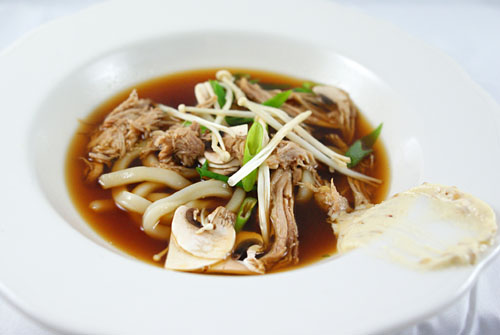 5: Veal, Udon, Kombu Dashi, Mushrooms & Sesame Seed Miso
2006 Domaine Jo Pithon Savennières La Croix Picot
2007 Joseph Swan Vineyards Pinot Noir Cuvée de Trois
Regular readers will know that I'm generally not a fan of veal, finding it a bit boring compared to beef. Thus, the meat's accoutrements are absolutely crucial in making or breaking a dish for me--this definitely made it. The veal was marinated in a commixture of French spices, giving it a rather prodigious taste for veal. Ludo then proceeds in a Japanese-inspired direction. I loved the mildness of the udon (as well as its texture) and how the noodles matched the richness of the meat, which was heightened by the umami-heavy broth. The scallions then offset the weightiness of the dish with a beautiful vegetal tang, completing the course. The sesame miso provided a lovely piquant smack, but wasn't necessary in my opinion. This is something I could just eat a big bowl of!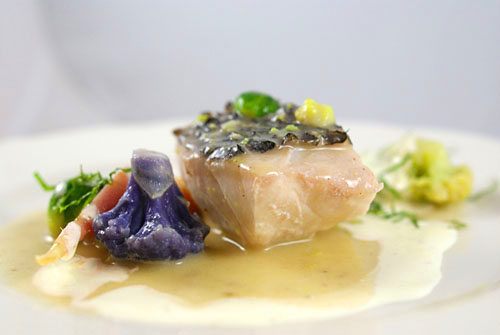 6: Wild Striped Bass, Garden Vegetables, Aioli
2007 Joseph Swan Vineyards Pinot Noir Cuvée de Trois
The bass was cooked to a firm, yet supple texture. Alone, it was pleasantly tangy, yet a bit monolithic, so I really enjoyed how the various vegetables (the cauliflower especially) balanced out the gravitas of the fish. Interestingly, upon seeing this, I thought that Ludo might've been inspired by the classic Provençal dish
Le Grand Aïoli
, which consists of fish, veggies, and eggs, paired with aioli--it wasn't.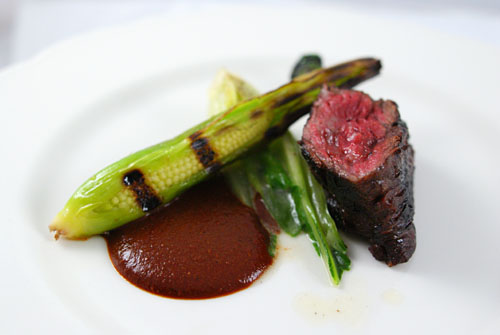 7: Marinated Hanger Steak, Crunchy Escargot, Baby Corn, Bok Choy & Black Olive Mole
2005 Domaine Tissot Poulsard Arbois Sans Soufre
An oft overlooked cut of beef, the hanger steak, or
onglet
, is known for its beefy savor, which was apparent here in spades--sweet and smoky, I could've easily devoured it alone. The steak's accompaniments, however, mustn't be overlooked. I first paired the beef with the bok choy, and then the baby corn (in its husk, which I've never seen before), and greatly enjoyed the mitigating effect of both vegetables. The crux of this course, though, was the mole, which was Ludo's take on the
mole Zacatecano
that he learned to make from
Javier's mother
. Simultaneously sweet, savory, and spicy, it was complex, fascinating, mysterious even, and went absolutely beautifully with the beef. My favorite course of the night.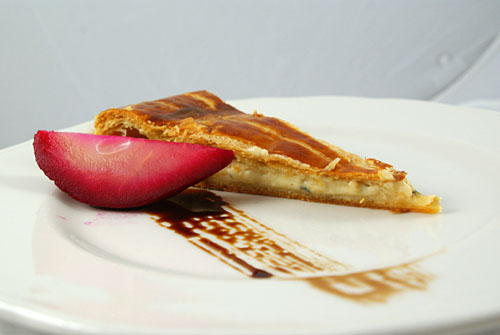 8: Fourme d' Ambert Tourte, Red Pears, Honey-Balsamic
2005 Domaine Tissot Poulsard Arbois Sans Soufre
A positively ancient cheese, Fourme d' Ambert is a semi-hard French cow's milk blue from Auvergne. I've had it a few times before (at
XIV
and
Guy Savoy
, notably), but here at LudoBites, it was baked into a
tourte
, or tart, form. The tart was marvelous, and demonstrated the cheese's saltiness, as well as its characteristic bleu finish. As good as it was, it was made even better by the pear, which provided a stupendous, sugary contrast. Very, very good.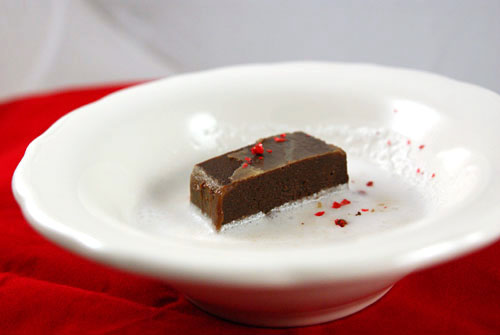 9: Chocolate Cake, Coconut Sorbet, Caramel Coffee
2005 Domaine Tissot Poulsard Arbois Sans Soufre
2007 Dönnhoff Riesling
We ended with a single, seemingly straightforward dessert. The chocolate cake, not surprisingly, was pure decadence. The liquid sorbet, thus, was instrumental in tempering its gravity--so far, a pretty standard pairing. The beauty here, however, was contained within the bits of pink peppercorn, which conveyed a profound pungency that I absolutely adored.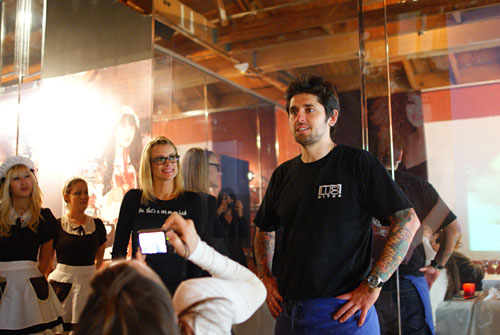 After dinner, Ludo came out to say a few words and thank us, and we applauded him for a job well done.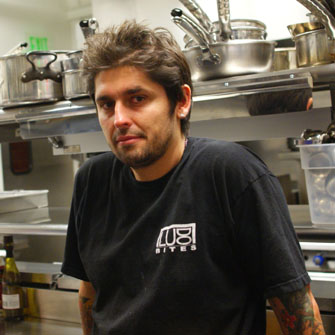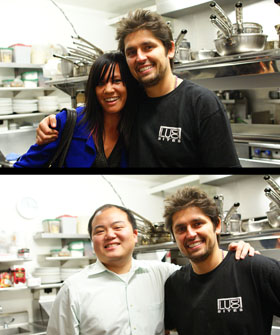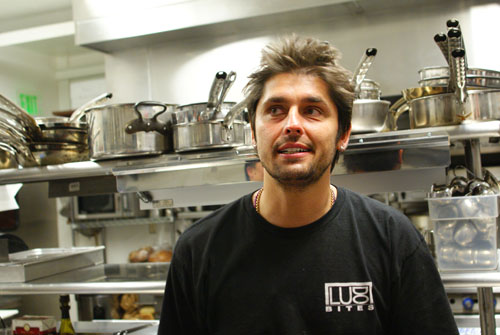 We were then provided a tour of the kitchen, which is actually
smaller than the one at Breadbar
. It also doesn't help that LudoBites has to
share the kitchen with Royal/T's own in-house cafe
.
Though LudoBites and Royal/T Get In Bed Together is advertised as a confluence of food AND art, based on what's on the plate, I must begin to think of the experience as food AS art. As with his previous restaurants, Ludo again serves up a playful selection of seemingly incongruous dishes, not always entirely successful, but invariably interesting. In his reimaginations of French fare, we get to see Ludo's commitment to creativity, his ode to the rigors of classical technique, his interpretation of the quintessence of
bistronome
, the heart and soul of a chef. The question, now, is whether or not Ludo is actively seeking a traditional brick & mortar space to call his home. He likes the freedom, the simplicity, the low-cost structure, the personal relationships that are inherent in a "pop-up" context. Given what's he accomplished so far, there's no rush, in my view, and I've even heard chatter of an upcoming LudoBites, Version 4.0, to open early next year...
Thanks again to
FoodDigger
,
Ludo
,
Krissy
, and the entire LudoBites team for an incredible evening!