Church & State (Los Angeles, CA) [2]
Church & State
1850 Industrial St, Los Angeles, CA 90021
213.405.1434
www.churchandstatebistro.com
Sat 03/06/2010, 10:45p-02:00a

Make no mistake: Walter Manzke made
Church & State
what it is today. The restaurant only registered a mild blip on the LA dining radar when it opened in September 2008, but when Manzke took over in December, the flood gates opened. Riding off the Chef's fame and acclaim garnered during his tenure at
Bastide
and elsewhere, as well as his considerable culinary acumen, Church & State quickly became the "it" spot for bistro-inspired food in LA, and helped cement the revitalization of Downtown's dining scene.
But things were doomed from the start. For a chef of Manzke's calibre, a chef who's cooked at Le Louis XV, at El Bulli, at L'Auberge Carmel, and at our very own
Patina
, mere bistro fare must seem like child's play--how challenging, how stimulating, is making
steak frites
and
escargots de Bourgogne
day after day? Indeed, when I chatted with the Chef after dinner service, he remarked that things were "easy" here; the format simply didn't allow him to get creative. That Walter would leave was a foregone conclusion--the only question was:
when?
Joshua Goldman, Manzke's former Maitre d', stated as much during a dinner at
The Dining Room
a few weeks back.
As such, it was only fitting to bid Walter a farewell--one last meal at Church & State--the curtain call. And I wasn't the only one here to say goodbye: try a 10:45 reservation or nothing! I actually expected to see more bloggers, but only Jo of
My Last Bite
, Sarah of
The Delicious Life
, and Ryan of
Epicuryan
were present during my meal.


The fun, festive, felicitous vibe here has always been one of Church & State's selling points. That the place was positively jam packed made things all the merrier.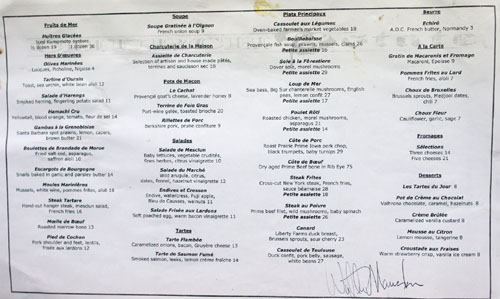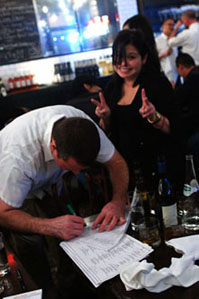 Above is the
menu de plats
for the final night, signed, naturally. Looking back at my
first meal here
, I'm amazed at how little it's changed in a year. In fact, I think the only item not still offered is "Asperge à la Tashiro," a dish created in honor
FoodDigger
founder
Marshal
. Click for a larger version.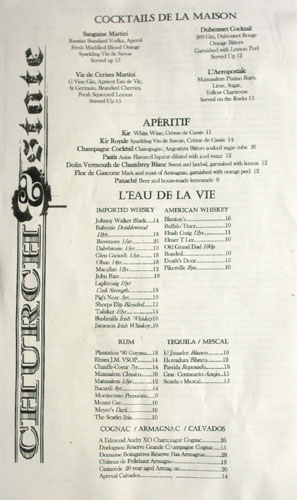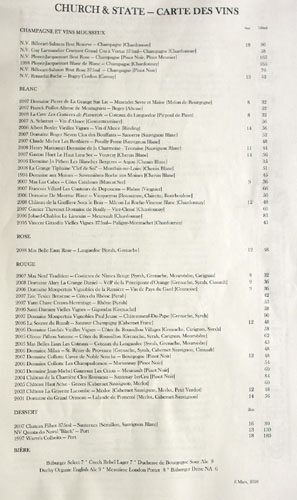 The night's list of libations. Click for larger versions.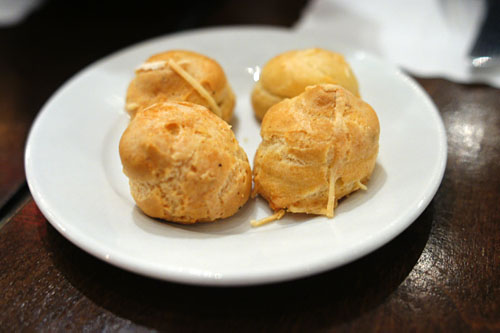 As before, we began with a plate of Gruyère gougères (cheese puffs). Nice, but a bit dry.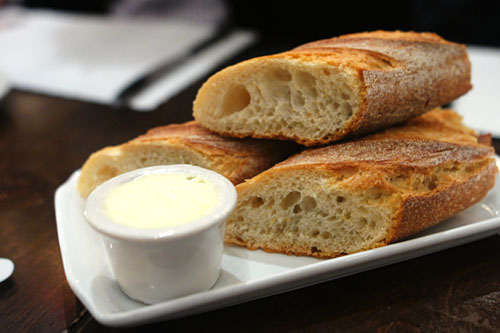 Bread serviced consisted of traditional French baguette--a prototypical example of the style--served with a light, subtly sweet butter.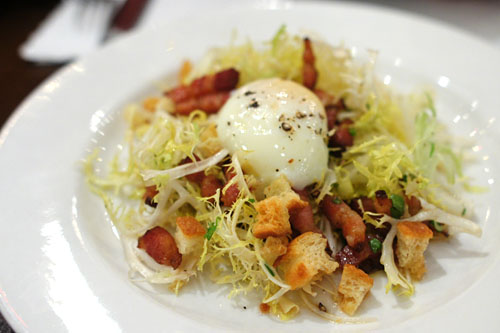 Salade Frisée aux Lardons [$12.00]
| Soft poached egg, warm bacon vinaigrette
What we have here is the quintessential bistro salad: the salade Lyonnaise. The core ingredients at play--egg, lardon, frisée, crouton, vinaigrette--are simple alone, yet stupendous together; the salad never disappoints. There's just something magical about the interaction between the salty pork, light frisée, and luscious poached egg, all tied together by that tangy dressing, that gets me every time.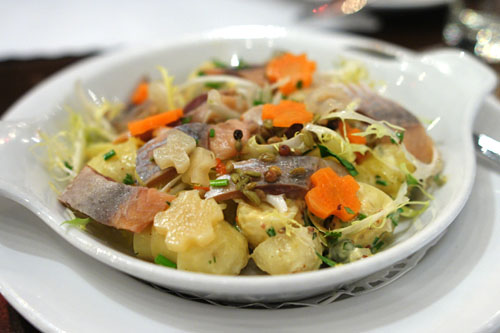 Salade d'Hargens [$11.00]
| Smoked herring, fingerling potato salad
As good as the previous salad was, I may have liked this even better. As you'd expect, the herring itself was delightfully fishy and smoky. This would've been completely overwhelming had it not been for the potato salad, which, dressed in a mustard-y sauce, provided a perfect offsetting relish. I also enjoyed the fingerlings' fantastically firm, slightly crunchy consistency.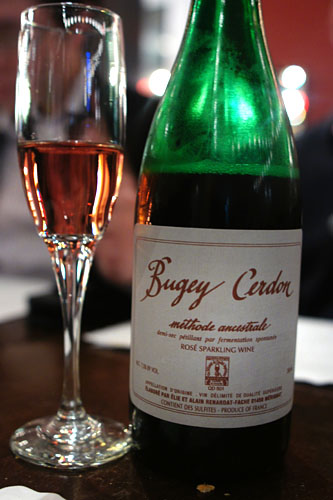 To go along with the cheery nature of the dinner, we opted to start with the Renardat-Fache, Bugey Cerdon, Gamay [$39], a light, strawberry-tinged, sugary sparkler that went down way too easy. Even one of my dining companions, who doesn't normally drink, poured himself a full glass after trying it! Obviously, this was very comparable to the notorious Jean-Paul Brun FRV 100, poured by Josh Goldman, that I had
last time
.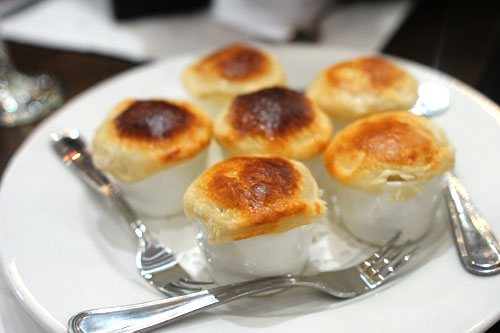 Escargots de Bourgogne [$14.00]
| Snails baked in garlic and parsley butter
Escargots, of course, were a must try. Manzke does them the traditional way, cooked in gobs of butter and garlic. I really like the use of puff pastry, which acted as a temper in the dish, moderating the richness of the snails. I also detected a slight citric tang on the finish, which I quite enjoyed.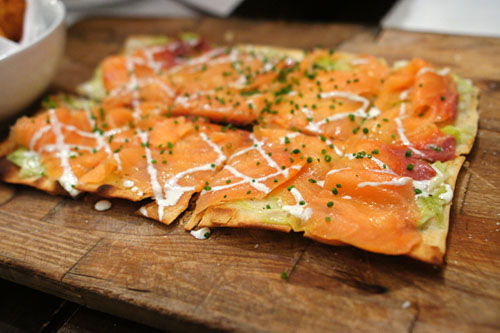 Tarte de Saumon Fumé [$14.00]
| Smoked salmon, leeks, lemon crème fraîche
Again, very classic flavors at play here: smoky salmon paired with a tartish crème fraîche, and jazzed up by the vegetal zest of leeks. There was a nice, lingering briny aftertaste from the fish, but my favorite part was actually the wonderfully crisp, cracker-like crust.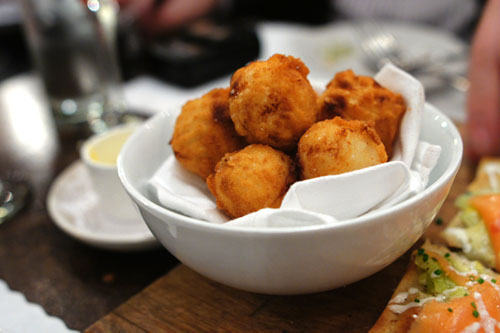 Boulettes de Brandade de Morue [$10.00]
| Fried salt cold, asparagus, saffron aïoli
Without a doubt, this was some of the best salt cod I'd ever had. I loved the
boulettes'
unabashedly salty, briny sapor, and their soft, fluffy consistency. They were fantastic alone, but also delicious with the paired saffron aioli.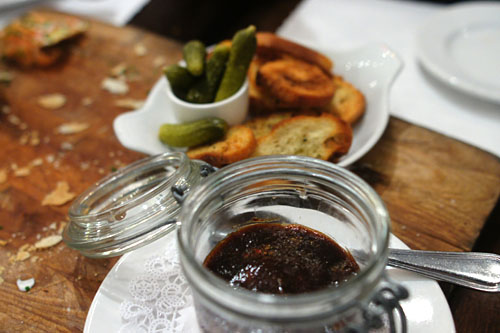 Rillettes de Porc [$9.00]
| Berkshire pork, prune confiture
Pork rillettes, a dish in which pork is cooked in its own fat and shredded, came served with cornichons and toasted baguette points. I would've liked a stronger, "porkier" flavor, as the overtly saccharine confiture tended to overwhelm the meat. The tanginess of the gherkins, however, did go very well with the dish.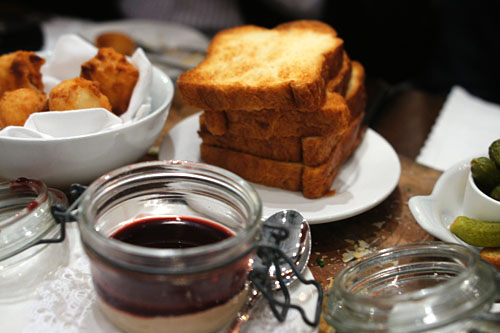 Terrine de Foie Gras [$20.00]
| Port-wine gelée, toasted brioche
As far as the pots de maçon went, this foie gras fared better. It had a smooth, creamy, mousse-like consistency with a strong, focused, strident foie gras flavor, punctuated quite nicely by the port wine gelée. Toasted brioche to accompany, naturally.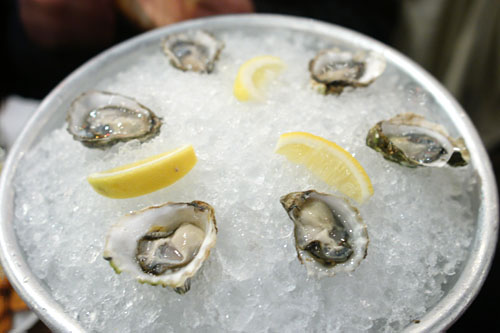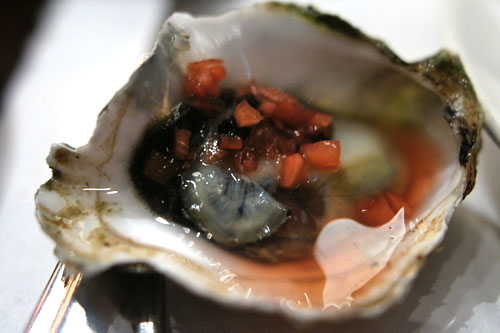 Huîtres Glacées (½ dozen) [$19.00]
| Iced Kumamoto oysters
Given the frenetic pace of the meal, our oysters got lost in the fray, and were served mid-meal rather that at the beginning. They were worth the wait, however, as the Kumamotos turned out to be some of the best that I'd had in a while. The mollusks were impeccably clean and crisp, with a subtly briny essence and just a hint of sweetness. To top things off, the tart smack of the paired red wine mignonette took the oysters to an even higher level. To make up for his error, our server even gave us complementary glasses of the 2007 Domaine Pierre de La Grange Sur Lie, Muscadet Sevre et Maine, Melon de Bourgogne [$8] to pair with the dish. The wine's crisp, dry, mineral-tinged flavor went quite well with the oysters.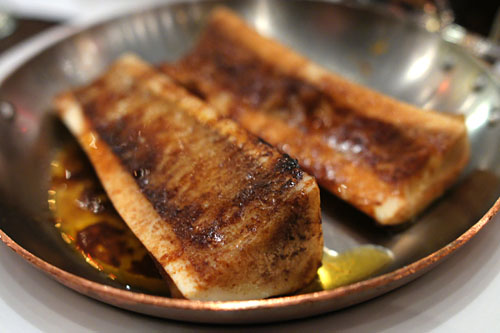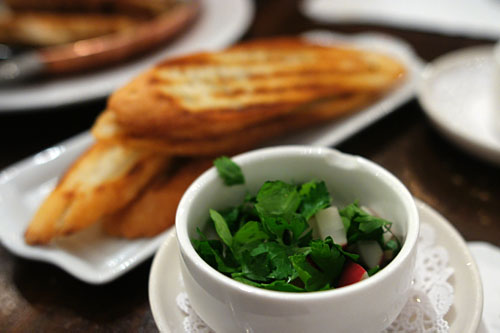 Mœlle de Bœuf [$13.00]
| Roasted marrow bone
Bone marrow was roasted and seasoned simply with salt and pepper. As you might expect, the marrow was overwhelmingly oleaginous on its own, and one of my dining companions even likened it to eating beef-flavored butter. Thus, the zest of the parsley and radish salad was absolutely crucial in moderating the marrow's unctuousness.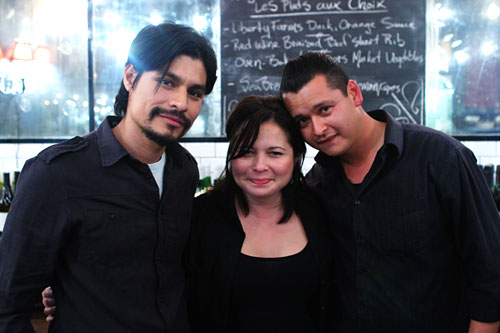 Jo
, in between in two chefs from
Lazy Ox Canteen
.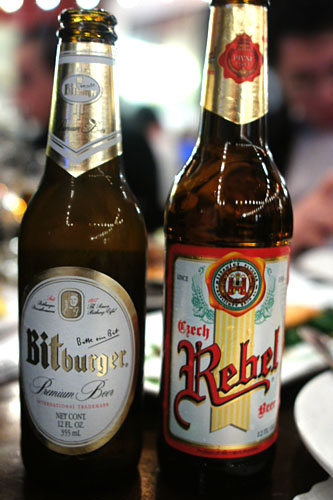 Time for beer: two bottles each of the Bitburger Premium Pilsener [$7] and Czech Rebel Lager [$7].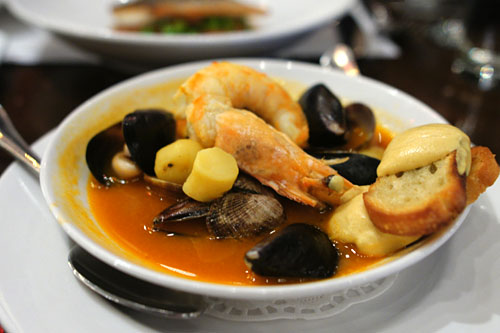 Bouillabaisse (Petite assiette) [$16.00]
| Provençale fish soup, prawns, mussels, clams
Our first main was Manzke's version of the classic Provençal fish stew. What struck me the most about this was how well the dish preserved and conveyed the briny essence of the sea. Each item was distinct, delicious, tied together by the overarching tang of the tomato-tinged soup. The potatoes, meanwhile, did a great job in tempering the savor of the seafood.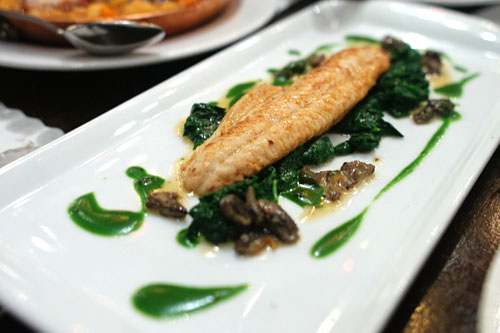 Sole à la Fôrestiere [$29.00]
| Dover sole, morel mushrooms
A lovely filet of sole here, with a delicate, slightly sweet flavor, accented by the earthy tone of the morels, and a firm, somewhat spongy consistency. The fish was good enough on its own, but much better when paired with the perfect astringency of the spinach.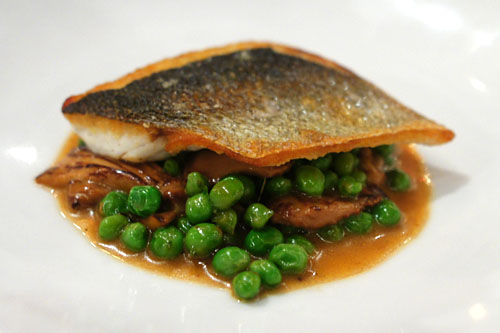 Loup de Mer (Petite assiette) [$17.00]
| Sea bass, Big Sur chanterelle mushrooms, English peas, lemon confit
The loup de mer, or seabass, was excellent--we all greatly appreciated its tender, yet flaky texture and finespun, yet profound savor, augmented by the weight of the chanterelles and deftly countered by the vegetal tang of the peas.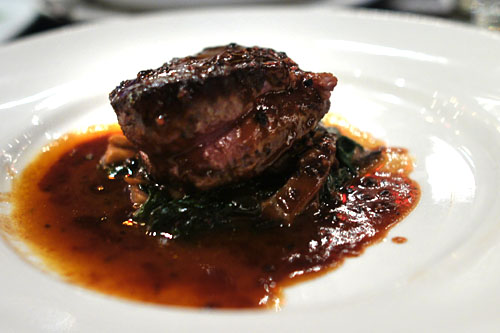 Steak au Poivre [$26.00]
| Prime beef filet, wild mushrooms, baby spinach
Steak au Poivre is perhaps the most well known preparation of steak out there, and this was a shining example of the style. We're talking about a beautiful texture and a perfect "beefy" sapor, punctuated by the piquant pungency of the pepper. The spinach added a further counterpoint, but I could've done without the mushrooms. Nevertheless, easily some of the best steak I've had in a while.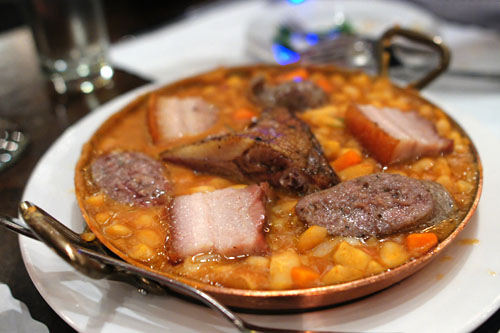 Cassoulet de Toulouse [$27.00]
| Duck confit, pork belly, sausage, white beans
Cassoulet refers to a southern French slow-cooked stew of white beans and various cuts of meat, in this case sausage, pork belly, and confit of duck. I really appreciated this course's hearty, rustic essence. The meats were as they should be, with my favorite being the sausage (a specialty of Toulouse), but I was surprised at how much I enjoyed the beans, as well as the offsetting carrots.
Our second round of beers consisted of the superb Duchesse de Bourgogne Sour Ale [$9], which I had recently at
The Dining Room
(paired with Michael Voltaggio's signature Pastrami Pigeon), as well as the subtly savory, chocolaty, coffee-tinged Meantime London Porter [$8].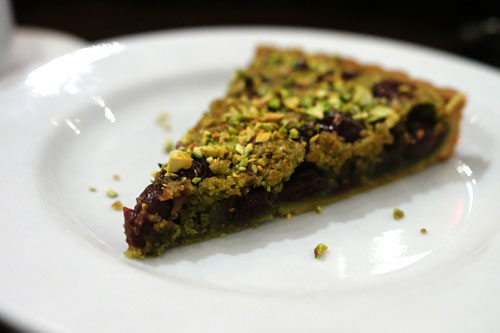 Les Tartes de Jour [$8.00]
Church & State usually offers up several tarts each day, but by the time we were ready for dessert, this cherry-pistachio version was the only variety left. I'm not complaining though, as I rather liked the sugariness of the Kirsch-soaked berries and their boozy finish, while the hint of nuttiness from the pistachios and almonds was a nice touch as well.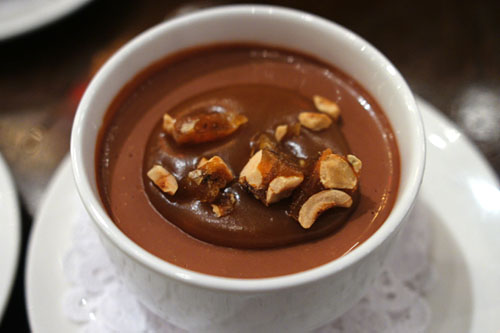 Pot de Crème au Chocolat [$9.00]
| Valhrona chocolate, caramel, hazelnuts
A prototypical example of the French custard--a rich, but not overwhelmingly sweet, chocolate flavor, balanced by a bit of savoriness courtesy of the hazelnuts.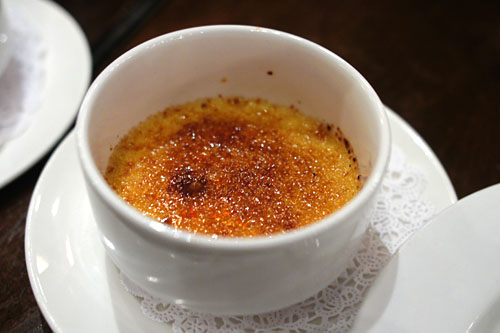 Crème Brûlée [$8.00]
| Caramelized vanilla custard
A classic crème brûlée: a nicely caramelized top over a lightly chilled custard, teeming with gorgeous notes of vanilla.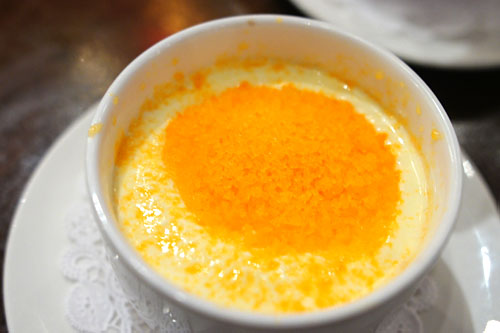 Mousse au Citron [$8.00]
| Lemon mousse, tangerine
A mildly tangy mousse, accented by a tangerine granita. The overall effect wasn't too far from that of an orange Creamsicle!
Last time
, I wrote that:
"The format of Church & State necessarily limits what Walter is allowed to do ... I still yearn for a stage where he can cook with the inexorable flair, unbridled enthusiasm, and relentless ingenuity that I know he has in him--time will tell whether or not my hunger is satisfied."
In light of recent events, those words may seem strangely prophetic. Walter Manzke has made his indelible mark at Church & State, and the burden of working under his shadow now falls upon new top toque Joshua Smith, former Chef de Cuisine at Anisette. Before the year is through, hopefully we'll all get a chance to experience what Manzke was after all this time--a restaurant to truly call his own. You can bet that I'll be first in line, in true
kevinEats
fashion.