Sashi (Manhattan Beach, CA)
Sashi
451 Manhattan Beach Blvd, Manhattan Beach, CA 90266
310.545.0400
www.sashimb.com
Wed 03/03/2010, 07:10p-11:30p

I once asked
Michael Voltaggio
what his favorite food spots in LA were, and Sashi was one of 'em. Ever since that conversation, I'd always been mildly curious about the place, so when I was invited to this media dinner, I jumped on the opportunity. Also invited were Cary of
Sushi Lush
(who helped organize the event), Christie of
Pardon My Crumbs
, Fiona of
Gourmet Pigs
, Javier of
Teenage Glutster
, Matt of
Mattatouille
, and Sonja of
The Active Foodie
.
Sashi is helmed by Nagoya native Makoto Okuwa. As a child, Okuwa was torn between becoming either a chef or a carpenter. Persistent allergies, however, kept him indoors, and so at age 15, Okuwa began his culinary career, starting out as a sushi apprentice. He trained for over ten years, gradually learning and perfecting the art of traditional Japanese cuisine under chefs Makoto Kumazaki and Shinichi Takegasa. Wanderlust struck, however, and the Chef eventually relocated to Washington DC, where he worked at Sushi Taro. It was during this time when Okuwa would meet, coincidentally, famed
Iron Chef
Masaharu Morimoto.
The two hit it off instantly, and before long, Morimoto hired Okuwa as the head Sushi Chef at his eponymous restaurant in Philadelphia. In 2006, when Morimoto opened up his second restaurant in New York, he scouted Okuwa to oversee the eatery's sushi menu. All in all, Okuwa spent an eye-opening six years along the
Iron Chef
's side, opening up various new restaurants and even appearing on television as Morimoto's sous chef. The West Coast beckoned, however, and in 2007, Okuwa moved to Del Mar, where he opened Pearl Sushi Restaurant & Champagne Lounge. After Pearl was damaged in a fire, Okuwa was recruited by Greg Harris and Jeff Benson to head up the kitchens at Sashi, bringing his Morimoto-inspired ways to Los Angeles. With Okuwa along as a partner, Sashi debuted in August 2008 in the old Deli Boys space at Manhattan Beach's Metlox Plaza.


KAA Design Group, the people behind Comme Ça, redid the interior space to better suit Sashi's progressive Japanese menu. You enter through the sake lounge; on your left is the indoor dining room and sushi bar, which opens up to an outdoor patio area (where we were seated for most of the night).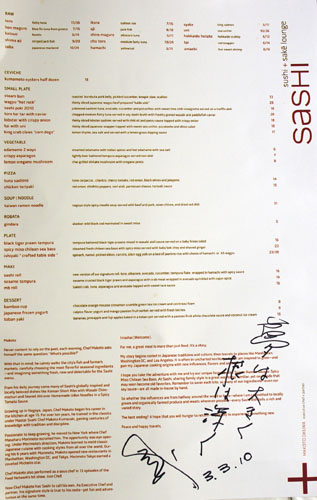 The menu shown above is a subset of the restaurant's larger
carte
, focused on the dishes that we were served (though we didn't have everything listed). Anyone know what Chef Makoto wrote? Click for a larger version.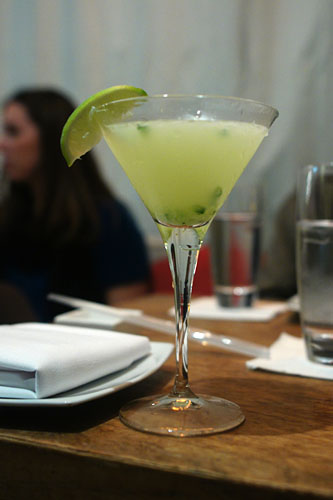 In addition to a very strong assortment of sakes, Sashi also has a decent cocktail list. I started with the Fresh Ten, made with 10 Cane Rum, cucumber, lime juice, and agave nectar. It was a refreshing concoction, with loads of cucumber up front, and an earthy, woody close. I also tasted Javier's VeeV Cooler (Veev Açai, St. Germain, basil, cucumber, lemon juice, agave nectar, Sprite), a mojito-esque drink with a sweet, almost candied finish.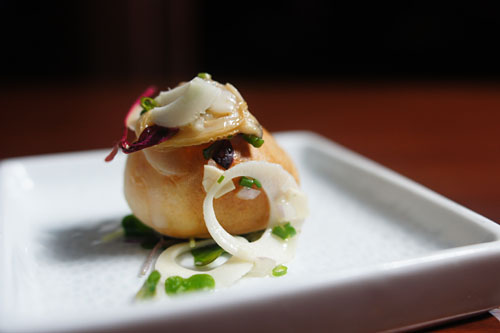 Amuse Bouche: "New England Clam Chowder"
The meal got off to a strong start with Okuwa's reimagination of the classic clam chowda'. The Chef starts with a light, ethereal
Bazaar
-like "airbread." He then infuses this oyster cracker-esque base with clam chowder, tops it with a juicy Manila clam and some heady truffle oil, and tosses in some bitter micro greens. The overall effect preserves the essence of clam chowder, while also kicking it up a knock in complexity. Very nice.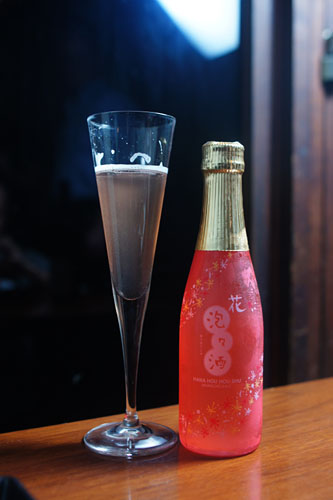 With our cocktails dispensed with, we moved on to the "Flower Sparkling" Hana Hou Hou Shu, an easy-drinking, sweet, floral, hibiscus-tinged effervescent sake. This one went down easy, and though it was unabashedly saccharine, it did have a nice ricey finish that I appreciated.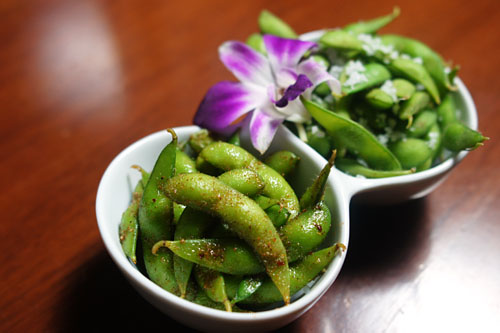 1: edamame 2 ways
| steamed edamame with indian spices and hot edamame with sea salt
The standard edamame here, sprinkled with sea salt, was tasty as expected. Far more interesting, but not necessarily better, was the steamed, Indian-spiced version, tossed with an admixture of spices, including cinnamon, black pepper, and nutmeg.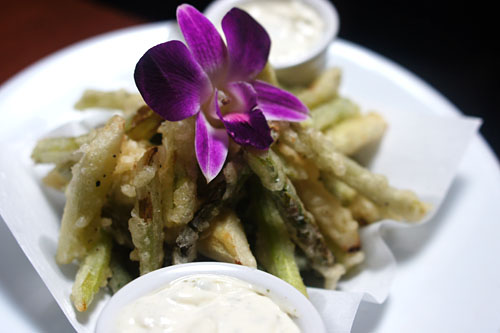 2: crispy asparagus
| lightly beer battered tempura asparagus served with nori aioli
Next was a superb presentation of tempura'd asparagus. I appreciated their lightly crisp exteriors, but what impressed me even more was how the essence of asparagus was so nicely preserved underneath all that. I quite enjoyed the asparagus alone, but the nori aioli did add a creamy tinge of seaweed to things.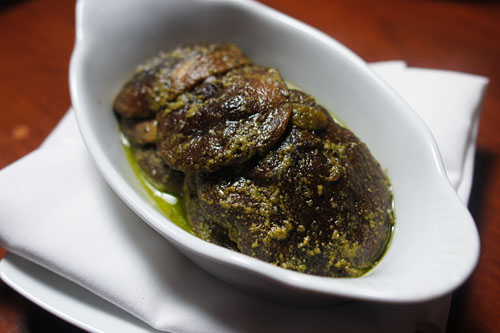 3: lemon oregano mushroom
| char grilled shitake mushroom with oregano pesto
Here were shiitake mushroom caps, cooked in a sort of pesto-inspired sauce. Surprisingly, the tanginess of the pesto was a rather fitting foil to the earthy savor of the mushrooms. Matt commented that he could still taste the 'shrooms several courses later--talk about a lingering finish!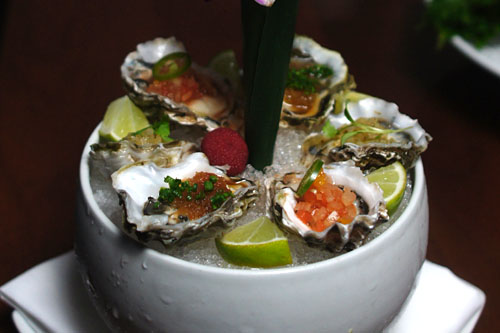 4: kumamoto oysters
There were three different types of accompaniments to the nicely-textured Kumamotos here, though unfortunately, I didn't quite catch what they were. I enjoyed the sharp, refreshing tang of a jalapeno-shallot version, but the flavor of the soy-ponzu(?) preparation overwhelmed the bivalve. I wasn't able to try the third variation.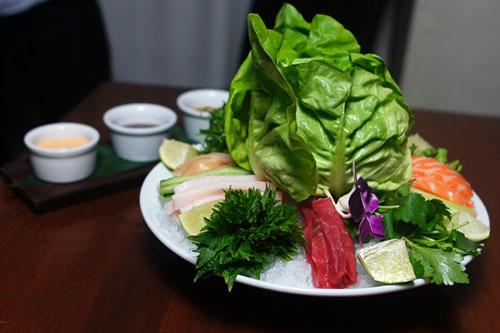 5: "sashimi wraps"
On a platter were sake/salmon, maguro/tuna, tai/snapper, hamachi/yellowtail, and aoyagi/orange clam, served with a variety of vegetables, and accompanied by a wasabi vinaigrette, a Korean-inspired
gochujang
, and a spicy mayonnaise. I tried a few bits of fish alone, and the cuts seemed to be of suitable quality. However, it was much more interesting to pair the fish with the various accoutrements. I especially enjoyed using the
gochujang
, which, combined with the sashimi, reminded me of my meal last November at
saengseon hoe
specialist
Neptune's Lounge
.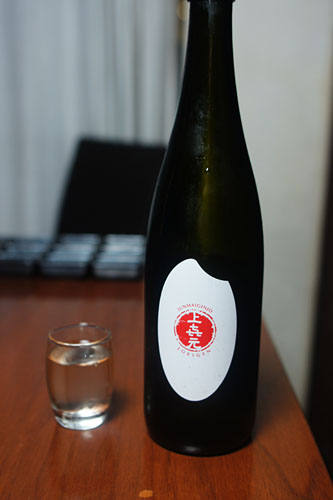 At this point, we moved on to a more "serious" sake, the "Good Spirits" Jokigen Junmai Ginjo, a somewhat prototypical example of the style--somewhat dry, a bit hot, with some slight fruity-floral character for good measure.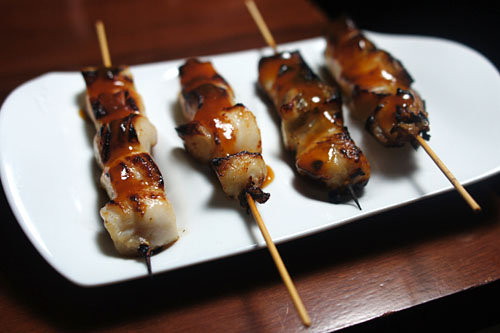 6: gindara
| alaskan wild black cod marinated in sweet miso
Not surprisingly, we were all reminded of Nobu's signature "black cod with miso" here. The fish itself was quite oily, and rather tender, too much so, in fact; I would've preferred a firmer, flakier consistency. Nevertheless, it did have a tasty, sweet, miso-hued sapor that compared favorably to that of Nobu's version (which I've had at Matsuhisa Beverly Hills). A trio of dipping sauces were provided--hot mustard, sweet vinaigrette, garlic ponzu--but they proved unnecessary.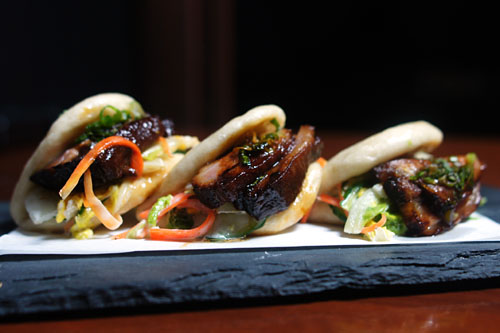 7: steam bun
| roasted kurobuta pork belly, pickled cucumber, kewpie slaw, scallion
One of the highlights for me were these Momofuku-esque buns. The pork belly was undeniably decadent, melt-in-your-mouth even, but was tempered so beautifully by the tanginess of the cucumber and Kewpie mayo slaw (perhaps another nod to David Chang?). The only issue was the bun itself, which I found a bit thick and soggy (Javier, however, liked it thick).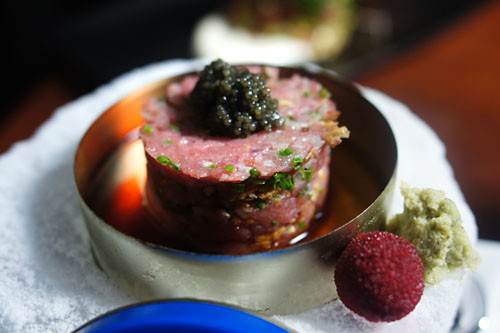 8: toro tartar with caviar
| chopped medium fatty tuna served in a soy dashi broth with freshly grated wasabi and paddlefish caviar
Next came another seemingly Nobu-inspired dish: toro tartar with caviar, which I also consumed at Matsuhisa. Here, I really liked how the fattiness of the tuna was moderated by the pronounced zest of the scallion and the heat of the wasabi, while its weight was accentuated by the soy-dashi broth. The caviar, meanwhile, gave things a delightfully briny finish. Again, this compared very well to the original.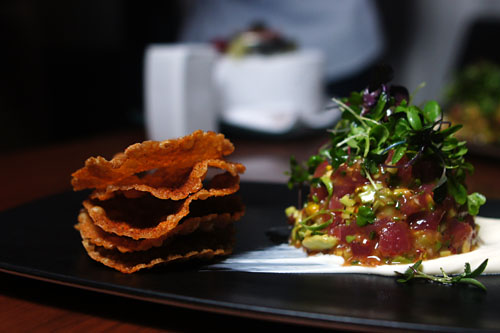 9: sashi poki 2010
| julienned sashimi tuna, avocado, cucumber and pistachios with sweet lime chili vinaigrette served on a truffle aioli
Following was another strong tuna dish. I loved how the richness of the tuna was elevated by the use of avocado, while the cucumbers added a cooling contrast. The nuttiness imparted by the pistachios was superb, and I liked how the vinaigrette gave just a bit of spice on the finish, punctuated by the vegetal tang of the greens. The end result was a delightful mélange of sweet-salty-sour-spicy. I could've done without the truffle aioli, though.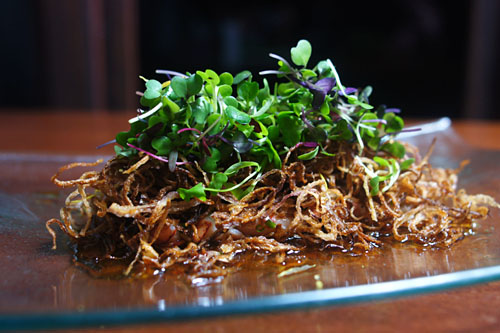 10: lobster with crispy onion
| thinly sliced lobster sashimi served with chili oil and ponzu sauce topped with crispy onion
Alone, I quite enjoyed the snappy texture of the lobster sashimi, along with its delicately sweet, yet briny flavor. However, the kitchen was a bit heavy-handed with the crispy onion, which I felt overpowered the subtle nature of the crustacean. The bitterness from the accompanying micro greens did help smooth things out, but even they weren't enough.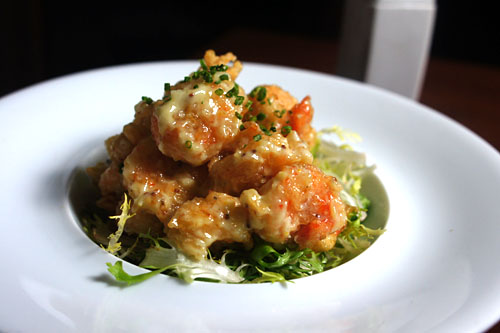 11: black tiger prawn tempura
| tempura battered black tiger prawns mixed in wasabi aioli sauce served on a baby frisee salad
The dish reminded most of us of Chinese-style honey walnut shrimp. I rather liked their crisp consistency and the sweet-spicy nature of the wasabi aioli, tempered by the bitterness of the frisée.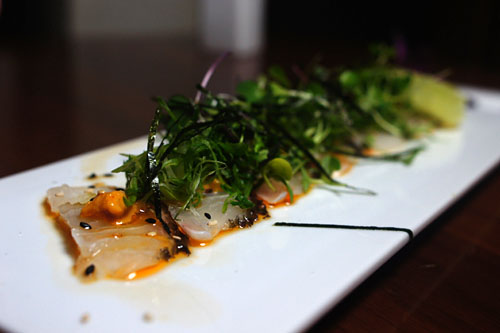 12: tai with uni
| thinly sliced japanese snapper topped with sweet sea urchin, yuzukosho and shiso salad
Taken separately, I liked how the firm, snappy, subtly-flavored tai was accentuated by the sweet creaminess of the uni. However, the shiso salad was a bit much for me, masking and distracting from the natural sapor of the seafood.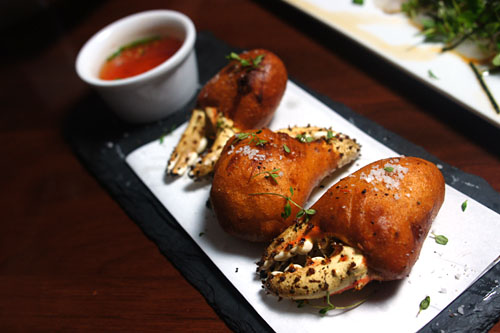 13: king crab claws "corn dogs"
| lemon thyme, sea salt and served with a lemon grass dipping sauce
I usually abhor corn dogs, but I was a big fan of this! The crab was soft, sweet, briny, and delicious--just as it should be. The problem, however, was that the claws were notoriously difficult to eat. After the first bite, I was forced to pick out the remaining meat with my chopsticks, which proved to be an exercise in futility!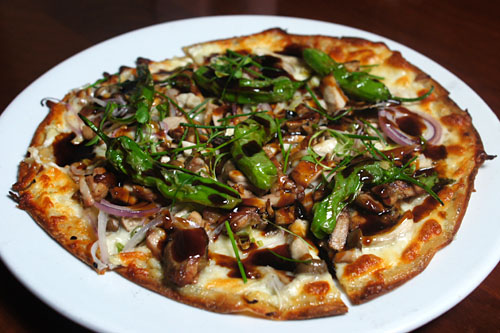 14: chicken teriyaki
| red onion, shishito peppers, nori aioli, parmesan cheese, teriyaki sauce
When I heard that we were having teriyaki chicken pizza, I instinctively rolled my eyes. However, upon tasting the dish, I found that the sugariness of the chicken was surprisingly restrained here, playing nicely with the piquancy of the onion and shishitos. Nice, crisp crust too.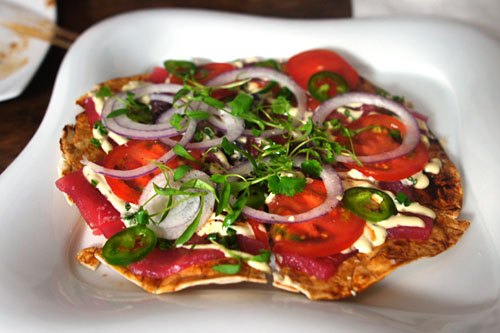 15: tuna sashimi
| tuna carpaccio, cilantro, cherry tomato, red onion, black olives and jalapeno
This was a much lighter pizza compared to the one above, and worked a bit better for me. I quite liked the interplay between the delicate tuna and its tangy vegetal accompaniments, the tomato and onion in particular. The super-thin, cracker crust is worth mentioning as well. Surprisingly good!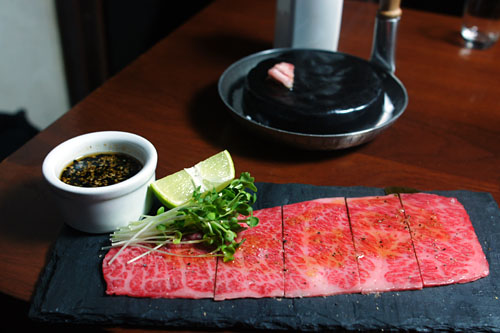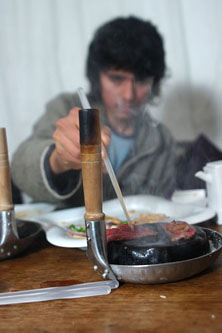 16: wagyu "hot rock"
| thinly sliced japanese wagyu beef prepared "table side"
That, simply, is a beautiful piece of meat. I could've eaten it raw, but allowed it to be cooked (by Javier), releasing its amazingly rich, fatty, salty,
unctuous
essence. Note that the "rock" appears to be the same model that
Urasawa
uses for his to-die-for seared toro!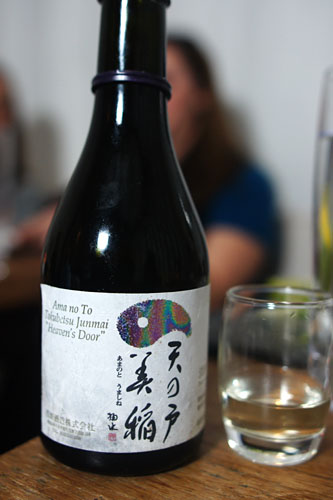 Our next sake was the "Heaven's Door" Amanoto Tokubetsu Junmai, a drier sake compared to the Jokigen, with a bit more herbaceous character.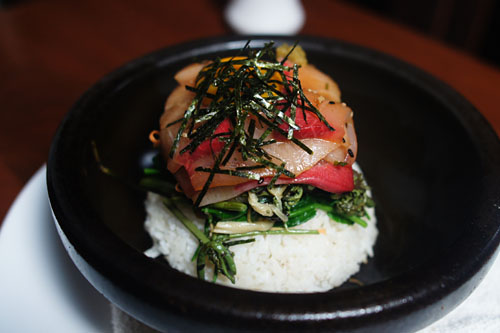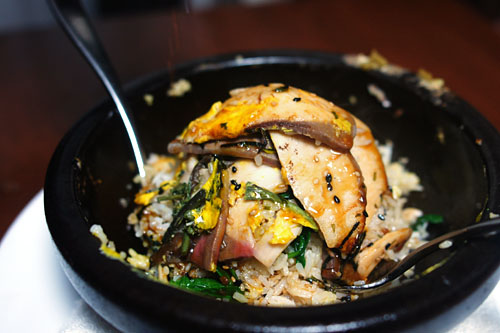 17: ishiyaki "crafted table side"
| spinach, namul, pickled daikon, carrots, jidori egg yolk on a bed of jasmine rice with hamachi
As you might expect from looking at the photo, this was Sashi's version of the Korean
dolsot bibimbap
, replete with stone bowl. This was a superb salmagundi of different tastes and textures, and I especially enjoyed the interplay of the salty fish with the luscious jidori egg. Nevertheless, some more spice--in the form of kimchi or
gochujang
--would've been nice. And where's my
nurungji
?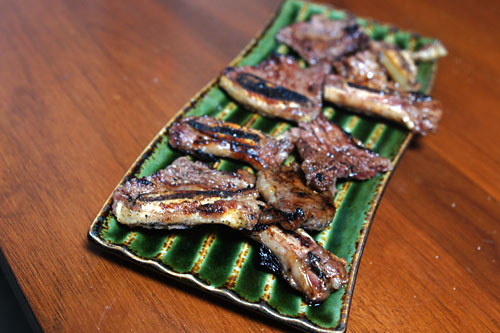 18: kalbi
| short ribs marinated in house special sauce
Next up was some more Korean-inspired fare: the ubiquitous galbi, or marinated short ribs. According to Matt, they were cut in "LA Kalbi" fashion, or perpendicular to the bones, for easier eating. Flavor-wise, they were quite competent, replete with the smoky-sweet savor that I expected.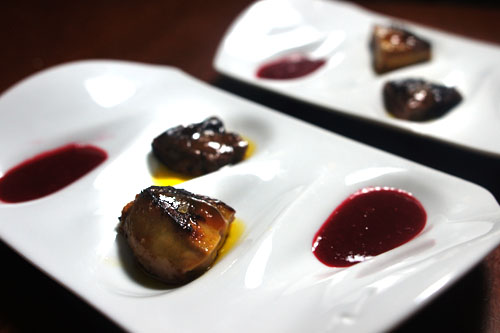 19: kimo
| foie gras served with raspberry sauce
This tasted more like chicken liver than fattened goose liver to me, as it lacked foie gras' heady, oleaginous character. Nevertheless, the dish was surprisingly good--I appreciated the liver's subtle, yet focused flavor, as well as its slightly nutty finish. It wasn't overly sweet, which is always a huge plus for me. The accompany raspberry sauce was redundant.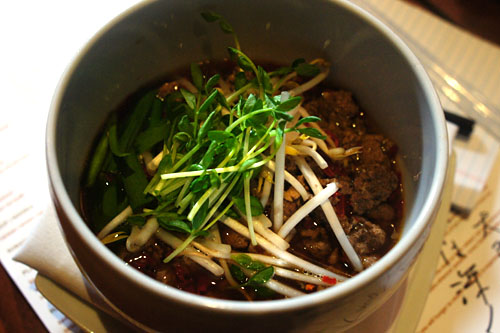 20: taiwan ramen noodle
| nagoya style spicy noodle soup served with beef and pork, asian chives, and dried red chili
Our last savory course was also Chef Okuwa's signature dish, and my favorite item of the night. It's an ode to a popular soup invented in his hometown of Nagoya (despite the name, it did not originate in Taiwan!): a spicy medley of ground meat, chives, bean sprouts, red peppers, and ramen, all in a soy/dashi-based stock. I loved the firm, fiery meat and how it was tempered so wonderfully by levity of the crisp, crunchy bean sprouts, while the noodles grounded the dish with a homey simplicity. A perfect interplay of tastes and textures--this one's worth coming back for!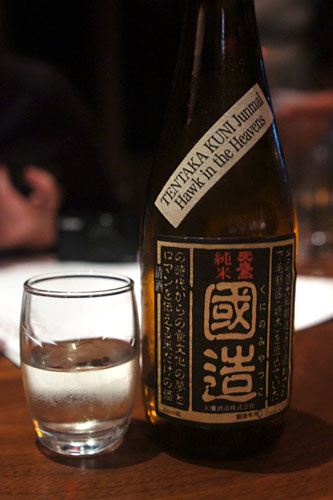 The final bottle of sake, to go with the desserts, was the "Hawk in the Heavens" Tentaka Kuni Junmai, a dry, substantial sake that stood up well enough to the sweets.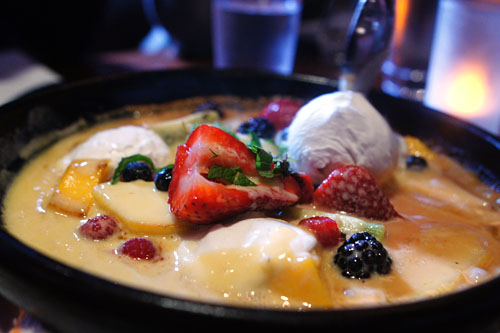 21: toban yaki
| bananas, pineapple and fuji apples baked in a toban pot served with a passion fruit white chocolate sauce and coconut ice cream
Desserts are crafted by Pastry Chef Kei Hasegawa, who comes to Sashi from Nobu. First up was this mishmash of various fruits, bubbling in a bath of passion fruit/white chocolate liquid, with a scoop of coconut ice cream tossed into the fray for good measure. It was a sugary, buttery, hot fuss, and though others raved about this one, it was just a bit overwhelming for me.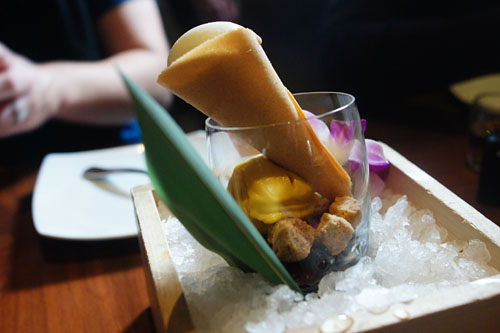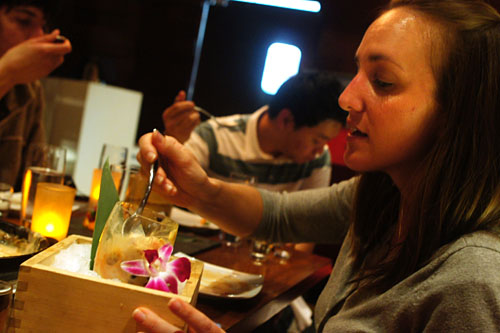 22: japanese frozen yogurt
| calpico flavor yogurt and mango passion fruit sorbet served with fresh berries
The second dessert was more to my liking. As Sonja demonstrates, we were instructed to break up and mix the contents of the parfait-like dish, resulting in a pleasantly sweet-sour commixture, with a nice crunchiness courtesy of the cone.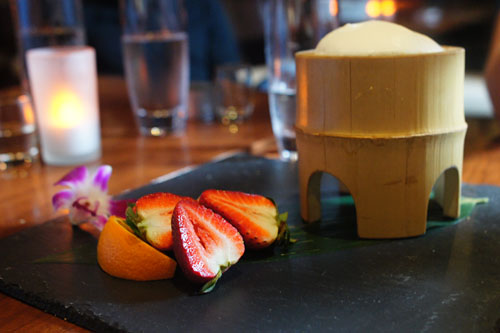 23: bamboo cup
| chocolate orange mousse cinnamon crumble green tea ice cream and cointreau foam
Finally, we were left with this multilayered affair, composed of strata of chocolate-orange mousse, cinnamon crumble, green tea ice cream, and Cointreau foam. The slightly astringent sapor of the green tea formed the core of this dish, and to it the richness of the chocolate-orange, the spice of the cinnamon, and the tangy finish of the liqueur added layers upon layers of complexity and depth. Very nice--my favorite of the trio.
Given Sashi's reputation as somewhat of a cougar den, I was a bit wary of the place. However, I was pleasantly surprised with the food. Clearly, Chef Okuwa's training has paid off, as it's evident that he knows what he's doing in the kitchen. The food is fusion, but fortunately, Okuwa doesn't go overboard with the global flourishes, and doesn't stray
too
far off from his traditional Japanese roots. Think of this as Morimoto, for the beach crowd.