The Dining Room at The Langham (Pasadena, CA) [2]
The Dining Room at The Langham
1401 South Oak Knoll Ave, Pasadena, CA 91106
626.568.3900
www.thediningroom-langham.com
Fri 02/26/2010, 07:30p-01:20a
My
last visit here
was in August of last year, shortly after Michael Voltaggio had replaced former chef Craig Strong in the kitchen. The Dining Room was scheduled to shutter for renovations at the end of summer 2009, but due to Voltaggio's win on
Top Chef
, the restaurant has remained open to capitalize on Voltaggio's newfound fame. Renovations have currently been pushed back to Q3 2010. I definitely had planned on coming back prior to the closure, and I was recently presented with the perfect opportunity: the startup that some friends of mine worked for was about to get acquired. A celebratory dinner (perhaps the first in a series), thus, was called for. We considered the usual suspects--
Melisse
,
Providence
,
Spago
,
Urasawa
--before deciding on The Dining Room.

Now, seeing as how this was supposed to be a celebratory dinner, I requested the Private Dining Room. The PDR normally requires a party of eight, and seats up to 18. However, we were "eating for eight," so to speak, so we had no problem securing the space.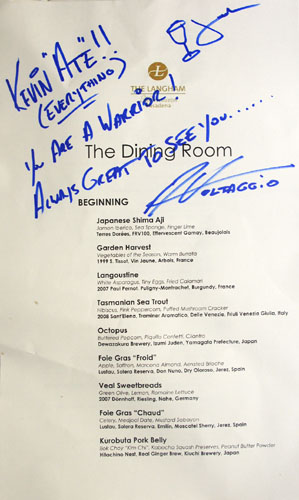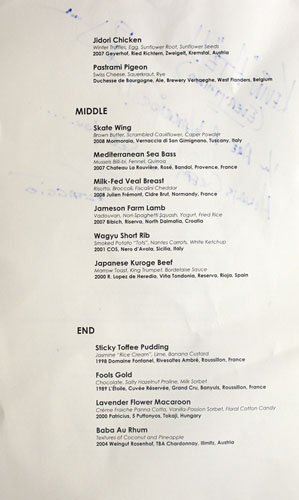 The standard menu just wouldn't do, so in true kevinEats fashion, we requested to run the gamut, getting a taste of all 21 courses (a vague reference to Bryan's
Table 21
perhaps?) on the menu, split between two people, paired with a mind-boggling assortment of 21 libations, courtesy of new Sommelier Josh Goldman. Previously, Josh worked with David Haskell at BIN 8945, and also served as GM at
Church & State
and
Bastide
, both under Walter Manzke. In fact, we chatted briefly about Manzke's recent departure from C&S, and both agreed that a chef of his caliber just couldn't last doing "mere" bistro fare. Click for larger versions.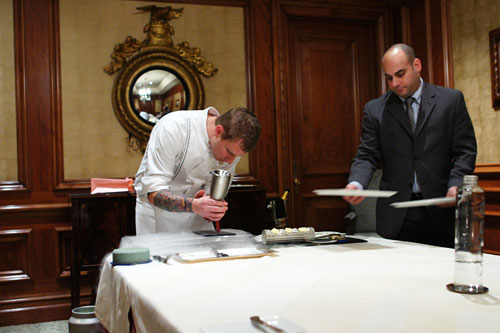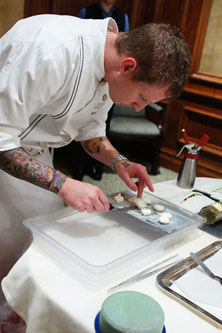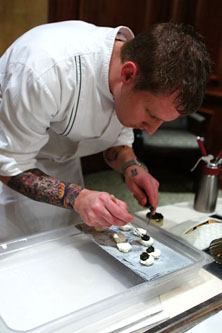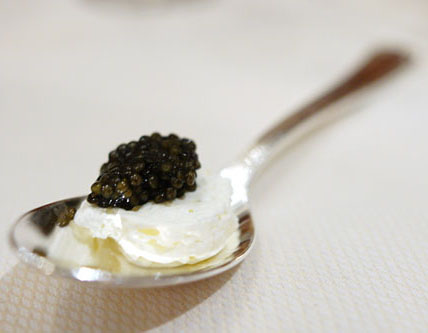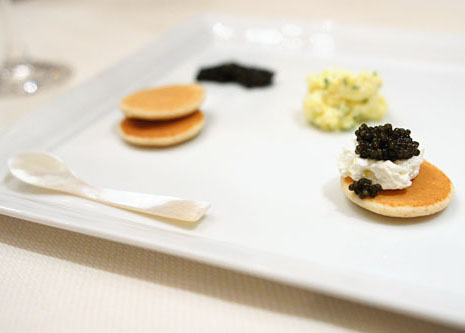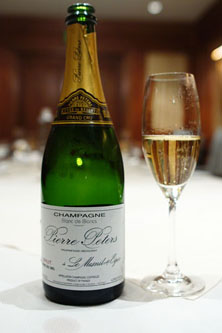 Caviar Service
Pierre Peters, Champagne Blanc de Blancs Grand Cru, Le Mesnil, France
To go along with the celebratory nature of this dinner, we decided that some caviar was in order. One of my dining companions managed to procure some beluga, and I requested "caviar corkage," to simply be able to consume the caviar at the beginning of the meal--we even brought our own blinis and crème fraiche. Voltaggio, ever the perfectionist, however, would not let this stand. Our accoutrements were tossed aside, replaced by his egg salad, traditional housemade buckwheat blinis, and amazing liquid nitrogen "Crème Fraiche 2010." Voltaggio definitely exceeded expectations here, going well above what was called for.
The star here, clearly, was that stellar nitro crème fraiche. It was somewhat lighter, more ethereal than your typical variety, and played beautifully with the roe, forming a perfect interplay of creamy and briny flavors. It also gave the caviar a great temperature contrast as well. The combination of caviar, crème fraiche, and blini was magical! In addition, I also tried the caviar alone, and noted its deliciously robust, yet refined flavor, imbued with nutty, buttery goodness--I still preferred it with accompaniments, though. To drink, I'd actually brought a bottle of vintage Bollinger Grand Année, but Josh recommended the "grower" Pierre Peters in its place--it was a wise substitution. Think dry and crisp, but not overwhelmingly so, with plenty of yeast, backed by hints of citrus and vanilla. It was almost Krug-like in character, and a superb complement to the caviar.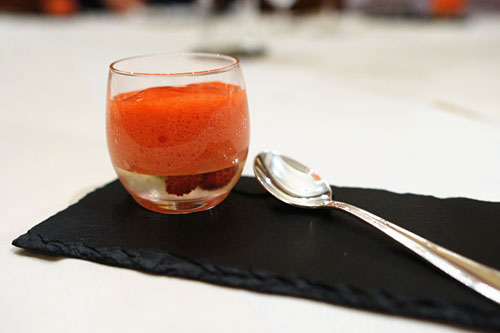 Amuse Bouche: Sake Jello
The meal proper began with a fruity bang: a sake gelée encasing
fraises des bois
(small, wild strawberries), topped with strawberry tonic. This was a lovely, refreshing start to the dinner that captured the very essence of strawberry, intermingled with just a touch of astringency from the tonic.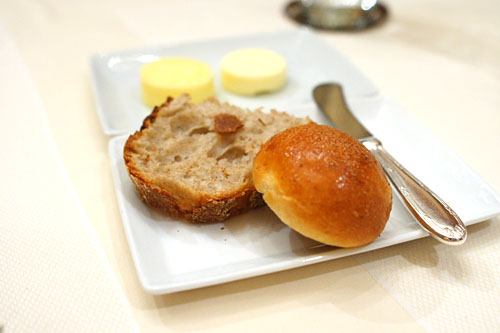 The first round of bread saw a bacon soft roll and a country white, served with Échiré unsalted butter and Vermont salted butter.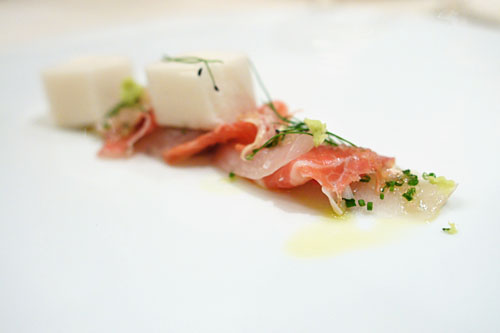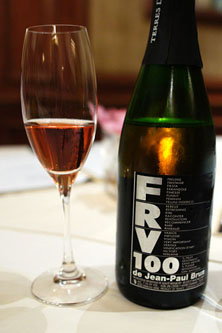 1: Japanese Shima Aji
| Jamon Iberico, Sea Sponge, Finger Lime
Terres Dorées, FRV100, Effervescent Gamay, Beaujolais
The gauntlet of courses started with a
shima aji
, or striped jack, sashimi, done up in a somewhat crudo-inspired style. Taking the fish alone, I really appreciated the tartness imparted upon it by the finger lime. The best part of this, though, was the use of Jamón Ibérico, which added a fantastic saltiness to counter the relatively restrained flavor of the jack. The "sea sponge," meanwhile, with its mirin and dashi verve, contributed a briny, umami-tinged finish to the course. The wine pair was the "infamous" FRV100, a fizzy Gamay that I'd had previously at
Church & State
(with Josh) and at
LudoBites
. I was a bit wary of its overt sweetness, but actually found it to be a great foil to the savoriness of the dish.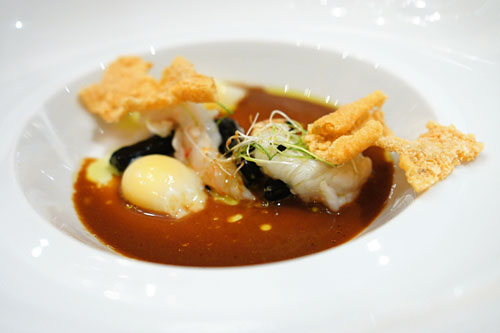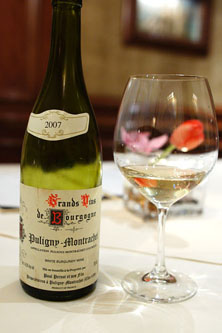 2: Langoustine
| White Asparagus, Tiny Eggs, Fried Calamari
2007 Paul Pernot, Puligny-Montrachet, Burgundy, France
Next up was perhaps some of the best langoustine I've ever had. Its texture was just fantastic--soft, snappy, supple--while the taste was delicately sweet, lightly sea-tinged. The eggs added an appropriately luxurious complement, while the squid ink-tinted asparagus' bitterness also made itself known. The star here, however, was the calamari--crisp, crunchy, and absolutely bursting in salty savor. The pairing of a bourgogne blanc, with its citric sweetness, marked minerality, and clean acidity, just made sense here.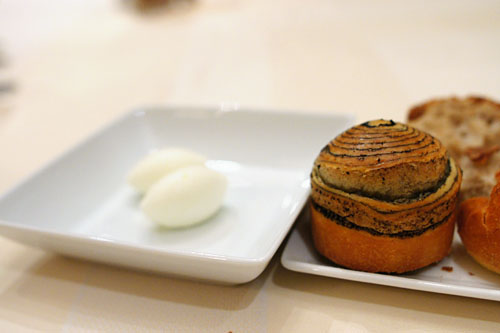 At this point, we were presented with The Dining Room's famous tennis ball-sized truffle brioche, accompanied by an airy goat cheese butter from Turlock, CA. Almost mesmerizing in appearance with its concentric rings of sable, the brioche was positively imbued with the heady sapor of truffle--I nearly finished it in one go! Given the length of the meal, however, I knew I had to temper my appetite.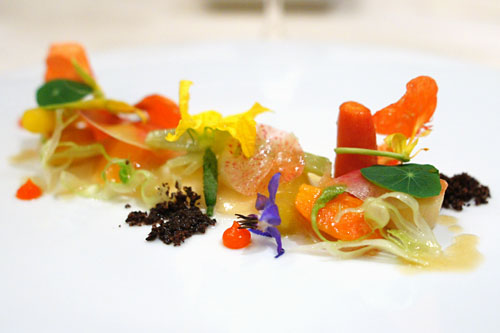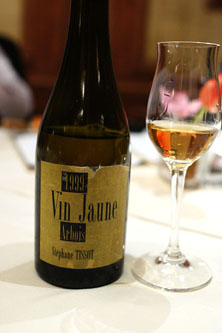 3: Garden Harvest
| Vegetables of the Season, Warm Burrata
1999 S. Tissot, Vin Jaune, Arbois, France
This was an interesting course, and not one that I'd exactly expect from Voltaggio. It harkens back to other
Gargouillou
/Michel Bras-inspired vegetable compositions such as
David Kinch's
signature "Into the Vegetable Garden," Paul Liebrandt's "From the Garden," and
Daniel Patterson's
"Garden, Late Fall." Made with a whopping 20 types of veggies (including carrot, beet, nasturtium, and squash blossom) and supplemented by vegetable gelée, sherry vinaigrette, harissa paste, burrata, and cardamom-coffee soil, it was an intriguing exposition of disparate tastes and textures, a cacophonous symphony of savory-bitter-sweet. The sherry-like vin jaune, meanwhile, did a respectable job in moderating and integrating the power of the various veggies. One the highlights of the meal for me.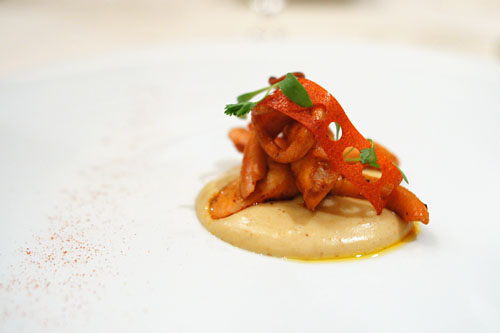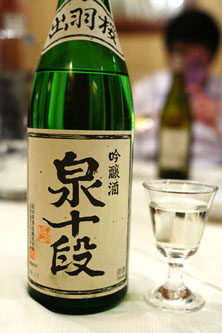 4: Octopus
| Buttered Popcorn, Piquillo Confetti, Cilantro
Dewazakura Brewery, Izumi Judan, Yamagata Prefecture, Japan
I adored the octopus' firm, yet yielding consistency here, along with its mildly sweet flavor, perked up with the subtle heat of piquillo pepper. Meanwhile, the popcorn purée added a palpable weight to the course, but was a touch too buttery for me. To stand up to the forcefulness of the dish, we needed something relatively austere, and the Dewazakura fit the bill nicely. A minerally, juniper-tinted sake (Josh even likened it to a gin martini!), its dryness countered the gravity of the popcorn purée admirably.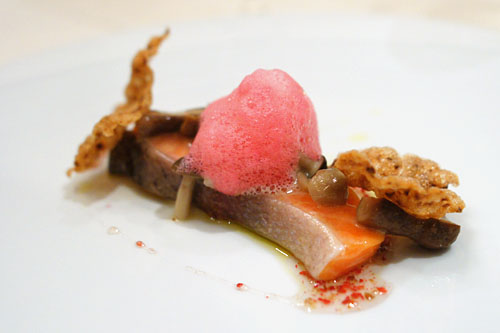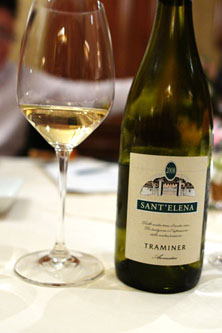 5: Tasmanian Sea Trout
| Hibiscus, Pink Peppercorn, Puffed Mushroom Cracker
2008 Sant'Elena, Traminer Aromatico, Delle Venezie, Friuli Venezie Giulia, Italy
I loved how the fish itself was cooked--rare, raw almost, with a nearly gelatinous consistency and a biting, briny sapor. Besides the fish, I really appreciated the porcini crackers, which lent an earthy finish to the course, and which made for a great crispy textural element. The hibiscus air, however, was considerably more jarring, a bit disconcerting even; I was sort of ambivalent. Its sweetness did find a match in the floral, tropical fruit flavors of the wine though.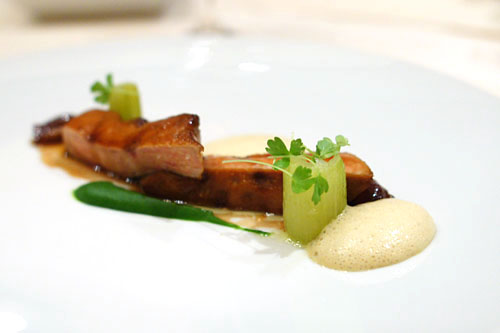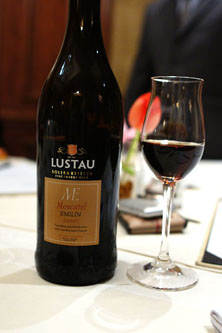 6: Foie Gras "Chaud"
| Celery, Medjool Date, Mustard Sabayon
Lustau, Solera Reserva, Emilín, Moscatel Sherry, Jerez, Spain
Next, Chef Voltaggio wanted to demonstrate two foie dishes--hot 'n' cold (get thoughts of Katy Perry out of your head)--side by side. Both were paired with sherry, to boot. Now, regular readers will know that I'm somewhat of a terrine slut, so imagine my surprise when I actually preferred the
chaud
. It was one of the best hot foie gras I'd ever had, in fact. I appreciated its fabulously finespun foie flavor, and how the astringency of the celery (a veggie I usually abhor) formed a faultless foil to the gravity of the liver. Fantastic.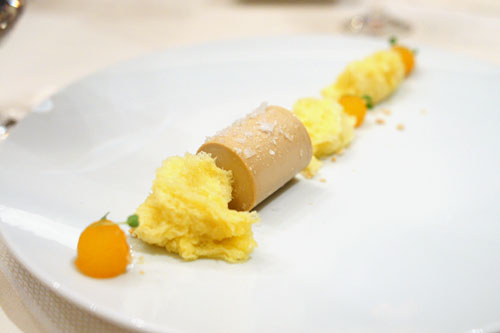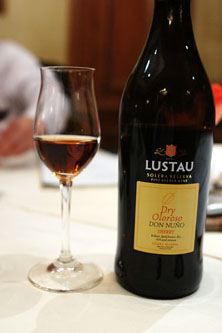 7: Foie Gras "Froid"
| Apple, Saffron, Marcona Almond, Aerated Brioche
Lustau, Solera Reservera, Don Nuno, Dry Oloroso, Jerez, Spain
For the cold preparation, Voltaggio presented a seemingly simple cylinder of foie, accompanied by sous vide apples in saffron syrup, grated Marcona almonds, and the Chef's famous microwaved nitrous oxide brioche. However, penetrate the terrine, and you'll release a deluge of apple juice and vanilla, making for an amalgam of counterbalancing sweet and salty flavors. The light, fluffy brioche, thus, acts the part of a tempering element, sopping up all the goodness on the plate. As for the Lustau, it was a light sherry--nutty, woodsy, subtly sweet--that did a great job in cutting the fat of the foie. As a pairing, I preferred it to the Lustau served above, though I liked the darker, sweeter Moscatel better alone.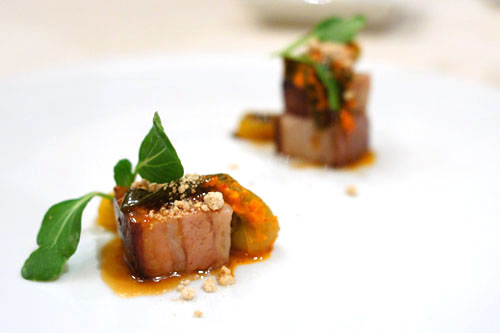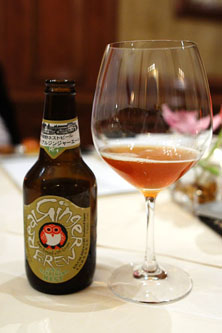 8: Kurobuta Pork Belly
| Bok Choy "Kim Chi", Kabocha Squash Preserves, Peanut Butter Powder
Hitachino Nest, Real Ginger Brew, Kiuchi Brewery, Japan
Kurobuta Pork Belly--is there any ingredient that's more played out? Perhaps not, but that doesn't take away from the fact that this was a simply outstanding example, one of the best I've had, in fact. I loved the use of kimchi, and how it, profuse in piquant spice, steadfastly stood up to the heft of the belly--a perfect counterweight. This was easily the best use of kimchi I've seen in a non-Korean setting. Beer, thus, was a natural pairing with the dish, and boy, did Josh pick a good one! The Hitachino showed lovely notes of ginger and citrus over a slightly spicy backbone--it worked very well in offsetting the power of the dish.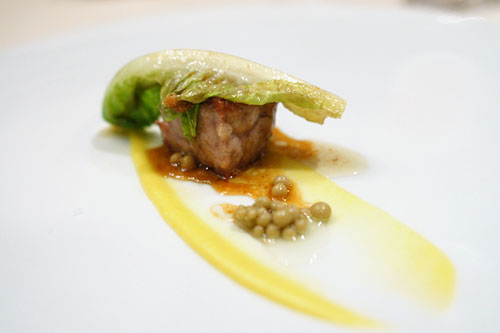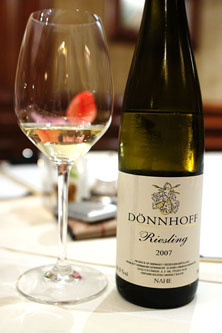 9: Veal Sweetbreads
| Green Olive, Lemon, Romaine Lettuce
2007 Dönnhoff, Riesling, Nahe, Germany
The sweetbreads, chiseled into cuboid form, could've been mistaken for the pork belly above. Flavor-wise, though, they were quite distinct. This was much more in-your-face, dense and buttery, with plenty of that signature sweetbread savor, perked up by the sourness of the lemon and the bitterness of the olive "caviar." The key here, though, was the romaine, which served as a light, juicy, crispy counterpoint to the weightiness of the veal--it absolutely made the dish for me. A light, sweetish wine was in order here, and the Dönnhoff fit the bill nicely with its floral, fruity character.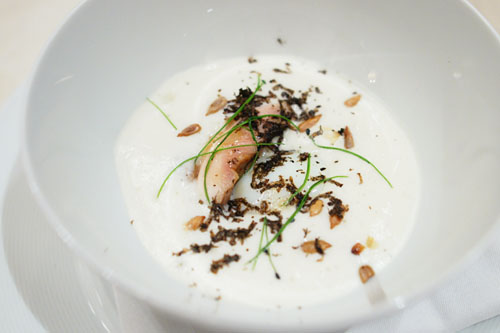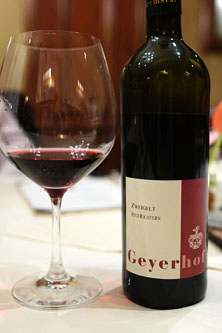 10: Jidori Chicken
| Winter Truffles, Egg, Sunflower Root, Sunflower Seeds
2007 Geyerhof, Ried Richtern, Zweigelt, Kremstal, Austria
Yes, though it may not look the part, this was indeed a chicken dish. Truffle and slow poached egg is almost unavoidably a winning combination, and this was no exception. Their classic, heady flavors were apt complements to the relatively subdued chicken, which took on more of a supporting role in the dish. The use of sunflower seeds, meanwhile, provided a lovely nutty punctuation to complete the course. Josh paired this with a Zweigelt, sort of the prototypical Austrian red. He compared it to a heavy Gamay, and I liked how the fruit in the wine moderated the power of the truffle's earthiness.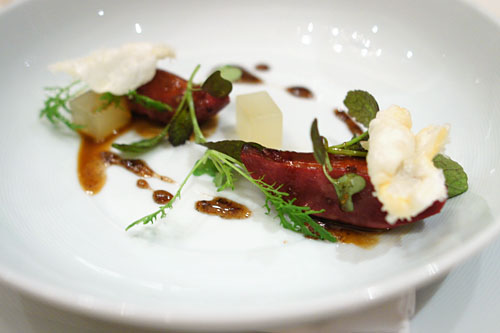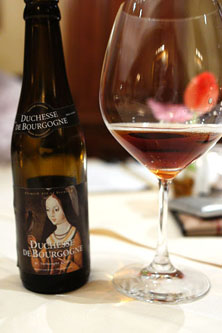 11: Pastrami Pigeon
| Swiss Cheese, Sauerkraut, Rye
Duchesse de Bourgogne, Ale, Brewery Verhaeghe, West Flanders, Belgium
This was the one course that was repeated from my last visit, and I'm happy to report that it was definitely improved this time around. It was a bolder, more balanced dish, with the delectable, spicy cured pigeon beautifully complemented by the cubes of sauerkraut gelée and heightened by the pieces of puffed Swiss. The squab was paired with one of my favorite libations of the night, the Duchesse de Bourgogne, a Flemish ale that Josh likened to Doc Brown's Black Cherry soda! Indeed, it was suitably sweet, with gorgeous notes of sour cherry that just blended beautifully with the bird. This pigeon, a
Moto
-esque deconstruction of a Reuben sandwich, is quickly becoming one of Voltaggio's signature dishes, and with good reason!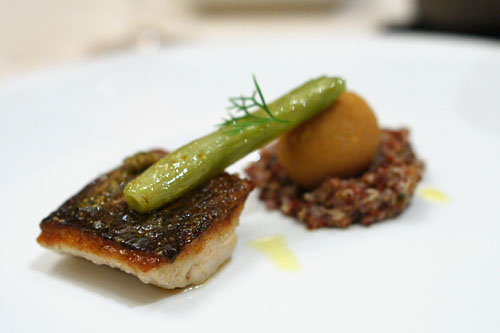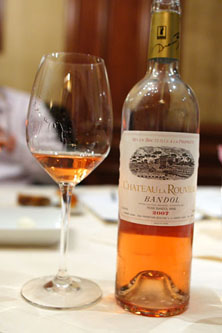 12: Mediterranean Sea Bass
| Mussels Billi-bi, Fennel, Quinoa
2007 Chateau La Rouvière, Rosé, Bandol, Provence, France
Here we have a expertly prepared cut of seabass, semi-flaky and supple in body, with a softly briny flavor, and a delectably crisp, savory skin. I wasn't in love with the quinoa, but I did appreciate the billi-bi, along with the pungency of the fennel, which played nicely with the spicy-strawberry flavors of the paired rosé.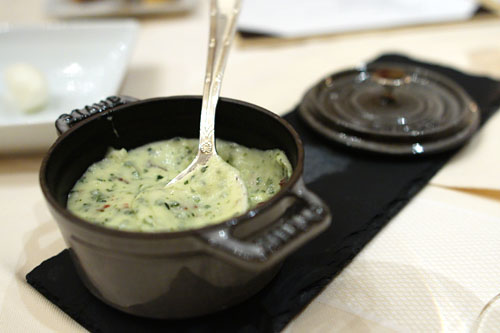 With the fish courses came a tasty side of seaweed mashed potatoes. I made sure to finish the entire pot--very nice!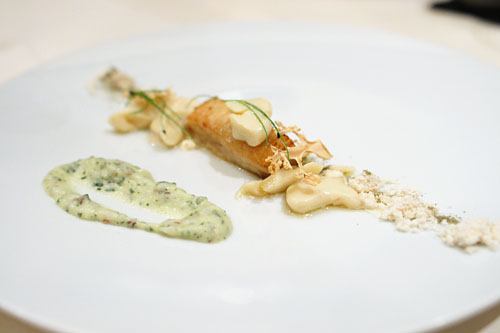 13: Skate Wing
| Brown Butter, Scrambled Cauliflower, Caper Powder
2008 Mormoraia, Vernaccia di San Gimignano, Tuscany, Italy
A few weeks ago, at
Petrossian
, I had an excellent rendition of skate wing, done
à la grenobloise
, which means cooked with brown butter, capers, lemon, and parsley. In a way, this could be considered Voltaggio's take on the classic dish. The fish itself was soft, spongy, and possessing of a considerable depth of flavor, thanks in part to the
beurre noisette
. It was balanced by the tang of the lime and caper, presented here in powder form, and I loved how the mashed potatoes elevated the fish's inherent briny essence. The pairing with the crisp, fruity, acidic Vernaccia was spot on.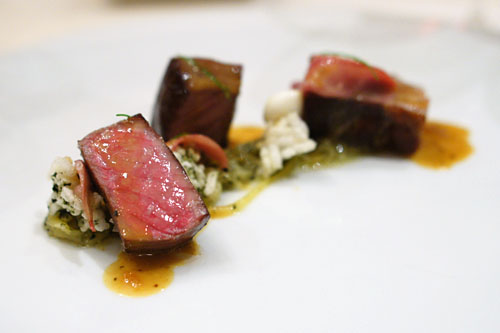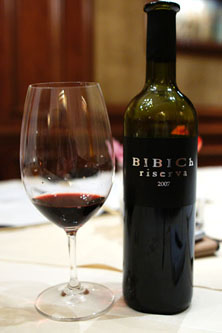 14: Jamison Farm Lamb
| Vadouvan, Nori-Spaghetti Squash, Yogurt, Fried Rice
2007 Bibich, Riserva, North Dalmatia, Croatia
Our first meat course consisted of a sous vide lamb three-way: shoulder, loin, tongue. Vadouvan, which is all the rage these days (Ludo's fav!), provided a lovely spicy foil to the dish, and heightened, but did not overwhelm, the meat's intrinsically "lamby" flavor. Humorously, one of my dining companions even compared the flavor of the vadouvan to chili CornNuts! Countering the power of all this was the yogurt and the scrumptious rice. We were poured a Croatian wine, the Bibich Riserva, which I'd had previous at
ParkAve
. Described as Zin-like by Josh, the wine's peppery, dark fruit flavors stood up to the intensity of the course.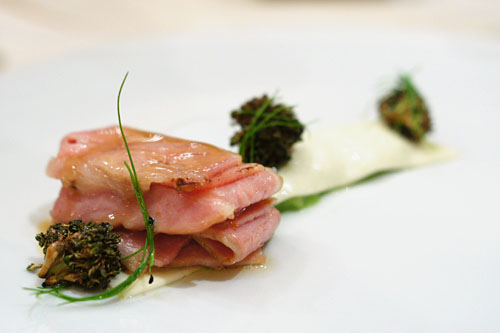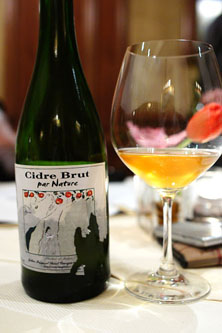 15: Milk-Fed Veal Breast
| Risotto, Broccoli, Fiscalini Cheddar
2008 Julien Frémont, Cidre Brut, Normandy, France
The veal was some of the best I've had. I usually find the meat boring, but this was anything but. Soft and tender in consistency, the veal had a somewhat smoky, almost "hammy" tinge to it. Delicious on its own, I also enjoyed the meat paired with the cheddar and char of the burnt broccoli florets. The cider, another
Church & State
import, had an intriguing farmhouse nose, leading to earthy flavors over a backbone of apple. It went well with the broccoli and cheese here.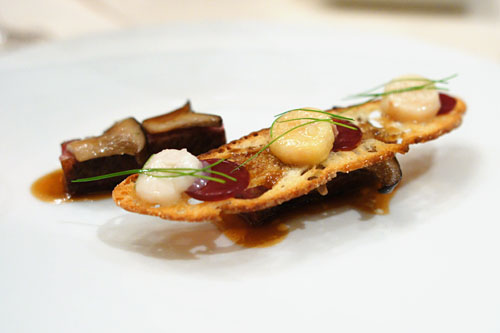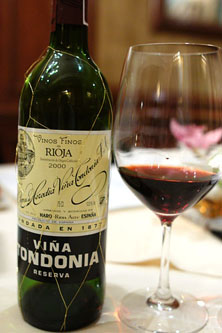 16: Japanese Kuroge Beef
| Marrow Toast, King Trumpet, Bordelaise Sauce
2000 R. Lopez de Heredia, Viña Tondonia, Reserva, Rioja, Spain
Now, we turn our attention toward our bovine friend, Mr. Kuroge. Though contemporary in appearance and technique, the flavors here were thoroughly classic: a perfectly-prepared parallelepiped of protein, savory mushrooms, red wine sauce, and the heady weight of bone marrow. The paired rustic Rioja? A no-brainer.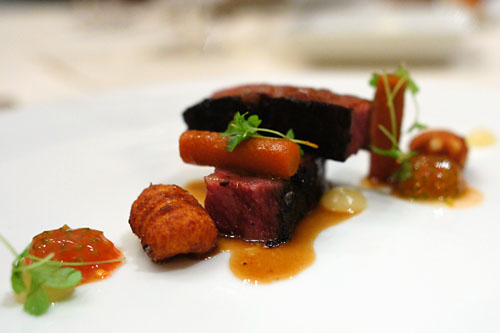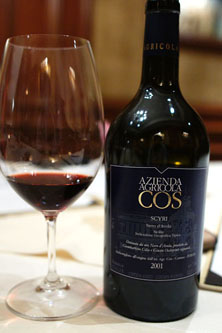 17: Wagyu Short Rib
| Smoked Potato "Tots", Nantes Carrots, White Ketchup
2001 COS, Nero d'Avola, Sicilia, Italy
And now, for our final savory course of the night: an even more decadent presentation of beef. Rich and unctuous, the Wagyu broke apart near instantaneously upon mastication. I altogether enjoyed the meat by itself, but I did appreciate the moderating effect of the potato and carrot. The "
sexy tomato seeds
," meanwhile, provided a tart, offsetting tang. The paired wine, a dark, jammy Nero d'Avola, was a natural choice.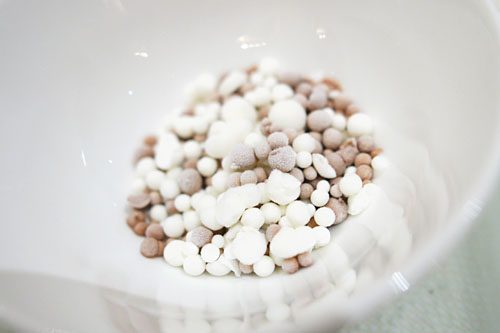 Pre Dessert: "Cookies & Milk"
Before dessert proper, we were presented with Voltaggio's version of Dippin' Dots. Basically globules of ice cream frozen with liquid nitrogen, the spheres were quite tasty indeed, with a great, light, airy texture.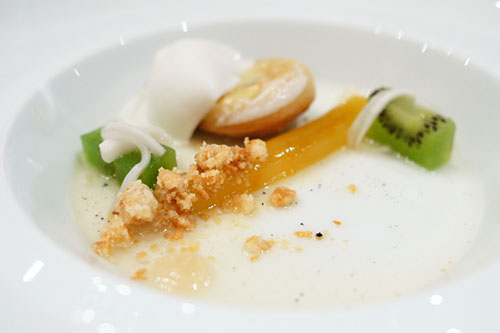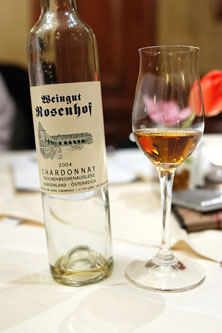 18: Baba Au Rhum
| Textures of Coconut and Pineapple
2004 Weingut Rosenhof, TBA Chardonnay, Illmitz, Austria
First up was a reimagined rum baba, presented here as a fruity gallimaufry of varying textures and tastes, which one of my dining companions described as almost "gummi bear"-like in flavor. The whole amalgam seemed very
Adrian Vasquez
-esque to me (not necessarily a bad thing, mind you). The paired wine, teeming with tropical fruit flavors, worked perfectly, as expected.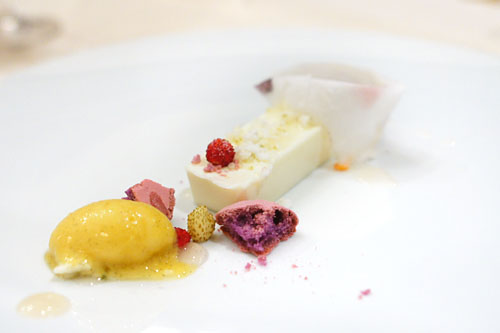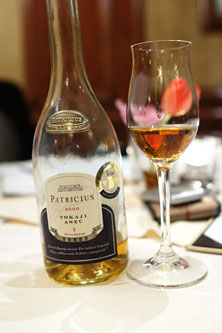 19: Lavender Flower Macaron
| Crème Fraiche Panna Cotta, Vanilla-Passion Sorbet, Floral Cotton Candy
2000 Patricius, 5 Puttonyos, Tokaji, Hungary
Here, the floral character of the macaroon took center stage, where it was joined by the subtle tanginess of the panna cotta, and the marked tartness of the passion fruit. The Tokaji, with its unabashedly saccharine nature, easily cut through the floral notes, resulting in a pleasing admixture of creamy and fruity flavors.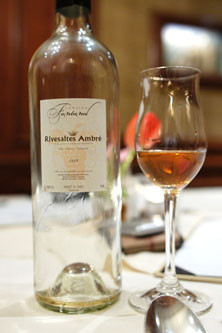 20: Sticky Toffee Pudding
| Jasmine "Rice Cream", Lime, Banana Custard
1998 Domaine Fontanel, Rivesaltes Ambré, Roussillon, France
And now, we move into the heavier chocolate-based desserts. Despite appearances, the cake was actually quite light, and not terribly sweet. It was nicely foiled by the cool, soothing "rice cream" and airy lime foam, but the crux of this dish was the banana custard, which lent an overarching weight to the dessert. I apologize for the sloppy presentation here--I accidentally spilled the wine, a Grenache Blanc, on the plate!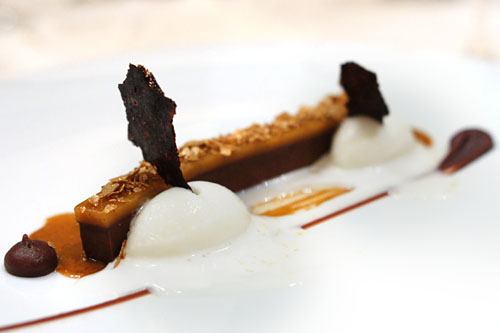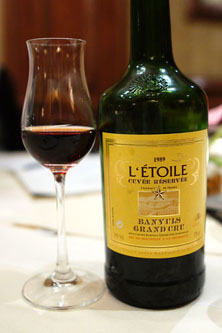 21: Fools Gold
| Chocolate, Salty Hazelnut Praline, Milk Sorbet
1989 L'Étoile, Cuvée Réservée, Grand Cru, Banyuls, Roussillon, France
Fool's Gold, which I first tasted at
Hatchi
, is quickly becoming the Chef's signature dessert. The base of the dish is a serpentine block of ganache-like chocolate. This combines with the hazelnut praline to form a flavor combination not unlike that of a Ferrero Rocher. The use of salt provided an interesting counterpoint, while the sorbet served as a cool, calming contrast. Our final wine of the night, a sugary, raisin-y Grenache blend, worked wonders in complementing the chocolate.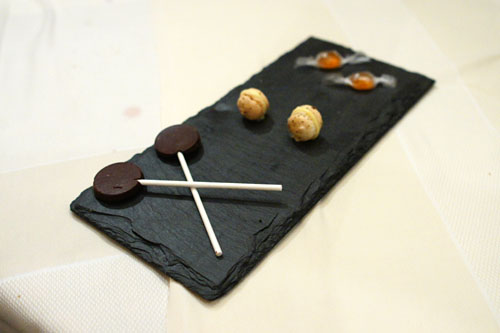 Mignardises
Some fruit candies and mini macarons to close, along with Voltaggio's famous pop rock-infused chocolate lollipops.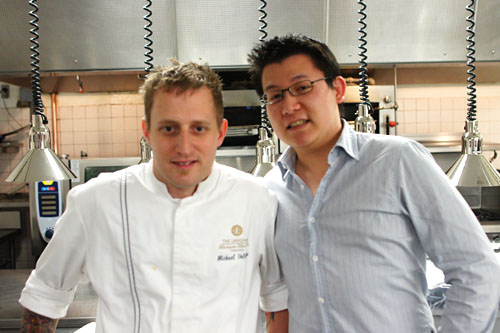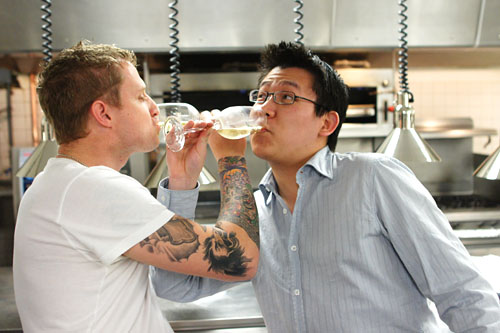 After dinner, we visited the kitchen, chatted a bit, and shared a glass of Krug Grande Cuvée (they just happened to have an open bottle laying around!) with the Chef.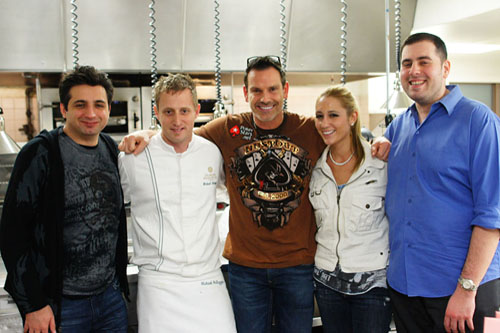 For all you poker fans out there, we also ran into the husband-and-wife team of Chad Brown and Vanessa Rousso. According to a reader, the guy on the the far left is Ali Eslami, a high stakes cash player, and the guy on the far right is also a poker player--anyone know his name?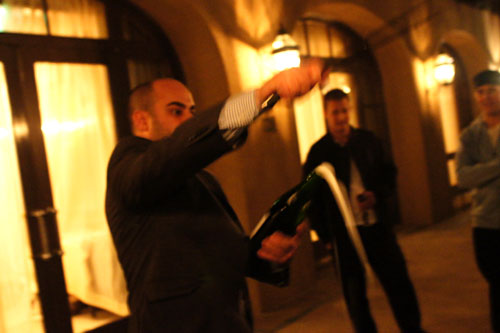 Somehow, the idea of Champagne sabrage came up, and Josh proceeded to show off his sabering skills outside!
When I look back and compare this dinner to my first visit to The Dining Room, it's obvious that Voltaggio has experienced some real growth in his cooking. The food is undeniably more confident, more focused, more self-assured--the Chef has really come into his own here. The result, quite simply, was a meal of epic proportions--somewhat cerebral, but not esoteric, approachable. In fact, if Michelin were still around, two stars would not surprise me for arguably the most progressive cookery in Los Angeles.