Zaytinya (Washington, DC)
Zaytinya
701 9th St NW, Washington, DC 20001
202.638.0800
www.zaytinya.com
Tue 03/16/2010, 08:45p-10:30p

Since opening in 2003, José Andrés' Zaytinya has been one of the hottest dining destinations in all of DC. Though "Zaytinya" may be Turkish for "olive oil," the restaurant's selection of
mezze
(small plates, from the Persian
maze
, or snack) takes influence from all over the Eastern Mediterranean, focusing on Turkey, Greece, and Lebanon. Several years ago, in my pre-blogging era, I'd visited the restaurant on a business trip, and given my initial positive experience, I was looking forward to returning.
Of course, these days, Zaytinya is probably best known for its head chef Mike Isabella, of
Top Chef
fame. Isabella grew up in New Jersey, getting his first taste of life in the kitchen cooking traditional Italian alongside his grandmother. It was, however, Isabella's mother who taught him to appreciate the food of the Mediterranean. The Chef eventually pursued a degree in culinary arts from the New York Restaurant School (now the Art Institute). After working his way around New York, Isabella moved to Philadelphia, where he started out as a Sous Chef under Douglas Rodriguez at Stephen Starr's modern Latin eatery Alma de Cuba. He then transitioned to other Starr restaurants, including El Vez, with
Iron Chef
Jose Garces, and Washington Square, with Marcus Samuelsson.
In 2005, Isabella relocated to Atlanta's ritzy Buckhead neighborhood in order to work with Pano Karatassos at famed Greek seafooder Kyma. Interestingly, it was at Kyma where the Chef would meet his future wife, Stacy Nemeth, formerly the restaurant's maitre d'; the couple married on August 29th last year, two weeks after
Top Chef
premiered. At Kyma, Isabella was really able to reconnect with his passion for Greek cookery, and the Chef even traveled throughout the Mediterranean region during this time to further hone his skills. In March 2007, Isabella took over as head chef of Zaytinya.



Situated on the bottom floor of Edison Place, Zaytinya is a sizeable restaurant. The main dining area is draped in tender tones of white and blue, evoking a subtle tinge of Greece, while the bar sits in the middle of the room, elevated slightly above the rest of the space. The overall mood is lively yet subtle, elegantly casual.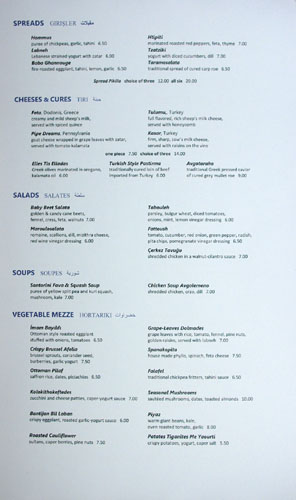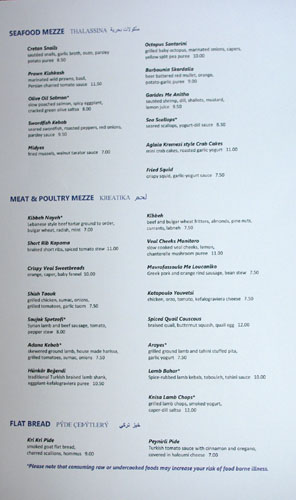 Zaytinya's menu of
mezze
is shown above. Three plates per person should be enough to satisfy most appetites. Click for larger versions.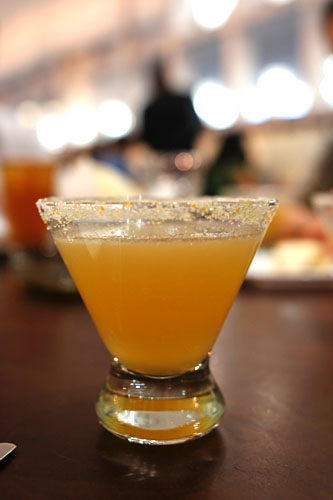 To drink, I began with the Greek Sidecar [$10], made with Metaxa (a blend of brandy, Muscat wine, and herbs), Cointreau, Luxardo maraschino liqueur, and lemon juice, all with a candied citrus rim. I quite liked the drink, with its sweet and sour notes and weighty, complex finish.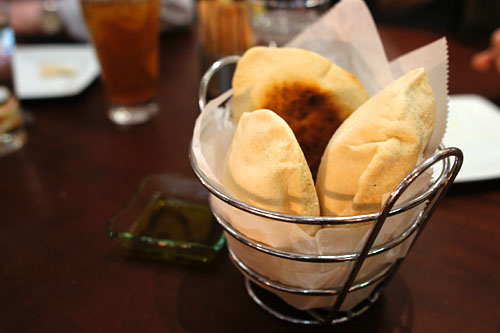 Bread service consisted of puffed, pillowy cushions of house-made pita, paired with Greek olive oil and pomegranate vinegar.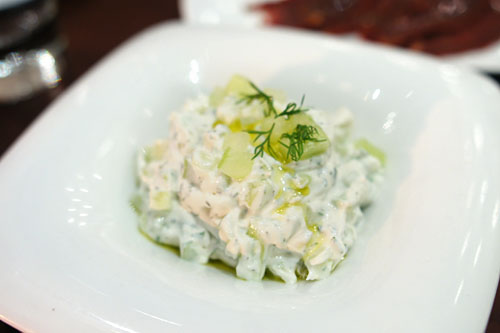 Tzatziki [$7.00]
| yogurt with diced cucumber, dill
To go along with the pita, we began with two spreads, the first of which was the cool, classic, refreshing
tzatziki
, which one of my dining companions likened to Indian
raita
. Light and tasty, as expected.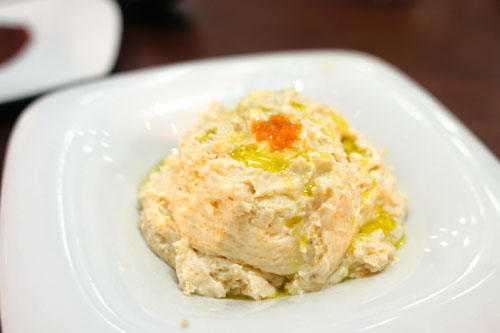 Taramosalata [$6.50]
| traditional spread of cured carp roe
Next was
taramosalata
, a mezze made from
taramas
, or salted and cured cod roe. Not surprisingly, it had a prounounced saltiness, but yet, at the same time, it was subtly sweet, and very good when paired with the pita.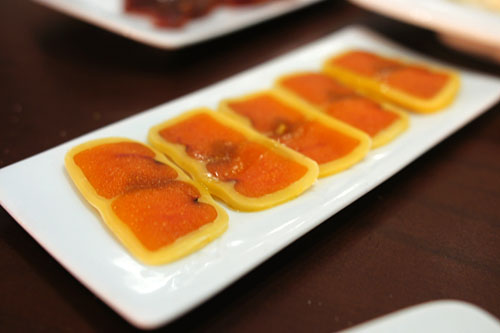 Avgotaraho [$9.00]
| traditional Greek pressed caviar of cured grey mullet roe
And now, for some more roe goodness, this time from the grey mullet instead of cod. Also known as
botargo
, these were fish ovaries, cured in salt, sun dried, then coated in beeswax (which we were advised not to eat). The
karasumi
-like end product, though overwhelming on its own, was surprisingly tasty with the pita bread, which tempered its overt saltiness.
Turkish Style Pastirma [$6.00]
| traditionally cured loin of beef imported from Turkey
We now turn to Turkey for this salted, spiced, cured, air-dried beef, the ancient predecessor of pastrami. Created in a process similar to that used for
bresaola
, the
pastirma
was not unlike a very refined, robust beef jerky, profound in flavor with fantastic seasoning and a subtle heat, courtesy of the paprika.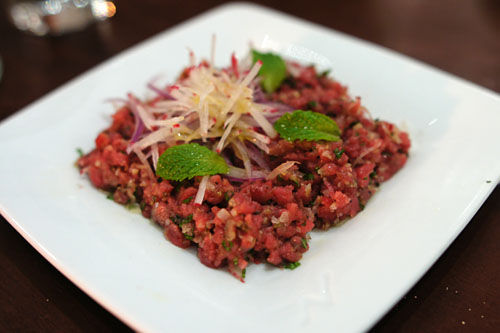 Kibbeh Nayeh [$7.00]
| Lebanese style beef tartar ground to order, bulgar wheat, radish, mint
Kibbeh
is best known in croquette form: a bulgur wheat shell stuffed with minced beef. However,
kibbeh
is also available in
nayeh
form, which renders it similar to a standard beef tartar. The taste, however, was anything but standard. This was one of best tartars I've had in a while, and I really enjoyed how the tang of the mint and astringency of radish offset the weight of the beef. The overall effect reminded me a bit of the Korean-inspired
yukhoe
at
Totoraku
.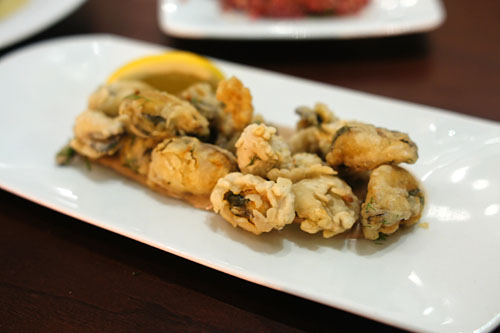 Midyes [$7.00]
| fried mussels, walnut tarator sauce
Midyes
is a Turkish preparation of mussels, in which the bivalves are coated in flour and fried. This end result was tasty enough, but unfortunately, the natural, briny sapor of the molluscs wasn't really preserved.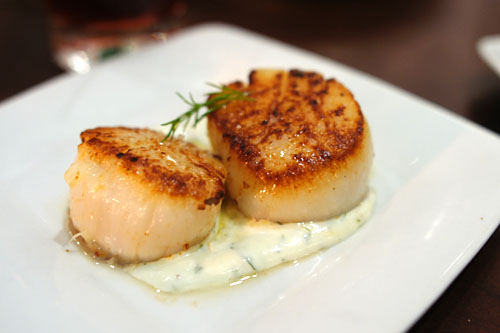 Sea Scallops [$8.50]
| seared scallops, yogurt-dill sauce
Though the scallops were expertly cooked, with a near-perfect consistency and delectable savor, they were fairly typical on their own. What set the dish off, thus, was the yogurt-dill sauce, which lent a lovely zestiness to the dish that nicely countered the scallops' salty-sweet sapor.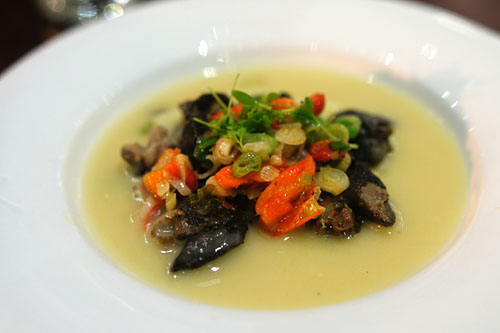 Cretan Snails [$8.50]
| sautéed snails, garlic broth, ouzo, parsley potato puree
In Greece, snails are a particularly popular delicacy on the island of Crete, and the ones here were a delightful departure from the typical
escargot Bourgogne
preparation. The mollusks, as usual, weren't all that savory on their own. Thus, the weighty, substantial purée, perked up with a bit of peppery brightness, was absolutely key, forming a fantastic foil to the gastropods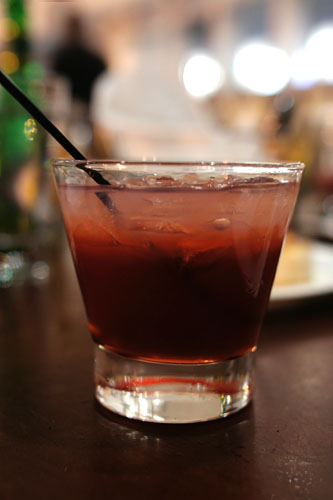 My second libation was the Mykonos [$10], composed of Skyy grape vodka and visne (sour cherry) juice, with an ouzo float. The best was to describe this is simply "adult grape juice"--think of a boozy Welch's!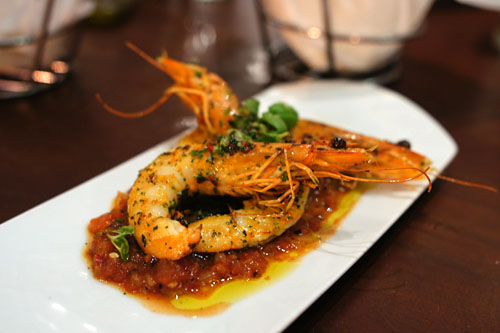 Prawn Kishkash [$11.50]
| marinated wild prawns, basil, Persian charred tomato sauce
I rather enjoyed the rich, briny flavor of the prawns, accented by a hint of basil, as well as their substantial, yet yielding consistency. However, the decapods were paired with a Persian-inspired charred tomato sauce, which, unfortunately, was a touch sweet for me, somewhat overpowering the prawns' intrinsic flavor.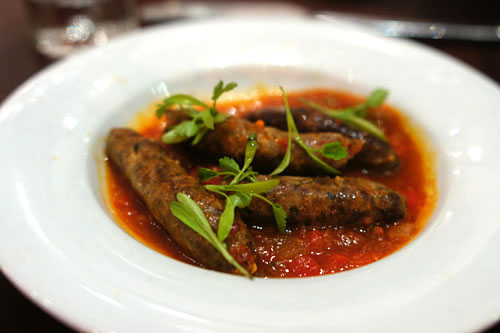 Soujok Spetzofi [$7.50]
| Syrian lamb and beef sausage, tomato, pepper stew
I have a hard time saying no to sausage, and this was no exception. The example here was seemingly a combination of
soujouk
, a spicy sausage popular in the Middle East, and
spetzofai
, a Greek sausage, pepper, and tomato dish. The
soujouk
was superb on its own, with a slight tanginess to offset the power of the meat. The tomato stew, meanwhile, added a marked sweetness to things. Very good.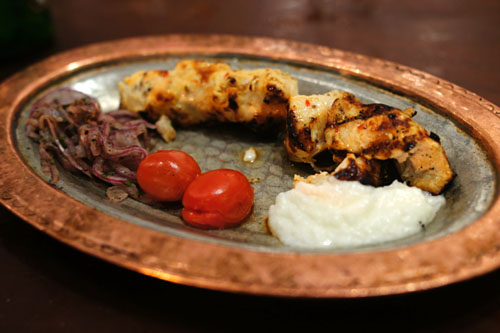 Shish Taouk [$7.50]
| grilled chicken, sumac, onions, grilled tomatoes, garlic toum
A kebab dish of cubed and skewered marinated chicken. I was afraid that the bird would be too dry, but the meat was suitably succulent, with a great chicken-y flavor heightened by a bit of bitter char and the lemony tang of sumac. I also appreciated the tartness of the onions, and the accompanying
toum
, a sort of garlic paste. Quite nice.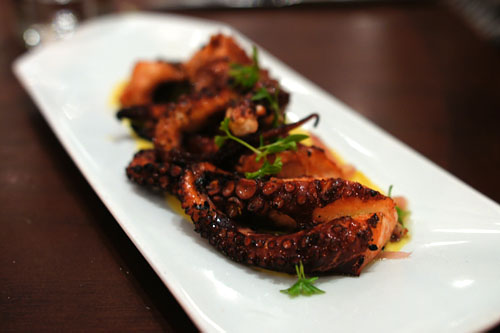 Octopus Santorini [$10.00]
| grilled baby octopus, marinated onions, capers, yellow split pea puree
Chef Isabella has
stated
that his favorite dish to make is octopus, so this preparation, named after an archipelago of Greek islands, was a must-order. I loved the octopus' beautifully supple texture, and how its subtly sweet sapor was set off by the smoky bitterness of char.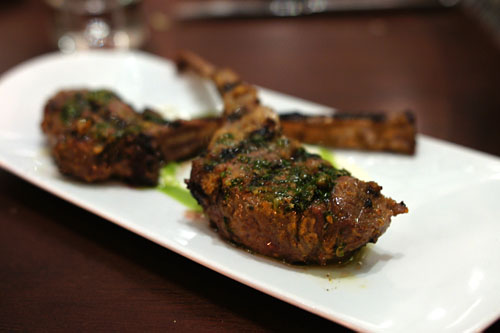 Knisa Lamb Chops [$12.00]
| grilled lamb chops, smoked yogurt, caper-dill saltsa
One of my dining companions is quite the lamb slut, so this dish was a no-brainer for him. Think deftly-cooked, tender, juicy chops, imbued with plenty of "lamb-y" flavor, with just a hint of smokiness (hence
knissa
, meaning the smoky smell of grilled meat), moderated by the pungency of caper and dill.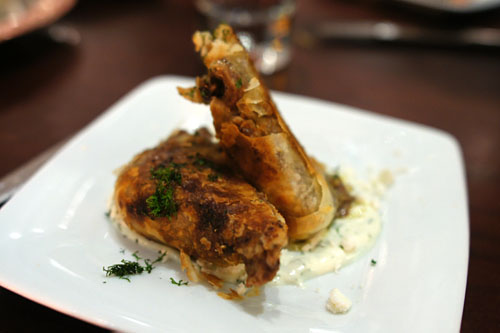 Lamb Kleftico [$10.00]
A special, the lamb kleftico ("stolen lamb") turned out to be one of my favorites of the night. It's a spit-roasted lamb shoulder, shredded, stuffed in phyllo, and served with dill-yogurt sauce and feta. The meat was suitably tender and quite flavorful to boot, while the phyllo crust added a gorgeous, crisp tempering element, and the yogurt, a fantastic lightness.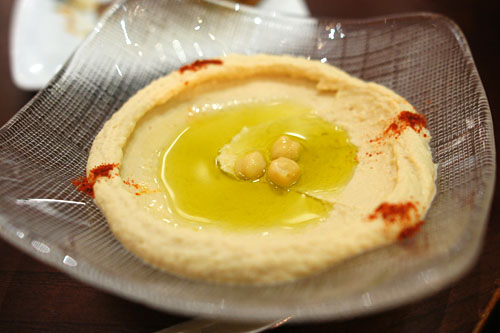 Hommus [$6.50]
| puree of chickpeas, garlic, tahini
We concluded our savories simply, with hummus, perhaps the quintessential Middle Eastern dish. Hummus, of course, is a spread made from cooked chickpeas, garlic, tahini (sesame paste), olive oil, and lemon juice. This example had a very pure, focused flavor, and went beautifully with the included pita.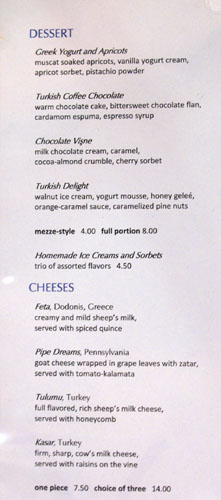 A small selection of desserts is available. Click for a larger version.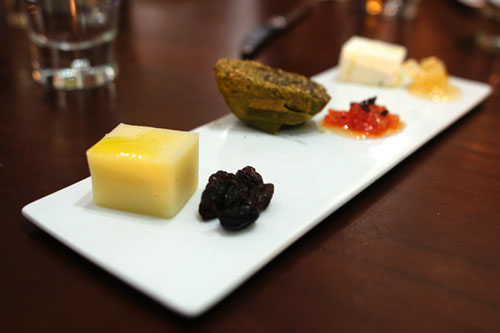 Three Cheese Plate [$14.00]
Back to front, we have:
Feta, Dodonis, Greece - A mild, creamy, sheep milk's cheese, nicely balanced by the overt sugariness of honeycomb.
Pipe Dreams, Pennsylvania - A grape leaf-wrapped goat cheese with zatar, the strongest of the trio, complemented perfectly by the tangy tomato-kalamata jam.
Kasar, Turkey - Also known as kasseri, this was a firm, mild, waxy, cow's milk cheese, perked up by the sweetness of raisins.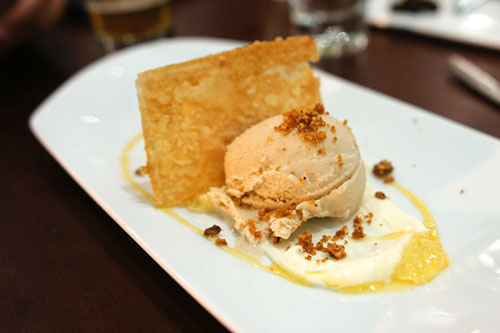 Turkish Delight [$8.00]
| walnut ice cream, yogurt mousse, honey gelee, orange-caramel sauce, caramelized pine nuts
This dessert can be thought of as a reimagination of Turkish Delight, or
lokum
, a classic confection made from starch and sugar and flavored with a variety of ingredients, including honey, rosewater, and various nuts. The whole dish was a fantastic interplay of sweet and savory, and I especially loved the gritty walnut ice cream.
I'm happy to report that Zaytinya lived up to the image that I had of it in my memories. Isabella's dishes range from approachable to adventurous, and most all of them hit on multiple levels. It's fun food that inspires sharing and conversation, and the breadth of the menu makes return visits a must--no wonder Zaytinya has consistently been one of DC's busiest restaurants. Andrés has a winner here.