Sona (Los Angeles, CA) [3]
Sona
401 N La Cienega Blvd, Los Angeles, CA 90048
310.659.7708
www.sonarestaurant.com
Wed 05/12/2010, 07:55p-01:25a
Arrogant fool. Fiscally irresponsible.
Lazy. Bridge-burner. Non-chef. Uneducated Joan Crawford. Spineless. Pussy.
Cooking at some shitty hotel restaurant in Southeast Asia within couple of years. Unscrupulous.
Scoundrel. Fake.
Con man. Psycho. Arrogant. White trash. Entitled.
Ponderous. Schmuck. Douche bag. Eunuch.
The most egotistical, narcissistic person I have ever met.
These are just some of the choice words that have been used to describe Chef David Myers. Indeed, judging by the multitude of spiteful comments on
Eater LA
, Myers is unquestionably the most loathed, reviled, and detested chef in all the land.
But it wasn't always like this...

Born in Boston, 1974, to a family of modest means, Myers spent most of his childhood in Cincinnati, where he first developed his cooking sense while working with produce from his grandparents' gardens. Myers attended college with the goal of attaining a degree in "International Business," but his plans were sidetracked by his constant dalliances in the kitchen. The Chef began cooking formally at Columbus' Spagio in 1994. His big break, however, came in the form of the legendary
Charlie Trotter
. Trotter hired Myers to work at his eponymous Chicago restaurant (he also worked with Noriyuki "Nori" Sugie of
Hatchi
fame here), and made a big impression on the young Chef. Trotter, recognizing Myers' potential, eventually sent him to
stage
at Gerard Boyer's Michelin 3-star Chateau Les Crayères in Reims, France. Upon returning to the US, Myers secured a spot at Daniel Boulud's Daniel in New York, then moved out West to work for Joachim Splichal as Executive Sous Chef at
Patina
. Afterwards, Myers took on his first Executive Chef role at the new Jaan restaurant in the Raffles L'Ermitage Hotel in Beverly Hills. He later helped open another Jaan in the Westin The Stamford in Singapore (now the Swissôtel The Stamford), but left the company in late 2001 to strike out on his own.
And he did, in a big way. After debuting in November 2002, Sona (derived from the Latin
sonare
, "to sound") soon became the new superstar on the LA dining scene. In fact, Myers was honored with
Food & Wine
's "Best New Chef of 2003" award and
Angeleno
magazine voted him "Chef of the Year" in 2004. The same year, James Beard even nominated him for "Rising Star Chef of the Year." Things were going swimmingly, seemingly, and Myers and his Pastry Chef wife Michelle Myers (Le Cordon Bleu, Fauchon,
Spago
,
Patina
) opened the Parisian-inspired pâtisserie Boule in May 2005, right across the street from Sona. In September of that year, Sona shut down for two weeks to allow for light renovations, but it was back to empire building soon after. Myers' long-awaited brasserie concept, Comme Ça, opened to considerable fanfare on October 19, 2007. Nary a week later, Boule Atelier, a bigger, flashier version of the original, premiered in a larger space only a few doors down from the old location (which was subsequently shut down). Had enough of Boule? Think again--Boule Beverly Hills came in December 2007.

By this point, Myers had a comfy constellation of restaurants all under the umbrella of his unfortunately-acronymed Food Art Group. However, it was also around this time when his marriage to Michelle fell apart. One wonders how much of a role she played in Myers' success; in a way, her departure signaled the beginning of the end. The Atelier was a mere shadow of its former self in the eyes of many patrons, and Boule BH never attracted a huge audience. The old Boule storefront was to become an Italian restaurant, helmed by
Valentino
alum Steve Samson, but that never came to fruition. In May of 2008, it was announced that Comme Ça would spawn a second location in Orange County's South Coast Plaza, but that idea was also stillborn. Both Boules were clearly suffering by this point. 2009 did see the opening of the
Mozza
-esque
Pizzeria Ortica
on January 19 with Samson at the helm (he's since left), but the casual Italian joint never received more than a lukewarm reception. Things, though, were about to go from bad to worse.
In February 2009, Myers was forced to shutter Boule Atelier, with Boule Beverly Hills closing not too long after. The Chef talked of opening an outpost in Tokyo, but that never happened (though head baker Hidefumi Kubota, who came to the US in 2007, was forced to return to Japan due to visa issues). In Boule's place, Myers had dreams of a Comme Ça Bakery next to his
Ortica
follow-up, which would focus on bread-making for retail as well as for the various Food Art restaurants. However, the Bakery, which also supplied Intelligentsia, was
kaput
within nine months (some have stated that Sona was forced to purchase bread from
Breadbar
as a result). With Michelle gone and eateries floundering, the Chef was not in a happy place. In September 2009, Myers' restaurant management company was liquidated in bankruptcy. A new organization, David Myers Group LLC, was subsequently formed to continue operating the businesses, with backing from
Genex
founder
Walter Schild
.
December 2009: One of DMG's first orders of business was to fire Comme Ça's opening Executive Chef, Michael David (Café Boulud, DB Bistro Moderne, Sous Chef at Sona). David was quickly replaced by Myers protégé and former Sous Chef Dong Choi (who'd worked under Joël Antunes and Richard Blais in Atlanta), and the front-of-the-house was given the boot, to boot. Eric Samaniego remained as Sous Chef, while Allie Ko, wife of La Cachette Bistro's Jean Francois Meteigner, joined the team as a consultant in January 2010. And let's not forget: Comme Ça is apparently opening a branch in Vegas' new Cosmopolitan Hotel.
With all this swirl,
it came as no surprise
when Sona finally announced that it was throwing in the towel (with plans to reopen in 2011). May 15 is the final night of service (the last two evenings, though, are reserved for private events), and given Sona's storied spot in the LA culinary landscape, as well as my own personal history with the place, I felt obliged to give Sona and company one last hurrah. After all, we may never see the restaurant ever again.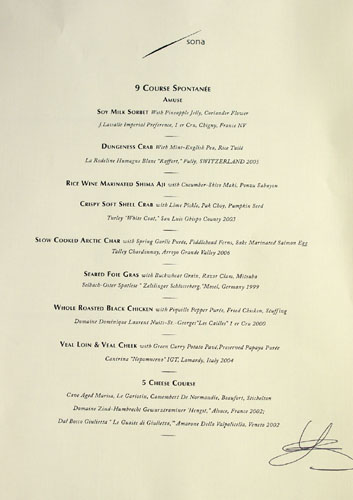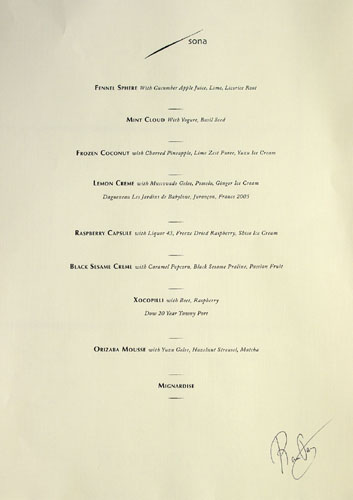 À la carte is an option at Sona, but we, naturally, went for the nine-course "Spontanée" tasting menu, priced at $145 (plus $115 for wine pairings from Wine Director Mark Mendoza). The meal ended up being far more than nine courses though. Click for larger versions.
The menu these days is oft described as an
omakase
and is brimming with Japanese touches, perhaps a nod to the influences of Sona's Chef de Cuisine, Kuniko Yagi. Yagi, like Myers, had no formal culinary training, and began her career toiling at a bank in Tokyo. Unhappy with the humdrum world of finance, Yagi ended up marrying an American and moved to the States in 2003. The two eventually separated, and Yagi, in need of funds to support herself, wound up working as a server at Nobu Matsuhisa's ill-fated noodle house Ubon. Here, she discovered her innate love of food, and coincidentally, happened to convey this passion, this "
burning sensation
," to a certain customer--David Myers--one fateful day. Myers asked Yagi to
stage
at Sona and she gleefully accepted the position. Yagi was 26 at this point. Needless to say, she excelled at Sona under Myers' guidance and tutelage. After starting out at the amuse bouche station in 2004, she quickly worked her way up the line, and was named Sous Chef within three years; in late 2007, Yagi was promoted to Chef de Cuisine.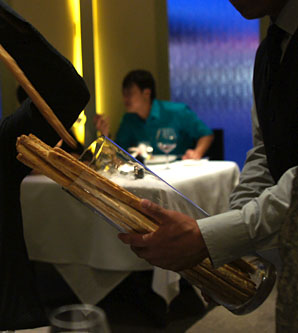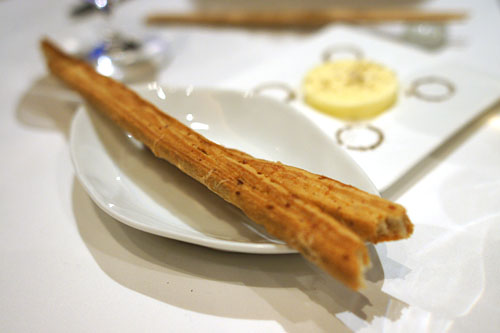 We began the meal with easily the largest
grissini
(Parmesan breadsticks) I'd ever laid eyes on. Mine immediately buckled under its own weight!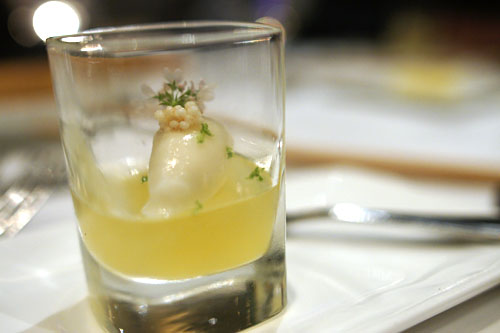 Amuse Bouche: Soy Milk Sorbet
| with Pineapple Jelly, Coriander Flower
J. Lassalle Imperial Preference, 1er Cru, Chigny, France NV
We had but a sole amuse bouche to start, but it made a strong statement. I really appreciated the fantastic interaction between the subtly sweet soy milk and the tartishness of the pineapple, while the coriander provided a wonderfully vegetal finish to things. My favorite part, though, was the rice-y tint from the bits of matcha rice cracker.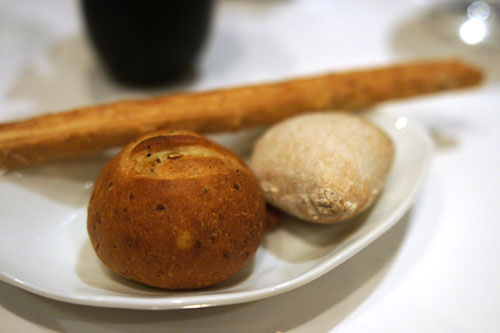 Our second round of bread consisted of a garlic pepper bread (very strong pepperiness on the attack) and a delightfully fluffy ciabatta.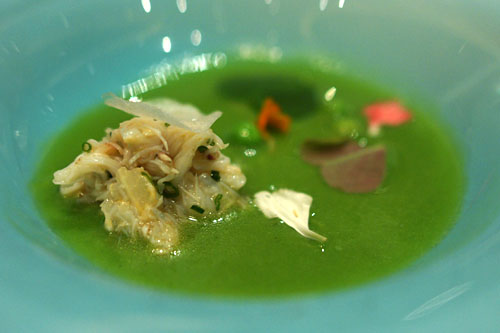 1: Dungeness Crab
| with Mint-English Pea, Rice Tuile
La Rodeline Humagne Blanc "Raffort," Fully, Switzerland 2005
Thankfully, the flavors of this soup were as bold as its verdant veneer. I loved how the intrinsic character of the crab was so beautifully showcased in this dish, and how the tangy, vegetal curry provided just the perfect complement to the crustacean's sweet, subtly briny flesh. After I was done with the crab, I made sure to sop up the remainder of the liquid with my ciabatta!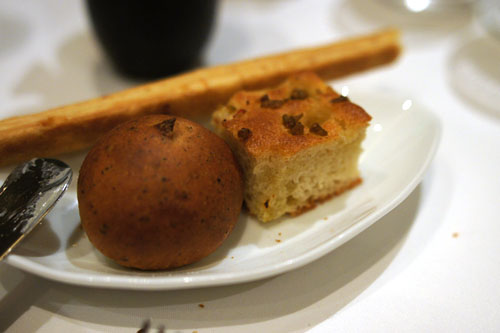 For the last duet of bread, we were presented with a weighty black tea and milk bread, along with a crusty olive focaccia.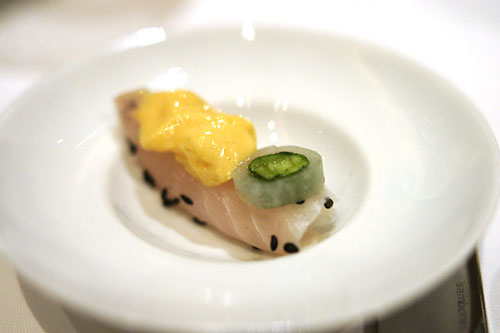 2: Rice Wine Marinated Shima Aji
| with Cucumber-Shiso Maki, Ponzu Sabayon
We have here a tremendous little bite. The attack was all cucumber, but then I really got to enjoy the fantastically fatty, fishy flavor of the shima aji, tempered in part by the overarching richness of ponzu and earthy tang of sesame. Very good.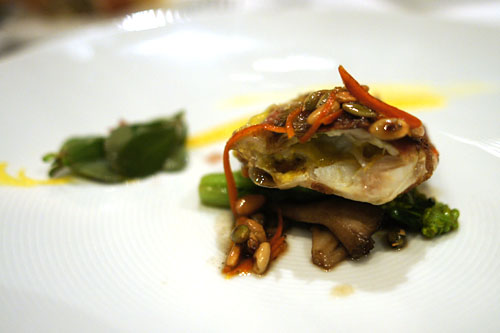 3: Crispy Soft Shell Crab
| with Lime Pickle, Pak Choy, Pumpkin Seed
Turley "White Coat," San Luis Obispo County 2003
I'm generally not a huge fan of soft shell crab, so it wasn't surprising that I found this example quite salty when eaten alone; it was a bit overwhelming actually. The various greens--bok choy, rapini, purslane, ramps--thus, were absolutely key in offsetting the considerably gravity of the decapod, and I really appreciated the nuttiness provided by the pumpkin seeds.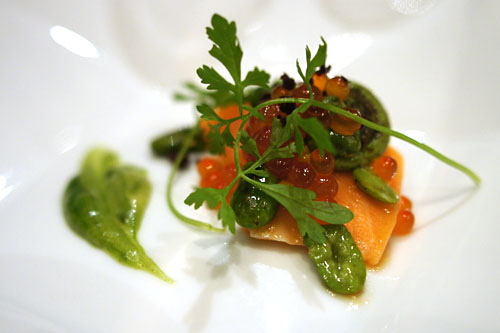 4: Slow Cooked Arctic Char
| with Spring Garlic Purée, Fiddlehead Ferns, Sake Marinated Salmon Egg
Talley Chardonnay, Arroyo Grande Valley 2006
Here, I immediately noted and appreciated the char's rare, almost sashimi-like consistency, which really emphasized the fish's fatty, oily essence. To this, we add the countering effects of fern, garlic, and cress, making for a well-balanced dish tinged by the light brine of salmon roe.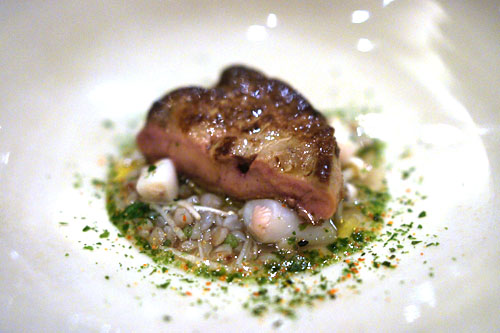 5: Seared Foie Gras
| with Buckwheat Grains, Razor Clam, Mitsuba
Selbach-Oster Spätlese "Zeltinger Schlossberg," Mosel, Germay 1999
I'm not in love with the sweet stuff, so I really appreciated this superb deviation from the typical seared foie gras accompaniment of an overly saccharine "apricot compote," or the like. I found the liver suitably soft, creamy almost, with a subtle foie flavor that slowly rose in intensity. The buckwheat worked wonders in countervailing the heft of the foie gras, while the mitsuba made for a somewhat bitter finish. I would've liked to have tasted a bit more from the razor clams though. Overall, very nice for a seared preparation!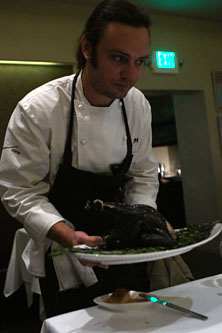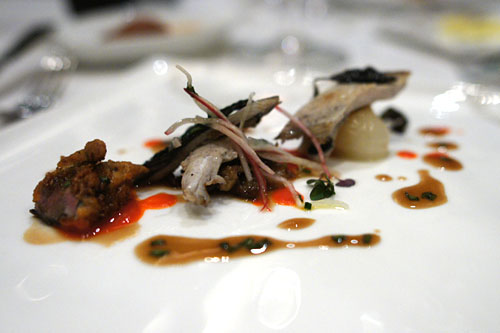 6: Whole Roasted Black Chicken
| with Piquillo Pepper Purée, Fried Chicken, Stuffing
Domaine Dominique Laurent Nuits-St.-Georges "Les Cailles" 1er Cru 2000
This was actually my first time having black, or silkie bantam, chicken; hopefully it won't be my last. Myers first came out to show off the bird before returning it to the kitchen for plating (I believe the thigh was served). I found the chicken immensely flavorful; eating it with the sweet-spicy piquillo purée was simply phenomenal, one of the best preparations of chicken I've ever had, in fact. The Thai basil, licorice root, cipollini, and radish all provided further counterpoints to the bird, and the stuffing added even more depth to the dish. My favorite item of the night.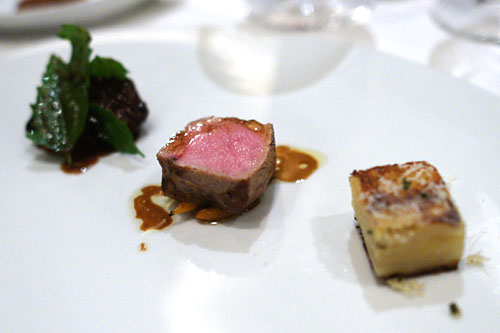 7: Veal Loin & Veal Cheek
| with Green Curry Potato Pavé, Preserved Papaya Purée
Cantrina "Nepomuceno" IGT, Lombardy, Italy 2004
I began with the roasted loin, served with Nantes carrots and cumin. I loved its tremendously tender consistency and monumental savor, and how it played so nicely with the vegetal tang of the carrot. The braised preparation, on the other hand, required no chewing, and was imbued with strong, dark, slightly sugary notes, deftly offset by the accompanying greens. Meanwhile, the potato pavé was a marvelous achievement in its own right, with a perfectly crisp texture bolstered by a wonderful herbal flair. This was simply a superb accomplishment, given my historical disrelish toward veal.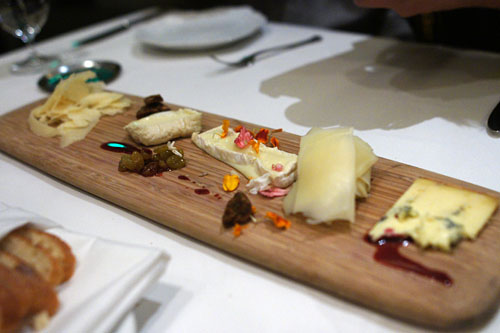 8: 5 Cheese Course [$25.00]
| Cave Aged Marisa, Le Gariotin, Camembert De Normandie, Beaufort, Stichelton
Domaine Zind-Humbrecht Gewürztraminer "Hengst," Alsace, France 2002 [$9.00]
Dal Bosco Giulietta "Le Guaite di Giulietta," Amarone Della Valpolicella, Veneto 2002 [$7.00]
Cave Aged Marisa - From Carr Valley Cheese Company, this was a pasteurized sheep's milk cheese with a slightly sharp saltiness. Our server likened it to Cheddar.
Le Gariotin d'Alvignac - Next up was a goat's milk cheese from France. Sort of a prototypical chèvre, this was easily the most challenging cheese in the group, with a soft consistency and a pungent, somewhat sweet taste.
Camembert de Normandie - Camembert, with its soft, creamy, gooey consistency, and rich, buttery flavor, is an easy cheese to enjoy. The cow's milk cheese has been one of my favorites for a while now.
Beaufort - Here we have another French cheese, but this one comes from the Alps. It's a relatively mild cow's milk cheese similar in style to Swiss cheeses such as Emmental or Gruyère.
Bayley Hazen Blue - Jasper Hill Farm in Vermont brings us this fantastic cow's milk blue. It was my favorite cheese of the quintet, and easily one of the best bleu's I've ever had--so refined, yet still with plenty of the signature blue piquancy.
At this point, it was time for dessert, which came to us courtesy of Executive Pastry Chef Ramon Perez.
The progeny of chef/restaurateur parents, Perez, interestingly enough, began his career in the kitchens of the Michelin-starred Auberge du Soleil in Napa Valley, at age 12. His parents eventually opened
Citronee
in Nevada City, CA, and the young Chef worked virtually every post in the restaurant before settling on pastry in 1998. Upon graduating high school, Perez enrolled at the New England Culinary Institute, where he spent three years strengthening the on-the-job training that he already had. In 2003, after finishing school, the Chef immediately began working at Sona, rotating through various positions and experimenting with the new and wonderful flavors and techniques of modern gastronomy. He left the restaurant to
stage
throughout Europe, then returned to his parents' place, taking control of the pastry and baking departments. Perez just couldn't stay away from Myers, however, and returned to Sona in the summer of 2006.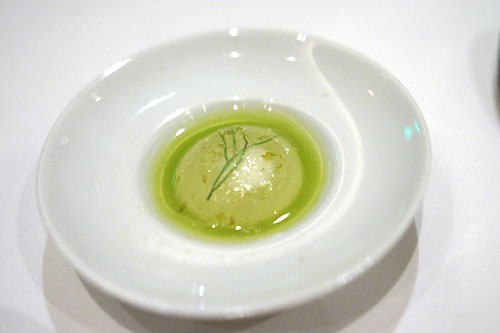 9: Fennel Sphere
| with Cucumber Apple Juice, Lime, Licorice Root
This spherification-esque globule burst instantly upon mastication, coating my tongue with loads of herbal, medicinal liquid, tinged with just a hint of fruity sweetness. Très cool.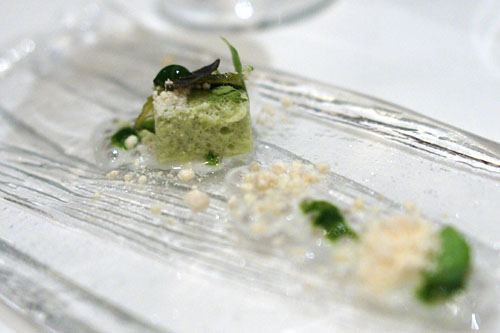 10: Mint Cloud
| with Yogurt, Basil Seed
Here was a chalky, fluffy cuboid infused with the essence of mint, very delicate on its own but rightfully enhanced by the application of yogurt and basil. A light prick to the palate.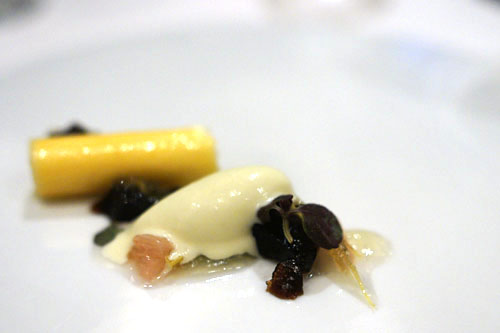 11: Kalamansi
| with Ginger Ice Cream, Red Shiso
Dagueneau Les Jardins de Babylone, Jurançon, France 2005
There was a great interplay here between the astringency of the ginger ice cream and sour calamondin. What was really interesting though, was that I detected an intriguing, almost savory component, possibly from the shiso, that I really liked.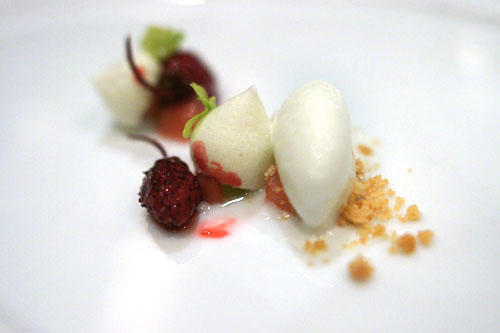 12: Alpine Strawberry
| with Celery Meringue, Candied Rhubarb, Parmesan Ice Cream
This almost seemed like something
Adrian Vasquez
would come up with (not a bad thing, mind you). The Parmesan wasn't really a factor for me, but the sugary strawberry and rhubarb were superb complements to the vegetal smack of celery. Quite nice.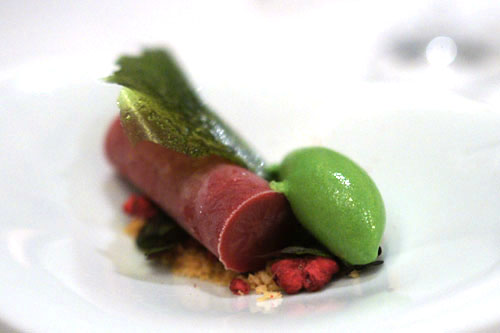 13: Raspberry Capsule
| with Licor 43, Freeze Dried Raspberry, Shiso Ice Cream
The pleasant sugariness of the raspberry in this dessert led to a surprisingly intense booziness from the liqueur, which had a warm, fruity relish to it. The shiso, meanwhile, made itself very known on the finish.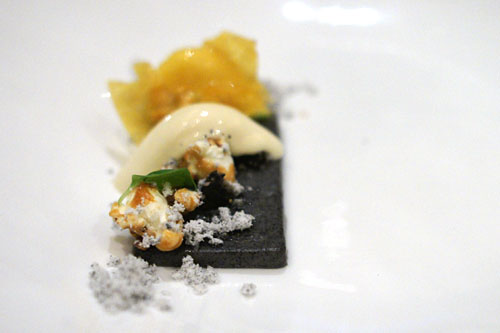 14: Black Sesame Crème
| with Caramel Popcorn, Black Sesame Praline, Passion Fruit
Here was my favorite dessert of the night. Tasting it, I immediately recalled the essence of Chinese
tangyuan
! This sesame-dominated attack then transitioned to the sweet-savory sapor of the caramel corn and popcorn ice cream, while the passion fruit sorbet provided a perfectly jarring contrast. Excellent.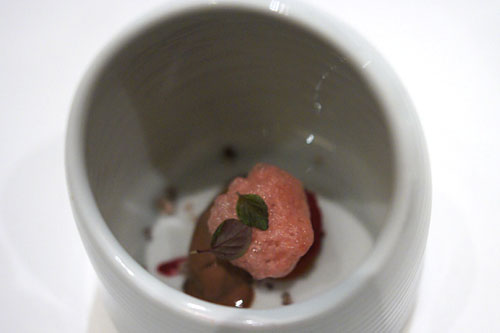 15: Xocopili
| with Beet, Raspberry
Dow 20 Year Tawny Port
Xocopili refers to a type of chocolate created by famed producer Valrhona. It's actually a spiced chocolate, which meant that this dessert demonstrated a fascinating pepperiness that I quite enjoyed. At the same time, the Xocopili was balanced by the sweetness of the sticky beet "sponge," as well as the raspberry espuma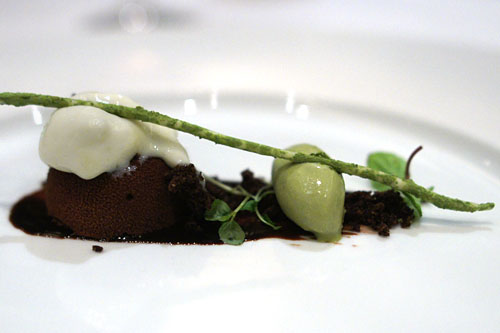 16: Orizaba Chocolate
| with Jasmine Foam, Matcha Ice Cream, Matcha and White Chocolate Tuile
For our final dessert, we find another Valrhona chocolate, this time the Orizaba milk chocolate. This was a noticeably sweeter chocolate than the Xocopili, and so the use of tea, with its marked astringency, formed a fabulous foil here. Lovely.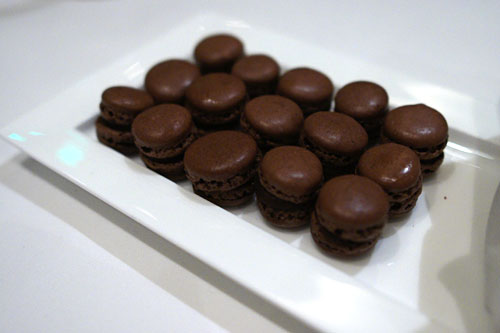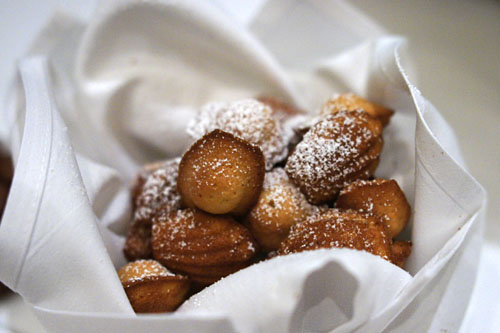 Mignardise
Cool chocolate macarons and warm madeleines rounded out the meal.
First off, the food: very good, actually. In fact,
this was one of the strongest meals I've had in LA
, and based off the quality of the cuisine alone, I see no reason for Sona to shutter. I would place it easily among the the top eateries in Los Angeles.
Of course, though, it's never
just
about the food, is it? We still have the issue of Myers' severely tarnished reputation. Maybe then, the shutter is for the better, to give the Chef time to recover, to recuperate, and to give naysayers time to forgive and forget. From the looks of things, Myers' role in running his restaurants has been diminishing for years now. If all the allegations are true, my guess is that, to regain any modicum of respect in this town, he'll need to really get back in the kitchen,
actually turning out great food like what we had tonight
(and hopefully gaining a little humility in the process), and focus on providing leadership and guidance to his staff, not pondering the next addition to his gastronomic fiefdom. I have no doubt that Myers can cook, and cook damn well, when and if he puts his mind to it. I really hope for my sake, for the City's sake, that he can pull it together, reopen Sona, and recapture some of the lost glory, magic, and goodwill that's been lost over the years.
Sona, you'll be missed.