The Gorbals (Los Angeles, CA)
The Gorbals
501 S Spring St, Los Angeles, CA 90013
213.488.3408
www.thegorbalsla.com
Mon 04/12/2010, 07:30p-10:15p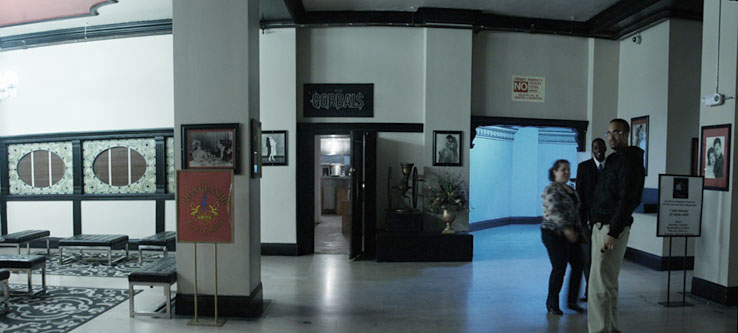 Many of you have probably seen the recent
LA Times article
on the so-called "food paparazzi." What you probably don't know is that I was interviewed for that article. Yes, I, along with Linden of
The Gastronomnom
, Nastassia of
Let Me Eat Cake
, and Tsz of
Gastrophoria
, spent several hours dining with Times reporter
PJ Huffstutter
at The Gorbals in Downtown. Sadly, virtually none of our commentary made it into the article, with Huffstutter choosing, instead, to focus on the
FoodDigger
preview dinner at the newest iteration of
LudoBites
. Nonetheless, the dinner wasn't all for naught. I still got to enjoy a great meal with my fellow food bloggers at a restaurant that I'd been curious about for some time now.
The Gorbals is, of course, the recent palate-child of
Top Chef
Season 2 winner Ilan Hall. Born April 6, 1982 to a Scottish father and Israeli mother (both Jewish), Hall was exposed to food from an early age. Growing up, the Chef's mother provided most of the culinary inspiration, instilling Hall with a deep appreciation of Mediterranean and Middle Eastern cuisine. During his teenage years, this translated to a stint at Marine Fisheries, a seafood shop in his hometown of Great Neck, NY. At age 17, Hall moved to Florence and enrolled in the Apicius Cooking School at the Scuola Lorenzo de' Medici, all the while
staging
at local Tuscan eatery Al Lume di Candela. He then went on to study at the Culinary Institute of America, where he earned his degree while externing at Charlie Palmer's Aureole in New York. Interestingly, Hall attended the CIA at the same time as his
Top Chef
runner-up, Marcel Vigneron.
The next year, Hall relocated to California to receive his certification in Baking and Pastry Arts at the CIA's Napa campus, where he cooked at the school's Wine Spectator Greystone Restaurant. Following his completion of the program, Hall moved back to New York, first working for Tom Colicchio at Craft, then for Mario Batali and Andy Nusser at Spanish eatery Casa Mono. It was during his tenure here that Hall participated in
Top Chef
, winning the competition in January 2007 at age 24. After the win, Hall traveled the world to conduct "research" for his upcoming restaurant before settling down in Los Angeles in March 2008. Teaming with longtime friend Natan Zion, Hall debuted The Gorbals on August 28, 2009. However, less than a week after opening, the restaurant was shuttered by the health department due to a faulty water heater. The Gorbals finally reopened on October 23.


Situated on the ground floor of the historic Alexandria Hotel, the interior space is righteously unadorned, unfinished even, dominated by barren white walls, concrete, polished wood, and the swaths of stainless steel from the angular bar and open kitchen (helmed by just a trio of chefs).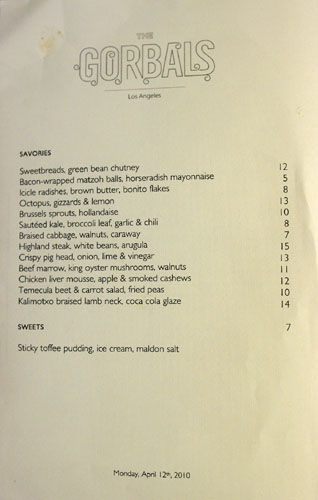 Here we see the night's menu. Given that we had five people, running the gamut was a no-brainer. I was a bit let down, though, that only one dessert was on offer (there were
no
desserts when the place first opened). Click for a larger version.


A small selection of wines and spirits is available. Of note is the
Kiddush Hashem Cellars
Syrah, which "must be served by Ilan or Matt." Why you ask? According to company representative Eric Brown, "the wine is non-mevushal (not pasteurized) and according to American Jewish Law must be served by an observant Jewish person in order to remain kosher for all occasions. A Mevushal wine may be served by a gentile or non-observant Jewish person and still remains kosher according to American kosher law." Interesting! Click for larger versions.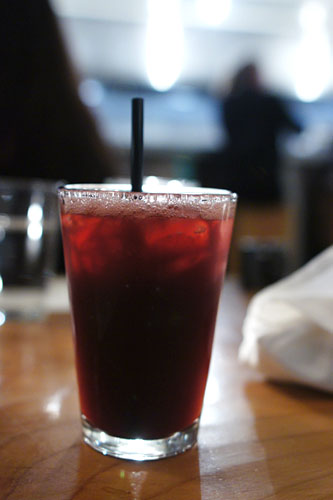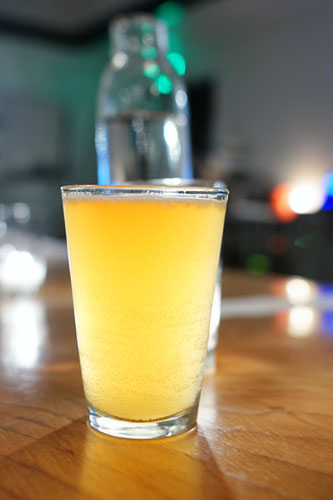 There is no official cocktail list, so look toward the blackboard behind the bar for the night's mixed drink specials (listed only by ingredient). I ordered a concoction of rum, sweet zin, Coca-Cola, and blackberries [$12]; imagine a strong attack of rum, leading to a saccharine finish accented by just a hint of cola. Linden, meanwhile, chose a mixture of gin, lemon, sugar, aromatic bitters, and IPA [$10]; this was a tangy, subtly sweet drink with a great interplay between the gin and pale ale.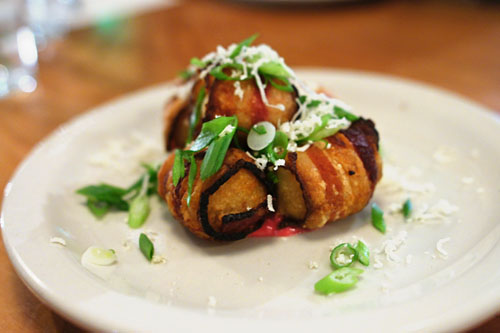 Bacon-wrapped matzoh balls, horseradish mayonnaise [$5.00]
Of course, we began with Hall's signature item, the one that inspired the now-notorious phrase "old Jewish food, date-raped by bacon." The dish was thought up as a sort of joke, something Hall created for a Jewish friend's birthday party, but it turned out shockingly well. The fatty, salty sapor of the bacon did wonders in balancing the relative creamy levity of the matzah, and the paired horseradish mayo was an excellent accompaniment to boot. To quite Homer Simpson:
sacrilicious
.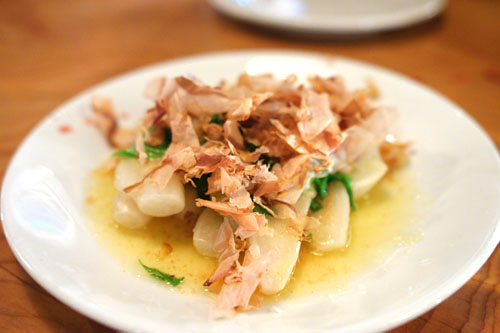 Icicle radishes, brown butter, bonito flakes [$8.00]
The radishes presented next, juicy and delightfully crunchy in texture, had a great, refreshing, vegetal bitterness that provided my palate a piquant prick. This, however, was quickly tempered by the weight of the brown butter and the rich umami-imbued flavor of the
katsuobushi
. Quite nice.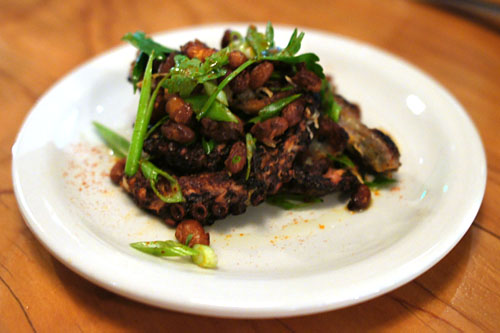 Octopus, gizzards & lemon [$13.00]
I'm a sucker for octopus, so I was rather looking forward to this course. It did not disappoint. I enjoyed the octopod's soft, supple consistency and wonderfully savory, almost Asian-inspired flavor, offset by the greens and citrus. The gizzards, surprisingly, acted as more of a textural element for me.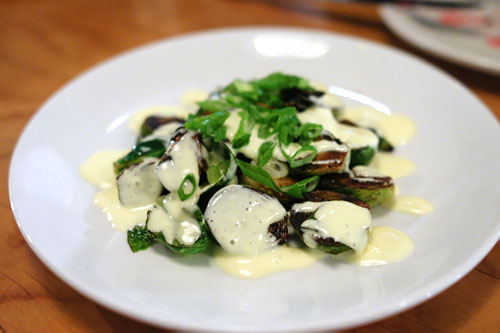 Brussels sprouts, hollandaise [$10.00]
I "heart" Brussels sprouts. I think it's the astringency of the vegetable that gets me, and here the sprouts' tang was showcased beautifully, augmented even further by the bitterness imparted by the copious amounts of char. I also appreciated the use of Hollandaise and how its butteriness balanced the power of the sprouts.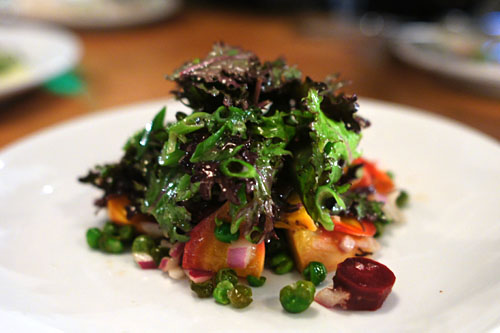 Temecula beet & carrot salad, fried peas [$10.00]
Here, the key was how the dense sweetness of the beets was countervailed by the light, bright greens. However, the best part of this
clearly
was the incorporation of fried peas.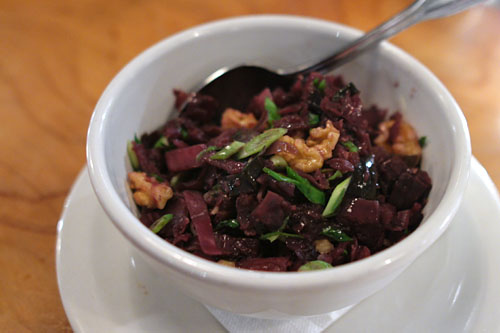 Braised cabbage, walnuts, caraway [$7.00]
The cabbage was braised to a rich, soft, heavy consistency, and its flavor was markedly piquant, with some of the zest cut by the application of walnut. This actually reminded me a bit of sauerkraut, but with a nutty finish.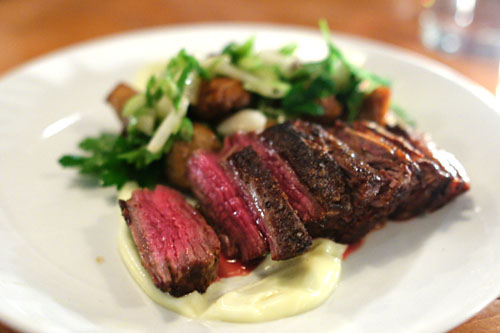 Highland steak, white beans, arugula [$15.00]
One of the highlights of the meal was this steak, which, taken alone, wouldn't seem out of place at a steakhouse. I loved its unabashedly salty savor, succulent consistency, and how it worked beautifully with its accoutrements of bitter arugula and earthy beans. Delish.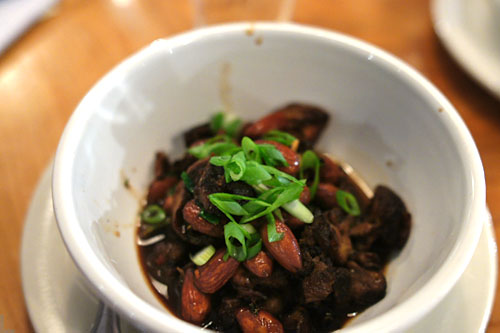 Kalimotxo braised lamb neck, coca cola glaze [$14.00]
Braised in
kalimotxo
(a mix of red wine and cola), the lamb was rendered suitably tender, and had a nicely savory, yet slightly sweet flavor that paired well with the greens. I, however, didn't care for the almonds, which were far too overwhelming, effectively masking the flavor of the meat.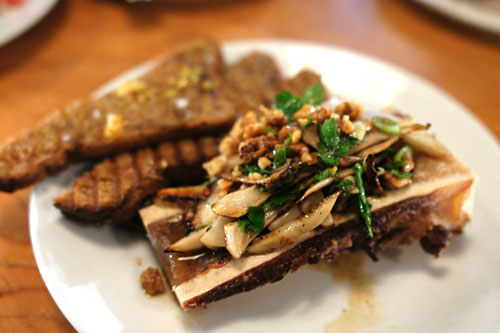 Beef marrow, king oyster mushrooms, walnuts [$11.00]
This was actually one of the better preparations of bone marrow I've had. The employment of mushroom formed a surprisingly effective counter to the sheer oleaginousness of the marrow, and I enjoyed the tinge of nuttiness imparted by the walnuts. Great bread, too.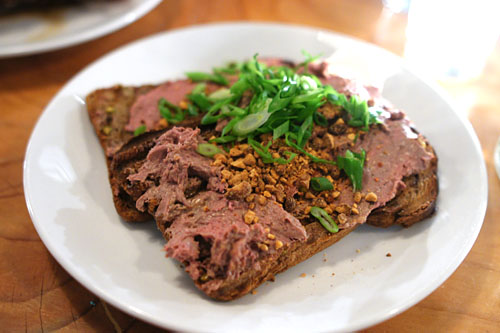 Chicken liver mousse, apple & smoked cashews [$12.00]
The chicken liver tasted, well, liver-y, exactly as it should. What set this apart, thus, was the usage of cashew, which lent a sort of smokiness that did help in balancing the monolithicity of the mousse. The apple, however, wasn't nearly apparent enough for me.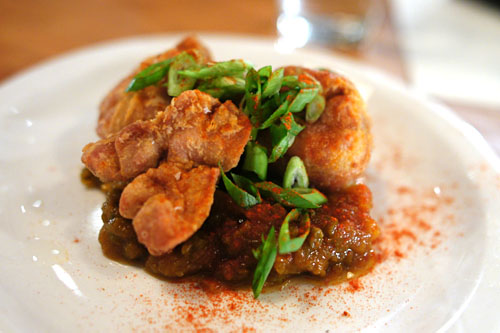 Sweetbreads, green bean chutney [$12.00]
Unlike many preparations of sweetbreads I've had, which are normally quite salty, Hall's version here was surprisingly subtle, possessing of an almost "nutty" sweetness. It paired well with the included chutney, which provided a bit of much needed piquancy. Nice.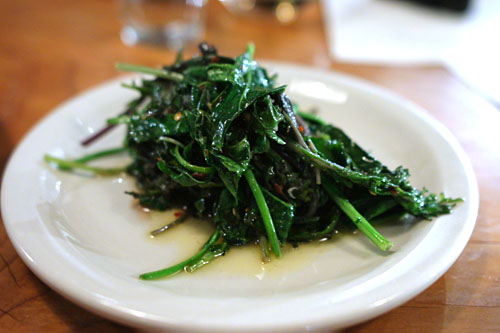 Sautéed kale, broccoli leaf, garlic & chili [$8.00]
This may not look like much, but it was one of the stars of the dinner. The wonderful, green astringency of the kale and broccoli was superbly preserved and highlighted, augmented by the spicy tang of chili. Deceptively simple, but utterly fantastic.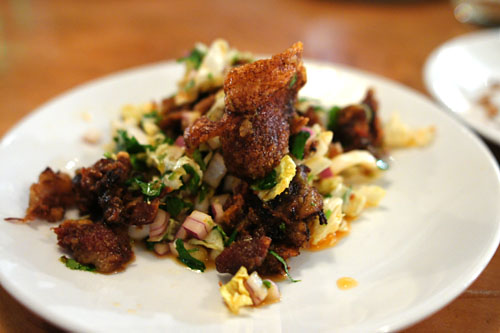 Crispy pig head, onion, lime & vinegar [$13.00]
In our final savory course, crispy bits of pig's head were tossed in a tartish commixture of onion, lime, and vinegar. The pork, fatty and salty alone, was countered tremendously by its bracingly acerbic accoutrements. Quite good--it was almost like eating a porcine ceviche!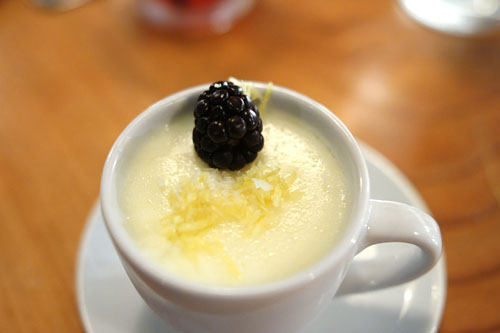 Pre-Dessert: Lemon posset
Before dessert, we were brought three teacups (presumably, the intermezzo was only intended for the ladies) of lemon posset, comprised of lemon curd, salted lemon rind, and blackberry--an expectedly sour, refreshing kick to the palate.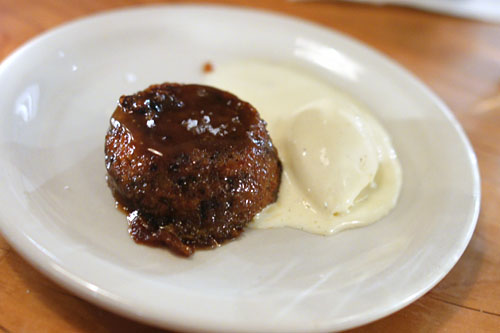 Sticky toffee pudding, ice cream, maldon salt [$7.00]
The sole dessert was like a rich, raisin-y,
really sticky
cake, with a great bit of saltiness on the close. The pairing of ice cream (Nutella-buttermilk, if I recall correctly) was a classic one, but worked well enough here.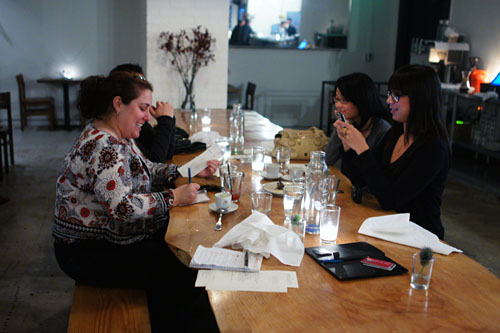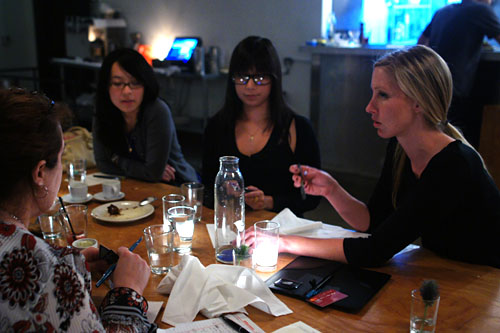 Figuring out how to divide the check at the end of the meal turned out to be quite a chore indeed!
The Gorbals seems to draw more than its fair share of ire from food circles, but most of that seems undeserved. The place was designed, from the beginning, to be somewhat cryptic in its cuisine. Taking its name from a gritty immigrant neighborhood in Glasgow (where Hall's father grew up), the food is meant to be a seemingly disparate amalgamation of various gastronomic influences. The restaurant is not really Jewish, or Scottish, or Spanish, or "New American;" it's just The Gorbals, and it was pretty damn good.