Red O (Los Angeles, CA)
Red O
8155 Melrose Ave, Los Angeles, CA 90048
323.655.5009
www.redorestaurant.com
Wed 05/26/2010, 07:15p-10:00p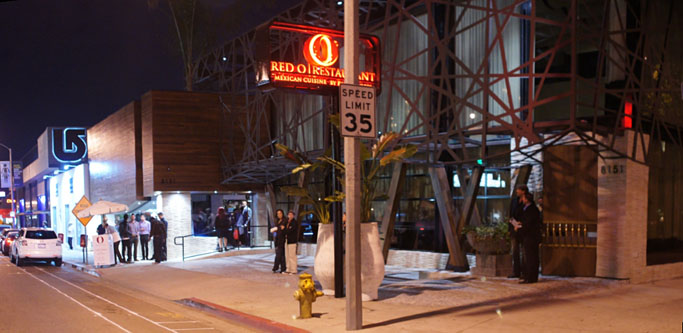 "Mexican Cuisine by Rick Bayless"
Exciting words, these. However, it must be noted that Rick Bayless won't be cooking at Red O on a regular basis, nor does he have an ownership interest in the business. The actual owners are the dynamic duo of Mike Dobson and Rick Teasta, the founders of Santa Ana-based oil changery EZ Lube (they also own
Ma'Kai Lounge
in Santa Monica, which, apparently, will also be converted to a Red O). The two have been partners for over two decades, but were best buddies before that, first meeting while working as doormen at the
Red Onion
in Redondo Beach. Red O, thus, pays homage to that original restaurant. Nevertheless, Bayless is responsible for developing the menu, and also took charge of teaching the staff, many of whom were brought to Chicago to train. Running the kitchens on a day-to-day basis, thus, is the realm of Executive Chef Michael Brown (of
Patina
Group and Wolfgang Puck Catering). Front-of-the-house duties fall on VP of Operations Jorge Pultera, who comes to Red O from Koi and The Ivy.
A brief Bayless bio: The Chef was born in Oklahoma City in 1953 to a family of restaurateurs, who specialized in barbeque. He thus grew up immersed in food, cooking even, but never thought about going into the restaurant business. Bayless took his first trip to Mexico at age 14. It was a family holiday, but he quickly fell in love with the energy, the vitality of the place. As a result, the Chef ended up majoring in Spanish and Latin American Studies during his undergrad years, where he formed dining clubs and also started to experiment with Mexican cookery. Afterwards, he studied Anthropological Linguistics at the University of Michigan, earning a MA degree, but dropped out in 1980, before he could attain a PhD. Around this time, Bayless also hosted a PBS television series called
Cooking Mexican
, started a small catering business in Ann Arbor with wife Deann, and headed the kitchens at famed Southwestern eatery
Lopez
in Cleveland. Following, from 1980 to 1986, Bayless lived jointly in Los Angeles (he was hired to develop menus for a Mexican-American restaurant chain) and Mexico, where he conducted extensive research on the country's culinary traditions, culminating in the publication of the seminal cookbook
Authentic Mexican: Regional Cooking From the Heart of Mexico
in 1987.
Armed with this newfound knowledge, Bayless partnered with some friends and opened Frontera Grill in Chicago, specializing in contemporary regional Mexican cuisine. Success quickly followed, and the next year, Bayless was named
Food & Wine
's "Best New Chef." 1989 saw the debut of Topolobampo, a more refined, James Beard-nominated, fine-dining version of the original Frontera. In 1991, Bayless won Beard's "Best American Chef: Midwest" award, with the organization's "National Chef of the Year" honor coming in 1995. He launched a line of prepared foods in 1996 under the Frontera Foods label, and went on to open Frontera Fresco, a quick-service restaurant concept, in Chicago in 2005 (a partnership with department store chain Macy's). Frontera Fresco debuted in San Francisco in December 2007. When Barack Obama took office in 2008, Bayless was considered a candidate for the position of White House Executive Chef, and in August 2009, he took home the title of
Top Chef Master
. The Chef's latest restaurant venture, Xoco, premiered in September 2009 in Chicago, and specializes in Mexican street food.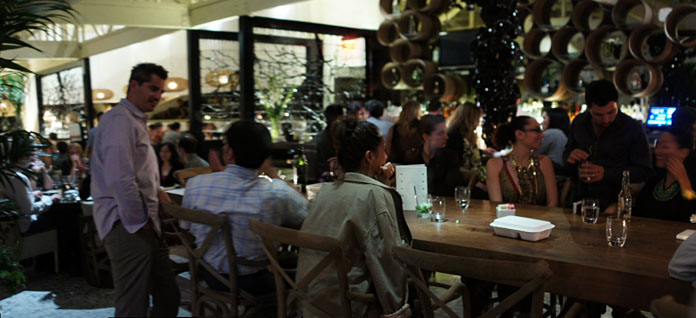 Red O's location, at the corner of Melrose and Kilkea, started out in 1977 as the legendary French bistro Moustache Cafe, which was later rechristened Chocolat under new ownership in 2005. The spot has been completely revamped with a sexy, seductive, Mexican-inspired decor by Dodd Mitchell Design and G+ Gulla Jonsdottir Design. The restaurant now features a large dining patio/courtyard with 14-foot chandeliers underneath a retractable, soaring glass canopy, flanked by a Bird's Nest-esque structure. There's also a bar/lounge area in the rear, which features a long communal table and
swings
, as well as a smaller bar off to the side, linked by a "tequila tunnel."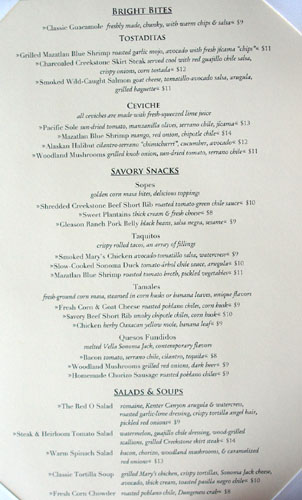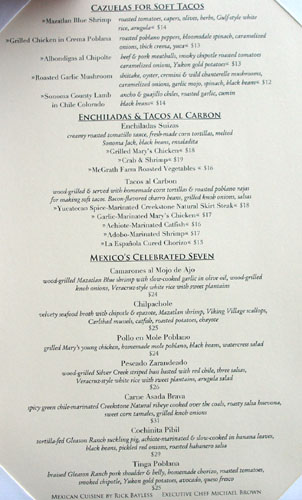 The menu at Red O is rather vast (and neatly divided into sections such as "Bright Bites" and "Savory Snacks"), and features a variety of more traditional Mexican fare, as well as a number of "Cal-Mex" dishes. Currently, it's a dinner-only affair, but lunch service is slated to be added eventually. Click for larger versions.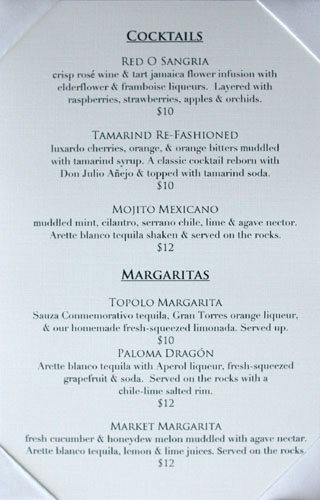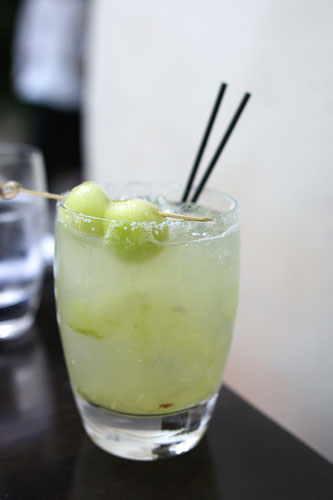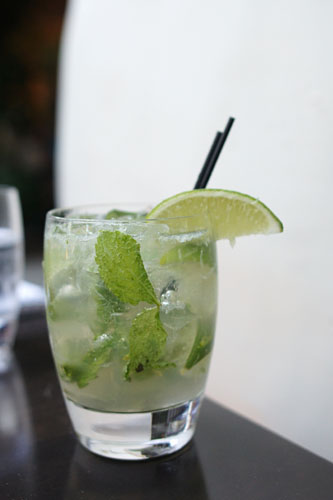 A
very
brief cocktail list was subsequently presented to us; click for a larger version. One of my dining companions chose the Market Margarita [$12], with fresh cucumber & honeydew melon muddled with agave nectar, Arette blanco tequila, lemon & lime juices. I, on the other hand, went back to my old ways and ordered the Mojito Mexicano [$12], composed of muddled mint, cilantro, serrano chile, lime & agave nectar, and Arette blanco tequila. It was actually one of the better mojitos I've had in a while, a great twist on the classic with the added depth and character of tequila.
Classic Guacamole [$9.00]
| freshly made, chunky, with warm chips & salsa
The guac was a must-order item, and indeed, it did not disappoint. I loved the dip's onion-y tang and tartish citrus finish, all intermixed with the lush creaminess of avocado. Overall, a very good guacamole, though not quite as strong as the version I had not too long ago at José Andrés'
Oyamel
.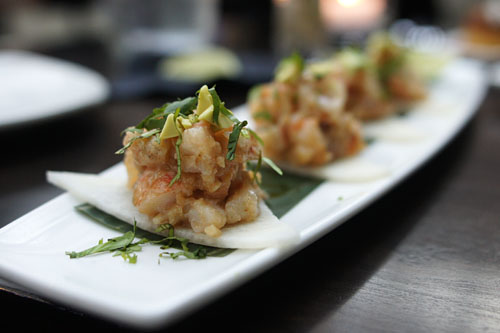 Grilled Mazatlan Blue Shrimp Tostaditas [$10.00]
| roasted garlic mojo, avocado with fresh jícama "chips"
This was a surprisingly complex, balanced dish with rich flavors of blue shrimp, perked up by a bit of bite courtesy of the garlic. The crisp, refreshing counterpoint imparted by the jicama was much appreciated.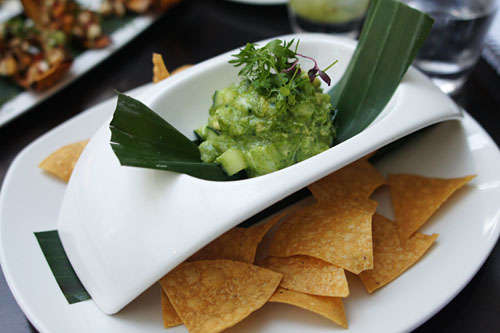 Alaskan Halibut Ceviche [$12.50]
| cilantro-serrano "chimichurri", cucumber, avocado
Humorously, we initially confused this dish for the guacamole--I'm sure you can understand why! In any case, here was a substantial ceviche, with the luxuriousness of the avocado beautifully moderating the considerable heft of the halibut, while the "chimichurri" added pricks of heat to the palate. Unfortunately, the flavors here were a bit overshadowed by the other, more aggressive courses served at the same time.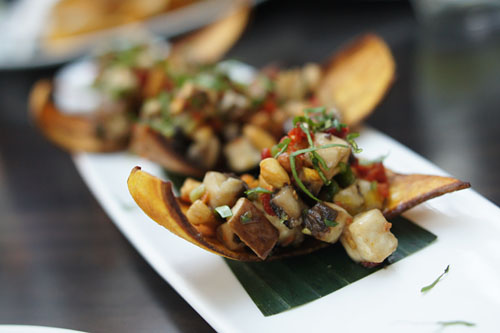 Woodland Mushrooms Ceviche [$10.00]
| grilled knob onion, sun-dried tomato, serrano chile
You don't see many mushrooms ceviches around, but this dish turned out to be one of my favorites of the night. I loved the interplay of the earthy mushrooms with the sweet and vegetal notes of its various accoutrements, and how the heat of the serrano built up so eloquently on the long, lingering finish.
Shredded Creekstone Beef Short Rib Sopes [$9.00]
| roasted tomato-green chile sauce
As expected, the beef itself was wonderfully tender, with rich, dark, hearty flavors, flavors which were augmented even further by the application of cheese. I really enjoyed the subtle smokiness imparted by the roasted tomato-chili dressing, but my favorite part was how the stout cylinders of corn masa so deftly tempered the meat's substantial gravity.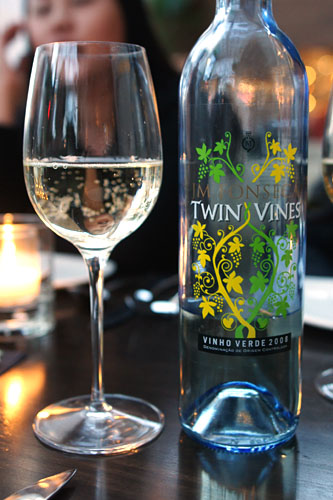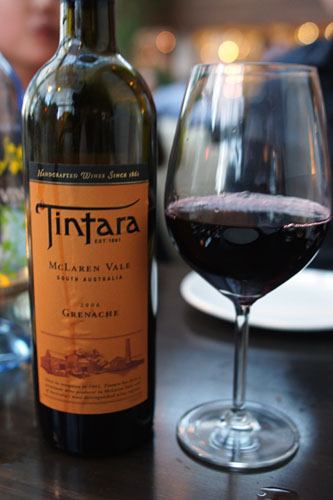 With the cocktails dispensed with, we moved on to a couple bottles of wine. First was the 2008 José Maria da Fonseca Loureiro Twin Vines Vinho Verde [$37], a lightly effervescent, easy-drinking wine with juicy lemon-lime notes offset by a pleasant minerality--a great summer tipple. We also had the 2006 Tintara Grenache from South Australia [$39]. This was a more substantial wine, of course, and showed a nice peppery spice on the attack, when then led to very apparent, jammy notes of dark fruit on the midpalate--quite delicious.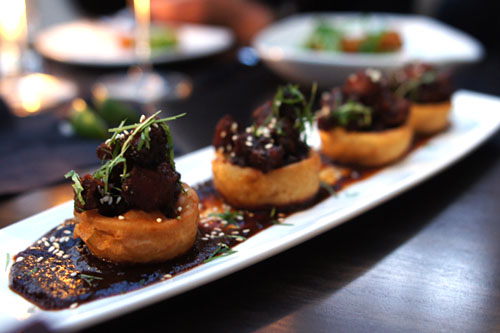 Gleason Ranch Pork Belly Sopes [$8.00]
| black beans, salsa negra, sesame
It was interesting to compare these sopes with the preceding short rib versions. The flavors were actually noticeably more in-your-face, a smoky-sweet blast of salsa negra that really helped in cutting the fattiness of the pork belly. And again, I absolutely adored the little bites of masa.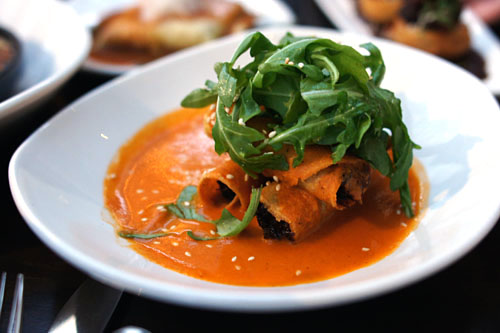 Slow-Cooked Sonoma Duck Taquitos [$9.00]
| tomato-árbol chile sauce, arugula
I found the duck here immensely flavorful actually, and quite liked how it played with the subtly spicy sauce. The arugula, meanwhile, contributed a slightly astringent contrast, but wasn't absolutely necessary for me. Nevertheless, a very enjoyable dish.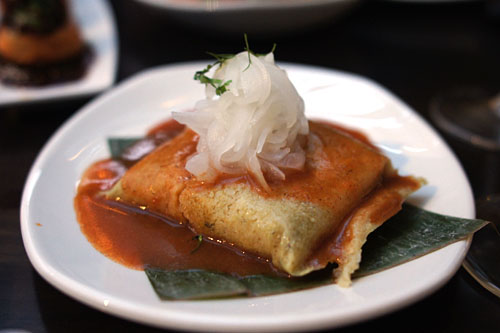 Chicken Tamale [$8.00]
| herby Oaxacan yellow mole, banana leaf
Here, what struck me first was the great exchange of flavors between the delightfully piquant mole, tasty chicken, and tangy onion. Arguably the best part of the course, though, was the corn masa, which had a wonderfully profound taste that complemented the chicken perfectly. Easily one of the best tamales I've ever had.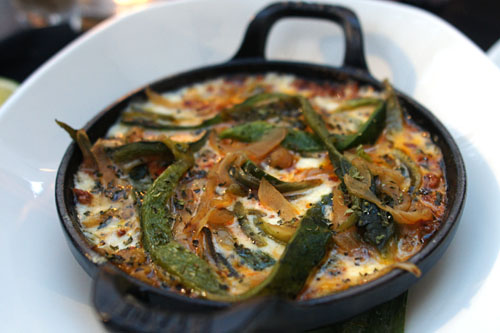 Homemade Chorizo Sausage Queso Fundido [$8.50]
| roasted poblano chiles
Cheese and chorizo, how can you go wrong? We're talking about enchantingly mild, melted Vella Sonoma Jack, paired with the subtly smoky, vegetal zest of peppers, all with the overarching saltiness and spice imparted by the chorizo. Superb with the included tortillas.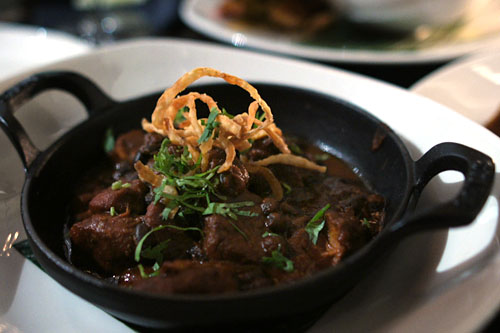 Sonoma County Lamb in Chile Colorado Cazuela for Soft Tacos [$13.50]
| ancho & guajillo chiles, roasted garlic, cumin, black beans
A lovely lamb dish, with heavy, rich, "lamb-y" flavors aptly accompanied by a sweet-smoky-spicy ancho-guajillo sauce and an earthy entourage of black beans. This was delicious but a bit overpowering when eaten alone--tortillas are a must.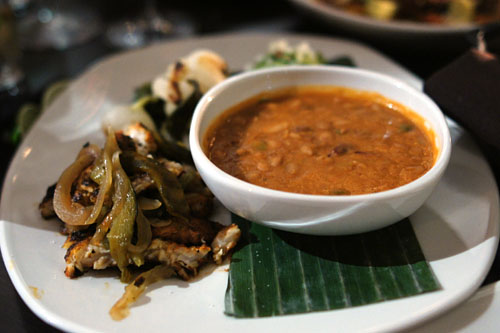 Achiote-Marinated Catfish Tacos al Carbon [$15.50]
| roasted poblano rajas, bacon-flavored charro beans, grilled knob onions, salsas
I first tried some of the catfish alone, and found it smoky, yet subtle and delicate, with a great texture. I then grabbed a tortilla, applied the various trappings, and chowed down. The resultant amalgamation was tasty enough, but I did feel that the sapor of the catfish was a bit lost in the fray--go easy on the accessories.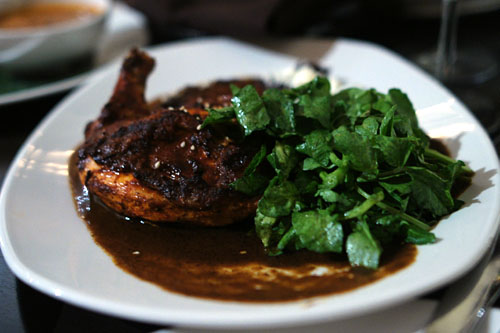 Pollo en Mole Poblano [$22.00]
| grilled Mary's young chicken, homemade mole poblano, black beans, watercress salad
Here, we were served two surprisingly large portions of chicken, which I found quite tender--albeit a touch dry--with a very pure, yet very mild flavor. It was a canvas on which the mole could really sing. The sauce itself, interestingly enough, was by far the most nuanced version I've tasted. It had the trademark flavors of sweet, smoky, and spicy, but the savor was far more integrated with the chicken than I'd imagined it would be--so complex, layered, confident.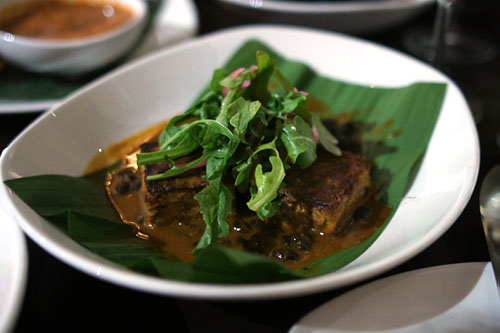 Cochinita Pibil [$26.00]
| tortilla-fed Gleason Ranch suckling pig, achiote-marinated & slow-cooked in banana leaves, black beans, pickled red onions, roasted habanero salsa
I'm a huge fan of
Rivera's
"Maya puerco pibil" dish, so I just
had
to get Red O's version. I still like Rivera's version better, which I find more succulent, though this, nonetheless, was a valiant effort. The meat was suitably tender, yet not without a bit of bite, which I appreciated. I quite enjoyed the pig's rich, deep flavors, perked up by a bit of achiote and countered by the application of arugula.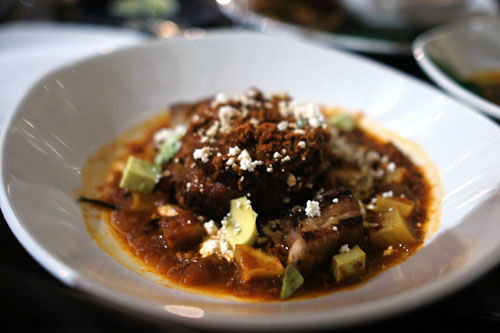 Tinga Poblana [$22.00]
| braised Gleason Ranch pork shoulder & belly, homemade chorizo, roasted tomatoes, smoked chipotle, Yukon gold potatoes, avocado, queso fresco
I actually preferred the tinga preparation of pork, which really represented a great mix of lean and fat meat, with a lovely char and great lingering spice. I was especially fond of the potatoes, which grounded and tempered the dish. One of the highlights of the meal for me.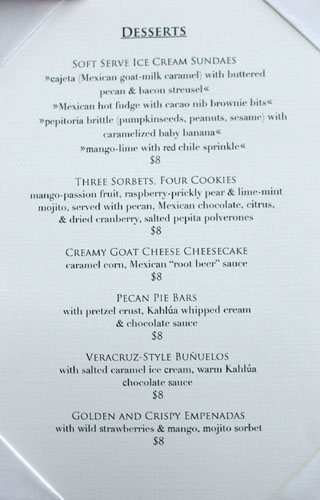 We were all surprisingly full by this point, but how could we pass up the sweet stuff? Click for a larger version.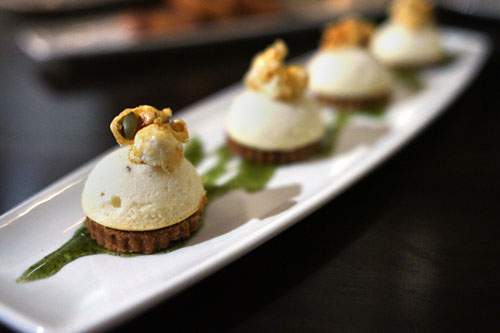 Creamy Goat Cheese Cheesecake [$8.00]
| caramel corn, Mexican "root beer" sauce
I'm generally a fan of cheesecake, and this was no exception. What was fascinating here was the sharp flavor of the goat cheese, which almost added a savory tinge to the dish, an element that played very well with the caramel corn.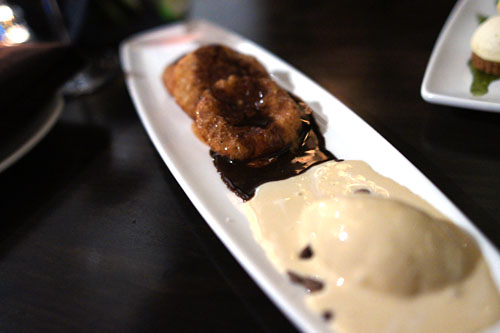 Veracruz-Style Buñuelos [$8.00]
| with salted caramel ice cream, warm Kahlúa chocolate sauce
This was my favorite of the dessert trio. The buñuelos--sort of like flattened fritters of fried dough--had a great, addictive, cinnamon-y flavor to them. They easily stood by themselves, but the included caramel ice cream was a very apt, though somewhat expected, accoutrement.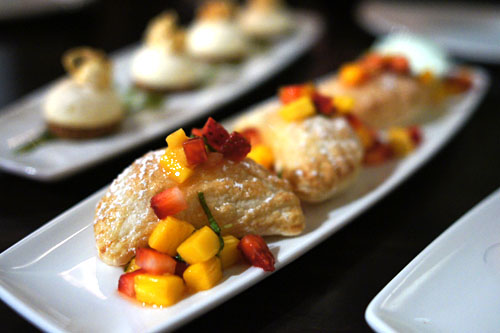 Golden and Crispy Empenadas [$8.00]
| with wild strawberries & mango, mojito sorbet
Empanadas are usually savory, but in Mexico, sweet versions are common as well. The light, refreshing fruit went well enough with the flaky pastry, but the star of the show here was clearly that mojito sorbet, which really did a tremendous job in conveying the essence of the cocktail.
Mexican food in the United States has come a long way since Bayless began his culinary career--it's no longer simply about burritos, cheese on everything, nachos, iceberg lettuce, and Taco Bell. Old habits die hard, however, and I applaud Bayless and his contemporaries for elevating the status of the cuisine, giving it the respect that it rightfully deserves.
In a way, with the opening of Red O, Bayless has come full circle. Before opening Frontera Grill, the Chef lived in Los Angeles, and was seriously contemplating opening a restaurant in the City (at a spot on Melrose, in fact!). He even had financing lined up, but, in the end, LA just didn't seem "right" to Bayless. The mentality--the cult of the new and novel, the hot and hip--didn't suit him. So why open a place now, over 20 years later? Some would say that it was the money, or that maybe Bayless has tempered down with age, or that perhaps LA, as a dining city, has just evolved into something worthy of consideration. In any case, for me, Red O is a welcomed addition to the Southland's restaurant landscape, and, I suspect, will do just fine.
¡Buen provecho!