Jeremy Fox at Animal (Los Angeles, CA)
Animal
435 N Fairfax Ave, Los Angeles, CA 90048
323.782.9225
www.animalrestaurant.com
Mon 05/17/2010, 08:30p-12:30a
Animal Presents: "The Vegetable Dinners" with Jeremy Fox. May 17th-May 23rd.
Jeremy Fox at Animal. Yes, quite possibly the world's most famous "vegetarian" chef cooking at this unabashed shrine to meat. I'm liking this matchup already.
The story goes: Fox was in town for a charity event back in 2009, dined at
Animal
, and fell in love with the place. It turns out that proprietors Vinny Dotolo and Jon Shook were as much excited about Ubuntu as Fox was about Animal, and the three chefs have been close ever since. Thus, when Fox was looking for a place to "pop-up" for a week in LA, Animal was a natural choice. Given my recent meal at
Ubuntu
(under Aaron London's command), this was an absolute must-eat event for me. Joining me were long-time kevinEats reader
Jai
(who has a self-professed "man crush" on Fox), Ryan of
Epicuryan
, and
Brian
and
Will
from
FoodDigger
(along with Brian's lovely wife Jan).

A brief biography: Fox was born in Cleveland in 1976, and ever since childhood, the young Chef knew that he wanted to own a restaurant some day. He moved to Atlanta as a teenager, and subsequently began his culinary career at a local Chick-fil-A; Fox was 17. He eventually enrolled at Johnson & Wales University, and during his studies there, began working in the kitchens of the well-regarded Anson restaurant in Charleston. However, in 1998, Fox left J&W only two courses shy of graduation. He continued to work at Anson, cooked at the popular Mumbo Jumbo restaurant back in Atlanta, and even did a
stage
at the Michelin two-star De Snippe in Belgium in 2000.
After returning from Europe, Fox landed a line position at Rubicon in San Francisco. It was here where Fox would meet Deanie Hickox, his future wife, who was working Rubicon's pastry station at the time. In 2002, the Chef left Rubicon for Charles Nob Hill, where he stayed until 2003. Although he achieved considerable success here--reaching the title of Executive Chef--he still wasn't satisfied, and jumped ship to
Manresa
, where he started from the bottom, cleaning and preparing staff meals. Under David Kinch's tutelage, however, Fox blossomed, and immersed himself in the restaurant, experimenting both with house-made charcuterie and the restaurant's own biodynamic garden. In 2004, Fox
staged
at Gordon Ramsay and Fergus Henderson's meat-centric, nose-to-tail eatery St. John, both in London. Upon his return, Kinch award him the title of Chef de Cuisine, a position he would share with close friend James Syhabout (of
Commis
fame).
A chef of Fox's caliber, however, needs his own restaurant, and thus, in 2007, he left to start the widely-acclaimed, vegetable-driven
Ubuntu
. It was here where Fox really began to receive national attention--he captured the
San Francisco Chronicle
's "Rising Star Chef" award in 2008,
Food & Wine
's "Best New Chef" award the same year, and was even nominated for James Beard's "Best Chef Pacific." Everything was going swimmingly, seemingly, until February 2010, when it was announced that Fox was resigning from Ubuntu "to pursue other interests." Since then, Fox has been floating around here and there, and back in April, he even did a one-off dinner at Commis before announcing his guest stint at Animal.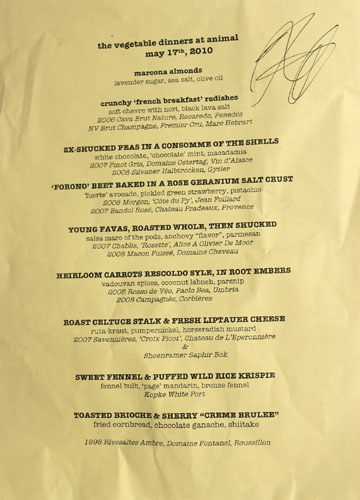 The $70, seven-course menu is veggie-centric, as expected, and reads not too differently from what he presented to diners during his Ubuntu days. Wine pairings are an additional $35, or $65 if you want the premium pours (listed first on the menu). Click for a larger version.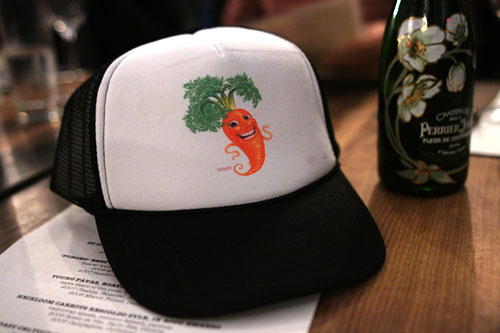 Jai, ever the good provider of booze, brought out a bottle of the Perrier-Jouët Fleur De Champagne for us to begin with. The hat was his gift to Chef Fox (told you he had a man-crush!).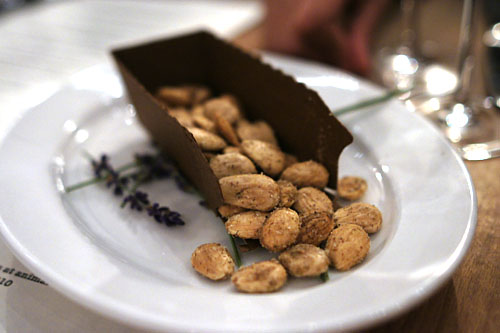 1: marcona almonds
| lavender sugar, sea salt, olive oil
Interestingly, I actually had this same dish not too long ago at
Ubuntu
. The version here was subtler that what I had up in Napa, but the almonds were still a sweet-salty shock to my senses, a fantastic interplay of flavors underpinned by the marked nuttiness of almond.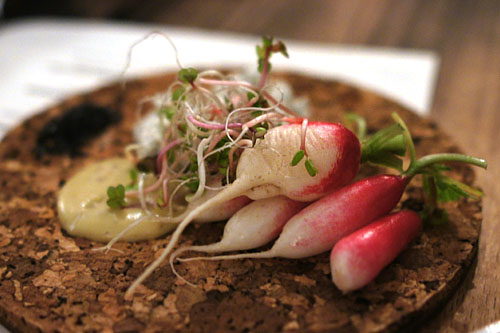 2: crunchy 'french breakfast' radishes
| soft chevre with nori, black lava salt
2006 Cava Brut Nature, Recaredo, Penedès
NV Brut Champagne, Premier Cru, Marc Hebrart
I'm a big fan of radishes, so it came as no surprise that I greatly enjoyed this next dish. I first tried one alone, and really appreciated its biting, vegetal astringency and superb crunch. As good as that was though, the chevre did wonders for the radish, tempering its sting and adding tremendous weight and profoundness to the dish.
3: 2X-SHUCKED PEAS IN A CONSOMME OF THE SHELLS
| white chocolate, 'chocolate' mint, macadamia
2007 Pinot Gris, Domaine Ostertag, Vin d'Alsace
2008 Silvaner Halbtrocken, Gysler
Regular readers will know that I'm somewhat of a pea fiend, thus this was another strong course for me. I liked that the green essence of peas was so forcefully, so unambiguously conveyed here. What took this to the next level, though, was the chocolate, which added layers of complexity to the dish with its subtly sweet, weighty undercurrent.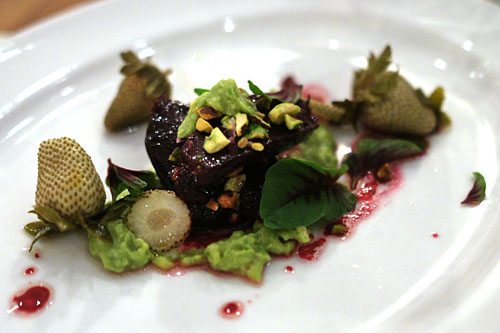 4: 'FORONO' BEET BAKED IN A ROSE GERANIUM SALT CRUST
| 'fuerte' avocado, pickled green strawberry, pistachio
2008 Morgon, 'Côte du Py', Jean Foillard
2007 Bandol Rosé, Chateau Pradeaux, Provence
Beets are no friends of mine. They actually weren't terribly "beet-y" in flavor though; perhaps the salt crust baking helped take some of their edge off. The acerbic tang of the strawberries way key for me, as they really formed a great, tartish counterpoint to the sugariness of the beets. I also enjoyed the smooth, creamy "guacamole" and how it helped balance the dish.
Sarah's new beau, Ben, was kind enough to give us some of his 2006 Azienda Agricola La Torre Rosso di Montalcino to pair with the following course.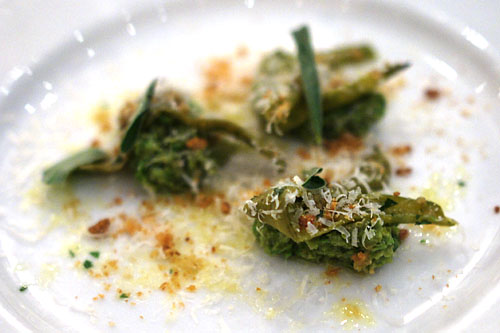 5: YOUNG FAVAS, ROASTED WHOLE, THEN SHUCKED
| salsa maro of the pods, anchovy "flavor," parmesan
2007 Chablis, 'Rosette', Alice A Olivier De Moor
2008 Macon Fuissé, Domaine Cheveau
Here, the star was the "salsa maro," a wonderful commixture that really captured the quintessence of fava. It was quite vegetal in savor at first, but then the saltiness of the "anchovy" really kicked in, while the Parmesan gave things an overarching heft.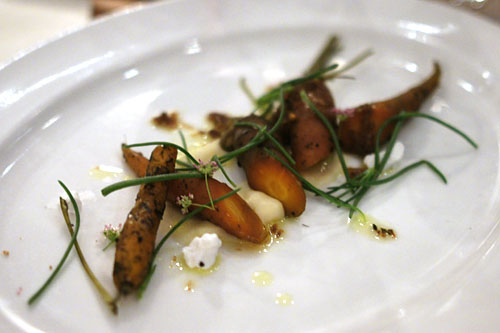 6: HEIRLOOM CARROTS RESCOLDO STYLE, IN ROOT EMBERS
| vadouvan spices, coconut labneh, parsnip
2005 Rosso de Véo, Paolo Bea, Umbria
2008 Campagnès, Corbières
The "rescoldo" refers to
tortilla de rescoldo
, a sort of Chilean bread baked using hot coals. Fox substitutes in root embers, but the result is that the carrots' sweetness was cut, replaced with considerable depth and complexity. This heaviness was nicely moderated by the labneh, and I also appreciated the use of vadouvan, which gave things a nice "Indian" tinge.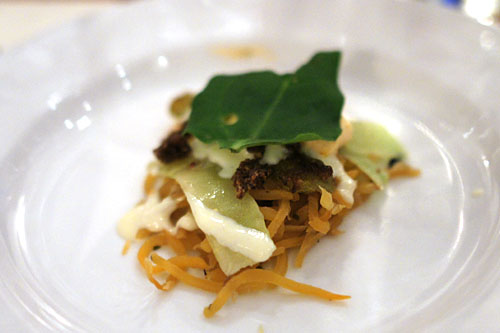 7: ROAST CELTUCE STALK & FRESH LIPTAUER CHEESE
| ruta-kraut, pumpernickel, horseradish mustard
2007 Savennières, 'Croix Picot', Chateau de L'Eperonnière
Shoenramer Saphir Bok
The celtuce, or stem lettuce, had a somewhat celery-esque flavor that I wasn't terribly fond of. Fortunately, this was tempered greatly by the creaminess and gravity of the Liptauer, as well as the superb mustard-y tang of the horseradish.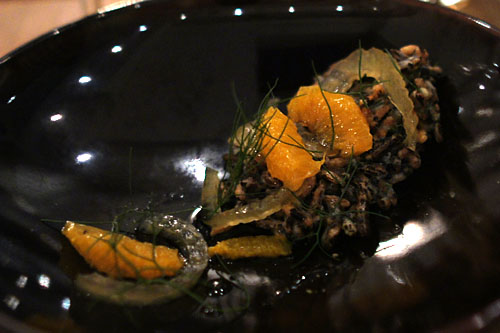 8: SWEET FENNEL & PUFFED WILD RICE KRISPIE
| fennel bulb, 'page' mandarin, bronze fennel
Kopke White Port
A very unconventional dessert. I quite liked the crisp, crunchy puffed rice, and I even enjoyed the fennel, which had a fascinating, vegetal spicy sweetness to it. The fennel
was
a touch overwhelming though, so the use of citrus was absolutely crucial.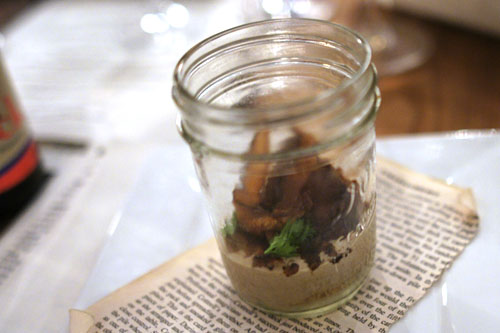 9: TOASTED BRIOCHE & SHERRY "CREME BRULEE"
| fried cornbread, chocolate ganache, shiitake
1998 Rivesaltes Ambre, Domaine Fontanel, Roussillon
Another very unconventional dessert. The crème brûlée portion was rather nice, and I really appreciated the use of cornbread here to counter some of the dessert's sugariness. However, the shiitakes contributed a savory counterpoint that I found rather disconcerting. I'm a fan of bacon in dessert, but the mushrooms were a bit beyond me!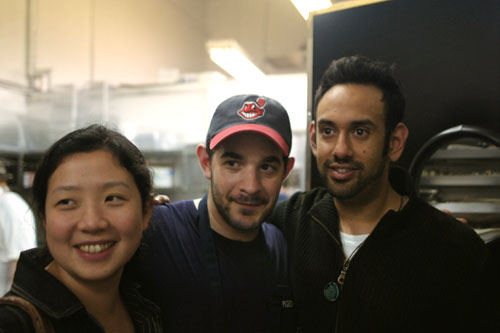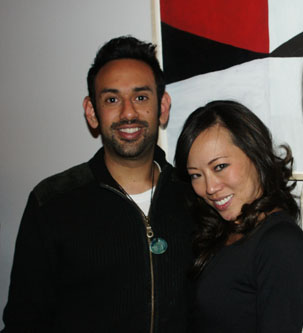 Apparently, Animal was
the
place to be on this particular Monday night. Other food cognoscenti spied during the meal: Bill of
Street Gourmet LA
, member of the Twitterati
Brian
, Diana of
Diana Takes a Bite
, Fiona of
Gourmet Pigs
,
Jill Zimorski
(Beverage Director for José Andrés), Josh of
Food GPS
, Kat Odell (current
Eater LA
chief, also of
Cork and Rind
), Ken Iwamoto from
Harry's Berries
(his aunt and uncle run the biz), Lauren of
Harb Knock Life
, Lesley Balla (former
Eater LA
chief), Roy Choi (the
Kogi
guy), and last but not least, the always glamorous Sarah of
The Delicious Life
.
It's amazing what Fox has been able to achieve in the kitchen with so little use of animal products, but what's important to realize is that his food isn't about spurning meat, it's about celebrating the bounty of vegetables. It's not vegetarian, or even vegan, cuisine; it's
vegetable
cuisine: you'll find no tofu, no seitan here. This cooking--so focused, so confident, so vibrant--makes me wish that I'd hit up Ubuntu earlier! No matter, when Fox decides to open up his next place, you can bet that I, and his legions of fans (Jai especially), will be waiting, salivating.