LudoBites at Gram & Papas (Los Angeles, CA)
LudoBites at Gram & Papas
227 E 9th St, Los Angeles, CA 90015
213.624.7272
www.ludobites.com
Fri 04/24/2010, 08:45p-12:00a

Spring is finally here, and you know what that means right? Another rousing round of LudoBites is upon us. After two iterations at
Breadbar
and another at
Royal/T
, Ludo's popular, populist pop-up has made its way to Downtown lunchery
Gram and Papas
.
Yes, LudoBites 4.0 began on April 8th. And yes, it's about time that I wrote about it. Shouldn't I have been here opening night? Or better yet, at
FoodDigger's
pre-opening night
TastEvent
?
Oui
, and
oui
. I was invited to the FD event, but had to decline as I was up in Napa that evening, having dinner at
Meadowood
(so don't feel
too
bad for me!). Then, I was supposed to go the following Wednesday, but guess what? That's right, more travel, this time to the East Coast. And so here we are--I finally made it out to LB a full
two weeks
after its debut. By this point, pretty much every one of Ludo's creations has been scrutinized to death already, so bear with me. At least I've secured my ressie for the last night, right?

Ludo paraphernalia (including the Chef's own artwork) dots the walls of Gram and Papas, a lowly sandwich shop by day, but a buzzing hub of gastronomic activity when the Sun goes down. A note to the "
food paparazzi
:" try to sit at the seats across from the kitchen; the overhead lights make things much easier on you. Over where we were seated, exposures where in the 1/10s, f2.0 range at ISO1600; uneven candlelight didn't help things, either.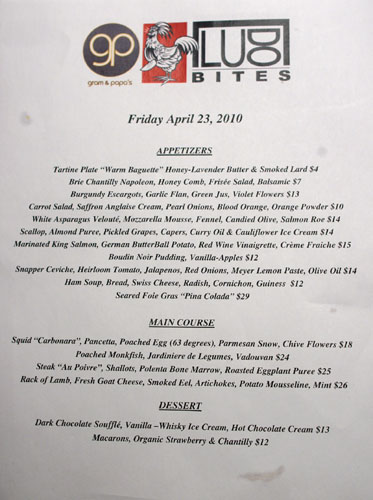 Ludo's menu, as we all know, is in constant flux, so by the time you read this, I'm sure that it'll be somewhat different. Interestingly, we asked Krissy what her favorite dishes were, and she responded with the Foie Gras Pina Colada, Ham Soup, and Squid Carbonara--I didn't have the foie, but she's spot on with the last two. Click for a larger version.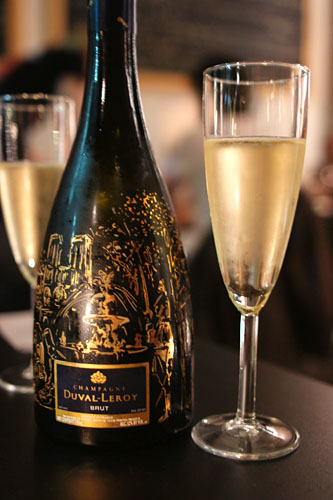 Unlike LudoBites 3.0, which sported a short wine list courtesy of DomaineLA, LB@GP is a strictly BYOB affair (there is, however, a "
virtual wine list
"). We failed to realize this, and thus were left scrambling at the last moment, on the lookout for booze. Fortunately, Jason's Wine & Spirits was just down the street, so we ended up picking up a LeRoy Neiman-designed, silk-screened bottle of the apple-tinged Duval-Leroy Champagne "Design Paris" (I do love the bubbles).
Burgundy Escargots, Garlic Flan, Green Jus, Violet Flowers [$13.00]
Escargot to start...what could be more French? Eating the dish at first, I could taste the buttery, garlicky flavors of a classic
escargots bourguignonne
preparation. However, the Chef gives us a little twist by way of the parsley imbued "green jus," which adds a hint of levity into the mix. Very good, with a fantastic, supple yet "crunchy" texture on the snails as well. Easily some of the best escargot I've had in recent memory.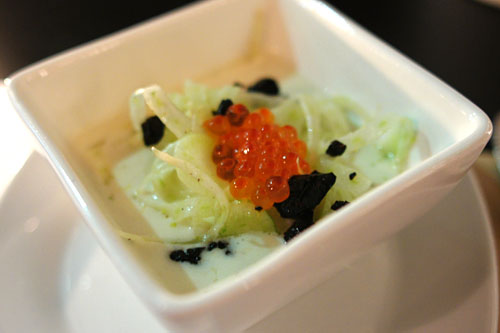 White Asparagus Velouté, Mozzarella Mousse, Fennel, Candied Olive, Salmon Roe [$14.00]
Here, the initial, green attack of asparagus savor led to the saccharine sweetness of the candied olive, augmented with a prick of brine courtesy of the
ikura
. Meanwhile, I loved the crisp, juicy crunch of the fennel and its interaction with the creamy velouté. However, since there
was
a lot going on, I did feel that asparagus could've had a stronger presence.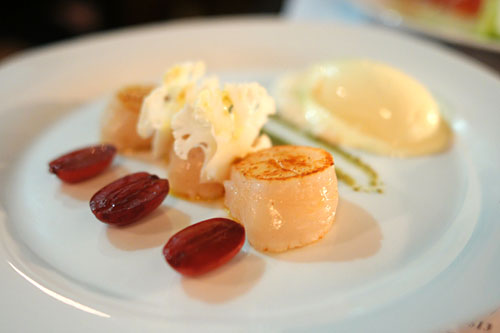 Scallop, Almond Puree, Pickled Grapes, Capers, Curry Oil & Cauliflower Ice Cream [$14.00]
Taken alone, the scallops were rare, dense, and luscious, though quite mild in flavor. Thus, I did appreciate the almost
jarring
tartness imparted by the grapes, as well as the sugariness of the almond paste, which mirrored the bivalves' natural sweetness. On the other hand, I was ambivalent about the cauliflower, and I did feel that the capers were a touch domineering.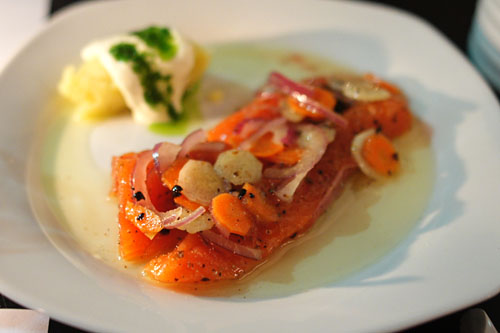 Marinated King Salmon, German ButterBall Potato, Red Wine Vinaigrette, Crème Fraiche [$15.00]
With this course, Ludo presents his interpretation of the classic salmon-crème fraiche pairing. Indeed, the cream did provide a nice bit of tanginess to offset the somewhat overbearing weight of the salmon, but the vinaigrette was much more effective in that regard. The key, thus, was the potato, which had a fantastic starchiness to it that formed an excellent counter to the monolithicity of the fish.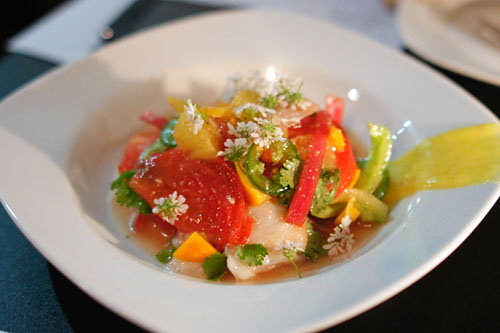 Snapper Ceviche, Heirloom Tomato, Jalapenos, Red Onions, Meyer Lemon Paste, Olive Oil [$14.00]
There's always room for a good ceviche, and this certainly was no exception. We have to start with the snapper, which was uncompromisingly fresh and, well, snappy. The onions and bell peppers, meanwhile, provided a superb vegetal counterpoint, and the use of olive oil lent tones of gravity and contemplation to the dish. The best part, however, was the application of jalapeños--mild at first, they intensified with mastication, leading to a great bit of lingering heat on the finish. One of my favorites of the night.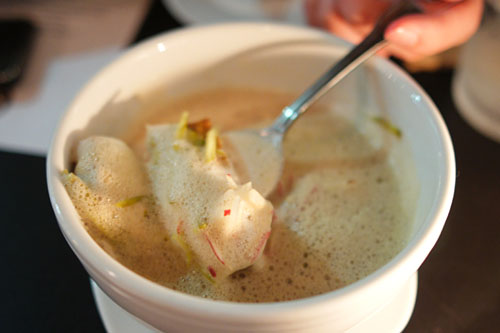 Ham Soup, Bread, Swiss Cheese, Radish, Cornichon, Guiness [$12.00]
Interestingly, this ham soup had little in terms of identifiable ham. Rather, the potage was positively imbued with a light, "hammy" essence that effectively conveyed the meat's character. It went wonderfully with the bread and cheese, and in fact, I wanted more bread to sop up the leftovers--we even described the dish as a "liquid sandwich!"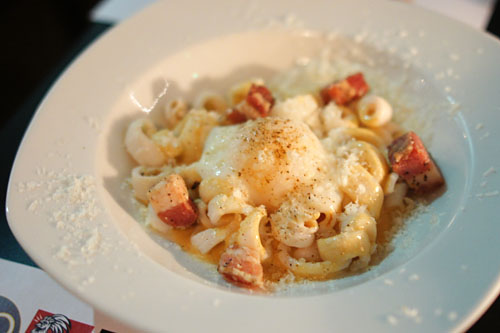 Squid "Carbonara", Pancetta, Poached Egg (63 degrees), Parmesan Snow, Chive Flowers [$18.00]
Squid, pancetta, poached egg? There was almost
no way
that this could turn out poorly, and indeed it didn't. It was, in fact, my dining companion's favorite dish of the meal. I loved the supple texture of the squid "pasta," augmented by the bits of salty, fatty pork belly and creamy egg. Classic flavors, but with Ludo's flair.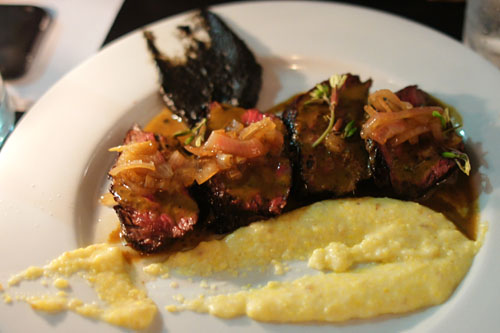 Steak "Au Poivre", Shallots, Polenta Bone Marrow, Roasted Eggplant Puree [$25.00]
And here we have Ludo's take on the classic steak au poivre, with plenty of
poivre
. The steak, expertly cooked and quite delicious on its own, was quite peppery indeed, and went gorgeously with the unabashedly tangy shallots. I didn't care too much for the eggplant, however, finding it overly smoky. Obviously then, there were some strong flavors at play, so the polenta--some of the best I've had--was crucial in its temperance.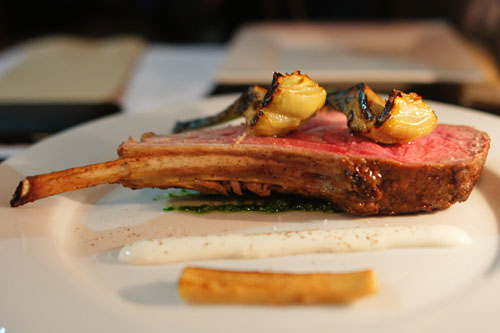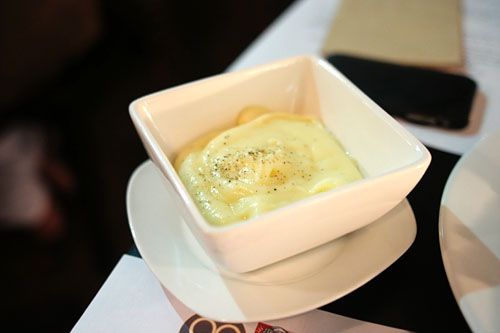 Rack of Lamb, Fresh Goat Cheese, Smoked Eel, Artichokes, Potato Mousseline, Mint [$26.00]
Out last savory course of the evening was this beautiful lamb chop, which proved to be immensely flavorful, with an almost beef-like quality to it. I enjoyed its inherent succulence and profound saltiness, accented by just a hint of mint. The eel, at the same time, gave the dish a trace of smoke, which played well with the creamy tang of the goat cheese. Nice!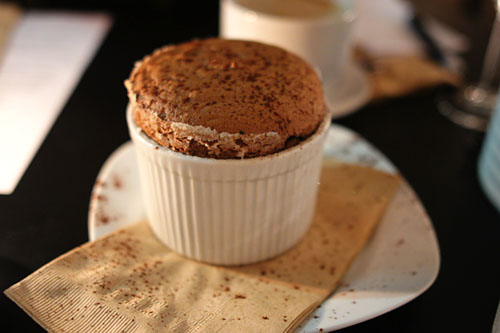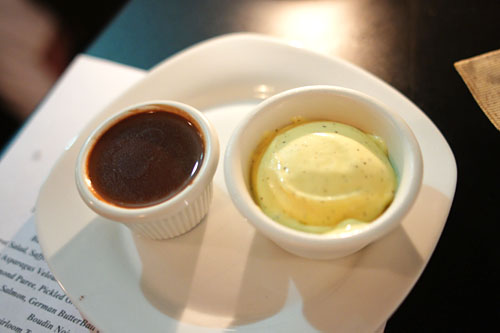 Dark Chocolate Soufflé, Vanilla - Whisky Ice Cream, Hot Chocolate Cream [$13.00]
Our first dessert was actually a surprisingly straightforward soufflé, a classic mélange of chocolate and ice cream, at least at first. The whisky added a slight hint of woodiness into the fray, but what got me was the finish, which had just the right amount of black pepper(!) creeping up on you.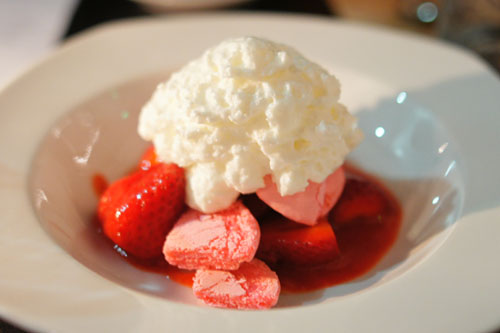 Macarons, Organic Strawberry & Chantilly [$12.00]
And finally, we close. The strawberries (from Harry's Berries?) were incomparably bold, vibrant, and sugary sweet. The chantilly, thus, formed a crucial moderating element and, along with the macaron, made this dessert reminiscent of a strawberry pie! Delish.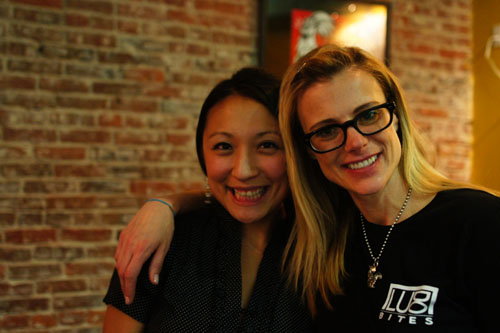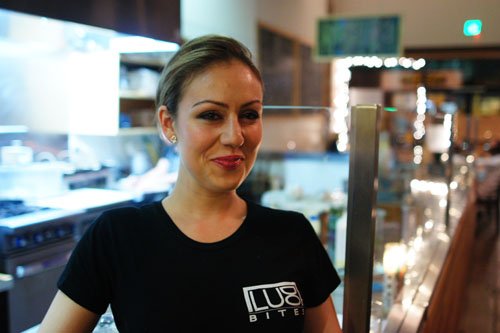 As usual, food cognoscenti were abound: AK of
The Salty Lawyer
, Christine of
Folie à Choisauce
, Julian of
Jewelz, What Are We Doing Today?
, Ryan of
Epicuryan
, and Zach of
Midtown Lunch
. And that's just in the dining room. Working in the kitchen were Austin of
Living to Eat
, Holly of
The Michelin Project
, as well as the one and only Sydney Hunter III,
Fraiche's
recently departed Chef de Cuisine (who'd worked with Ludo before at Bastide). And let's not forget about everybody's favorite server, Daria!
LudoBites just feels different this time around--the food seems more grounded, more self-assured, more
confident
. We said as much to the Chef during our post-meal chat with Ludo, and he agreed. He finally has a real Sous Chef in the form of Sydney Hunter, and no more of the
drama
that plagued version 3.0. I'm looking forward to returning on the 28th!