LudoBites 5.0 at Gram & Papas (Los Angeles, CA) [2]
LudoBites 5.0 at Gram & Papas
227 E 9th St, Los Angeles, CA 90015
213.624.7272
www.ludobites.com
Fri 09/03/2010, 07:45p-12:30a

September 3rd saw the end of another rousing rendition of LA's seminal pop-up eatery LudoBites, held once again at Downtown lunchery Gram & Papas. This iteration, version 5.0, was arguably the strongest yet, a fitting progression in Ludo's perpetual pursuit to define his personal "bistronomy."

The excitement on this final night of service was amped up even more by the participation of the
LudoTruck
, which was offering up Ludo's famous Provencal chicken balls and honey-garlic wings. Needless to say, the line was already snaking around the corner by the time we got here.
Other foodie types in attendance this evening included:
Brian
and
Will
from
FoodDigger
; Christina and Patricia from
Boobs4Food
; Eliza of
Eliza in Hollywood
; Helen of
Sonshiny Days
; James of
Eating for the Masses
; Janice of
The Media Maid
and
Audrey magazine
; Jo of
My Last Bite
; Misty of
Noms, Not Bombs
; Ryan of
Epicuryan
; and
Steph C from Yelp
.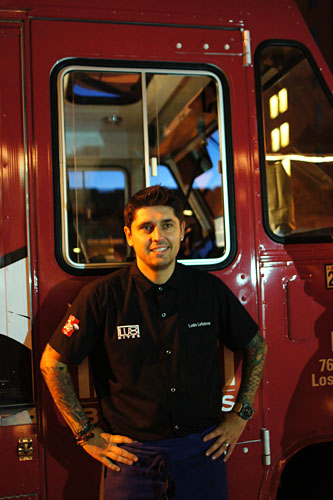 Upon arrival, we spied Ludo cavorting around in his eponymous truck with a rather attractive brunette in the back. He did finally step out though, much to the delight of his waiting fans.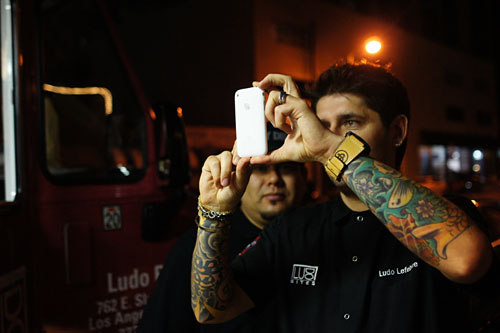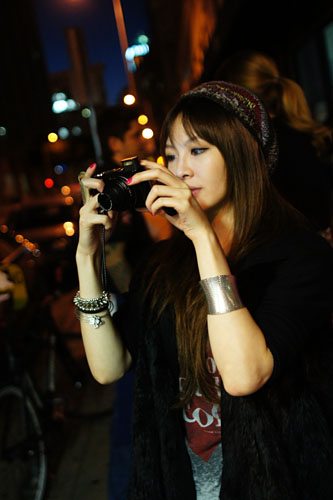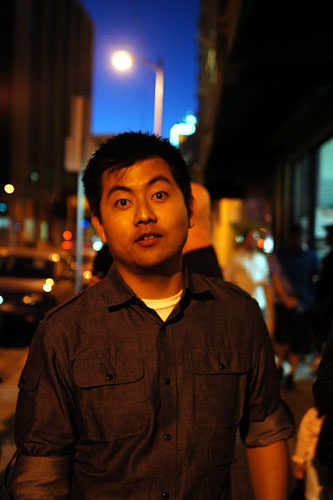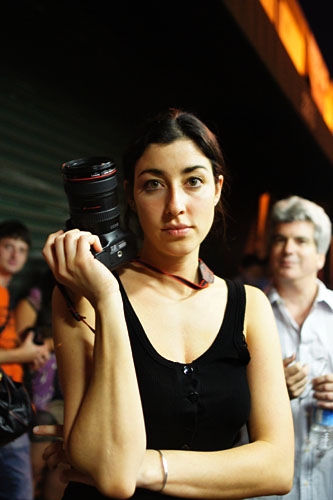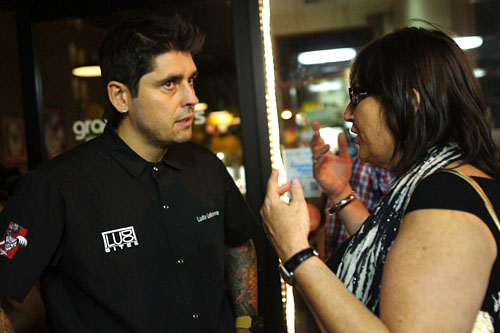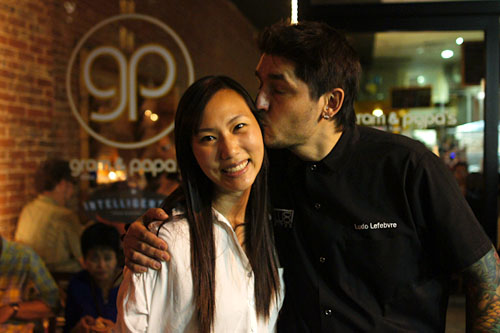 Photographic miscellany.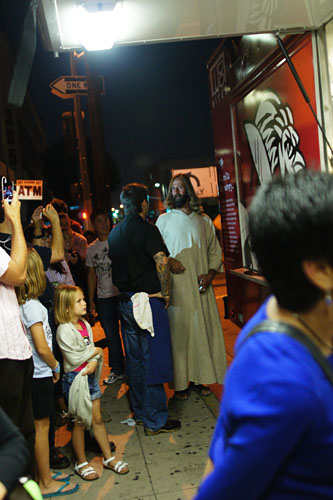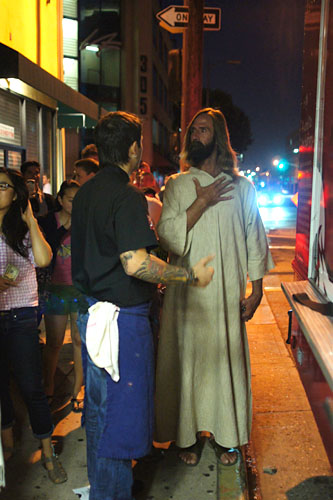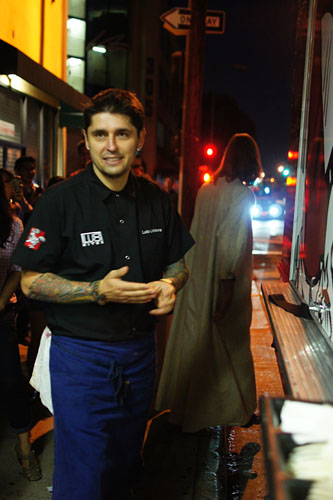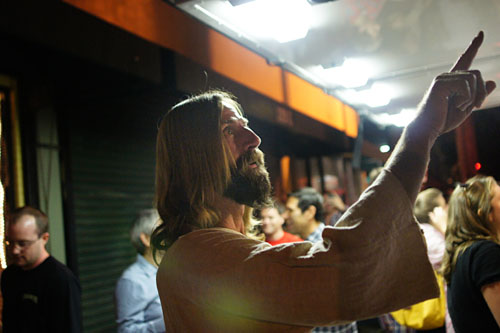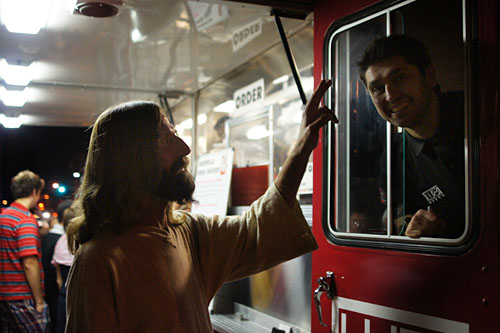 Ludo's
bigger than Jesus
(or, at least
Kevin Lee Light
).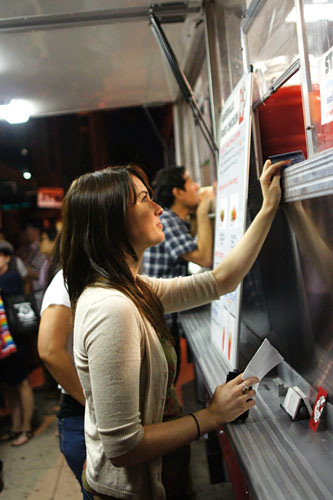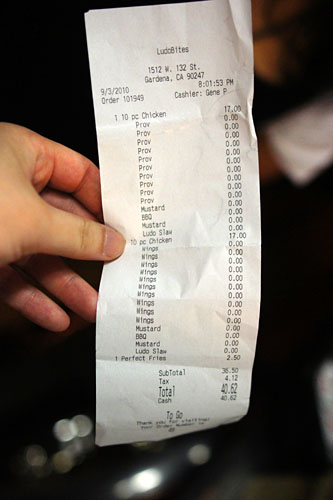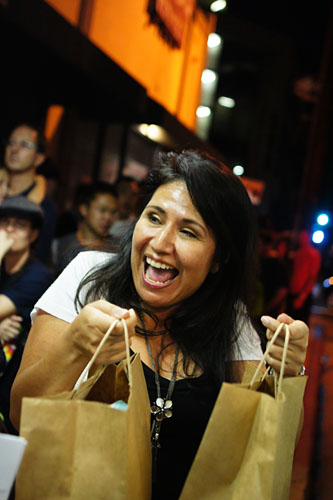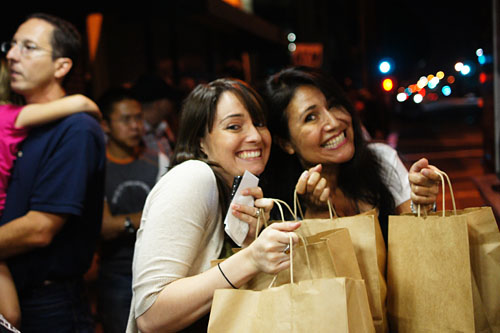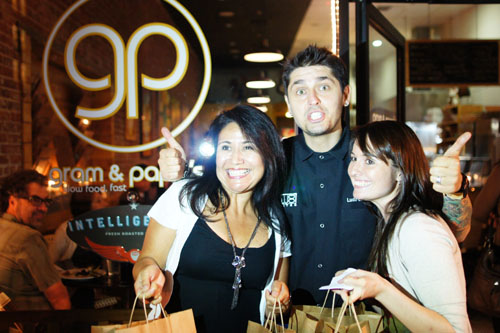 Amber Martinez and Zenaida Mendoza were the first in line for the truck, and had been waiting patiently ever since 6:30 (the truck opened at 8:00). They definitely made sure to make full use of their vaunted position though, purchasing a whopping $40 in chicken each!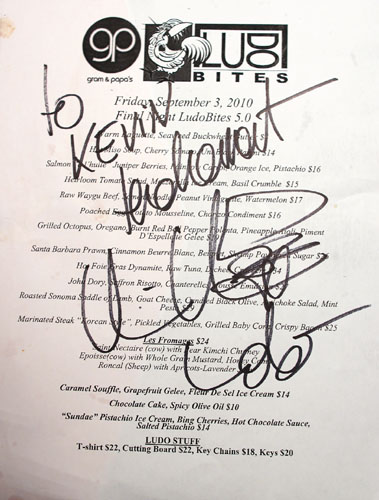 The final night's menu was quite a change from my
first meal here
, but there were still a couple of holdovers (such as the superb raw wagyu). Click for a larger versions.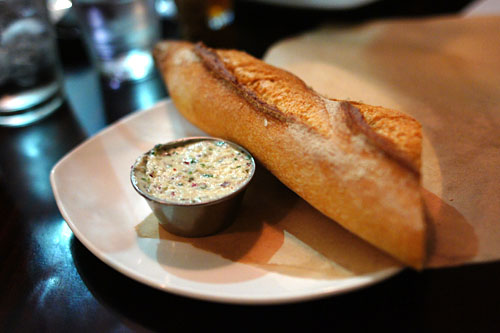 Warm Baguette, Seaweed Buckwheat Butter [$4.00]
Bread came out piping hot, with a lovely crisp crust leading to a delightfully supple interior. Its mild flavor was augmented by the application of seaweed butter and its intense, ocean-y tang.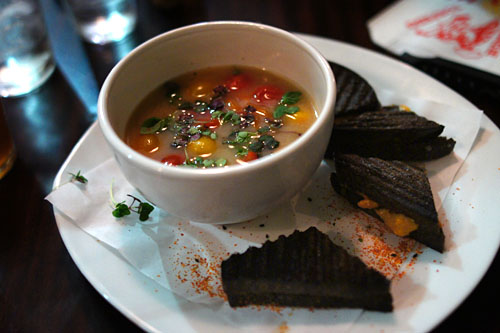 Hot Miso Soup, Cherry Tomato, Uni Black Panini [$14.00]
Though the triangles of toast may look like miniaturized versions of Ludo's famed
black croque monsieur
, they were actually filled with uni, which lent a fantastic sugary brine and lusciousness to the bread. They were quite delicious alone, but were deftly heightened by the application of miso soup, with its marked umami tinge laced with the sweet succulence of tomato. A table favorite.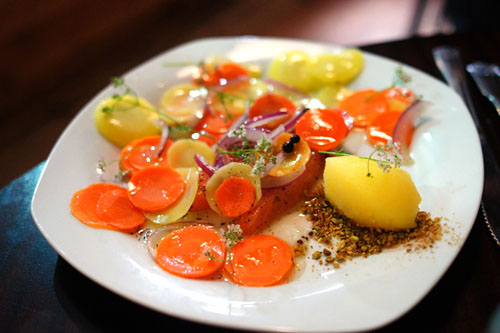 Salmon "a l'Huile", Juniper Berries, Rainbow Carrot, Orange Ice, Pistachio [$16.00]
This was easily the best preparation of salmon that Ludo's ever served. The fish demonstrated a dense, perfect consistency, with a delicate, subtly fishy flavor backed by the power of olive oil. The crisp carrots, in concert with the onions, provided a lightly sugary tinge that deftly offset the weight of the salmon, and I loved the overarching astringency added by the juniper.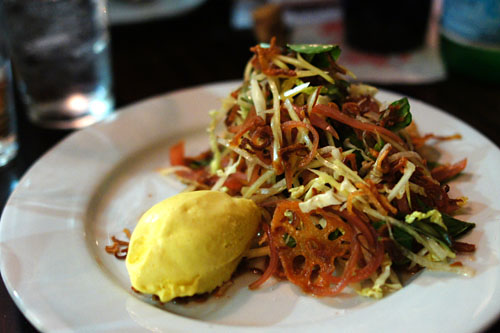 Confit Pork Belly, Raw Choucroute Thai Style, Mustard Ice Cream
Next up was a reworked version of a dish from
my last dinner here
, an off-the-menu gift from the Chef. The confit'd pork was just what I expected: fatty, luxurious, an epitome of porcine potency. The pig's palpable weight was deftly offset by the zesty Thai-style sauerkraut, and I appreciated the tang imparted by the mustard ice cream.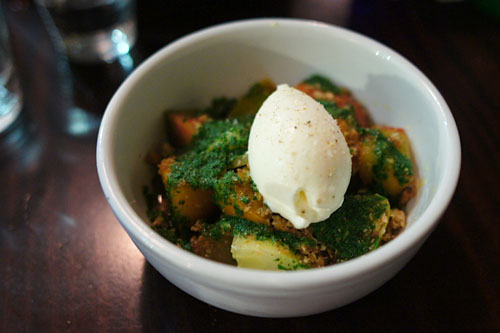 Heirloom Tomato Salad, Mozzarella Ice Cream, Basil Crumble [$15.00]
Here we have what basically amounts to a deconstructed and reimagined insalata Caprese. The tomatoes were suitably sweet, scrumptious, succulent, with a considerable depth of flavor imparted by the application of olive oil. The mozz ice cream added further gravity to the dish, while the basil served as a major textural element.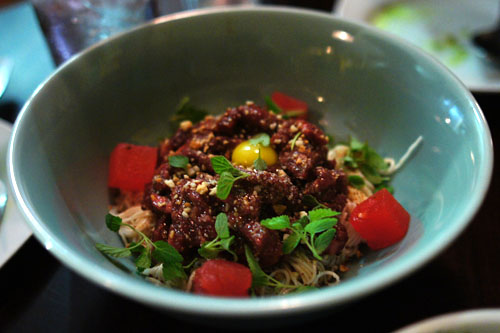 Raw Wagyu Beef, Somen Noodle, Peanut Vinaigrette, Watermelon [$17.00]
This was easily one of my favorite courses from
before
, and what I said earlier still stands: "I loved the gentle savoriness of the raw wagyu, accented by peanut, and its interplay with the relative levity of the somen noodle and the overarching zing of mint. The compressed watermelon, meanwhile, provided the dish with a perfect, subtly sweet finish. Interestingly, this was somewhat reminiscent of Chinese
zha jiang mian
!"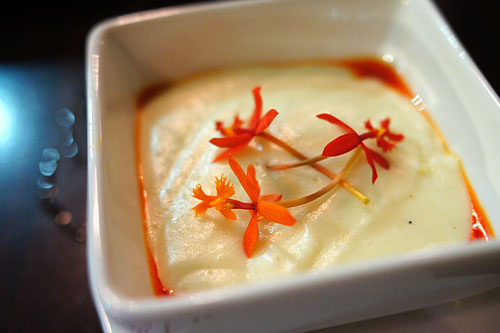 Poached Egg, Potato Mousseline, Chorizo Condiment [$16.00]
Ludo's mousseline was once again one of the standouts of the meal. The interplay between the egg and potato was spot on, with the egg contributing a superb gravity to the dish, forming a perfectly balanced amalgam with the tuber. Perhaps the highlight of the course, though, was the chorizo, which provided a fantastic overarching trace of heat to things. One of my dining companions even likened the dish to a "Spanish breakfast."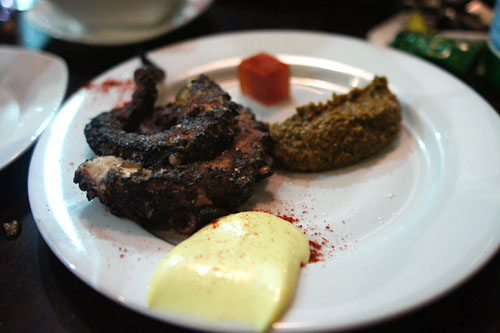 Grilled Octopus, Oregano, Burnt Red Bell Pepper Polenta, Pineapple Aioli, Piment D'Espellette Gelee [$19.00]
Another
repeat
, the octopus showed off a beautifully soft, supple texture, with a flavor profile teeming with sweet brine, balanced by just the right amount of bitter char. The piment d'espelette jelly, meanwhile, added a prick of piquancy to things, while the polenta was positively imbued with the essence of bell pepper. However, I did feel that the aioli was a bit overwhelming.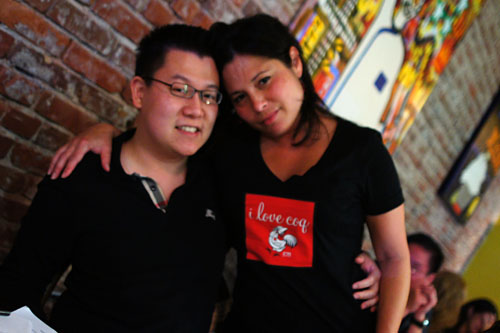 Of course, Ludo's biggest fan (otherwise known as Jo of
My Last Bite
) was here tonight as well.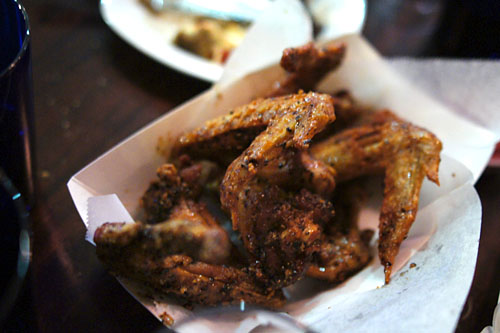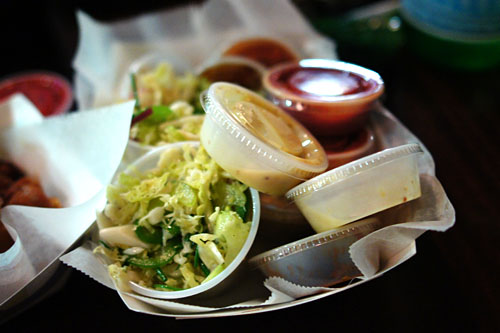 Honey-Garlic Glazed Chicken Wings [$20.00 for 10]
At around this point, we attempted by purchase some food from the
LudoTruck
, but found out that they'd run out of their famed chicken balls. We settled for the honey-garlic wings (served with Ludo Slaw and Honey-Whole Grain Mustard and BBQ sauces) instead, and though they didn't quite reach the same lofty level as the balls, they still were quite tasty, with a nice bit of honeyed sweetness initially, with a savory, peppery finish.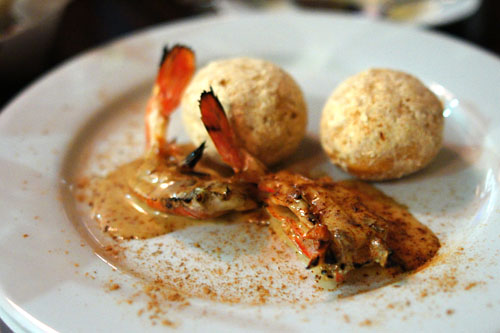 Santa Barbara Prawn, Cinnamon Beurre Blanc, Beignet, Shrimp Powdered Sugar [$26.00]
Prawns came out deftly cooked, with a supple, snappy texture that I appreciated. The accompanying beurre blanc augmented the natural sweetness of the crustaceans, but was a tad too cinnamon-y for me.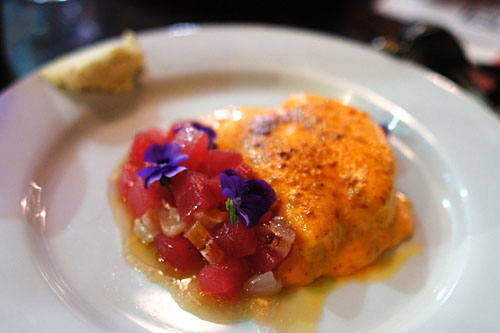 Hot Foie Gras Dynamite, Raw Tuna, Lychee, Crackers [$34.00]
With regard to Japanese cuisine, a "dynamite" signifies a dish coated in spicy mayo, then seared with a blowtorch. Ludo deftly applied that idea to foie gras, which he topped here with tuna, lychee, and plenty of that bright yellow dressing. I thought that this was one of the top foie dishes that Ludo's ever presented. The interaction between the liver, tuna, and dynamite was faultless, with the heat of the sauce and cool, refreshing tuna-lychee balancing the power of the liver perfectly.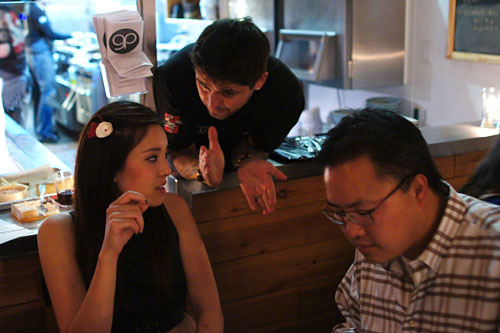 Ludo's definitely likes to chat it up with the ladies, especially the
cute ones
! The other guy is
Will
from
FoodDigger
, by the way.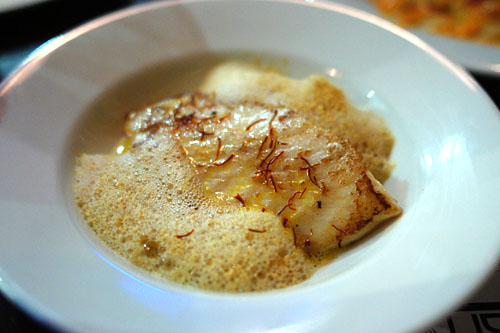 John Dory, Saffron Risotto, Chanterelles Mousse Emulsion [$27.00]
John Dory was quite briny. However, I found its accoutrements overly saccharine and aromatic, which really threw off the flavors for me. This, combined with the earthiness of the chanterelles, made for a somewhat disconcerting experience.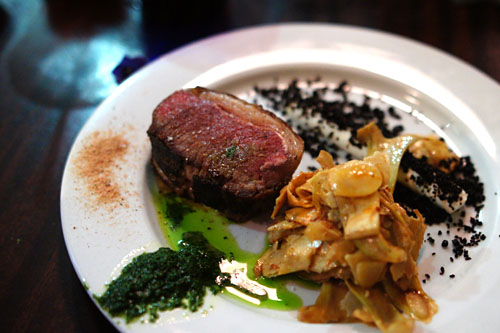 Roasted Sonoma Saddle of Lamb, Goat Cheese, Candied Black Olive, Artichoke Salad, Mint Pesto [$29.00]
The lamb was actually very similar to a dish from
LudoBites 4.0
. The meat was immensely flavorful, with a nice succulence and profound smokiness that was augmented by the dried bonito. This was all countered somewhat by the application of mint pesto, as well as the heavy salad of cheese, miso, artichoke, and olive oil. Unfortunately, some bites of lamb were a touch sinewy.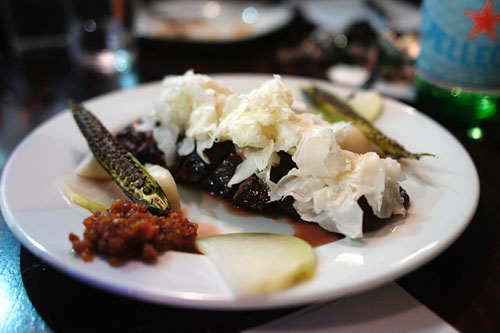 Marinated Steak "Korean Style", Pickled Vegetables, Grilled Baby Corn, Crispy Bacon [$25.00]
Our last savory course brought us Ludo's Korean-inspired steak. The meat was quite tasty, showing off a nice bit of juiciness, and possessed a certain savory-sweetness that was reminiscent of
galbi
! It was quite enjoyable alone, but I really relished the topping of pickled veggies, which did a great job in balancing out the potency of the beef. The baby corn and bacon, meanwhile, added further points of interest to the dish.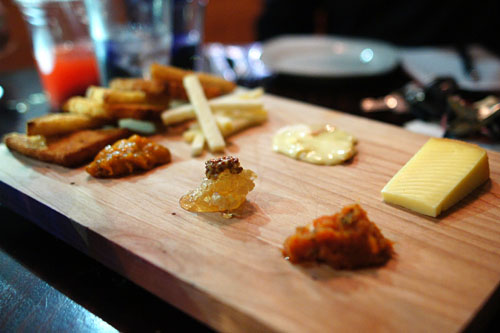 Les Fromages [$24.00]
Saint Nectaire (cow) with Pear Kimchi Chutney - Saint-Nectaire is a cow's milk variety that comes to us from Auvergne, France. It was a creamy, nutty cheese, with a nice bit of subtle saltiness that hooked up adeptly with the tangy-sweet kimchi.
Epoisses (cow) with Whole Grain Mustard, Honey Comb - Next up was Époisses de Bourgogne, which is quickly becoming one of my favorite cheeses. It's a runny, supremely pungent fromage that can be challenging to cheese newbies. The outlandish sweetness of the honeycomb, however, did do a great job in balancing out the Époisses' potency.
Roncal (sheep) with Apricots-Lavender Jam - Finally, we had a sheep's milk cheese from the Valle de Roncal region of Spain. This was a firm, grainy cheese with marked grassy and nutty flavors that paired well with the flowery notes of lavender.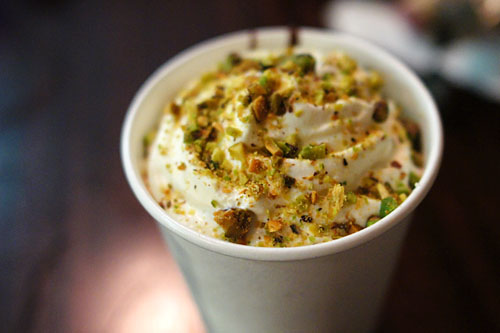 "Sundae" Pistachio Ice Cream, Bing Cherries, Hot Chocolate Sauce, Salted Pistachio [$14.00]
Our first dessert was unceremoniously served in a paper cup, but was nonetheless quite delectable. Making sure to thrust my spoon down the cup to enjoy each strata of the sundae, I first tasted the dessert's strong base of chocolate, which was beautifully countervailed by the saltiness of the pistachio. The ice cream, meanwhile, served as an all-encompassing contrast to the dish, while the finish was all about those bing cherries.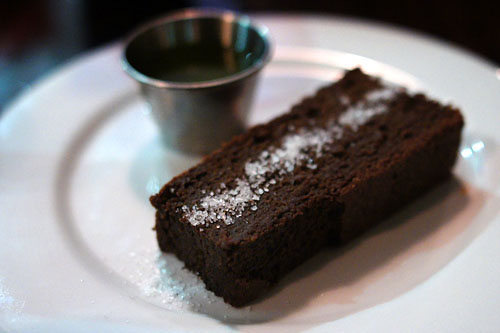 Chocolate Cake, Spicy Olive Oil [$10.00]
This next dessert was a bit unnerving, with the sprinkled salt serving as a
very
potent counter to the prototypical sweetness of chocolate cake. The olive oil, at the same time, added further heft to the course, and made for a rather strange, savory, positively lingering finish.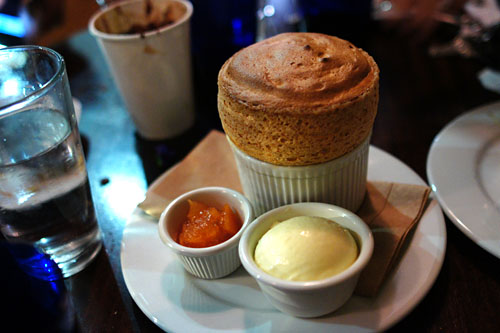 Caramel Souffle, Grapefruit Gelee, Fleur De Sel Ice Cream [$14.00]
Our final course of the evening brought us one of Ludo's strongest souffles in a while. I really enjoyed the apparent saccharine flavors of the caramel here, and appreciated how the souffle was grounded by the application of the ice cream, as well as the pleasantly tart grapefruit gelee. Quite nice.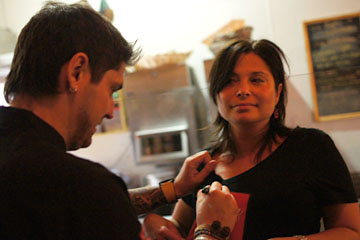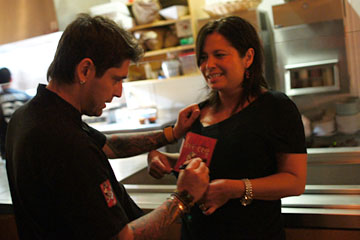 Jo made her own "I Love Coq" t-shirt. Naturally, this had to be autographed for posterity.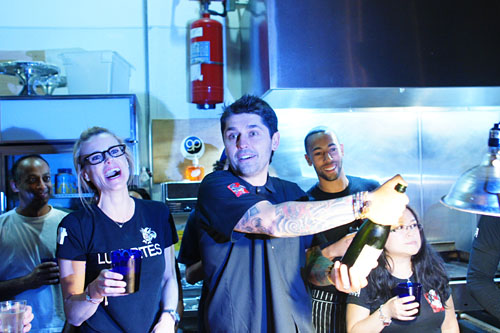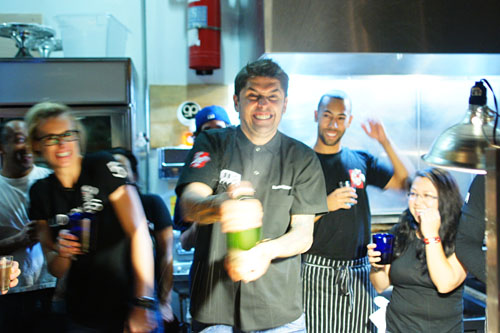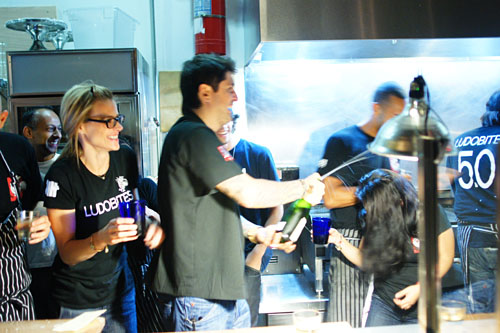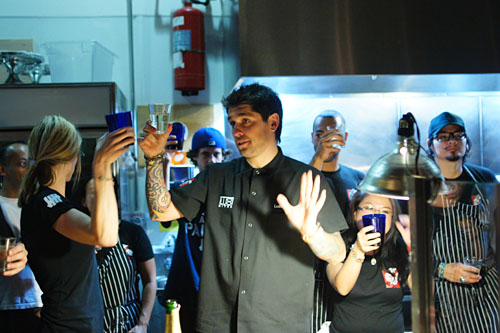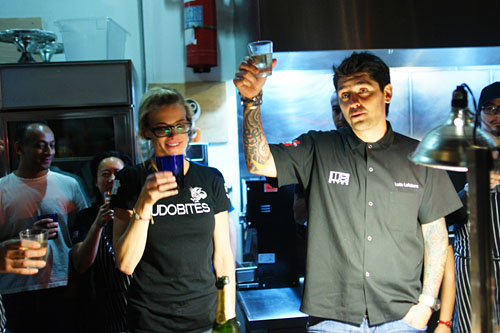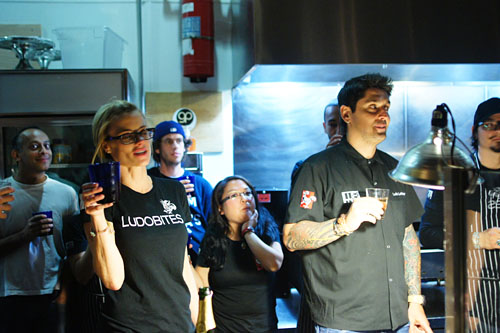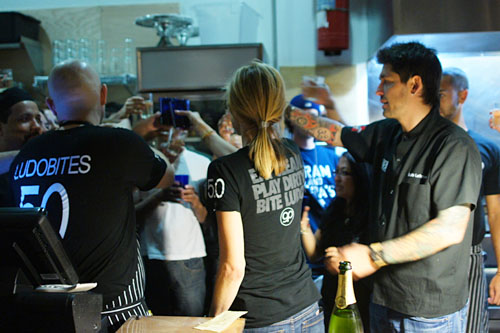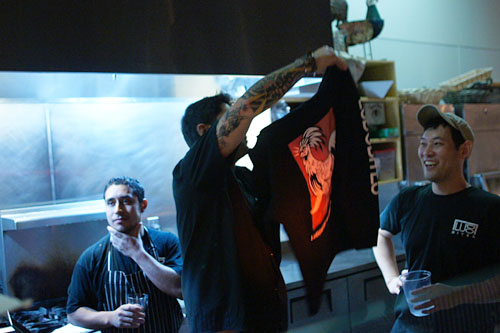 At the end of the evening, Ludo gave a quick toast thanking everyone--employees and customers--for their support of LudoBites, but not before popping off some Champagne (Vouvray, actually), in true celebratory fashion.
And with that, we come to the close of another chapter in the LudoBites saga. Not everyone will agree with me, but it's my belief that 5.0 has been the strongest round yet. But whether you do or you don't, you can bet that we are
all
waiting in anticipation for version six to pop-up. From what Ludo hinted at, 6.0 will be located in Koreatown, begin sometime in the mid- to late-October timeframe, and feature new influences from cuisines that's he's not really incorporated before. In any case, you can bet that I'll be there--opening night of course!