Test Kitchen (Los Angeles, CA) [5]
Test Kitchen
9575 W Pico Blvd, Los Angeles, CA 90035
310.277.0133
www.testkitchenla.com
Tue 08/31/2010, 06:45p-09:40p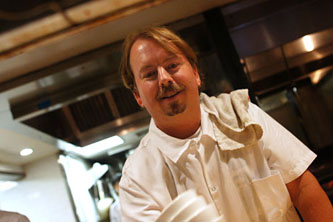 Hot on the heels of
Ricardo Zarate's
"Cebiche Night" comes
Grace's
Neal Fraser, here to give us a taste of Grace at The Vibiana, the Chef's new Downtown "dream" restaurant set to debut early next year. Fraser and company shuttered the longstanding Beverly spot on June 19, and the location will be taken over by none other than
Rivera's
John Sedlar, who is set to open up another Pan-Latin eatery in the space (it will
not
be called R26, though, despite early reports).
Other gastronomes in attendance tonight included: Jo of
My Last Bite
;
Mozza
manager
Kate Green
; sommelier
Melinda Mrachek
; and Ryan of
Epicuryan
.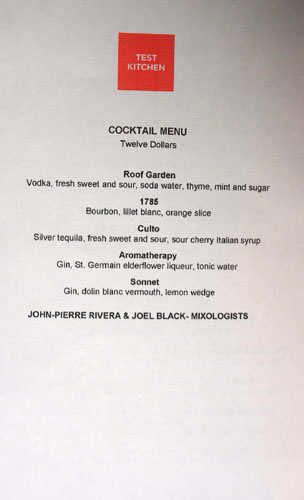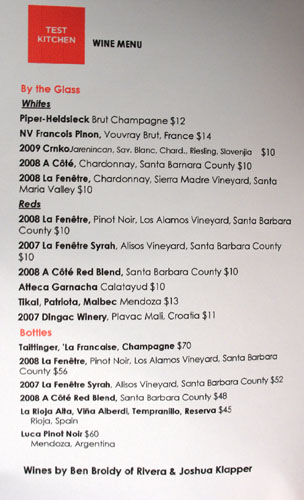 Following in the footsteps of
Walter Manzke
, Fraser chose to serve up a five course tasting menu (priced at $49), preceded by a quintet of shared "snacks." Cocktails by John-Pierre Rivera (
Grace's
resident bar man) and Joel Black, meanwhile, were $12 each, with the wine pairing by Joshua Klapper set at $40. Click for larger versions.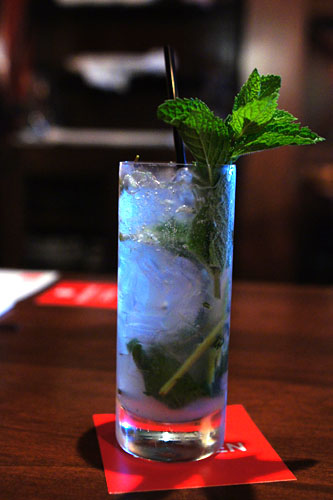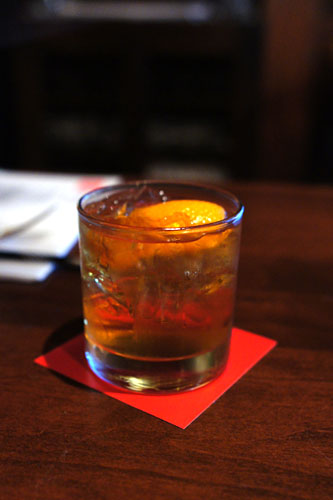 We began with a duo of cocktails, starting with the Roof Garden (vodka, fresh sweet and sour, soda water, thyme, mint and sugar). This was a very approachable, refreshing tipple, with pleasant sour and herbaceous notes offsetting the slight heat of the vodka. The 1785 (Bourbon, lillet blanc, orange slice), meanwhile, had an aromatic, orange-tinged bouquet, followed up by a great interaction between the citrus, the bitter-ish lillet, and the weightiness of the whiskey.
Naturally, we had to order one of each snack to share: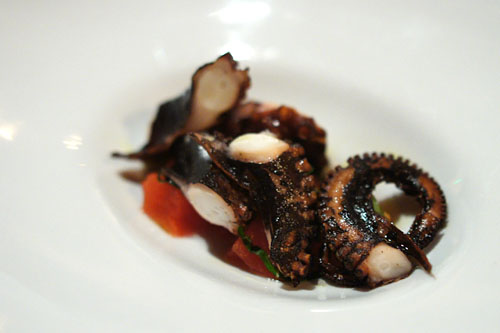 Grilled Octopus [$12.00]
| Pickled Watermelon
Grilled on an open fire, the octopus revealed a fantastic char that deftly complemented its brine, and I also appreciated how the cephalopod's inherent sweetness was heightened by the compressed watermelon. My only issue with this course was that the octopus was a bit too chewy in consistency.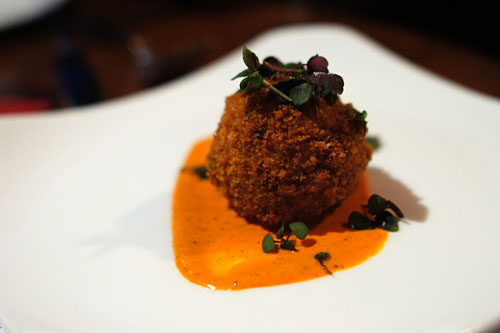 Pied de Cochon [$10.00]
| Spicy Aioli
Pig's trotters were marinated for two days, shredded, balled up, then fried in a panko crust. The result was a delectable sphere of pork-y goodness, rich yet restrained in savor with a fantastic crunch. I rather liked how the Old Bay-based spicy aioli contributed a lingering finish to the course, expertly balancing the weight of the meat. This definitely reminded me of Walter Manzke's version at
Hatchi
.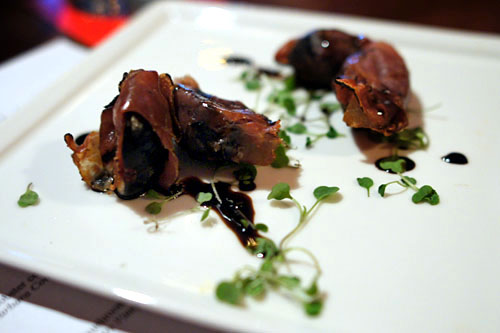 Grilled Prosciutto Wrapped Figs [$10.00]
Arguably my favorite of the snacks, the grilled figs conveyed a fantastic sweet-salty interplay, with the smokiness of the prosciutto gradually transitioning to the saccharine finish of fig. Think of these as high-class bacon-wrapped dates!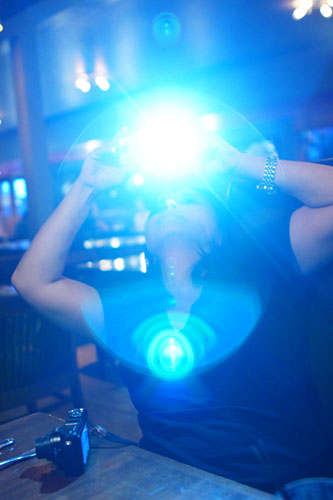 Jo flashed us.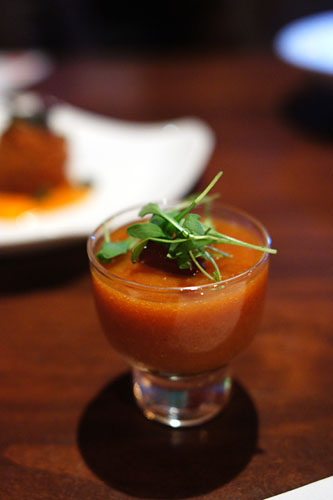 Chilled Peach Soup [$5.00]
| Sherry Gelée
Made with reduced peach and rice wine vinegar, the soup exhibited delectable peach notes on the nose and palate, with the sherry adding just a hint of astringency to the mix.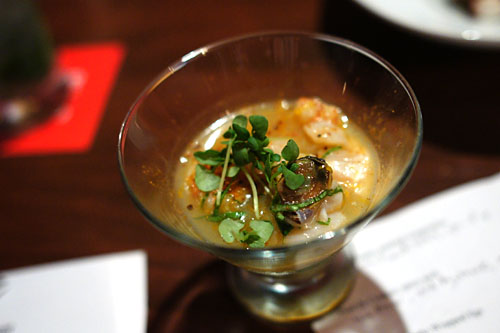 Chilean Seafood Ceviche [$12.00]
Perhaps taking a cue from
Ricardo Zarate
, Fraser served up a solid scallop, rock shrimp, and mussel ceviche. I quite enjoyed the texture of the various shellfish, as well as how the citric marinade so aptly complemented the seafood. Great lingering heat, too.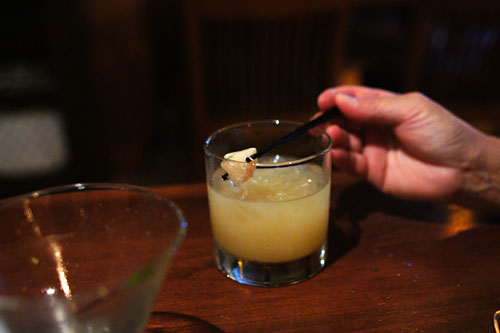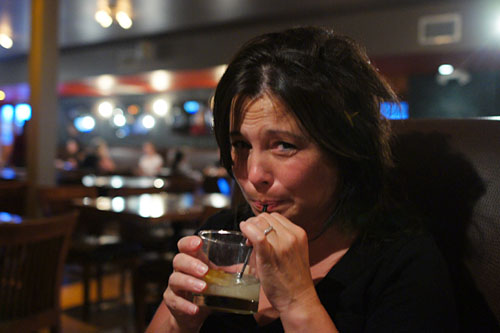 Jo liked the ceviche so much that she decided to pour the remainder of the liquid (scallop and all!) into her double-vodka, creating a "Cevichetini" of sorts. It was a rather unpleasant experiment to say the least, and recalled the bonito-infused Big Tuna from
Walter Manzke's stint here
.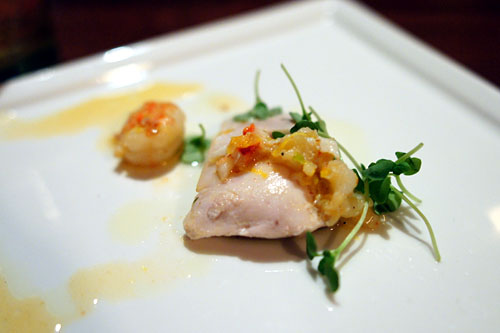 1: Wild Seabass
| Slow Cooked, Spicy Lobster Ceviche
2008 A Côté Chardonnay, Santa Barbara County
Sea bass was exceedingly tender, barely requiring mastication. It had a rather delicate flavor, which was augmented by a certain herbaceous tang, as well as the bold, piquant acidity of the lobster ceviche. Very nice.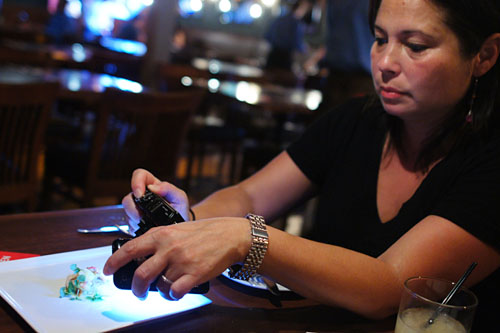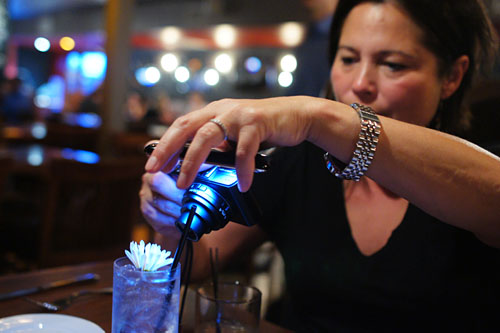 Jo's photography technique involves the use of an iPod flashlight.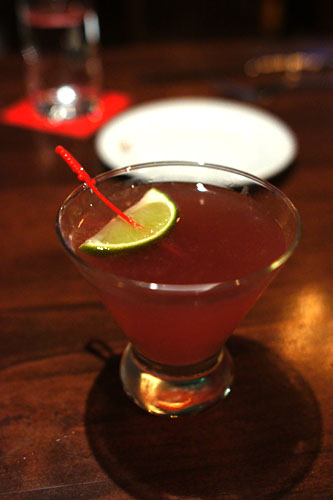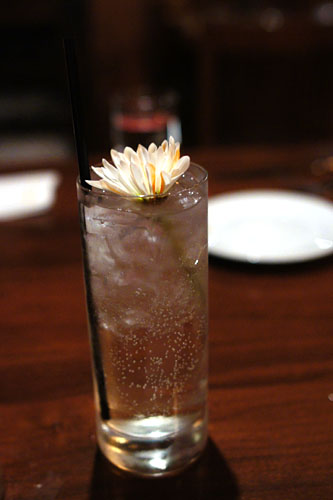 Our next round of cocktails brought us the Culto (silver tequila, fresh sweet and sour, sour cherry Italian syrup), which had an almost tamarind-like tartness to offset the power of the tequila. It actually reminded me of a more approachable version of the D.F. cocktail from my
last meal here with Michael Voltaggio
. We also had the Aromatherapy (gin, St. Germain elderflower liqueur, tonic water); I rather liked its fantastic interplay between sweet and herbal elements, all over a sharp base of gin.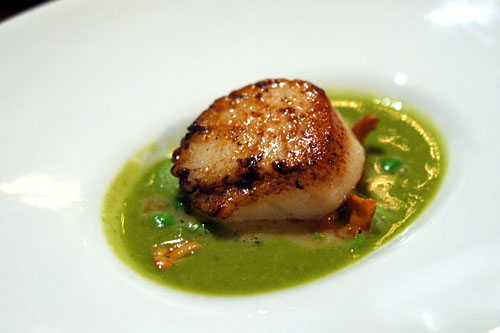 2: Day Boat Scallop
| Sautéed, Chanterelle Mushrooms, Peas, Fava Beans
2008 La Fenêtre Chardonnay, Sierra Madre Vineyard, Santa Maria Valley
The scallops were arguably the strongest course of the meal. They showed off a heady, intoxicating briny aroma that was apparent even as they approached the table. Cooked to a slightly raw consistency, the bivalves still had plenty of their intrinsic sweetness intact, which was beautifully countered by the earthy weight of the chanterelles. I also adored the pea-fava-spinach purée, which lent a bright, vegetal character to the dish.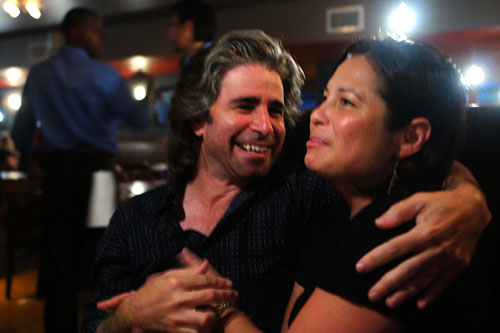 Brian
and Jo engaging in horseplay.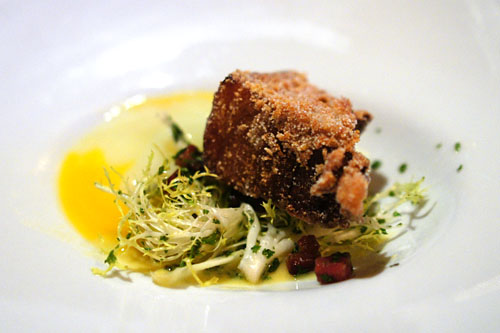 3: Pork
| Braised, Slow Cooked Egg, Frisée, Corn Velouté
2008 La Fenêtre Pinot Noir, Los Alamos Vineyard, Santa Barbara County
Pork belly was tastefully subdued, yet still possessed a pert porkiness that I appreciated. I enjoyed its tender consistency and crisp crust, and how the slow-cooked egg, in concert with the corn velouté, added a luscious creaminess to the whole dish. I cherished the countervailing interaction between the salty lardons and light frisée, as well.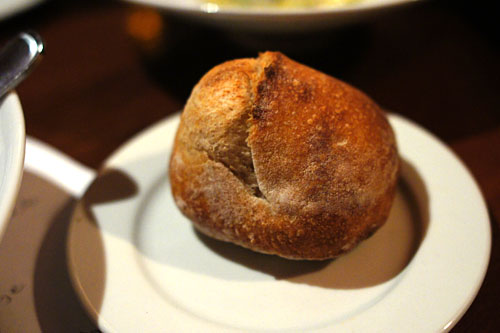 To sop up the remainder of the pork liquid, Brian brought out some sourdough from upstart private bakery Bread Lounge.
4: Rib Eye of Beef
| Grilled, Black Garlic Flan, Horseradish Gremolata, Braised Greens
2007 La Fenêtre Syrah, Alisos Vineyard, Santa Barbara County
Our final savory course of the evening brought us a beautiful cut of rib eye. Suitably tender and cooked to a perfect medium-rare temperature, the beef was expectedly savory, and yet beautifully moderated by the tangy horseradish-caper-parsley-lemon gremolata. I wasn't as crazy about the black garlic flan though, finding it a bit heavy, a bit sweet for the course. I did, however, enjoy eating it up with the aforementioned bread.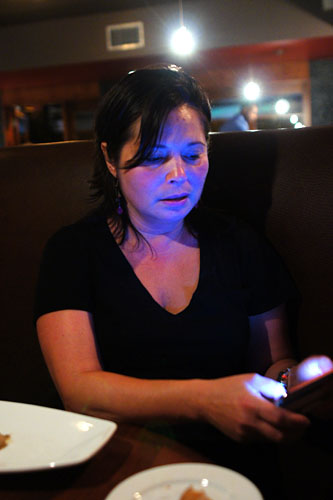 Throughout the night, Jo was texting none other than
Michael Voltaggio
, who had returned, apparently, from a "shrimp run."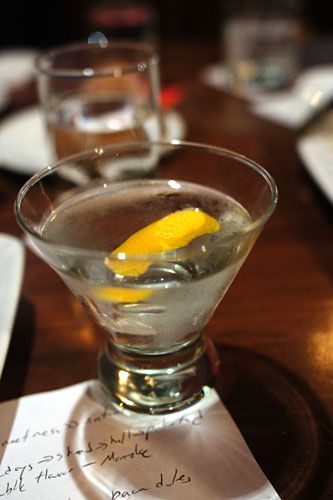 For our dessert course, we paired the Sonnet (gin, dolin blanc vermouth, lemon wedge), a light, somewhat sake-like libation with a great lemon edge to cut the gin.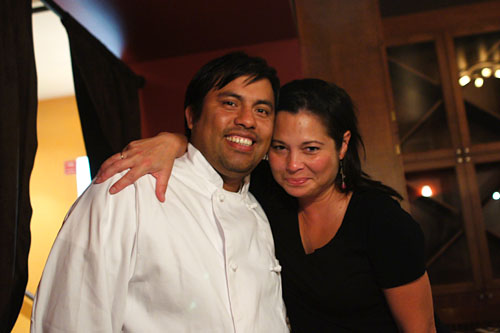 Ricardo Zarate
, of course, was helping out this evening as well.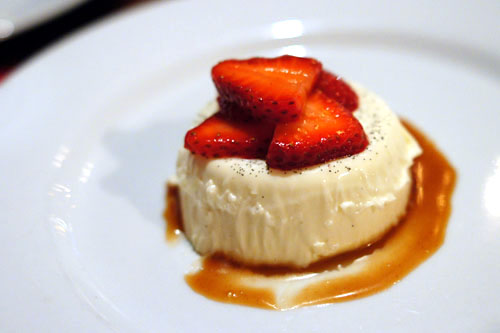 5: Panna Cotta
| Vanilla, Market Berries, Salted Caramel
2008 A Côté Red Blend, Santa Barbara county
A straightforward, but effective dessert here. I really enjoyed the dense, creamy, sugary panna cotta, and how it was so deftly enhanced by the application of tangy-sweet strawberries. Meanwhile, the caramel provided a weighty, savory element to ground the dessert.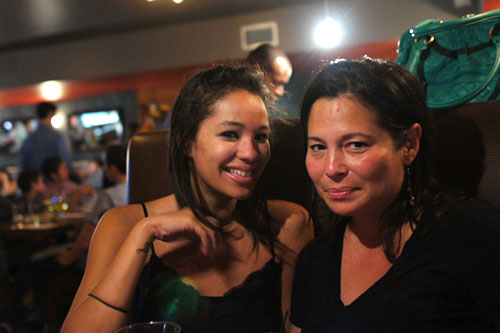 Jo with
Kate Green
, who helps manage both
Mozza
restaurants.
I rather liked my
last meal at Grace
, and Fraser's stint here at Test Kitchen has continued that trajectory, with robust, lusty food that managed to show off the Chef's sophisticated, yet accessible approach. You can bet that I'll be at Vibiana, opening night, natch!
---
So it turns out that Voltaggio was in the house, upstairs in fact, prepping for a
cooking demonstration at Williams-Sonoma Beverly Hills
the following day.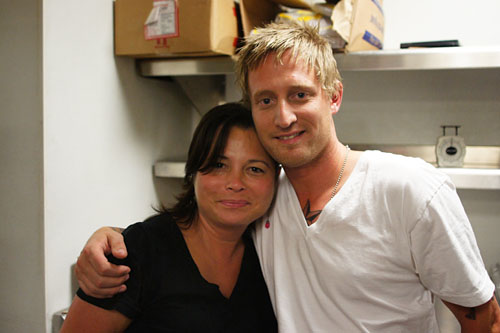 The requisite photo with Michael.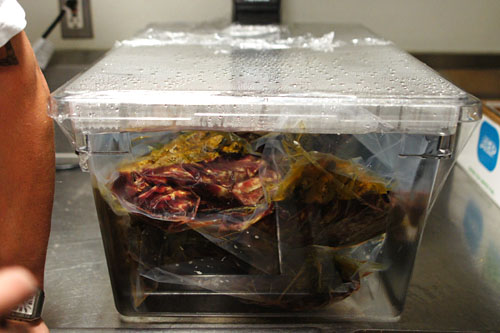 Beef, to be cooked sous vide for two days in a
Polyscience immersion circulator
. Other tools furnished by W-S included the
Vitamix
,
Caso Blue Two
, and
Smoking Gun
.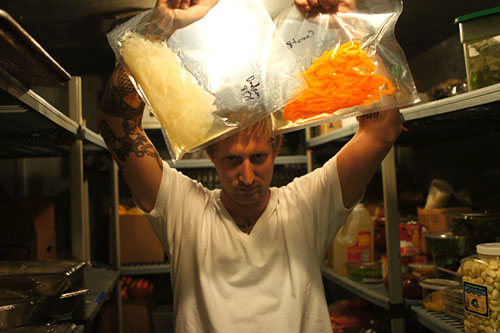 In the walk-in.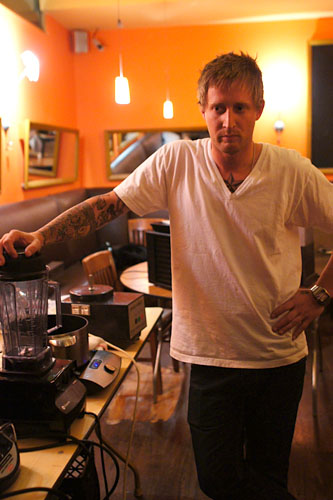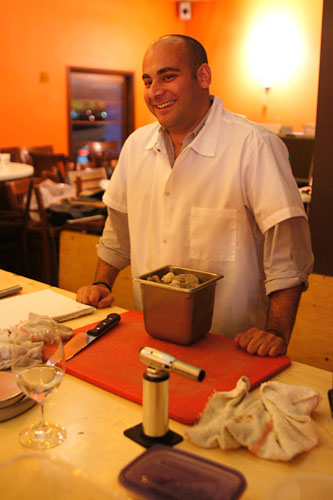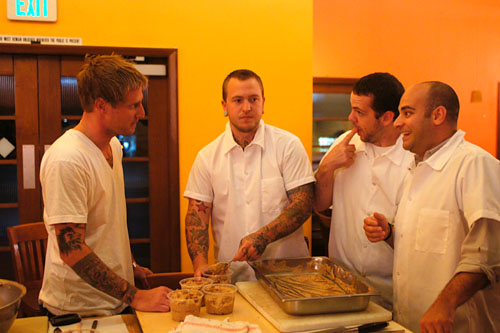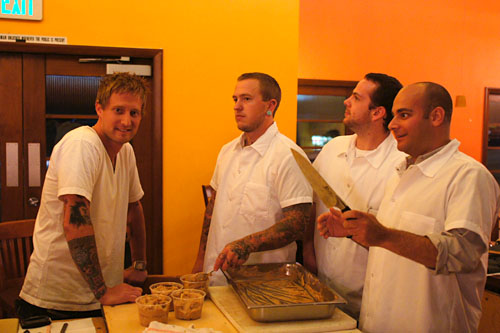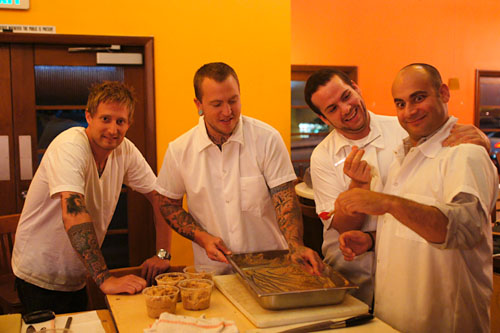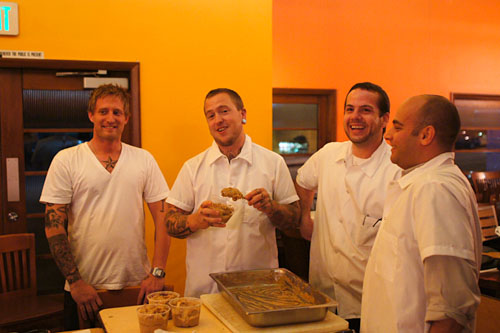 Voltaggio's crew--who will be helping him open the new restaurant--includes his GM-
cum
-sommelier
Josh Goldman
, as well as chefs Cole Dickinson (hi Vicki!) and
Klein Debow
.