Test Kitchen (Los Angeles, CA)
Test Kitchen
9575 W Pico Blvd, Los Angeles, CA 90035
310.277.0133
www.testkitchenla.com
Wed 08/18/2010, 08:00p-10:45p
Blame
Ludo
.
After all, it was he who popularized, and legitimized, LA's current fascination with the pop-up restaurant. The concept has had its vocal share of detractors, but here to add more fuel to the fire is the Test Kitchen. Housed at the site of the recently-departed Spark Woodfire Grill, TK is the brainchild of Bill Chait (one of the original owners of Spark) and wife Elizabeth, as well as Boyz Night Out co-founder
Brian Saltsburg
(the instigator). Currently scheduled to run for about a month or so, Test Kitchen aims to serve as an arena where chefs can test out dishes for their upcoming restaurants. First up to bat is the team from
Red Medicine
: Chef Jordan Kahn, GM Noah Ellis, and Bar Manager Matthew Doerr. They'll be showcasing a contemporary Vietnamese menu from their new restaurant, scheduled to open in the coming months.
Following Kahn's stint, the kitchen will be turned over to
Mo-Chica's
Ricardo Zarate, who, joined by Chef Amy Pressman, will preview victuals from his upcoming
anticucho
restaurant--which is slated to take over the second floor of the building--on the 24th. Mixologists
Julian Cox
and Joel Black will also be in the house, performing test runs for R26 and Project 9575, respectively. In addition, future participants have been rumored to include
Walter Manzke
,
Michael Voltaggio
,
John Rivera Sedlar
, and even the lovable
Starry Kitchen
.
Fellow foodie types in attendance this evening included: Bill of
Street Gourmet LA
, Christina and Jennifer from
Project by Project
(who helped out with
Plate by Plate
this past weekend), Javier of
Teenage Glutster
, Jo of
My Last Bite
, Shawna Dawson from
Sauce LA
, and Ryan Tanaka (
rydka
).

The rather staid interior has pretty much been preserved from the Spark Woodfire Grill days, and not surprisingly, doesn't seem to fit the cutting edge nature of the food served here.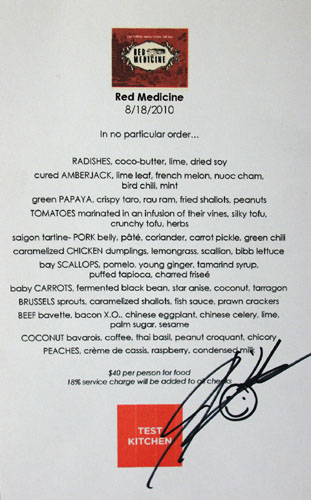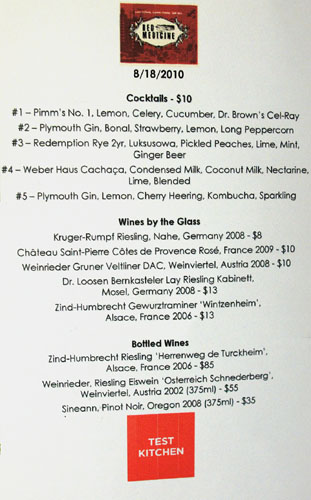 The night's 12-course, family-style menu was priced at a very reasonable $40 per person, while all cocktails could be had for $10 each, and wines for about the same. Click for larger versions.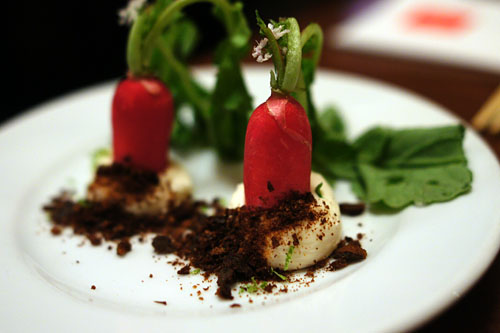 1: RADISHES, coco-butter, lime, dried soy
Upon tasting our first course, I was instantly reminded of similar radish-centric dishes from
Chris Kostow
,
Jeremy Fox
(during his stint at
Animal
), and
Michael Voltaggio
. As with those creations, the radish's crunchy consistency and a piquant, peppery flavor were highlighted here, giving my palate a refreshing jolt. To this acerbic attack, the coconut butter (made from the fat of coconut milk) lent a marked sweetness, while the close was dominated by the soy salt "soil." I would've liked a bit more lime, though.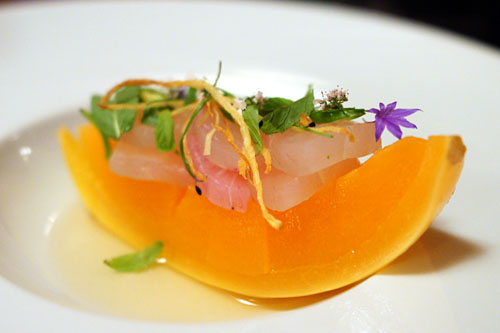 2: cured AMBERJACK, lime leaf, french melon, nuoc cham, bird chili, mint
Most chefs layer prosciutto atop melon, but Kahn aims for amberjack instead. It was a wise decision. I loved the succulent, saccharine sweetness of the melon and how it played with the
nuoc cham
-augmented flavors of the fish, while the mint, lime, and chili contributed an overarching herbaceous-tangy spice. Just a beautiful mélange of flavors, and a table favorite.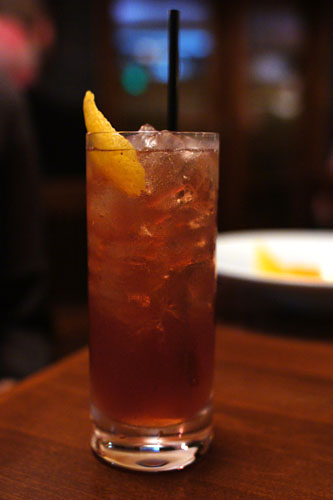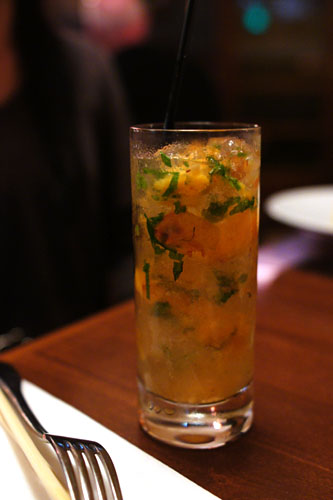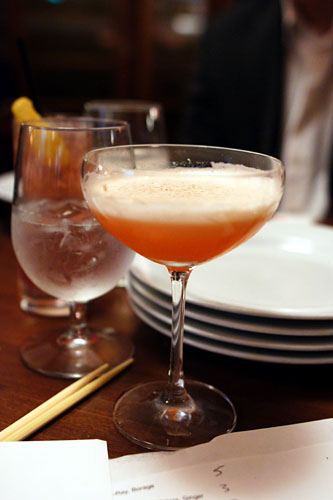 Our first round of cocktails:
#5 - Plymouth Gin, Lemon, Cherry Heering, Kombucha, Sparkling - This was the first time I've ever heard of having kombucha (fermented tea) in a cocktail, but I absolutely adored its piquant acidity, and how that so adroitly equalized the sweetness of the cherry, all over a base of citrus-y gin.
#3 - Redemption Rye 2yr, Luksusowa, Pickled Peaches, Lime, Mint, Ginger Beer - This next cocktail effectively combined vodka and whiskey, forming a lovely concoction heady with the essence of ginger, moderated by a bit of alcoholic heat and the pickled prick of peach.
#2 - Plymouth Gin, Bonal, Strawberry, Lemon, Long Peppercorn - Here, a strong nose of strawberry transitioned to the complex, herbaceous notes of Bonal, while the finish was dominated by a certain spiciness, courtesy of long peppercorn. Very nice.
(Not pictured) #4 - Weber Haus Cachaça, Condensed Milk, Coconut Milk, Nectarine, Lime, Blended - Icy and gritty, this was definitely the most intriguing of the libations, showing off an almost lactic-esque tartness that we found a bit disconcerting. Perhaps some more lime would help balance things out.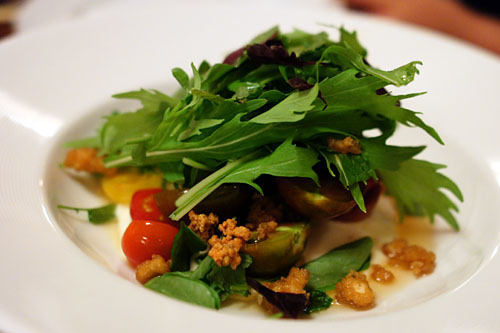 3: TOMATOES marinated in an infusion of their vines, silky tofu, crunchy tofu, herbs
Another one of my favorites was up next. The delightfully juicy tomatoes--sweet but slightly vegetal--were deftly complemented by the silky tofu, which provided a palpable weight and depth, therefore adding layers of complexity to the fruit. The herbs, meanwhile, lightened things up with their zesty astringency, and I adored the textural element of the crunchy tofu.
4: BRUSSELS sprouts, caramelized shallots, fish sauce, prawn crackers
Here, the inherent bitterness of the vegetable was effectively accented by the sulfurous tinge imparted by their char. What I loved, though, was the use of shrimp crackers, which lent a crispy, briny sweetness to the course that really completed the dish for me.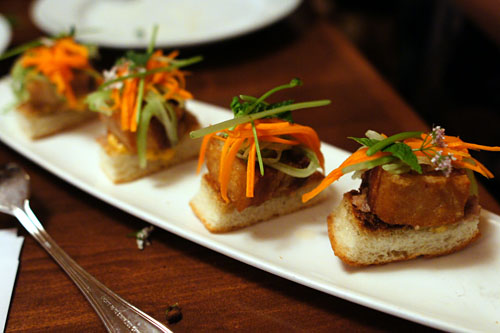 5: saigon tartine- PORK belly, pâté, coriander, carrot pickle, green chili
A tartine generally refers to a open-faced sandwich, and here, Kahn's version honors the ubiquitous
banh mi
. I quite enjoyed the apparent, yet restrained character of pork present in the tartine, while the various vegetables served to impart a tart, tangy counterpoint to temper the weight of the meat. I could definitely see myself eating a full-sized version of this.
6: green PAPAYA, crispy taro, rau ram, fried shallots, peanuts
This was probably the best version of a papaya salad that I've had. I thoroughly enjoyed the crisp, juicy, subtly sweet strands of papaya, and their perfect interaction with the minty
rau ram
and nutty peanuts (which, along with the taro, also added a satisfying crunch to the dish). Beautiful, bright flavors.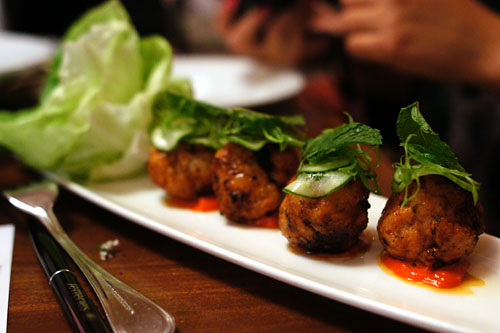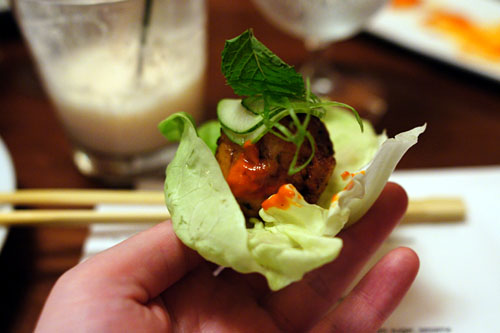 7: caramelized CHICKEN dumplings, lemongrass, scallion, bibb lettuce
Meat in balled form rarely disappoints, and this was no exception. The bird showed off rich, dark flavors of savory-sweet goodness, which were superbly countered by the scallion and citrus-y tang of lemongrass. I also appreciated the slight heat imparted by the Sriracha-based sauce, but I would've liked to have seen even more.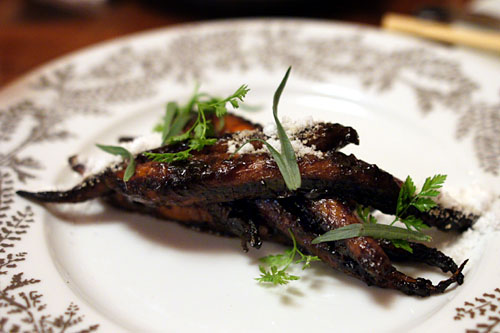 8: baby CARROTS, fermented black bean, star anise, coconut, tarragon
This was the weakest dish of the night for me, simply because I found the black bean overwhelming. The dish didn't really convey the essence of the vegetable, and similarly, the other ingredients were masked as well. I also would've liked a crisper texture on the carrots.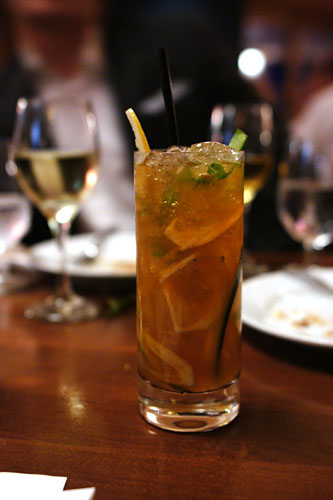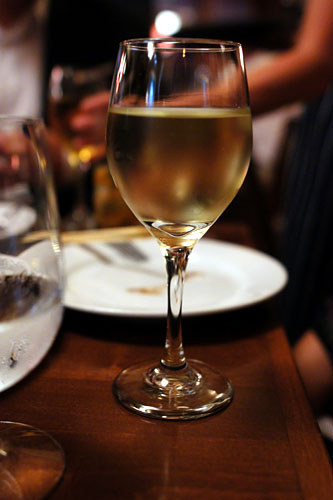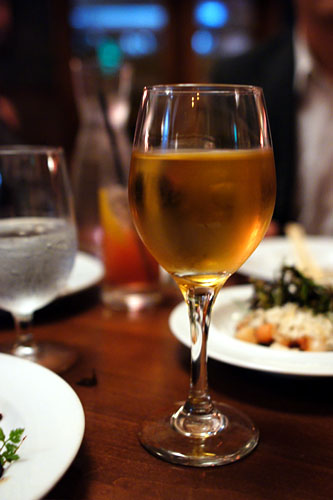 Booze, round two:
#1 - Pimm's No. 1, Lemon, Celery, Cucumber, Dr. Brown's Cel-Ray - Probably my favorite of the five cocktails, with just a fantastic interplay of tangy lemon, peppery celery, and cool cucumber flavors.
Weinrieder Gruner Veltliner DAC, Weinviertel, Austria 2008 - A very food-friendly wine, this showcased the typical GV minerality, spiced up with a bit of fruity, florid lusciousness.
Zind-Humbrecht Gewurztraminer 'Wintzenheim', Alsace, France 2006 - A rather honeyed nose on this one, leading to juicy flavors of melon and lychee on the palate, moderated by a good touch of steeliness.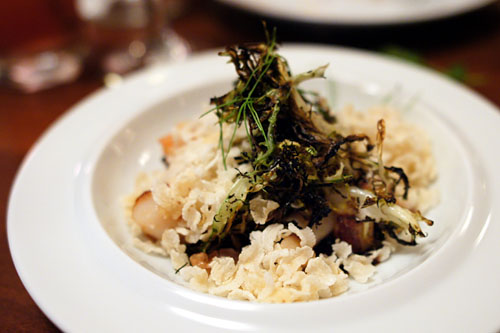 9: bay SCALLOPS, pomelo, young ginger, tamarind syrup, puffed tapioca, charred friseé
This course probably would've been better with larger sea scallops, as the bay scallops employed had a somewhat difficult time standing up to their accoutrements. Nevertheless, the dish was still effective, with the pommelo accenting the bivalves' natural sweetness, while the frisée served as a bitter counterpoint, leading to a distinctly tamarind-tinged finish. I also quite liked the textural component of the tapioca.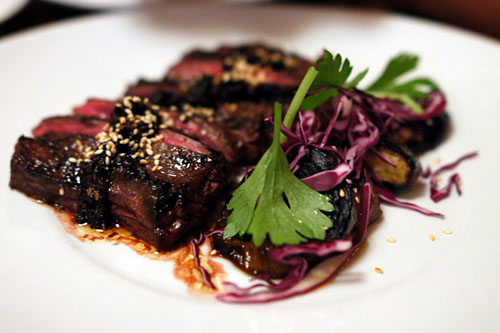 10: BEEF bavette, bacon X.O., chinese eggplant, chinese celery, lime, palm sugar, sesame
A bavette is also known as a flank steak, and here, it was well-accompanied by an unabashedly aromatic, savory, lingering XO sauce that admirably stood up to the beef's potency. I did find, however, that the sauce could be slightly overpowering at times. Simultaneously, I appreciated the slight bit of sweetness imparted by the palm sugar, as well as the moderating effect of the paired veggies.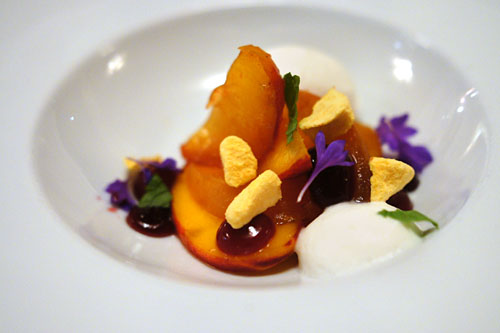 11: PEACHES, crème de cassis, raspberry, condensed milk
Our first dessert honors the classic Peach Melba (peaches with ice cream, topped with raspberry sauce). I liked how the sweetness of peach was augmented by the use of cassis and raspberry, then balanced by the relative levity of condensed milk. My favorite things here, though, were the bits of what I believe was dehydrated peach, which lent a fantastic chewiness to the dish.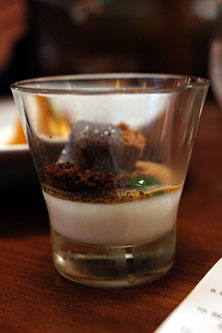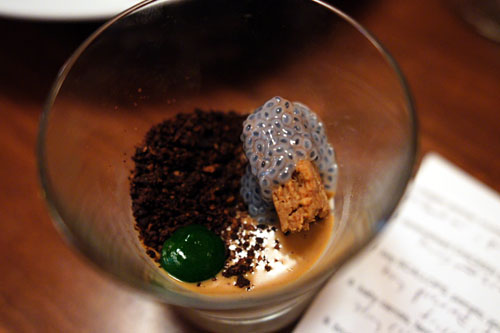 12: COCONUT bavarois, coffee, thai basil, peanut croquant, chicory
Our final dish of the night was arguably my favorite. The dessert demonstrated a perfect interplay of tastes and textures, with the delicate sweetness of the coconut cream expertly countervailed by the astringent bits of coffee. Meanwhile, the peanut croquant added an encompassing nuttiness to the course, and I loved the bit of savoriness that I tasted on the finish. Masterful.
There were a couple misses, but overall, Kahn delivered a gorgeous suite of dishes that definitely whetted my appetite for
Red Medicine
; the Chef is clearly a talent to watch out for in this town. Thus, for me, the debut of the Test Kitchen was a resounding success. I love the concept, the food, the line up of chefs, and nobody else in LA is doing anything like this. Hopefully then, the Test Kitchen will outlive its advertised one-mouth duration, and I can't wait for Zarate's turn on the 24th.