Plate by Plate 2010 (Los Angeles, CA)
Plate by Plate 2010
700 Exposition Park Dr, Los Angeles, CA 90037
www.platebyplate.org/sc/
Sat 08/14/2010, 07:00p-11:00p

On Saturday, August 14, at the California Science Center's Wallis Annenberg Building,
Project by Project
hosted its eighth Annual Tasting Benefit,
Plate by Plate
. Project by Project is a national tax-exempt volunteer organization centered around issues relating to the Asian American community. Each year, PbP chooses a charitable organization to partner with, and this year, it was the
Health Justice Network
, a non-profit group focused on addressing health disparities and access to quality healthcare services. As always, this event showcased the gastronomic talents of some of LA's most popular restaurants, as well as alcoholic and non-alcoholic beverages from a bevy of leading purveyors.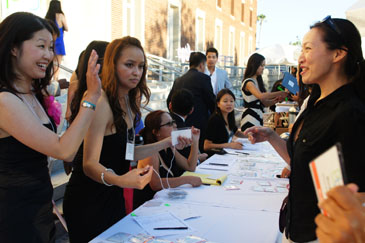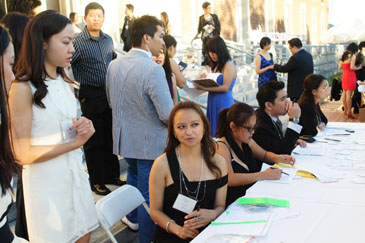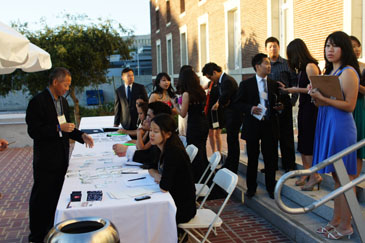 Fellow foodies in attendance included: Bill of
Street Gourmet LA
, Elise Thompson from
LAist
, Esther of
e*star LA
, Fiona of
Gourmet Pigs
, Helen of
I'm Hungry and Proud of It
(PbP Restaurant Relations crew), Hong and Kim of
Ravenous Couple
, Javier of
Teenage Glutster
, the generically-named
Jen Lee
, Jessica Ritz from
LA Weekly
and
Ritz Bites
, Jin of
Love Me...Hate Me...Feed Me...
(PbP Director of Events), actress Lynn Chen of
The Actor's Diet
, Nathan of
The Chocolate of Meats
, Oanh of
It's More Than Just Eating
(PbP Restaurant Relations crew), Tony of
SinoSoul
, and
Vegas and Food
.
Now on to the food...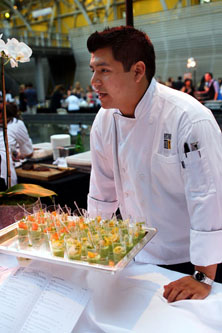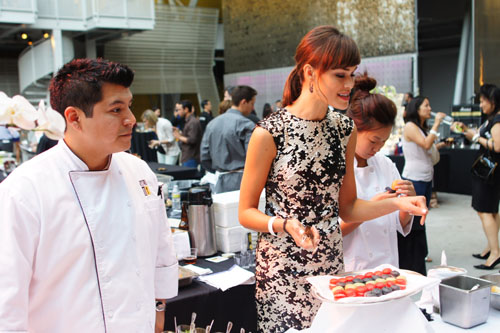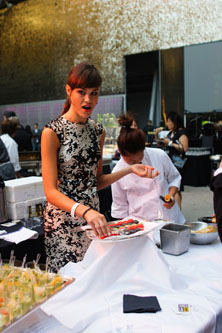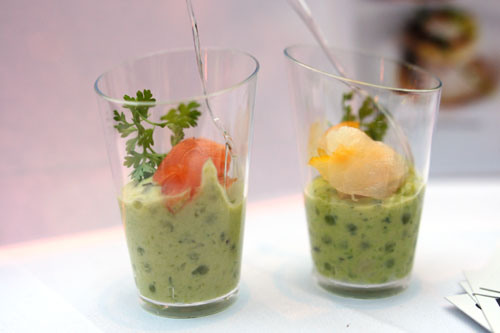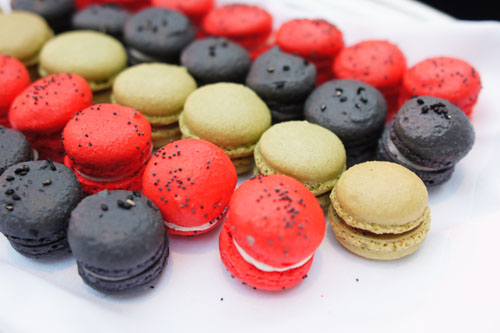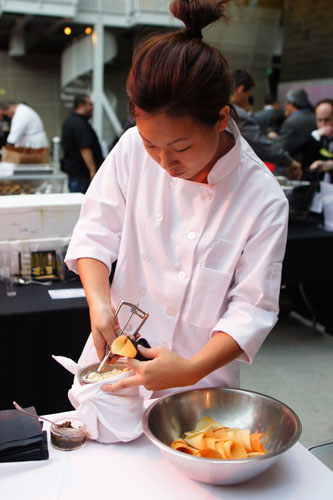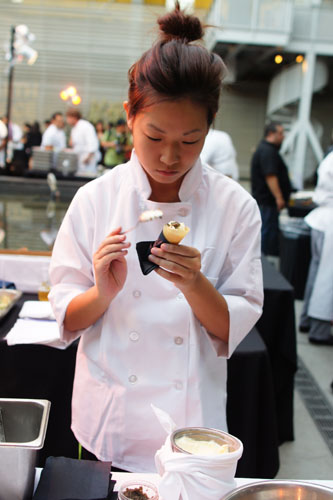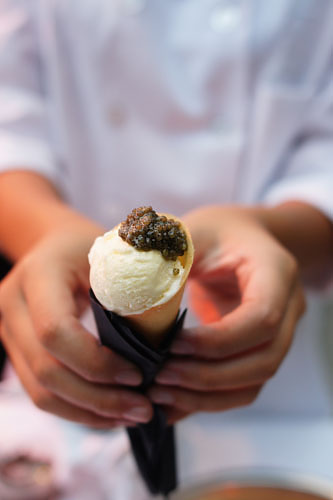 Sweet Pea Tapioca with Smoked Salmon / Assorted Macarons / Tuile Cones with White Chocolate Ice Cream and American Caviar
|
Bistro LQ
The first table I hit up was
Bistro LQ
, a restaurant that also participated in
Angeleno magazine's Chefs Night Out
tasting two weeks back. At that event, LQ served up a duet of tapiocas: one with oyster, and one with uni and lobster. Here, we had smoked salmon and smoked haddock instead, paired with a pea-dill-mint-cream tapioca. I actually liked these better, with the bright, vegetal flavors of the pudding balancing the smoky brine of the fish beautifully. Sweet endings included a lovely trio of macarons (black sesame, strawberry, and green tea with red bean), as well as the infamous white chocolate ice cream cone topped with caviar.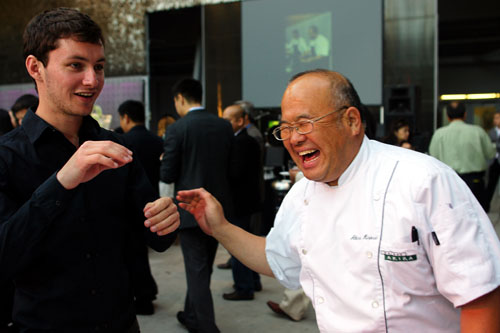 Maison Akira chef/owner Akira Hirose laughs it up with a Bistro LQ staffer.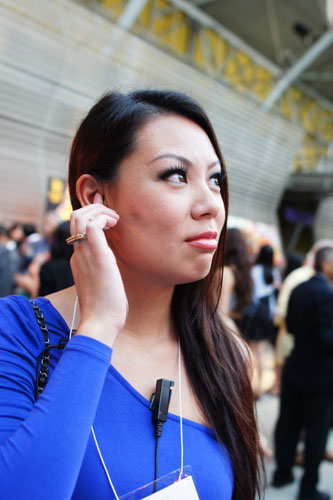 Oanh
models the PbP staff member earpiece.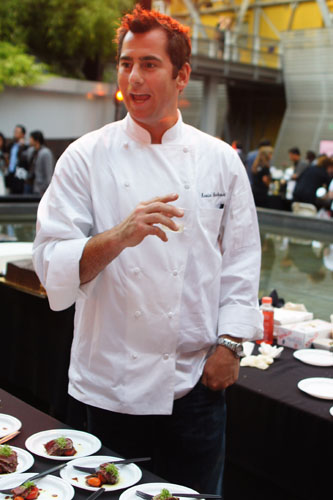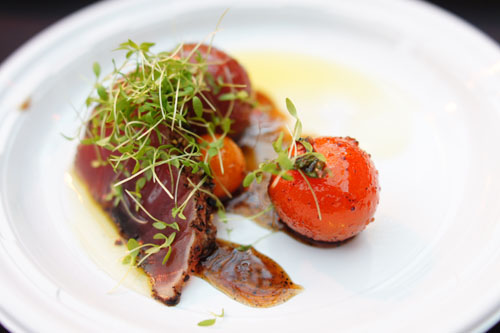 Pepper Crusted Yellow Fin Tuna, Sweet and Spicy Heirloom Cherry Tomatoes with Star Anise Essence
|
Café Pinot
Executive Chef Kevin Meehan from Café Pinot served up eminently spicy (I was still tasting the dish minutes later!) slices of lightly seared tuna, perked up by the inclusion of some sweetish cherry tomatoes. Nice!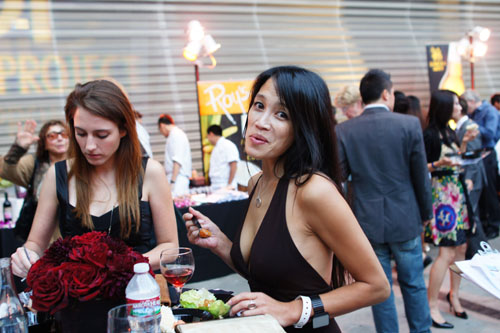 Yummo.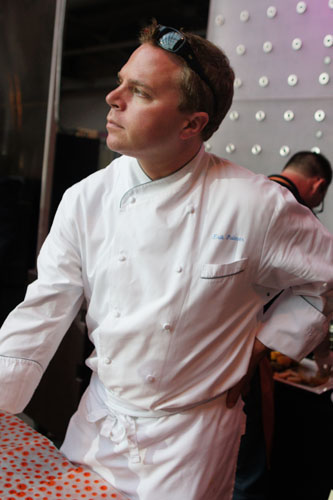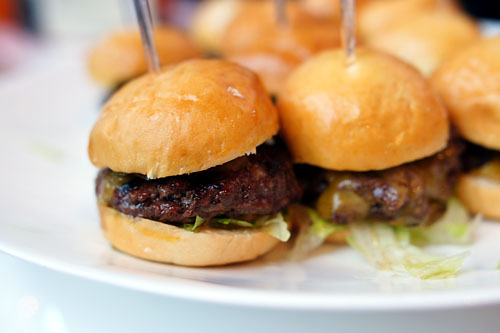 Green Chili Burger Sliders, Roasted Poblano Chilies, Grated Sharp Cheddar
|
La Grande Orange
La Grande Orange's Erik Palmer regaled us to no end with his American angus sliders, of which he prepared nearly 600 servings, apparently. Yet, they still sold out, and with good reason: juicy, succulent, savory beef, augmented by gooey cheddar, and countervailed by tart cuts of poblano chile and crisp lettuce. Simple, but effective.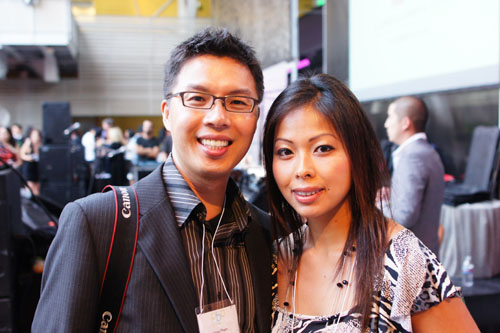 The
Ravenous Couple
: I'd run into Hong before at the
Angeleno event
, but this was my first time meeting Kim.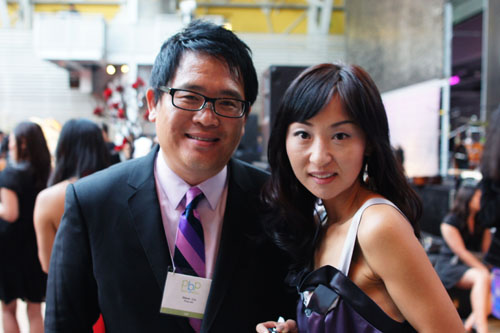 Stephen Christopher Liu, who heads up the invite-only travel site
Privy
, as well as the China-based embroidered patch manufacturer
HPI Emblem Inc
.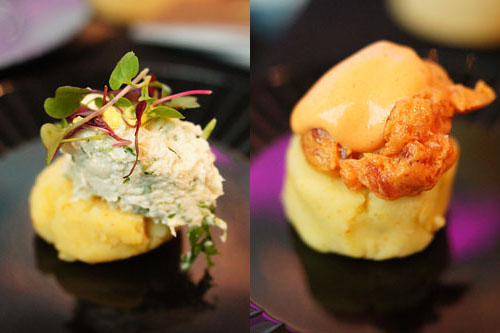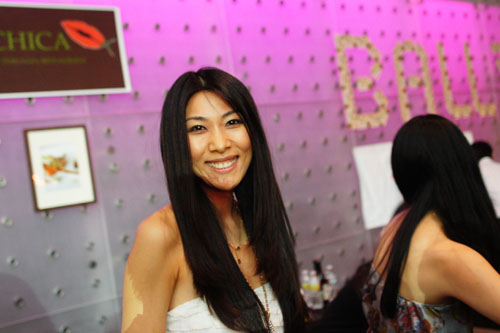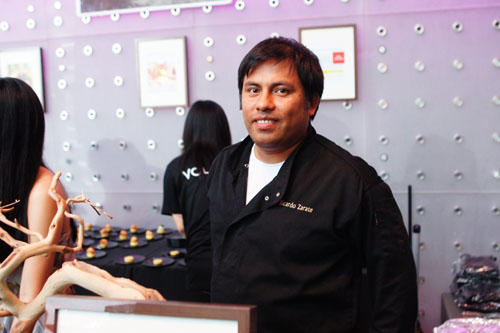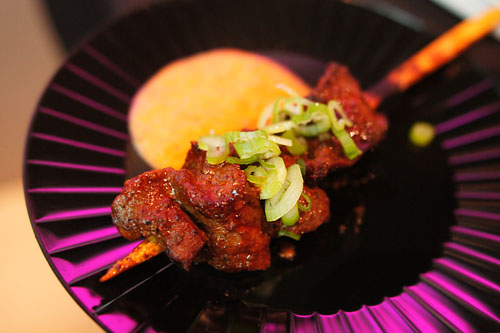 Causa / Anticuchos
|
Mo-Chica
Mo-Chica
's Ricardo Zarate provided a trio of
causas
, which are a sort of Peruvian potato salad. Scallop, chicken, and spicy tuna versions were made, but by the time I rolled around, only the latter two were left. The tuna
causa
was about what you'd expect, with the spice of the fish tempered by the application of potato. The bird was more interesting; it was almost like a chicken salad--light, but with a marked chicken flavor, tempered by the application of microgreens. In addition, many of you will know that Zarate is planning another restaurant, once focused on skewered meats, or
anticuchos
. Tonight, he gave us a preview, delivering a delectable beef skewer, paired with a piquant, peppery sauce. In addition, the Chef will be rolling out a larger preview on August 24th at his pop-up concept
Test Kitchen
--better make your
reservations
soon!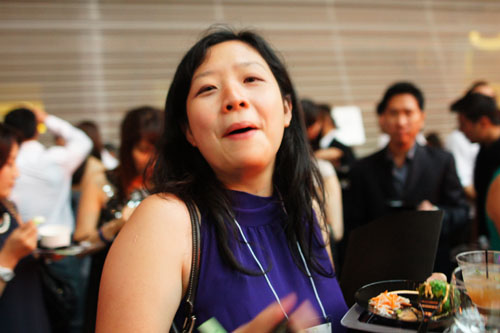 Fiona
enjoying some balls.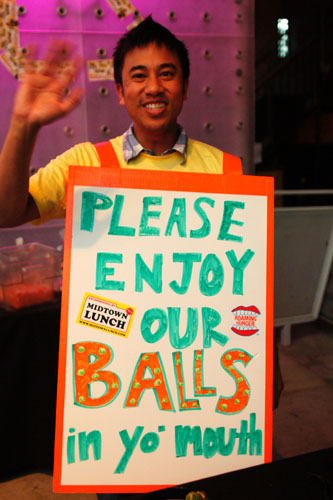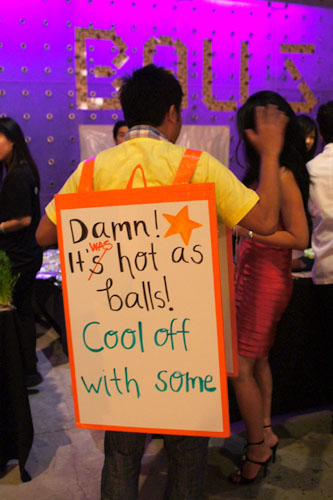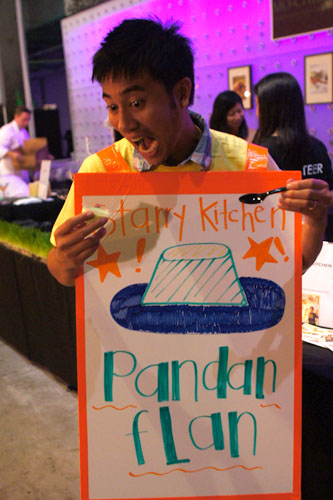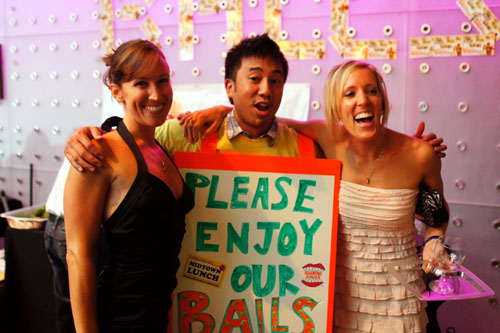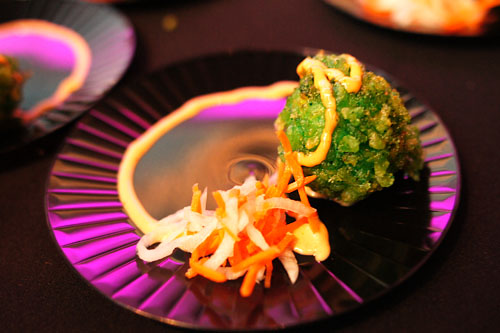 Crispy Tofu Balls / Mini Pandan Flan
|
Starry Kitchen
One of the more popular booths was Starry Kitchen, perhaps due to the somewhat "unconventional" advertising antics of frontman Nguyen Tran (wife Thi Tran was back running the restaurant). Their tofu balls, though, did speak for themselves. Made of marinated ground corn and tofu, they're coated with buttermilk, rolled in naturally green glutinous rice, fried, topped with a spicy mayo sauce, and served with some shredded pickled veggies. They showed off a surprising interplay of spicy and savory flavors, with a lovely textural component as well.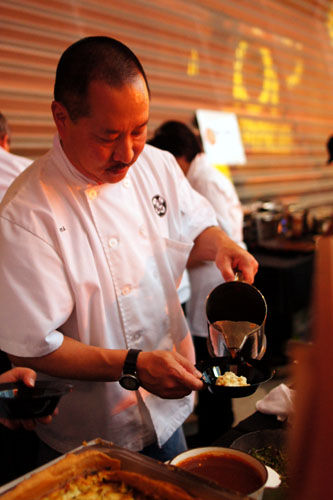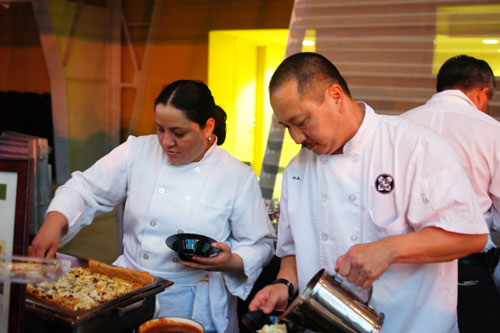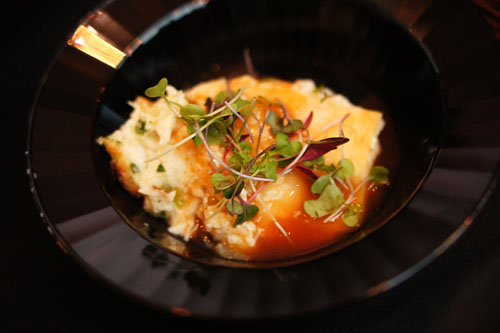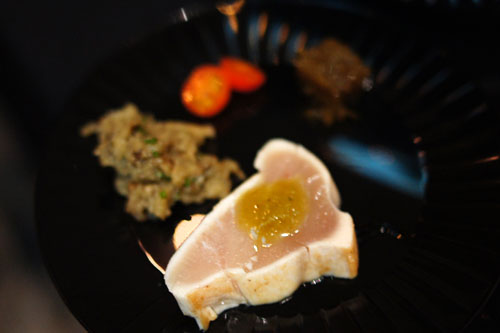 Seared Albacore Tuna Sashimi with Soy Glaze, Japanese Eggplant Caviar and Mozuku Aspic / Crab Flan with Lobster Sauce
|
Maison Akira
Maison Akira's crab flan was teeming with the sweet, briny essence of crab and lobster, though the dish was a bit heavy for me. The tuna sashimi, heightened by the application of
mozuku
(a type of seaweed), was more to my liking.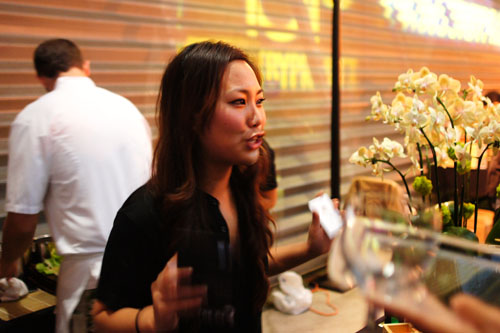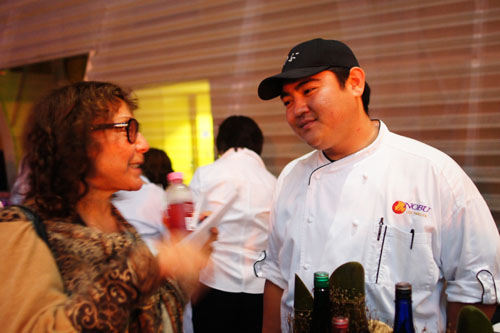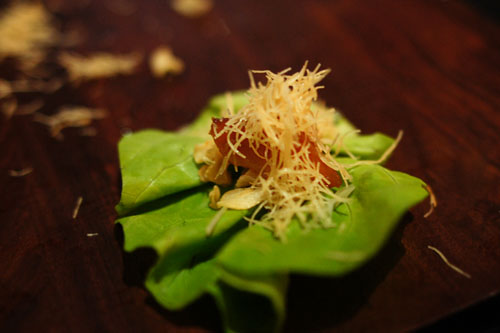 Miso Black Cod on Butter Lettuce
|
Nobu
Not unexpectedly, Nobu showcased its signature miso black cod. The fish was tasty as expected, with its weight nicely moderated by its lettuce wrap. Meanwhile, things were mixed up texturally by the crispy bits of rice.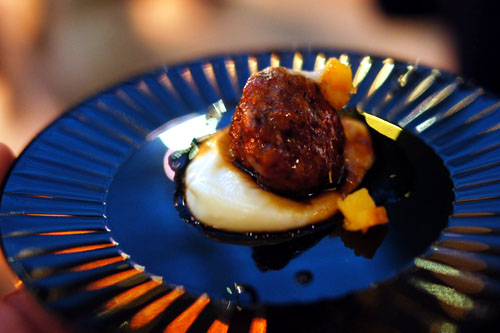 Pomegranate Glazed Duck Meatballs, Parsnip Puree, Orange Essence
|
Charlie Palmer at Bloomingdale's
Amar Santana was serving some delectable duck meatballs. Awash in dark, duck-y savor, the meatball was nicely counterbalanced by the parsnip purée, though the orange essence had to be used in moderation, lest its sweetness overwhelm the duck.
At this point, I ran into Brent Chuck, winner of my
PbP ticket giveaway
. He was accompanied by Tracy Lee, who just happens to be a friend of one of my USC classmates,
DJ Cham
. Small world!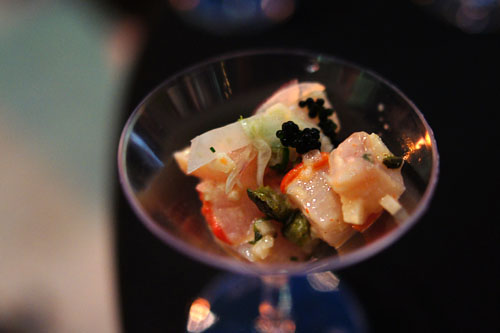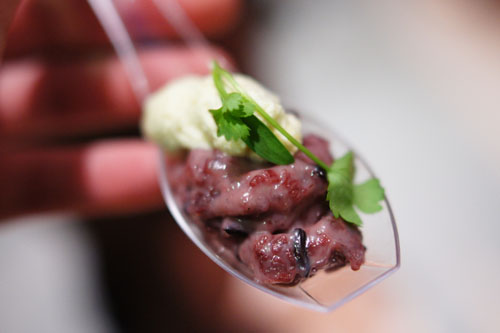 New Style Hamachi Poke / Forbidden Black Thai Rice Pudding
|
Roy's
I rather liked the yellowtail poke from Roy's, which had a great zest and acidity that superbly complemented the fish. Their rice pudding, which possessed an almost cloying sweetness, was less to my liking however.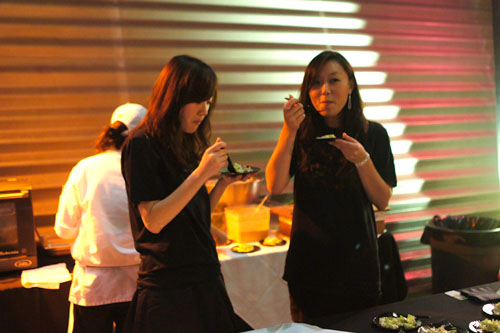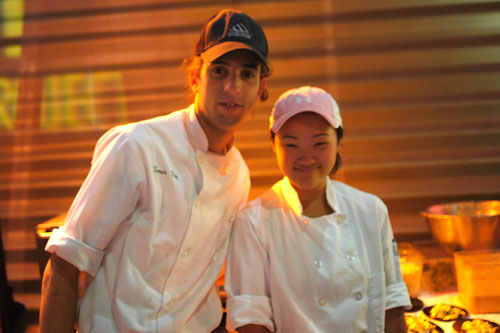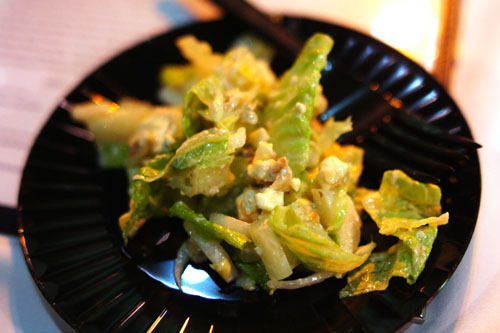 Endive Salad / Provencal Tarts
|
La Cachette Bistro
Unfortunately, La Cachette had already run out of their Provençal tarts, though I did get to try their endive salad. Walnuts gave the salad a pleasant crunch and nutty relish, while the use of blue cheese added a certain weightiness to the dish.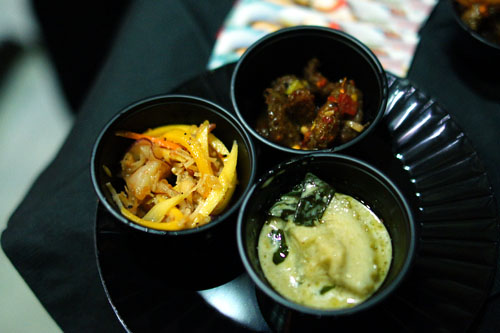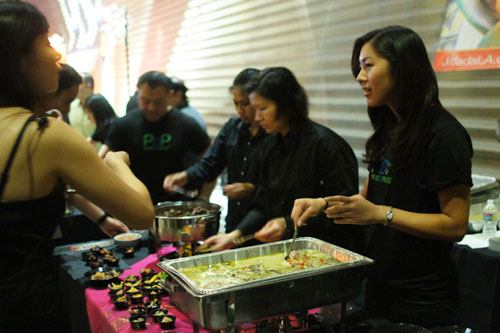 Green Curry Chicken / Mitaki Vegetable with Tofu / Crying Tiger Beef
|
Jitlada
Jitlada was hidden in a dark corner of the room, but managed to light things up with its bright, bold Thai flavors. The green curry was a nice mix of spicy, sweet, and creamy elements, all over a base of chicken, while the mitaki was light, crisp, and refreshing. Crying Tiger was much weightier dish, with tender cuts of beef drenched in a zesty marinade.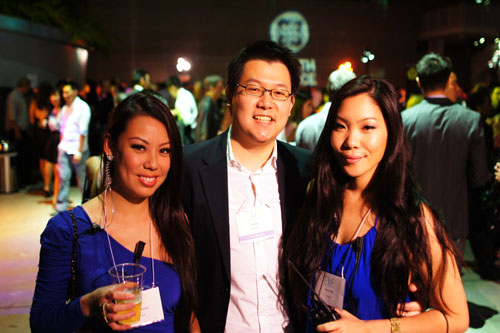 With
Oanh
and
Helen
, half of the PbP Restaurant Relations crew.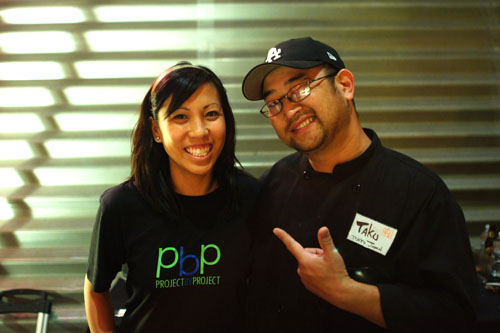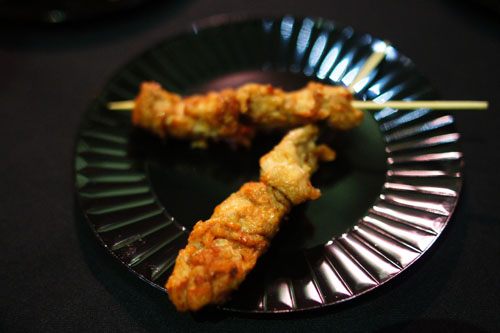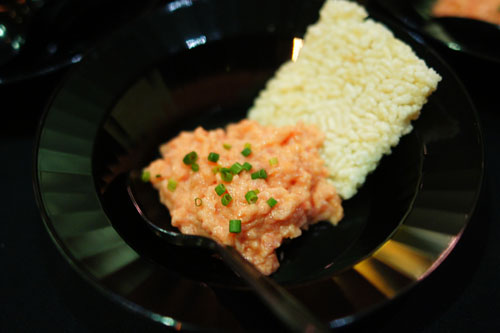 Kushi Kara / Spicy Tuna Dip on Crispy Rice Cracker
|
Musha
Taku Suzuki and PbP volunteer Grace were manning the Musha table. I tried their sake-, soy-, and apple juice-marinated tofu, flavored with kelp, shiitake, ginger, mirin, and garlic. I was getting a bit full by this point, so I didn't go for their spicy tuna, which I'd already had at my Halloween meal at
Musha
.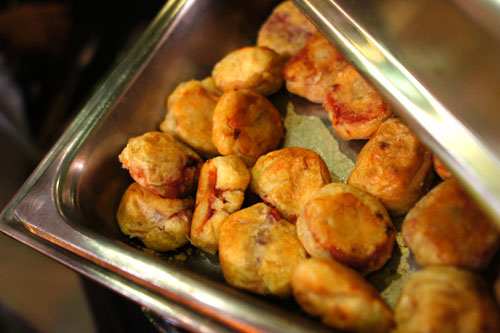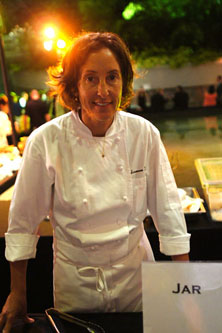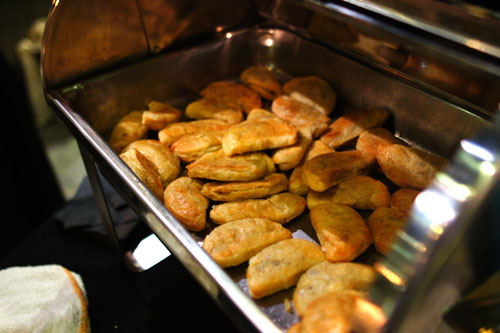 Char Siu Pork Croissant / Lamb Curry Puff
|
Jar
Suzanne Tracht was serving her char siu pork croissants from
Chefs Night Out
, so I skipped them to save my appetite. I did, however, try her lamb curry puffs, which demonstrated a marked lamby relish, accented by strong, pungent notes of curry.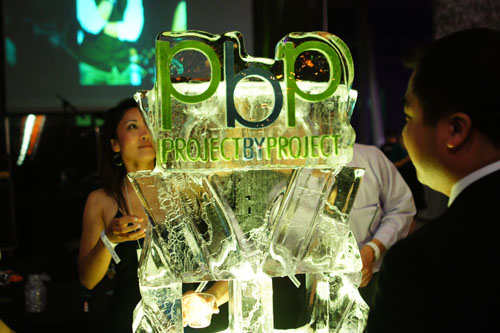 The requisite ice sculpture.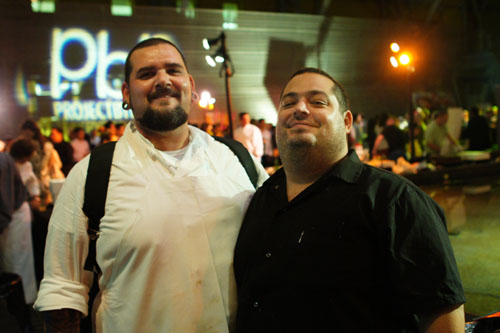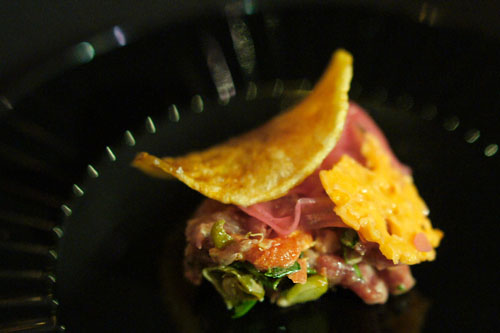 Albacore Tartare
|
The Foundry on Melrose
Chef Eric Greenspan (the guy on the right--I was confused at first!) had a very "beefy" tasting albacore tartar...which turned out not to be albacore at all. Turns out the Chef was serving both tuna and beef tartars, but neglected to mention the latter on his placard--sneaky! Confusion notwithstanding, the meat was deftly offset by its multitude of tangy accoutrements, while the crisp chip provided some textural variation. Nice.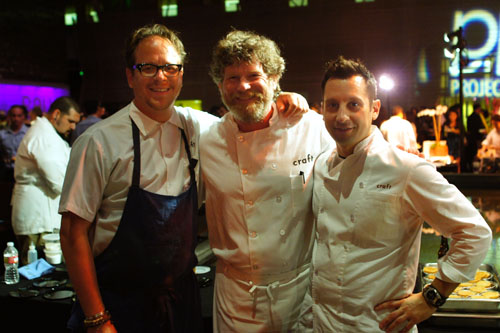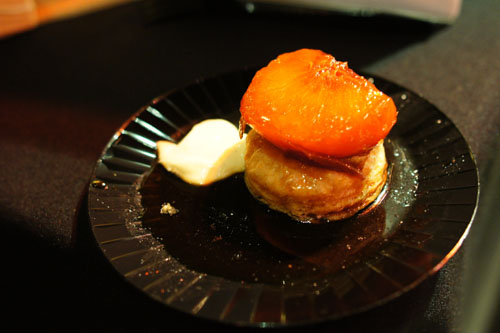 Liberty Farm Duck and Heirloom Melon Salad / Peach Tart Tatin and Sauternes Sabayon
|
Craft
The Craft table was helmed by Chef de Cuisine Anthony Zappola, Pastry Chef Shannon Swindle, as well as Corporate Executive Chef Damon Wise ("Tom Colicchio's right hand man"). I'd missed out on the duck, but I did get to try Swindle's peach tart tatin. We're talking classic flavors, but well executed; the unabashed sugariness of the peach was nicely foiled by the pastry, while the sabayon added a creamy counterpoint.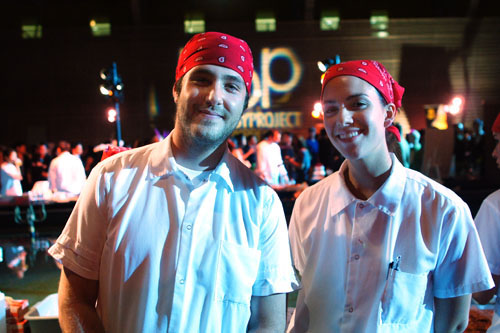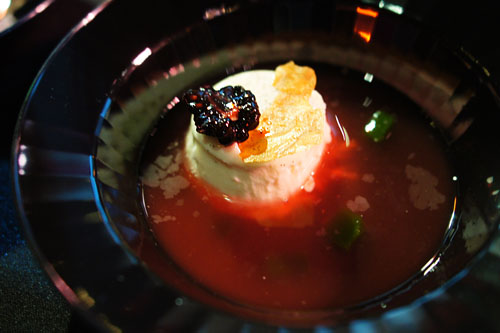 Salmon Tartare on a Potato Chip / Panna Cotta with Watermelon Soup
|
Fraiche
Unfortunately, I forgot to snap a photo of Fraiche's savory dish, a delightfully acidic salmon tartar. This, however, was made up for by their light, almost ethereal panna cotta, beautifully complemented by a watermelon soup.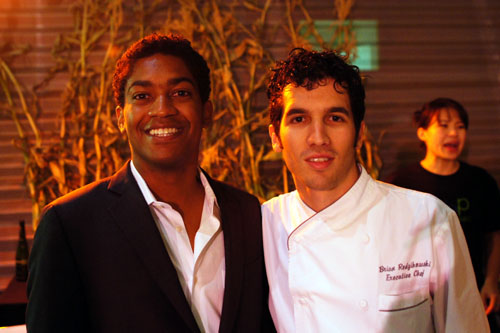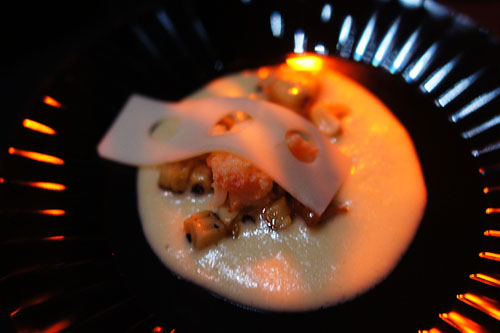 Spot Prawn "Cuban Style"
|
Thompson Beverly Hills
BondSt
is no longer BondSt, but just the Thompson, though the hotel is working on a new name and concept. Swirl notwithstanding, Chef Brian Redzikowski provided a lovely presentation of spot prawn, paired with what I believe was a sweet corn soup.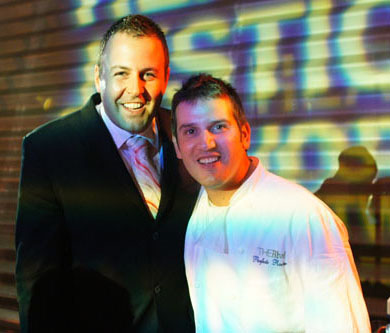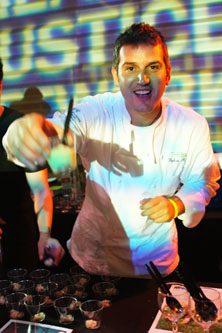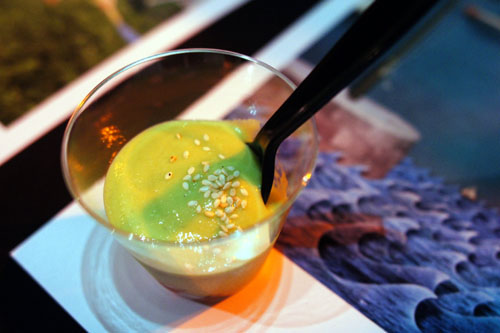 Kampachi with Apple Arugula Avocado Foam and Shiso Flowers
|
The Blvd
Head Chef Perfecto Rocher and Restaurant Manager Anthony Frunzi were at the Blvd booth. Chef Rocher, who notably cooked at El Bulli, served up fresh and clean cuts of kampachi, which were beautifully dressed by a sweet-tangy apple-arugula-avocado foam.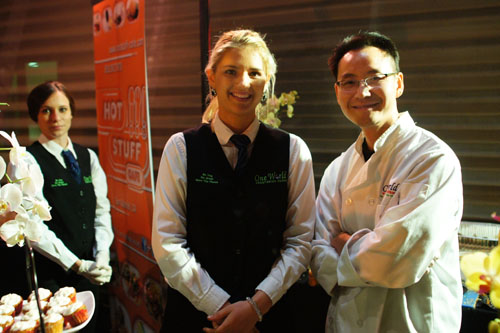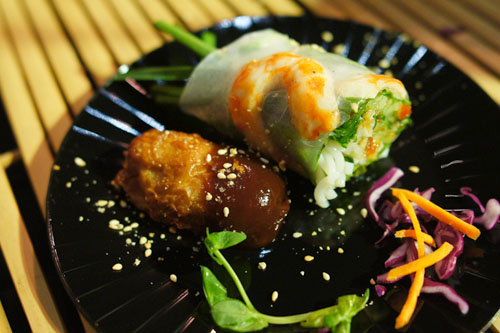 Vegan Shrimp Spring Rolls & Vegan BBQ Drumsticks / One World Teriyaki Kabobs / Mini Vegan Cupcakes (Vanilla, Chocolate, Carrot)
|
One World
One World's vegetarian kabobs had been cleaned out when I got there. Their "shrimp" rolls, however, were a surprisingly good imitation of the real thing, as were the cupcakes. Unfortunately, their drumsticks weren't nearly as effective.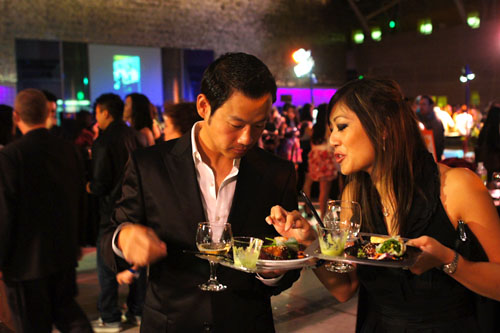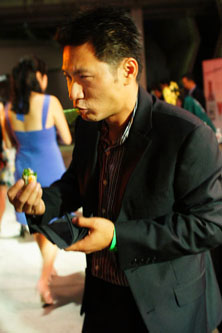 That's Chowhound's
wilafur
and
Tony
enjoying their veggie spring rolls.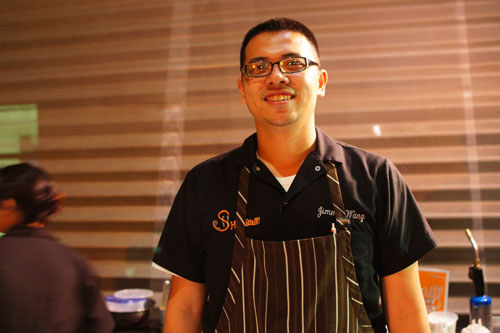 Confit Pork Belly / Maui Onion Mascarpone / Miso Scallop Mouse Profiteroles
|
Hot Stuff Cafe
Hot Stuff's chef/owner Jimmy Wang had very clearly run out of all three of his offerings. He did do a good job standing and looking pretty though!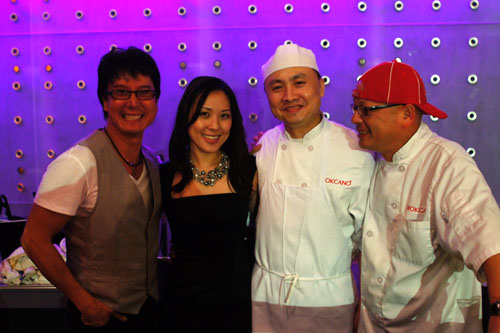 Crispy Softshell Crab Hand Rolls
|
Wokcano
Wokcano was clean out, too. I heard that their crab rolls were good, though.

And that's it for the food. Now for some miscellany: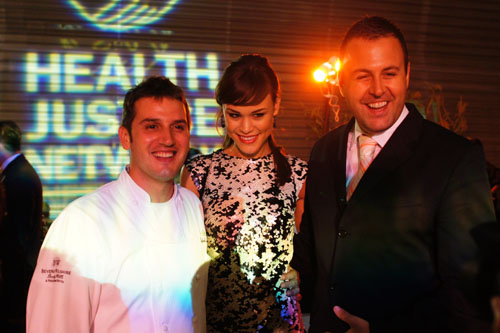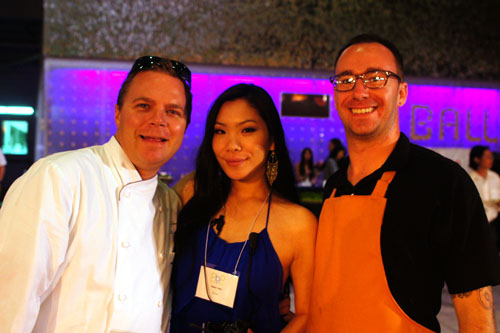 Left:
Blvd's Chef Perfecto Rocher and GM Anthony Frunzi with model Kalyn Hemphill.
Right:
LGO's Chef Erik Palmer with
Helen
.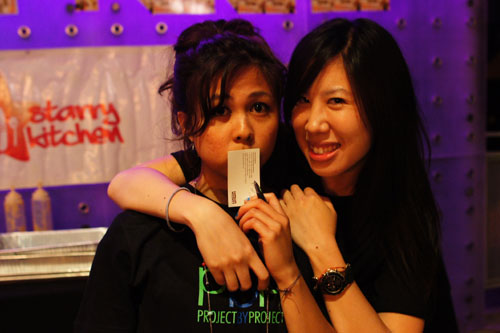 Brian Redzikowski
and company take over the Starry Kitchen table.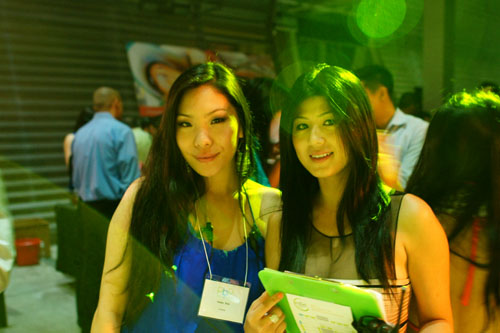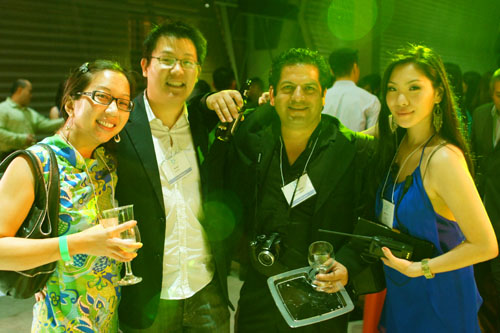 PbP Director of Events
Jin
, PbP Restaurant Relations team member
Helen
,
Esther
,
Bill
, and yours truly.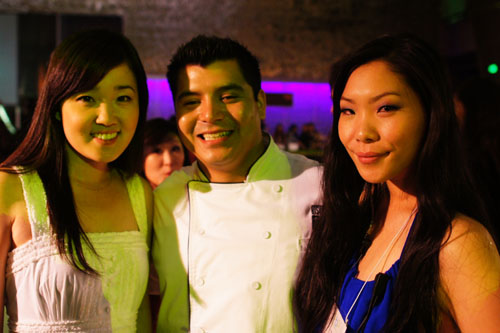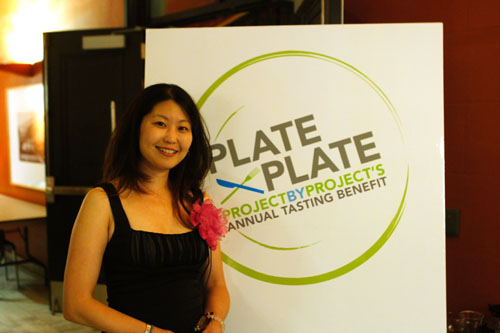 Left:
Lina, Bistro LQ Junior Sous Chef Daniel,
Helen
.
Right:
PbP Director of Marketing Belle Hsu.