Test Kitchen (Los Angeles, CA) [7]
Test Kitchen
9575 W Pico Blvd, Los Angeles, CA 90035
310.277.0133
www.testkitchenla.com
Mon 09/06/2010, 08:00p-09:05p
So what is Haitian food anyway?
That was my question going into this meal. I just assumed that it was a sort of "rice & beans" type of affair, with a good amount of seafood thrown in for good measure. Well it turns out that the cuisine of Haiti takes strong influences from its Caribbean and Latin American neighbors, with additional cues incorporated from African and French culinary traditions. The food tends to be significantly spiced, with a decent bit of heat, and utilizes a good amount of meat, goat in particular. Plantains are commonly used, and yes, rice and beans is prevalent as well. Echo Park's
TiGeorge's Chicken
, owned by TiGeorges Laguerre, is one of the few places in the Southland where diners can enjoy Haitian cuisine. The restaurant is particularly famous for its roasted chicken, which is cooked over an avocado wood fire.
Laguerre, along with his 10 siblings, was born and raised in Port-de-Paix in the Nord-Ouest Department of Haiti. His father, Georges Laguerre Sr., was a successful coffee grower. However, when the coffee industry collapsed in the 1960's, the family was relocated to the US. Laguerre attended high school in Brooklyn, and in 1976 he began his studies at New York's School of Visual Arts, subsequently achieving a BFA in Film in 1980. Following, the Chef moved to Los Angeles in order to find work as an actor and cameraman. During this period, he got his first real taste of the restaurant business managing a Church's Chicken; it was 1981. Sometime after, Laguerre began a party rental business, which he ran for a while before returning to Haiti to rediscover his roots. It was then when he decided that he wanted to own a restaurant, thus following in the footsteps of his grandmother.
TiGeorge's Chicken
opened in February of 2002, and began to attract a loyal following soon thereafter. One of the early attractions at the restaurant was its coffee, imported from Haiti. When Laguerre's initial supply ran out, he found his own sources in his homeland, partnering with local growers at first, then establishing farming operations on his family's old plot of land. The coffee is sold over-the-counter, as well as through
mail order
.
Things were going swimmingly for Laguerre until early this year, when a catastrophic earthquake struck Haiti, sending the country into turmoil. Following the disaster, TiGeorge's Chicken served as an informal meeting place for the local Haitian community, and on January 14, he even hosted a benefit dinner, which raised over $14,000 for relief. Laguerre then planned to fly out to Haiti on February 19 to deliver aid through his non-profit,
TiGeorge's Foundation
, which he started after the earthquake. However, his planned were scuttled when an electrical fire ripped through his restaurant just two nights before his flight. Fortunately, no one was injured, and the damage was only moderate. Repairs are under way, and once they're completed, Laguerre plans to reopen, and continue his charitable efforts in Haiti.
Foodie types in attendance: Abby of
Pleasure Palate
,
Mozza
manager
Kate Green
, Mike of
Right Way to Eat
, Ryan of
Epicuryan
,
rydka
, Shauna of
The Minty
, and
Wasima
.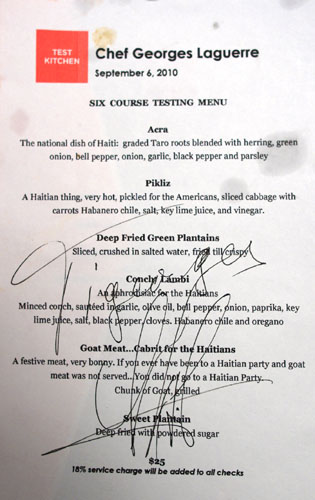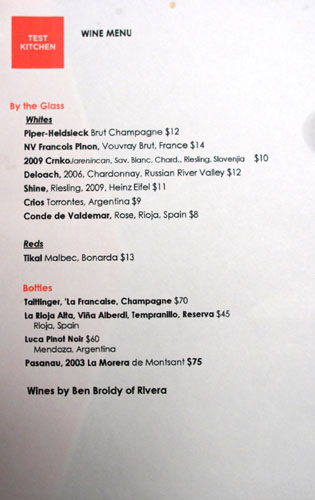 Laguerre's menu (replete with the Chef's colorful descriptions) was the most affordable yet, ringing in at a very reasonable $25 for six courses. Cocktails (all $12) featuring Barbencourt rum, meanwhile, were the charge of Eric Alperin of The Varnish and Julian Cox of
Rivera
(save for the rum punch, which was the creation of the Chef). Click for larger versions.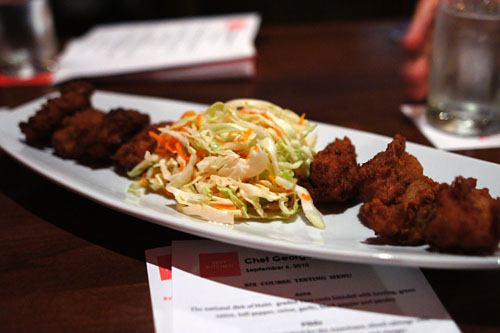 1: Acra
| The national dish of Haiti: graded Taro roots blended with herring, green onion, bell pepper, onion, garlic, black pepper and parsley
2: Pikliz
| A Haitian thing, very hot, pickled for the Americans, sliced cabbage with carrots Habanero chile, salt, key lime juice, and vinegar
The first two courses on the menu were served together. We began with the
acra
, basically a taro root fritter blended with herring and a medley of vegetables. The taro served as a mild base to the dish, augmented by the overarching savoriness of herring, and yet brightened up deftly by the application of onion and pepper. I also really appreciated the fritters' slight bit of heat--quite nice. The
acra
was paired with
pikliz
, a sort of spicy Haitian coleslaw, with a tart citric attack leading to a great creeping, lingering heat (I could still taste it minutes later!). The
pikliz
was a superb complement to the
acra
, cutting the fritters' weight and enhancing their piquancy perfectly.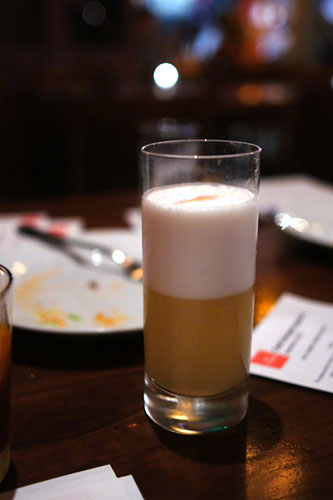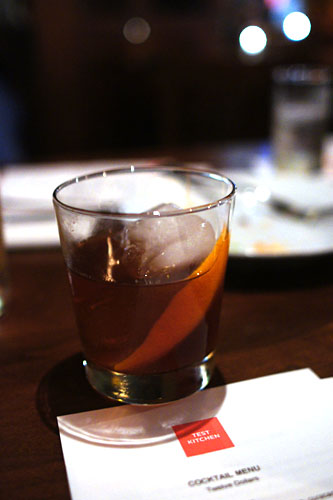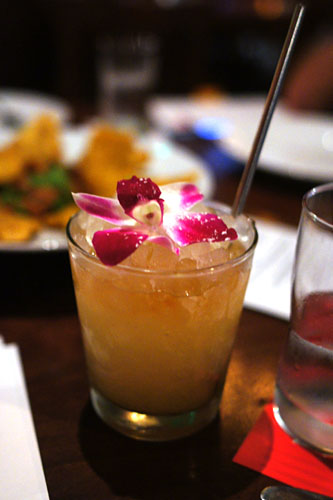 Our first round of cocktails brought us the trio of the Imperial Fiz (Haitian rum, rye, egg white, lemon, sugar, seltzer), Chet Baker (Haitian rum, honey, Carpano Antica, Angostura), and Mai-Tai (Haitian rum, house made orgeat, lime, curacao). The Fiz showed off lovely lemon notes paired with a marked egginess that did a great job in counteracting the weight of the rum, while the seltzer helped lighten the libation. Named after a famed American jazz musician, the
Chet Baker
showed off a strong aroma of citrus, leading to a rather honeyed attack over a sweet-herbaceous body of vermouth and bitters that helped counter the weight of the rum. Finally, we had a classic Mai-Tai, the most approachable of the three cocktails, with a wonderful tropical sugariness from the orgeat that cut the power of the liquor beautifully.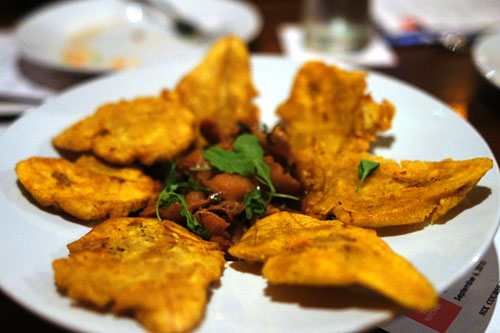 3: Deep Fried Green Plantains
| Sliced, crushed in salted water, fried till crispy
4: Conch Lambi
| An aphrodisiac for the Haitians, Minced conch, sautéed in garlic, olive oil, bell pepper, onion, paprika, key lime juice, salt, black pepper, cloves. Habanero chile and oregano
As with the first two, the next two courses came paired as well. I first tasted the plantains, which weren't what I expected, with a superb texture, savory sapor, and almost potato-esque character. They were a perfect accompaniment to the conch, which demonstrated a meaty, clam-like texture, with a wonderful dark brine and earthiness, perked up by the application of lime, pepper, and Habanero.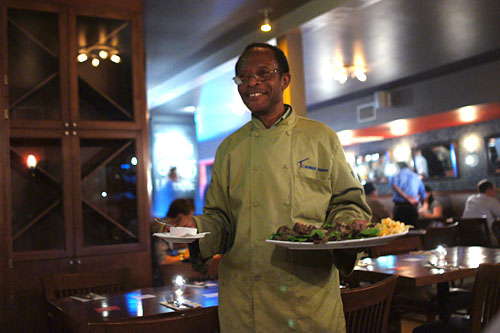 Chef Laguerre came out to say hello, and even served the goat course personally.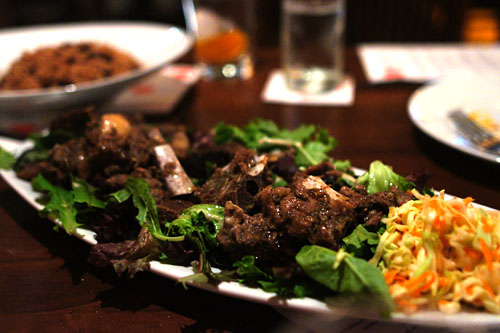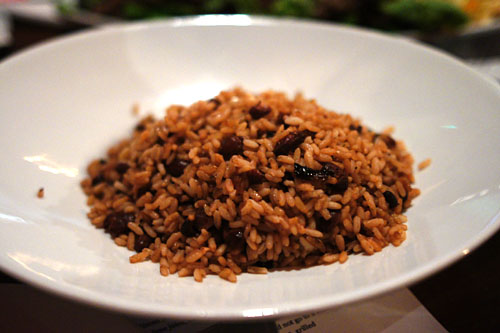 5: Goat Meat...Cabrit for the Haitians
| A festive meat, very bonny. If you ever have been to a Haitian party and goat meat was not served...You did not go to a Haitian Party. Chuck of Goat, grilled
And now, the
pièce de résistance
. Laguerre's goat was first baked in key lime, then marinated in vinegar, and finally cooked over charcoal. The result was a rich, rustic, hearty, falling-off-the-bone tender dish, with a delectably goat-y relish tempered by the accompanying tart sauce of key lime, olive oil, sea salt, and habanero (not to mention the
pikliz
). The goat was paired with a lovely rice and bean dish, which was quite delicious alone, but which also did a great job in moderating the potency of the meat.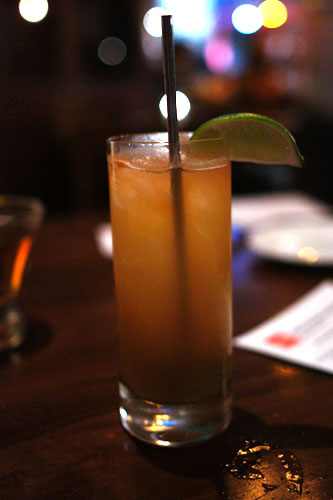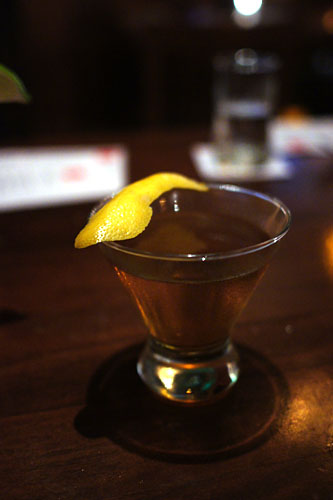 With our first round of cocktails dispensed with, we tried Laguerre's Haitian Rum Punch (Haitian rum, muddled pineapple, house made grenadine, lime), which showed off a nice bit of tart pineapple sweetness laced with a bit of spicy complexity. We also ordered up two custom "dealer's choice" cocktails. The first, which we requested as "savory," was the Rum Buck, with ginger, lime, ginger syrup, dark rum, bitters, and soda. I loved the unabashed ginger notes on this one, augmented by a light, bright acidity that really perked up my palate. We also requested something "aromatic," and received the Fair & Warmer, which was basically a rum Manhattan, with marked citrus tinge.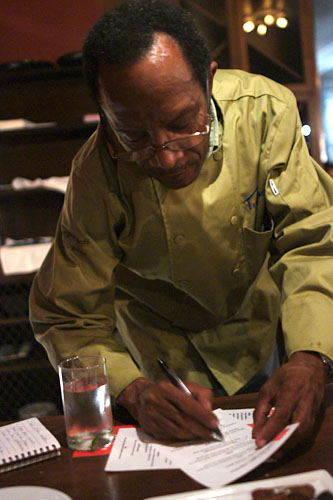 Chef Laguerre signing our menus.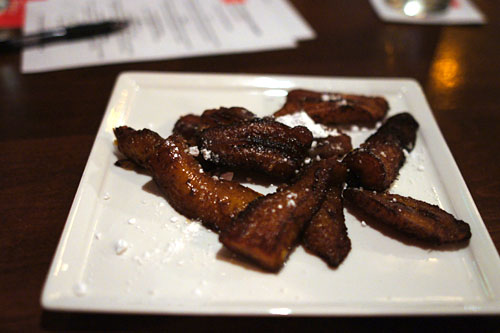 6: Sweet Plantain
| Deep fried with powdered sugar
The meal ended with some fried plantains, dusted with powdered sugar. They had a very dark, very heavy caramelized sweetness, with an almost savory essence that reminded us a bit of BBQ beef!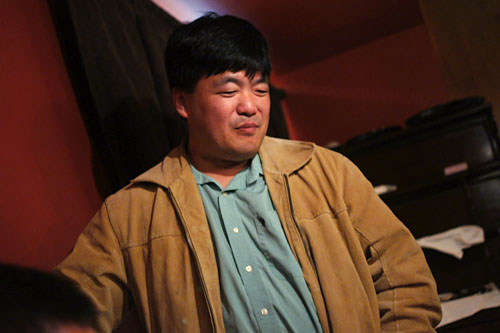 Mike from
Right Way to Eat
, who has been curiously absent from the blogging scene as of late, came by to say hello.
This was my first experience with Haitian food, and it was an undoubtedly positive one. Laguerre was able to give us a delicious, intriguing, thoroughly enjoyable introduction to the victuals of his homeland. Test Kitchen surely did its job here, and got me curious about cuisine that I hadn't even considered before--I'll definitely be interested in visiting Laguerre again when his place reopens!