Taste of Beverly Hills 2010: BBQ in the Hills (Beverly Hills, CA)
Taste of Beverly Hills 2010: BBQ in the Hills
9900 Wilshire Blvd, Beverly Hills, CA 90210
www.thetasteofbeverlyhills.com
Sun 09/05/2010, 07:00p-11:00p

After four days of glitz and gluttony,
The Taste of Beverly Hills
finally culminated on Sunday with the "BBQ in the Hills" finale. Local chefs were on hand to present their own unique takes on the American culinary tradition, while Kerry Simon and the Drago brothers were up on stage giving live cooking demos. It was a fitting end to a weekend of delicious debauchery.
The attendance list for Sunday (all three sessions): Bill of
Street Gourmet LA
;
Test Kitchen
mogul
Brian Saltsburg
; Caroline of
Caroline on Crack
; Dan of
Daniel Eats
;
Eater LA
correspondent, former
Breadbar
manager, and ex-pastry chef
Daniela Galarza
; Diana of
Diana Takes a Bite
; Esther of
e*star LA
;
Evan Kleiman
from
KCRW's Good Food
; Fiona of
Gourmet Pigs
;
Jennifer Heigl
from
Daily Blender
; Josh of
Food GPS
; Lesley Balla of
Chow Balla
(and former editor of
Eater LA
and
Tasting Table
);
Lindsay William-Ross
from
LAist
; Marni of
Happy Go Marni
; PR maven
Meghan Patke
;
Rachael Narins
from the
Chicks with Knives
supperclub; Sam Kim from
LAist
;
Vegas and Food
; Zach of
Midtown Lunch
; and yes, even former porn starlet
Lil Miss Kitty
.
Now on to the food...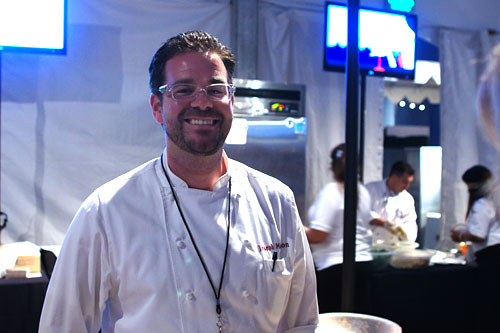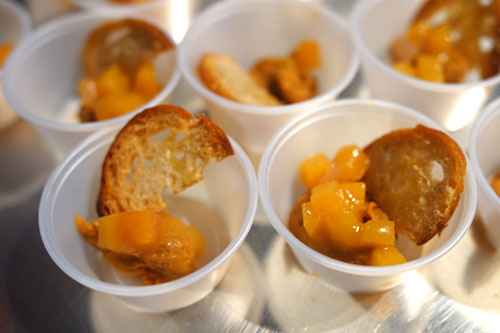 BBQ Duck Rillettes with Grilled Peach Compote
|
Bastide
Joseph Mahon at
Bastide
was serving up rillettes, which is basically meat (duck in this case) that's slow-cooked in fat and then shredded into a paste. It had a nice, "duck-y" savor, which was complemented by the sweetness imparted by the stone fruit. The toasted bread, meanwhile, served as a moderating base, while giving the bite some crunchiness.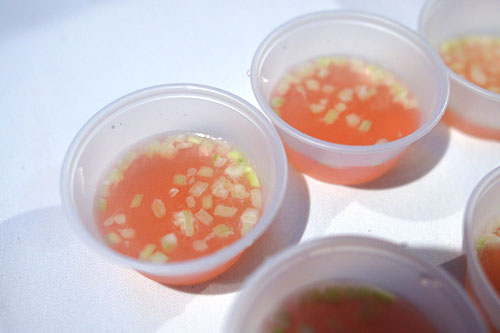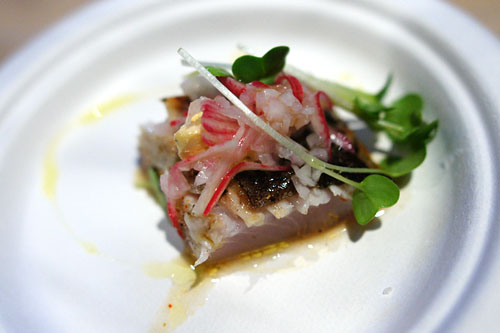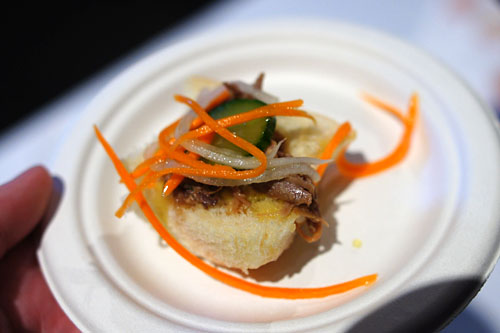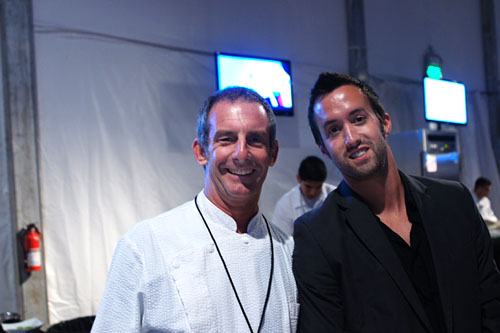 Watermelon Gazpacho with Cucumber and Yogurt / Grilled Mackerel with Radish / BBQ Duck Tarine with Carrot and Daikon
|
Joe's
Joe Miller from
Joe's
in Venice wins the award for most courses served. I began with the watermelon gazpacho, a light, refreshing burst of flavor with cool notes of cucumber and yogurt. His open-faced BBQ duck sandwich, on the other hand, was reminiscent of a Vietnamese
banh mi
, with the tang of the pickled veggies aptly countering the dark flavors of the meat. I concluded with the mackerel, which had a fitting brine to it that was superbly accented by the astringency of radish. Overall, a nice trio of dishes.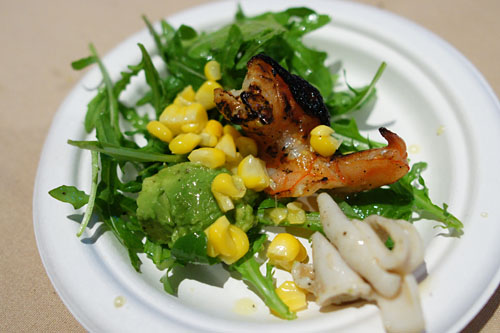 Grilled Shrimp and Squid with Arugula, Corn, and Lemon Dressing
|
Il Grano
Il Grano served up a very satisfying salad. The shrimp and calamari were expertly grilled, showing of the inherent brine of the seafood perfectly, while their sweetness was enhanced by the application of corn. I also appreciated the bitterness provided by the arugula, which served to lighten the dish.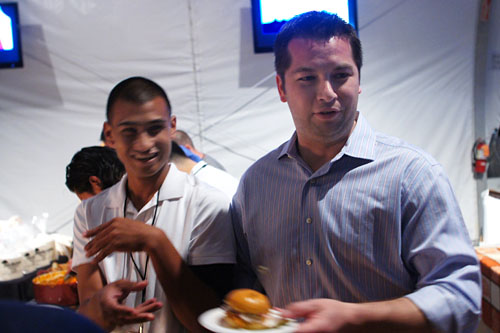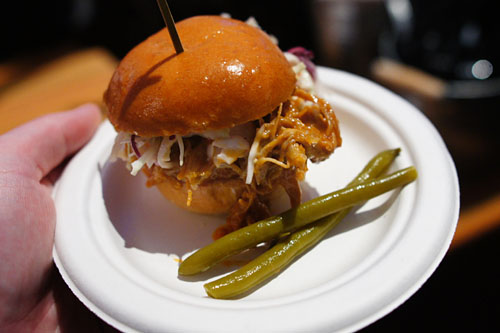 BBQ Pork Slider with Pickled Beans and Coleslaw
|
Fig
It's hard to go wrong with tender, BBQ pork in slider form, and certainly, this was no exception. I loved how the sweet smokiness of the meat was accented by the tangy slaw, while the beans served as a spicy counterpoint.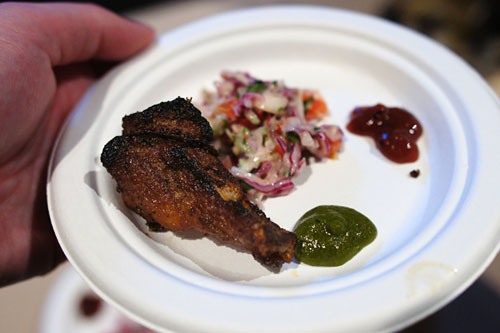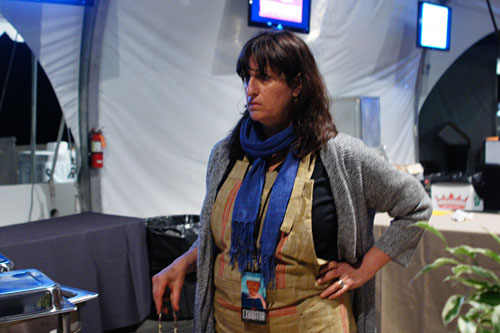 BBQ Punjabi Grilled Chicken Wings, Local Plum Chutney, Mint & Jalapeno Chutney / Cabbage, Cucumber & Pepper Slaw, Mango & Yogurt Mustard Seed Dressing
|
Akasha
Akasha Richmond had perhaps the most impressive spread, offering up a dizzying array of various jams, cheeses, and the like. I was rather enamored with the Indian-inspired grilled chicken, which showed off a great interplay of complex sweet-savory notes, while her version of coleslaw served as a lovely, tangy accoutrement.

Moving on now to tent number two...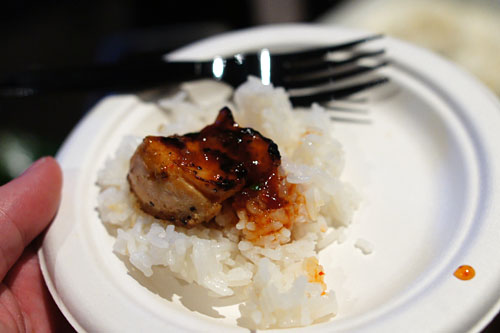 Thai-Style Chicken with Tamarind Sauce
|
Soi 56
Soi 56 served up pleasing chunks of grilled chicken, dressed with a sugary sauce that actually complemented the bird quite well. Rice, though, was needed to temper the dish.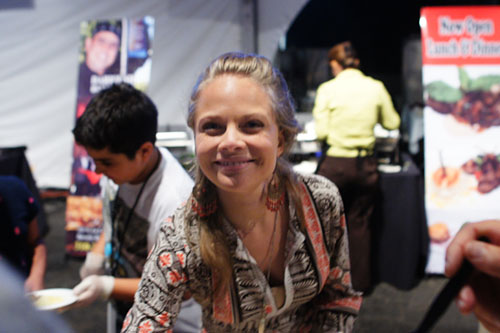 Grilled Chicken with Walnut-Pomegranate Sauce and Saffron Rice
|
Darioush
For me, Darioush's offering this time around was a marked improvement from the restaurant's fare on
Thursday
. The meat was nicely succulent in character, and was deftly augmented by the application of its walnut-pome sauce, which lent an absolutely fascinating sweet nuttiness to the chicken.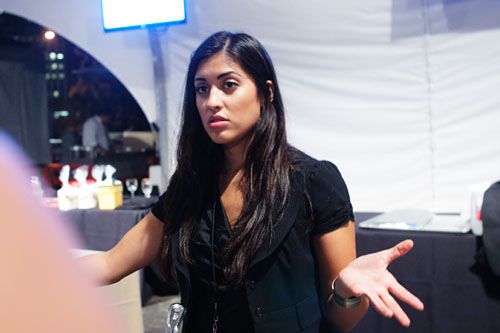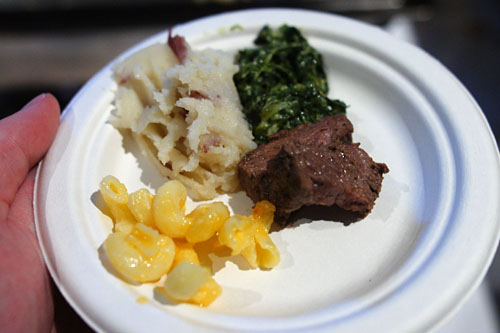 Rib Eye of Beef with Mashed Potatoes, Creamed Spinach, and Macaroni & Cheese
|
Larsen's Steakhouse
Larsen's old school steakhouse fare was palatable, though thoroughly pedestrian.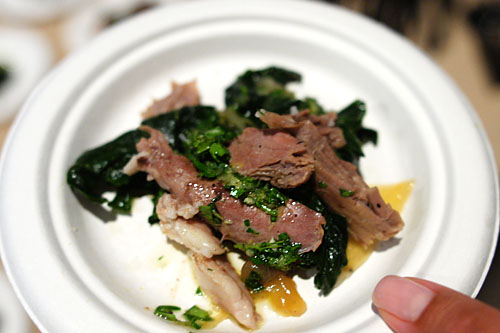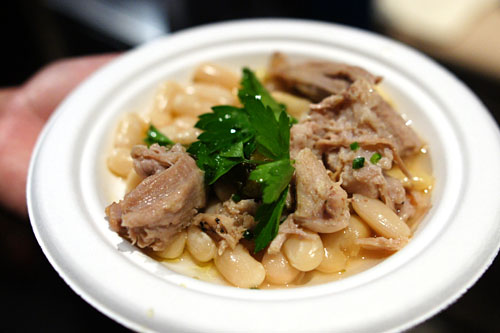 Grilled Lamb with Spigarello / Grilled Pork with Cannellini Beans and Padrón Peppers
|
Firefly
Firefly had two types of grilled meat going, neither of them particularly enjoyable. The lamb was rather dried out, and I wasn't sold on the use of spigarello as an accompaniment. Meanwhile, the pork lacked flavor, though I did like the incorporation of cannellinis in the dish.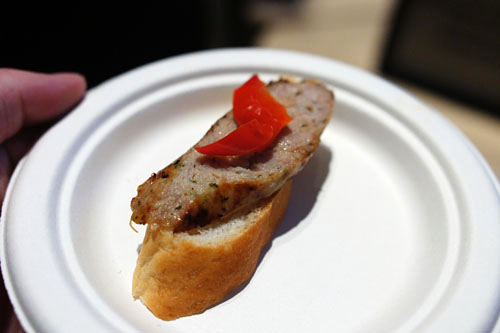 Rattlesnake & Rabbit Sausage with Sweet Peppers on Bread Medallions
|
Wurstkuche
Sausage rarely disappoints. Wurstkuche's rattlesnake-rabbit variety was rather benign in flavor, showing off a soft savoriness accented by just a prick of spice, while the pepper provided an overarching bit of sweetness.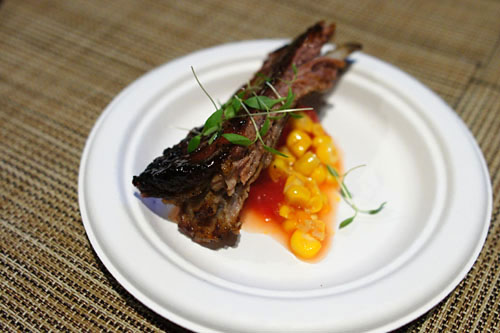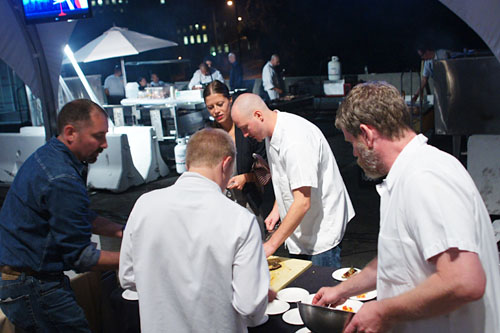 Lamb Ribs with Corn and Watermelon
|
Craft
Ribs from Craft were suitably succulent, fatty, falling-off-the-bone tender, and teeming with ovine sapor. The lamb's potency was deftly countervailed by the sweet-ish corn and watermelon amalgam.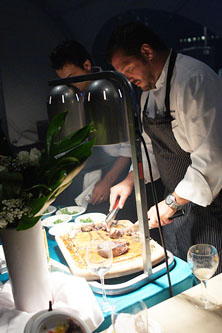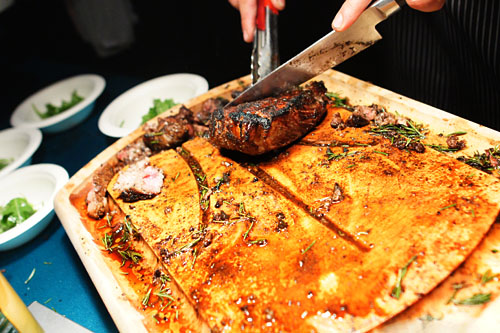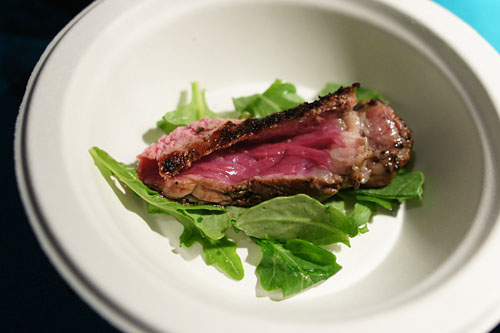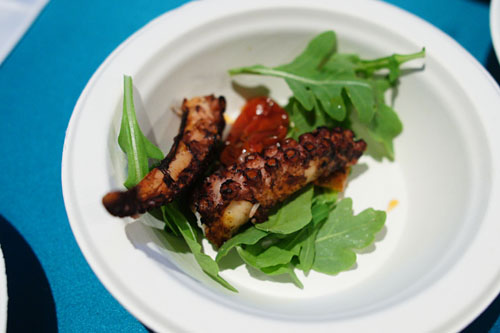 Grilled Rib Eye with Arugula / Grilled Octopus with Arugula
|
Oliverio
Oliverio's Executive Chef Mirko Paderno was on hand, cutting up expertly-grilled cuts of rib eye steak. Cooked to a nicely rare temperature, the beef was quite satisfying, especially when paired with the tempering arugula. Octopus, meanwhile, was also quite tasty and tender, showing off a pleasant char to balance the inherent sweetness of the cephalopod.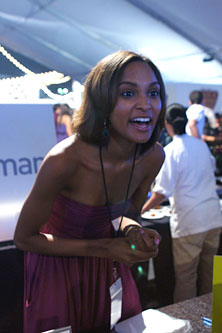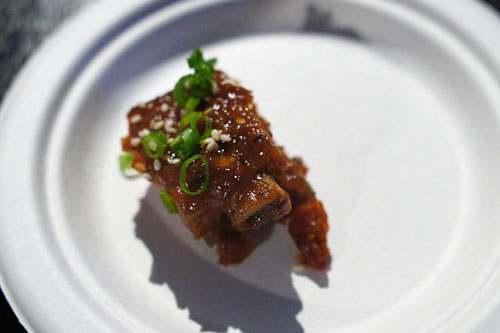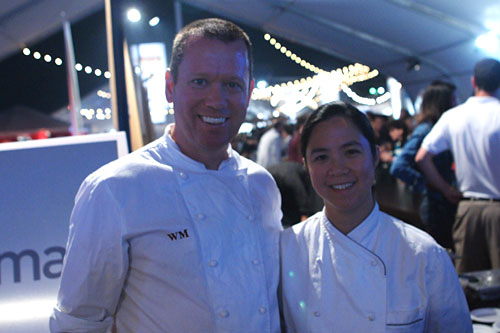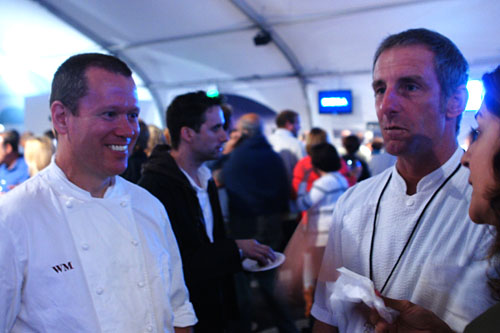 Pork Rib with Soy, Hoisin, Sesame, and Chili
|
Simplehuman featuring Walter Manzke
I was rather surprised to see none other than
Walter Manzke
. Turns out that he was being sponsored by home product manufacturer
Simplehuman
(the supplier of many of the trash cans used in the event). His ribs were ridiculously tender and full of pork-y flavor, with the Asian-inspired accoutrements serving as perfect accents to the meat, imbuing the ribs with a great mix of salty, sweet, and umami. Ironically, perhaps the strongest contender for favorite bite of the night came from a guy without a restaurant.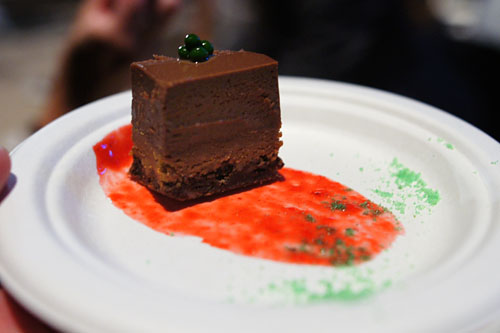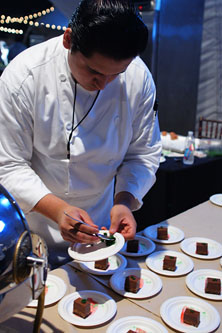 Chocolate Torte with Raspberry Coulis and Herb Caviar
|
Ortolan
I then headed over to Ortolan for an early dessert. The restaurant's chocolate torte was everything that I expected, with dark, rich layers of chocolate-y goodness bound by just a touch of astringency from the herb spherifications.

At this point, I wandered out of the tents and headed to the east side of the parking lot, only to run into Bill of
Street Gourmet LA
and Josh of
Food GPS
. It turns out that Bill and
Evan Kleiman
had helped get a handful of East Side Mexican eateries to participate in the Taste, adding a much needed dose of diversity to the event.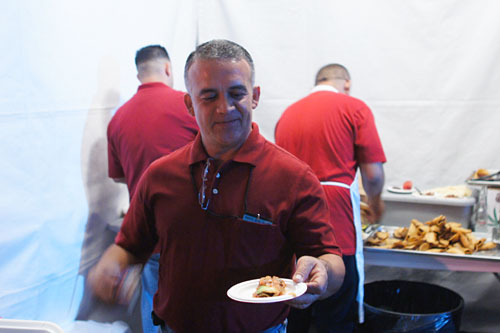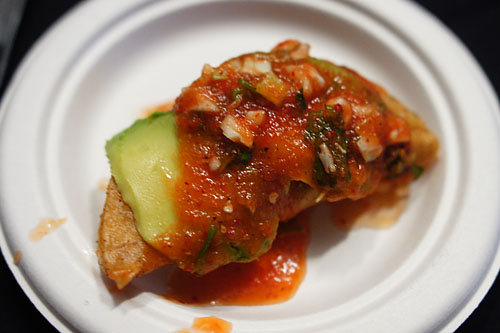 Shrimp Taco
|
Mariscos Jalisco
Besides Manzke's ribs, the
tacos dorados de camaron
(hard-shelled shrimp tacos) from food truck Mariscos Jalisco was another prospect for favorite dish of the night. The interplay between the shrimp, creamy avocado, and tangy salsa was spot on, and I loved the textural element of the crunchy fried shell.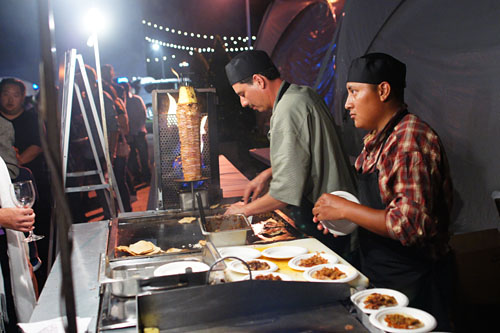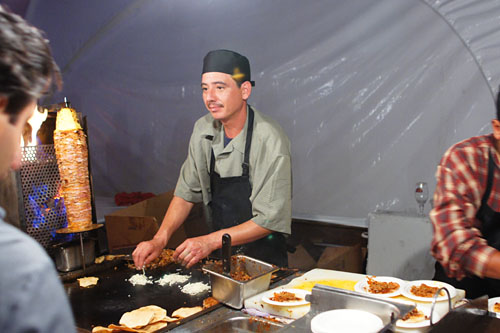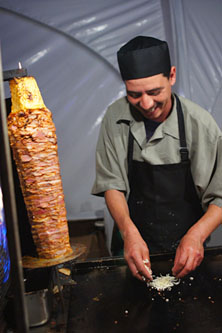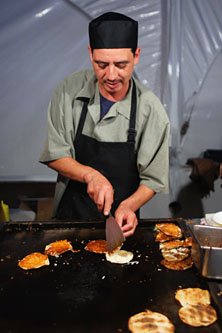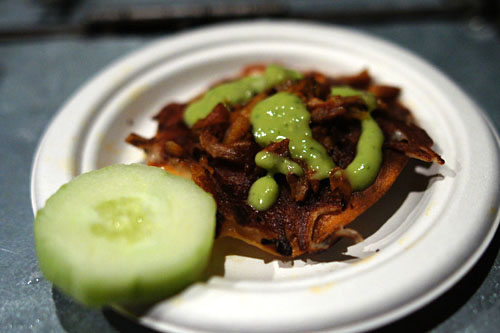 Taco Guanajuato
|
Vampiros y Volcanes
Food stand Vampiros y Volcanes from Boyle Heights also delivered a knockout punch, and had the honor of having the longest line! Two types of meat were on offer--carne asada and al pastor--but only the pork was left by the time I arrived. A
vampiro
, otherwise known as a
volcane
, is basically a grilled tortilla topped with cheese, meat, and salsa, along with a side of cucumber. It's a simple concept, but thoroughly effective, with the cheese and meat forming a stupendously savory complex, which is then counteracted by the piquancy of the salsa and the cool, crunchy cucumber.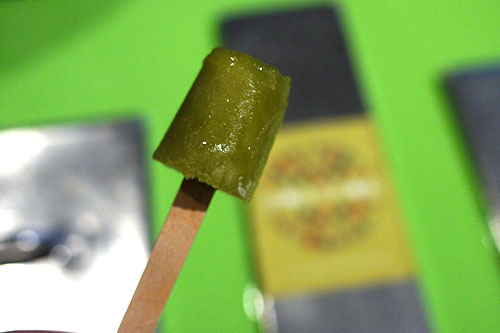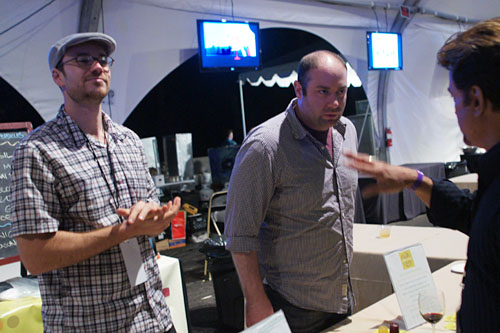 Lemon Basil Popsicle
|
The Pop Shop
By this time, I was getting quite sated, so I was ready for dessert. I first hit up The Pop Shop for their Lemon Basil popsicle (only this and Lemon Ginger were left). Definitely the most intriguing popsicle that I've ever tasted, it demonstrated a fascinating play of flavors between the unabashed sourness of lemon and the keen herbaceousness of basil.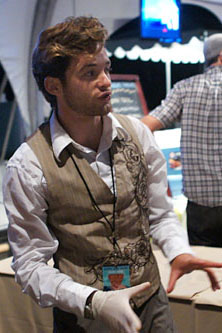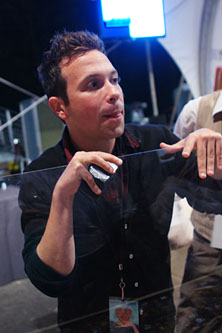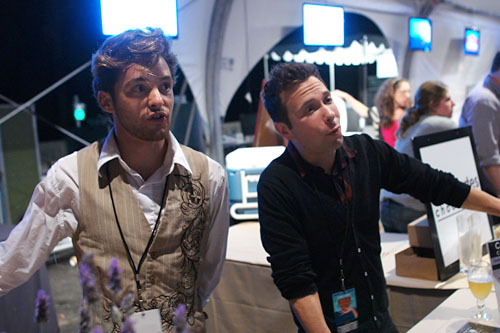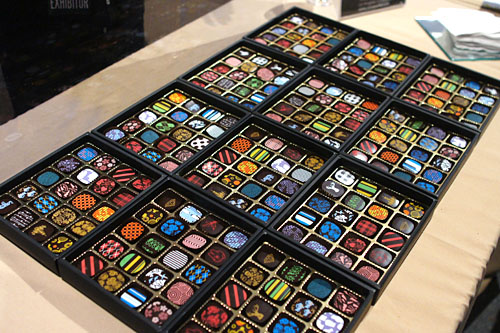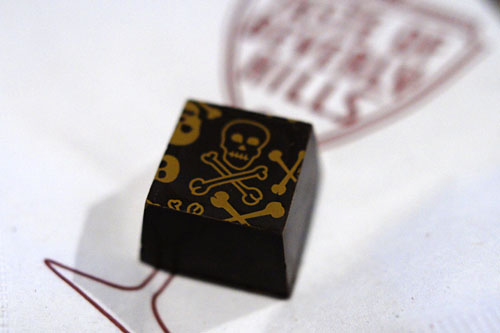 Mexican Hot Chocolate - Cayenne Pepper + Cinnamon + Spices
|
Compartes Chocolatier
Compartes head Jonathan Grahm was present to show off his collection of handmade organic truffles. He had Vodka, Peanut Butter, and Mexican Hot Chocolate varieties available, but only the latter was still left by the time I rolled around. What I liked about it was its rich, yet restrained sweetness, accented by a subtle spiciness that just sneaks up on you.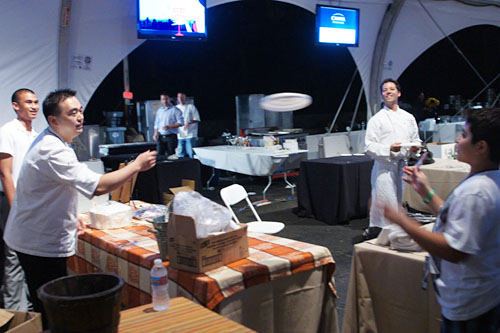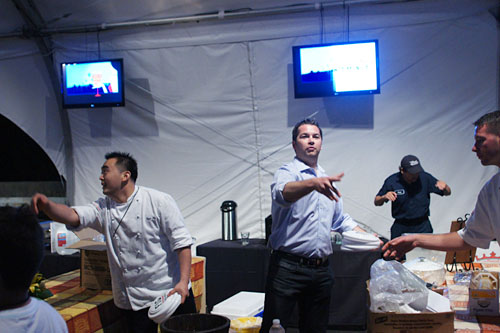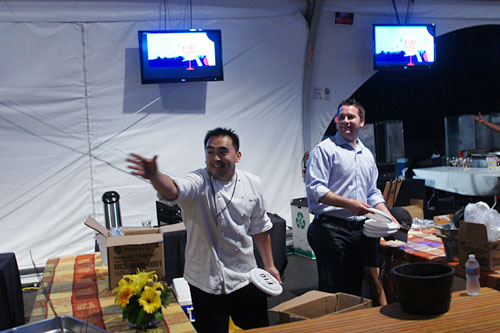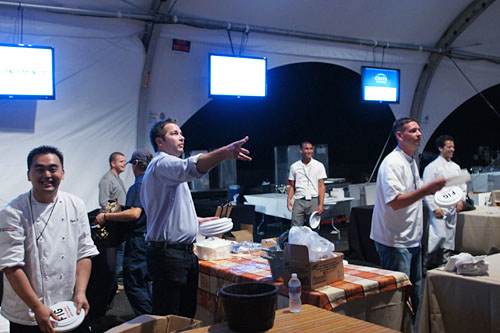 Towards the end of the night, the guys at
Fig
decided to try their hand at Ultimate Frisbee.
And with that, we conclude the inaugural run of
Food & Wine
magazine's
Taste of Beverly Hills
. There were hits and misses, successes and failures, but the event was certainly a fine addition to the collection of food festivals hosted in the Southland. Hopefully I'll see everyone back next year!