Test Kitchen (Los Angeles, CA) [6]
Test Kitchen
9575 W Pico Blvd, Los Angeles, CA 90035
310.277.0133
www.testkitchenla.com
Sat 09/04/2010, 06:30p-08:15p
Jordan Kahn
,
Ricardo Zarate
,
Walter Manzke
,
Michael Voltaggio
,
Neal Fraser
--all these were chefs that I was familiar with, chefs whose food I'd eaten before, some on multiple occasions. I was only marginally familiar, however, with TK's newest top toque, Chef Vartan Abgaryan. He hails from Newport Beach's
A Restaurant
, which is owned by legendary Orange County restaurateurs Tim and Liza Goodell (known best for Aubergine and Troquet, which once occupied the current
Marche Moderne
space).
More about the Chef
: Born in Armenia, Abgaryan moved to the States when he was 10, and had his first taste of the restaurant industry at age 15, working at Baskin Robbins. As an undergrad student at Santa Barbara City College, he waited tables. Front-of-the-house duties, however, didn't suit the Chef, and he soon began working the line. Abgaryan decided to abandon his hopes of medical school to focus on cooking full-time, enrolling at Le Cordon Bleu in Las Vegas. While in Sin City, he cooked at Andre's at the Monte Carlo and Lutece at the Venetian, where he was Sous Chef. Southern California beckoned, however, and the Chef soon moved back, taking on a Sous role at the Goodells' now-defunct Red Pearl Kitchen (the site of the new
Hatfield's
); within months, he quickly rose to rank of Executive Chef. When A Restaurant was in the works, the Goodells tapped Abgaryan to lead the effort, and he successfully opened the restaurant in 2008. That year also saw Abgaryan compete on
Iron Chef America
, where he and Tyson Wong Ophaso lost to Morimoto in a curry battle.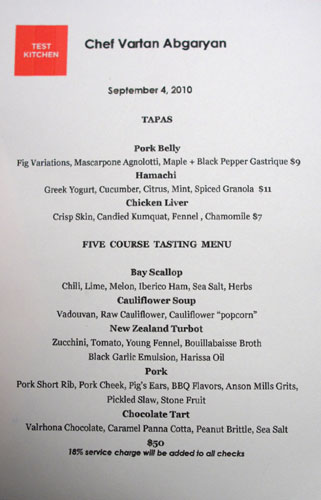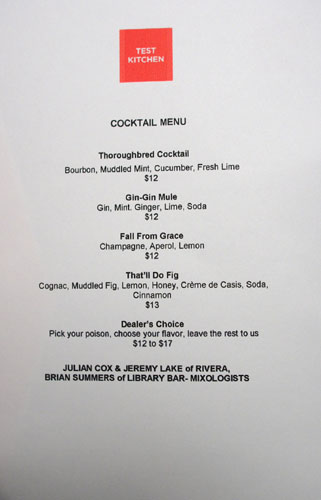 A Restaurant's menu is unabashedly old school, featuring such continental classics as shrimp cocktail, beef stroganoff, caesar salad, French onion soup, and plenty of steaks. I was thus interested to see what Abgaryan would be able to pull off when freed from his typical gastronomic restrictions. As with some of the previous chefs, he offered up a five-course tasting set at $50, along with a handful of "tapas." Meanwhile, cocktails, all priced at $13, were the charge of Julian Cox and Jeremy Lake of
Rivera
, as well as Library Bar's Brian Summers. Click for larger versions.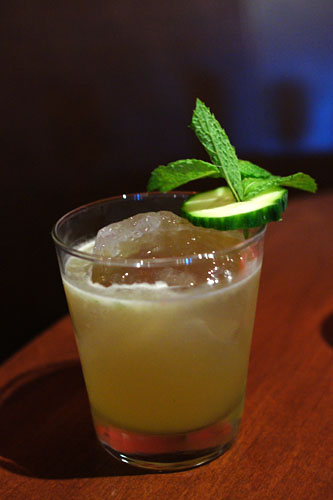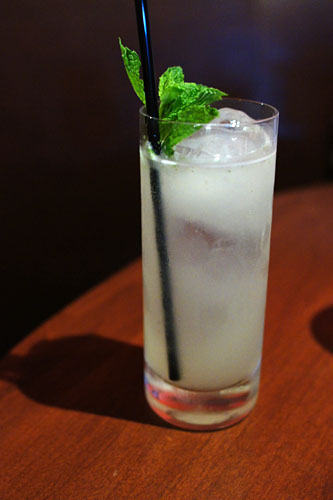 We began with the Thoroughbred Cocktail (Bourbon, Muddled Mint, Cucumber, Fresh Lime) and the Gin-Gin Mule (Gin, Mint, Ginger, Lime, Soda). The Thoroughbred showed off a great interaction between the mint and cucumber, all over a smoky base of whiskey. The Gin-Gin Mule, on the other hand, had a lovely lime-gin interaction, heightened by the overarching tang of ginger.
Naturally, we had to order one of each "tapa" to share:
Pork Belly [$9.00]
| Fig Variations, Mascarpone Agnolotti, Maple + Black Pepper Gastrique
Pork belly was superb. The belly gave a great interplay of lean and fat, with a fantastically crisp, savory skin to boot. It was distinctly porcine, but not overwhelmingly so. I was afraid that I'd find the fig far too saccharine, but instead, it added just enough sweetness to enhance the natural sapor of the pork.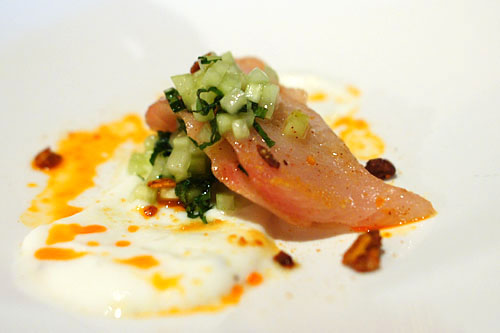 Hamachi [$11.00]
| Greek Yogurt, Cucumber, Citrus, Mint, Spiced Granola
Yellowtail demonstrated clean, yet briny flavors augmented by the spicy-salty nature of the granola, which also added some textural variation to the dish. I preferred the application of the yogurt and cucumber, though, with those two ingredients adding a cool, refreshing temper to the course.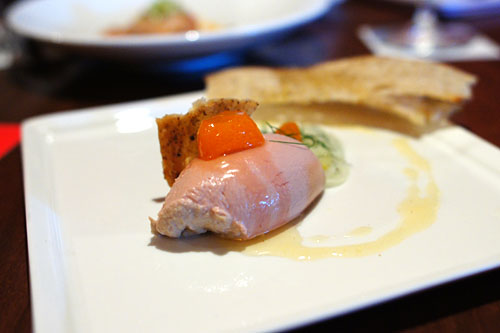 Chicken Liver [$7.00]
| Crisp Skin, Candied Kumquat, Fennel, Chamomile
Chicken liver was mild, yet forceful in conveying its essence. I appreciated how it was balanced by the crunchy, tangy fennel as well as the sugary kumquats. My favorite element here, though, was the crispy chicken skin, which added a great bit of saltiness to the liver, not to mention a wonderful textural element.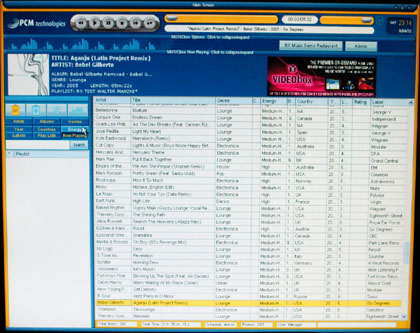 Using tools provided by
Prescriptive Music
, a company that also works with Wolfgang Puck fine dining and SBE, Test Kitchen famously allows guests chefs to prepare their own custom playlists, and here we see the night's musical selections. Click for a larger version.
And now, for the meal proper: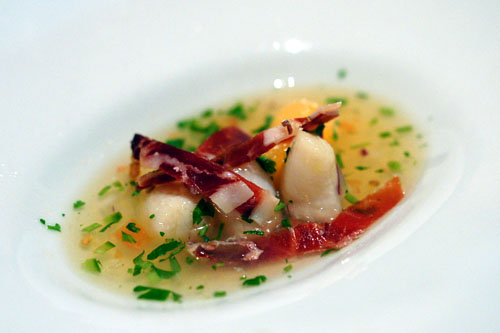 1: Bay Scallop
| Chili, Lime, Melon, Iberico Ham, Sea Salt, Herbs
The inherent brine of scallop was apparent here, but was drastically moderated by its fruity, tangy, slightly spicy, melon-tinged broth. I rather liked the salty counterpoint contributed by the Iberico, but I would've liked to have seen the bivalve's character more forcefully presented.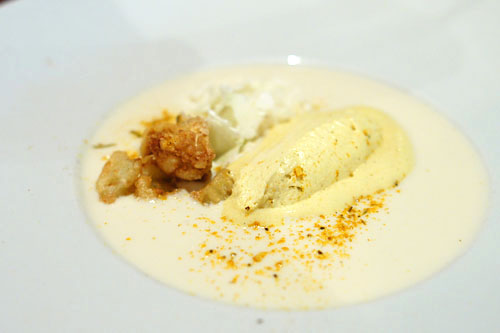 2: Cauliflower Soup
| Vadouvan, Raw Cauliflower, Cauliflower "Popcorn"
I wasn't expecting much from this course, but it worked out rather well. Its heady aroma of vadouvan (and the use of a curry cream) instantly reminded me of Indian fare, and eating the dish, I couldn't help but think of
aloo gobi
! The vegetal nature of cauliflower was effectively presented here in various forms--a great mélange of contrasting textures and temperatures--and I especially enjoyed the bits of fried cauliflower.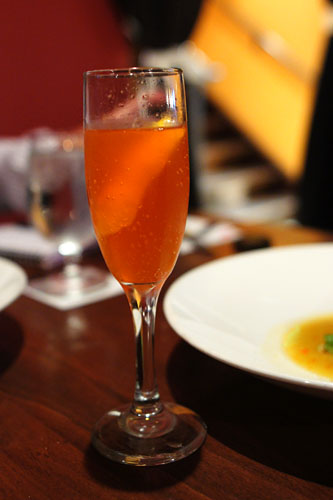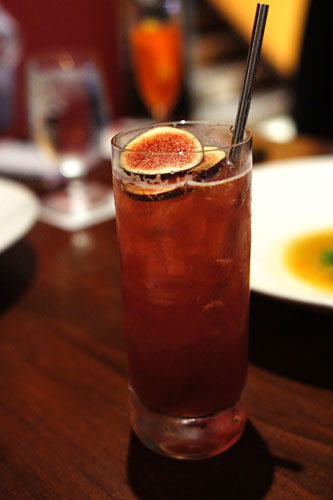 Our second round of cocktails gave us the Fall From Grace (Champagne, Aperol, Lemon), my favorite libation of the night, with a wonderful mix of tart, citric notes over a body of sparkling wine. That'll Do Fig (Cognac, Muddled Fig, Lemon, Honey, Crème de Cassis, Soda, Cinnamon) wasn't bad either, with a honeyed, "figgy" attacked balanced by the tang of lemon and the palpable weight of brandy.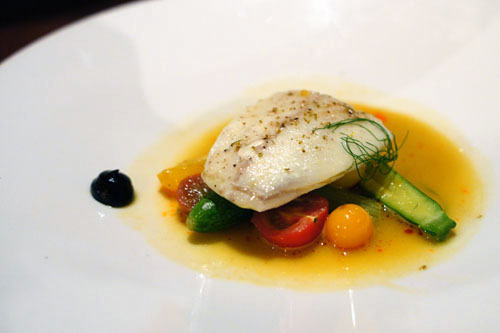 3: New Zealand Turbot
| Zucchini, Tomato, Young Fennel, Bouillabaisse Broth, Black Garlic Emulsion, Harissa Oil
Turbot was quite nice--tender in consistency with a somewhat briny, umami-laced savor. The weight of the fish was deftly balanced by the various vegetables utilized here, and I enjoyed the prick of heat that came from the harissa. I did find the black garlic overpowering, though.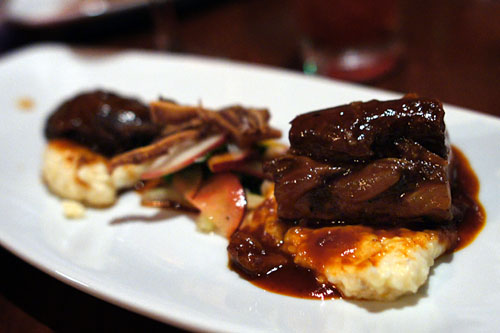 4: Pork
| Pork Short Rib, Pork Cheek, Pig's Ears, BBQ Flavors, Anson Mills Grits, Pickled Slaw, Stone Fruit
Abgaryan's second round of pork was strong as well. Both short rib and cheek were expectedly tender, barely requiring of mastication, and were positively imbued with the smoky-sweetness one'd expect from barbeque. We're talking deep, dark, sticky flavors, countervailed by the relative levity of the grits and the refreshing piquancy of the slaw and stone fruit. I preferred the cheek for its more delicate texture and taste, and of course, I loved the pig's ears as well.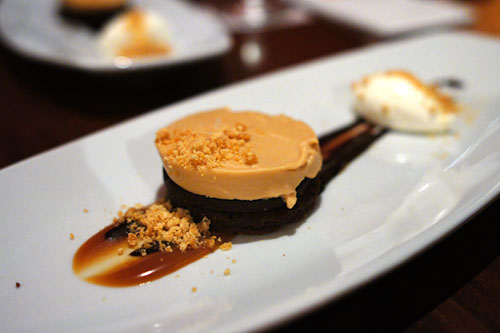 5: Chocolate Tart
| Valrhona Chocolate, Caramel Panna Cotta, Peanuts, Sea Salt
Dessert was delectable. Though looking somewhat like a foie gras terrine, the caramel panna cotta was excellent, serving as a perfect counter to the power of the chocolate. The whole amalgam was then lightened by the bit of crème fraiche on the plate, but I absolutely adored the nuttiness and crunchiness imparted by the peanut bits (and I don't even like peanuts!).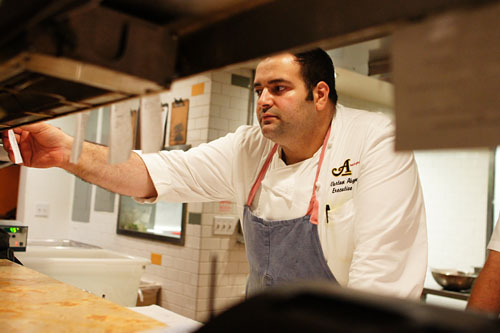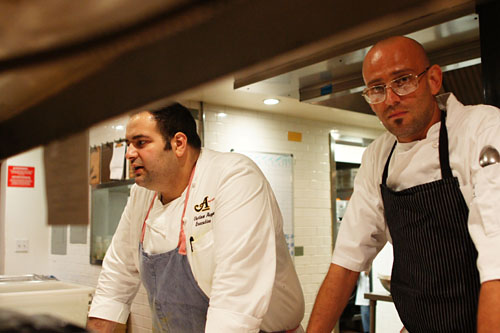 Yes, that's none other than recently departed
Top Chef
contestant Alex Reznik working the line. Has Reznik left Ivan Kane's Cafe Was to work with Abgaryan?
Abgaryan was sort of the dark horse candidate in the lineup of Test Kitchen chefs, but he delivered, no doubt. Flavors were, for the most part, well-integrated and articulate. The cuisine was rooted in classics, but with just enough twists to keep things interesting. Perhaps there is hope for the OC culinary scene, after all.