Maison Giraud (Pacific Palisades, CA)
Maison Giraud Restaurant
1032 Swarthmore Ave, Pacific Palisades, CA 90272
310.459.7561
www.maison-giraud.com
Wed 11/23/2011, 07:00p-10:30p

After Alain Giraud's Anisette shuttered in 2010, the Chef gave us a tease of what was to come during his stint at
Test Kitchen
later that year. It was a promising peek, and we Angelenos waited in anticipation for the debut of Maison Giraud, which was supposed to open in May. However, the all-day restaurant and French bakery experienced delay upon delay--not surprisingly--before opening up for breakfast last week. Dinner bowed on Monday, and I was eager to try out Giraud's take on seasonal,
brasserie
-esque, Provençal-inspired cuisine.
About the Chef
: Giraud was born in Paris, 1959, to a family of restaurateurs. Culinarily, he was largely inspired by his grandmothers, and was exposed to the kitchen of his parents' establishment, Hotel des Voyageurs, at an early age. He worked at Auberge de la Sarton and Mas d'Artigny before graduating from the Nîmes Culinary School in 1976. Following, he cooked at L'Ermitage Meissonnier in Avignon for four years, then moved to Paris, staying at Hotel de Crillon and Grand Vefour for a couple years each; all three were rated at two Michelin stars at the time. In 1986, Giraud went to the south of France, where he cheffed at the Hotel Imperator in Nîmes, Le Réverbère in Narbonne, and Restaurant Léonce in Florensac.
In 1988, Giraud made a big change in his life, moving to Los Angeles (with a brief stop in NYC) to cook under the legendary
Michel Richard
at Citrus, where he attained the rank of Chef de Cuisine. Afterward, he took on a role as Chef Director of the Loews Santa Monica Beach Hotel, opening up Provencal eatery Lavande in January 1998, a restaurant that garnered considerable acclaim for Giraud. Later that year, he even cooked at the James Beard House in New York. From Santa Monica, he partnered up with the notorious Joe Pytka and launched
Bastide
in 2002 (with
Providence
's Donato Poto serving as GM). The restaurant was a hit, even receiving a rare four-star review from the
LA Times
and getting Giraud
Bon Appetit
's Chef of the Year title in 2003.
The stresses of executing at such a high level wore on Giraud however, as did disagreements with Pytka about the direction for the restaurant. He decamped from Bastide in 2004, then launched his own catering and consulting company:
Four Stars Private Cuisine
. In 2008, Giraud partnered with Mike Garrett and Tommy Stoilkovich to create Anisette Brasserie in Santa Monica. The bistro experienced success at first, but ultimately folded in September 2010. From there, Giraud started work on his new, eponymous restaurant/bakery/retail store project in the Palisades, which is where we stand today.

Maison Giraud occupies the spot left vacant by the long-standing Dante, which shuttered earlier this year. One half of the building houses the restaurant (pictured above), while
Lavender Blue
, a home decor and accessories boutique by wife Catherine Giraud (whom the Chef met while working at Citrus--they married in 1990), sits next door. The restaurant was remodeled by designer/architect Cosimo Pizzulli, and seats 44 diners, with another two dozen or so on the patio and sidewalk; there are also 12- and 18-person private dining rooms.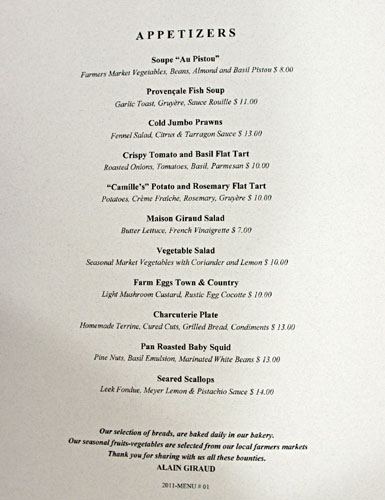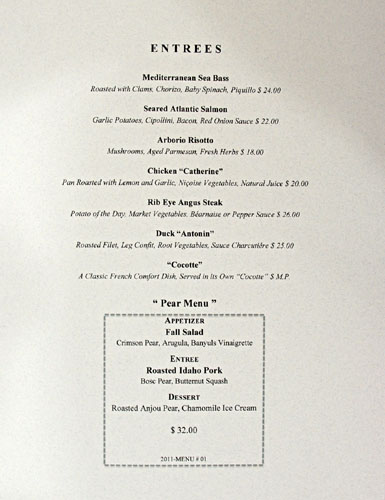 Maison Giraud's menu is uncomplicated, a well-edited list of appetizers and mains with perhaps a daily special or two thrown in for good measure. Click for larger versions.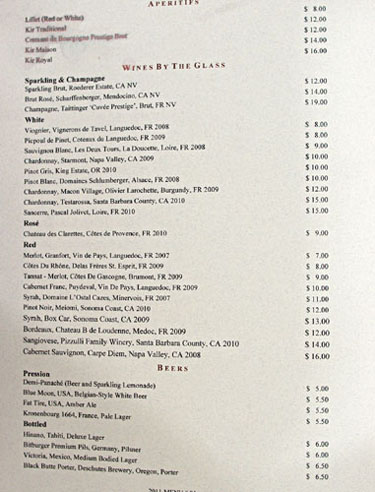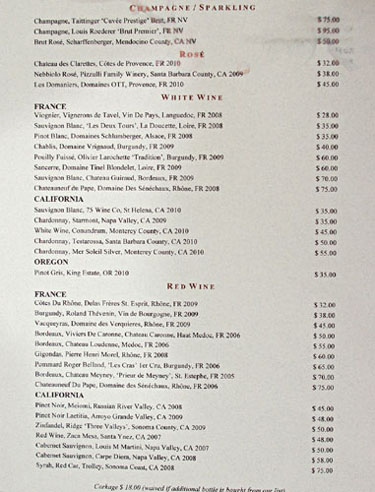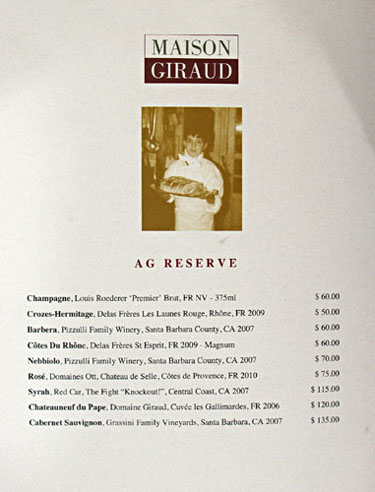 The wine list is similarly focused, with a smattering of reasonably priced French and Californian selections, along with a handful of beers. Click for larger versions.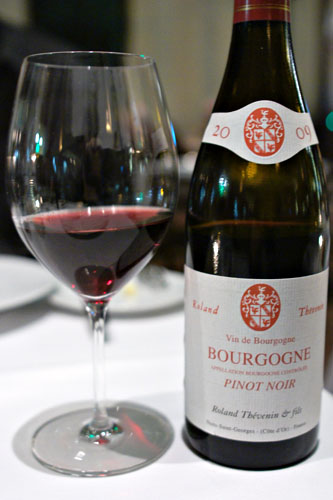 We asked our server to pick a bottle to go with all of our dishes, and he selected the 2009 Roland Thévenin & Fils Vin de Bourgogne [$38]. It was a solid choice, a relatively light-bodied red that was pretty much just what I was expecting from a young French pinot noir.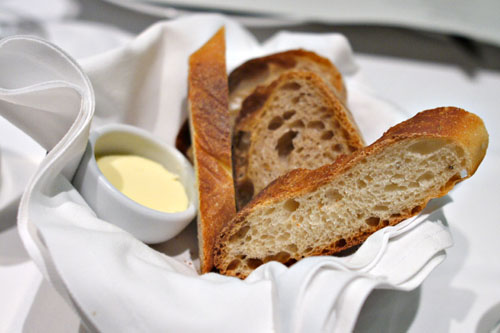 Bread is, of course, baked in-house, and was quite lovely.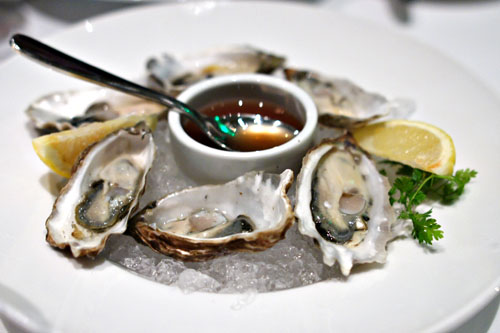 Oysters on the Half Shell [$12.00]
We began with a special menu item: Kumamoto oysters from Baja, Mexico. They were somewhat more elongated than I'm accustomed to, but still showed off that signature Kumamoto flair, with a firm, snappy bite and sweet, subtle brine. Great alone, but even better with a dollop of that tangy, pungent mignonette sauce.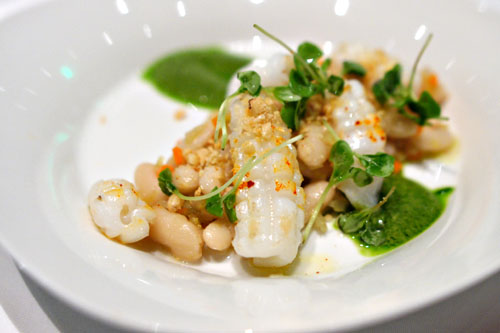 Pan Roasted Baby Squid [$13.00]
| Pine Nuts, Basil Emulsion, Marinated White Beans
I'm a sucker for squid, so I was really looking forward to this dish. Fortunately, the squid did not disappoint, with its great mix of sweet and saline flavors and a delightfully chewy consistency. It was superb when combined with the aromatics of the basil, while the white beans did a great job lending depth and weight to the dish. A must try.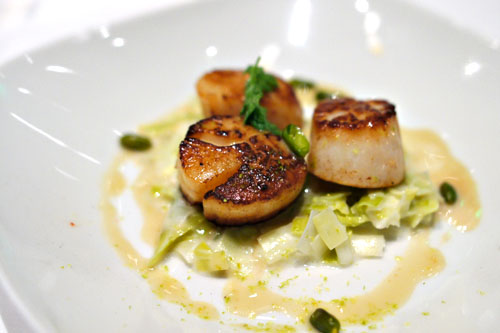 Seared Scallops [$14.00]
| Leek Fondue, Meyer Lemon & Pistachio Sauce
Scallops were spot on--still slightly rare in the middle, but with a nice touch of caramelization on the outside. Their refined, ocean-y savor was delectable alone, but the leek and lemon added a marked piquancy to the dish that provided a bit of balance.
"Camille's" Potato and Rosemary Flat Tart [$10.00]
| Potatoes, Crème Fraîche, Rosemary, Gruyère
Apparently, the story behind this dish was that it was created for Giraud's daughter Camille when she was going through a vegetarian phase. I'd like to thank her for that, as the tart was one of the highlights of the meal, an impeccable amalgam of potato, cheese, and rosemary that was comforting, rustic, and delicious all at the same time. I especially appreciated the crispness of the crust, as well as the lightness imparted by the romaine.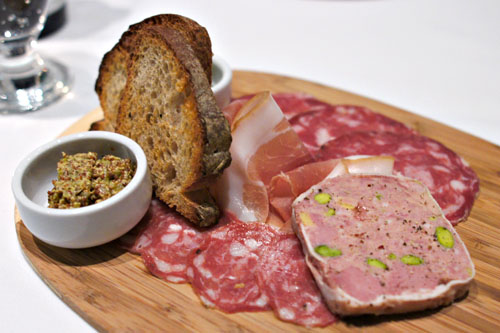 Charcuterie Plate [$13.00]
| Homemade Terrine, Cured Cuts, Grilled Bread, Condiments
Next, we were greeted by a charming plate of charcuterie, replete with grilled bread, whole grain mustard, and gherkin pickles. Saucisson sec and soppressata were just as you'd expect, both conveying a great salty savor with a whisper of spice. Speck, meanwhile, showed off just a touch of tanginess, but my favorite was the housemade terrine of duck and foie gras, with its deep, rich flavors countervailed by a hint of nuttiness from the pistachio. I really hope that Giraud and company decide to do more of their own charcuterie in-house in the future.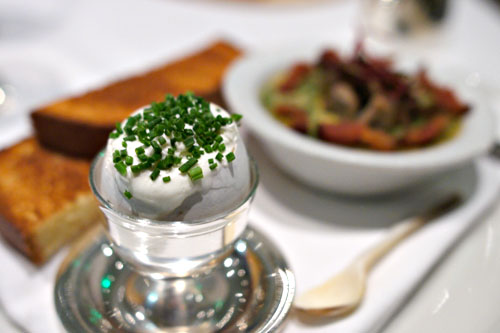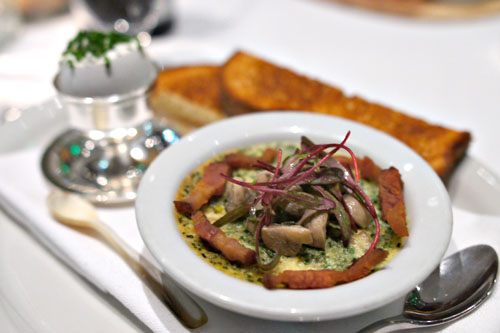 Farm Eggs Town & Country [$10.00]
| Light Mushroom Custard, Rustic Egg Cocotte
Our final starter was farm egg, served two ways. The "town" preparation was a mix of mushroom and egg custards, with a pure, refined essence of
champignon
deftly balanced by the creamy presence of
oeuf
. The "country" presentation, on the other hand, brought us a "cocotte" of scrambled egg, mushroom, and bacon. It was much more rustic in character, with a delightful interplay between the salty bacon, earthy 'shrooms, and egg.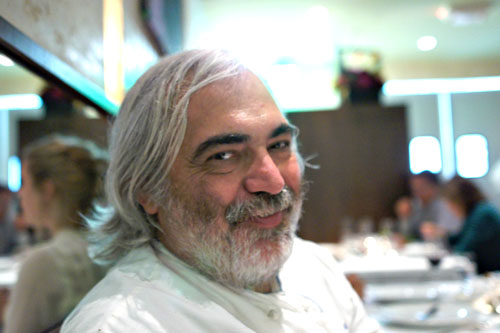 The Chef checks in with us.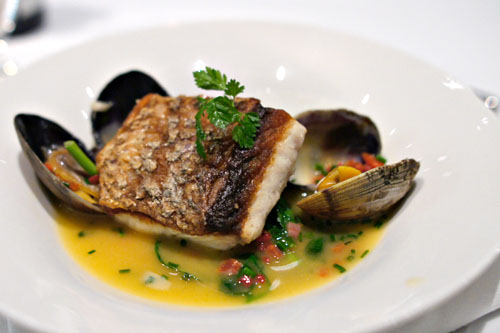 Mediterranean Sea Bass [$24.00]
| Roasted with Clams, Chorizo, Baby Spinach, Piquillo
Moving on to the main courses now, we began with a wonderfully prepared seabass. I adored its white, supple flesh, as well as the fish's superb salinity and beautifully crisp skin. It was delicious alone, but I also appreciated the additional brine imparted by the clams, as well as the tempering bitterness of the spinach. Excellent broth, as well.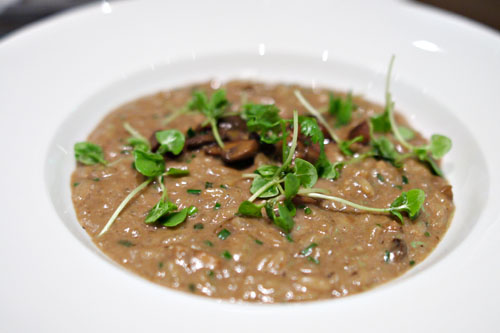 Arborio Risotto [$18.00]
| Mushrooms, Aged Parmesan, Fresh Herbs
Risotto, naturally, was a must order for me. The rice was cooked to a proper consistency, being firm, yet slightly chewy. The dish showed off plenty of earthy, savory mushroom character, along with the additional richness of the Parm, but I wanted something more to counteract all the heft. The herbs did add points of levity, but I felt the dish needed more balance.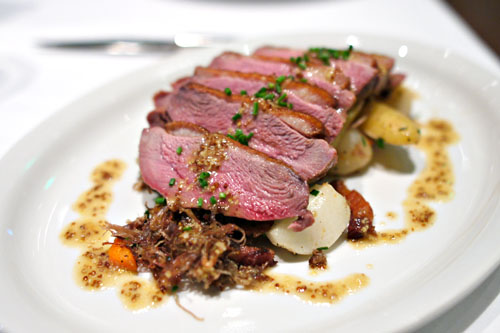 Duck "Antonin" [$25.00]
| Roasted Filet, Leg Confit, Root Vegetables, Sauce Charcutiére
Our final savory course of the evening was this gorgeous duck dish. The breast was consummately cooked, and some of the best
canard
that I've had in a long while, with a profoundly rich, satisfying smack that went flawlessly with the relative austerity of the paired potatoes, carrot, and turnips. The confit'd leg added further savoriness, but wasn't even necessary in my opinion.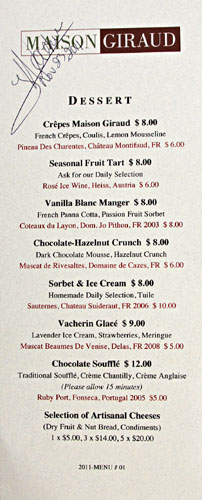 And with that, we were off to the desserts, which here at Maison Giraud, are the charge of Baker-
cum
-Pastry Chef
Noubar Yessayan
. The Lebanese-born Yessayan attended the Le Cordon Bleu College of Culinary Arts in Pasadena, and was hired at Bastide immediately after graduation. Following, he was recruited to join Giraud at Anisette, and quickly became the restaurant's
boulanger et pâtissier
. At the start of 2010, Yessayan started providing breakfast pastries to Intelligentsia Coffee, and has also consulted for Paul Shoemaker's Savory in Malibu. Click for a larger version.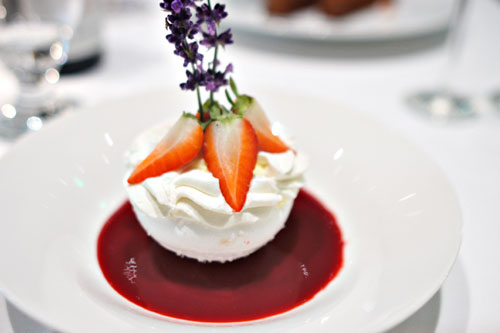 Vacherin Glacé [$9.00]
| Lavender Ice Cream, Strawberries, Meringue
Muscat Beaumes De Venise, Delas, FR 2008
First up was Giraud's signature dessert, a take on the classic French
vacherin
, which is basically a meringue with cream and fruit. It was fantastic, with a flawless blend of flavors between the creamy chantilly, tart strawberry, sugary raspberry coulis, and wonderfully floral lavender
crème glacée
, all wrapped up in a crunchy meringue shell.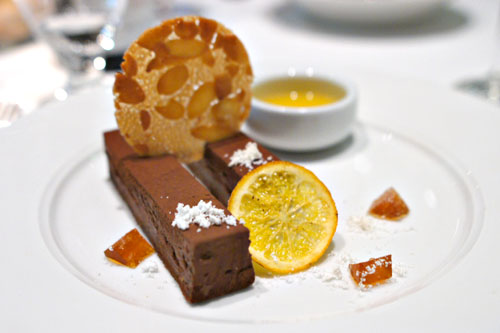 Chocolate-Hazelnut Crunch [$8.00]
| Dark Chocolate Mousse, Hazelnut Crunch
Muscat de Rivesaltes, Domaine de Cazes, FR
Here, Yessayan pays tribute to Michel Richard's famous chocolate bar, which I'd had not too long ago at his bistro concept
Central
in Washington DC. I actually liked it better than the original, with its beautiful marriage of chocolate and hazelnut flavors moderated by the application of a light citrus sauce and bits of passion fruit
pâte de fruit
. Loved the crunch of the nutty
tuile
, too.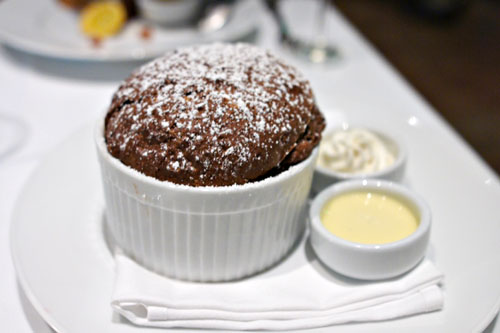 Chocolate Soufflé [$12.00]
| Traditional Soufflé, Crème Chantilly, Crème Anglaise
Ruby Port, Fonseca, Portugal 2005
If you're a fan of soufflés, then make sure to give the version here a try. It was a completely classic preparation of the dish, but perfectly done--light, airy, with a rich, but not overwhelming chocolate-y sweetness that went swimmingly with the duo of crèmes.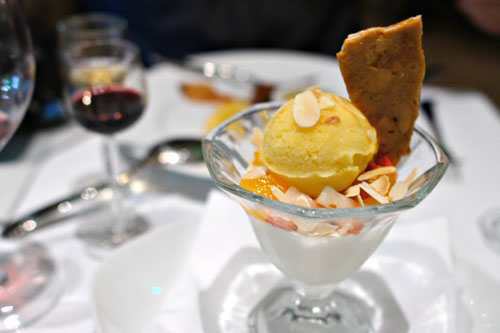 Vanilla Blanc Manger [$8.00]
| French Panna Cotta, Passion Fruit Sorbet
Coteaux du Layon, Dom. Jo Pithon, FR 2003
We ended with a
blancmange
, a panna cotta-esque dish tarted up with fruit and almond slivers. It was lovely, a great mix of tastes and textures with a wonderful blend of flavors between the cream and the tangy sorbet, along with a delightful counterpoint provided by the nutty "brittle."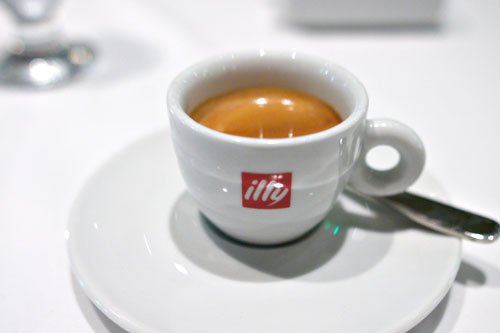 A single espresso [$3.25] to close out the night.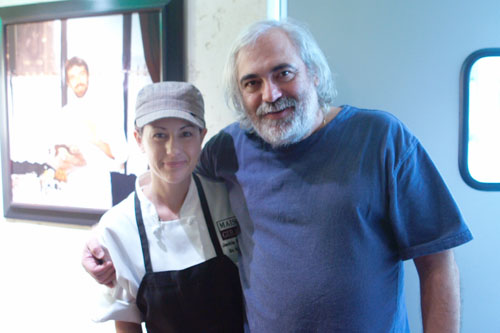 Giraud with Sous Chef Jackie Mazzuca (Anisette,
Mélisse
,
Waterloo & City
) at the end of the night.
Well, Giraud's back in business, and I'm happy to report that the Maison was worth the wait. The food was mostly spot on and delicious, and at the same time, comforting, but just creative enough to keep things interesting. The Chef has returned with a vengeance, putting forth a perfect neighborhood spot with cooking that's good enough to draw people from across the City.