The Royce (Pasadena, CA)
The Royce
1401 S Oak Knoll Ave, Pasadena, CA 91106
626.585.6410
www.roycela.com
Thu 11/18/2010, 07:00p-12:45a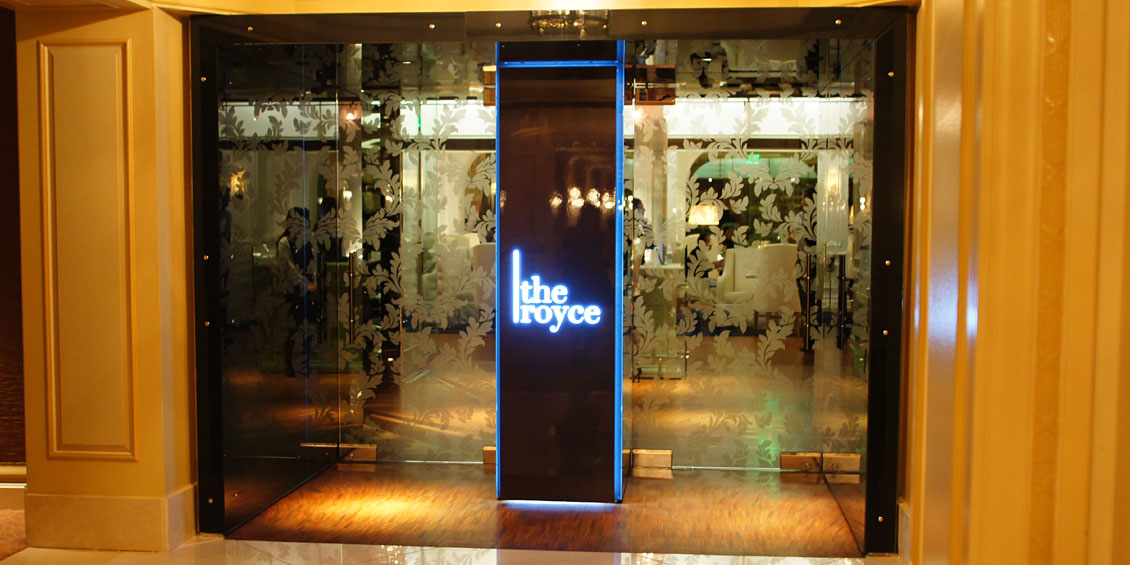 During Michael Voltaggio's tenure at
The Dining Room
, the Chef's cutting-edge creations undoubtedly revitalized the otherwise staid restaurant. Despite that, the juxtaposition between Voltaggio's progressive cookery and the restaurant's rather dated surroundings was just too incongruous, apparently, and hotel management was eager to renovate the space to better suit the cuisine. However, Voltaggio desperately wanted a place
all to himself
, and when he announced
his departure
, I don't think that any of us were terribly surprised. We were thus left, of course, wondering who his replacement would be. After an exhaustive search, the Langham recently named David Féau to take over the reins at the restaurant, now rechristened The Royce (after former owner/manager Stephen W. Royce).
About the Chef
: Born in 1972 in Le Mans, France, David Féau grew up cooking at his mother's side. He began his formal culinary education at age 13 when he started a vocational cooking program, and at 16, moved to Provence for his first real restaurant job. Then, at age 20, Féau received his degree from the École Hôtelière, Hélène Boucher in his hometown of Le Mans. After graduation, he worked in Paris and surroundings (including a stint at Relais Carre d'Or with Jean-Claude Boucheret) before meeting his mentor,
Guy Savoy
. Féau started at the bottom at Savoy's eponymous restaurant, and after three and a half years of hard work, had mastered every single position on the line.
Wanting a new challenge, he moved to Bistrots de l'Etoile, a restaurant that opened in the late 1980's during the bistro revolution. Savoy had taken over the place, and tapped Féau to revitalize it. After just a year, l'Etoile was widely recognized as one of the best in the City. In early 1998, Féau moved to the Michelin-starred Le Miravile, where he became Executive Chef. Following, he returned to Guy Savoy and stayed for two more years, reaching the rank of Chef de Cuisine. Wanting to try his hand at something new, Féau then took an Executive Chef position at the Mediterranean-inspired Latitude 40 & Version Sud in Paris, but the restaurant quickly folded. He then returned to Savoy once again, and helped his longtime mentor open another restaurant, but after a few months, he decided that he wanted to strike out on his own.
The Chef encountered significant difficulty in opening his own place in Paris, and decided to move to New York at the urging of
Le Bernardin
's Eric Ripert. Ripert introduced him to Jacques Le Magueresse, a managing partner at André Soltner's legendary Lutèce, and in 2001, Le Magueresse quickly brought Féau onboard to help modernize the restaurant's menu. Once he finished with Lutèce in 2003, he took over the institution's Las Vegas location at The Venetian. 2005 then saw the Chef move to Georges Forgeois' Cercle Rouge back in New York, where he garnered significant praise for his reimagined bistro classics. In 2006, Féau relocated to Los Angeles, where he became Executive Chef at Café Pinot. Two years later, he was promoted to Corporate Executive Chef for
Patina
Group's West Coast operations, a role that he left earlier this year to helm The Royce.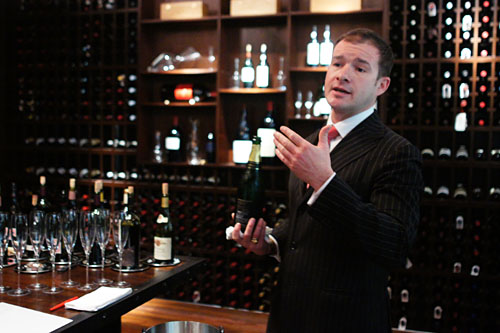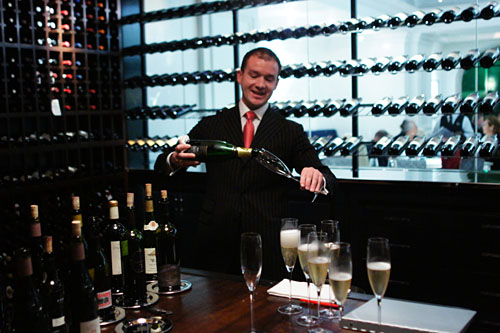 Upon entering the restaurant, we were quickly ushered into the Red Room, one of the restaurant's two wine cellars. We were then joined by GM and Wine Director Eric Espuny, whom I instantly recognized from my first visit to
Patina
over three years ago. He proceeded to pour us flutes of bubbly from producer Quartz Reef out of Central Otago, New Zealand. It was a delicious sparkler, showing off beautiful notes of apple and lemon over a faint backbone of yeast--very quaffable. We were then left alone for a bit, enabling us to chat and enjoy more wine, before being called to dinner.


Across the way is The Royce's White Room, which, as the name implies, houses the restaurant's white (and rosé, I suppose) wine collection. It's a colder space, both figuratively and literally.

Completely renovated by Atlanta's Johnson Studio, The Royce's new space is keenly contemporary, in line with Féau's cuisine, yet not out of character with classic character of The Langham as a whole. In addition to the wine rooms described above, The Royce now features a glass-enclosed veranda with views of the garden, as well as an eight-seater Chef's Table. The former
Private Dining Room
has been done away with.

Separated from the main dining room by a flowery glass partition, the Chef's Table provides a glimpse into Féau's kitchen. Note that there's a $1000 minimum charge to sit here, which turned out to be a non-issue for my party of seven.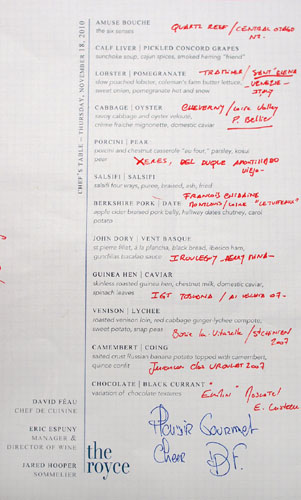 The 12-course Chef's Table menu of Féau's contemporary Cal-French fare was priced at $150 per person, plus an additional $75 for wine pairings by Eric Espuny. If you find yourself in the regular dining room, ordering is done à la carte, or there's also a five-course tasting for $85. Click for a larger version.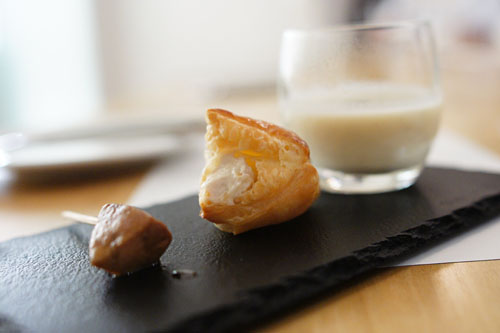 1: CALF LIVER | PICKLED CONCORD GRAPES
| sunchoke soup, cajun spices, smoked herring "friend"
Central Otago, Quartz Reef, Brut, New Zealand, NV
Our meal began promptly with a trio of amuse bouches. I first tasted the sunchoke soup with black truffle and olive oil. It was perhaps the best preparation of sunchoke that I've ever had, a hearty, heartwarming potage that showed off a heady, intensely savory, almost briny character that I adored. Next up was a puff pastry filled with smoked herring mousse, with the brazen fishiness of the mousse playing beautifully off the relative mildness of the pastry. Finally, I tried the seared calf's liver with concord grapes, a perfect interplay between the juicy sweetness of grape and the mild savor of the liver. Overall, a very promising start to dinner.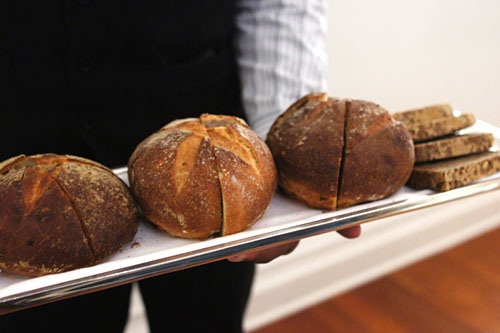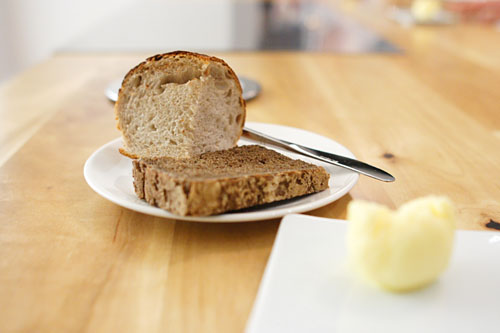 All bread is baked in-house by Chef Féau. Four varieties were on offer tonight, and I began with a beautifully-textured
pain noir
and a fantastic rye bread.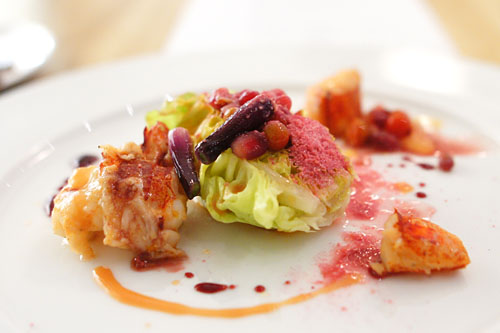 2: LOBSTER | POMEGRANATE
| slow poached lobster, coleman's farm butter lettuce, sweet onion, pomegranate hot and snow
Friuli-Venezia Giulia, Sant'Elena, Traminer Aromatico, Italy, 2008
Féau's first course brought us the best "lobster salad" that I've ever eaten. The crustacean was expertly cooked to a supple, yet snappy consistency, while its inherent sweetness was deftly augmented by the inclusion of pomegranate (in both warm sauce and cold nitro powdered form). As good as the pomegranate was, the sweet onions, in concert with red miso emulsion, grapefruit, and currant tomatoes, were even better, and I loved the moderating effect of the lettuce. A wonderful study in contrasting temperatures and textures, beautifully paired with a fresh, spicy, floral Traminer from producer Sant'Elena.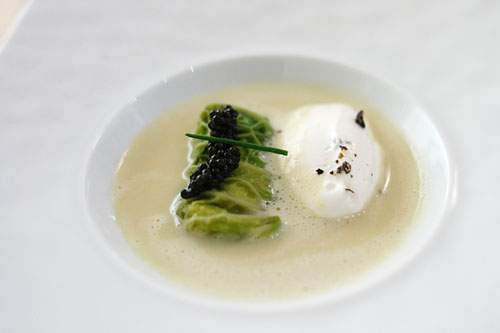 3: CABBAGE | OYSTER
| savoy cabbage and oyster velouté, crème fraiche mignonette, domestic caviar
Cheverny, Pascal Bellier, Loire Valley, France, 2009
Upon being presented this dish, I was instantly reminded of
Thomas Keller
's iconic "
Oysters
and
Pearls
." Flavor-wise though, it was a drastically different experience. The Hama Hamas showed off a lovely brininess--heightened by the caviar--that was adroitly counterbalanced by the mild cabbage and subtle tanginess of the crème fraiche, while the finish was awash in delectable, lingering tones of black pepper. The slight savoriness in the paired Cheverny worked very well with the flavor of the oysters, and I even made sure to sop up the remaining liquid with my bread!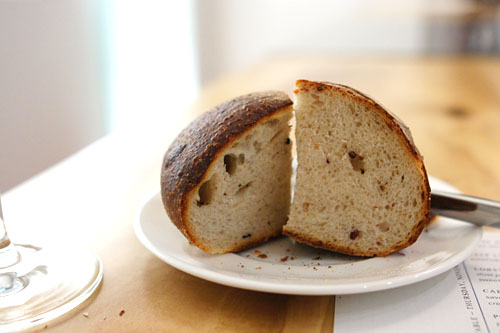 Here we see Féau's olive and bacon breads.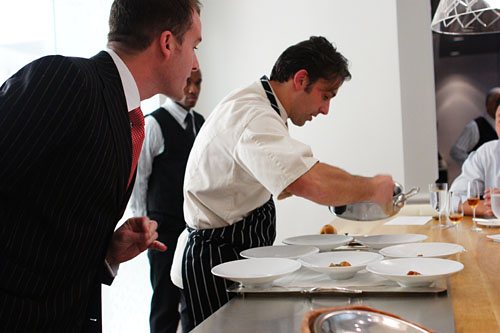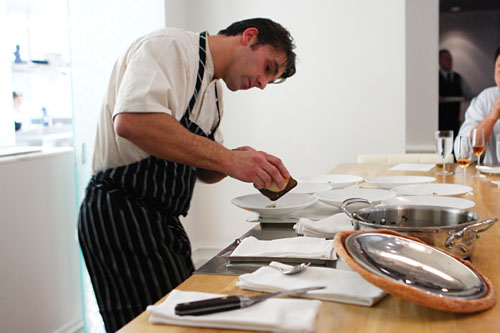 Chef Féau stepped out of the kitchen to serve his casserole tableside.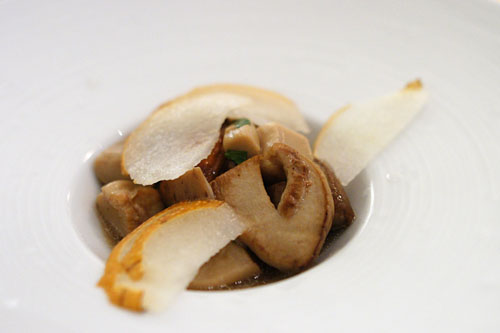 4: PORCINI | PEAR
| porcini and chestnut casserole "au four," parsley, kosui pear
Xérès, Amontillado, Gonzalez-Byass, "Del Duque", Spain, NV
The Chef's oven baked porcini mushroom and chestnut casserole was a quintessential, pure expression of the autumn season. I really appreciated the earthy, woodsy taste of the
cèpes
, while the chestnuts added a sweet, nutty, rustic tinge to the dish, a flavor profile mirrored in the accompanying Amontillado. Meanwhile, the shaved pear helped lighten things up with a crisp, saccharine succulence.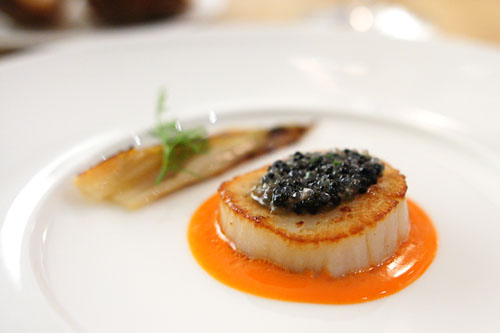 Extra: SCALLOP | LOBSTER ROE
| seared diver scallop, lobster roe sauce, caviar, finger lime, braised endive, fennel
Chablis 1er Cru, Domaine Testut, Montee de Tonnerre, Burgundy, France, 2008
A surprise course of scallop was next. The bivalve, naturally, was deftly cooked to a beautiful sear, and of course, the salty kick of caviar and heady lobster was a great pairing with the mollusc. What was interesting here though was the use of finger lime, which gave the scallop an unforeseen, but not unwelcomed sour prick. The endive, at the same time, helped ground the dish.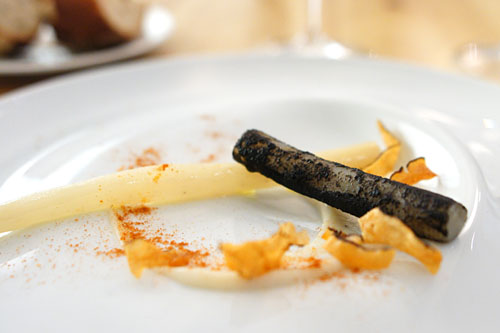 5: SALSIFI | SALSIFI
| salsifi four ways, puree, braised, ash, fried
Montlouis, François Chidaine, "Les Tuffeaux", Loire Valley, France
Féau's most unconventional dish of the night was this four-way of salsify, served puréed with goat cheese, braised, rolled in leek ash, and fried in Cajun spices. It was great to see the different faces of salsify, vastly distinct, yet each sharing common traits. The braised preparation was the most straightforward presentation on the plate, while the ash-coated version was the most intense, with a marked bitterness counteracting the weight of the root vegetable. My favorite though, was the fried variation, as I really appreciated how its Cajun spice paired with the relative subtle savor of the oyster plant.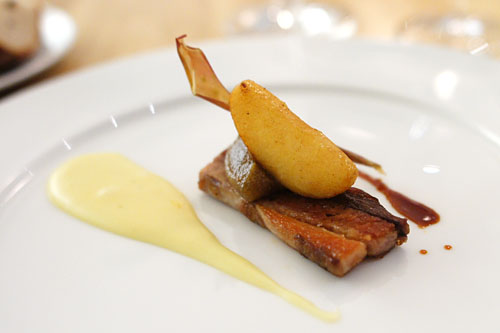 6: BERKSHIRE PORK | DATE
| apple cider braised pork belly, hallway dates chutney, carol potato
Montlouis, François Chidaine, "Les Tuffeaux", Loire Valley, France
Pork belly conveyed plenty of signature porcine goodness, with a nice interaction of crisp skin and tender meat. There were a lot of potentially saccharine items on the plate here--apple cider sabayon, caramelized apple, apple skin crisp, date chutney--and I was concerned that the sugariness would be overwhelming. Fortunately though, the sweetness was kept in check, making for a well-balanced course, and also went well with the marked notes of honey and stone fruit in the paired wine. The potato crémeuse, on the other hand, tempered the dish. One of my dining companions even described this as "Thanksgiving in your mouth!"
7: JOHN DORY | VENT BASQUE
| st pierre fillet, à la plancha, black bread, iberico ham, gundillas bacalao sauce
Irouléguy, Herri Mina, France
Dory was delicious, flaky in consistency and beautifully accompanied by a topping of garlic, piquillo, espelette, and black bread that gave the dish a delightful sweet-peppery flavor. I could've done without the eggplant, but the inclusion of fingerling was genius. I loved how the relative mildness of the potato went with the salty Jamón Ibérico and the brazen brine of the bacalao (salt cod) dressing.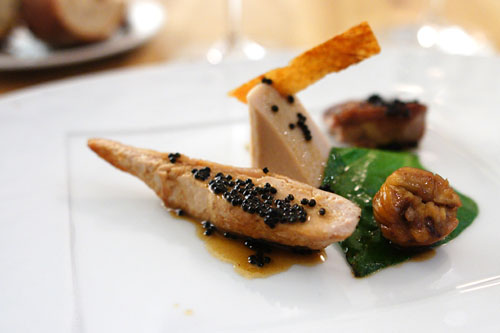 8: GUINEA HEN | CAVIAR
| skinless roasted guinea hen, chestnut milk, domestic caviar, spinach leaves
Tuscany, Aia Vecchia, "Lagone", Italy, 2007
I believe that this was actually my first time having guinea hen. We were given both white and dark meat portions, with the latter being noticeably more luscious. The bird's flavor was somewhat fuller flavored versus chicken, though its texture was very similar. I really appreciated the lingering brine imparted by the caviar, as well as the tempering effect of the chestnut milk gelatin. My favorite element of the dish, though, was actually the spinach, which brought a fantastic bit of astringency into play.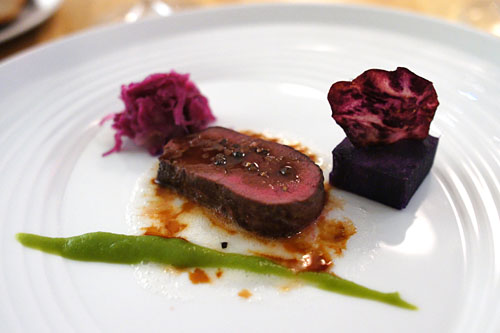 9: VENISON | LYCHEE
| roasted venison loin, red cabbage ginger-lychee compote, sweet potato, snap peas
Saint Chinian, Borie La Vitarelle, "Les Schistes", Languedoc-Roussillon, France
Venison arrived poached and pan seared to a nicely tender consistency. Taste wise, it was suitably meaty, with a beautiful peppery tinge that really went well with the spicy paired Saint Chinian. The Okinawan sweet potato and lychee gave the course a bit of sweetness, which was fortunately tempered by the pea purée and tangy red cabbage.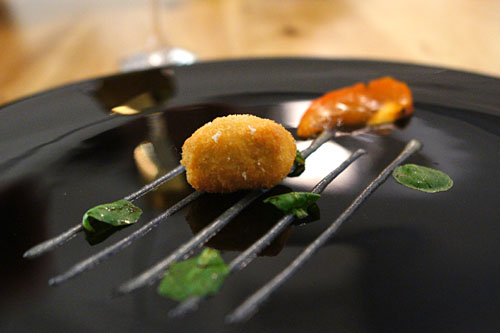 10: CAMEMBERT | COING
| camembert croquette, persimmon, quince purée, cherry vinegar, mâche
Jurançon, Clos Uroulat, Charles Hours, France, 2007
This was one of the strongest cheese courses that I've had in a while. The texture of the cheese croquette was stupendous--crisp and crunchy outside, but wonderfully creamy inside. The accompanying sweetness of persimmon and quince was well thought out, while the mâche tempered the reaction.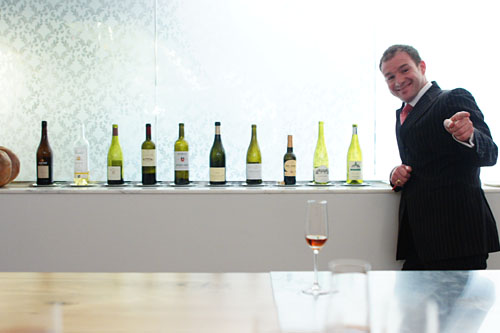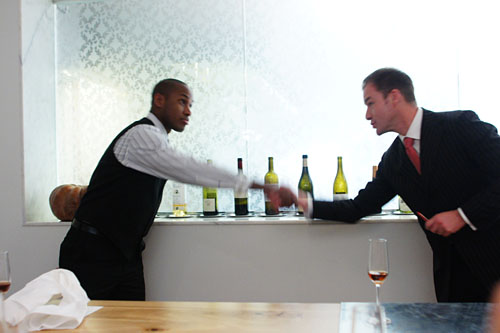 Towards the end of dinner, Espuny presented all of the night's wine, and thanked our server
Akili Steward
for his wonderful service over the course of the meal.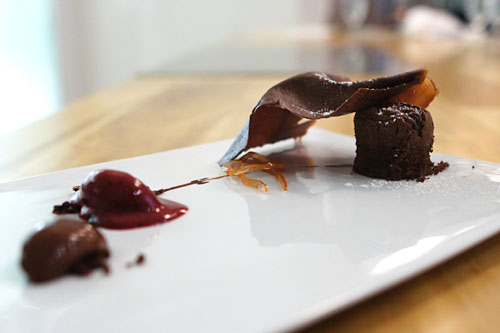 11: CHOCOLATE | BLACK CURRANT
| variation of chocolate textures
Xérès, Moscatel, Emilio Lustau, "Emilin", Spain, NV
Chocolate cake with fleur de sel was joined by chocolate tuile, chocolate gelée noodles, chocolate sorbet with olive oil, and black currant sorbet. It was nice to experience the different tastes and textures of chocolate here, while the currant provided a tart, fruity counterbalance. Very nice with the paired Moscatel and its chocolate, coffee, and date flavors.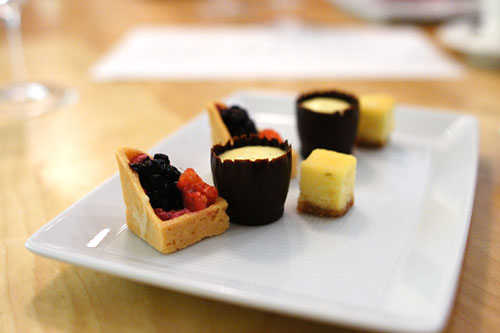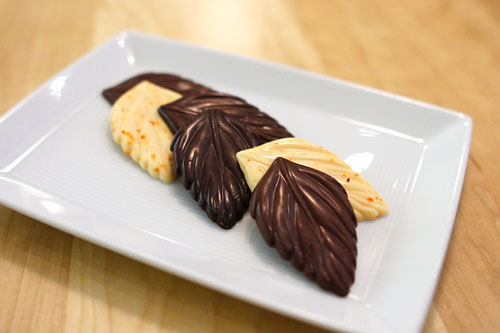 Mignardises
Some sweet bites to end the meal: a fruit tart with currant chutney, a classic crème brûlée in a chocolate ramekin, and a slightly savory cheese tart with a great graham cracker crust. Once we were done with that, another plate arrived, this one holding three types of chocolate leaves: white chocolate with espelette pepper, dark chocolate with fleur de sel, and a mild caffè latte chocolate.
Voltaggio's cooking was deemed too avant garde for the Pasadena crowd, so one of the goals of Féau's fare was to present a high level of sophistication and innovation, yet still be accessible for locals. In that regard, the Chef has succeeded with flying colors. He had some big shoes to fill, but he's doing a great job, putting out food that's exciting, yet approachable, and most importantly of all, still tastes good. This is arguably Michelin two-star caliber cooking we're talking about here, making Féau is a worthy successor indeed.