Maximiliano (Los Angeles, CA)
Maximiliano Restaurant
5930 York Ave, Los Angeles, CA 90042
323.739.6125
www.maximilianohp.com
Tue 03/20/2012, 07:20p-10:50p

Before launching Belgian beer cafe
Little Bear
earlier this year, Andre Guerrero debuted Maximiliano in Highland Park last October. Named after the Chef's son Max (also the inspiration for the original Max in Sherman Oaks), the restaurant is located near Guerrero's hometown of Glassell Park and features his own brand of "old school" Italian-American cooking.

Maximiliano is located in the building that once housed La Casa Blue, and prior to that, Juanita's. The space has been completely redesigned by architectural design firm
FreelandBuck
, and is a contemporary affair that somewhat belies the cooking going on here.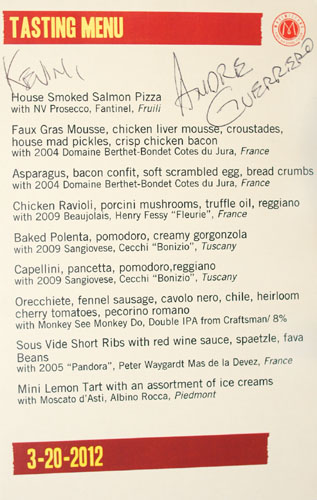 Ordering at Maximiliano is usually done à la carte from an approachable list of starters, mains, and pizzas. However, we requested a tasting menu, priced at a very reasonable $60 per person, inclusive of wine pairing. Click for a larger version.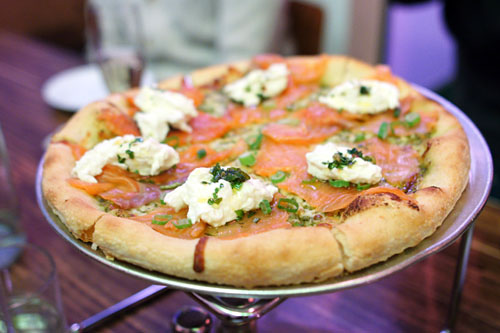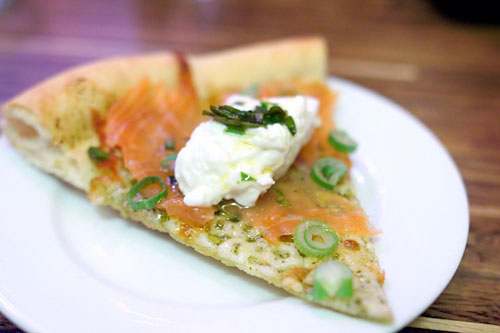 1: House Smoked Salmon Pizza
NV Prosecco, Fantinel, Fruili
For our first course, Guerrero doesn't attempt to make an authentic Neapolitan, but instead, pays homage to Wolfgang Puck's iconic smoked salmon pizza, which first debuted at
Spago
in 1982. It was very, very good, way better than I thought it'd be. I loved the smoky, savory relish of the fish here, deftly perked up by the tangy scallions, with the burrata adding a cool, creamy, luscious contrast in the dish. The thin, crisp crust was a perfect fit, too.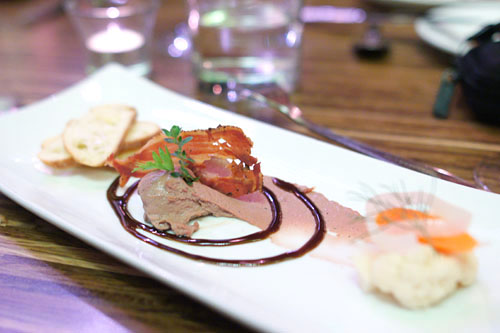 2: Faux Gras Mousse, chicken liver mousse, croustades, house made pickles, crisp chicken bacon
2004 Domaine Berthet-Bondet Cotes du Jura, France
A mousse of chicken liver was on point, showing off the rich, earthy, velvety character that I was looking for, augmented by the saltiness of bacon. Its considerable power and heft was adroitly moderated by the crisp slices of toast, while homemade pickles added a well-placed acidity and crunch to the mix. I quite liked the wine pairing with this one, too. The Côtes du Jura was intriguing, with a savory, dry character that recalled the nuttiness of sherry, all with some subtle, sugary fruit overtones.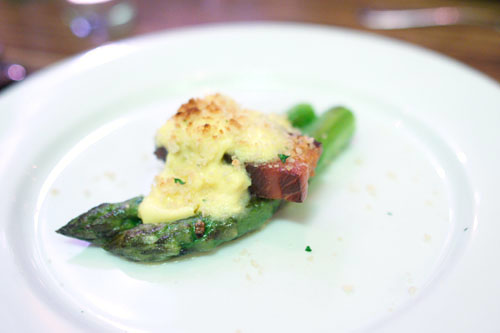 3: Asparagus, bacon confit, soft scrambled egg, bread crumbs
2004 Domaine Berthet-Bondet Cotes du Jura, France
When you combine bacon, egg, and asparagus, you pretty much know that the result is going to be delicious, and indeed it was. The pork alone was profoundly savory, with a fantastic, lingering smokiness that just stuck on my palate. At the same time, it melded wonderfully with the soft, luscious egg, while the asparagus brought a flawless astringency and crunch to the dish.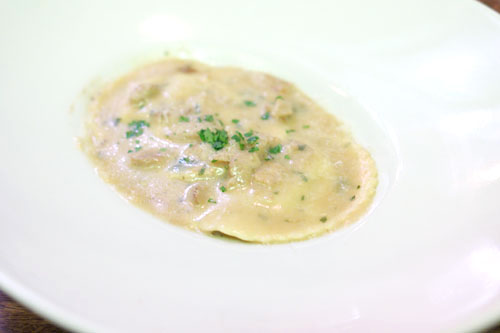 4: Chicken Ravioli, porcini mushrooms, truffle oil, reggiano
2009 Beaujolais, Henry Fessy "Fleurie", France
The ravioli of chicken was exactly as I expected: unabashedly savory, with a certain sharpness from the Reggiano and a strong earthy element from the mushroom. The wine here was a Cru Beaujolais, which showed off a lot more substance than the typical Beaujolais Nouveaus that most of us typically associate with the region. It displayed an abundance of red fruit both on the nose and the palate, along with a marked mineral component and a bit of alcohol on the finish.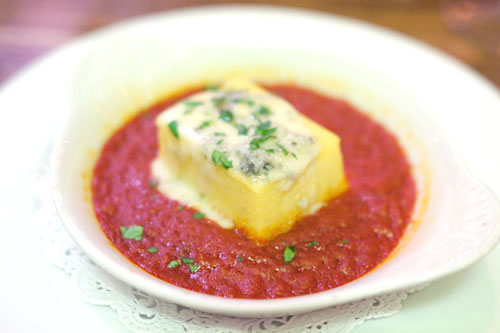 5: Baked Polenta, pomodoro, creamy gorgonzola
2009 Sangiovese, Cecchi "Bonizio", Tuscany
A block of polenta arrived supple and gritty, with a mild flavor that stood in stark contrast to the tart tomato sauce in the dish. The gorgonzola, meanwhile, provided an overarching saltiness and pungency, but overall, I wanted more complexity and verve here, as the flavors all felt a little flat.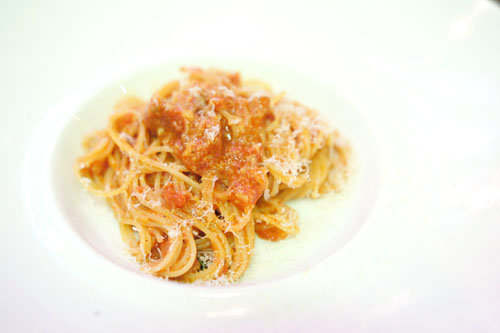 6: Capellini, pancetta, pomodoro, reggiano
2009 Sangiovese, Cecchi "Bonizio", Tuscany
Capellini pasta was cooked to a very pleasing consistency, and jazzed up nicely by the tangy smack of the tomato-based sauce. The large-ish chunks of pancetta, meanwhile, added a beautiful bit of saltiness and fat to the fray, and also did a great job in giving the dish more textural variation. A relatively straightforward pasta dish, but surprisingly satisfying.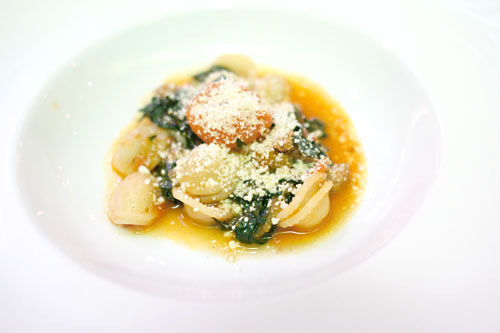 7: Orecchiette, fennel sausage, cavolo nero, chile, heirloom cherry tomatoes, pecorino romano
Monkey See Monkey Do, Double IPA from Craftsman
The orecchiette was a much more complex and multifaceted pasta. The star of the show here was the fennel sausage, with its delectable savoriness and aniseed tinge. The Tuscan kale, meanwhile, contributed a countervailing bitterness to the dish, while the tomatoes definitely tarted things up. I also appreciated the chile here, which provided a spicy undercurrent to the course. Moving away from wine for a bit now, Craftsman's Monkey See Monkey Do was a fitting beer pairing here, with its citrus-y, in-your-face hop character. However, it wasn't necessarily something that I'd enjoy drinking alone, simply due to its hoppiness.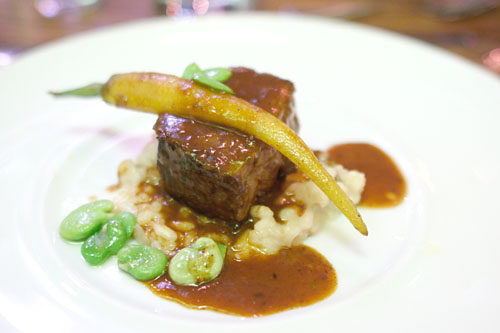 8: Sous Vide Short Ribs with red wine sauce, spaetzle, fava beans
2005 "Pandora", Peter Waygardt Mas de la Devez, France
Guerrero is perhaps better known for his sous vide'd pork chops, but these short ribs were spot on as well: tender and fatty, with an immense depth and tons of taste. As decadent as the meat was, the spätzle and fava were key in tempering out the heady, hefty flavors at play here.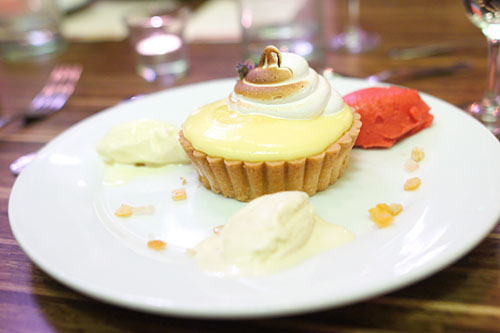 9: Mini Lemon Tart with an assortment of ice creams
Moscato d'Asti, Albino Rocca, Piedmont
Pastry Chef Jan Purdy produced a beautiful lemon tart, accompanied by olive oil and lavender ice creams, as well as a strawberry sorbet. The tart itself conveyed plenty of sour, citrus-y flair, moderated by the restrained sweetness of its crumbly crust. The accompanying sorbet and ice creams, meanwhile, added further points of interest and balance to the dessert, and I was especially fond of the subtle, floral kick of the lavender variety.
Guerrero has done something pretty interesting with Maximiliano. The cooking here draws upon the traditions of Italian-American-inspired cuisine, but is clearly much more than that. The Chef's not really trying to show off; the food isn't fancy; but the kitchen does do a good job in reinventing and refining what some may refer to as "red sauce" Italian. It's a different kind of Italian restaurant, and the resulting fare is accessible and tasty, homey in a way too, but modernized and streamlined, and a nice fit for the neighborhood.