Spago (Beverly Hills, CA) [2]
Spago
176 N Canon Dr, Beverly Hills, CA 90210
310.385.0880
www.wolfgangpuck.com/restaurants/fine-dining/3635
Fri 02/25/2011, 06:50p-12:40a

1982. The year of my birth. The year of that legendary harvest in Bordeaux. The year that Wolfgang Puck debuted Spago, forever changing the dining landscape here in LA, and indeed, the entire country.
Before opening his seminal eatery, Puck worked at Ma Maison, Patrick Terrail's legendary temple of French gastronomy. He left in 1981 to open Spago, which literally translates to
string
, but also to
spaghetti
. The name hints at the restaurant's original Italian roots, when pasta and pizza were heavily represented on the menu. The original Spago was situated at 8795 West Sunset in Hollywood, and throughout its years, played host to a number of notable chefs: Mark Peel,
Nancy Silverton
, Hiro Sone,
Karen Hatfield
, Eric Ziebold, Richard Reddington, and even
Jason Travi
. When Spago moved to its current Beverly Hills digs in 1997, the man put in charge was one Lee Hefter, Wolf's right hand man and now an owner in several of Puck's newest ventures. By and large, it is he, and not Wolfgang, who calls the shots at Spago these days.
About the Chef
: Raised in a Jewish household, Hefter spent his early years in New York and New Jersey. Unlike many other chefs, he didn't learn cooking by his mother's side. Rather, his family raised him on takeout, the Chinese variety in particular. Hefter was enamored with the apparent exoticism of the cuisine, and began working at a Chinese restaurant at age 16. The Chef eventually transitioned to other eateries in the area, then moved to San Francisco with his girlfriend (now wife) Sharon, finding employment at the late Barbara Tropp's China Moon. He stayed there for over two years, learning a great deal about Tropp's Cal-Asian style of cookery. One night, Wolfgang Puck happened to stroll in for dinner, and as a result of that chance meeting, ended up inviting Hefter to cook at Spago Hollywood in 1992.
He served as Puck's Sous Chef for two years, but his wanderlust inspired him to travel to France to broaden his culinary horizons. Puck obliged, gave Hefter $5,000, a plane ticket, and sent him to L'Oustau de Baumaniere in Provence, where he began his own career so many years ago. Hefter also
staged
at Pierre Troisgros' Maison Troisgros, Michel Trama's Les Loges de I'Aubergade, and finally, at Michel Bras' eponymous eatery in Laguiole. When the Chef came back to the States, he returned to work for his mentor, opening up Granita in Malibu in 1996. Following, he also took over the reins at Spago, and was instrumental in the restaurant's move to Beverly Hills in 1997. Hefter was eventually made a partner in Spago, as well as Corporate Chef of the Wolfgang Puck Fine Dining Group. He subsequently opened Vert, a brasserie concept in Hollywood, for Puck in 2002, and also debuted
CUT
in 2006 to considerable acclaim. Hefter's newest venture with Puck is
WP24
, a modern Chinese concept that bowed last year, perhaps a nod to the cuisine that got him started in cooking in the first place.

Spago's interior was penned by Barbara Lazaroff, Puck's ex-wife and mother of two of his children. Most will claim that the best seats in the house are situated in the patio, but I prefer the main dining room (where we were seated), which affords diners a view of the kitchen. Overall, the restaurant is comforting and warm, though admittedly, it is getting a tad long in the tooth. In fact, a redesign is planned for the restaurant later this year.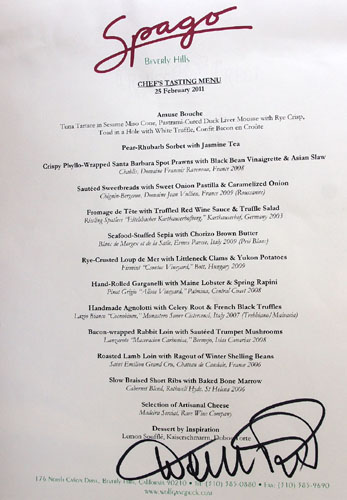 It may seem unbelievable, but save for the pizzas and the Austrian food, Puck has actually very little to do with the menu these days. Though Spago may be known for Californian cuisine, Hefter more accurately describes his cooking as globally-influenced contemporary American, with a penchant for Asian flair. Helping Hefter execute his vision are Chef de Cuisine Tetsu Yahagi (replacing long-time CdC Thomas Boyce, who left in September last year to open Golden Oven in Portland), and the inimitable Sherry Yard (and her Sous, Zairah Molina) in pastry. It is perfectly possible to eat here à la carte, but everyone
knows
that the way to go is the tasting menu, priced at $145, plus $70 for wine pairings from Sommelier Christopher Miller. We, however, decided to go the extra mile and requested an extended tasting, priced at $205 plus $115 for wine. Click for larger versions.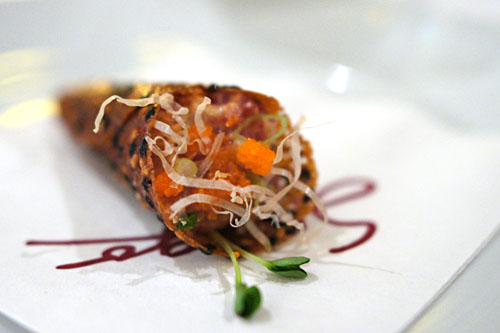 Amuse Bouche 1: Tuna Tartare in Sesame Miso Cone
We began with Spago's signature amuse, the trusty spicy tuna tartar. Despite all its accoutrements, the fish was still the hero here, providing a stage on which countervailing sweet and umami flavors danced together beautifully. Finishing things off was the crunchy, earthy essence of the sesame cone, tinged with just a touch of spiciness. Quite nice.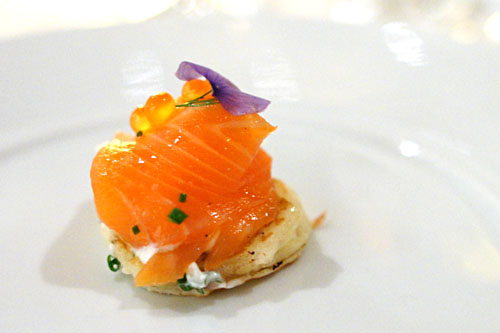 Amuse Bouche 2: House-Smoked Salmon on a Lemon-Herb Blini
Next up was a textbook presentation of salmon, smoked in-house and served with a dollop of dill crème fraiche and salmon roe, all atop a lemon-herb blini. Think classic smoked salmon flavors, accented by the herb-y tanginess of the crème fraiche and finished with a sharp prick of saltiness from the
ikura
.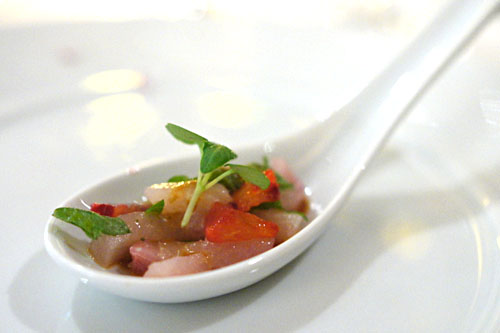 Amuse Bouche 3: Hamachi Ceviche
A ceviche of raw yellowtail, dressed in yuzu juice and what I believe was soy sauce. Unfortunately, I felt that the character of the fish was lost here, overwhelmed by the rest of the bite, though I did appreciate the refreshing, almost minty backpalate of the dish.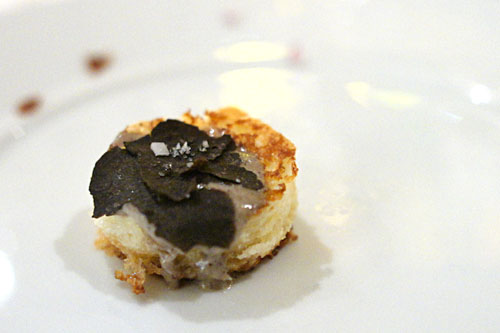 Amuse Bouche 4: Toad in a Hole with Black Truffle
Traditionally, a toad in the hole is an English dish of meat baked in a batter, but Spago's version was composed of béchamel and a quail egg in brioche toast, topped with truffle butter and black truffle. As expected, it was absolutely delectable, with the lusciousness of the egg and béchamel playing beautifully with the flavors of their salty, heady accompaniments. The bread, meanwhile, served to temper the dish.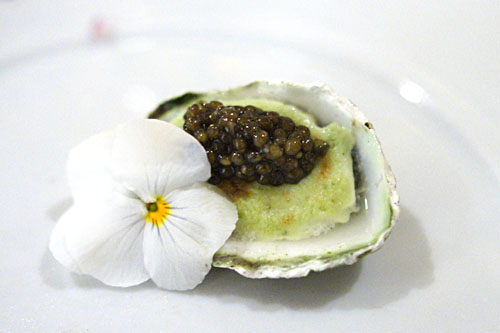 Amuse Bouche 5: Kumamoto Oyster Gratin with Osetra Caviar
Here was one of the best hot preparations of oyster that I'd ever had. It arrived cooked in an
au gratin
manner, and retained a creamy, luxurious consistency and lovely ocean-y flair, while the caviar did a fantastic job in augmenting the oyster's natural salinity. Absolutely lovely.
Amuse Bouche 6: Pastrami-Cured Duck Liver Mousse with Rye Crisp
Keep in mind that this isn't foie gras (which Puck has spoken out against), but merely duck liver. In any case, it was nevertheless quite delicious, with a great sweet-savory interplay between the apple purée and the intoxicating essence of liver. At the same time, I really appreciated the peppery contrast provided by the pastrami curing, as well as the unmistakable flavor of rye.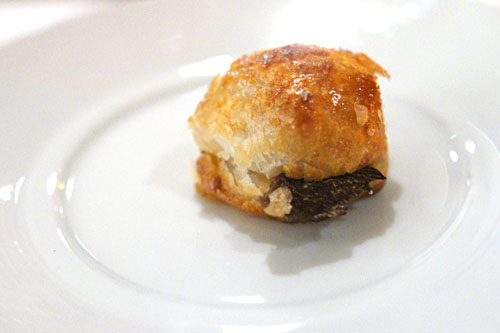 Amuse Bouche 7: Confit Bacon en Croûte
We closed our gauntlet of canapés with a preparation of confit bacon, sandwiched in puff pastry with Périgord truffle. This was an expectedly heavy, hearty bite, with the rich salt of the bacon deftly enhanced by the earthy relish of truffle. Yum.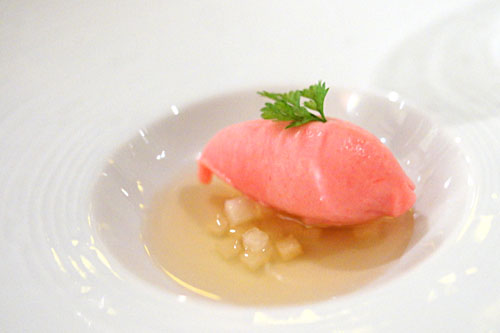 Intermezzo: Pear-Rhubarb Sorbet with Jasmine Tea
The tasting menu at Spago almost always features a sorbet after the amuses, and tonight was no different, with a rhubarb and Asian pear sorbet over a brunoise of the aforementioned pear, in a bath of jasmine tea, topped with micro cilantro. The end result produced a strikingly sweet, floral flavor that I was quite enamored with.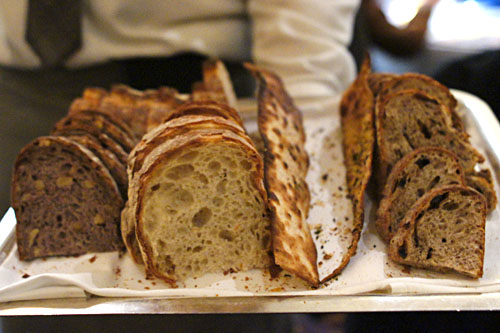 Five types of bread were on offer: olive, walnut, white, sourdough, and lavash (my favorite of the quintet).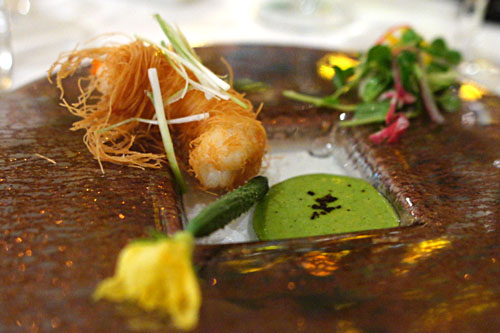 1: Crispy Phyllo-Wrapped Santa Barbara Spot Prawns with Cucumber Coulis
Chablis, Domaine Francois Raveneau, France 2008
Our first "proper" course brought us a Santa Barbara spot prawn, enrobed in a crisp phyllo shell and garnished with a cucumber coulis and cucumber flower. The presentation reminded me of a similar dish that I had at Nobu years ago; I enjoyed it back then, and enjoyed it tonight here at Spago as well. The prawn itself had an almost pillowy consistency, which worked beautifully with the crunchy contrast of phyllo. At the same time, the crustacean's delicately sweet flavor played perfectly with the piquant tang of the coulis, making for just a beautiful mélange of tastes and textures, all with a Chinese-y tinge.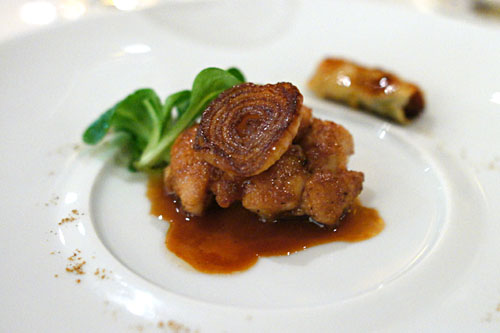 2: Sautéed Sweetbreads with Sweet Onion Pastilla & Caramelized Onion
Chignin-Bergeron, Domaine Jean Vullien, France 2009 (Roussanne)
Veal sweetbreads arrived expertly cooked in a Sherry gastrique, a lovely mix of crisp and creamy textures all wrapped up with the heady savor of the organ meat. Given the substantial weight of the sweetbreads, I appreciated the countervailing relish of the greenery on the plate. However, the cipollini onion was unnecessary, and I found the sweet onion-mushroom pastilla overly saccharine as well.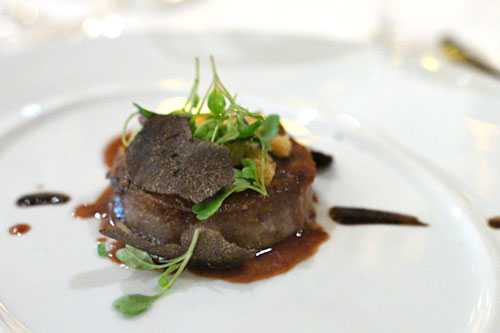 3: Fromage de Tête with Truffled Red Wine Sauce & Truffle Salad
Riesling Spatlese "Eitelsbacher Karthauserhofberg," Karthauserhof, Germany 2003
One of my favorite courses was this
fromage de tête
, or head cheese. I appreciated the cold cut's tender, silky consistency, and reveled in its immensely savory, satisfying sapor, augmented by the truffle and moderated by the bits of vegetable matter on the plate.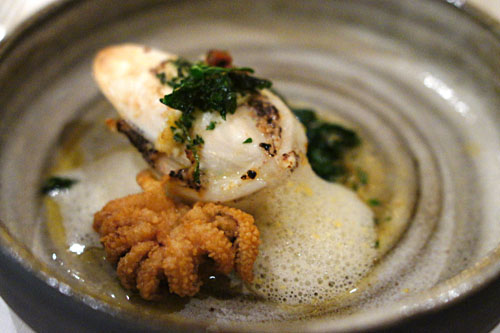 4: Seafood-Stuffed Sepia with Shellfish Foam
Blanc de Morgex et de la Salle, Ermes Pavese, Italy 2009 (Prié Blanc)
Cuttlefish came stuffed with a mixture of dungeness crab and spinach, accompanied by fried calamari tentacles and a shellfish foam. I loved the snappy texture of the sepia, as well as the citrus-tinged sweet brine of the crabmeat, all tempered by the subtle astringency of spinach. And the fried bit of squid? Fantastic as expected.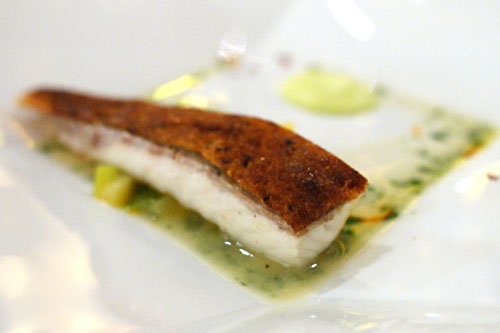 5: Rye-Crusted Loup de Mer with Littleneck Clams & Yukon Potatoes
Firmint "Csontos Vineyard," Bott, Hungary 2009
Loup de mer was lovely, its mild flesh perfectly paired with its crisp, intensely flavored rye crust. At the same time, I thoroughly enjoyed the additional ocean-y savor contributed by the clams, while the combination of potato and lemon butter served to lighten and ground the dish.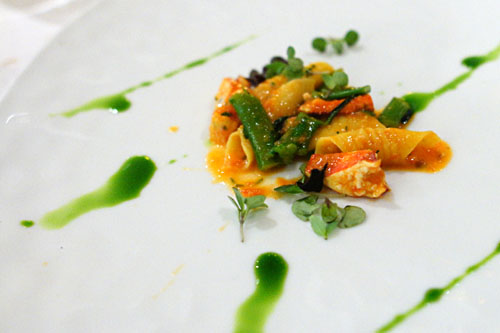 6: Hand-Rolled Garganelli with Maine Lobster & Spring Rapini
Pinot Grigio "Alisos Vineyard," Palmina, Central Coast 2008
Our first of two pasta courses was a dish of
garganelli
, a type of rolled egg pasta. I liked the slightly doughy consistency of the
garganelli
, and appreciated how the pungent combination of rapini and basil helped to balance the flavors of the tomato-based sauce. The Maine lobster bits added further complexity to the mix, but unfortunately were a bit overcooked for me.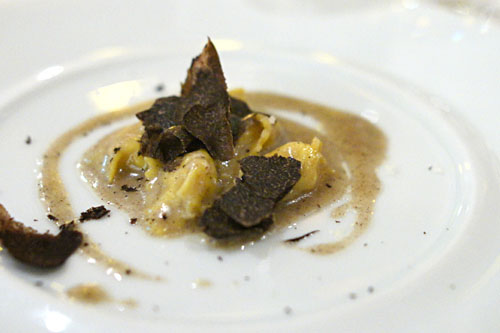 7: Handmade Agnolotti with Celery Root & French Black Truffles
Lazio Bianco "Coenobium," Monastero Suore Cistercensi, Italy 2007 (Trebbiano/Malvasia)
One of the constants on the Spago tasting menu is the presence of stuffed
agnolotti
pasta, served tonight filled with celery root, mascarpone, and Parmigiano-Reggiano. The truffles here were intense, making their presence clearly known on the nose and the palate, and went beautifully with the comparatively light, celery-like flavor of the pasta.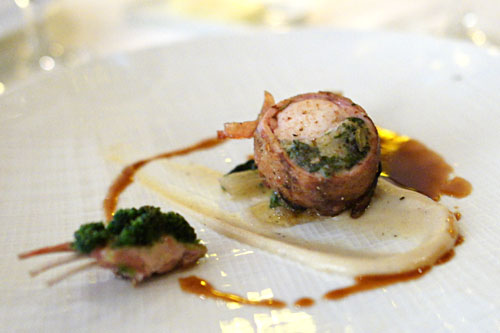 8: Bacon-Wrapped Rabbit Loin with Sautéed Trumpet Mushrooms
Lanzarote "Maceracion Carbonica," Bermejo, Islas Canarias 2008
Rabbit was served in roulade form, its bacon wrapper deftly augmenting its inherent savor and providing further fat and unctuousness to the fray, while the combination of vegetables and salsify acted to subdue the dish. The rabbit rack, meanwhile, wasn't quite as luscious as the loin, but was tasty nonetheless, with a hint of astringency from asparagus.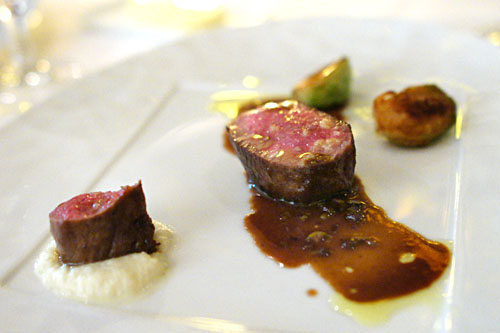 9: Roasted Lamb Loin with Ragout of Winter Shelling Beans
Saint Emilion Grand Cru, Chateau de Candale, France 2006
The loin was slightly tough, but still rather delicious and unabashedly meaty, with that "lamb-y" goodness that I crave. I loved the countering bitterness of the charred Brussels sprouts here, as well as the piquancy of the black olive, though I could've done without the fennel purée.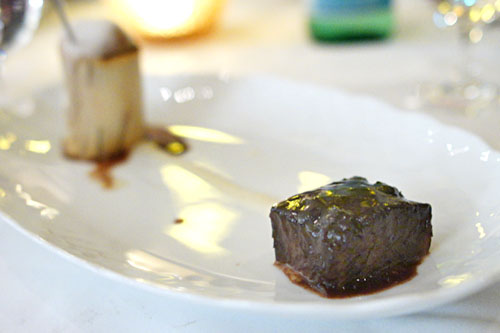 10: Slow Braised Short Ribs with Baked Bone Marrow
Cabernet Blend, Rothwell Hyde, St Helena 2006
Short ribs and bone marrow formed the final savory course of the evening. The meat was expectedly savory and breaking-apart tender, showing off prototypically dark, beefy flavors augmented by a sauce of cipollini and maitake. The marrow, meanwhile, was enhanced by the inclusion of mushroom and mushroom foam, making for a classically tasty complex of flavors. I would've liked to have seen a bit more creativity here, though.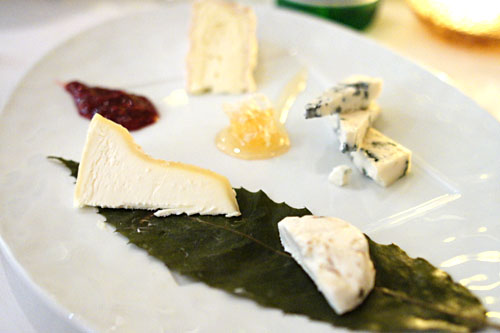 11: Selection of Artisanal Cheese
Madeira Sercial, Rare Wine Company
Four types of cheese were on offer, all served with wildflower honey and raspberry coulis (clockwise from right):
Bleu de Bocage - A prototypical blue made from pasteurized goat's milk; salty and a bit funky, yet subtly sweet and smooth.
Cabecou Feuille - A goat's milk cheese with plum Armagnac and black pepper, wrapped in leaves. Very nice--creamy and mild, with a delicate grape-y flavor from the brandy and a kick from the pepper.
Clochette - A bell-shaped goat cheese from France, with a dense, creamy texture and a sharp, goat-y flavor highlighted by a lovely lactic smack.
Brillat-Savarin - A soft triple cream cow's milk cheese, Brillat-Savarin is one of my all-time favorites, showing off a rich, luscious, decadent character interspersed with just the right balance of tanginess and salt.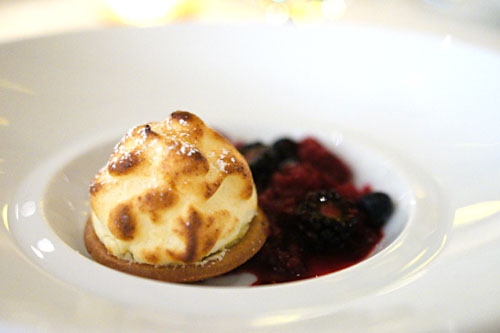 12: Soufflé
| Meyer Lemon Soufflé Tart, Blackberry Granita, Pudwill Farm Blackberries and Blueberries
Moscato d'Asti, "Bricco Quaglia," La Spinetta, Piedmont 2010
At this point, we were all quite full, and thus it was time to open up our "second stomachs" for dessert. First up from Sherry Yard was a Meyer lemon soufflé. It was unsurprisingly sour, yet balanced nicely by the duet of berries on the plate. I especially enjoyed the refreshing tartness of the granita.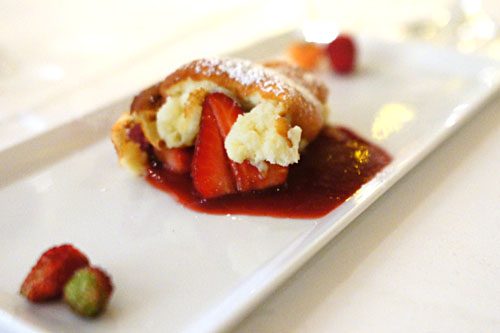 13: Kaiserschmarrn
| Bellweather Farms Crème Fraîche Soufflé Pancake, Sautéed McGrath Farm Strawberries
Cuvée Beerenauslese, Kracher, Austria 2006
Kaiserschmarrn
is a traditional Austrian dessert, a sort of pancake featuring cheese, crème fraiche, and strawberries. It was almost breakfast-like in nature, with the sugary berries countered by the comparative austerity of the egg batter.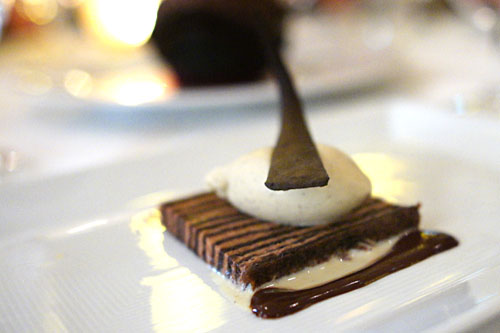 14: 12 Layers
| Chocolate Dobos Torte, Flourless Chocolate Cake, Mocha Praline Mousse, Chocolate Sorbet
Dow's 20 Year Tawny Porto
Next up was Spago's take on a classic Hungarian dessert, the multilayered Dobos torte. Yard's version incorporates strata of chocolate cake and praline mousse, making for a rich, yet restrained presentation of chocolate flavors deftly complemented by a dollop of chocolate sorbet. My favorite of the four desserts.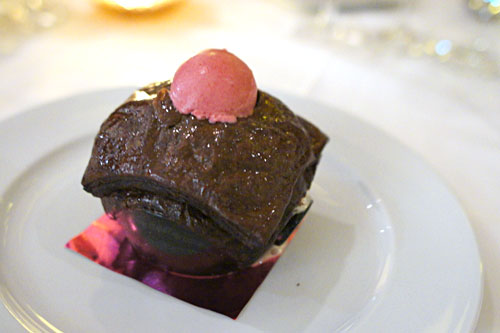 15: Chocolate Pot Pie
| Chocolate Puff Pastry, Morantz Cherries, Vanilla and Chocolate Cream, Black Cherry Gelato
We closed with a dessert version of a pot pie. It was expectedly decadent, demonstrating the scrumptiousness of chocolate commingled and counterbalanced by the presence of cherries.
It was nice to return to Spago after a four-year hiatus. However, like the restaurant's decor, some of the cuisine here may seem a tad anachronistic. It would've been nice to see a bit more innovation, a bit more novelty from the kitchen. That being said, what Spago does, it does rather well, and the food was, for the most part, on point. I suppose there's a reason that the place has survived 28 years.