Le Comptoir at Tiara Cafe (Los Angeles, CA)
Le Comptoir at Tiara Cafe
127 E 9th St, Los Angeles, CA 90015
213.290.0750
www.lecomptoirla.com
Thu 03/29/2012, 08:00p-11:25p

Believe it or not,
LudoBites
isn't the only pop-up to appear on Jonathan Gold's list of
99 Essential Restaurants
. No, it's joined by Le Comptoir ("the counter" in French), Chef Gary Menes' ephemeral eatery taking place Thursdays through Saturdays at Downtown's
Tiara Café
. Though originally slated to end last November, the restaurant has been so well received that the series will continue until at least the end of May.
About the Chef
: Menes was raised in Long Beach, CA, and after graduating from a local college with a business degree, he quickly caught the cooking bug. Joachim Splichal hired him to work the line at
Patina
in 1995, and over the course of a few years, he learned nearly aspect of running that restaurant. He then transitioned to Tim Goodell's Aubergine and Troquet in Orange County, and later returned to Patina. From there, Menes worked stints at
The Dining Room
at The Ritz-Carlton San Francisco and at Josiah Citrin's
Melisse
, followed by a year-long
stage
at
The French Laundry
(where he was
chef de partie poissonnier
). After TFL, Menes came back home to LA at the end of 2002, and secured a job running the kitchens at Firefly in Studio City. Then, he teamed back up with the Patina Restaurant Group and opened Eat on Sunset in the former Pinot Hollywood space at the beginning of 2006. The Chef eventually left, and partnered with former PRG compatriot Octavio Becerra to open (the recently departed) Palate Food + Wine in Glendale in the middle of 2008, earning rave reviews in the process.
Menes then hooked up with long-time friend
Andre Guerrero
, and the two debuted Marché in Sherman Oaks in September 2009. Unfortunately, though Marché was largely a critical success, it just wasn't viable from an economic perspective, so the restaurant shuttered the following May. After that painful setback, Menes landed at The Hall Courtyard Brasserie at West Hollywood's Palihouse Holloway hotel, replacing Chef Brendan Collins (who'd left to open
Waterloo & City
), but he would stay there only until the end of 2010, when he decamped to open his own spot with business partner and Palate colleague François Renaud. The twosome launched a pop-up called
Quartier
, which started in May 2011 and ran for four weekends at Olive & Thyme in Toluca Lake (the owners, Melina and Christian Davies, were fans of Marché). When that ended, Menes worked briefly at Culture 22 in Pasadena before laying the groundwork for Le Comptoir, his latest pop-up that debuted on October 13th last year at Fred Eric's Tiara Café.


The Tiara Café space borders on cavernous, but Le Comptoir diners occupy only a small sliver of the room, huddled around the 12-seater counter surrounding the restaurant's open kitchen.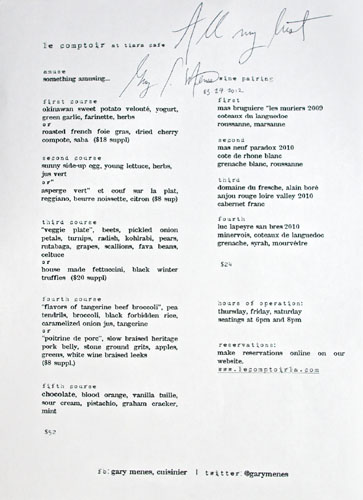 Le Comptoir's menu features an oft-changing five-course prix fixe for $52 (up from $46 originally), punctuated by a bevy of pricey supplements,
TFL
style. An optional wine pairing by
Paul Young
is listed at $24, and if you want to BYO, the corkage charge will run $16 per bottle. Click for a larger version.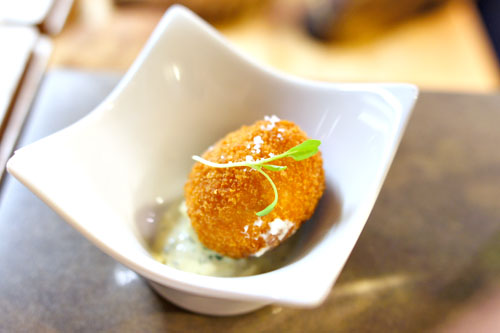 Amuse Bouche: something amusing...
Our amuse consisted of a fried croquette of fromage over a dollop of pesto aioli. I rather enjoyed the sweet, creamy cheese here, contrasted against the fritter's crisp, savory exterior, all while the pesto provided a much appreciated touch of levity to the mix.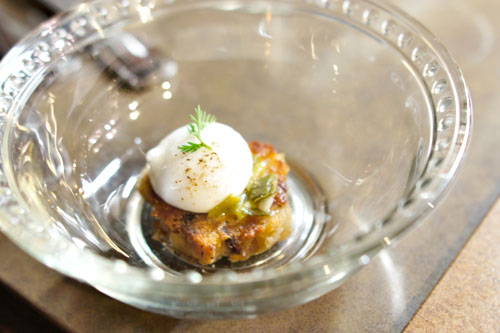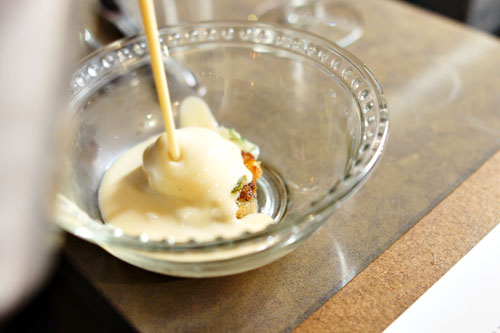 1a: okinawan sweet potato velouté, yogurt, green garlic, farinette, herbs
mas bruguiere les muriers 2009; coteaux du languedoc; roussanne, marsanne
In our first course, a rich, silky, hearty velouté enveloped a small
farinette
, its sweetness melding with the somewhat fruity notes of the pancake. Yogurt, meanwhile, provided an overarching lightness and tangy counterpoint to the potage, but I wanted to taste more from the garlic and herbs, which would've provided more balance to the dish.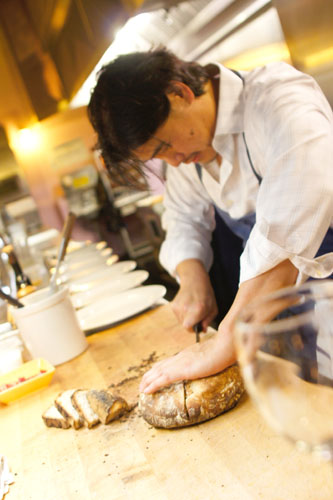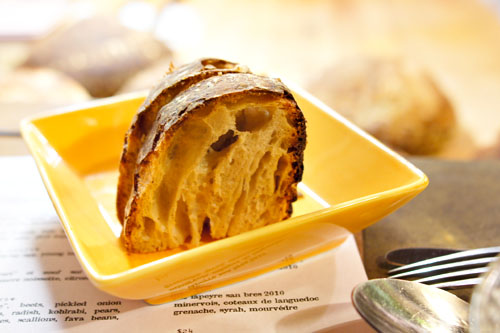 At this point, Menes served up his housemade sourdough, which is based off an 18-year-old starter that he created when he first began cooking back in the 90's. The bread was spot on, fluffy and moist on the inside, but with a crisp, bitter exterior and a marked tanginess.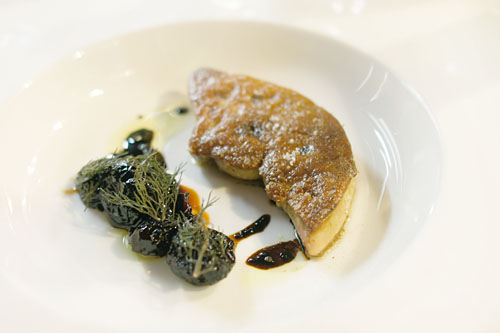 1b: roasted french foie gras, dried cherry compote, saba [+$18.00]
mas bruguiere les muriers 2009; coteaux du languedoc; roussanne, marsanne
Foie gras arrived cooked to perfection, soft and decadent but topped with a delectably crisp crust, and teeming with rich, robust, yet restrained liver-y character, all punctuated by pinpoints of acute saltiness. The foie easily stood alone, but the accoutrements of
saba
(grape must syrup) and cherry provided a fitting tartness and sugary depth to moderate the offal.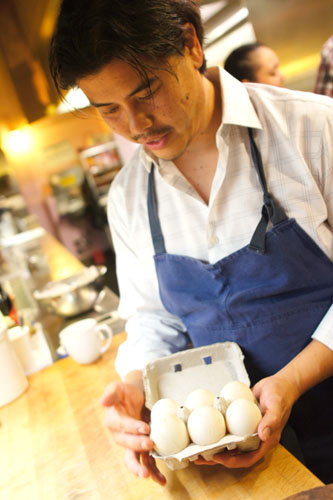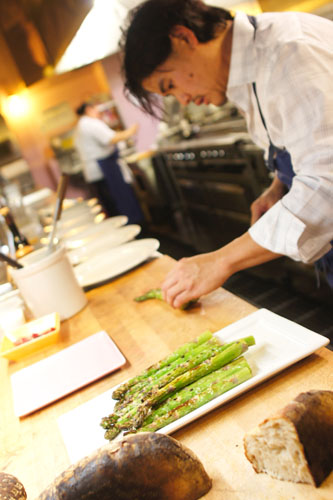 Here, Menes shows off eggs from Kelli Johnson's
Green Lab Urban Farm
in Long Beach (laid just that afternoon), as well as thick-ass stalks of asparagus from
Zuckerman's Farm
in Stockton (available just six weeks of the year, apparently).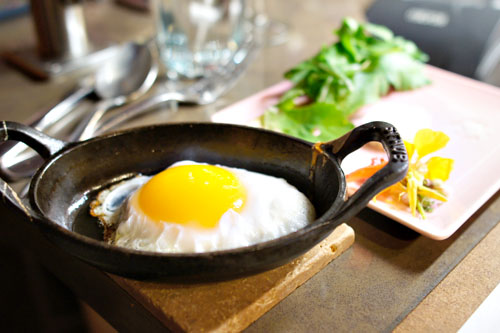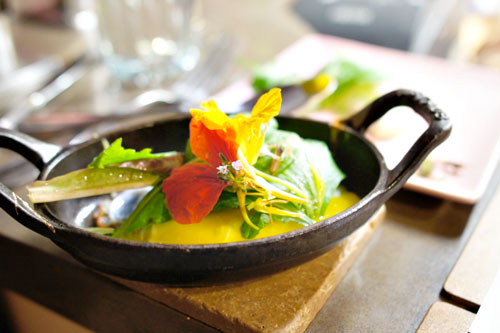 2a: sunny side-up egg, young lettuce, herbs, jus vert
mas neuf paradox 2010; cote du rhone blanc; grenache blanc, roussanne
Those eggs were dutifully showcased in our next course, an interactive dish comprising a sunny side-up egg
en cocotte Staub
that we were instructed to mix up with compound herb butter, sorrel jus, and a variety of greenery, including miner's lettuce, lamb's lettuce, and nasturtium. The result was fantastic, with the lusciousness of the egg playing perfectly off the bright, tangy, astringent tastes of the shrubbery involved. Absolutely delightful.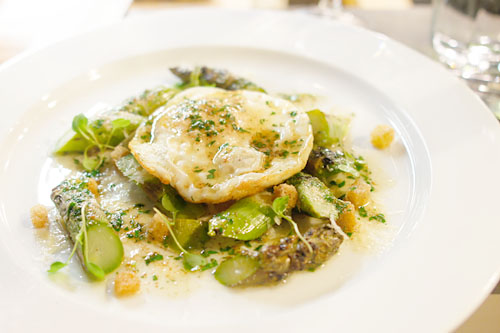 2b: "asperge vert" et oeuf sur la plat, reggiano, beurre noisette, citron [+$8.00]
mas neuf paradox 2010; cote du rhone blanc; grenache blanc, roussanne
The asparagus made its appearance here, and the spears were flawless: crisp and crunchy, and loaded with all the subtle bitterness that you'd expect from the vegetable. The combination of brown butter and egg, meanwhile, added further gravity and depth to the otherwise light asparagus, while the undercurrent of citrus gave the dish a pleasingly piquancy.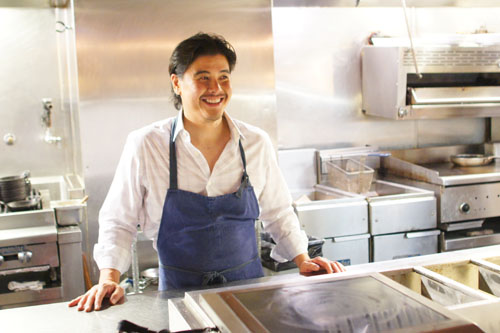 3a: "veggie plate", beets, pickled onion petals, turnips, radish, kohlrabi, pears, rutabaga, grapes, scallions, fava beans, celtuce
domaine du fresche, alain boré; anjou rouge loire valley 2010; cabernet franc
Here, Menes presents his composed interpretation of the ubiquitous vegetable plate. For me, this was about savoring each item individually, and I appreciated how everything was unique, distinct, and true to form, coming together conceptually, though not necessarily on the palate. A real celebration of vegetables, showing off a mélange of differing tastes (sweet, sour, savory, bitter) and textures (crunchy, tender, dense).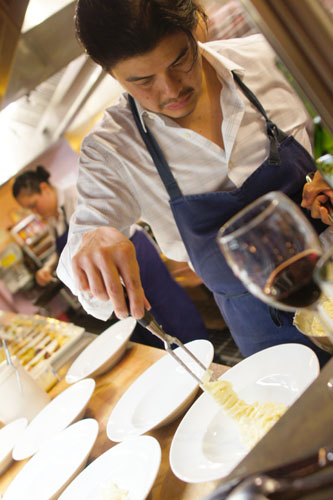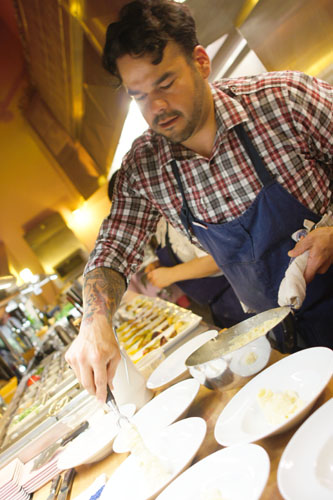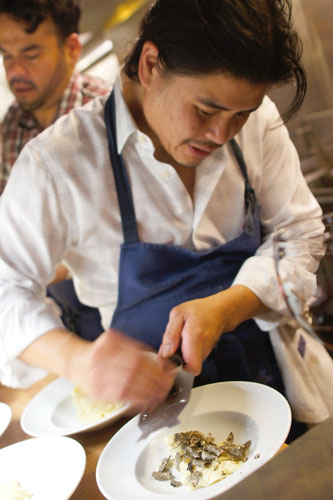 Plating the fettuccine and loading up the pasta with Oregon truffles.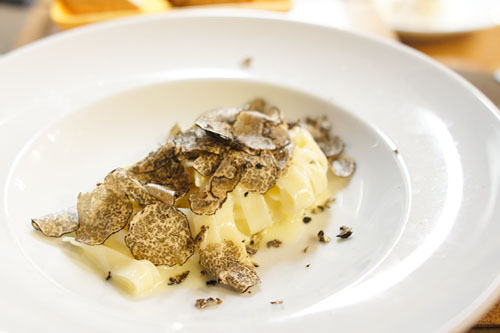 3b: house made fettuccini, black winter truffles [+$20.00]
domaine du fresche, alain boré; anjou rouge loire valley 2010; cabernet franc
Upon being served this course, I immediately breathed in an intense redolence of earthy truffle aroma. The fettuccine was actually dressed with very little sauce, so for me this was all about enjoying the racy, pungent smack of the
truffe
--a true showcase of the ingredient. Quite enjoyable, though I wanted the noodles to be a bit firmer and snappier in consistency, as to provide some more textural interest to the dish.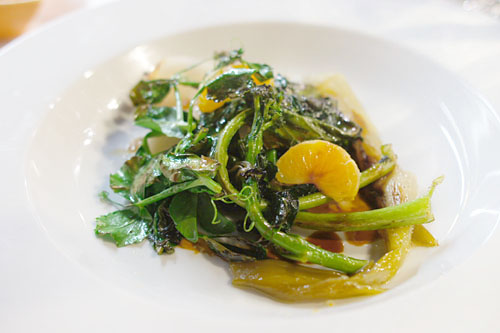 4a: "flavors of tangerine beef broccoli", pea tendrils, broccoli, black forbidden rice, caramelized onion jus, tangerine
luc lapeyre san bres 2010; minervois, coteaux de languedoc; grenache, syrah, mourvédre
Here, Menes presents a sort of reimagined version of the classic Chinese-American creation of tangerine beef & broccoli. Surprisingly, though it utilized no beef at all, it really did evoke the sensation of that dish. I think the caramelized onions were key in providing the course with a rich, savory base in the absence of meat. This was then tempered by the astringency of the pea tendrils and broccoli, which also added a wonderful texture element to things, as well as the citric tartness of the tangerine. I only wish that the fruit could've been somehow more integrated into the dish.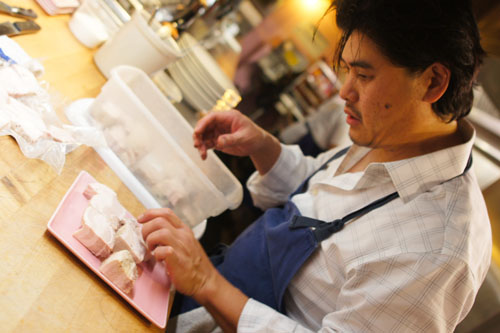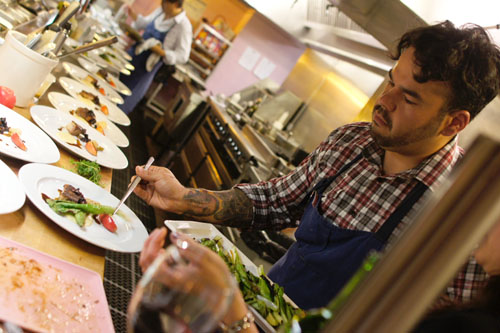 The kitchen plates up our final savory course of the evening.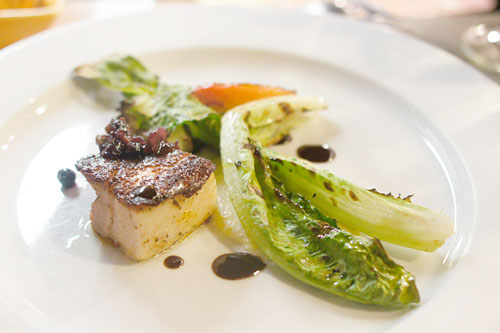 4b: "poitrine de porc", slow braised heritage pork belly, stone ground grits, apples, greens, white wine braised leeks [+$8.00]
luc lapeyre san bres 2010; minervois, coteaux de languedoc; grenache, syrah, mourvédre
It's hard to go too wrong with pork belly, and indeed, it was pretty marvelous here, with the meat consummately cooked and showing off a perfect mix of lean and fat, along with a wonderfully crisp crust and a tremendous depth of flavor. The pork was certainly delicious alone, but I greatly appreciated the balance provided by the grits and crisp, refreshing veggies.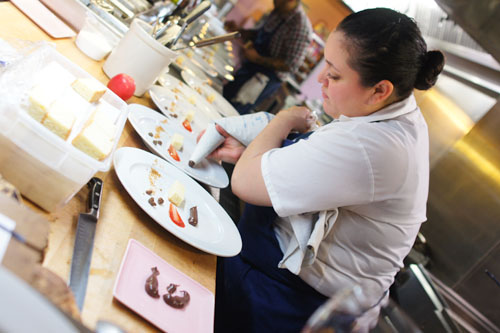 Plating dessert: I loved watching the team build up the plate element by element.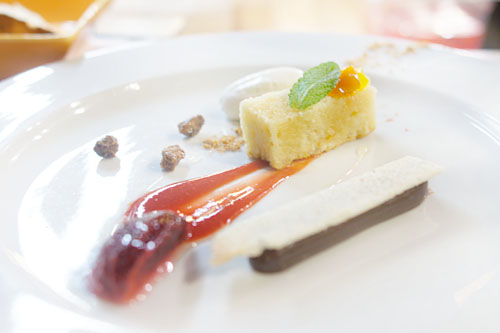 5: chocolate, blood orange, vanilla tuile, sour cream, pistachio, graham cracker, mint
Dessert comprised a block of orange pound cake and accompaniments. The cake itself I found light, bright, and fruity, not much on its own, but superb when combined with the depth and overt sugariness of the chocolate, interjected with the bracing relish of mint. I loved the pistachios as well, with their in-your-face crunch and nutty, salty savor.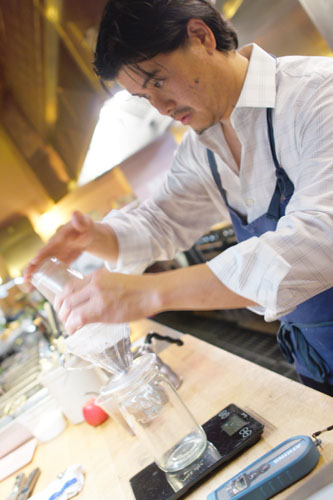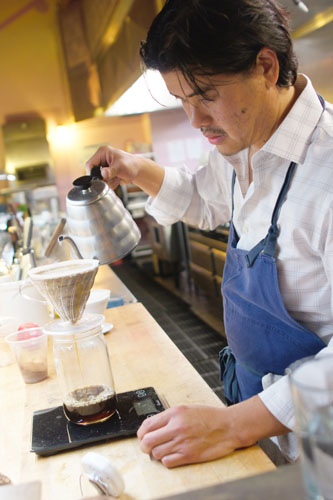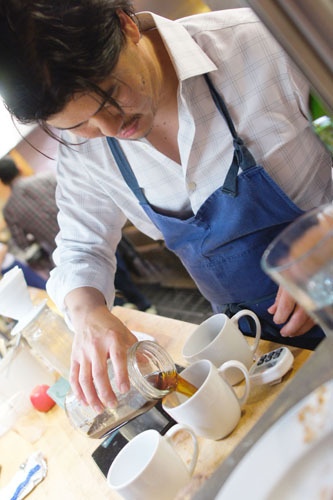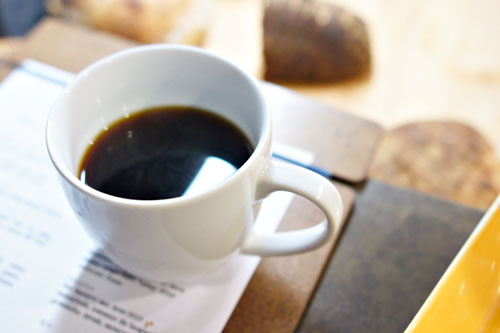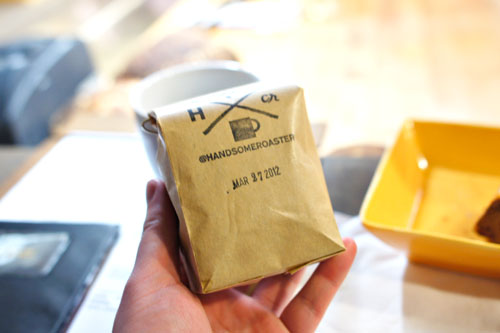 Menes is quite fanatical about his coffee, so to close out the dinner, I ordered up a cup of Los Naranjos [$5], a single origin Columbian varietal from
Handsome Coffee Roasters
. He prepared the brew right in front of us using the Japanese pour-over method, replete with digital scale and temperature probe. I'm not much of a coffee drinker unfortunately, but what I had was very nice indeed: fruity on the attack and very smooth, with only a restrained bitterness. Interestingly, I thought that the coffee got better as it sat, taking on some almost tea-like qualities.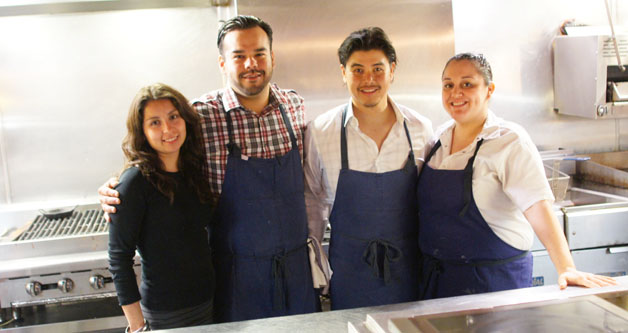 Assisting Chef Menes tonight were (left to right): Commis/Server Jessica Aguire, Sous Chef Wesley Avila, and Sous Chef Christina Gaultman.
This was my first time tasting Menes' food, and it's unfortunate that I had to wait this long. Despite painful setbacks at Palate and Marché, it looks like the Chef is finally coming into his own at Le Comptoir. It was great to really get to see him display his style of cooking, featuring hyperseasonal produce, a maniacal devotion to product, and plenty of interesting flavors and presentations, showcased in an intimate counter setting with cooks as servers--to quote the Chef, it's fine dining,
distilled
. As for what's next for Menes, this current pop-up will last until June-ish, maybe longer. After that, he hopes to open a permanent spot--an
Urasawa
-style type of place--late this year, which may or may not be named Le Comptoir. Stay tuned.