French Laundry (Yountville, CA) [2]
The French Laundry
6640 Washington St, Yountville, CA 94599
707.944.2380
www.frenchlaundry.com
Mon 08/29/2011, 07:00p-11:40p

Back when I was just starting out in this blog game, dining at the temple of gastronomy that is
The French Laundry
was almost unfathomable. Almost. When I finally--due to a fortuitous meeting with Thomas Keller's father Ed--made it out, the dinner was a bit of a revelation, and to this day, it still stands as of my most significant, and best, meals that I've ever had. That was all under Chef de Cuisine Corey Lee, who left the restaurant in 2009 and now rules the roost at his own place in San Francisco, Benu. Lee was summarily replaced by Tim Hollingsworth, and for this most recent visit, I was eager to see how things had changed under the reign of the boyish Bocuse d'Or competitor.
About the Chef
: Timothy Hollingsworth was born in 1980 in Houston, but spent his childhood in Placerville, CA, a small town in the Sierra Nevada foothills. After finishing school, he took up his first restaurant job at
Zachary Jacques
, a French-style country restaurant (some foreshadowing perhaps?) run by Chef Christian Masse and his wife Jennifer. He started out at the bottom as a dishwasher, but under the classic French tutelage of Masse, quickly rose up to the rank of Sous Chef. After experiencing life-changing meals at Alain Ducasse's Essex House and Le Cirque in New York, he solidified his commitment to cooking, and, after tenaciously pursuing Thomas Keller, landed a gig at The French Laundry at age 21.
It was 2002, and Hollingsworth found himself as a bright-eyed commis at the vaunted restaurant. He--obviously--excelled in the environment, and in 2004, Keller even selected him to be part of the team that traveled to New York to open
Per Se
.
Stages
at some of Europe's top kitchens, including Gordon Ramsay, Michel Rostang, and Alain Senderens at Lucas Carton, soon followed. In 2008, Hollingsworth, somewhat reluctantly, competed in Bocuse d'Or USA semi-finals and ended up winning, allowing him to represent the United States at Lyon in January 2009. Coached by Chef Roland Henen and aided by commis Adina Guest, he managed to finish sixth out of 24. By 2009, Hollingsworth was indispensible as a Sous Chef, and, having undergone extensive training by Corey Lee and Eric Ziebold, was well-prepared to continue French Laundry's strong tradition of culinary excellence upon Lee's departure. Critics seemed to agree. In 2010, he was named "Rising Star Chef" by the
San Francisco Chronicle
and "Rising Star Chef of the Year" by the James Beard Foundation. Perhaps more importantly, Michelin reaffirmed their three-star rating.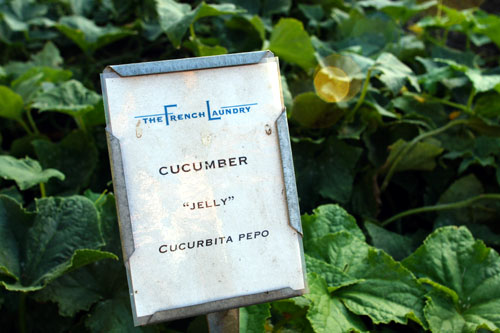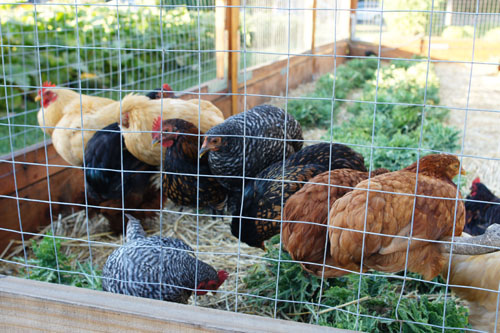 As we arrived early, we took the opportunity to enjoy a leisurely stroll through The French Laundry's picturesque gardens across the street.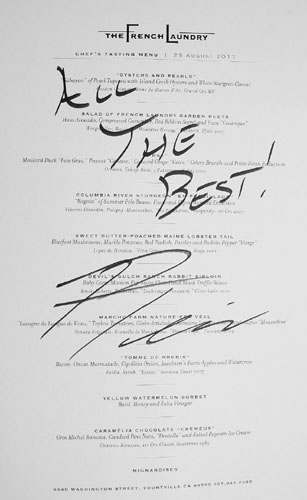 The French Laundry typically offers up two menus nightly: a Chef's Tasting Menu and Tasting of Vegetables, both priced at $270 per person, inclusive of service. Given that we were seated in the private dining room however, the tab begins at $350 a head, and only goes up from there: +$45pp for foie gras, +$250pp for wine pairing. The cost isn't all for naught though; the huge,
huge
benefit of the private room is that events can be booked a year in advance, and you don't have to deal with all the rigmarole involved in making a reservation normally--
easy breezy
. Click for a larger version (note the signature of Executive Sous Chef Philip Tessier, formerly Chef de Cuisine at
Bouchon
).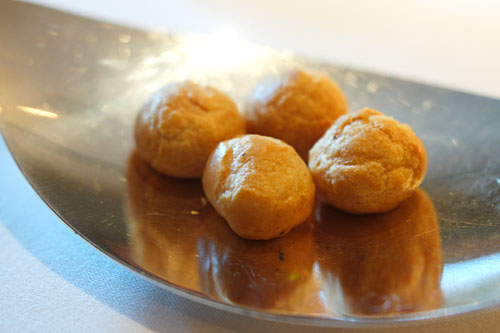 A meal at The French Laundry almost always begins with a serving of the famed Gruyère
gougères
, and indeed, these remain arguably the best I've had. Filled with Mornay sauce, they were creamy, lush, and positively oozing with a cheesy goodness that I found slightly reminiscent of a Cheez-It!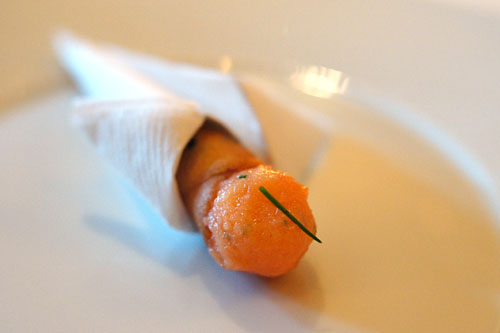 Another mainstay is the restaurant's signature "cornets." Constructed from salmon tartare, chives, and red onion crème fraîche, the dish's savoriness was nicely augmented by the buttery, sesame-tinged smack of the tuile cones.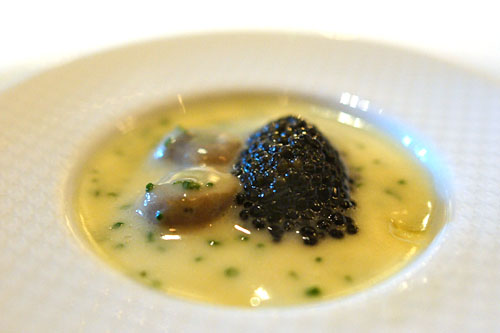 1: "OYSTERS AND PEARLS"
| "Sabayon" of Pearl Tapioca with Island Creek Oysters and White Sturgeon Caviar
Gaston Chiquet, Blanc de Blancs d'Ay, Grand Cru MV
If there is any one dish that is inextricably associated with Thomas Keller, then this is most certainly it. Oysters arrived poached in clarified butter and finished with dry vermouth and chive butter. The luxurious salinity of the oysters was faultlessly highlighted by the sharp brine of the
Sterling
caviar, while the tapioca served to moderate the dish beautifully. This was pretty much a perfect course, even better
than before
. In fact, one of my dining companions even deemed it one of the best things that he'd ever eaten. It was arguably my best oyster dish as well.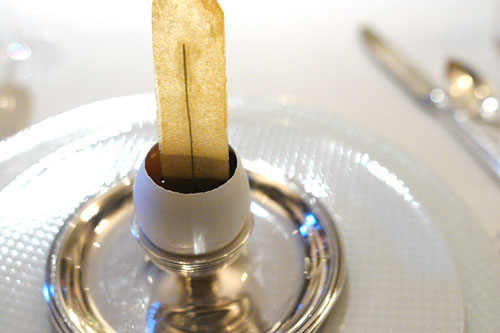 Next up was an off-the-menu course--available by request only--of white truffle-infused egg custard topped with Perigord sauce (veal ragout, black truffle), then finished with a potato-chive chip. The rich, dark flavors of the veal and truffle played wonderfully with the comparatively mild relish of the custard, while the chip added a nice bit of saltiness and a welcomed textural contrast. Think classic flavors, deftly executed.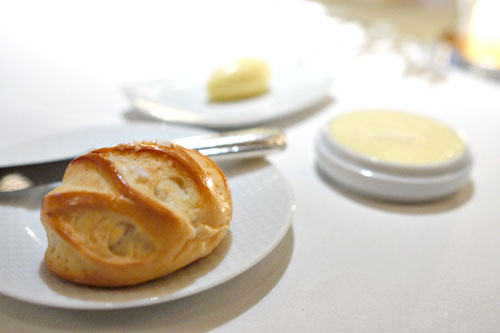 Bread is not baked in-house, but rather, sourced from Bouchon Bakery down the street. Interestingly, bread service here comes serially, one variety at a time. Our first was a
pan au lait
roll, accompanied by an unsalted butter from
Andante Dairy
and an exclusive, hand-churned salted butter from Diane Sinclair out of Vermont.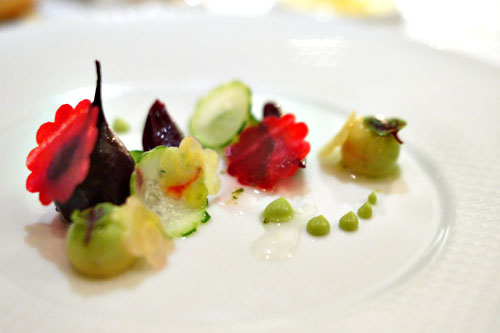 2: SALAD OF FRENCH LAUNDRY GARDEN BEETS
| Hass Avocado, Compressed Cucumber, Red Ribbon Sorrel and Yuzu "Gastrique"
Weegmüller, Riesling, "Haardter Herzog," Kabinett, Pfalz 2007
Given my aversion to beets, I wasn't exactly looking forward to this dish, though it was one of the better beet dishes that I've had. The root was fortunately subdued in flavor, and adroitly moderated by the other vegetables at play. I especially appreciated the creamy weight imparted by the avocado, while, at the same time, the yuzu vinaigrette served to temper and tie all the various elements together.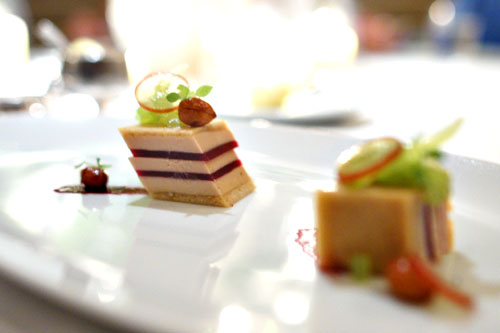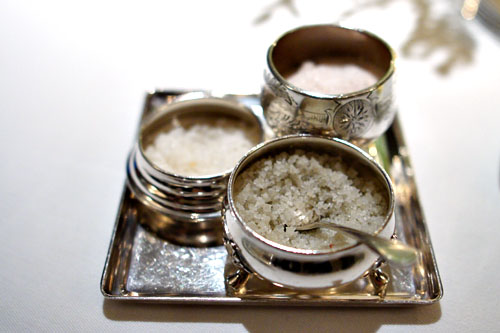 3: "PB&J"
| Moulard Duck "Foie Gras," Peanut "Génoise," Concord Grape "Gelée," Celery Branch and Petite Sirah Reduction
Oremus, Tokaji Aszú, 5 Puttonyos, Tokaj 2002
I always hated peanut butter & jelly sandwiches growing up, but I'm sure that I would've liked 'em better had they all tasted like this! The foie gras itself was delicate, restrained in savor, yet still distinctly liver-y. It thus worked wonderfully with the subdued sweetness of the grape, while the celery added an offsetting astringency to things. My favorite elements here, though, were the candied peanuts, which contributed an overarching nuttiness to the mix, as well as a keen crunchiness. Along with the foie came three types of salt: a grey surface salt from France, a white deep sea salt from the Philippines, and pink Jurassic rock salt from the bottom of a copper mine in Bozeman, Montana. Salt wasn't strictly necessary, but did serve to enhance the flavor of the foie somewhat.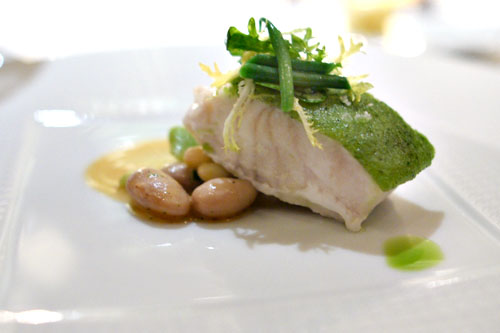 4: COLUMBIA RIVER STURGEON "EN PERSILLADE"
| "Ragoût" of Summer Pole Beans, Frisée and Dijon Mustard Emulsion
Vincent Girardin, Puligny-Montrachet, "Les Folatières," Burgundy, 1er Cru 2007
A filet of firm, briny sturgeon came encrusted with a layer of parsley, and accompanied by a Dijon emulsion and mixture of black eyed peas, cranberry beans, and filet beans. I first tasted the fish alone, and wasn't in love with it, finding it a bit brash. The key really was to eat everything together. The bright, green flavors and refreshing crunch of the haricot verts worked wonders in offsetting the potency of the fish, while the beans served to ground the dish.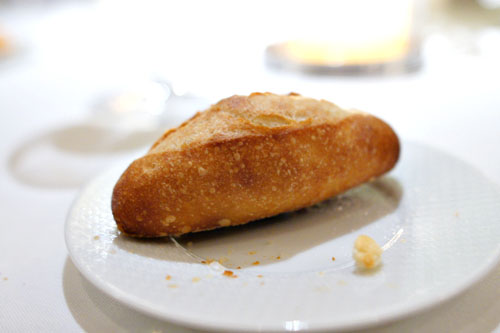 Next up was a French demi-baguette.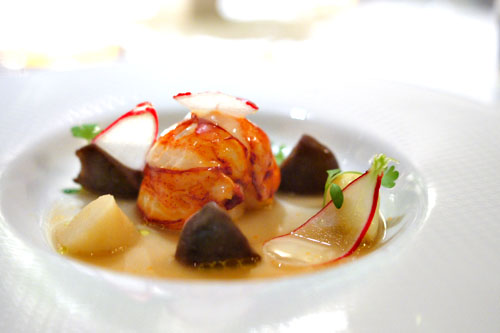 5: SWEET BUTTER-POACHED MAINE LOBSTER TAIL
| Bluefoot Mushrooms, Marble Potatoes, Red Radish, Parsley and Padrón Pepper "Vierge"
Lopez de Heredia, "Viña Gravonia," Blanco, Rioja 2001
Lobster was rather tremendous, one of the best cooked preparations that I've ever had, with a perfectly snappy, supple consistency paired with a sweet, lingering salinity that I adored. The crustacean was delicious alone, but I really enjoyed the savoriness imparted by the blue-foots, while the veggies lightened and brightened the dish.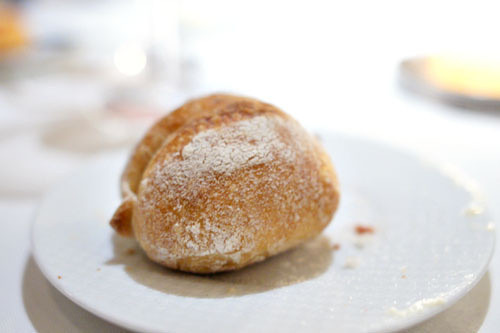 Our final bread: a multigrain sourdough.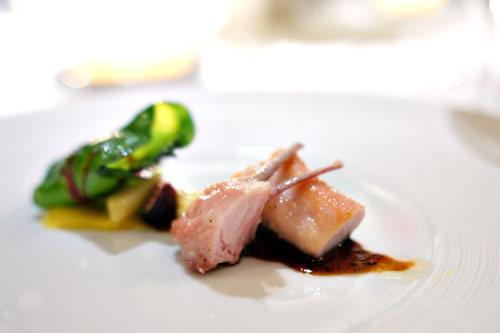 6: DEVIL'S GULCH RANCH RABBIT SIRLOIN
| Baby Corn, Mission Fig, Swiss Chard and Black Truffle Sauce
Arnot-Roberts, Trousseau, "Luchsinger Vineyard," Clear Lake 2010
Here, I first took a bite of the rabbit loin and reveled in its succulence and profound depth of flavor--it was arguably the singular best mouthful of rabbit that I'd ever eaten. The rack, unfortunately, didn't quite reach such lofty levels, but was nonetheless quite tasty. Both cuts were fantastic when taken with the earthy essence of the black truffle dressing, and I appreciated the slight bitterness from the chard as well. I would say that the corn, however, was a touch too sugary.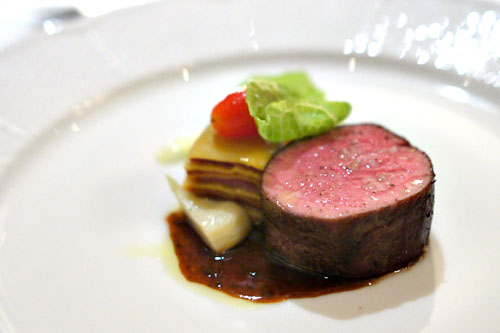 7: MARCHO FARM NATURE-FED VEAL
| "Lasagne de Langue de Veau," Toybox Tomatoes, Globe Artichoke, Romaine Lettuce and Castelmagno "Mousseline"
Tenuta Friggiali, Brunello di Montalcino, "Donna Olga," Tuscany 2004
Our final savory course, quite simply, brought forth
the best preparation of veal that I've ever had
. I found the meat uncompromisingly tender and amazingly juicy, amped up with loads of bovine sapor--quite an accomplishment for veal. It was beautifully countervailed by the vegetables, especially the bright crunch of the lettuce, and I loved the contrast provided by the "lasagna" of veal tongue as well. A faultless dish; I couldn't think of a single thing that I wanted to change.
8: "TOMME DE BREBIS"
| Bacon-Onion Marmalade, Cipollini Onion, Jacobsen's Farm Apples and Watercress
Failla, Syrah, "Estate," Sonoma Coast 2007
Tomme de Brebis, a semi-firm sheep's milk cheese, showed off a subtly tangy relish that was easy to like. As such, it formed a great base for the sweet-savory interplay of the other ingredients to shine. I especially enjoyed the bacon-onion marmalade, which, interestingly, I found reminiscent of corned beef hash! Accompanying breads included a black currant, a toasted walnut, and a pan rustica.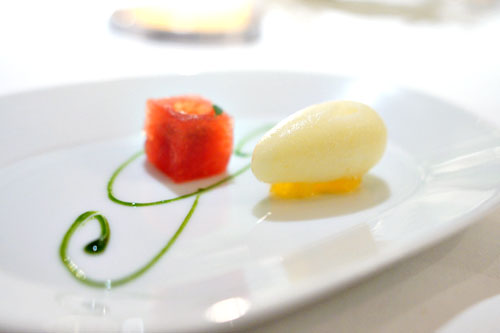 9: YELLOW WATERMELON SORBET
| Basil-Honey and Saba Vinegar
Serving as a sort of palate cleanser, a watermelon sorbet conveyed the pure, unmitigated quintessence of the fruit, while the
saba
(grape must syrup) contributed a deep, viscous counterpoint of syrup-y, savory-sweet goodness.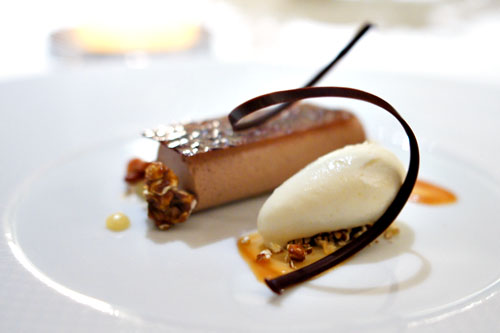 10: CARAMÉLIA CHOCOLATE "CRÈMEUX"
| Gros Michel Banana, Candied Pine Nuts, "Dentelle" and Salted Popcorn Ice Cream
Château Rieussec, 1er Cru Classé, Sauternes 1989
The last proper course was a
crèmeux
of Valrhona Caramélia, a type of milk chocolate laced with caramel, which gave the dessert a particularly intense sweetness. At the same time, the popcorn ice cream and pine nuts contributed marked salty notes that countered the chocolate's sugariness perfectly. The whole amalgam, taken together, was delicious, and sort of reminded me of high-class Cracker Jacks!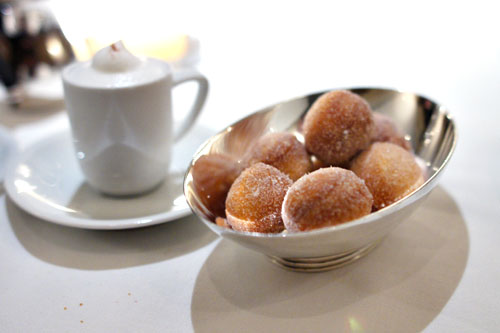 Here was Keller's signature "Coffee and Doughnuts," comprised of fried cinnamon beignets served with a demitasse of espresso ice cream semifreddo. It was a simple but effective dessert, with the light, fluffy doughnut holes pairing with the coffee-tinged semifreddo beautifully.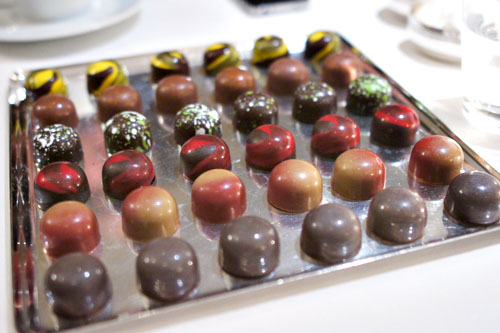 A platter of Valrhona chocolates was up next. Six varieties were on offer: a lovely Ginger & Rum, a classic PB&J with strawberry, a delectably fruity Bing Cherry, an Olive Oil version made with product from Calistoga, a Ferrero Rocher-like Hazelnut Crunch, and a subtle Meyer Lemon.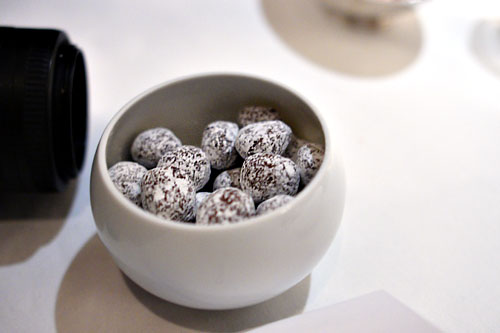 Rounding things out was a bowl of caramelized macadamia nuts. They were excellent, showing off a gorgeous crunch and deft mix of sweet and salty flavors.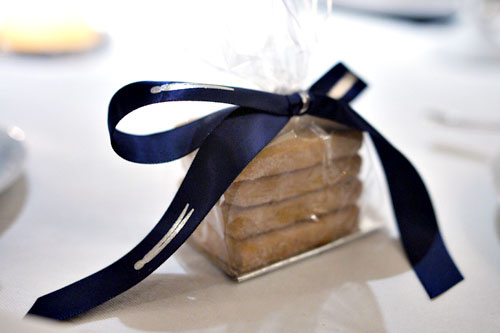 To take away: a bag of shortbread cookies, made from a recipe from former Pastry Chef Claire Clark's mother.

The requisite kitchen tour at the end of the meal. The space
is
surprisingly small for a restaurant of this caliber.
Coming in to this meal, I was a bit concerned--concerned about the new Chef, concerned that the restaurant was getting a bit long in the tooth. My fears, fortunately, were not warranted. The dinner was a strong one, quite possibly better than my last in fact. Sure, compared to my other meals of this trip--
Atelier Crenn
,
Saison
, Baumé--French Laundry may seem a little "safe." And indeed, the food here isn't as avant garde, as modernist as that at the aforementioned eateries, but it
is
executed near-flawlessly, and the flavors are pretty much spot on, with the oysters, lobster, rabbit, and veal all being some of the best preparations of those respective ingredients that I'd ever experienced. Hollingsworth and company seem to be holding down the fort quite well, and I have no doubt that my next visit here will be just as good, if not better.