Ubuntu (Napa, CA)
Ubuntu
1140 Main St, Napa, CA 94559
707.251.5656
www.ubuntunapa.com
Thu 04/08/2010, 06:00p-09:20p

According to the restaurant's web site, "Ubuntu" signifies a "humanist philosophy focusing on people's allegiances and relations with each other emphasizing community, sharing and generosity." Owner and founder Sandy Lawrence was introduced to the idea during her time in South Africa, and subsequently opened Ubuntu with that very concept in mind. The restaurant focuses on
vegetarian
, local, seasonal, organic, biodynamically-produced foodstuffs, artfully and skillfully prepared, with the added goals of providing a sustainable workplace and improving the local community. In 2007, Lawrence tapped chef Jeremy Fox (and wife Deanie--they met while working at Rubicon) to open Ubuntu and execute her vision. The restaurant quickly achieved its share of accolades and acclaim, but shockingly, the Foxes announced earlier this year that they were leaving Ubuntu to pursue other ventures.
Taking Fox's place is his former right hand man: a 26-year-old Sonoma native named Aaron London. London grew up with dreams of becoming a chef, and formally began his culinary career as a
plongeur
at a local Mexican eatery. From these humble beginnings, London enrolled in the Culinary Institute of America at Hyde Park,
staging
at some of Manhattan's top restaurants, including Daniel and Café Boulud, while attending school. In 2002, after finishing his first term at the CIA, he worked an externship at Daniel before relocating to Canada in 2003. Here, London assisted in the opening of the legendary, pork-centric Au Pied de Cochon, then moved to the highly-regarded Restaurant Toque the following year as a Chef de Partie. The Chef then returned to the States, completing his education at the CIA and working at Dan Barber's Blue Hill at Stone Barns.
After graduation, London reexamined his priorities and, in 2007, decided to embark on a bicycle tour throughout Europe,
staging
at various restaurants in the process, including Pascal Barbot's L'Astrance and Alain Passard's L'Arpège in Paris, as well as La Chassagnette in Provence (known for its organic cuisine). While in San Sebastian, Spain, London heard about Ubuntu's opening and immediately flew back to the US, wanting to be a part of the restaurant's opening team. He began on the line, but quickly ascended to a Sous Chef position before being named Executive Sous Chef and then Chef de Cuisine. When Fox decided to leave, London was the natural choice to replace him. The Chef is backed by Executive Sous Chef Stephen Thorlton and Pastry Chef Carl Swanson.

Ubuntu is situated in a historic 19th century building in the heart of downtown Napa, renovated and rejuvenated with a "green" philosophy emphasizing recycled and sustainable products. The light, bright, reclaimed wood and stone interior, replete with four life-size stone figures, features a community table for 22, an upstairs semi-private dining area for 35, and a private dining room seating up to 14.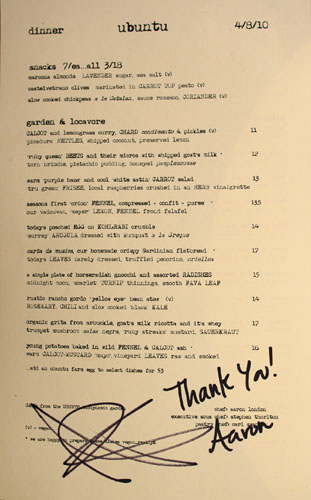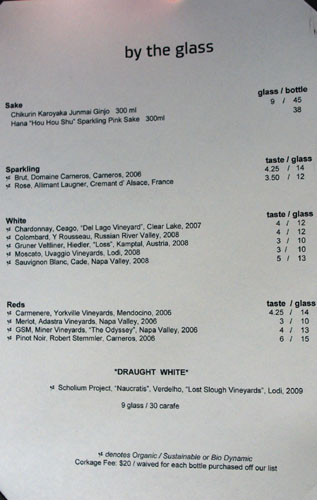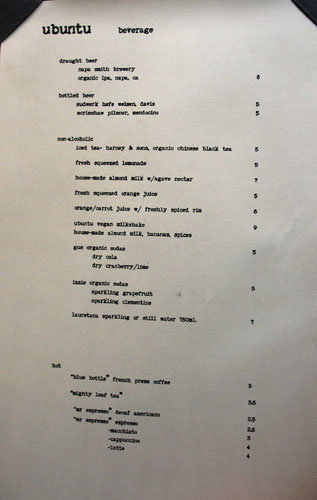 The menu is simple enough, divided into a trio of "snacks" and a decet of courses, accompanied by a focused list of beers and wines. Our server recommended two to three dishes per person, but in true kevinEats fashion, we ignored his warnings and ordered up one of everything, with wine pairings. Click for larger versions.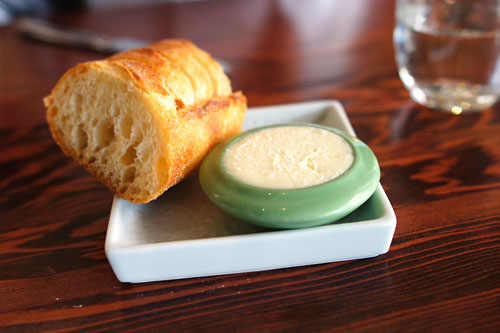 Bread service consisted of a French sourdough from nearby Model Bakery, paired with a light, sweet butter.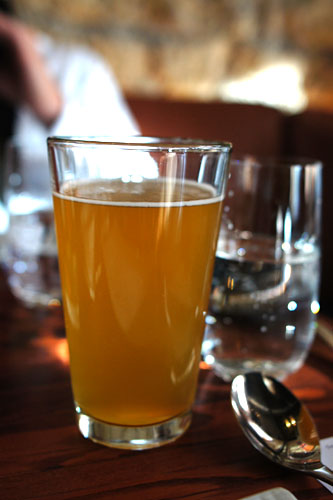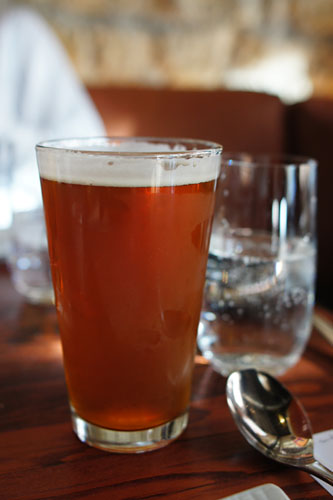 We began with a duet of beers. My dining companion chose the Sudwerk Hefe Weisen [$5] from Davis, a fairly prototypical, but tasty hef with expected notes of wheat and citrus. I had the draught Napa Smith Brewery Organic IPA [$6] from Napa, which had a marked tartness and sweetness that set it apart from many IPAs; the signature bitterness, however, was still there, especially on the long, lingering finish.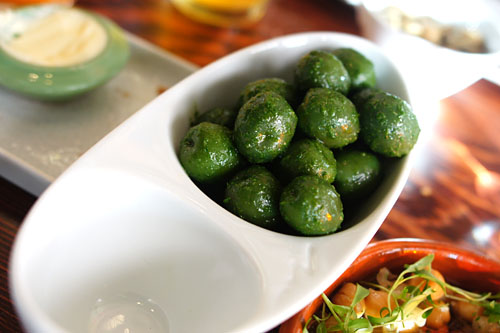 castelvetrano olives [$7.00]
| marinated in CARROT TOP pesto
Our first "snack" was a bowl of Castelvetrano olives, a green varietal typically grown in Italy. Relatively mild in olive-y sapor, there were nicely perked up by the piquancy of the pesto. There were far too many olives for two people to share, however, and we ended up taking them to go.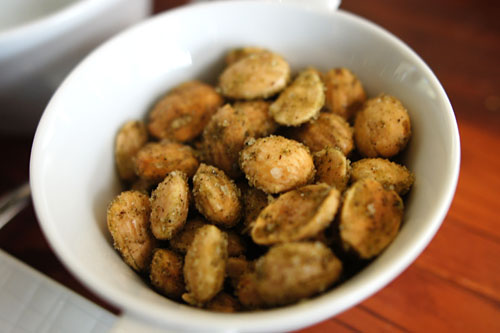 marcona almonds [$7.00]
| LAVENDER sugar, sea salt
Next up was a mound of marconas, a type of almond originally from Spain. Amazingly simultaneously sweet and savory on the attack, they were a jolt to my palate, but once I got over the initial shock, I appreciate the almonds' delicate flavor and delightfully nutty finish.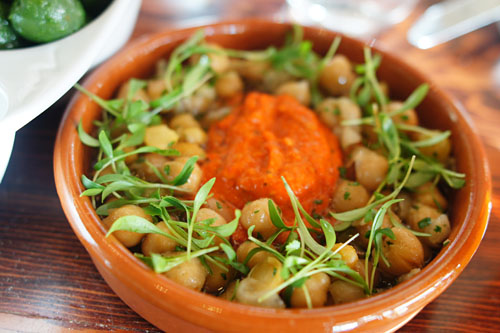 slow cooked chickpeas a la Catalan [$7.00]
| sauce romesco, CORIANDER
Easily the strongest of the "snacks" was this dish of chickpeas in a Catalan-inspired romesco sauce (red pepper, nuts, garlic, olive oil). The earthy smack of the chickpeas was perfectly balanced by the tart, vegetal tang of the romesco, while the use of cilantro added a further, astringent counterpoint. I absolutely adored this dish, which I'd probably name as my favorite preparation of chickpeas,
ever
(sorry,
channa masala
).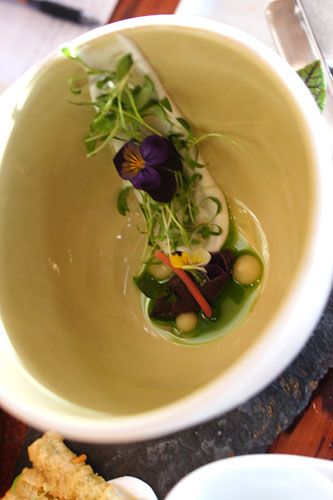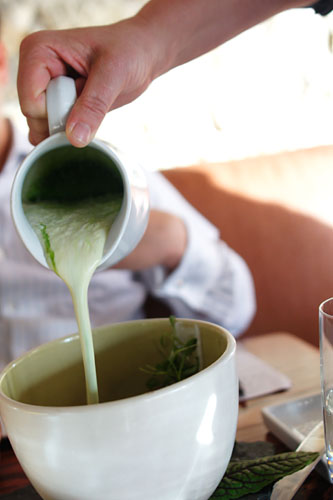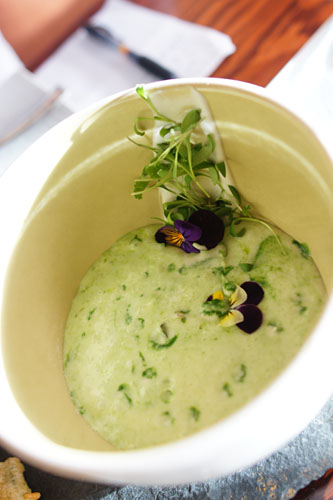 CALCOT and lemongrass curry, CHARD condimento & pickles [$11.00]
| 'picadura' NETTLES, whipped coconut, preserved lemon
Moscato, Uvaggio Vineyard, Lodi, 2008
Light, cool, and refreshing, the subtly vert curry, with its use of lemongrass and coconut, had almost Thai-like tinge to it that I loved. It was fantastic when paired with the included bit of calçot (a type of green onion from Spain) "tempura," which, by itself, tasted somewhat like a Chinese
chong you bing
! I even ended up sopping up the leftovers with my bread. Very, very good.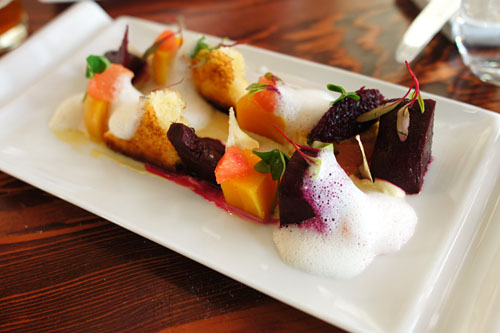 'ruby queen' BEETS and their micros with whipped goat's milk [$12.00]
| torn brioche, pistachio pudding, honeyed
pamplemousse
Moscato, Uvaggio Vineyard, Lodi, 2008
Regular readers will know that I'm often wary of beets, so this was the one course that I was most skeptical about. The beets here weren't bad though, and I even liked the golden variety, which I found sweeter and juicier. Nevertheless, I still appreciated the countering tartness of the goat's milk foam, the eggy weight of the brioche, and the citric temper provided by the
pamplemousses
(grapefruit).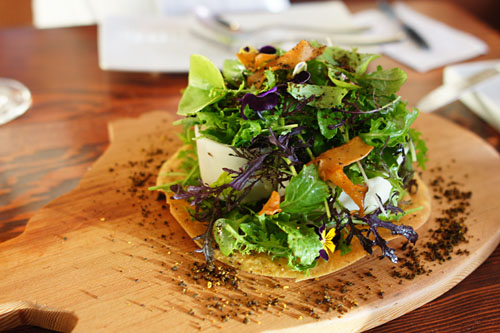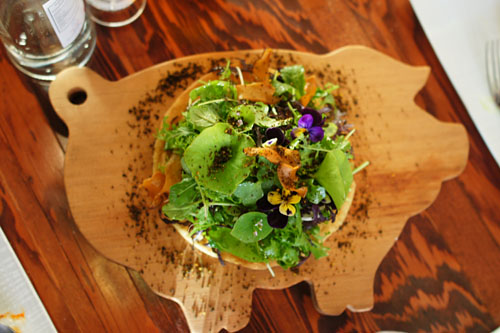 carta da musica, our homemade crispy Sardinian flatbread [$17.00]
| today's LEAVES barely dressed, truffled pecorino,
orielles
Gruner Veltliner, Hiedler, "Loss", Kamptal, Austria, 2008
Arguably my favorite item of the night, the so-called
carta da musica
(a.k.a.
pane carasau
) is also Ubuntu's signature dish, the restaurant's version of the classic Sardinian flatbread. I was positively enamored with the fantastic mélange of tastes and textures present here: the bitter, vegetal smack of the greens, the crisp, earthy bread base, the weight of the cheese, and the salty savor of the "orielles" (black trumpet chips). I also appreciated the ironic use of a pig-shaped cutting board as the serving plate.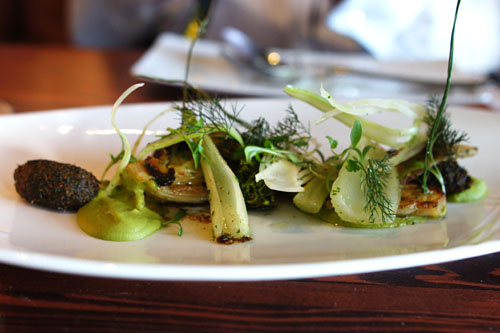 seasons first 'orion' FENNEL, compressed - confit - puree [$13.50]
| our vadouvan, 'meyer' LEMON, FENNEL frond falafel
Gruner Veltliner, Hiedler, "Loss", Kamptal, Austria, 2008
Here we have fennel in multiple forms. The confit was a bit overwhelming for me, but I did appreciate the use of raw fennel frond and its accompanying crisp, focused flavor. The standout here, though, was clearly the savory, pungent "falafel" made from fennel fronds--I wanted to have more of it, wrapped in a pita!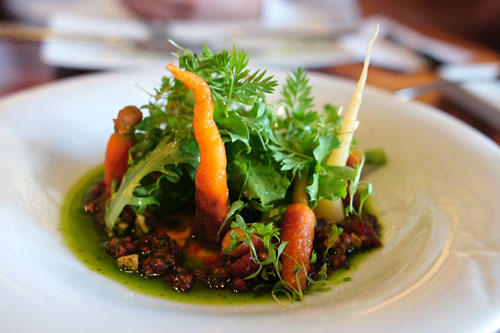 warm 'purple haze' and cool 'white satin' CARROT salad [$13.00]
| 'tru green' FRISEE, local raspberries crushed in an HERB vinaigrette
Carmenere, Yorkville Vineyard, Mendocino, 2006
Interestingly, my first bite of this was a bold blast of flavor that reminded me of instant ramen spice! Subsequent bites, though, were far less in-my-face. There were two types of carrots at play here. The first, "purple haze," were soft and sweet, too sweet on their own in fact, but the use of the frisee helped temper their sugariness. I much preferred the "white satin" variety. Served raw, they had a crisp, juicy crunch that formed the highlight of this dish.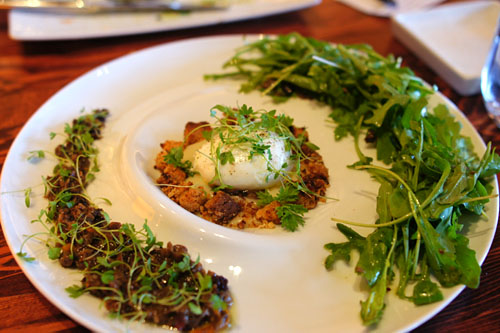 today's poached EGG on KOHLRABI crumble [$14.00]
| 'surry' ARUGULA dressed with kumquat
a la Greque
Carmenere, Yorkville Vineyard, Mendocino, 2006
I always look forward to a good poached egg these days, and this did not disappoint. The egg, expectedly luxurious in nature, was offset somewhat by the kohlrabi crumble. However, the key was the bitter, tangy arugula and how it did a superb job in balancing the dish. I did feel that the kumquat and olive medley was a bit overpowering, however.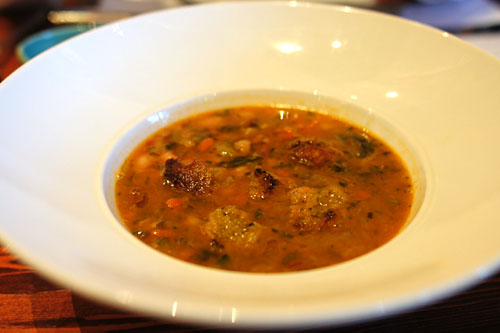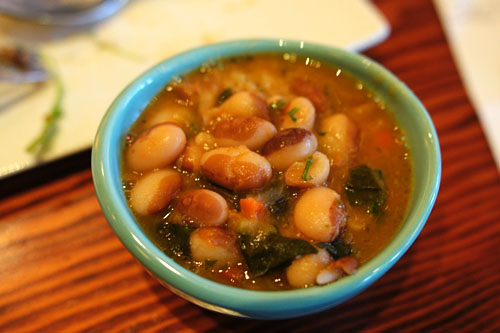 rustic rancho gordo 'yellow eye' bean stew [$14.00]
| ROSEMARY, CHILI and slow cooked 'black' KALE
Pinot Noir, Robert Stemmler, Carneros, 2006
A hearty, smoky, chili-like concoction, this was another highlight of the meal for me. The weighty, dense, earthy beans formed a fabulous base for this dish, while the peppery kale (or
cavalo nero
) and various spices countered the beans' gravity while giving the soup an almost South Asian tinge. Meanwhile, texturally, things were mixed up by the crunchy rosemary bread. Nice!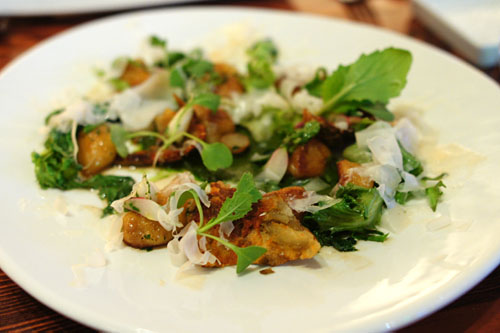 a simple plate of horseradish gnocchi and assorted RADISHES [$15.00]
| midnight moon, 'scarlet' TURNIP thinnings, smooth FAVA LEAF
Pinot Noir, Robert Stemmler, Carneros, 2006
This was some of the best gnocchi I've had in a while. Taken by themselves, the tiny dumplings were imbued with the subtle essence of their potato maker, but nicely accented by a touch of horseradish as well. The pasta was then further heightened by the substantial weight of the goat's milk cheese, but beautifully offset by the vegetal verve of radish, fava, and turnip.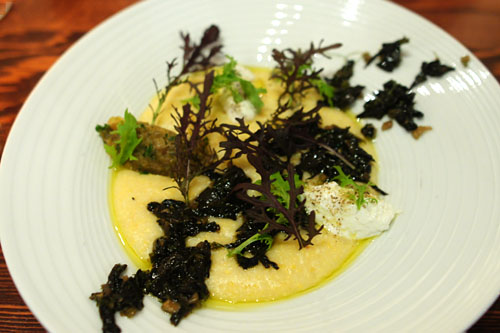 organic grits from arbuckle, goat's milk ricotta and its whey [$17.00]
| trumpet mushroom
salsa negra
, 'ruby streaks' mustard, SAUERKRAUT
GSM, Miner Vineyard, "The Odyssey", Napa Valley, 2006
The first time I had grits (at River's End Café in Seal Beach), I was left mildly disgusted. However, over the past few years, I've come to appreciate this humble dish of ground corn, and this was easily some of the best I've had. Suitably cheesy, with a light, nicely rough consistency, the grits went perfectly with the mustard-y greens and tangy 'kraut, while the mushrooms added a touch of smoky savor.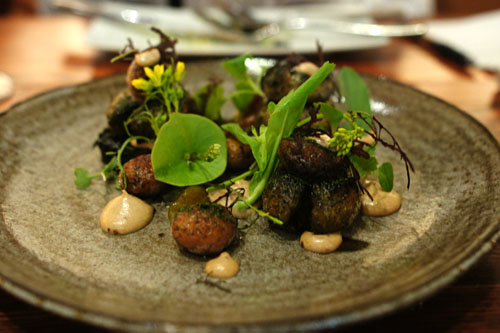 young potatoes baked in wild FENNEL & CALCOT ash [$16.00]
| warm CALCOT-MUSTARD "mayo", vineyard LEAVES raw and smoked
GSM, Miner Vineyard, "The Odyssey", Napa Valley, 2006
Our final savory of the night consisted of this lovely plate of potatoes. Mildly salty in savor, the tubers were quite delicious on their own, albeit a bit heavy. This problem was solved by the tartish "mayo" and the medley of vegetables at play: nettles, miner's lettuce, mustard, and sorrel.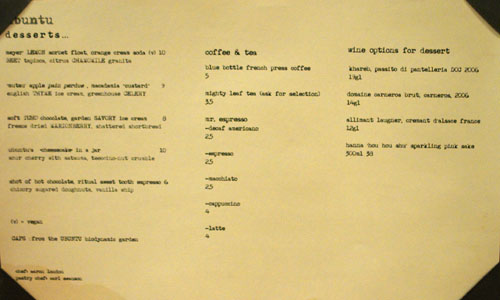 Above is the dessert menu, which comes courtesy of Pastry Chef Carl Swanson. Swanson has served a remarkable career at a number of leading Bay Area restaurants. He began on the savory side at
Manresa
, but eventually made the transition to pastry. From here, he moved north, landing at
Cyrus
before relocating to Napa to open Ubuntu under former Pastry Chef Deanie Fox (née Hickox), his mentor at Manresa. Afterwards, the Chef worked at
Meadowood
(which I'd just visited the day before this meal) before returning to Ubuntu in late 2009. With the departure of both Foxes in February 2010, Swanson rightfully assumed the position of Pastry Chef. Click for a larger version.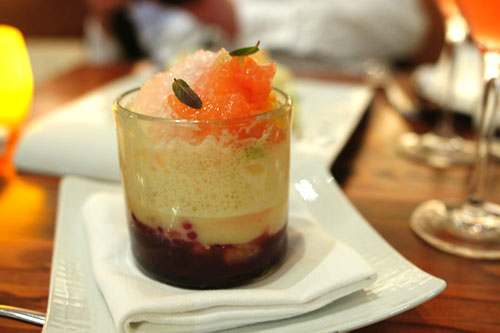 meyer LEMON sorbet float, orange cream soda [$10.00]
| BEET tapioca, citrus CHAMOMILE granita
Hana "Hou Hou Shu" Sparkling Pink Sake
My first taste of this was bracingly cold, numbing, in fact. Once I got past that, I appreciated the light, refreshing sourness of the citrus, accented by a slightly minty tinge, as well as the gravity and textural play imparted by the tapioca. My dining companion's favorite dessert.
'mutsu' apple pain perdue, macadamia "custard" [$9.00]
| english THYME ice cream, greenhouse CELERY
Hana "Hou Hou Shu" Sparkling Pink Sake
I remember the first time that I had
pain perdu
. It was at a place called
Bistango
in Irvine, CA, and I recall not being too fond of the dessert. Since that time, I've begun to appreciate this "lost bread," and this was a prime example. The cake was suitably rich, moist, and eggy, but fortunately, not too sugary. I liked the use of apple, which gave the cake a nice crunch, while the thyme ice cream and celery contributed a vegetal counterpoint.
soft TCHO chocolate, garden SAVORY ice cream [$8.00]
| freeze dried MARIONBERRY, shattered shortbread
Hana "Hou Hou Shu" Sparkling Pink Sake
TCHO, an artisanal chocolate maker based out of San Francisco, is perhaps best known for its chocolate
flavor wheel
. The product here was quite finespun in flavor, augmented by the marionberry (a type of blackberry) and shortbread crumbles. I rather liked it, especially when paired with the slightly savory ice cream, which resulted in a lingering saltiness on the finish.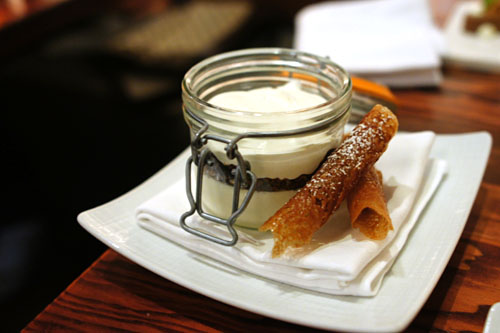 ubuntu's "cheesecake" in a jar [$10.00]
| sour cherry with satsuma, teeccino-nut crumble
Hana "Hou Hou Shu" Sparkling Pink Sake
Here we have Ubuntu's signature "cheesecake" in a jar. It had a creamy, light, delicately saccharine flavor that I adored. The crux, though, was the dark, overt sweetness of the cherry and satsuma, which lent a wonderful complement to the "cake." My favorite dessert of the bunch, easily.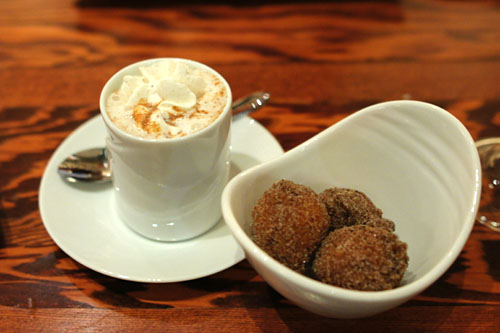 shot of hot chocolate, ritual sweet tooth espresso [$6.00]
| chicory sugared doughnuts, vanilla whip
Hana "Hou Hou Shu" Sparkling Pink Sake
The doughnuts themselves almost had a churro-like character to them, and were great to dip in the bitter, strangely savory hot chocolate. Think of this as Ubuntu's version of
The French Laundry's
famous "Coffee and Doughnuts."
I came into Ubuntu with some trepidation, but I'm happy to report that the restaurant exceeded my expectations. The food here is bright, bold, with dash, and verve; it's vivid, vivacious, artistically plated--beautiful. The kitchen's really pushing the boundaries of what's possible in vegetable-centric cuisine, and guess what--I didn't miss the meat at all. This is no omnivore's dilemma--Ubuntu's got the goods.