Mission Chinese Food (San Francisco, CA)
Mission Chinese Food
2234 Mission St, San Francisco, CA 94110
415.863.2800
www.missionchinesefood.com
Fri 08/03/2012, 11:30a-12:55p
After dinner at
The French Laundry
the previous night, we headed out early the next day to lunch at the white-hot Mission Chinese Food,
Danny Bowien
and Anthony Myint's pop-up turned restaurant-within-a-restaurant turned eminently of-the-moment hipster Chinese haunt.
A bit of history
: The story of MCF begins way back in 2008, when Bar Tartine Sous Chef Anthony Myint and his wife, Kenyon College professor Karen Leibowitz, began slanging pork belly flatbreads out of a rented taco truck in San Francisco. The truck was a rousing success, leading the duo to open up the Mission Street Food pop-up inside Lung Shan, an old-school, hole-in-the-wall Chinese eatery owned by Sue and Liang Zhou. Myint started out cooking once a week, then expanded to two nights a week and began bringing in a rotating selection of guests chefs, each preparing a totally different menu. Eventually, a chef that Myint worked with previously at Bar Tartine came in.
His name was James Daniel Bowien, a native of Korea who was adopted by an American family and raised in Oklahoma City. Though he grew up on a steady diet of fast food and other Middle American mainstays, he became fascinated with cookery after watching countless hours of the Food Network. After finishing high school, Bowien ended up being the frontman for a band that reportedly opened up for the Flaming Lips, and moved to the Bay Area in 2002 when he was 20 years old. He enrolled in, and dropped out of culinary school, and subsequently relocated to New York. Bowien worked at the famed Tribeca Grill for a while, then took on a role at Josh DeChellis and Pete Serpico's now-shuttered Sumile (Sushi).
With a solid foundation in the kitchen, he returned to SF and found employment at Blowfish Sushi. Later, he began working days at Mike Selvera's Bar Crudo (for free no less) and nights at Slow Club and Tsunami. From there, Bowien became opening Chef de Cuisine at Italian eatery Farina, and in 2008, shocked everybody by winning the Pesto World Championship in Genoa. Soon afterward, he auditioned for
The Next Food Network Star
, but didn't make the cut. The Chef then worked a stint at Bar Tartine in 2009, and also took on positions at Good Evening Thursday and Magnolia Pub & Brewery before joining Myint at Mission Street Food.
Bowien quickly ditched his other jobs, and the two debuted spin-off Mission Burger at Duc Loi Supermarket in August 2009, serving up a high-end burger replete with a Heston Blumenthal-inspired patty (à la
Playground
) and pickled okra. At MSF, meanwhile, they would recreate and reimagine a wide variety of cuisines from across the globe, but eventually came to settle on "Americanized Oriental food," which they served concurrently with the standard fare at Lung Shan. Though Bowien had never cooked Chinese food before, the restaurant garnered considerable accolades. This success allowed Myint to open up the much higher-end Commonwealth in 2010.
With his attention devoted to the new restaurant, the pair decided to shutter Mission Street Food and Mission Burger in summer that year (which also allowed time for Bowien to get married to his wife Youngmi Mayer in Korea). MSF, however, was soon reborn as Mission Chinese Food in July, Bowien's baby that would serve seven days a week for both lunch and dinner. The place was another hit, and the following year, he was named "Rising Star Chef" by the
San Francisco Chronicle
, while MCF was deemed one of the "Best New Restaurants in America" by
Bon Appetit
. Myint, meanwhile, opened Mission Bowling Club, and just this past spring, the twosome debuted a second outpost of Mission Chinese Food in New York City's Lower East Side.

The 60-seat dining room is about what you'd expect given the circumstances: a bit drab, a bit dingy, and obviously low-budget, with busted Christmas lights on the walls and a huge paper dragon adorning the ceiling.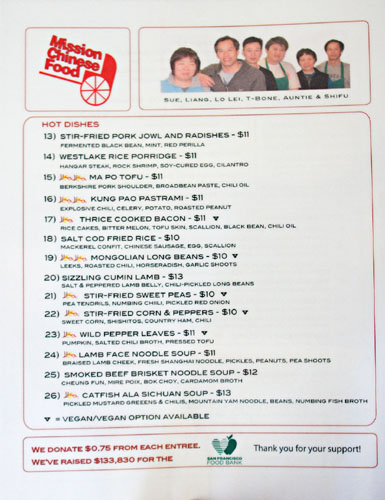 Mission Chinese Food's menu is an appealing-sounding selection of about two dozen mostly Sichuan-inspired dishes, all reasonably priced, especially considering that the restaurant donates 75 cents from each entrée to the
San Francisco Food Bank
. Note that Lung Shan's original menu is no longer available. Click for larger versions.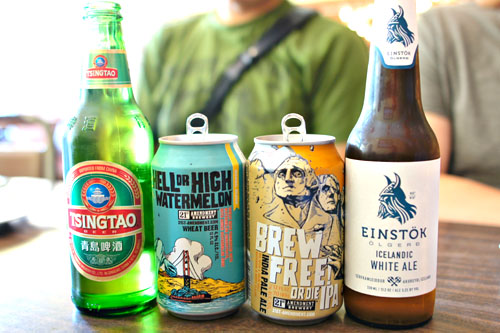 To drink, we ordered up one each of MCF's four beers available. Going from left to right, we had the prosaic Tsing Tao [$3]; the 21st Amendment Watermelon Wheat [$4], which showed off a candied, almost Jolly Rancher-esque essence on the close; the nicely refreshing, not-too-bitter 21st Amendment IPA [$4]; and the Einstök Icelandic White Ale [$6], a classically-leaning
witbier
with its floral and spicy notes.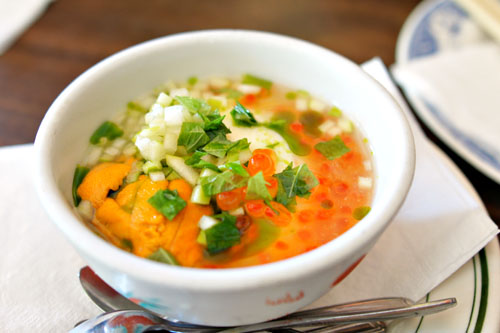 Savory Egg Custard [$12.00]
| Sea Urchin, Trout Roe, Citron, Apple, Green Perilla
The first dish of the day was also the lightest, with the sweet, saline
uni
melding well with the saltiness of the
ikura
, both elements enhanced by the rich umami undertones present. At the same time, the two types of roe were duly offset by the dish's light, custard-y, eggy base, while the crisp bits of apple and
shiso
provided the requisite levity.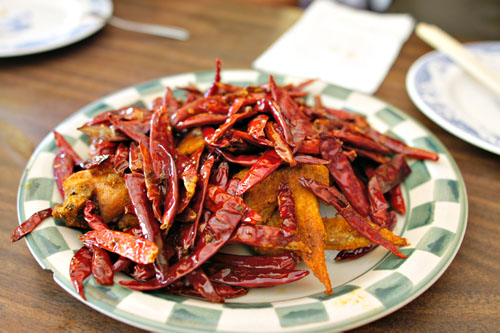 Chicken Wings with Explosive Chili Pepper [$8.00]
You can't go too wrong with fried chicken, and that old adage was certain true today. Mission Chinese's version was ostensibly inspired by the "Chicken with Explosive Chili Pepper" at
Z & Y
, a well-regarded Sichuan place in Chinatown. Comprised of battered and fried wings in a pile of peppers, it was a powerful dish, yet with a certain refinement. The chicken itself was juicy and tender, with an excellent crispness, and went superbly with the numbing, curry-esque spice of the dish.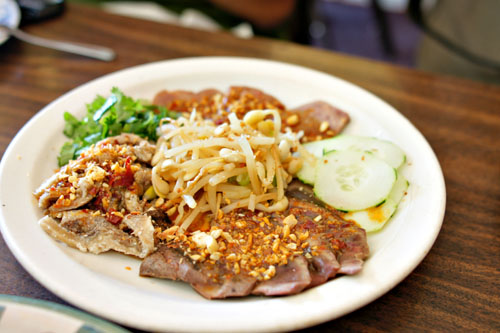 Married Couple's Beef [$9.00]
| Sliced Beef Tongue, Heart, Tripe, Numbing Chili, Peanuts, Cilantro
Here we had Bowien's take on
fuqi feipian
, a cold Sichuan dish of various bovine body parts. The tongue, the heart, the tripe--all were nicely tender and paired swimmingly with the hot, mouth-numbing flavors at play, and I also appreciated the countervailing lightness and crunch provided by the bean sprouts, cucumber, and cilantro. Quite tasty, though, due to the intensity of the spices here, it was difficult to discern the various bits of offal at times.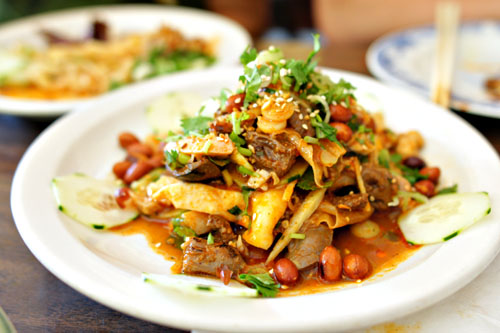 "Mouth Watering" Chicken [$9.00]
| Seared Chicken Hearts, Vegetable Noodles, Szechuan Pepper
Hearts of chicken were nicely presented, supple and satisfying in consistency, with the spiciness inherent counteracted by the light, bright veggies present, which also offered up a well-placed touch of crunchiness in the dish. I also appreciated how regular pieces of chicken meat were incorporated here, which helped to moderate things.
Tiger Salad [$7.50]
| Xi'an Herbs and Lettuces, Turnip Vinegar, Chili Oil
Some rather impressive-looking wraps brought together a delightful mélange of herbs and vegetables. The dish showed off an invigorating, minty character, but one keenly augmented by the heat and weight of the chili oil.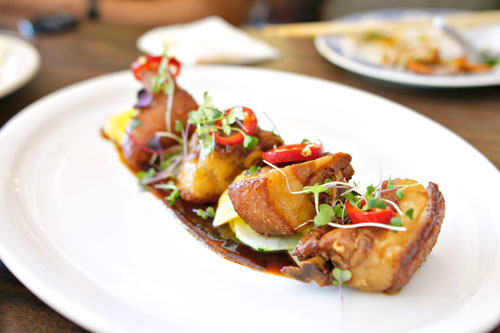 Red Braised Pig Tails [$10.00]
| Root Beer, Sweet & Sour Pineapple, Plum Sauce, Salted Cucumber
Pig tail arrived after presumably undergoing a
hong shao
cooking process (as well as frying I'm guessing), the result of which was a delectable mix of tender, lean meat and fat, highlighted by the pork's perfectly crisp, unabashedly savory skin. With the boatloads of porcine goodness present, the pineapple, cucumber, and other veggies did a great job in balancing out the dish.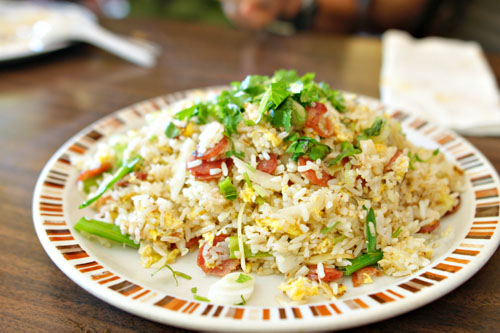 Salt Cod Fried Rice [$10.00]
| Mackerel Confit, Chinese Sausage, Egg, Scallion
Fried rice is a staple of the Chinese table, and Bowien's version incorporated slow poached mackerel into the mix, which imparted a subtle saline undercurrent to the dish. Everything else came together admirably too, with the sweet sausage component front and center, mixing wonderfully with the egg and tangy scallions. As tasty as the fried rice was though, I could've handled
even more
of the fishiness.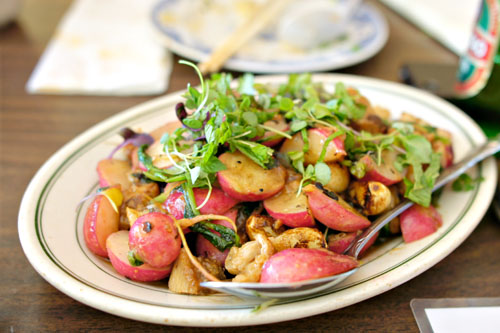 Stir-Fried Pork Jowl and Radishes [$11.00]
| Fermented Black Bean, Mint, Red Perilla
A stir-fry of pork jowl and radishes contained
far
too many radishes, and not enough meat. I think at least half of the veggies were left on the plate. Despite the abundance of radish here, the pork seemed overly salty, with perhaps too much black bean present. The perilla and mint added an overarching lightness to things, but even that wasn't enough to balance out the dish.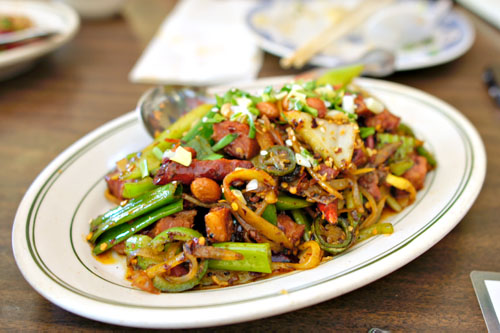 Kung Pao Pastrami [$11.00]
| Explosive Chili, Celery, Potato, Roasted Peanut
Bowien's version of pastrami, taken alone, was quite appealing: tender and supple, with a great touch of spice that really captured the essence of the traditional preparation. However, the meat was somewhat lost in the rest of the dish, a fact that was not helped by the pieces being cut rather small. There's a lot of potential with the pastrami, but I'd really like to see it better showcased.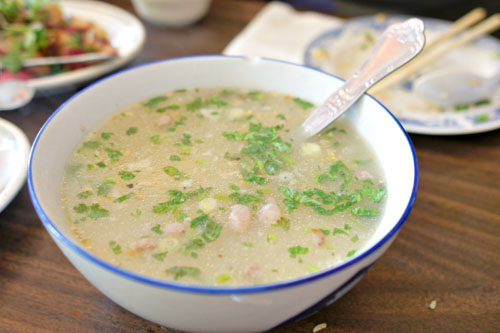 Westlake Rice Porridge [$11.00]
| Hangar Steak, Rock Shrimp, Soy-Cured Egg, Cilantro
The Chef's interpretation of Chinese congee was pretty amazing, my favorite item of the meal in fact. It was a hearty, heartwarming dish, with a wonderful soup base that showed off a tremendous depth of flavor, beautifully tempered by the use of cilantro and ginger. Bits of rock shrimp thrown in were spot on, and I loved the salty, soy-cured egg as well. Overall, a masterful course, one that a buddy of mine quipped would be great after night of drinking!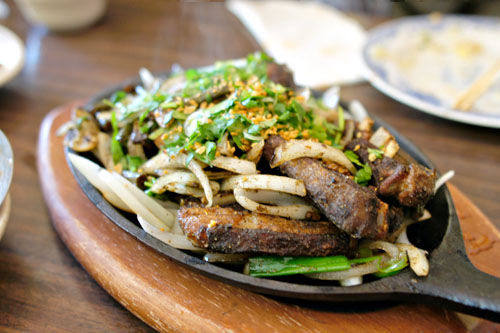 Sizzling Cumin Lamb [$13.00]
| Salt & Peppered Lamb Belly, Chili-Pickled Long Beans
This one was pretty intense. The lamb itself really conveyed the "gaminess" that one often associates with the meat, but was well-cooked, with a lovely char. At the same time, the earthy, warm, spicy tones of cumin were thrust to the forefront as well, making for an in-your-face punch of flavors that was offset by the countervailing astringency of the onions and scallions present.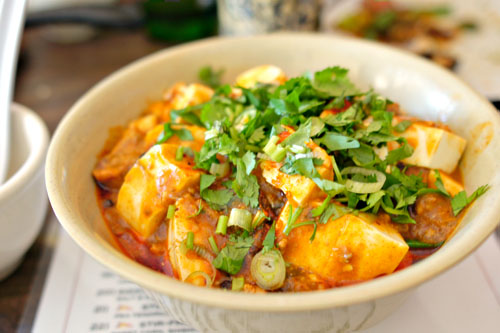 Ma Po Tofu [$11.00]
| Berkshire Pork Shoulder, Broadbean Paste, Chili Oil
We closed with perhaps the most well-known of Szechuan dishes, the ubiquitous
mapo
tofu. Bowien's version features a slow-cooked, Kurobuta-based "Bolognese" with Shaoxing wine and black vinegar, as well as plenty of Sichuan peppercorns. The resultant sauce was salty and spicy, with deep, dark, numbing flavors that weren't shy on the palate. It was quite tasty, but unfortunately, the tofu didn't pick up much of that character at all, and seemed almost like an afterthought.
The lunch definitely had some highs and some lows. I appreciated the technique, ingenuity, and quality of the food presented, as well as how Bowien's able to respect Chinese food while also having some fun with it. However, not everything worked; several dishes were heavy-handed and lacking in finesse. Subtleties and nuances often got lost in the torrent of heat and numbingness attacking the palate. Though it's what the region is most known for, not all Sichuan food is overtly spicy, so I'd like to see the Chef explore some of those, more milder dishes, or perhaps tackle the culinary traditions of other parts of China. I think it'd make for an equally as interesting, but more balanced meal overall.