é by José Andrés (Las Vegas, NV)
e by Jose Andres
3708 Las Vegas Blvd S, Las Vegas, NV 89109
702.698.7000
www.ebyjoseandres.com
Fri 01/14/2011, 08:30p-12:55a

On December 15th, Las Vegas' newest mega project, the $3.9 billion Cosmopolitan, made its unceremonious debut, two years late and billions over budget. The hotel opened with no less than a dozen restaurants, the most notable of which include Bruce and Eric Bromberg's Blue Ribbon, Scott Conant's
Scarpetta
and D.O.C.G,
David Myers
' Comme Ça, The One Group's STK (because Vegas really needs more steakhouses), and two projects from
José Andrés
: Chinese-Mexican hybrid China Poblano and tapas joint
Jaleo
. Curiously missing from all the press releases, however, is "é," a "secret" restaurant-within-a-restaurant concept situated within the latter eatery. é wasn't originally planned for the Cosmo, but Andrés, ever his ebullient self, simply couldn't help but open the place after noticing some unused space at Jaleo.
Comprised solely of a single table seating up to eight lucky diners (two seatings a night), the micro-restaurant is similar to Andrés' Minibar at Café Atlántico or
Saam at The Bazaar
, but at the same time, quite different. Officially, é will be more "product focused," featuring cuisine that's distinctly Spanish (instead of global) in origin, but transformed using avant garde, "molecular" techniques. Helming the kitchen currently is Michael Turner, who was on the opening team at The Bazaar, and who previously worked at Minibar under Chef Katsuya Fukushima. Turner is in the process of training the staff, and é will eventually be turned over to Chefs Johannes Bernu and Edwin Robles. The service, meanwhile, is the charge of co-captains Anthony Perri and Stephanie K, while
Felix Meana
served his last night here as the "Director of Service," helping to open the space. Previously, Meana managed Saam, and even worked a five year stint at the famed El Bulli.

Hidden behind a discreet door, é could easily be mistaken for Jaleo's private dining room. The room is dimly-lit, eclectic, whimsical, kitschy even, lined by card catalogs and filled with trinkets and tchotchkes personally collected by Andrés himself.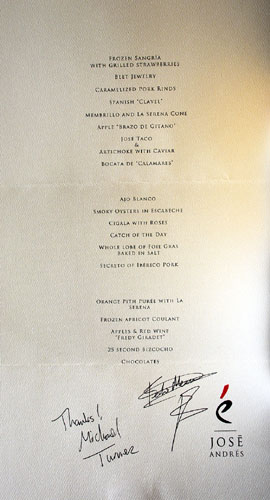 The fixed menu rings in at a not-unreasonable $150, and for this outlay, diners are treated to 20 or so small courses. Wine pairings (all Spanish) by Meana are available for an addition fee, while $3000, I've read, will get you all eight seats for the entire night. Click for a larger version.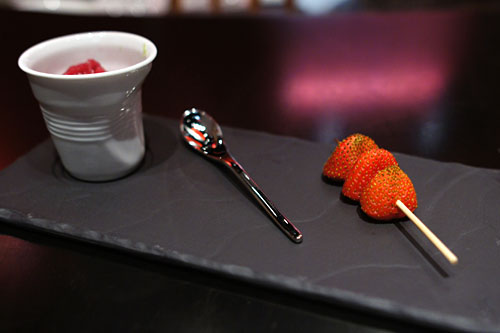 1: Frozen Sangria with Grilled Strawberries
Upon being seated, we were quickly provided a welcome "cocktail" of liquid nitrogen sangria. The sweetness of the strawberry was nicely augmented by the boozy, saccharine slush, and I appreciated the temperature contrast between the warm fruit and bracingly chill sangria. A refreshing start to the meal.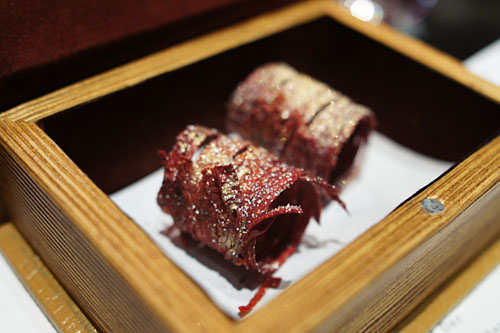 2: Beet Jewelry
A wooden jewel box presented before us revealed two "rings" of dehydrated beet (which I couldn't help but wear), dressed up with a generous sprinkling of gold dust. I expected the beet to be sweet, but instead, it was wonderfully salty, almost reminiscent of potato, with a supremely satisfying consistency as well.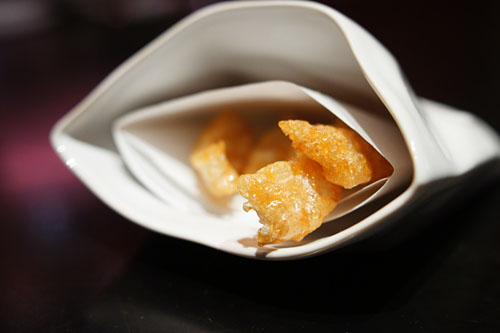 3: Caramelized Pork Rinds
Pork rinds were addicting, with a creeping sweetness balanced by overarching touches of porcine savor. Texturally, they reminded me of Japanese
senbei
rice cracker snacks, and I could've eaten a whole bag!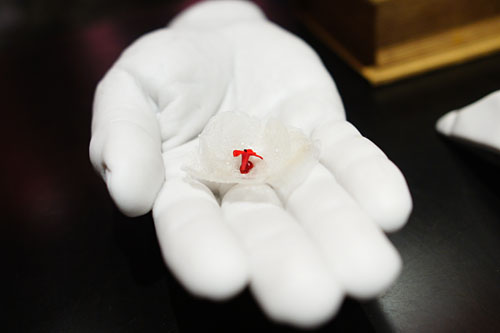 4: Spanish "Clavel"
Here, the kitchen pays homage to the
clavel
, a type of flower indigenous to the Mediterranean region. Served in a plate molded after Chef Andrés' hands, the dish showed off an ethereal consistency (it fell apart while I was picking it up), with a tangy, slightly floral sugariness on the palate.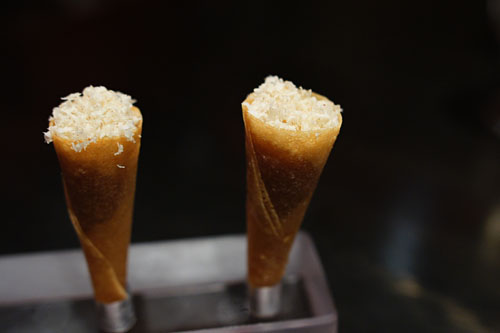 5: Membrillo and La Serena Cone
San León Argüeso, Jerez-Sherry, NV
Andrés is certainly fond of serving food in cones, as witnessed in this next course. Here, I liked the salty attack of the La Serena cheese, and how than led to the sweet, jammy core of
membrillo
(quince) paste, all while the cone provided a great crunchiness to the dish.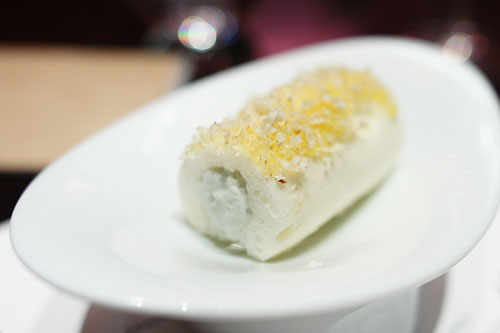 6: Apple "Brazo de Gitano"
San León Argüeso, Jerez-Sherry, NV
Next up was a riff on a Swiss roll or jelly roll. The dish had a light, airy consistency that was virtually melt-in-your-mouth, and I appreciated how the sweetness of the apple "sponge cake" played with the salty weight of the cheese espuma.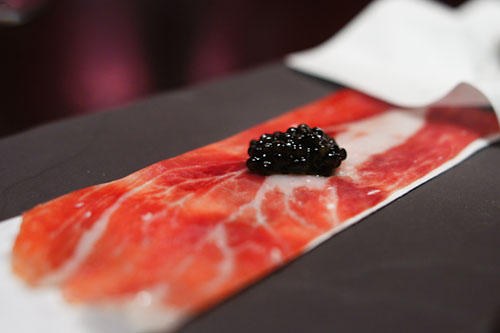 7a: José Taco
San León Argüeso, Jerez-Sherry, NV
A two part course followed. The "taco" consisted solely of a rectangle of
jamón ibérico de bellota
topped with a dollop of sustainable Riofrío caviar. I eagerly rolled up the ham, and appreciated how its rich, savory taste was accented by the sharp salty tang of the sturgeon roe.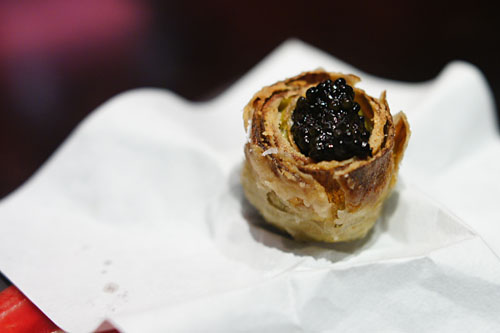 7b: Artichoke with Caviar
San León Argüeso, Jerez-Sherry, NV
The fried artichoke and caviar combo--with soft cooked quail egg--was even better. I loved the vegetable's texture, and how its mild flavor perfectly balanced the brine of the caviar.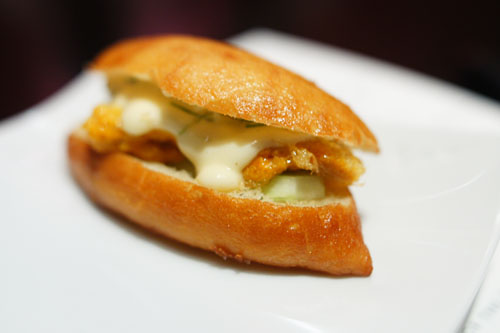 8: Bocata de "Calamares"
Gran Reserva La Ticota, Cava, 2006
Inspired by the beach food that Chef Andrés consumed as a youngster, you could almost think of this as his take on a lobster roll! Comprised of brioche, fried uni, aioli, cucumber, and scallion, the roll was delectable, demonstrating a great bit of uni brine deftly complemented by the light, vegetal zest of its accompaniments.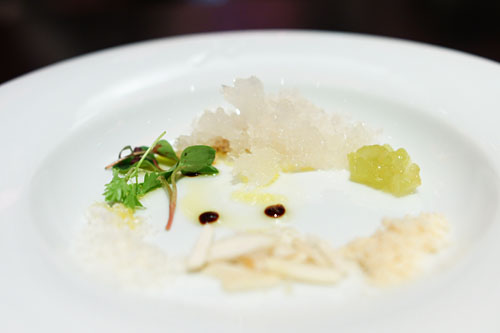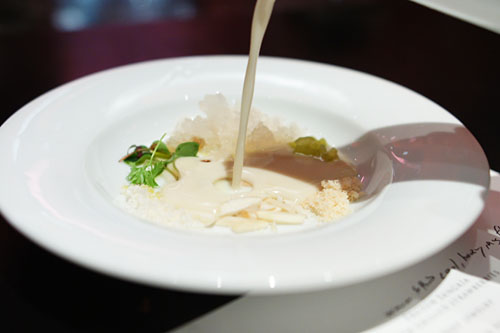 9: Ajo Blanco
Gran Reserva La Ticota, Cava, 2006
Ajoblanco
is a cold Spanish soup made primarily of bread, almonds, olive oil, and garlic. What we had here was a sort of deconstructed version of the dish, served with a marcona almond liquid made
sans
cream. The resultant commixture featured an overarching nuttiness, balanced by the vegetal zest of the granita as well as a touch of heady sweetness.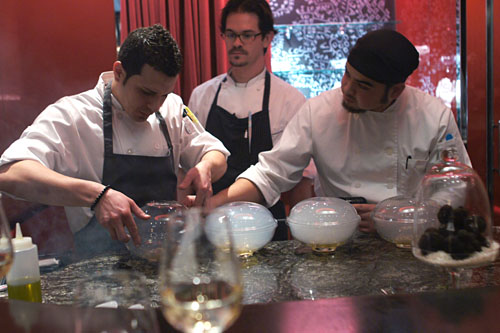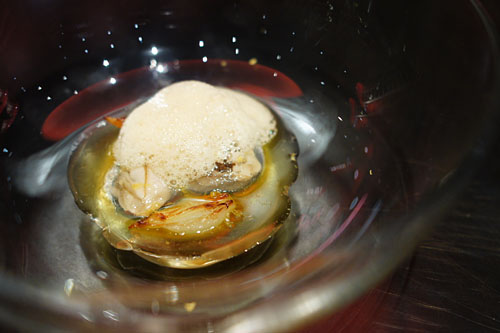 10: Smoky Oysters in Escabeche
Gran Reserva La Ticota, Cava, 2006
Raw oysters were exposed to orangewood smoke from a PolyScience Smoking Gun, and arrived encased in spherifications of their own juices, accompanied by pearl onion confit and topped with a toasted honey air. The brine of the bivalves were faithfully and forcefully presented here, growing and lingering on the palate, where their flavor was joined by sweet smoke from the orangewood, yet countervailed by the bitter tang of onion.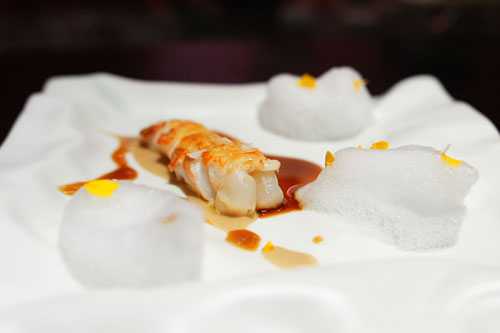 11: Cigala with Roses
Mengoba, Bierzo, 2008
Here was langoustine tail, served with a sauce made from the lobster's head, as well as sauce Américaine, with three dollops of rose foam. The brine of the
cigala
--sharp and unabashedly salty--was deftly presented here, augmented by the duet of sauces and nicely countered by the floral flavor of the rose.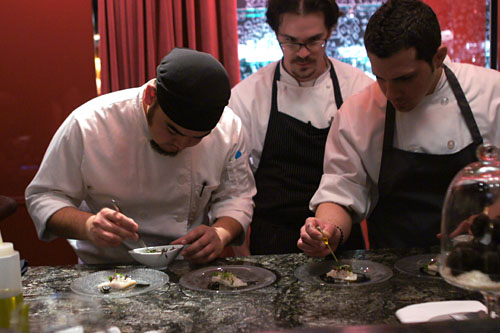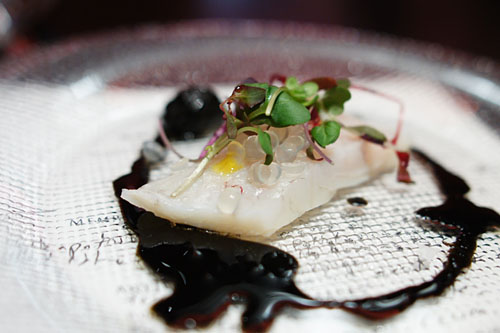 12: Catch of the Day
Mengoba, Bierzo, 2008
The Catch of the Day turned out to be a charcoal-roasted turbot, garnished with fermented black garlic, charred scallion dressing, and citrus pearls. I appreciated the fish's delicate texture and briny, salty flavor, nicely balanced by the sourness of the citrus. Quite good.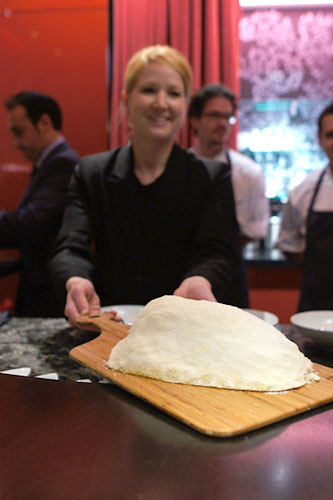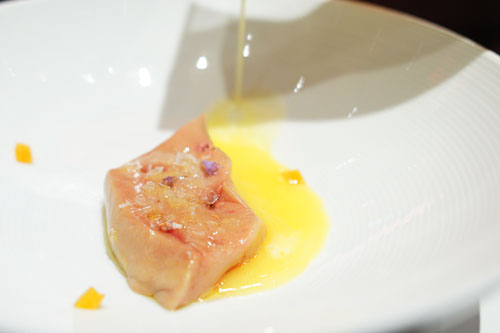 13: Whole Lobe of Foie Gras Baked in Salt
A Torno Dos Pasas, Ribeiro, 2008
The salt-baked foie gras was one of the night's most anticipated courses, and managed to be one of the strongest preparations of hot foie gras that I'd ever had. The flavor of the liver was pure, unadulterated, beautifully restrained and unimaginably delicate. To this, the orange juice added just a hint of sweetness, while the finish was teeming with an unabashed saltiness. Excellent.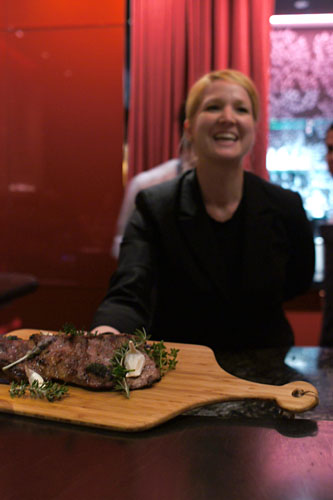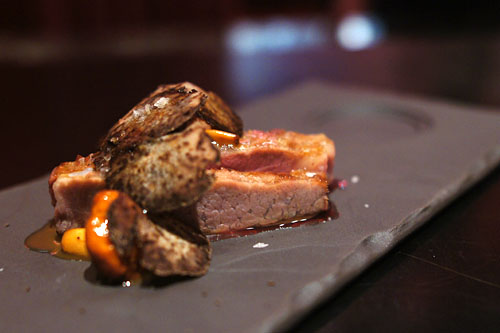 14: Secreto of Ibérico Pork
A Torno Dos Pasas, Ribeiro, 2008
Our final savory course brought a verifiable rarity, the
secreto
of pork, a highly-marbled cut from behind the pig's shoulder blade. The meat was served with chanterelle and black truffle, and showed off a wonderful pork-y goodness and creeping saltiness, deftly complemented by the earthiness of its fungal accoutrements. The only issue was that one of the slices was a bit tough.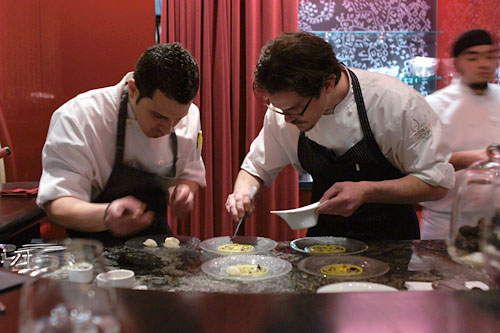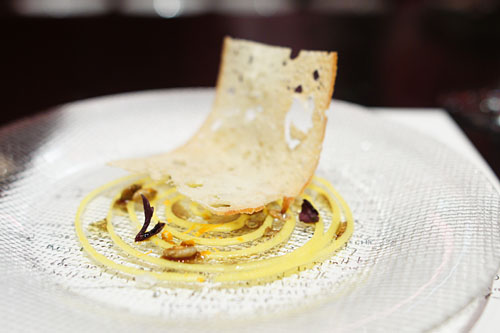 15: Orange Pith Purée with La Serena
Our dessert course consisted of a quenelle of La Serena over concentric spirals of orange purée, with basil, toasted candied pumpkin seed, and pumpkin oil. I enjoyed the deft interplay between the salty cheese and citrus overtones of the dish, while the basil added a lovely peppery tinge to the fray.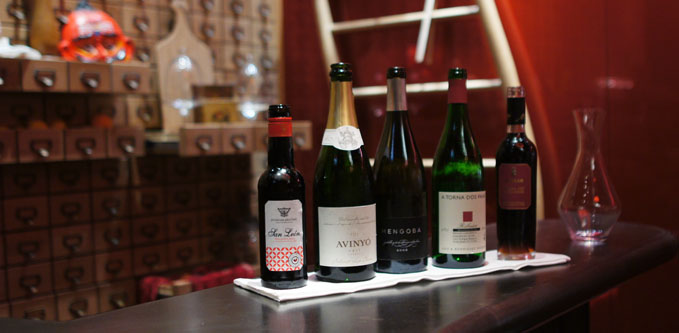 The evening's wines.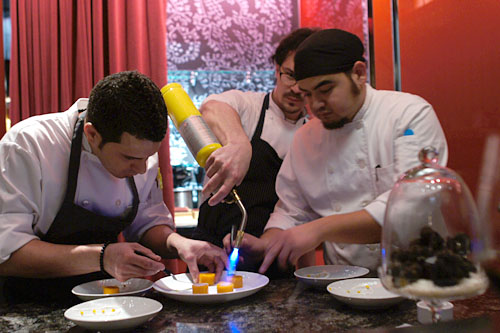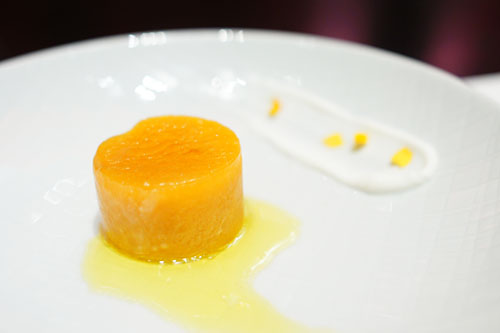 16: Frozen Apricot Coulant
Alvear Pedro Ximénez, Montilla-Moriles, 1927 Solera
We're all familiar with Michel Bras' famed chocolate coulant, so it was great to see an apricot variation of the dish. Instead of a cake with molten chocolate inside, we have a frozen apricot timbale, filled with a cool apricot liquid. I loved the dessert's bright, true presentation of apricot flavor, beautifully balanced by the creaminess of yogurt.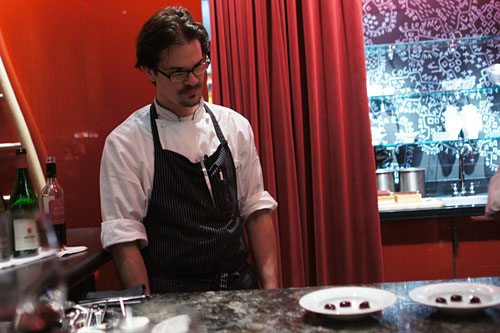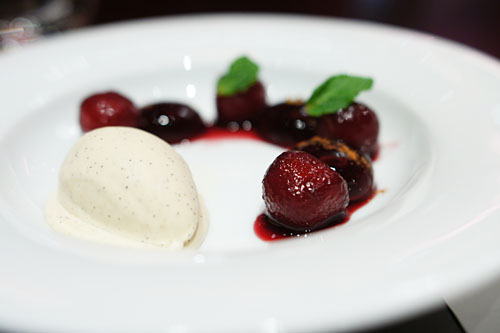 17: Apples & Red Wine "Fredy Giradet"
Alvear Pedro Ximénez, Montilla-Moriles, 1927 Solera
Here, we pay reverence to famed Swiss chef Fredy Giradet, who, ironically, is now a vocal opponent of so-called molecular gastronomy. The dessert consisted of vanilla ice cream, glazed apple, and apple spherification. I really liked the pure, unadulterated flavor of vanilla in the ice cream, as well as how that played with the sweet spice of the two forms of apple.
18: 25 Second Bizcocho
Alvear Pedro Ximénez, Montilla-Moriles, 1927 Solera
Bizcocho
refers to a type of flaky pastry common in Latin America. é's version was cooked for 25 seconds in a microwave, hence the name, and I loved the cake's light, airy body and subtle yogurt and citrus flavors. Similar to the aerated brioche used by
Michael Voltaggio
.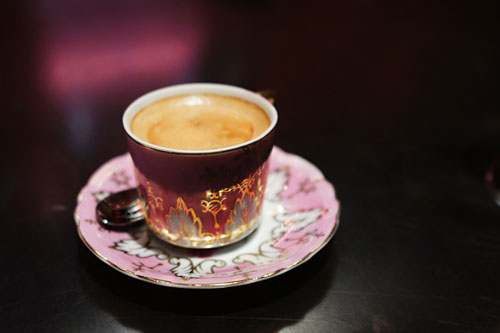 A double espresso to close out the meal.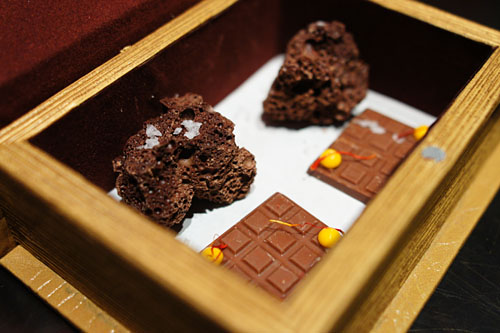 19: Chocolates
Alvear Pedro Ximénez, Montilla-Moriles, 1927 Solera
We ended with a saffron milk chocolate with saffron cream, as well as a sesame and chocolate air with Maldon sea salt.

é featured a dedicated staff of seven: Felix Meana, Michael Turner, Anthony Perri, Johannes Bernu, Stephanie K, Edwin Robles, and a chef who unfortunately I didn't get the name of.
I came here with some high expectations, but é did not disappoint. It was an unforgettable experience, a showcase of classic Spanish cuisine, reinterpreted through Andrés' avant garde culinary lens. é is easily one of the top dining destinations in the City, and should be at the top of every foodie's list for Las Vegas. Seriously, get in while you still can.
---
After our meal at é, we couldn't help but linger around at Jaleo for a bit. Note that the restaurant is noticeably larger and more ambitious than the original
Washington DC
location.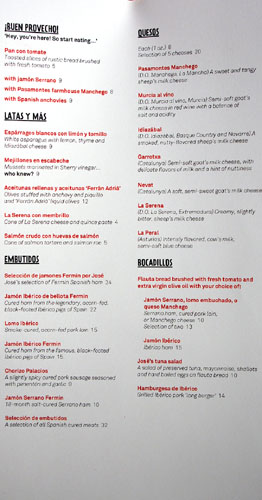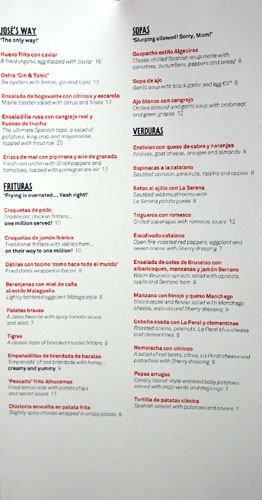 Jaleo's menu, very similar to what I've seen before at the restaurant. Click for larger versions.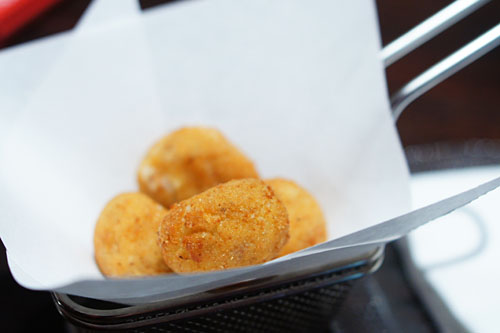 Croquetas de jamón Ibérico [$10.00]
| Traditional fritters with Ibérico ham
Some ham fritters to begin. A nice blend of flavors from the croquettes' creamy filling and salty
jamón
, all encased in a crispy fried shell.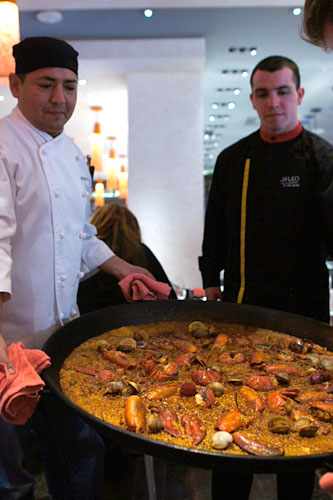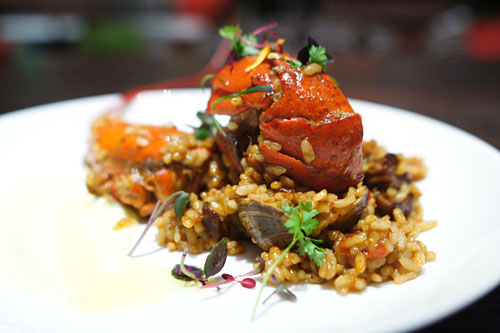 Arroz a banda con bogavante [$28.00]
| Literally meaning 'rice apart from lobster,' made with lobster and cuttlefish
I'm told that Jaleo features the country's first wood-fired paella station, a cylindrical monstrosity constructed at a cost of an amazing
$1 million
. Certainly though, it turned out arguably the best paella I've ever had, with the heady, ocean-y flavors of the seafood beautifully presented, yet grounded by the heavy, hearty rice. And let's not forget the tableside presentation of the massive paella pan--quite an impressive sight to behold!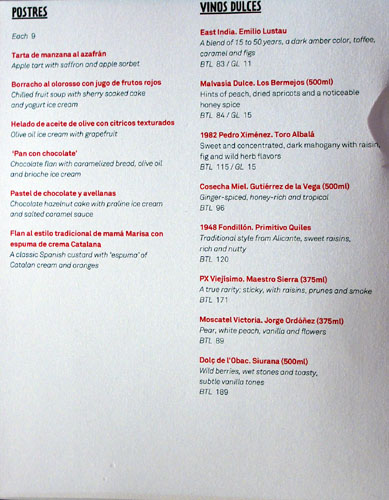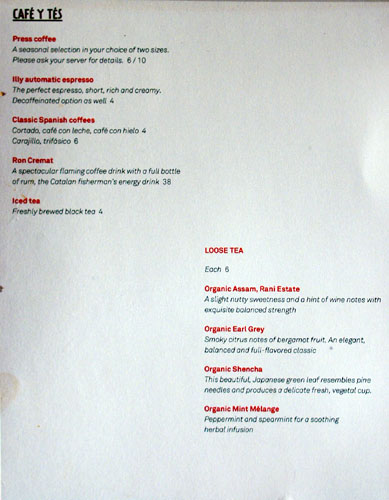 And now, the dessert menu. Click for larger versions.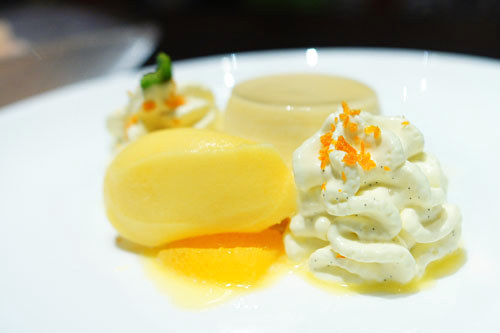 Flan al estilo tradicional de mamá Marisa con espuma de crema Catalana [$9.00]
| A classic Spanish custard with 'espuma' of Catalan cream and oranges
Flan was delish, showing off a sweet, rich, dense character adroitly counterbalanced by the tangy espuma and orange sorbet. The overall effect was reminiscent of an orange Creamsicle!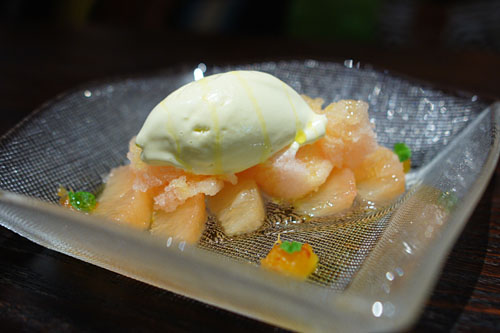 Helado de aceite de olive con citricos texturados [$9.00]
| Olive oil ice cream with grapefruit
This was our server's favorite dessert, and I can see why. The olive oil ice cream had just the right amount of savoriness to it, not overwhelming, and fabulously moderated by the grapefruit suprêmes and granité.