IO by Playground (Santa Ana, CA)
Invitation Only at Playground 2.0
220 E 4th St, Santa Ana, CA 92701
www.playgrounddtsa.com
Thu 03/07/2013, 07:00p-10:15p

Since debuting in November 2011,
Playground
has firmly established itself at the forefront of the Orange County dining scene, earning legions of followers in the process. As sharp as Chef Jason Quinn's cooking is, though, there was just something
more
that he wanted. He dreamed of a place where he could truly celebrate his obsessively-sourced, often times scarce ingredients, an intimate venue where the bounds of cost, complexity, and time go out the window. His vision has been realized in the form of IO, an invitation-only dining series held sporadically at
2.0
, a "culinary theater" of sorts situated right next door to the main restaurant (the space is also used for private dinners, pop-ups, cooking classes, and other special events).

Inside, you'll find an intimate room housing 17 seats surrounding a well-equipped exhibition kitchen. There's only one seating per night, which starts promptly at 7:00 (and I mean
promptly
--we arrived at 7:02 and people were already eating). The roughly 30-course
omakase
-style degustation will set you back $250 per head (inclusive of food, drink, tax, and tip), and tickets must be purchased in advance.
1: WATER & LEMON
Tonight's menu, entitled "When the Dog Bites and the Bee Stings," started off with a seemingly innocuous goblet of water with lemon. It held a stealthy secret though: the lemon was actually a Lemon Drop in jellified form, an admixture of vodka, lemon juice, and sugar that left a boozy, acerbic imprint on the palate.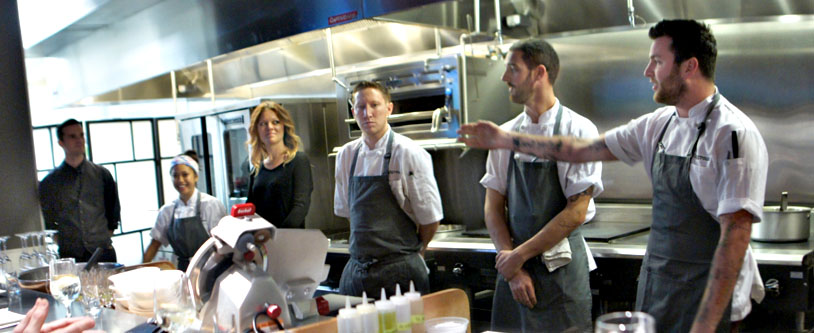 Chef Quinn then introduced the team and gave us a brief spiel on what IO is all about.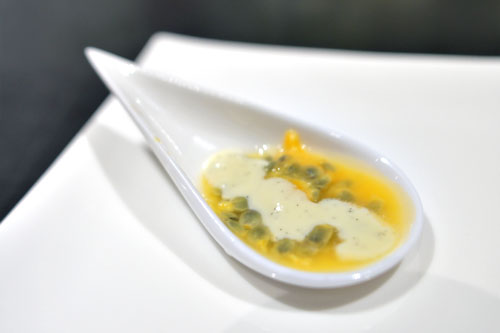 2: PASSION FRUIT WELCOME
| vanilla custard
Serving as an amuse bouche of sorts, the spoon deftly played the tart, tangy passionfruit against the tempering effect of the vanilla.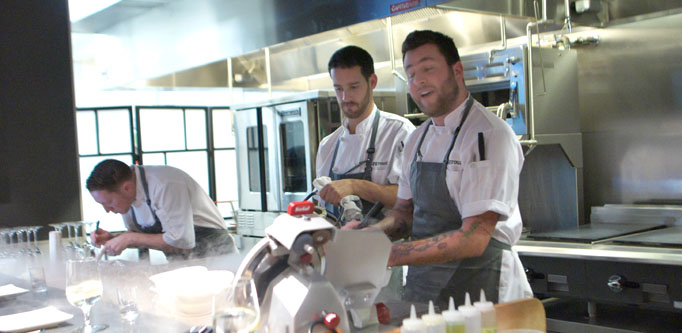 The kitchen having some fun with the liquid nitrogen used in our next course.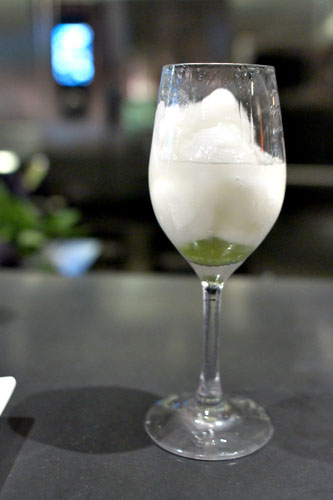 3: NITRO JAPANESE BABY PEACH CAIPIRINHA
A liquid nitrogen-laced caipirinha showed off all the boozy, sweet, and sour notes of the classic cocktail, but in a creamy, dense, lush form, capped off by an absolutely delightful
momo chan
baby peach at the bottom.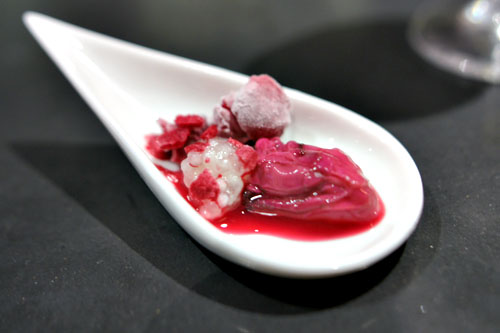 4: BLOODY OYSTER
| beet juice fed kushii, beet mignonette, horseradish tapioca, fresh lemon
Next was arguably the most ambitious preparation of oyster that I'd ever experienced. Quinn procured some Kusshis, then, after some experimentation, kept them alive in a mixture of salt water and beet juice. As a result, not only were the oysters dyed a brilliant magenta, they were postively imbued with the sweetness of the root vegetable, which served as a fantastic counterpoint to the salinity of the bivalves. I loved the textural component from the tapioca as well.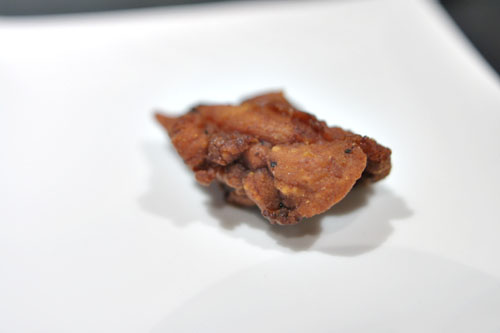 5: JIDORI OYSTER
| a tribute to Uncle Lou
Quinn presented an homage to Memphis' legendary Uncle Lou's with this marvelous Jidori chicken oyster (a version of the dish made with regular parts is available at the main restaurant). The oyster is a prized part of the bird near the top of the thigh, one renowned for its firm, satisfying consistency and taste. Here, it was perfectly done, wonderfully crisp, and with boatloads of chicken-y savor balanced by a marked vinegar-y tang. I'd love a bucket of the stuff!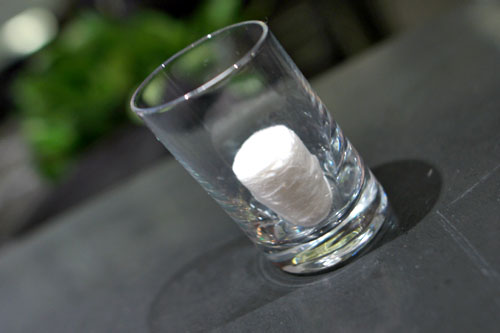 A napkin to wipe our fingers with: just add water (last seen at
Baumé
).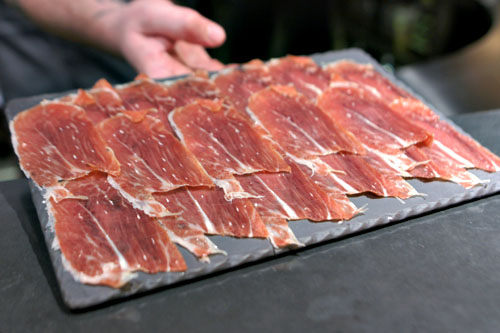 6: JASON'S FAVORITE INGREDIENT
| paletta iberico de bellota
Ah
ibérico de bellota paleta
--can't go wrong with this. Strictly speaking, it's not the same as the more popular
jamón
, but rather, a similar cut from the front legs of the
pata negra
. It was just as tasty though: fatty and slick, with a rich, nutty flavor that's always satisfying.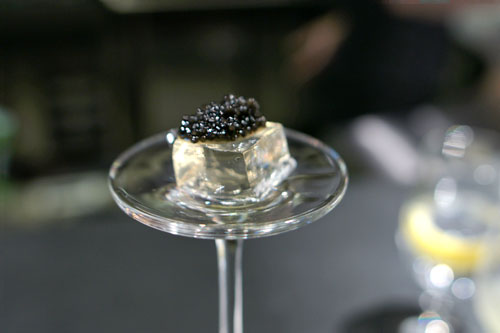 7: CHAMPAGNE & CAVIAR
| rio frio caviar
Chef Carson then presented one of his signature dishes, the "Champagne & Caviar" that I'd first had over at
AnQi
. It was lighter, and better balanced than I remember, with the sweetness of the geleé transitioning beautifully to the salty jolt of the Spanish caviar. Whimsical.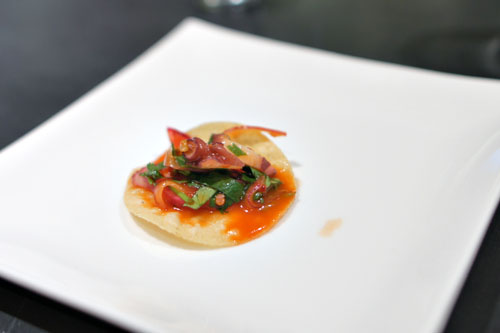 8: CANARY ISLAND OCTOPUS CEVICHE
| golden truffle sauce, red onion, tortilla
LARMANDIER-BERNIER TRADITION PREMIER CRU CHAMPAGNE
Quinn mentioned that his favorite octopus in the world comes from the Canary Islands, and I can't say that I disagree. The cephalopod was cooked to a super tender consistency here, and worked flawlessly against the spicy, herbaceous notes in the bite. Loved the contrasting crunch of tortilla chip, too. I wouldn't have minded several more of these to munch on.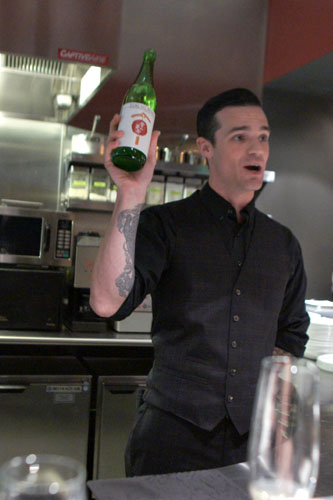 Rhett Butler works as Playground's sommelier, and also serves as host for IO. Here, he talks to us about our next sake pairing.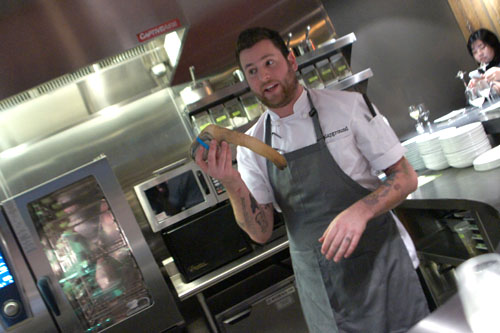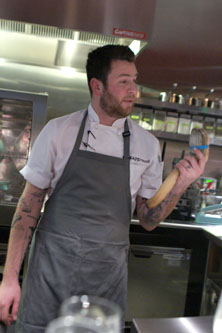 Jason having way too much fun with the geoduck.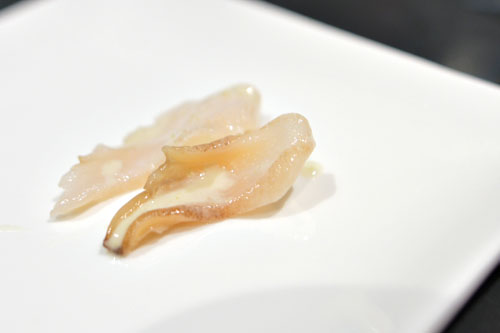 9: LIVE GEODUCK CLAM
| Yuzu Koshu
YUKI NO BOSHA "CABIN IN THE SNOW" JUNMAI GINJO SAKE
All joking aside though, this was some damn good
mirugai
. Served simply with
yuzukosho
, lemon, and Maldon sea salt, the clam showed off a gorgeous crunchiness, and its brine was perfectly moderated by the spicy, salty, and sour nuances present. Flawless.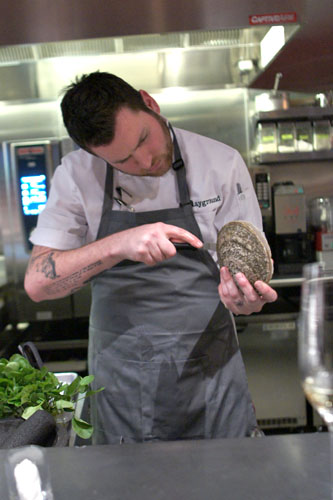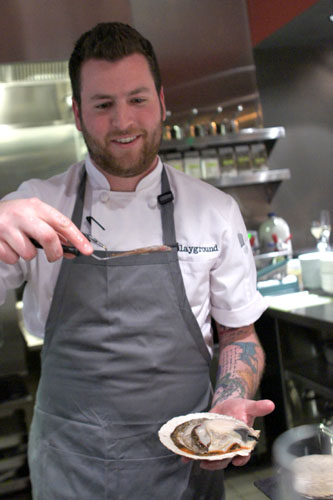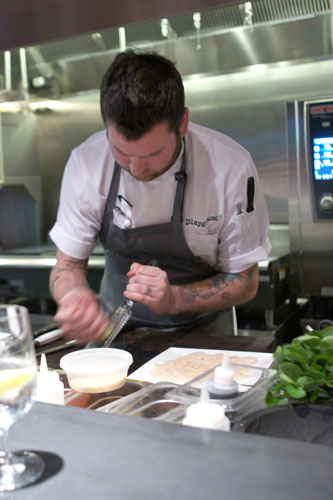 Here, Chef Quinn dispatches some sizeable live scallops, several of which had apparently feasted on small fish prior to being captured (as shown in the second photo). In the third photo, note the grating of real wasabi using an
oroshigane
.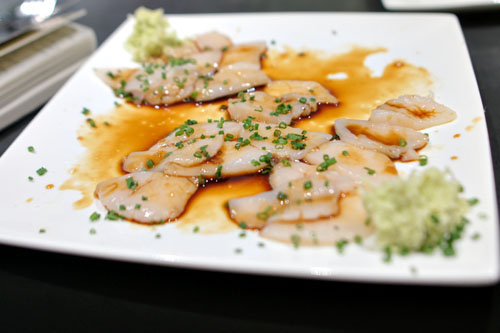 10: LIVE SCALLOP
| olive oil, lemon, beautiful soy, wasabi
YUKI NO BOSHA "CABIN IN THE SNOW" JUNMAI GINJO SAKE
The aforementioned scallops--so fresh, so clean--were presented on a platter meant for sharing, and were accompanied by flavors that highlighted the inherent nuances of the mollusk without overpowering them. I was especially fond of that wasabi.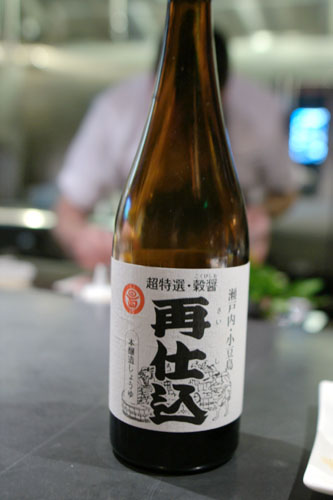 Quinn showed us the
shoyu
used in the course above, which is supposedly some of the best soy sauce around.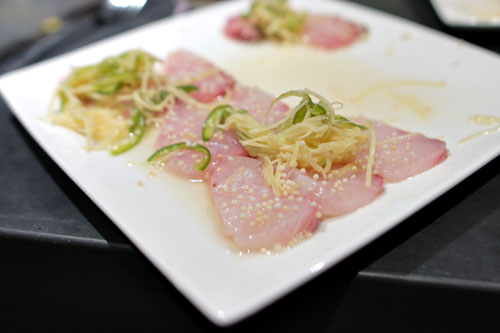 11: KANPACHI
| pickled ginger, lime, fish sauce, jalapeño, masago
YUKI NO BOSHA "CABIN IN THE SNOW" JUNMAI GINJO SAKE
The scallop was followed by another shared plate, this one filled with glistening pink slices of amberjack. The fish was firm to the bite, with a fresh, clean taste augmented by the weight of the fish sauce, all while the ginger added a great, tangy counterpoint to the course. Loved the savory crunch of those little rice crackers, too.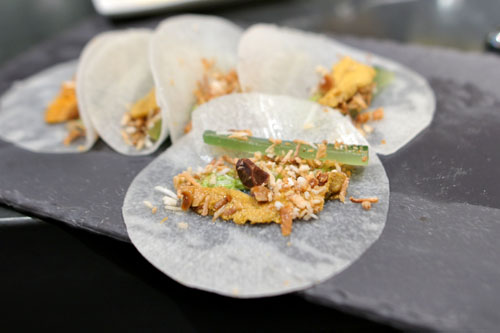 12: JICAMA WRAPPED LIVE SEA URCHIN
| toasted coconut, macadamia, avo mousse, compressed cucumber
YUKI NO BOSHA "CABIN IN THE SNOW" JUNMAI GINJO SAKE
"Tacos" of jicama-wrapped uni conveyed the bright, juicy snap of the root vegetable initially, while the nutty crunch of the macadamia arrived later on the palate, before the bite finally finished with a touch of sweet salinity. I would've liked the sea urchin to have been a bit more dominant here though.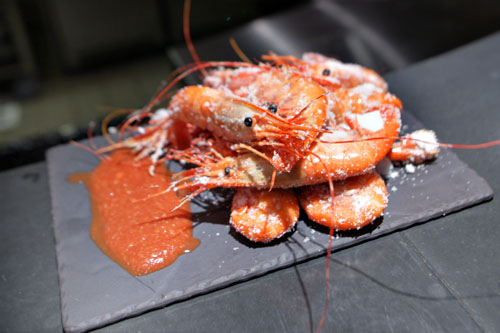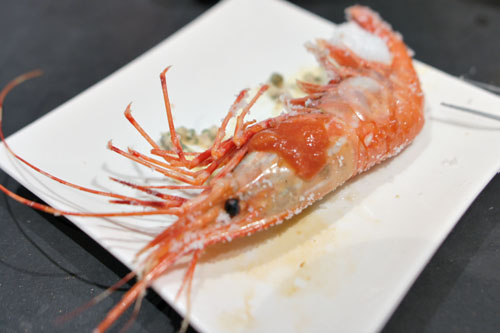 13: 500 DEGREE SHRIMP COCKTAIL
| lime, horseradish, tomato
DUCATO/DRIE FONTEINEN BEERSEL MATTINA
In our most "hands-on" course, spot prawns were cooked in 500-degree salt (a preparation perhaps popularized by
Providence
) and presented beautifully with a housemade "cocktail sauce." I first tucked into the tail portion of the shrimp, and it was spot on, with a snappy, slightly rare texture and mild relish that paired swimmingly with the salty globules of roe still present. The head (gotta suck the head!), meanwhile, was a must-try as well, with a sharp ocean-y character to it that went well with the crustacean's salty crust.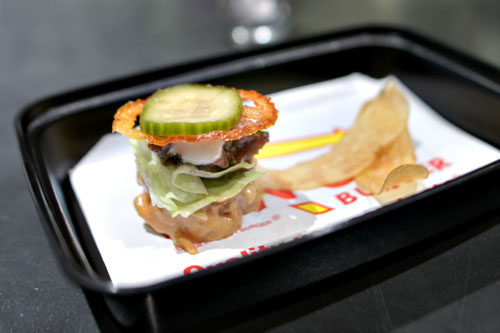 14: DOUBLE DOUBLE
| fuck you
DUCATO/DRIE FONTEINEN BEERSEL MATTINA
A reimagined Double-Double, courtesy of Chef Carson, really captured the essence of the original, with the meatiness of the "patty" working in unison with the crisp veggies and the overarching "secret sauce."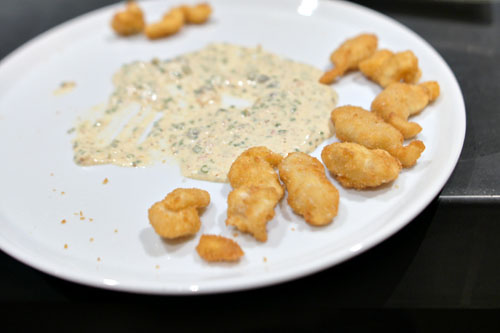 15: FRIED GEODUCK BELLY
| lemon-caper-shallot aioli
2011 GROTTA DEL SOLE- GRAGNANO DELLA PENISOLA SORRENTINA DOC
While the trunk of the geoduck was presented above, the belly of the beast was served later in the meal on a passed plate. Fried into golden fritters of goodness, the clam was fantastic--tender and savory, with a superb complement in the form of that tangy aioli. And yes, a comparison to the Filet-O-Fish was even tossed around.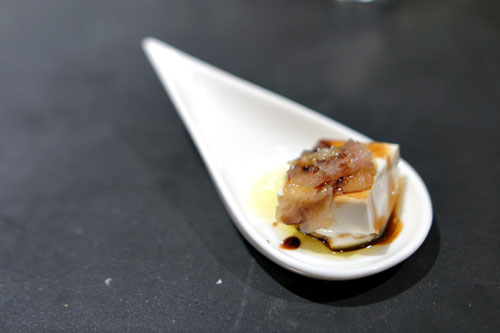 16: OTOKOMAE & O TORO ACTING ITALIAN
| o toro prosciutto, fancy olive oil, 25 year balsamic
2011 GROTTA DEL SOLE- GRAGNANO DELLA PENISOLA SORRENTINA DOC
Here, the kitchen riffed on the classic pairing of mozzarella and prosciutto, using instead tofu from Kyoto producer Otokomae and homemade two-week cured
otoro
"ham." The result was a harmony of sweet 'n' sour flavors on the attack, transitioning on the midpalate to the fishy aromatics of the tuna, all while the tofu served as a tempering base to the bite.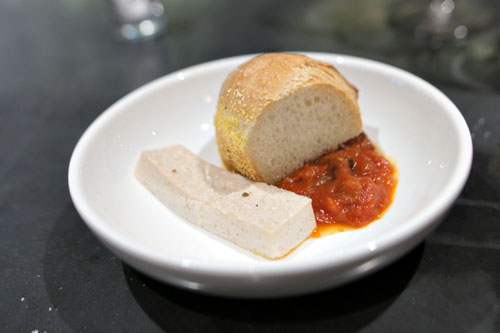 17: BONE MARROW SFORMATO
| iberico de bellota chorizo marmalade, tyler's sourdough mini boules, truffle salt
2011 GROTTA DEL SOLE- GRAGNANO DELLA PENISOLA SORRENTINA DOC
A
sformato
is basically like a set custard or dense soufflé, and the version here came bearing the heady flavors of bone marrow. Taken alone, it was fairly subdued, so the key was to pair it with that marvelous chorizo jam, which added a confluence of sweet, spicy, and savory flavors that brought everything together. The housemade bread, meanwhile, did well in tempering the intensity of the dish and also provided body and substance.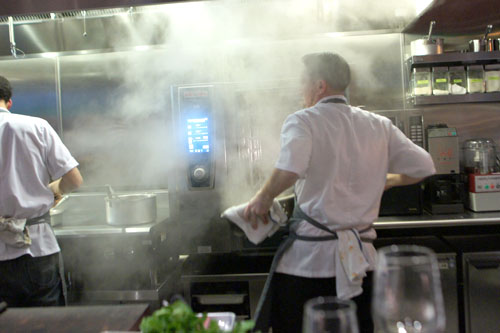 Steam pours out of the pricey (as in the same range as a base model Nissan Altima) Rational combi-oven. Hmmm, what could possibly be cooking?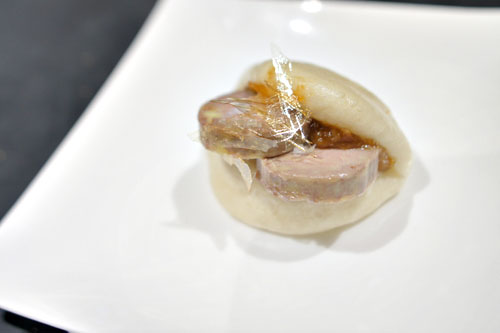 18: FORBIDDEN STEAM BUN
| foie gras torchon, apricot hoisin, sugar crunch
MIKKELLER FUNKY E SAUTERNES BARREL EDITION
Next, diners were given the option of a complementary course of Hudson Valley foie gras. The torchon was classic at its core, conveying a restrained earthiness from the liver that made absolute sense with the sweet and savory flavors of the apricot-hoisin. Maldon added pricks of saltiness to the fray, while the fluffy bun contrasted the potency of the course. I miss foie.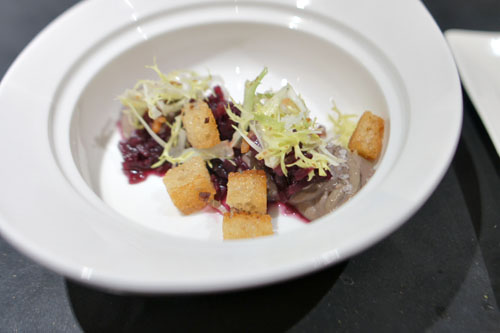 19: JIDORI CHICKEN LIVER MOUSSE
| iberico de bellota bacon, port shallots, frisée, garlic croutons
MIKKELLER FUNKY E SAUTERNES BARREL EDITION
The chicken liver managed to be a table favorite of sorts, and for good reason. It was a pretty much flawless presentation of the mousse, which really showed off the gravity of the liver without being heavy-handed. The bacon was key in adding hits of salt to the dish, and the shallots sweetness, while the frisée was even more important, imparting a crucial touch of levity to the course. I also appreciated the croutons as well, which mixed things up texturally (I'm big on crunch).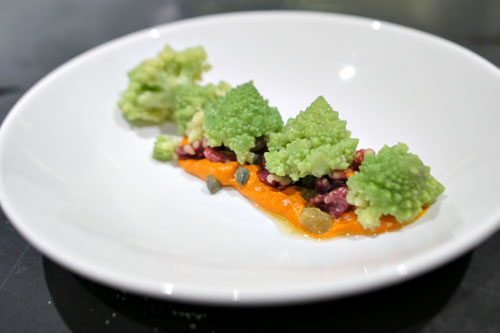 20: ROMESCO ROMANESCO
| red walnuts, sultanas, capers
2011 BIRICHINO MALVASIA BIANCA
Romanesco is a form of cauliflower known for its striking fractal patterns, though taste wise, it was fairly similar to the standard vegetable. The genius here, thus, was in the romesco and other accoutrements, which, in concert, provided a multifaceted array of spicy, nutty, and sweet flavors that took the romanesco to another level.
21: FROST KISSED ARTICHOKE CARPACCIO
| kalamata olive, calabrian chile gummies, crispy parmesan, charred scallion-artichoke purée, meyer lemon
2011 BIRICHINO MALVASIA BIANCA
We had here an unabashedly unique preparation of artichoke, in which the bud is frozen then allowed to rot, in the process condensing and amplifying its flavor--
dry aging
in effect. The plant is then confit'd in olive oil and presented shaved thin. The end result is a concentrated burst of artichoke-y flavor, focused yet not clumsy, and especially tasty when paired with the weight of the Parmesan cheese and Calabrian chili present.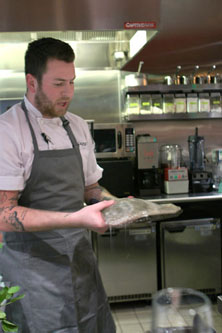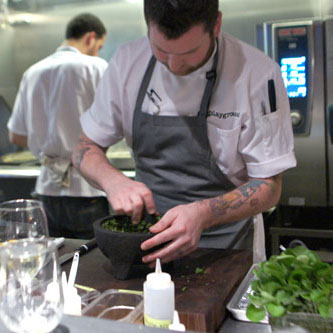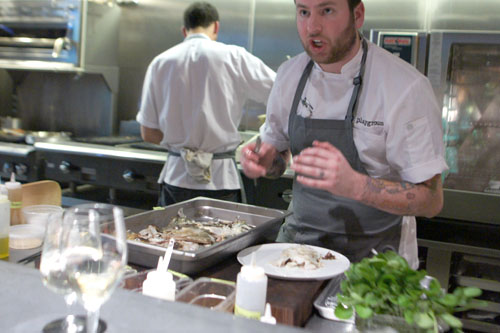 Quinn goes to work on the fantastic turbot course and its accompanying mortar 'n' pestle
mojo
.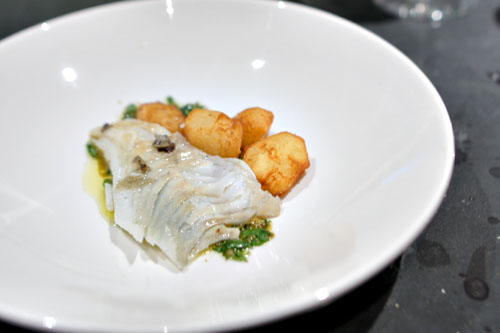 22: WHOLE SPANISH TURBOT A LA PLANCHA
| perfect blumenthals, mojo verde
2011 BIRICHINO MALVASIA BIANCA
And now we come to probably my favorite course of the meal, and most likely the strongest preparation of turbot I've had to date. The fish was cooked whole, and showed off a consistency that was quite unlike that of any other version I've experienced. The flesh was almost slightly rare, with a slick, delicate bite and restrained savor that worked beautifully with the zestiness of the accompanying
mojo verde
(a sauce oft seen with Canarian
papas arrugadas
). Finishing things off were some Heston Blumenthal-inspired potatoes that really were
perfect
: magnificently crunchy out the outside, yet with soft, pillow-y interiors and a mouth-watering kick of salt.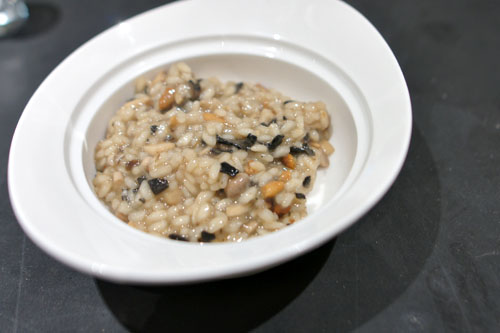 23: VERY WILD MUSHROOM RISOTTO
| hedgehog, baby kings, abalone, yellow foot, black trumpet, persimmon
2010 PUZELAT-BONNHOMME "IN COT WE TRUST" MALBEC
We saw Max Hirsch back there working on something on the flat top for a good half-an-hour or so, and the result was this made-from-scratch risotto. It must be pointed out that the dish is rarely made this way in restaurants, but is instead prepared ahead of time: par-cooked, refrigerated, and then finished when necessary. It was a commendable risotto, with the earthy, nutty weight of the various ingredients proudly displayed, while the texture on the rice was properly firm, the whole course having a very pleasing "crunchiness" to it.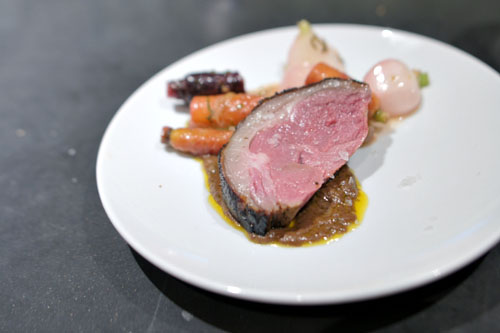 24: LAMB PORTERHOUSE ROLL
| hatch chile, cumin, fancy cut baby veg, lime butter
2010 PUZELAT-BONNHOMME "IN COT WE TRUST" MALBEC
Chef Quinn described this next course as a "porterhouse porchetta" of New Zealand lamb, basically a preparation in which tenderloin is wrapped in belly and cooked. The meat was delicious, tender to the bite, with a wonderfully savory crust and a luxurious ovine relish. However, the smoky Hatch chile was too potent here, overwhelming and masking the lamb somewhat, though I did appreciate the lightness and crunch of the turnip and carrot.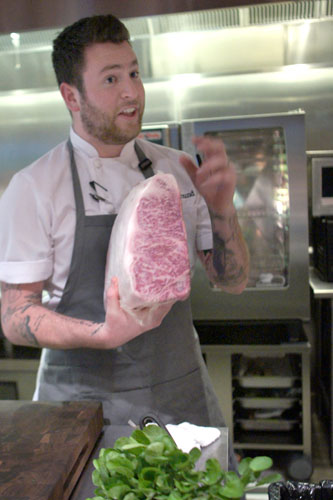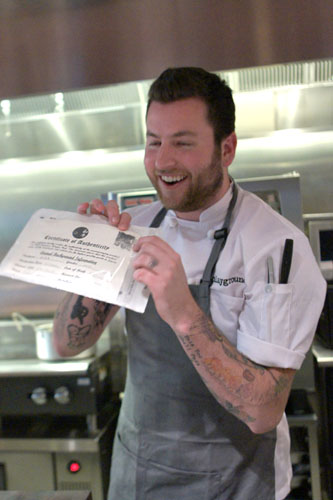 The Chef took a moment to show off some
über
-marbled wagyu beef, from Kobe Prefecture, along with its accompanying certificate. I think that this was the first time in my experience that the oft-misused phrase "Kobe beef" would actually be appropriate.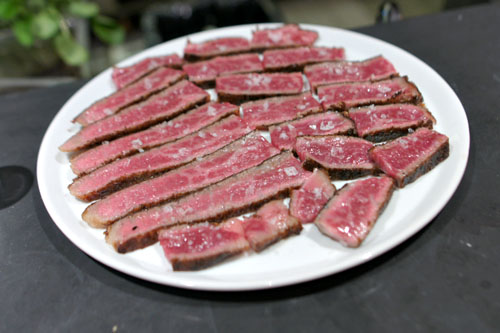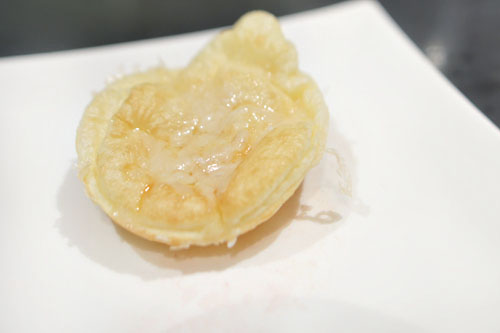 25: A5+ KOBE BEEF NEW YORK STRIP LOIN
| kobe fat -parmesan yorkshire pudding
2010 ERIC TEXIER, ST. JULIEN EN ST. ALBAN SYRAH
The evening's
pièce de résistance
was undoubtedly the beef, and what beef! It was everything that you'd expect from a proper wagyu steak: lush and luxurious, super tender, and practically oozing fat upon mastication. The melt-in-your-mouth strip loin displayed a rather profound depth to it, and was made even better by the countervailing astringency of its charred crust. The meat easily stood alone without any accompaniments, though the paired Yorkshire pudding was a nice touch, a homey sort of side that I found quite comforting.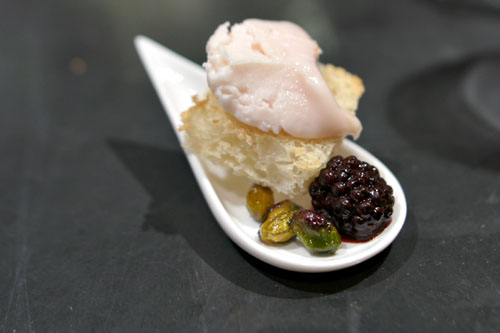 26: FINCA PASCUELETE QUESO DE TORTA SINCE 1232
| blackberries stewed with black pepper, 3 day el bulli pistachios, toast
2010 ERIC TEXIER, ST. JULIEN EN ST. ALBAN SYRAH
Our cheese course was masterful, one of the best I can remember in fact. The key was the use of Finca Pascualete, an unpasteurized Spanish sheep's milk cheese that was wonderfully creamy and smooth, with a fantastic funk to it and just a touch of herbaceousness. I adored the
queso
alone, but the combination of the berries and pistachio took it over the top, providing a blend of sweet, nutty flavors that worked flawlessly against the pungency of the cheese.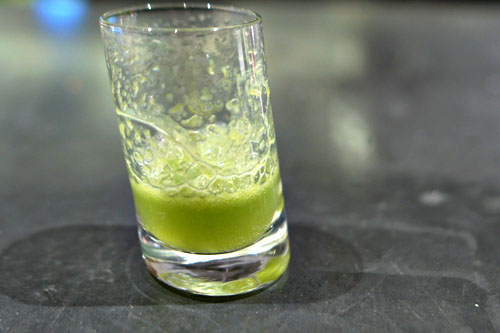 27: CUCUMBER LIME BLAST
A palate cleanser before dessert brought a shot of cucumber and lime, the cool, refreshing, vegetal jolt of the former leading to the latter's strong, sour finish.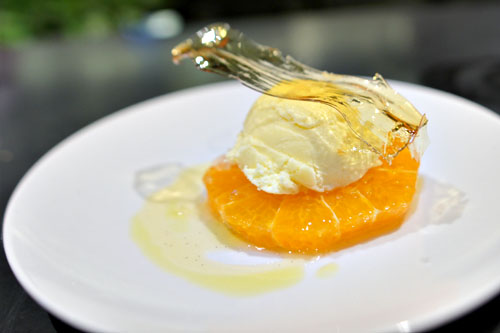 28: SUMO TANGERINE
| olive oil ice cream
The first dessert comprised octagonal cuts of Sumo tangerine with olive oil, olive oil ice cream, and isomalt glass. The sweet, juicy citrus paired well enough with the olive oil ice cream, but I swear there must've been salt sprinkled on top or something, because the course veered overly savory for me.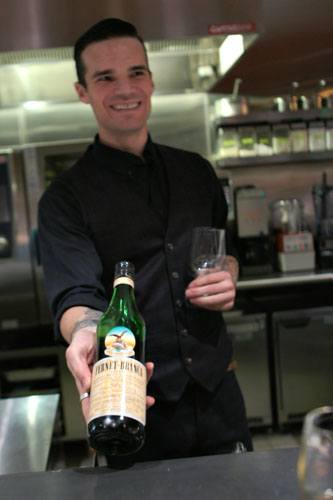 Here, Rhett Butler presents Fernet Branca, humorously referred to around these parts as "Magic Juice," which was meant to serve as a sort of digestif.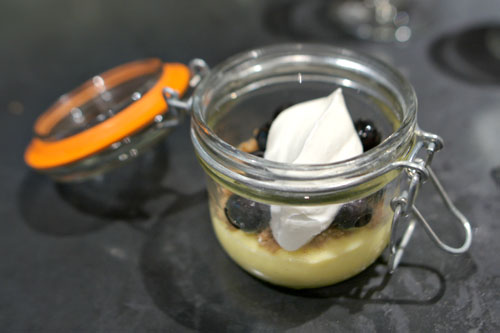 29: LIME CURD
| blueberries, graham, mouth sex
SIETE LEGUAS ANEJO TEQUILA
More successful was a jar of lime curd, its puckering tartness a fitting foil to the sugary berries, all while the graham cracker crumbles offered up a sweet textural element. The whipped cream (mouth sex?) provided a nice overarching levity to things as well. Pie-like.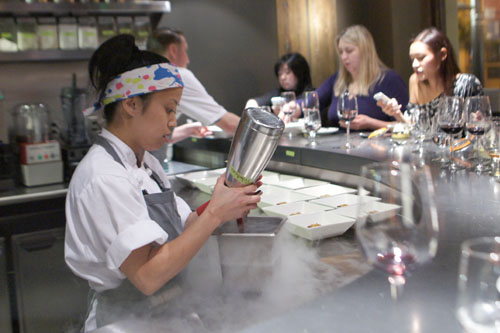 For our final course, Ashley Guzman unleashes the contents of her iSi canister into a liquid nitrogen bath.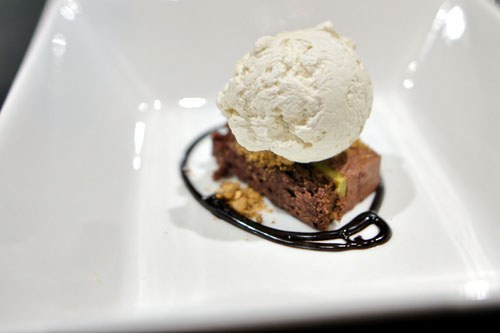 30: CHOCOLATE PISTACHIO TERRINE
| nitro-dome, chocolate mousse, feullitine
MAGIC JUICE
The dinner ended on a high note thanks to a terrine of pistachio and chocolate, a delectable amalgam of sugary and nutty flavors that was beautifully highlighted by the crunchy bits of feullitine tossed into the mix. The "nitro-dome," meanwhile, was a fun addition, an uncommonly light, almost ethereal sphere of creamy goodness that imparted a palpable levity to the dessert.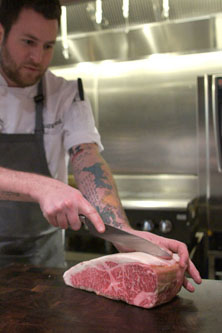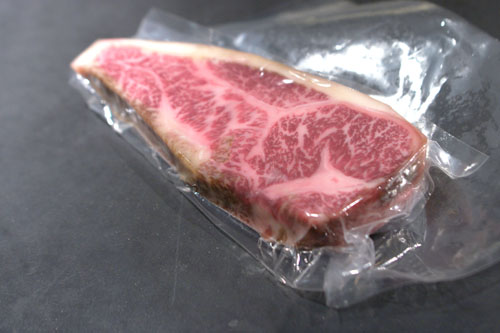 At the end of the night, one of my dining companions requested to take home some of the real deal Kobe beef, and Chef Quinn obliged, cutting off a couple pieces of the strip loin and vacuum sealing them. The cost? A not unreasonable $240.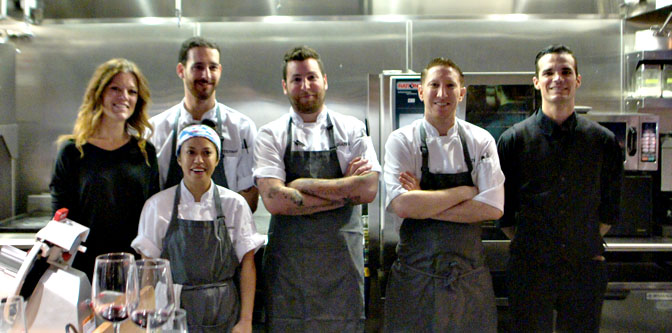 The IO by Playground team (left to right): Emily McMichael, Max Hirsch, Ashley Guzman, Jason Quinn, Ryan Carson, Rhett Butler.
I applaud what Chef Quinn and company are doing. It's obvious that the kitchen respects and celebrates the best-in-class ingredients that they're working with, and the cooking here embraces and highlights these products, using just enough technique in an attempt to bring our their best facets. The result is food that's simultaneously refined, yet casual, with a flashes of irreverence, rashness, and whimsy that's just what I expected from this crew. In fact, I was reminded of a less-modernist, more homegrown version of
é by José Andrés
, and indeed, when confronted with this thought, the Chef admitted that the restaurant was an inspiration. The Playground team has created something special here, but also something necessarily exclusive, which will infuriate some. Nonetheless, the food, the wine, the service, everything came together in stellar fashion tonight--an experience to behold. Not to be hyperbolic, but IO is the likely the most ambitious, and best restaurant that Orange County has ever seen.