Night + Market (West Hollywood, CA) [4]
Night+Market Restaurant
9041 Sunset Blvd, West Hollywood, CA 90069
310.275.9724
www.nightmarketla.com
Thu 05/30/2013, 07:50p-10:10p
When I first visited
Night+Market
back in March 2011 shortly after it opened, I was a lil' wowed. Kris Yenbamroong's cooking was unlike any other Thai that I'd had before, a modern, hyper-regional exploration of his country's cuisine that was only made possible by the
carte blanche
that he'd been given in his new, minimalist space adjacent to his parents' old-line Thai joint Talesai. I knew he had something special here, a game-changer. I expected the place to catch on, but I'm not sure if anyone envisioned N+M to blow up as much as it has, and by blow up, I mean
that shit cray
. Let's recap:
Not bad for a former film student with no formal training right?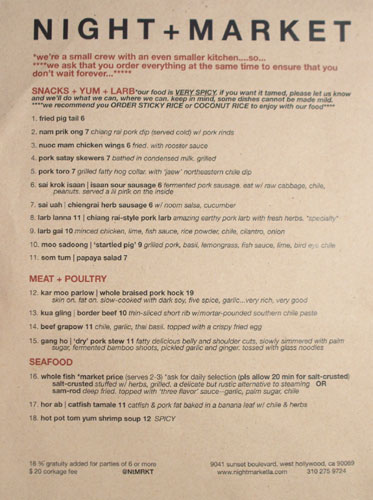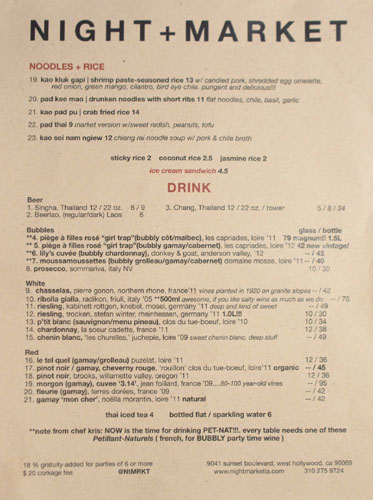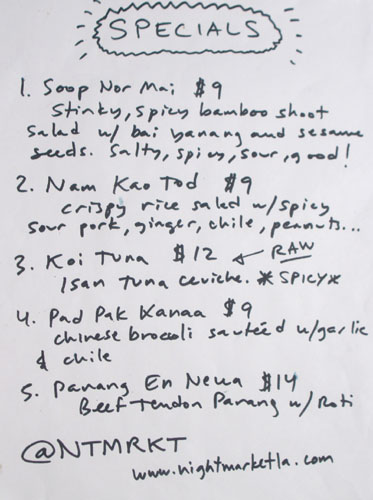 Night+Market's menu remains much the same, a meat-centric celebration of ostensibly street food-inspired Thai cookery. I don't think items such as the pig tail, pork toro, sausages, or the wonderfully pungent
kao kluk gapi
will ever leave (nor should they), but I did spy newbies such as the
nam prik ong
and
larb lanna
. The Chef's newest inspirations, though, can be viewed on the hand-written specials menu that you should probably order (heavily) from. The wine list, meanwhile, is as cool and esoteric and reasonably-priced as it's always been, though I did notice that the number of Rieslings has
doubled
(to two). Click for larger versions.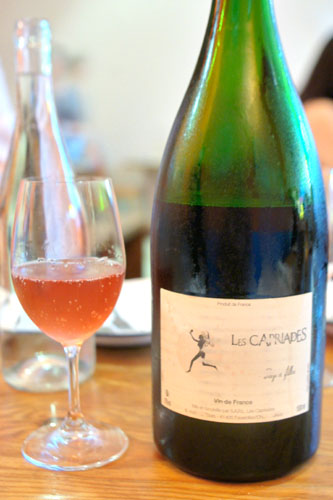 Speaking of cool, esoteric, and reasonably-priced wines, we went baller style and ordered a magnum of the
piège à filles rosé "girl trap" (bubbly côt/malbec), les capriades, loire '11 [$79]
. It's one of the
pétillant naturels
that Yenbamroong's pushing right now, and he's right on the money. He describes it as "bubbly party time wine," and that's basically what it is. Think fun, breezy, and fruity, yet crisp, citrus-y, acidic, and dry, with just enough depth to make it a bit more than a mere summer quaffer.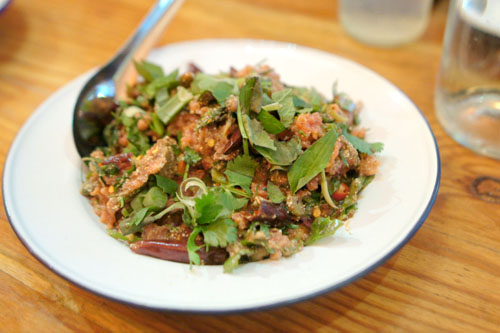 koi tuna [$12.00]
| raw. isan tuna ceviche. *spicy*
We delved right into the specials menu with a tuna version of the popular
koi soy
steak tartar. The fish was pounded into submission here, a smooth, silky, subtle base on which the amalgam of bright, acidic, and yes, fiercely spicy nuances could be heard. I loved the fragrant zing of the herbs here, which lent a modicum of levity to the in-yo-face flavors at play.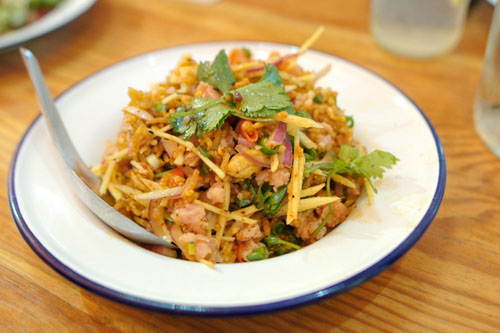 nam kao tod [$9.00]
| crispy rice salad w/ spicy sour pork, ginger, chile, peanuts...
Nam kao tod
is probably one of my favorite Thai specialties of all time, one that I first discovered at my local haunt
Renu Nakorn
. Night+Market's was like an amped up version of that, a bolder, lustier presentation that nonetheless shows off a faultless mélange of contrasting tastes and textures. That uncompromising balance is what gets me about the dish every time, a hodgepodge of disparate elements--sour, savory, spicy--that manages to work in perfect concert.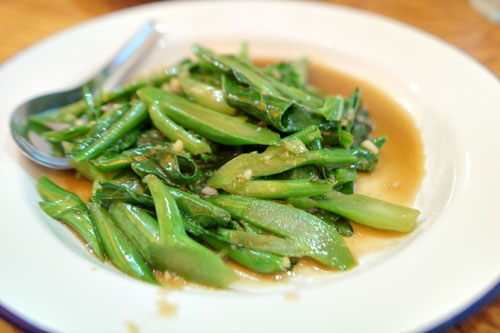 pad pak kanaa [$9.00]
| chinese broccoli sautéed w/ garlic & chile
Yenbamroong's not really known for his facility with vegetables, instead focusing his efforts on more porcine pursuits, but the Chinese broccoli served tonight was stellar, probably the best presentation of the ingredient that I've had in fact. There was a fantastic crunch and bite to the
kai lan
, and its trademark bitterness was proudly showcased, flawlessly countered by the dark, savory flavors here, all while a creeping heat underscored the dish.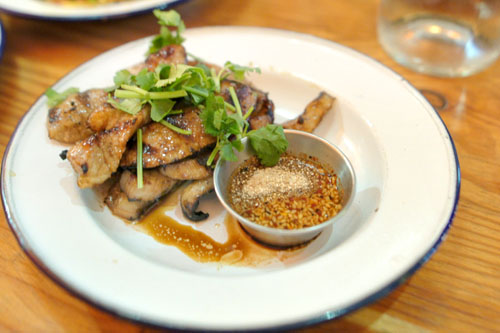 pork toro [$7.00]
| grilled fatty hog collar. with 'jaew' northeastern chile dip
The pork "toro" has firmly established itself as one of Night+Market's signature dishes, and it's obvious why. It's an uncommon preparation of pig, unabashedly pork-y on the palate, with a springy, spongy consistency that seems to ooze fat when bitten into. All that richness is fortunately tempered by a tinge of char astringency, as well as the blast of piquancy from that
jaew
condiment. I still think this should be renamed pork
kamatoro
...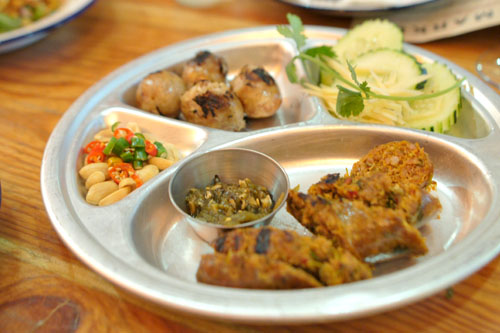 sai uah | chiengrai herb sausage [$6.00]
| w/ noom salsa, cucumber
sai krok isaan | isaan sour sausage [$6.00]
| fermented pork sausage. eat w/ raw cabbage, chile, peanuts. served a lil pink on the inside
The kitchen then sent out a duet of Night+Market's housemade sausages. The
sai uah
variety was wonderfully gritty and rustic, a hit of salty and spicy flavors beautifully countered by the liberal application of various herbs. Tasty alone, but even better when taken with a dab of
noom
, a slice of cucumber, and a couple slivers of ginger--the perfect bite.
Sai krok Isaan
, meanwhile, arrived in spherical form, a jolt of sour, ferment-y goodness that's probably not for everyone. It was, though,
definitely
for me, as I reveled in the tanginess of the meat and how it melded so seamlessly with the crunchy bits of peanut and bird eye chile.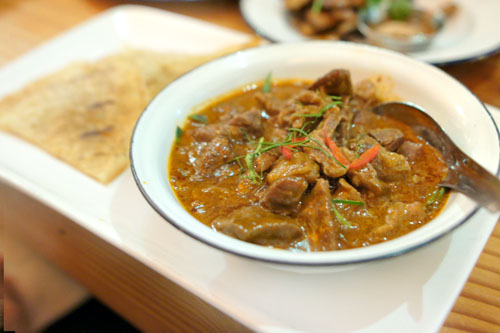 panang en neua [$14.00]
| beef tendon panang w/ roti
Phanaeng
curry is a relatively common sight on Thai menus, but the version here really stands heads and shoulders above any others I've had. The meat was so, so tender, with a marked beefiness that went superbly with the wonderful aromatics and subtly sweet nuances in the dish. And damn, that
roti
flatbread was something else too; it's good enough to be offered separately as a side.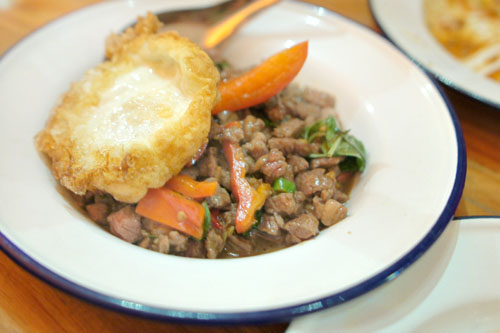 beef grapow [$11.00]
| chile, garlic, thai basil. topped with a crispy fried egg
I'm not gonna lie; we ordered this because of the fried egg (it makes everything better right?). It was much more than just the egg though. The star of the show here was the namesake
kraphao
, or Thai holy basil, which lent a delightfully aromatic flair to the beef, making for a much more honest, less watered-down version of the dish than you typically find. The egg was just the icing on the cake.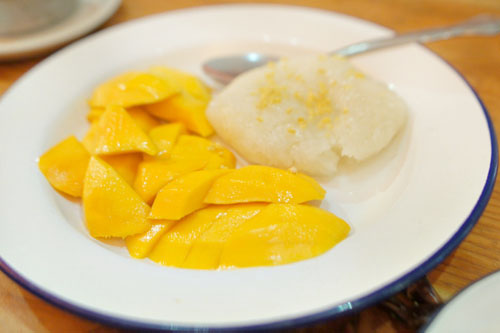 mango and sticky rice [$8.00]
For dessert, the Chef gave us what amounted to probably the best
khao niao mamuang
I've had. We're right in the midst of mango season, and fruit was spot on--dense, juicy, supple, and sweet--and went perfectly with the sticky rice. However, what really set this apart for me were the savory, crunchy crumbles of mung bean atop the rice, which added that extra bit of kick that took the dish over the top.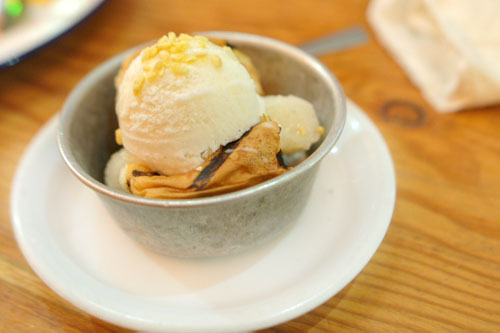 ice cream sandwich [$4.50]
We ended with pretty much my favorite ice cream sandwich ever, one that married coconut ice cream, coconut sticky rice, condensed milk, evaporated milk, and toasted mung beans in a sweet roll. The multifaceted sweetness here was
maaahvelous
, a tour de force of coconut-y goodness that paired gorgeously with the slight char of the bread, all while the mung beans added a fantastic crispness to the dessert. An absolute must try.
The accolades that Yenbamroong's experiment in
aharn klam lao
has garnered are well deserved. But even if you look past all that, there's some damn fine cooking going on here. The food's as strong as ever; flavors are bold, hearty, and yes,
quite
spicy at times, a real departure from the formulaic Thai one typically encounters. Night+Market's so of-the-moment it hurts, a beacon of unbridled cookery that's quickly becoming one of the City's destination eateries. Despite all the successes though, the Chef is still confined by the limited space and setup of this location, and as such, is currently building out Night+Market 2.0, which should be debuting in the coming months in the Silver Lake area. More to come...