Mari Vanna (Los Angeles, CA)
Mari Vanna Restaurant
8475 Melrose Pl, West Hollywood, CA 90069
323.655.1977
www.marivanna.ru/la
Fri 07/26/2013, 08:30p-11:55p

We all wept (or rejoiced, conversely) when the sixth iteration of Joe Pytka's
Bastide
closed its doors in May 2011. With that chapter of 8475 Melrose's story sealed, we were left wondering about who would take over this seemingly cursed spot. Well, we didn't have to wait long until it was announced that Russian hospitality group
Ginza Project
was opening up an outpost of their Mari Vanna chainlet here. Co-Owner Tatiana Brunetti originally wanted to launch the place in May 2012, but the restaurant blew way past its projected opening and debuted just this June.

The old Bastide space has been thoroughly revamped, but fortunately the patio remains.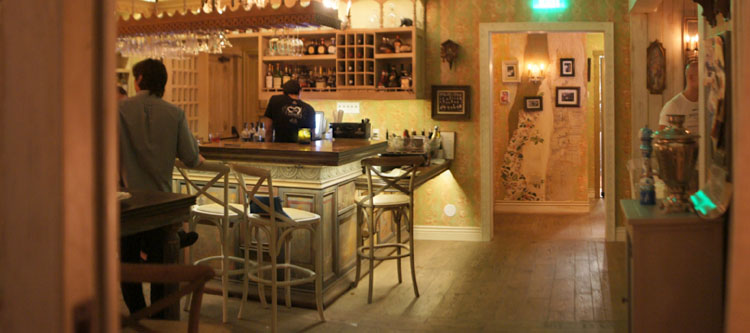 A former dining room has been cleared to make way for a cute little bar/lounge area, which the old Bastide never had.

We also have a covered "sunroom," which is adjacent the old kitchen table, now converted to a wine room-
cum
-karaoke lounge(!).

And of course, we have the main dining room, replete with fireplace, meant to recall an archetypal, rustic Russian residence filled with trinkets, figurines, and other such Russian-y things.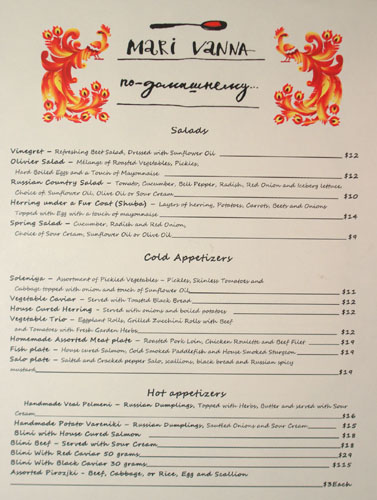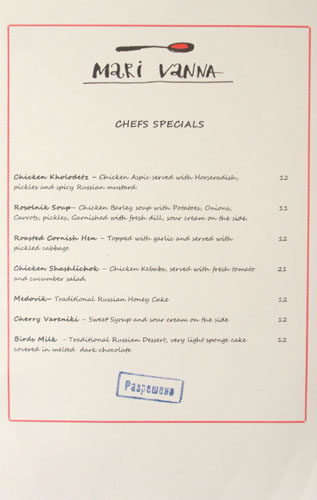 Mari Vanna's menu features all your favorite old-school Russian classics, executed with precision. There's also a family-style tasting menu option called the Russian Table (call ahead for this), and be sure to check out the rotating list of chef's specials as well. Click for larger versions.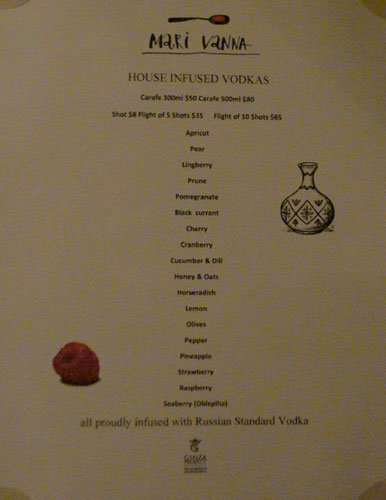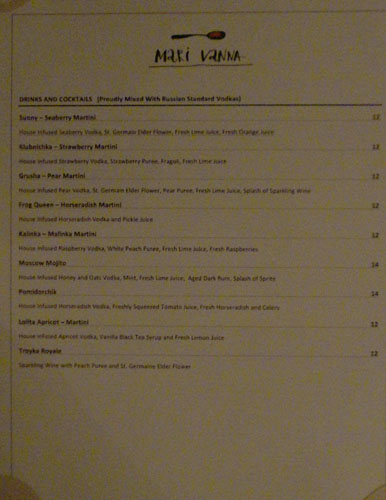 To drink, vodka, unsurprisingly, is the star of the show here. Mari Vanna features a reported 70 different bottles of the stuff, and also infuses its own vodkas in house. The resulting liquors are then used in the restaurant's vodka-centric cocktail list, and also served neat. Click for larger versions.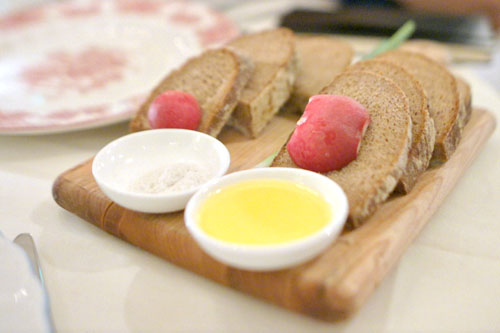 Bread is a key part of the Russian table, and here, a black variety was presented with sea salt, sunflower oil, chopped radishes, and green onion. The rye tended toward full-flavored, hearty, and I especially appreciated the intensity of the salt here, as well as the lightness and crunch of those radishes.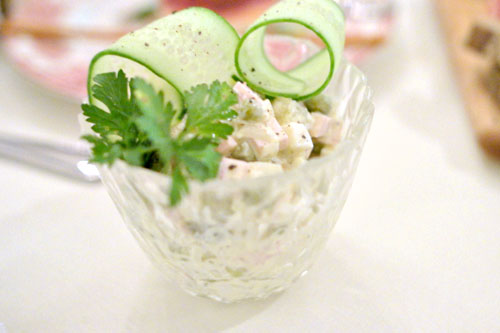 Olivier Salad [$12.00]
| Mélange of Roasted Vegetables, Pickles, Hard Boiled Eggs and a Touch of Mayonnaise
Regular readers may know that I'm quite the fan of potato salad, the this high-class version was surely one of the best I've had. Think utterly balanced, with a great interplay between contrasting notes of egg, vegetable, and hammy savor, all augmented by a bit of spiciness toward the close.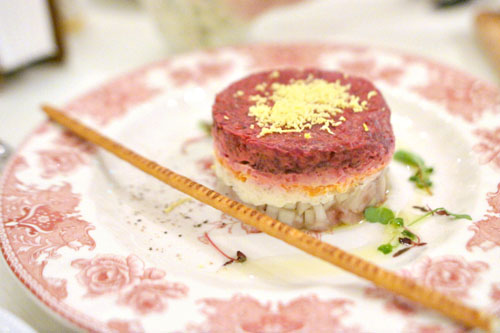 Herring under a Fur Coat (Shuba) [$10.00]
| Layers of herring, Potatoes, Carrots, Beets and Onions topped with Egg with a touch of mayonnaise
Here before us was a plate of dressed herring, or
shuba
(the Russian word for jacket). I don't think I've had anything quite like it, but the dish worked. The sheer fishiness of the herring was apparent, especially upon first taste, but its various accompaniments really moderated its potency, providing a blanket of cool, mild sweetness that really integrated the dish.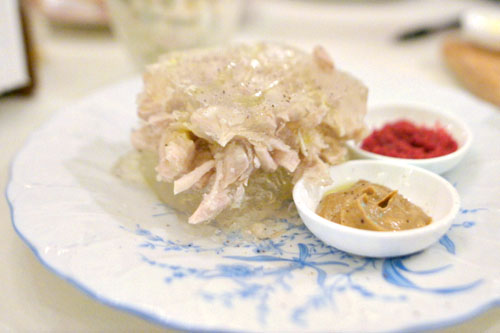 Chicken Kholodetz [$12.00]
| Chicken Aspic served with Horseradish, pickles and spicy Russian mustard
The
kholodets
was probably the most challenging course of the evening. The chicken itself was quite tasty, with a really appealing spice to it, but the aspic-to-meat ratio seemed off. There was just too much jelly, which didn't have much flavor on its own, and sort of overwhelmed the bird. Fortunately, the fantastically spicy mustard here did help bring things together, adding a sharp, potent jab of heat to the dish.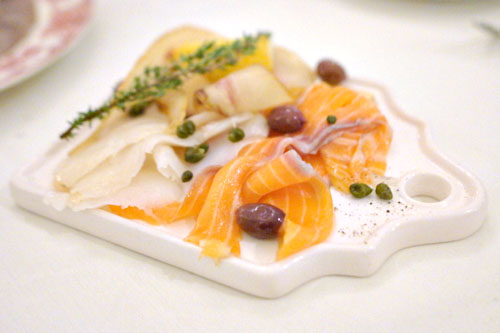 Fish plate [$19.00]
| House cured Salmon, Cold Smoked Paddlefish and House Smoked Sturgeon
Next, we moved on to some housemade platters, the first featuring three types of fish. Salmon was on point: slick, fatty, and very nice with a touch of lemon-y tang. The paddlefish, meanwhile, was soft, almost pillow-y, with a lovely, forceful saltiness to it. However, the most fascinating item here was clearly the sturgeon, which I found firm and even a bit crunchy, with a growing, lingering brine.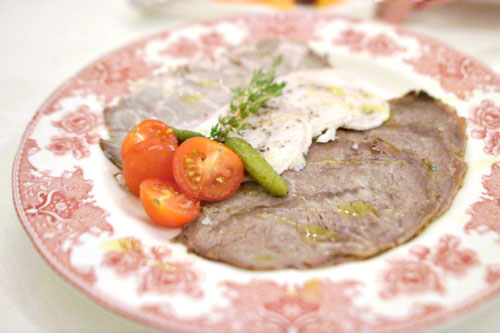 Homemade Assorted Meat plate [$19.00]
| Roasted Pork Loin, Chicken Roulette and Beef Filet
"Charcuterie" was also made in house. The pork was fairly benign, a bit salty here and there, but not particularly interesting. My favorite was actually the chicken roulade--cool and supple, with a wonderful hit of pepperiness. Lastly, we had the beef, which was flaky, appropriately dry, and somewhat reminiscent of the Chinese cold cuts one sometimes finds on banquet menus.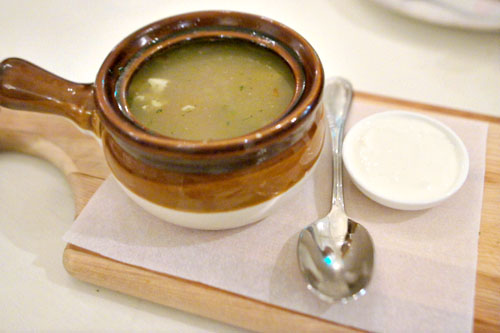 Rosolnik Soup [$11.00]
| Chicken Barley soup with Potatoes, Onions, Carrots, pickles, Garnished with fresh dill, sour cream on the side
The
rassolnik
soup was delicious: hearty and home-y, with a satisfying savoriness from the chicken-root veggie combo that was deftly offset by the slight tang of those pickles. Sour cream was optional, but added an additional point of the interest to the potage.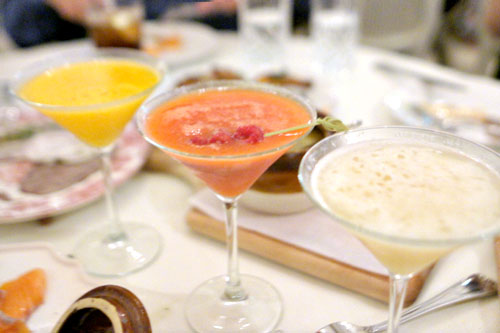 Sunny - Seaberry Martini [$12.00]
| House infused Seaberry Vodka, St. Germain Elder Flower, Fresh Lime Juice, Fresh Orange Juice
Klubnichka - Strawberry Martini [$12.00]
| House infused Strawberry Vodka, Strawberry Puree, Fragoli, Fresh Lime Juice
Grusha - Pear Martini [$12.00]
| House infused Pear Vodka, St. Germain Elder Flower, Pear Puree, Fresh Lime Juice, Splash of Sparkling Wine
Our first troika of cocktails began with the
Sunny - Seaberry Martini
. The astringency of the sea-buckthorn was expertly countered here, resulting in a pleasant citrus-y disposition with a hint of booziness. The
Klubnichka - Strawberry Martini
, on the other hand, had no traces of alcohol at all, instead coming out thick and sweet, with a very pure, unbridled strawberry essence. The
Grusha - Pear Martini
, finally, was even more viscous, with the brightness of the pear really coming through in the drink--not particularly complex, but delicious nonetheless.
Roasted Cornish Hen [$12.00]
| Topped with garlic and served with pickled cabbage
The
tsyplionok tabaka
was another highlight of the meal. It was basically a perfectly roasted, spatchcocked Cornish game hen (a small chicken), simply seasoned but superb, and arriving at the table tender and succulent, with a great depth of flavor. At the same time, the pickles worked here in providing a bit of balance against the heft of that bird.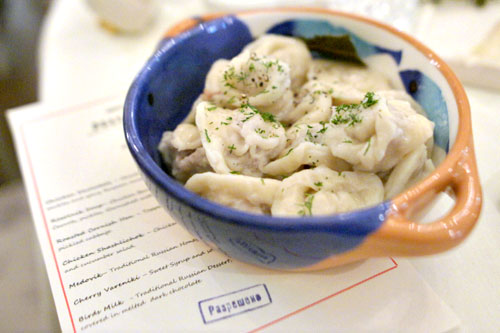 Handmade Veal Pelmeni - Russian Dumplings [$16.00]
| Topped with Herbs, Butter and served with Sour Cream
The
pelmeni
were actually sent out by mistake, but we didn't complain when they told us to just keep them at the table. I found the dumplings very straightforward, with an agreeable savoriness from the veal stuffing to go against the herb-y overtones in the dish. Pretty simple, humble, and even a bit Chinese-y in essence.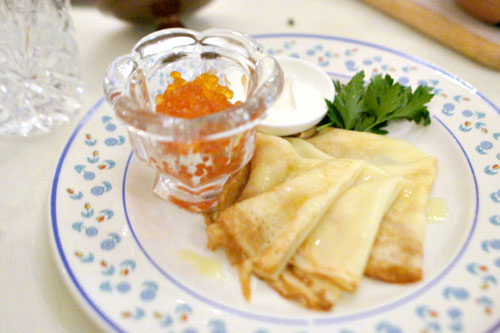 Blini With Red Caviar 50 grams [$29.00]
Seeing as how we were in a
Russkiy restoran
, we felt compelled to order at least one form of fish roe. The red caviar here was markedly different from the
ikura
one typically finds. Instead, it reminded me of the
sujiko
that I'd had at
Shibucho
, being much saltier, much more in-your-face. I actually quite liked it, especially when taken with a dab of
smetana
and a shard of crêpe-like blini.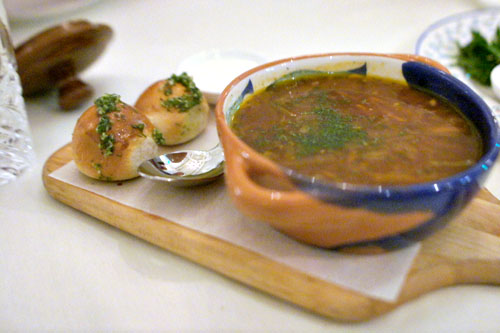 Ukrainian Borscht with Pompushka [$12.00]
The
borshch
, of course, was something that we just had to try given where we were. I quite liked the soup despite the preponderance of beets, finding it hearty and comforting, with its savory broth pairing swimmingly with a mix of root vegetables and a whisper of pepper. Even better, though, was the potage's traditional accompaniment of
pampushky
, baked little spheres of garlicky goodness.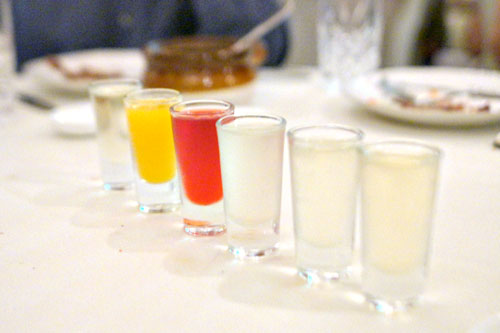 At this point, our server brought out complementary shots of Mari Vanna's much bandied about house-infused vodka, in the following flavors:
Apricot - My favorite of the bunch, with a very true-to-life apricot sweetness paired with a slightly herbaceous tinge.
Seaberry (Oblepiha) - Tart and astringent, with an interesting savoriness to it.
Lingberry - Also known as lingonberry (the IKEA staple), this was super, super sour, puckeringly so in fact.
Pineapple - The pineapple, meanwhile, had an almost candied sweetness to it backed by copious amount of booziness.
Olives - This one was akin to alcoholic olive juice, basically an olive hater's worst nightmare.
Pepper - Quite tasty, with bright, peppery nuances leading to a growing, creeping burn on the close.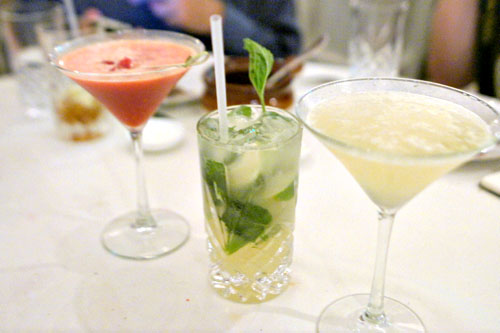 Kalinka - Malinka Martini [$12.00]
| House infused Raspberry Vodka, White Peach Puree, Fresh Lime Juice, Fresh Raspberries
Moscow Mojito [$14.00]
| House infused Honey and Oats Vodka, Mint, Fresh Lime Juice, Aged Dark Rum, Splash of Sprite
Lolita Apricot - Martini [$12.00]
| House infused Apricot Vodka, Vanilla Black Tea Syrup and Fresh Lemon Juice
Time for more cocktails (as if we needed more after the shots). The
Kalinka - Malinka Martini
came out utterly fruity (and thick), with a berry fruit laden intensity that was easy to like. Our only non-martini drink was the
Moscow Mojito
, which was pretty similar to the standard variation, but with a more pronounced booziness to it along with the requisite mint and citrus notes. Finally, we had the
Lolita Apricot - Martini
, my favorite of the threesome with its soft, balanced vanilla and coconut-y flavors.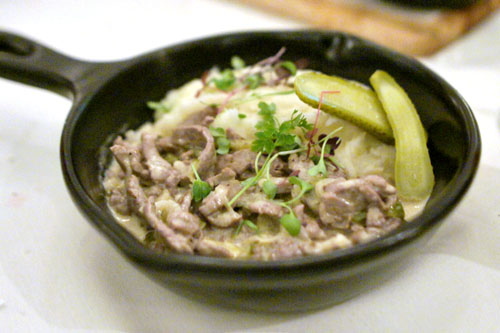 Beef Stroganoff [$27.00]
| Thinly Sliced Filet Mignon in a light sour cream sauce, fresh Thyme, Pickles and Potato Puree
Mari Vanna's
befstroganov
is the restaurant's unofficial signature dish, and it did not disappoint. The earthiness of the mushrooms here paired perfectly with the sour cream in setting the stage for the beef to shine, while the thyme served as a great accent piece. I appreciated the countering crunch of the pickles as well, and loved the mashed potatoes here, which was fantastically smooth and buttery (even
Robuchon
would be proud).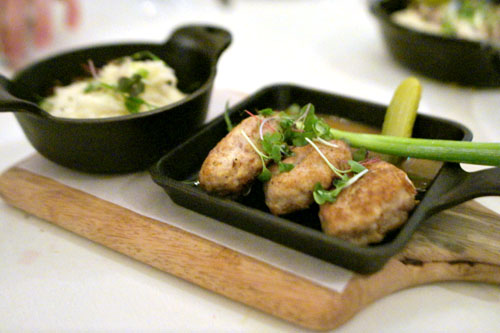 Chicken Kotletki [$19.00]
| Pan Seared Chicken patties Served with potato puree
The
kotletki
were sort of like mini hamburger patties. Or, think of them as the best chicken nuggets you've had: utterly juicy, and pretty profound in the flavor department too. I thoroughly enjoyed 'em alone, but the creamy potatoes here definitely made sense as an accoutrement.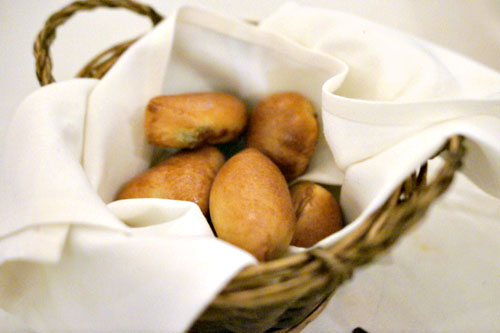 Assorted Pirozjki - Beef, Cabbage, or Rice, Egg and Scallion [$3.00/each]
We ended the savory portion of our meal with a basket of
pirozhki
, basically bite-size stuffed buns that are not to be confused for
pierogi
. They come in three varieties at Mari Vanna, all distinguished by their shape. The beef preparation was quite nice, the filling almost stroganoff-esque in nature, with a certain tanginess to it. Cabbage, meanwhile, was more austere, unsurprisingly, while my favorite was the egg and scallion variant. Tasty overall, but a little on the dry side.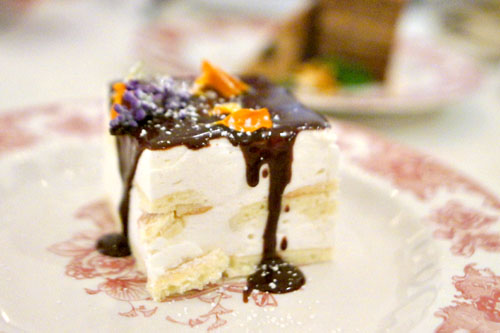 Birds Milk [$12.00]
| Traditional Russian Dessert, very light sponge cake covered in melted dark chocolate
Both desserts from the specials menu were sent out on the house, presumably because of some of the long waits we endured in between courses. Our first was a cake-ified version of
ptichye moloko
candy, which I really enjoyed. The cake itself I found light, pleasantly sweet, and nutty and nougat-y on the palate, a great foil to the rich, slightly smoky chocolate drizzled on top.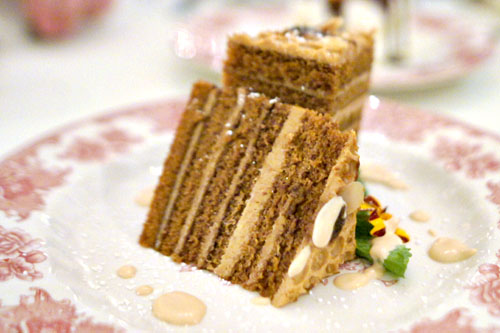 Medovik [$12.00]
| Traditional Russian Honey Cake
The
medovik
was similarly delicious, a blast of viscous, honeyed sweetness that was beautifully tempered by the layers of cake. I seriously want to bring a whole one of these to my next birthday party.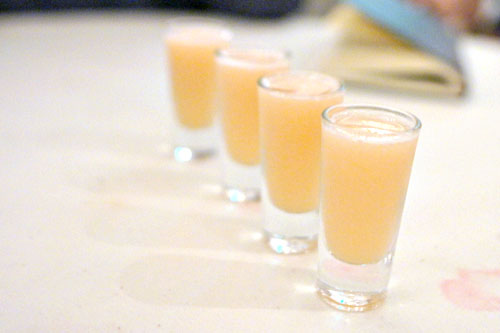 Finally, we enjoyed complementary shots of pear-infused vodka, a fitting, fruity conclusion to the evening.
I'd never really experienced Russian cuisine prior to this dinner, so I don't really have a sound basis for judgment here, but I can say that I quite enjoyed the meal. The food was hearty, full-flavored, straightforward in essence but somehow still very interesting at the same time, with a trace of refinement on the edge of rusticity. I think there's probably a lot of misconceptions or simply lack of awareness concerning Russian cookery around these parts, so I think a meal here could definitely help change some of our perceptions; it certainly did for me.