Xian Wei (San Pedro, CA)
Xian Wei Private Dinner Series
San Pedro, CA 90731
www.xian-wei.com
Sat 01/25/2014, 06:00p-09:30p
Los Angeles' newest underground supper club debuted on January 18th, and just might be our City's first dedicated to Chinese cookery. Xian Wei ("savory" in Mandarin, roughly), though, doesn't do traditional O.G. S.G.V. Chinese dishes, nor does it offer up the slick, international interpretations of places such as
Hakkasan
. Rather, the food of 19-year-old Chef
Luther Chen
represents an attempt to present a decidedly modern slant on the cuisine. The project is a joint effort between Chen, business manager Kenny Liu, and "curator"-slash-marketer
Clarissa Wei
, whom you've probably heard of from her extensive coverage of the Chinese scene here in LA. The dinners are held at a private residence in San Pedro, and seatings are limited to eight people at a time.
About the Chef
: A SoCal native, Luther Bob Chen was raised in Arcadia, where he was able to enjoy all that the Valley had to offer in terms of traditional Chinese cooking. Driven by an interest in food, he started his career in the biz in 2012 while still a senior in high school, working at AKA bistro in Pasadena. After graduating that summer from Arcadia High, he started at the Culinary Institute of America in Hyde Park to solidify his foundations in classic French technique. Following his first year there, Chen moved down south to Georgia to extern at the Sea Island Resort, cooking at The Georgian Room at The Cloister under Executive Chef Daniel Zeal. He was mentored by Zeal, his boss David Carrier, as well as the resort's Exec Chef Jonathan Jerusalmy. During this period, he also worked a second job as garde manger at Southern Tide at The Beach Club, another one of the property's eateries.
His stint in Georgia complete, Chen took an academic pause from the CIA and travel to China and Taiwan for two months, really absorbing the food culture there. He returned Stateside reinvigorated and with a newfound passion for the regional variations of the cuisine, and then decided that he was going to dedicate his career to Chinese-inspired cooking. To that effect, he started the Xian Wei series earlier this year, and is also working on
Shao Kao BBQ
, a new food truck featuring Chinese street food-style barbeque skewers.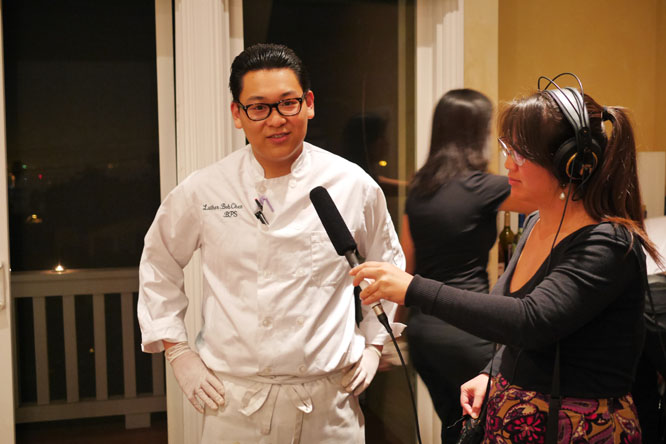 Before the dinner, Chen was interviewed for a piece on KCRW.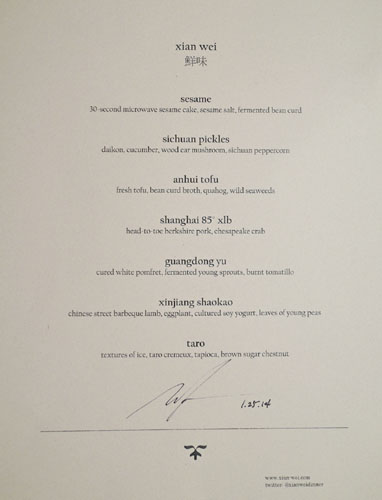 Xian Wei's seven-course menu features five main dishes, each paying homage to a specific regional cuisine of China, joined by an amuse and dessert. The cost is $75, or $110 with wine pairing, and BYOB is definitely an option. Click for a larger version.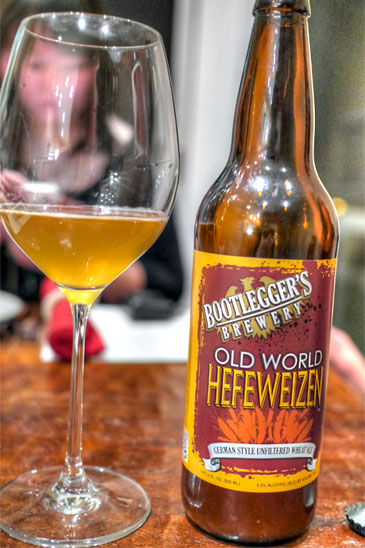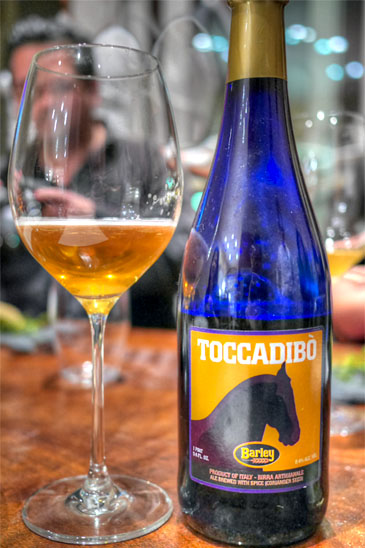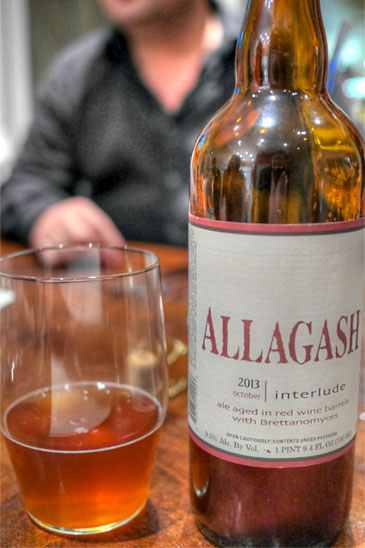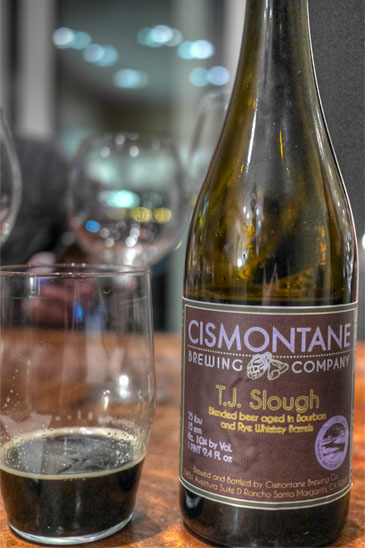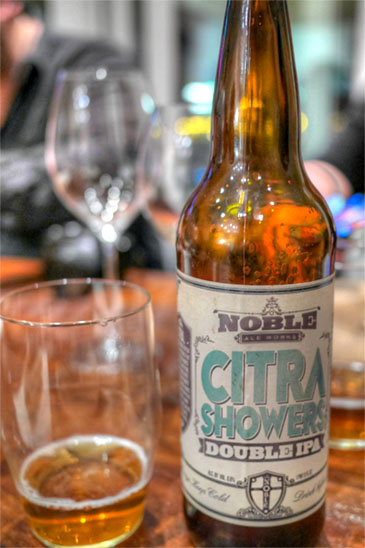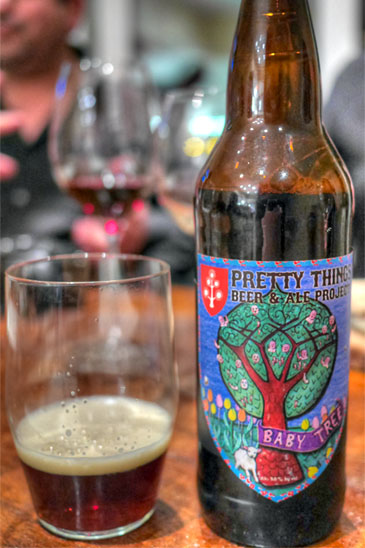 I made sure to take full advantage of the BYO policy and brought along six beers to share: Bootlegger's Old World Hefeweizen, Birrificio Barley Toccadibò, Allagash Interlude, Cismontane T.J. Slough, Noble Ale Works Citra Showers, and Pretty Things Baby Tree. All ended up being quite lovely in their own right, and not too shabby with the food, either.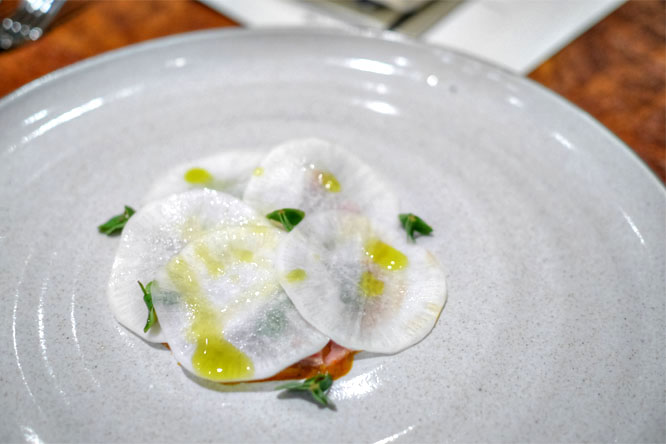 We commenced with a "bonus" course--composed on the fly--featuring pig snout that'd been pressure-cooked with clove, star anise, and cinnamon, enrobed in a Sichuan hot bean paste, then draped with disks of daikon and sprinkled with wood sorrel (that the Chef foraged himself) and cilantro oil. I think this nicely captured Chen's culinary aesthetic, an elegant ode to Chinese flavors with the earthy, deep savor of the pork perfectly balanced against the juicy crunch of daikon and overarching brightness of cilantro, all with a great lingering heat underscoring the entire dish. A very good start.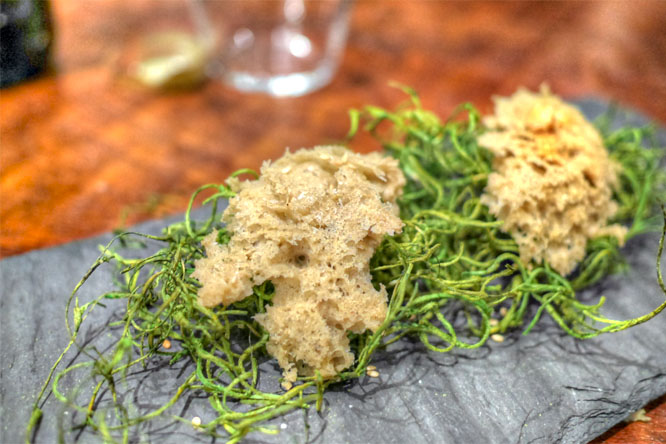 1: sesame
| 30-second microwave sesame cake, sesame salt, fermented bean curd
Serving as a sort of amuse were two shards of the iSi-charged "aerated brioche" popularized by the likes of
Michael Voltaggio
. The ones here utilized a sesame seed paste mixed with batter, and came with two accompaniments. First was a version topped with sesame salt, which definitely enhanced the inherent nuttiness of the batter. The second, meanwhile, featured fermented bean paste, so it showed off a great tanginess and depth to go along with the light, airy cake.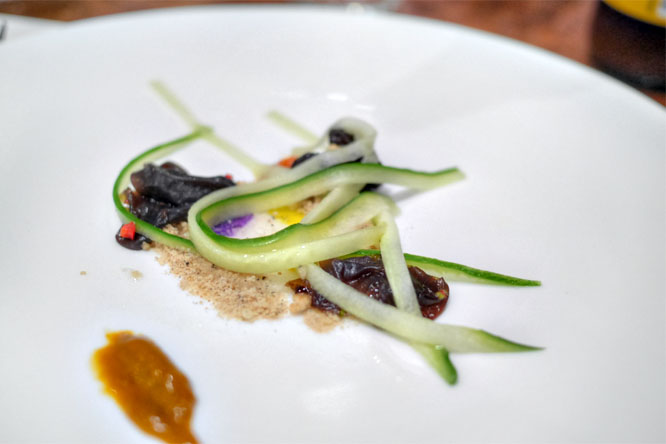 2: sichuan pickles
| daikon, cucumber, wood ear mushroom, sichuan peppercorn
We were encouraged to eat this next course in one bite, and I think that was key. With all the elements in place, everything just came together. The textures were satisfying, especially the springy, spongy wood ear, and the confluence of sweet, sour, and creeping spice made for some great transitions on the palate, all tied together by that Szechuan peppercorn vinaigrette. Very neat.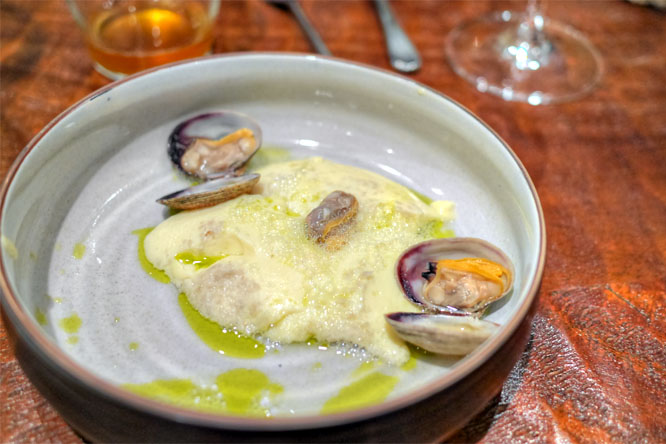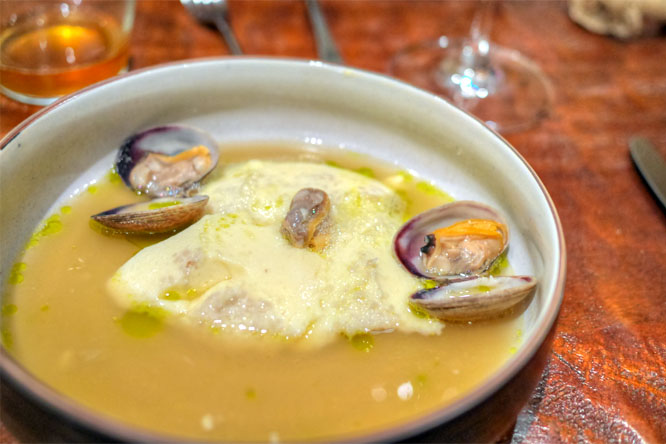 3: anhui tofu
| fresh tofu, bean curd broth, quahog
Chen's take on tofu seemed to be a table favorite, and with good reason. The broth here was pretty amazing, a heady, aromatic, and yes,
xian
concoction that melded beautifully with the silky, subtly sweet curd. At the same time, the use of clams effectively heightened the savoriness of the course, and there was even a ginger-y, offsetting sort of tartness that I rather liked.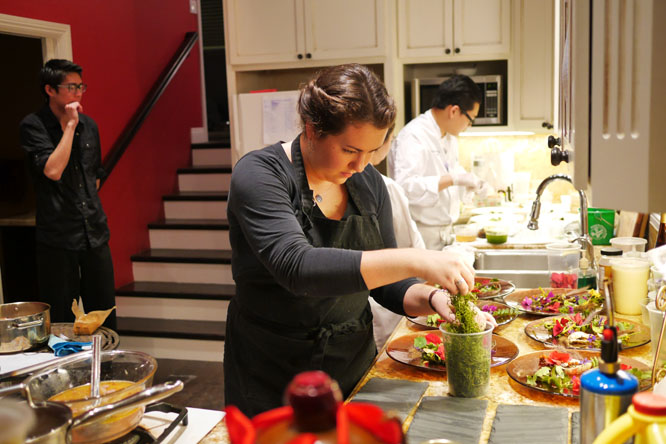 Assistant Laura helps with the plating.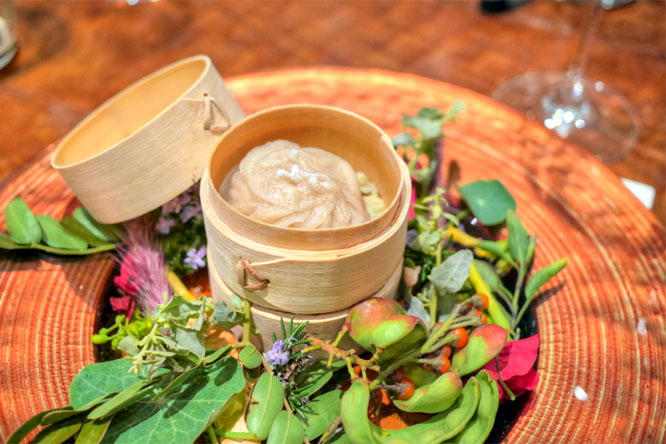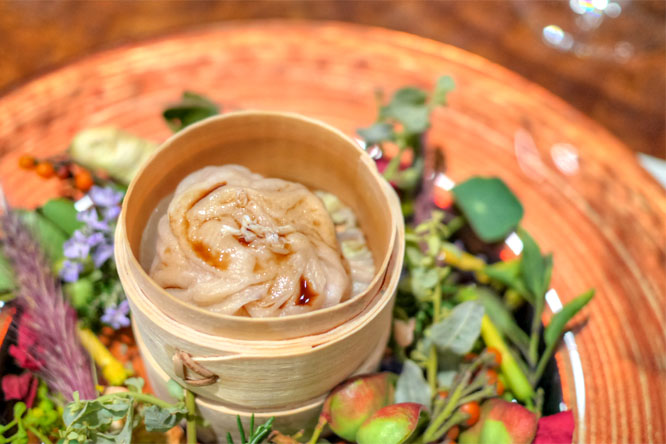 4: shanghai 85° xlb
| head-to-toe berkshire pork, chesapeake crab
Chen had been busy working on his
xiaolongbao
prior to the dinner, and the version he turned out this evening was commendable. Made with a commixture of Berkshire pork belly, snout, shoulder, and trotters, it was a "head-to-tail" XLB that was easily the most porcine example I'd ever tasted, truly conveying the unmitigated essence of the animal. If that wasn't enough, the soup dumpling was enrobed in a veil of gingery aromatics and a smoky tinge from a layer of mesquite wood chips underneath, both of which worked hand-in-hand to complement the intensity of the Virginia ham-based broth. The final touch was a drizzle of Chinkiang vinegar to complete the dish. My concern here? I really would've liked to have tasted more from the crab.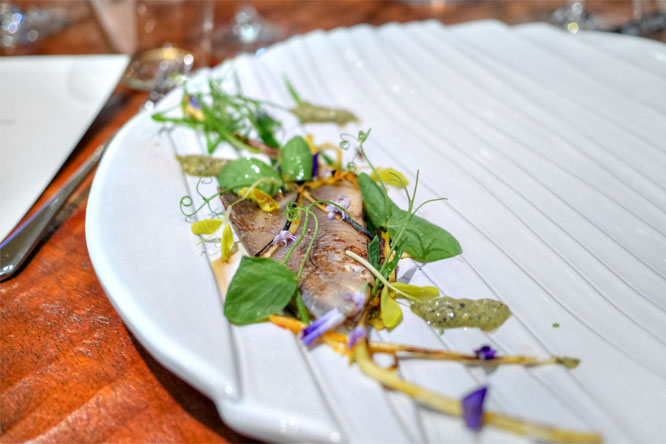 5: guangdong yu
| cured white pomfret, fermented young sprouts, burnt tomatillo
Next was a presentation of pomfret, Guangdong-style, and cooked
en papillote
. The result was arguably the strongest presentation of the fish I've had, the subtle salinity of the
chang yu
working sublimely against the piquancy of tomatillo and the light, bright nuances from the cilantro, pea shoot, and sprouts in particular. However, I wanted a meatier, more substantial piece of the fish so that I could've better appreciated the various tastes and textures going on here.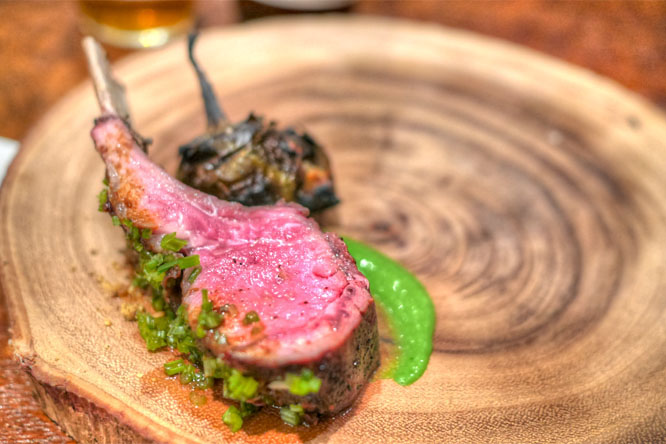 6: xinjiang shaokao
| chinese street barbeque lamb, eggplant, cultured soy yogurt, leaves of young peas
The meal's climax brought us a gorgeous cut of lamb, one done rare, but not too rare, with a particularly mouthwatering savor to it enhanced by the spicy, cumin-y notes in the meat. A streak of homemade soy yogurt provided an effective cooling component on the plate, and I was quite a fan of the greenery here as well, not to mention the smokiness of the roasted Thai eggplant on the side. It was certainly one of the tastiest presentations of lamb that I'd had in a while.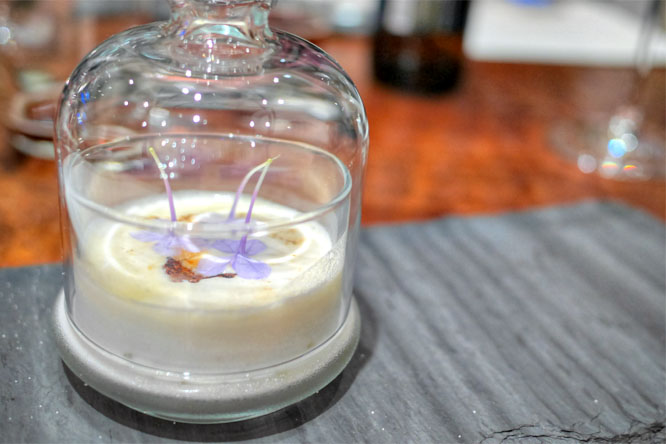 7: taro
| textures of ice, taro cremeux, tapioca, brown sugar chestnut
Chinese desserts aren't exactly my cup of tea generally, but Chen's cloched finisher here didn't let me down. Taro arrived cooked in coconut milk, the subtle sweetness of the root playing well with the sugary chestnuts and making for a cohesive whole. Some lovely textures, too.
I wasn't sure what to expect coming in to this, but I see a lot of promise in Chen's food here. Traditional tastes were twisted, remixed with a certain elegance and an eye toward modernity, but the results still properly displayed the essence of Chinese cuisine, and were delicious to boot. Flavors were robust, yet nuanced, not to mention deep and well-developed, exuding a certain focus and restraint uncommon in the style. As far as I know, there's no one else doing this kind of cooking, and I'm very curious as to where the Chef takes this all. As for what's next in the immediate future, Chen plans to continue this dinner series, but is also hard at work getting his Shao Kao barbeque truck going (I believe there's going to be a Kickstarter). Personally, I can see the truck turning into a small brick-and-mortar restaurant, with a "chef's counter" or similar area set up to present these sort of multi-course tasting menus. This is one I'm going to have to keep an eye out for.