Hakkasan (Beverly Hills, CA)
Hakkasan Restaurant
233 N Beverly Dr, Beverly Hills, CA 90210
310.888.8661
www.hakkasan.com/beverlyhills/
Fri 11/08/2013, 09:10p-12:40a
The latest in the line of haute Chinese concepts (Mr. Chow, Philippe Chow,
WP24
, Chi Lin) to hit Los Angeles is Hakkasan, arguably the most pedigreed of its brethren. The restaurant is the newest outpost of an international chain, one started by restaurateur Alan Yau back in 2001. Yau first made a name for himself at
Wagamama
, which he founded in 1992 and subsequently sold six years later. He then debuted Busaba Eathai in 1999, which was followed up by the original Hakkasan in the West End of London in 2001 (it earned a Michelin star two years later, the first Chinese place in Europe to do so). From there, Yau started dim sum eatery Yauatcha in 2004, which was also awarded a
macaron
, and then opened high-end Japanese eatery Sake No Hana in 2007, Chinese noodle bar Cha Cha Moon and Princi bakery in 2008, the modern-rustic St. Betty (Hong Kong) in 2011, and Thai street fooder Naamyaa Café in 2012.
In January 2008, Yau sold a majority stake in Hakkasan and several other properties to Tasameem, the real estate arm of the Abu Dhabi Investment Authority sovereign wealth fund. Given the substantial financial resources of the ADIA, Hakkasan expanded in a big way, landing in Miami (May 2009), Abu Dhabi (June 2010), London Mayfair (November 2010), Mumbai (June 2011), Dubai (November 2011), New York (April 2012), San Francisco (November 2012), Doha (January 2013), Las Vegas (April 2013), and finally right here in Beverly Hills in September, with Shanghai coming later this year. Hakkasan's menu across all locations is overseen by International Executive Chef Ho Chee Boon, a 26-year fine dining veteran who's been with the group from the beginning and now resides in the US, mainly dividing his time between Las Vegas and San Francisco.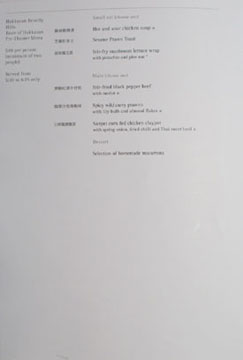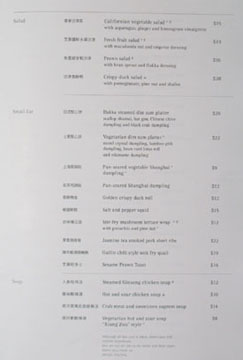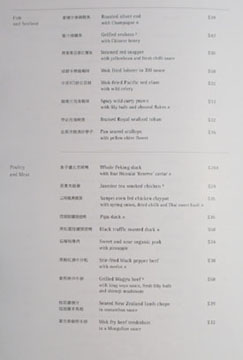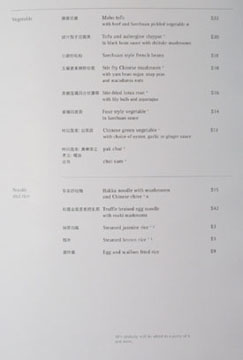 Hakkasan's dinner menu features a mix of the restaurant's Cantonese-inspired mainstays, as well as newer, lighter fare created especially for Beverly Hills' notoriously image-conscious clientele. There's also a prix fixe Pre-Theater option, which I didn't expect. Dim sum is also a viable, and intriguing option here, but for lunch only. Click for larger versions.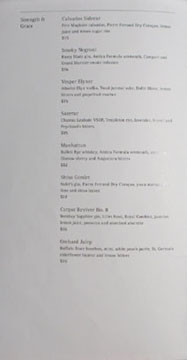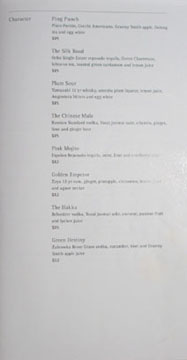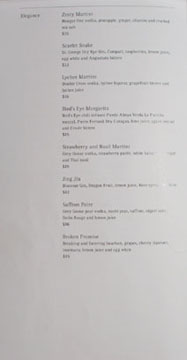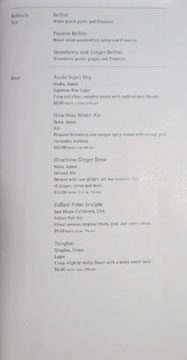 The beverage program at Hakkasan is nothing to sneeze at either, with a surprisingly strong wine list (and two sommeliers on the floor--Albert and Christoph), a dozen sakes, a handful of beers, and legit quasi-Asian-y cocktails from Bar Manager Armando Conway (La Descarga, Neat Bar, The Abbey, Harvard & Stone). Click for larger versions.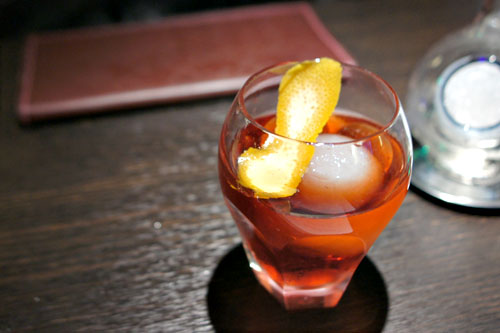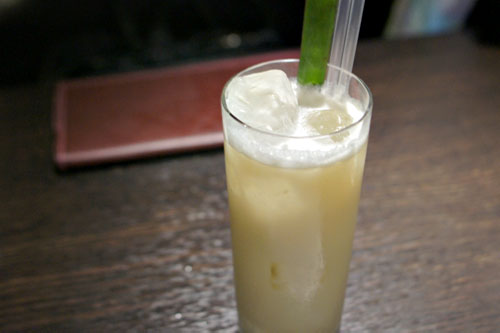 Smoky Negroni [$16.00]
| Rusty Blade gin, Antica Formula vermouth, Campari and Grand Marnier smoke infusion
The Hakka [$15.00]
| Belvedere vodka, Tozai junmai sake, coconut, passion fruit and lychee juice
I had to start with Hakkasan's signature
Smoky Negroni
, which I'd actually been hearing about. What's special about it is that, after being mixed liked a typical negroni, the concoction is poured into a decanter, which is then filled with Grand Marnier-infused hickory smoke from a PolyScience Smoking Gun. The result is that you get all the great bittersweet, boozy, slightly citric qualities of the classic drink, but with an additional depth and complexity from the whispers of smoke imbued in the drink--very nice. We also got
The Hakka
, a very different sort of cocktail that was all about sweet, fruity, tropical flavors in a lush, almost creamy package with just a bit of a rice-y undercurrent from the sake.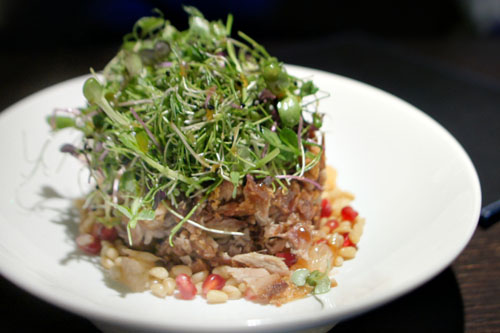 Crispy duck salad [$28.00]
| with pomegranate, pine nut and shallot
Hakkasan's duck salad is one of the restaurant's most popular dishes, and for good reason. They weren't stingy on the amount of bird included here, and as a result, the dish was a
tour de force
of brazenly duck-y savor and wonderfully crisp skin, all balanced out by the sweet, tart pomegranate and astringent greens, with the pine nuts adding a great crunch. Just a lovely mélange of contrasting tastes and textures.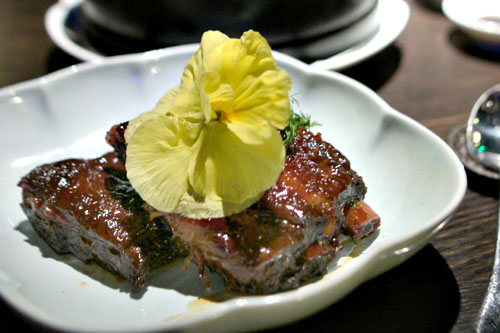 Jasmine tea smoked pork short ribs [$22.00]
Short ribs were sweet and sticky, nearly falling off the bone but still with a bit of bite, tinged with just a trace of floral tea character.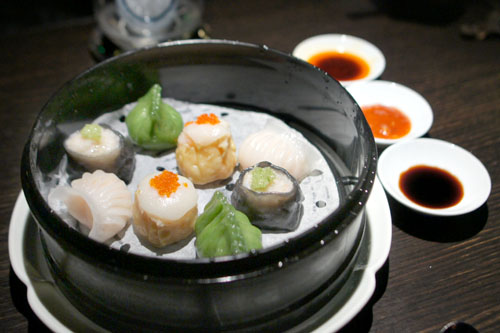 Hakka steamed dim sum platter [$28.00]
| scallop shumai, har gau, Chinese chive dumpling and black crab dumpling
The dim sum sampler was a must try as well, and came with four varieties of steamed goodies, accompanied by chili oil, chili sauce, and soy sauce.
Scallop Shumai - The scallop was clearly the star here, coming out firm, yet supple, with its salinity nicely conveyed. Excellent with a dab of the chili sauce.
Har Gau - A traditional har gow in essence, with the briny, snappy shrimp at the forefront, accompanied by a pretty legitimately delicate skin.
Chinese Chive Dumpling - Probably my favorite of the quartet and the most nuanced, with the chive really melding beautifully with stuffing (prawns I believe).
Black Crab Dumpling - This one showed off the ocean-y, lingering relish of the seafood in the most apparent manner, and was perfectly offset by a dab of chili.
Overall, this was a very strong course, with all four items satisfying in their own way. If this is any indication of Hakkasan's standard dim sum menu, I may have to revisit for lunch, post-haste.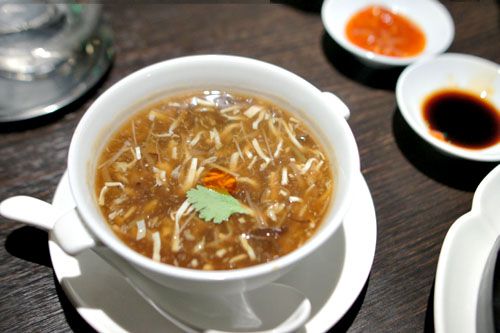 Hot and sour chicken soup [$10.00]
The hot and sour soup was as hot and as sour as you'd expect, with plenty of sharp, peppery flavors that I really enjoyed. However, I would've liked more of the actual chicken to have shown through.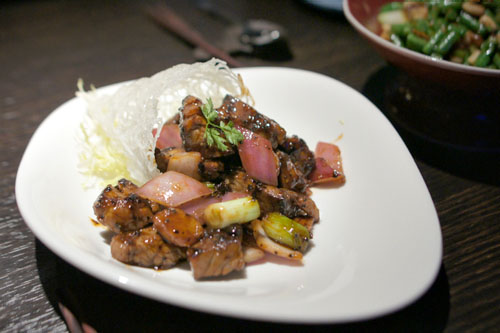 Stir-fried black pepper beef [$38.00]
| with merlot
Another one of Hakkasan's staples is its black pepper beef, and indeed, it was likely the best interpretation of the dish I've eaten. The meat itself was certainly the tenderest I've encountered (I'm assuming fillet was utilized), and displayed a delightful beefy savoriness imbued with just the right amount of peppery kick and wine-y undertones. The veggies were also key, with the scallion and onions imparting a crucial crunch and lightness to the course.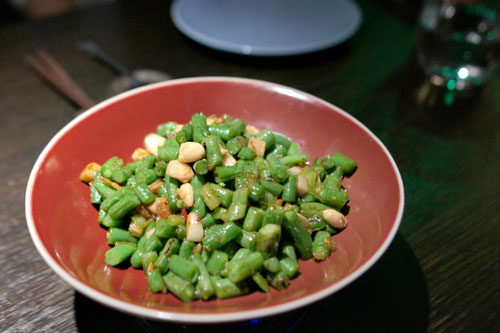 Szechuan style french beans [$18.00]
Greens beans were also another winner, with the bright flavors of the
haricots verts
joined by a wonderfully savory, garlicky depth, enhanced by the umami-rich relish of
xia mi
. Lovely textures and nuttiness from the peanuts here as well.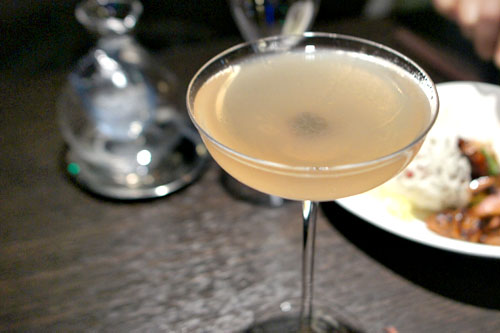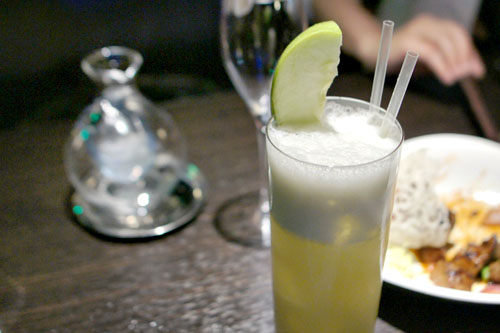 Corpse Reviver No. 8 [$16.00]
| Bombay Sapphire gin, Lillet Rosé, Royal Combier, jasmine, lemon juice, prosecco and atomized absinthe
Ping Punch [$15.00]
| Pisco Portón, Cocchi Americano, Granny Smith apple, Oolong tea and egg white
Hakkasan's
Corpse Reviver No. 8
was a reworking on the classic #2 version, and came in what must've been the tallest coupe glass I've ever seen. This was a particularly multifaceted cocktail, with contrasting thrusts of tangy, sweet, floral, citrusy, herbaceous, and boozy--sort of a lot going on, but with everything coming together into a cohesive whole. The
Ping Punch
, on the other hand, was much more approachable, with a deliciously sweet, flowery quality to it highlighted by overtones of juicy apple.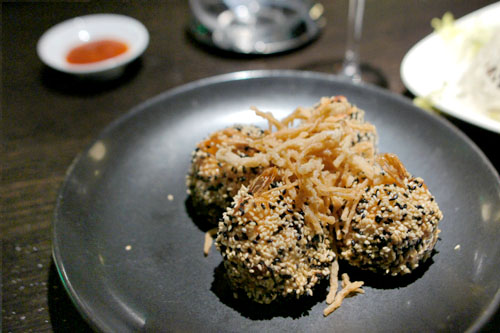 Sesame Prawn Toast [$16.00]
I also quite enjoyed the shrimp toast as well, the ocean-y savors of the springy, spongy seafood played against their coating of earthy sesame, all while the included chili sauce provided a perfect touch of heat to things.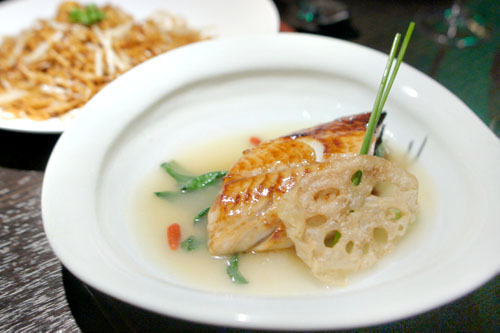 Roasted silver cod [$39.00]
| with Champagne
Silver cod (a.k.a. black cod) is another Hakkasan signature that we had to try. The fish itself was pretty much perfect, arriving flaky, soft, and super buttery, with the lotus root serving as a great savory, crunchy accompaniment. However, the surprisingly viscous Champagne-based sauce went overly sweet, masking the delicate flavors of the fish somewhat. I did appreciate the Chinese broccoli here though, which lent a delightful, countering bitterness to the dish.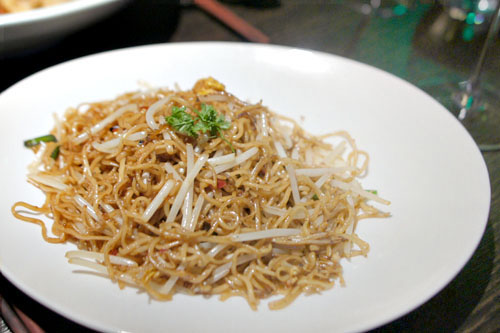 Hakka noodle with mushrooms and Chinese chive [$15.00]
The signature Hakka noodles seemed simple, but they were a standout for me, very probably the strongest
chow mein
-type dish I've had. The noodles themselves were spot on, and gave up an eminently satisfying, savory quality that was amped up by the inclusion of mushrooms, while the bean sprouts added a great crunch and levity to things. I could see myself taking down a heaping plate of this stuff.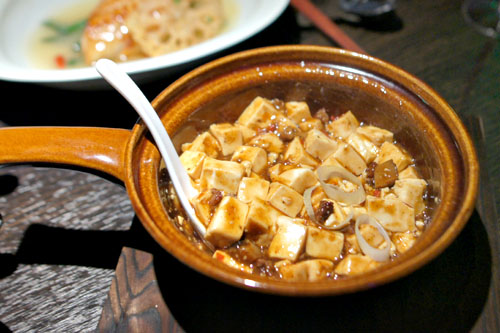 Mabo tofu [$22.00]
| with beef and Szechuan pickled vegetable
Hakkasan's take on the ubiquitous
mapo doufu
was an apt one, with perhaps a sweeter note than usual, the ground meat really highlighted against a backdrop of creeping heat and
mala
numbness.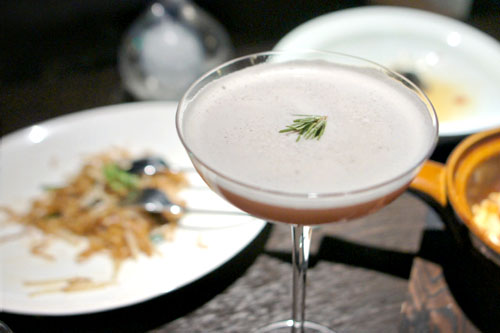 Broken Promise [$15.00]
| Breaking and Entering bourbon, grapes, cherry liqueur, rosemary, lemon juice and egg white
The final cocktail of the night was also my favorite. I loved the sweet-spicy flavors here, and how that interacted with the wonderfully aromatic qualities of rosemary, with the Bourbon coming through toward the midpalate, joined by the tang of lemon. Beautifully balanced and integrated.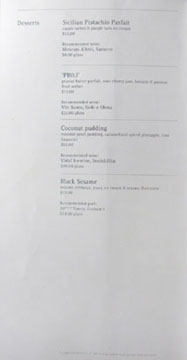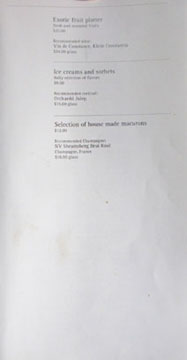 We all know that Chinese desserts tend toward the lackluster, so fortunately Hakkasan's decided to take a more Western approach with regard to the sweet stuff. Click for larger versions.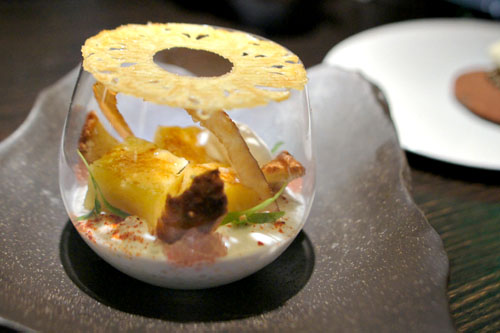 Coconut pudding [$12.00]
| coconut pearl pudding, caramelized spiced pineapple, lime financier
This seemingly terrarium-inspired dish looked like it might've come out of the
Red Medicine
playbook, and indeed, I could taste some Kahn in there as well. The creamy, tapioca-studded pudding formed a softly sweet base to the dessert and went superbly with the tangy cubes of pineapple and tart vesicles of grapefruit here, with the financier really grounding the course. What really set this part, though, were the spicy and herbaceous notes present, which really lent a modern twist to the dessert that I loved.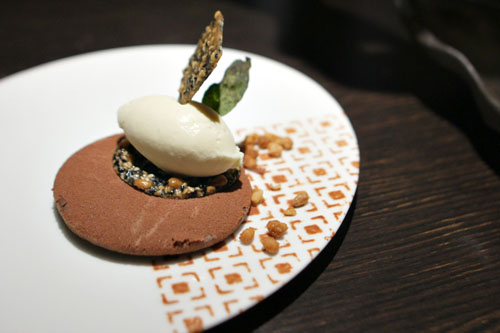 Black sesame [$12.00]
| sesame crémeux, yuzu ice cream & sesame florentine
There has to be a chocolate dessert on the menu of course, and Hakkasan's made a strong showing as well. The crémeux alone was as lush and as sugary as you'd want, gorgeously set off by a blast of tartness from the yuzu ice cream while the sesame tuiles imparted a fantastic crunch and savoriness to the fray. Very nice.
I wasn't sure quite what to think going into Hakkasan, but I have to say that I enjoyed the meal quite a bit. The food was pretty much all delicious, doing a good job in capturing the essence of Chinese cooking and imbuing it with a bit more flair, focus, precision, and modernity than is typically found. Armando Conway's cocktails, meanwhile, were commendable as well, and I was largely pleased with the service too. I'm actually very curious about returning for dim sum.
I think the issues here will largely stem from two places: cost and atmosphere. The price of dinner came to about $170 a head all-in, making it the most expensive Chinese meal I've had I'm sure. Now, given the level of ingredients and execution here, I can accept that Hakksan's going to be considerably pricier than most Chinese restaurants. In fact, I hate it when people say that Chinese food should be cheap, but a lot of diners probably can't get past those preconceptions. More concerning to me personally is the whole vibe of the place, which definitely veers toward clubby, replete with a DJ spinning in the corner and blaring music that made actual conversation difficult. Naturally, I'd prefer more of a focused experience, emphasizing the food rather than the scene. On the other hand, Gordon Ramsay
was
here this evening celebrating his birthday, and we even got a taste of his leftover sake...