Chego (Los Angeles, CA)
Chego Restaurant
727 N Broadway, Los Angeles, CA 90012
323.380.8680
www.eatchego.com
Tue 12/10/2013, 07:45p-10:05p

Back in 2010, we were near the height of the Kogi craze. The company had expanded into the Alibi Room, and Roy Choi was fresh off a "Best New Chef" win from
Food & Wine
magazine. It was, thus, the perfect time to launch Choi's first standalone, sit-down, brick-and-mortar restaurant, Chego ("the best" in Korean, roughly). The place debuted in April, situated in a Palms strip mall spot once occupied by the generically-named Asian Rice Grill. Somewhat ironically, Chego also focused squarely on the rice bowl, and aimed to reinvent the genre via the Chef's street-inspired, cross-cultural stylings.
The restaurant, unsurprisingly, was a near-instant hit, paving the way for Choi to open the more ambitious
A-Frame
. However, things came to a halt last December, when Chego closed, ostensibly to fix a malfunctioning kitchen. Choi and his team instituted a Chego truck in its place, but by March 2013, they'd confirmed the shutter along with plans to reopen in Chinatown (the space is currently home to Phorage). Chego East, thus, bowed in May, set in the sleepy Far East Plaza in a stall previously occupied by Wu Ha Thai Noodle. As for the Westside, a (very) limited Chego menu is available at the Alibi Room currently while the team searches for a new location.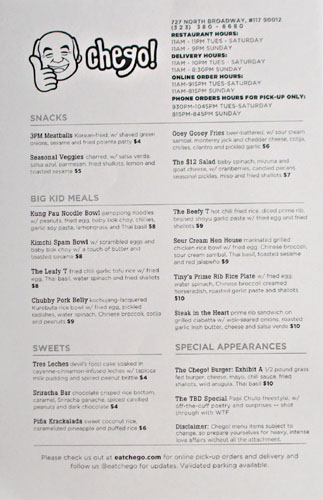 Chego's menu reads pretty similarly to the one at the original, and interestingly, there's also a delivery option if you happen to live nearby Chinatown. Click for a larger version.
One of the great things about Chego is that it's BYOB, so we definitely made use of that policy and brought along some American craft beer to pair. Up first was the
Epic Brewing Co. Sour Apple Saison
, which, as the name would imply, was tart and apple-y, but with a Belgian-esque, dry base tinged with a pleasant amount of spice.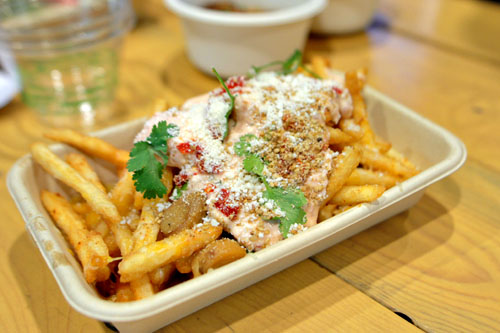 Ooey Gooey Fries [$6.00]
| beer-battered, w/ sour cream sambal, monterey jack and cheddar cheese, cotija, chilies, cilantro and pickled garlic
Kicking things off was one of Chego's signatures, sort of an Asian-y take on poutine. It was as satisfying as you'd expect, in a slutty sort of way, with the fries themselves wonderfully crisp, enrobed by the richness of cheese and the creeping heat of
sambal
, all while the cilantro lifted the dish.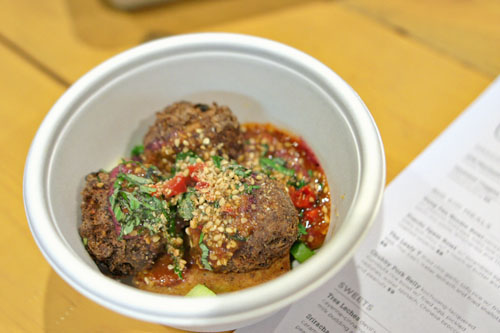 3PM Meatballs [$4.00]
| Korean-fried, w/ shaved green onions, sesame and fried polenta patty
Meatballs were delish, just full of flavor and delightfully crisp on the outside, with the scallion adding a great brightness and the polenta a palpable heft to things. I would've liked the balls a touch moister, though.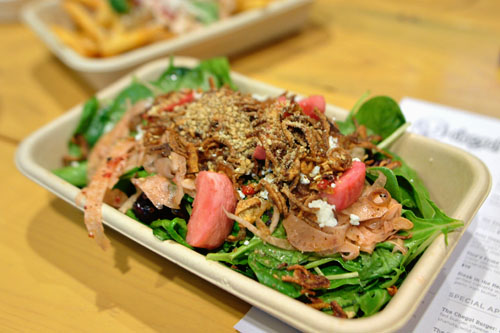 The $12 Salad [$7.00]
| baby spinach, mizuna and goat cheese, w/ cranberries, candied pecans, seasonal pickles, miso and fried shallots
This homage to Carl's Jr's $6 Burger may not have commanded the full $12, but was tasty nonetheless. I enjoyed the sweet-savory interplay here, balanced out by the bitter greens while the cheese imparted an earthiness to the fray. The best thing here? Those crisp, salty bits sprinkled on top, which made for some great textural variation.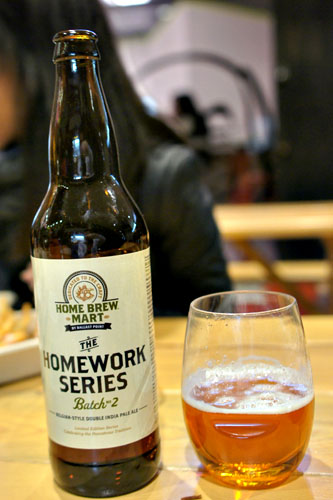 Next to drink was the limited edition
Ballast Point Brewing Company Homework Series #2 - Belgian Style Double India Pale Ale
. It was an excellent example of the style, eminently balanced, yet complex, with its bitterness paired with a malty sweetness and much-appreciated traces of fruity zest.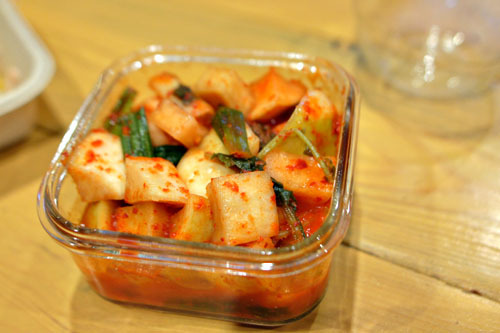 One of my dining companions brought along some homemade daikon kimchi (
kkakdugi
), which was fantastic alone and even better when paired with some of the dishes, adding a focused crunch and heat to the mix.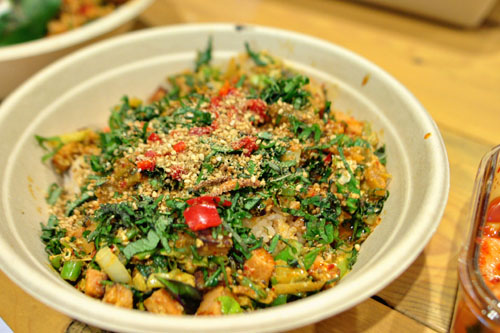 Kimchi Spam Bowl [$8.00]
| w/ scrambled eggs and baby bok choy w/ a touch of butter and toasted sesame
Getting into the bowls now, I generally don't eat Spam unless it's in
musubi
form, but the mystery meat was used to great effect here, serving as a superb foil to the light, crunchy bok choy. This might've been my favorite of the bowls--very well integrated, with a subtle spice--but I would've liked more of the canned pork product.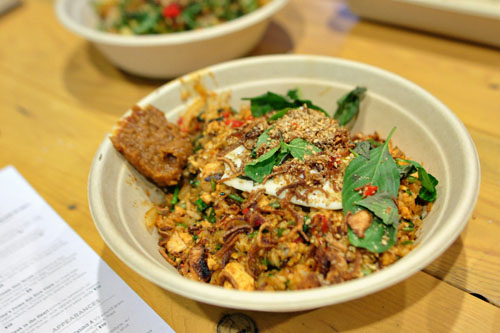 The Leafy T [$8.00]
| fried chili garlic tofu rice w/ fried egg, Thai basil, water spinach and fried shallots
Despite having no meat, our second bowl didn't leave me wanting, the tofu coming out hearty, satisfying, and definitely full-flavored. I also appreciated the lushness from that runny egg, as well as those shallots, but the key was the greenery: that vibrant
ong choy
and aromatic Thai basil giving things a vague, but distinctly Asian-esque flair.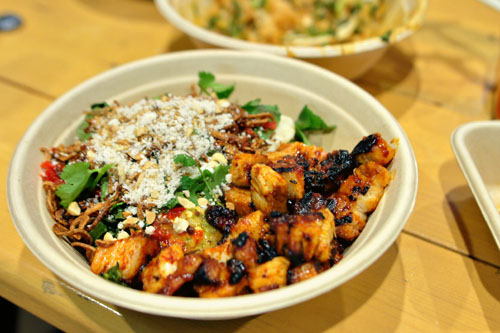 Chubby Pork Belly [$9.00]
| kochujang-lacquered Kurobuta rice bowl w/ fried egg, pickled radishes, water spinach, Chinese broccoli, cotija and peanuts
Last up was the much-talked-about pork belly bowl, featuring beautifully charred, crisp chunks of
gochujang
marinated meat. I could've just eaten the pork alone, but here it served as a force for good in the dish, melding with the various other elements in commendable fashion. I was especially fond of the radishes and
gai lan
here.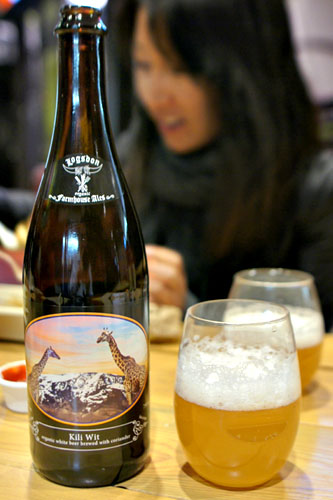 Our third beer was the
Logsdon Farmhouse Ales Kili Wit
. I found it light and refreshing, with plenty of spice and even a little funk on the palate, moderated by notes of citrus and underlying wheat.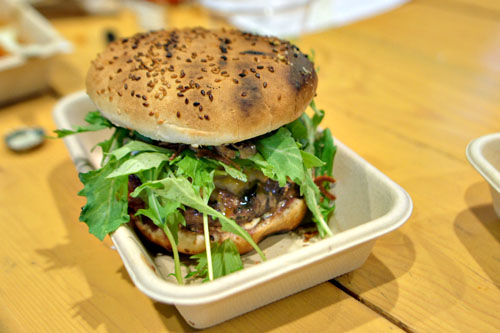 The Chego! Burger: Exhibit A [$10.00]
| 1/2 pound grass fed burger, cheese, mayo, chili sauce, fried shallots, wild arugula, Thai basil
The Chego burger, unfortunately, was a bit of a letdown. The patty itself was cooked very rare, with a strong char component, and tasted earthy, beefy--quite good actually. However, the pineapple-y sweetness here was a tad disconcerting, though the arugula did help rein it in. Overall though, the various elements just didn't come together all that cohesively.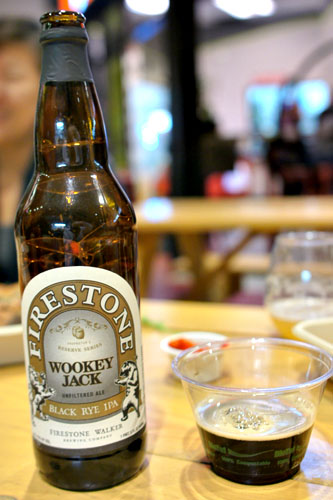 Finally, to go with dessert, we popped a bottle of the
Firestone Walker Brewing Co. Wookey Jack
, which you can sort of think of as a cross between an IPA and a porter. Imagine smoky and roasty qualities, but with a healthy amount of hoppy, citric bitterness and an undercurrent of spicy rye to bring it all together.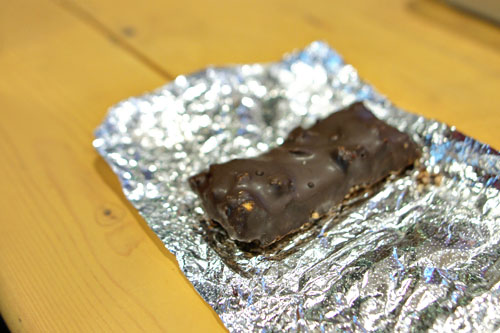 Sriracha Bar [$4.00]
| chocolate crisped rice bottom, caramel, Sriracha ganache, spiced candied peanuts and dark chocolate
We began with Chego's most well-known dessert, the Sriracha bar, first created by Pastry Chef Beth Kellerhals. The bar had a nondescriptly Asian-y, nutty character to it, highlighted by the sugariness of the chocolate and caramel. It's a great idea, but didn't quite deliver tonight. The nut portion seemed slightly stale to the bite, and I really didn't taste much Sriracha at all.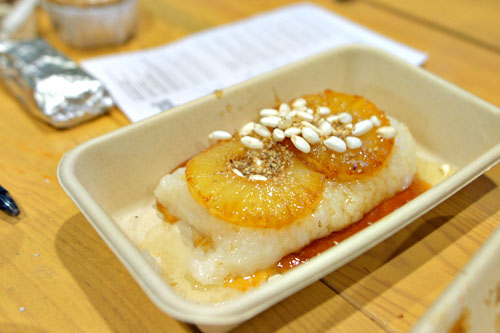 Piña Krackalada [$6.00]
| sweet coconut rice, caramelized pineapple and puffed rice
The Piña Krackalada, unfortunately, wasn't to my liking either. I found the combo of rice and pineapple overly sweet and syrupy, and the overall stickiness of the dessert verged on unnerving as well.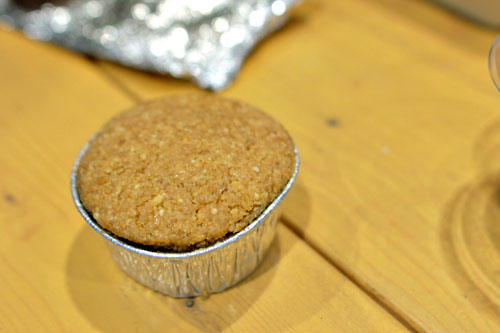 Tres Leches [$4.00]
| devil's food cake soaked in cayenne-cinnamon-infused leches w/ tapioca milk pudding and spiced peanut brittle
Our last dessert looked very little like a classic
torta de tres leches
, but was easily the best of the trio. Think of it as a super dense, moist, dark chocolate cake, but amped up by the inclusion of milk, spice, and a great nutty crunch.
It took me over three years to finally hit up Chego, but I'm happy to report that I was diggin' the food (well, save for the burger and desserts). What you're getting is simple and straightforward, satisfying, but at the same time, the cooking's sort of got a lot going on behind it. It's the type of place that I could see myself visiting quite often if I lived in the area--just get a bowl or two, maybe an app, and you're set.