Asanebo (Studio City, CA) [2]
Asanebo Restaurant
11941 Ventura Blvd, Studio City, CA 91604
818.760.3348
www.asanebo-restaurant.com
Sat 12/14/2013, 07:25p-11:30p
[A Note on Photography: As some of you may know, I recently acquired a new camera, the Panasonic Lumix DMC-GM1. I'm hoping to have it supplant my current DSLR setup (for the sake of convenience and inconspicuousness), and this meal was actually my first outing with it. I think it's a pretty promising start, especially given the somewhat uneven lighting here as well as my use of the slow kit lens. Low-light performance seems to be at least as good as my current setup, but one thing's that immediately apparent is that the increased depth of field (due to the Four Thirds sensor and smaller aperture) is throwing off some of the photos; I need to get my hands on a fast prime, pronto. More to come...]

Opened in 1991 by brothers and former
Matsuhisa
chefs Tetsuya and
Shunji
Nakao (who left the partnership in 2000), Asanebo ("late riser") has been a staple of sorts on the Japanese scene here in LA. I first visited the place way back
in 2008
, and while I felt that the food was good, it didn't strike me as the sort of joint with a Michelin star, or the top food rating
on Zagat
for that matter. However, goaded on by a regular customer of the place who insisted that the best way to dine here
isn't
omakase, I decided to give Asanebo another shot, nearly six years after my initial visit.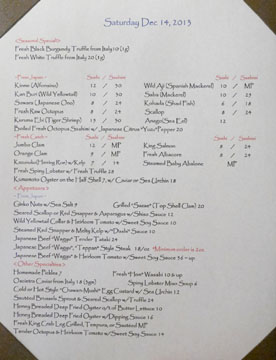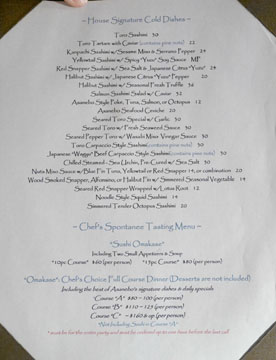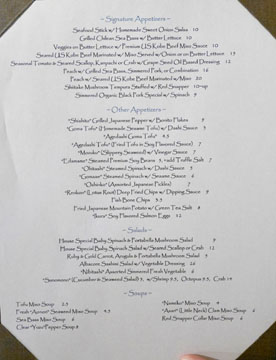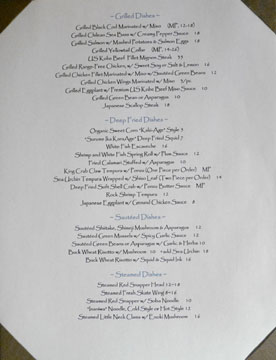 Asanebo's menu is scarily vast (especially when rendered in
Papyrus font
), with multiple omakase options ranging from $60 to $160 and a myriad of à la carte choices as well. It was a daunting proposition, so we all gleefully let the regular order for us. Click for larger versions.


To drink, you'll find a smattering of beer and wine, as well as a short sake list that somehow features a $960 bottle of the stuff. We opted to bring our own booze, at $15 corkage a pop. Click for larger versions.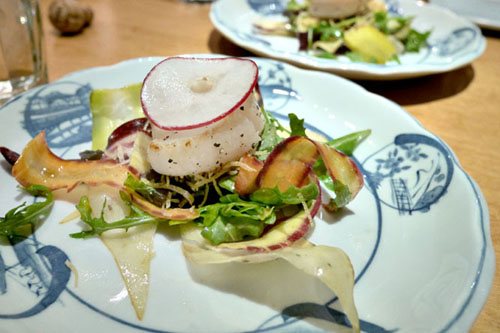 Scallop Salad
We began with a salad featuring a singular
hotategai
, which itself was spot on: supple to the bite and sweet, with a great hit of char and just a touch of citrus-y zest. The various veggies worked effectively as well, forming a crunchy, bitter counter to the scallop, with everything then accented by the savory bits sprinkled on top.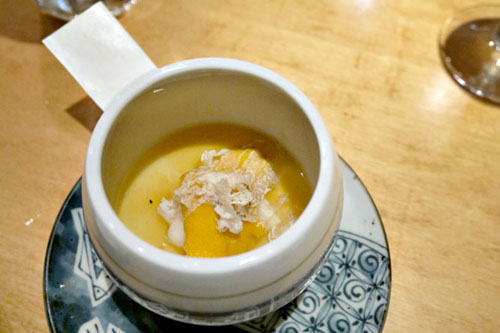 Hot Style "Chawan-Mushi" Egg Custard w/ Sea Urchin
The
chawanmushi
was quite enjoyable, having Santa Barbara uni, spiny lobster, and white truffle folded in. It was certainly one of the most luxurious versions of the dish I've had, coming out all rich, buttery, and enrobed in truffle-y overtones, the urchin really accentuating the lushness of the egg while the
ise ebi
imparted a great snap to things.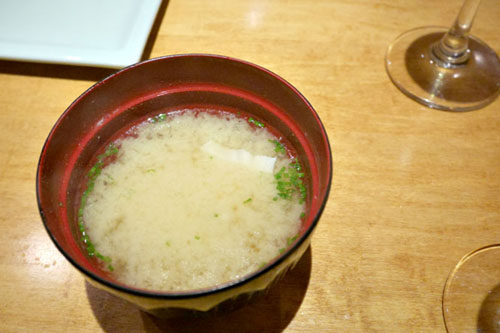 Sea Bass Miso Soup [$6.00]
A miso soup with sea bass was exactly like you'd imagine, the hearty, satisfying, umami-rich savor of the soup enhanced by the ocean-y heft of the fish.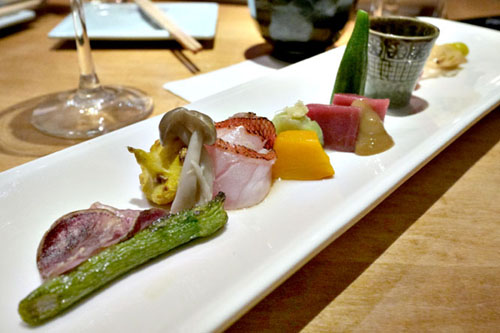 Zensai
We were then brought a rather long plate of various little bites: Japanese gingko nuts with sea salt; wonderfully savory and crisp fried lotus roots (
renkon
); a sweet-sour-savory cherry tomato in vinegar;
mozuku
seaweed with vinegar sauce and ginger, a slick, cool, tangy treat; a not overly gooey cut of okra; smooth, delicate bluefin tuna with
nuta
sweet miso; pumpkin and eggplant; a lightly-charred, yuzu-tinged golden eye snapper with enoki, my favorite; and finally, baby zucchini.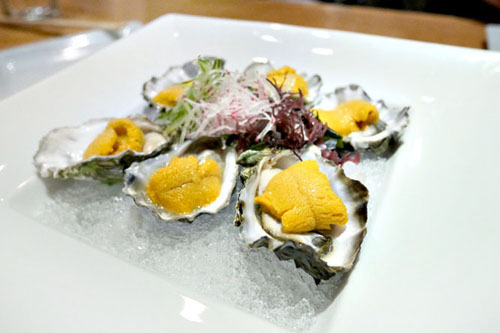 Kumamoto Oyster on the Half Shell w/ Sea Urchin [$54.00]
Kumamoto oysters were presented with sea urchin, a winning combination to be sure, with a touch of citrus really doing a great job in offsetting the richness of the roe. Unfortunately, the experience was marred by a bit of errant shell.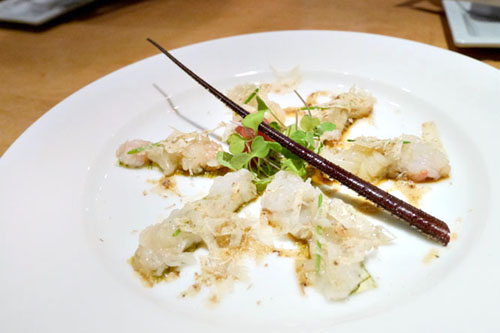 Fresh Spiny Lobster w/ Fresh Truffle [$38.00]
Spiny lobster was snappy and sweet, yet beautifully heightened by the depth of its soy-based dressing. That alone would've been good enough, but the earthy musk of white truffle just added further potency to the mix.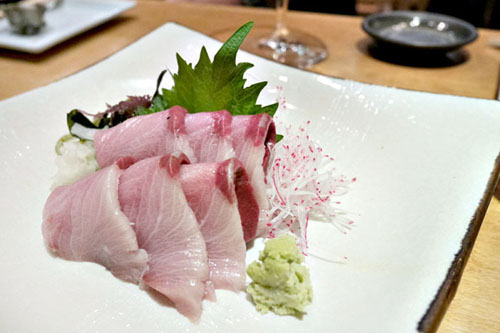 Kan Buri (Wild Yellowtail) [$30.00]
Wild yellowtail sashimi was clean and lean, not overtly fatty like the farmed stuff. A classic example of the fish--great with a dab of soy.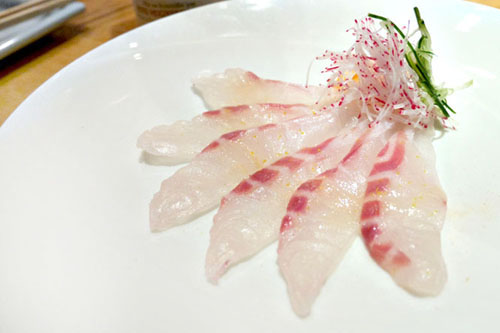 Red Snapper Sashimi w/ Sea Salt & Japanese Citrus "Yuzu" [$24.00]
Tai
came out snappy and delicate, deftly perked up with a sprinkle of tangy yuzu. Can't go wrong with this.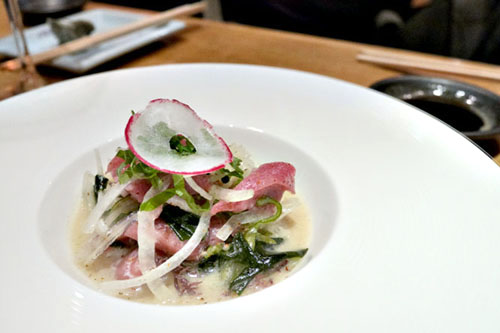 Asanebo Style Poke, Tuna [$12.00]
The poke was tasty too, the meaty chunks of tuna really playing well with the tart-tangy crunch of its accompanying veggies.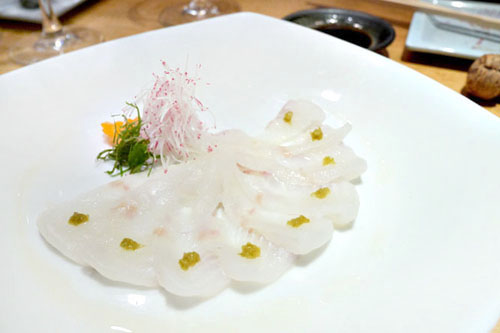 Halibut Sashimi w/ Japanese Citrus "Yuzu" Pepper [$20.00]
Halibut was one of my favs, the subtle taste of the fish expertly paired with the salty-sour-spicy kick of
yuzukosho
.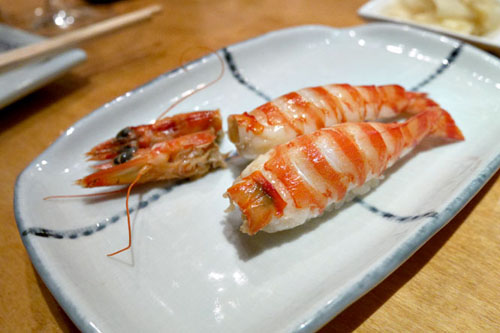 Kuruma Ebi (Tiger Shrimp) [$15.00]
Tiger shrimp was a treat, and really a fantastic example of cooked
ebi
. It showed off a beautiful texture, as well as an impressive interplay between sweet and saline flavors that really hit the spot.
Wild Aji (Spanish Mackerel) [$30.00]
Spanish mackerel conveyed the classic pairing of ginger and scallion, but with the addition of a savory-sweet ponzu jelly.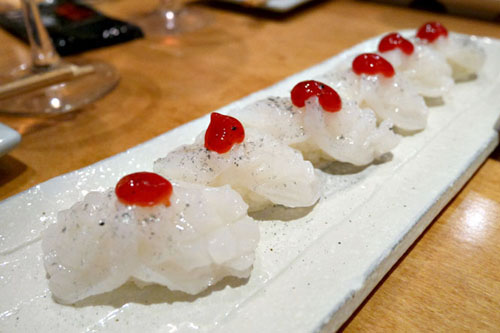 Fresh Raw Octopus [$24.00]
Octopus was a standout, with its delightfully chewy, yet supple consistency and mildly briny taste, amped up by a dollop of piquant
umeboshi
condiment.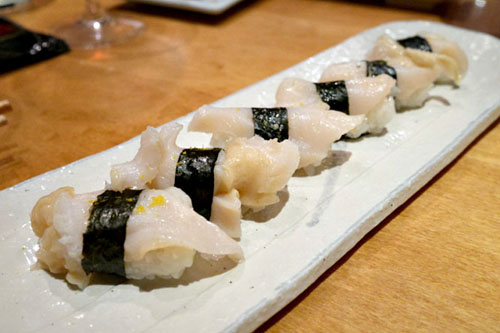 Jumbo Clam [$36.00]
Geoduck, meanwhile, came out crunchy and tasting unapologetically of the sea, tempered by a squirt of citrus and the umami-ish relish of the nori.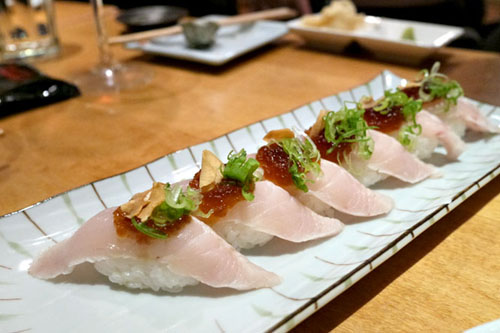 Sawara (Japanese Ono) [$24.00]
Japanese ono was balanced and multifaceted, with the tangy ponzu and crunchy, savory garlic chips imparting a modicum of modernity to the sushi.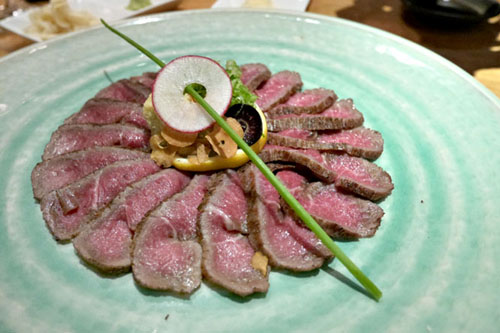 Japanese Beef "Wagyu" Tender Tataki [$96.00]
A shoulder cut of Kagoshima wagyu was presented in
tataki
form, displaying a somewhat restrained beefiness, offset by a ginger-y tone in the dish. Tasty, but I wanted a more luxurious, overtly bovine eating experience with this one.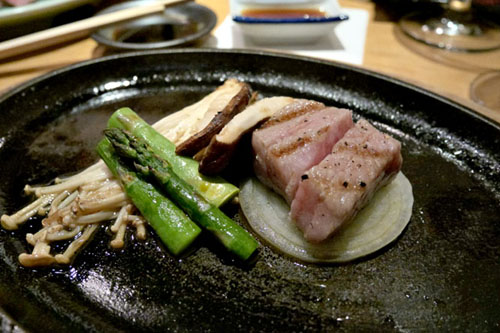 Japanese Beef "Wagyu", "Teppan" Style Steak [$18.00]
Now, speaking of that overt beefiness, the
teppanyaki
had it in droves, coming out just as rich, fatty, and buttery as you'd want, a true expression of wagyu. Superb rendition of mushrooms and asparagus here, too.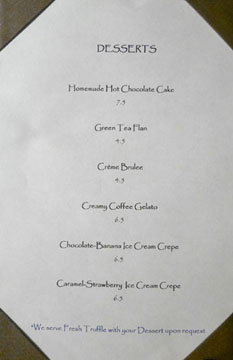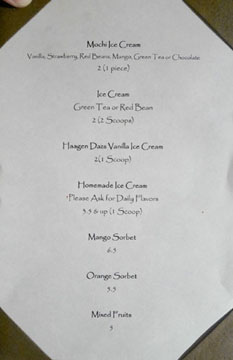 With the evening's
pièce de résistance
dispensed with, it was time for dessert. Click for larger versions.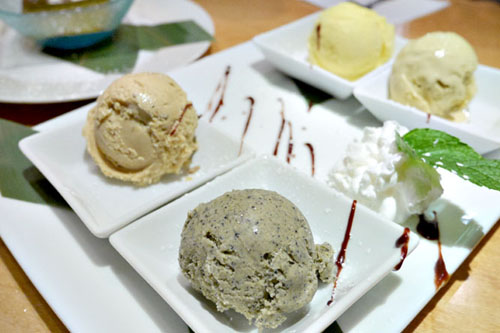 Homemade Ice Cream
I rather liked Asanebo's quartet of ice cream. Starting clockwise from the bottom, we had the requisite black sesame, a fantastically true-to-life truffle, the delightfully tea-infused
hojicha
, and sweet potato.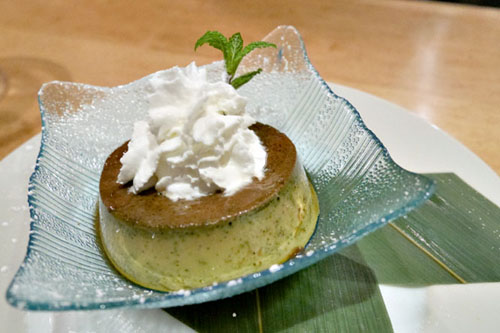 Green Tea Flan [$4.50]
A trembling green tea flan was pleasant in its bittersweetness.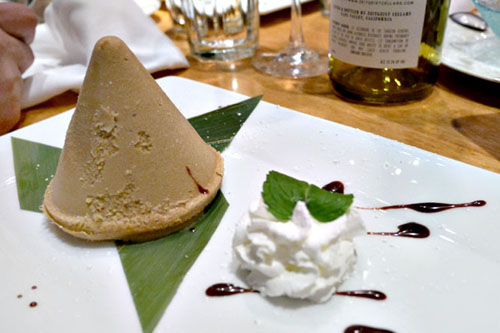 Creamy Coffee Gelato [$6.50]
Finally, we had an oddly-shaped cone of coffee gelato. I enjoyed its semi-intense, espresso-like taste, but found the consistency too icy. I would've liked it smoother, creamier.
I had a good time here, though the $250pp price tag
was
very surprising, especially considering that we didn't order alcohol (though we did pay for six bottles of corkage). I'm sure that the wagyu and truffle didn't help things either. Cost aside, this was an improvement over my last meal, and indeed, unlike at pretty much every other Japanese place,
omakase
may not be the way to go at Asanebo. I guess it all comes down to what your expectations are. I wouldn't come in here looking to get a
Mori
-like experience for example, but rather, think of the restaurant as a sort of higher-class izakaya. Just be careful what you order.