Acabar (Los Angeles, CA)
Acabar Restaurant
1510 N Stanley Ave, Hollywood, CA 90046
323.876.1400
www.acabar-la.com
Thu 03/13/2014, 08:15p-11:35p

I've been wanting to try out Acabar for a while now (it opened last July), and finally made it out recently. The restaurant replaces Dar Maghreb, the famed Hollywood bastion of Moroccan cuisine that closed in September 2012 after almost 40 years in business. The reason for the closure was a change in ownership, and that new ownership is led by none other than big-time director
Roland Emmerich
. Not being much of a restaurateur himself, he's partnered up here with Jerry Murray as well as the Little Door trio of Sue Choi and brothers Frederic and Nicolas Meschin.
Headlining is "Taste Maker" Octavio Becerra, the Palate and
Patina
veteran whom we last saw at Circa in Manhattan Beach (interestingly, the Chef used to frequent Dar Maghreb during his high school years). As for the food, it's advertised as "global local," paying homage to the French-influenced cuisines situated along the spice trails that ran through Northern Africa, the Mediterranean, the Middle East, Indochina, and South East Asia. Becerra's joined in the kitchen by Chef de Cuisine Kevin Luzande (Buddha's Belly,
Playa
,
Rivera
), who runs the show here day-to-day, as well as Sous Chefs Taylor Sweeney (also from Playa and Rivera) and Oscar Torres (
Patina
,
Ortolan
, Playa).

The 3,900sqft Dar Maghreb space already had some pretty over-the-top architecture going on, so designer Keith Greco (the
Cliff's Edge
partner who also penned Little Door) tried to preserve as much of the vibe as he could. The tile work on the floors and walls, lavish columns, ornate coffered ceilings, and gold doors out front are all original. On the other hand, walls have been torn down. They've added mirrors, a central fire pit, chandeliers, and a zinc-topped bar that spans the room, connecting the lounge with a 60-seater dining room. There's even a raw bar tucked into a corner near the foyer (with its own tasting menu option). Overall, it's a space that just
begs
to be called "sexy."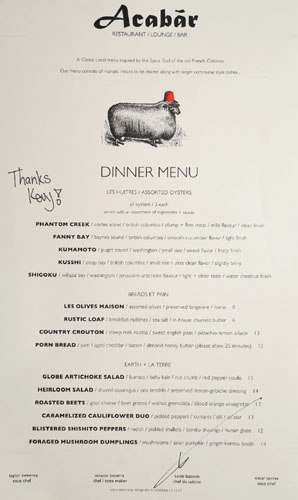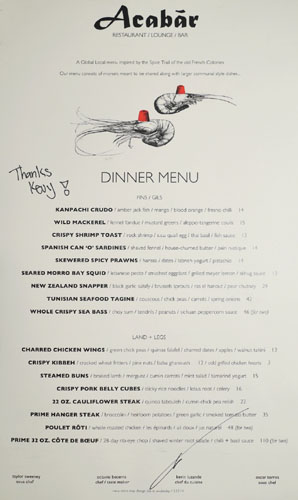 As for Acabar's menu, it's hard to pin it down to a specific cuisine, as the restaurant's concept allows the Chef to play it loose. Things tend to lean toward a Cal-French-inflected Middle Eastern-Mediterranean with some Asian influences I'd say, and it's small plates, natch, with a few communal dishes for good measure. Meanwhile, the bar program is the work of Julian Cox and Josh Goldman's
Soigné Group
. It's a deliberately historical selection of cocktails, one ostensibly inspired by Heston Blumenthal's London eatery
Dinner
. Meanwhile, if you'd prefer wine, there's a pretty nice list put together by longstanding sommelier Emmanuel Faure. Click for larger versions.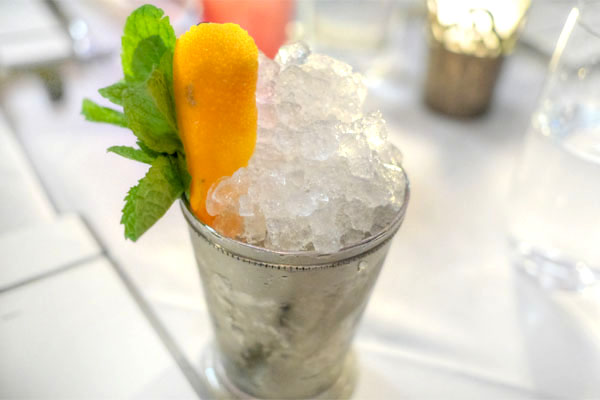 Sherry Cobbler [$12.00]
| Dry Amontillado Sherry, Seasonal Fruits
Given the pedigree of Josh and Julian's bar program, we had to go hard on the cocktails, starting with the restaurant's take on the cobbler. It was lovely, with some light, refreshingly fruity notes leading toward the dry, deliciously oxidative quality of the sherry toward the end.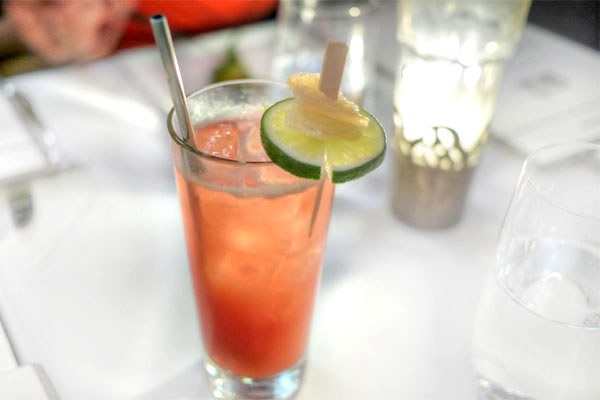 El Diablo [$12.00]
| Blanco Tequila, Ginger, Lime, Cassis, Soda Water
Moving on into the Tiki era now, we had here Trader Vic's devil of a cocktail. I really appreciated the spicy ginger notes in this one, balanced by sugary cassis, the tequila providing an undercurrent of vegetal booziness to this fun libation.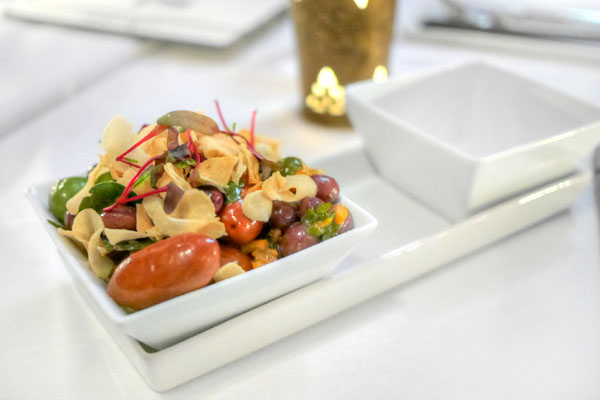 Les Olives Maison [$8.00]
| assorted olives / preserved tangerine / herbs
Olives seemed like a fitting start to the meal, their zesty, piquant flavors amplified by the application of tart citrus, the garlic chips adding a countervailing crunch and savoriness to the mix.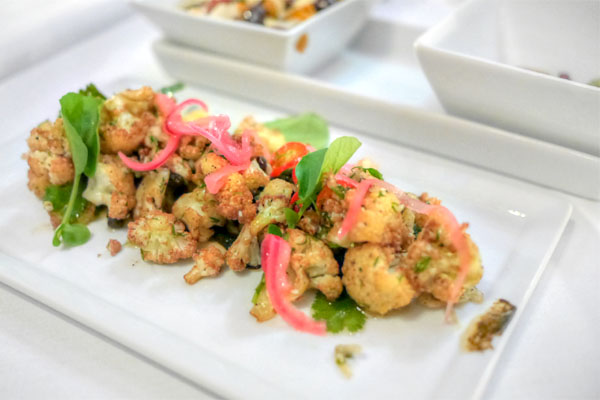 Caramelized Cauliflower Duo [$13.00]
| pickled peppers / currants / dill / za'atar
Cauliflower was enjoyable, arriving to the table nicely crunchy, the combination of currant and pickles adding a layer of sweet-n-sour atop the comparatively mild vegetable, all while the
zaatar
imparted a deep, complex, earthy weight to the dish that help tie everything together.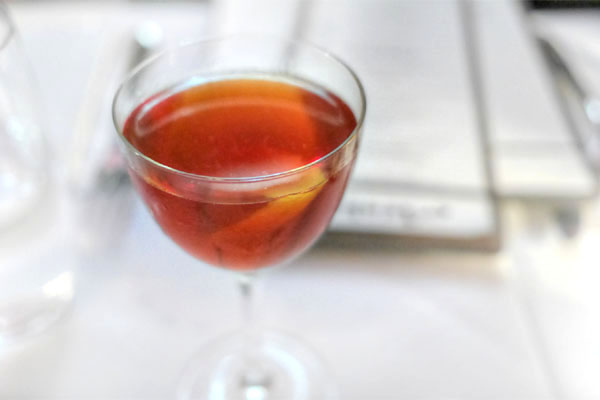 Creole [$12.00]
| Bourbon, Sweet Vermouth, Benedictine, CioCiaro
Here, bourbon and vermouth combined in near classic Manhattan-esque fashion, but the use of Bénédictine and CioCiaro made for an herbal-y bittersweet character, lightened up by a whisper of citrus.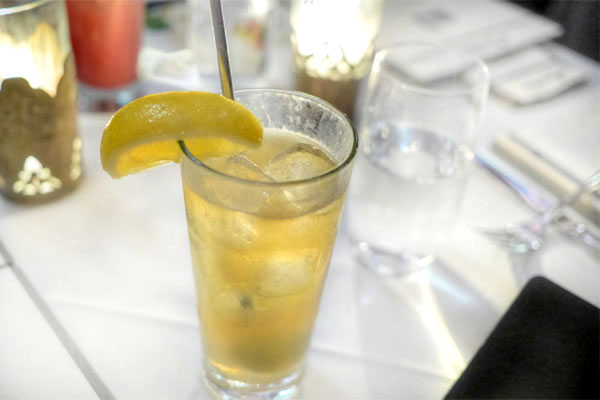 Philadelphia Fish House Punch [$10.00]
| Pierre Ferrand 1840 Cognac, Appleton 12 Yr. Rum, Lemon Sorbet, Peach Brandy, Nutmeg
Punches are available in large bowls, but we went with single servings in order to try more of the cocktails. This Fish House concoction hid its booze surprisingly well, and showed off an almost candied-like sweetness that some of us found reminiscent of SweeTarts.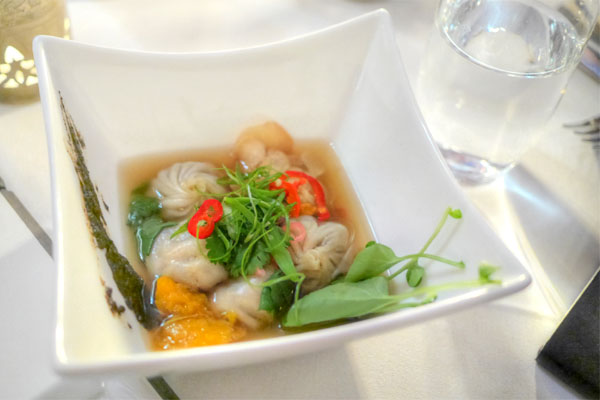 Foraged Mushroom Dumplings [$14.00]
| mushrooms / asian pumpkin / ginger-kombu broth
The dumplings were superb, and a table favorite. I loved their deep, hearty savor, brightened up by the various herbs here, while the squash imparted just a touch of sweetness to the mix. The best part? That ginger-kombu broth, which I eagerly supped up at the end.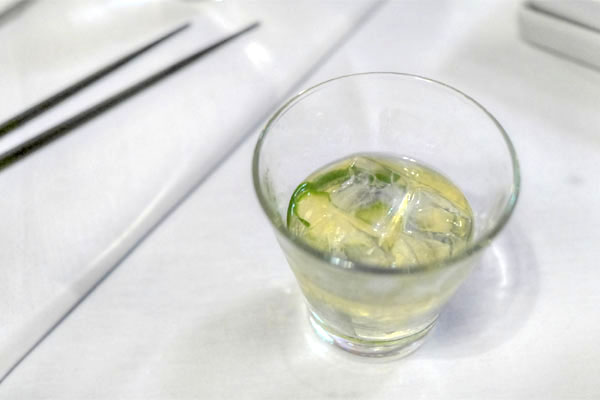 TI Punch [$12.00]
| Rhum Agricole, Cane Syrup, Lime
Next to drink was a version of Ti'Punch, popular in Martinique and surrounding states. I found it surprisingly boozy, the potency of the rum only slightly tempered by the combo of cane and citrus. You could definitely feel this one going down.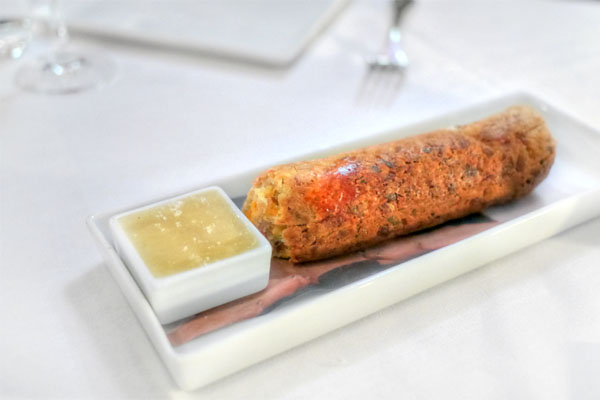 Porn Bread [$12.00]
| yam / aged cheddar / bacon / almond-honey butter
Given its provocative name, this was something that we felt compelled to order. It ostensibly took 25 minutes to prepare, and came out appropriately phallic, a play on cornbread that was actually pretty tasty with its contrasting sweet and salty notes, taken up a notch by the excellent almond-honey butter.
Zombie [$14.00]
| Jamaican Rum, Puerto Rican Rum, Lemon-Hart 151, Lime, Don's Mix, Falernum
The drink that's getting the most attention at Acabar is the Zombie, a quintessential tiki invention first seen at Don the Beachcomber. It's the only cocktail I've had that's come out on fire, and despite the theatrics, it was rather delicious, its amalgam of sweet, spicy, and sour flavors really moderating the considerable amount of alcohol present. I could see this being dangerous, hence the two serving limit.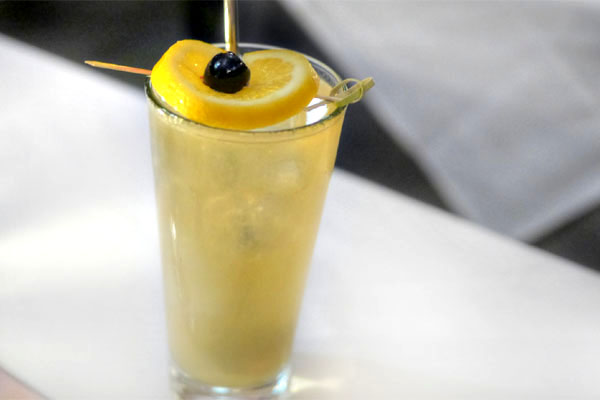 Tom Collins [$12.00]
| Old Tom Gin, Lemon, Soda Water
Acabar's Tom Collins, on the other hand, was a much lighter, refreshing sort of cocktail, the base of Old Tom working seamlessly with the tart lemon to make for an eminently quaffable drink.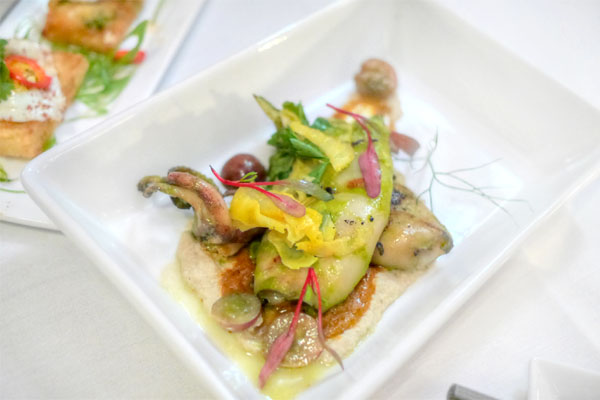 Seared Morro Bay Squid [$13.00]
| lebanese pesto / smashed eggplant / grilled meyer lemon / skhug sauce
Squid had a nice bite to it, and was properly briny, melding with the medley of Mediterranean flavors from the eggplant, pesto, and spicy
zhug
, the Meyer lemon adding layers of enveloping sourness to the dish.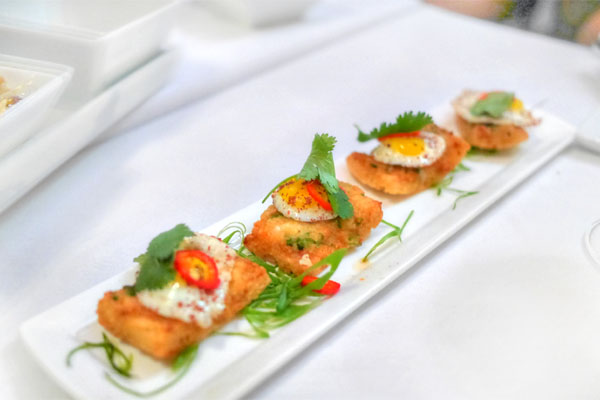 Crispy Shrimp Toast [$13.00]
| rock shrimp / s.s.u quail egg / thai basil / fish sauce
Acabar's shrimp toast was crowned our favorite item of the night, and was the only dish that we ordered another round of. The interplay between the shrimp and the basil was spot on, and went perfectly with the savory crunch of the toast. At the same time, the fish sauce was absolutely key as well, providing an undercurrent of funky, tangy flavors that really brought it all together.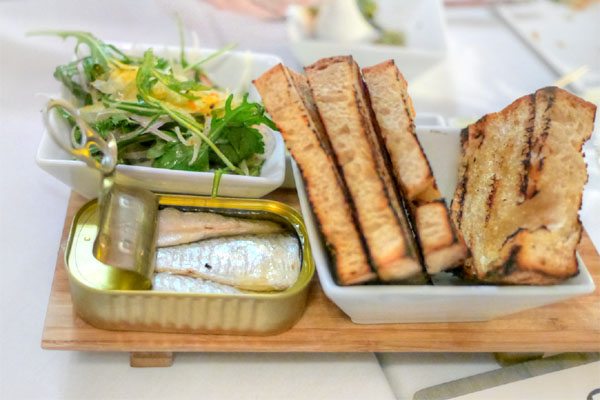 Spanish Can 'O' Sardines [$14.00]
| shaved fennel / house-churned butter / pain rustique
I didn't expect much from this seemingly simple can 'o' sardines, but the course really delivered. What I did was take the bread, spread it with butter, then layer salt, lime, sardine, and greens on top of it. The result was a beautiful balance of fishy and astringent flavors, perked up by pinpoints of salt and wonderful over the base of toast. This is one to get.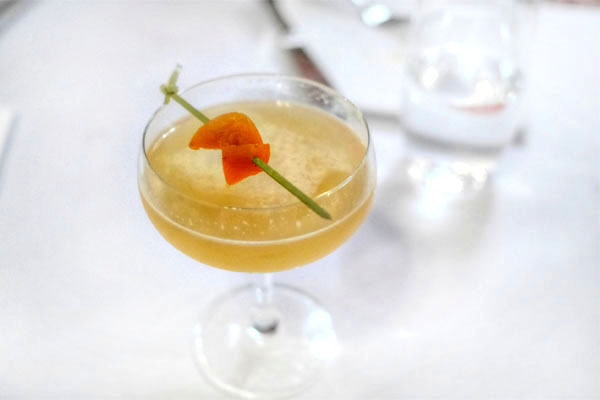 Cuban No. 2 [$12.00]
| Cognac, Apricot Liqueur, Lemon
For our next cocktail, we had here a Cuban that I rather enjoyed. I found it viscous and sticky in body, with a delectably fruity apricot quality to it that went up nicely against the lemon.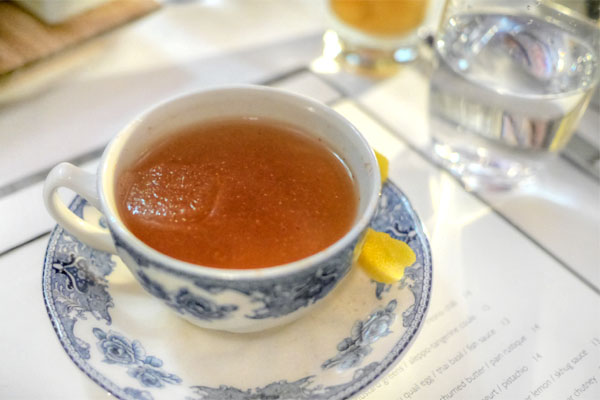 Martha Washington's Rum Punch [$10.00]
| Batavia Arrack, English Harbor 5 yr. Rum, Lime Sorbet, Lemon Sorbet, Spiced Syrup, Cinnamon & Nutmeg
I was digging the presentation of this next punch, which we were told was based on a recipe from one of the first First Lady's old journals. Think light, and almost tea-like, with sweet spices and notes of citrus up front, all over a backdrop of booze. I could totally picture Martha sipping this at Mount Vernon back in the day.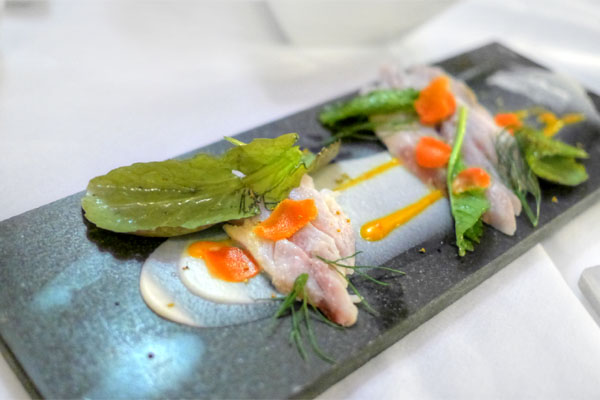 Wild Mackerel [$15.00]
| fennel fondue / mustard greens / aleppo-tangerine coulis
Mackerel was strongly flavored, the power of the oily fish cut by the mustard as well as the fennel fondue, which lent an overarching "dill-y" flavor to the entire dish.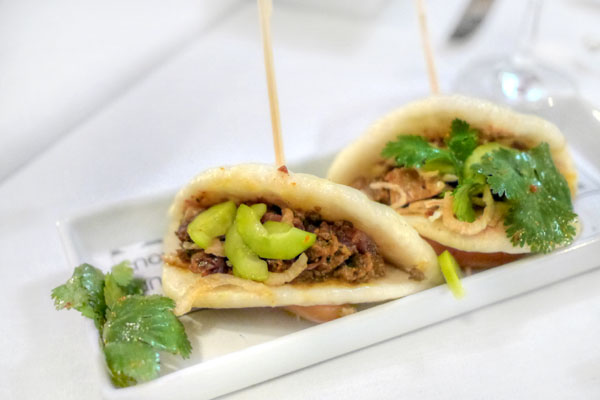 Steamed Buns [$15.00]
| braised lamb / merguez / cumin carrots / mint salad / tamarind yogurt
Steamed buns at restaurants these days are more likely than not going to be of the ubiquitous David Chang variety, so it was great to see this Middle Eastern-inspired take, the lamb working swimmingly alongside the mint and cooling yogurt.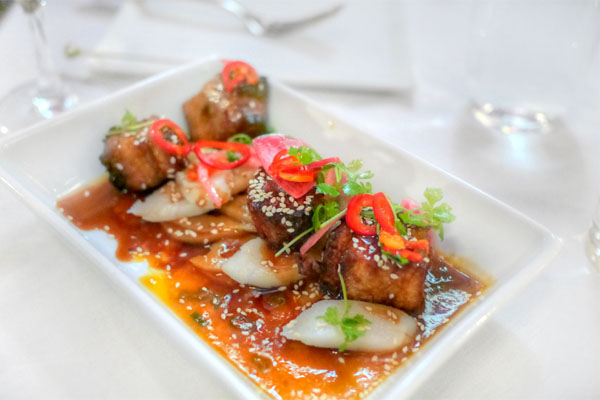 Crispy Pork Belly Cubes [$16.00]
| sticky rice noodles / lotus root / celery
The pork belly was on point, coming out wonderfully crisp, a mix of lean and fat that blended seamlessly with the spicy, Asian-y sauce here, all while the lotus root and celery provided a countering crunch to things. Interestingly, one of my dining companions found this oddly reminiscent of Korean
tteokbokki
thanks to the texture on those rice cakes. A standout for me.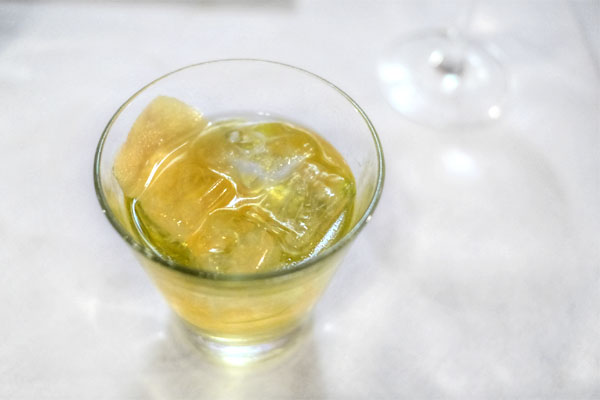 Mezcal Me Maybe [$12.00]
| Mezcal, Pamplemousse, Suze, Fino Sherry
At this point, we tried our first original cocktail of the evening, an apparent ode to Carly Rae Jepsen crafted by Acabar's bar program director Aaron Stepka. It was a thick, viscous drink, a smart presentation of mezcal that balanced the smokiness of the spirit with plenty of citrus and an intriguing bittersweetness from the sherry and Suze.
Chartreuse Swizzle [$12.00]
| Green Chartreuse, Pineapple, Lime, Falernum
Also from recent times was this 2003 creation by noted San Francisco barman Marcovaldo "Marco" Dionysos. It's a modern classic of sorts, with its blast of tropical sweetness and nutmeg space cut by the tartness of pineapple and lime, the Chartreuse providing a pungent base to the drink.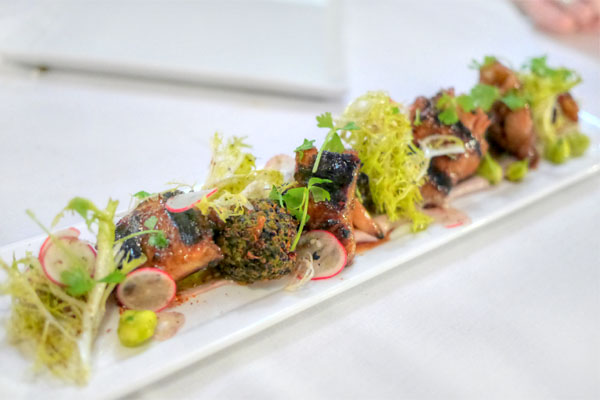 Charred Chicken Wings [$13.00]
| green chick peas / quinoa falafel / charred dates / apples / walnut tahini
Chicken wings were tender and succulent, showing off a nice depth of flavor and char, all while the falafel gave up a fantastic bit of crunch. I also appreciated the veggies here as well, which helped impart just enough levity to things.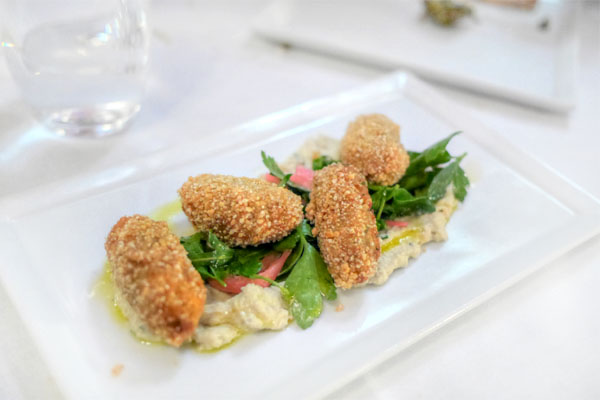 Crispy Kibbeh [$12.00]
| cracked wheat fritters / pine nuts / baba ghanoush
And speaking of crunch, these
kibbeh
had it in spades. The bulghur croquettes conveyed a certain nutty quality to them, and worked in concert with the tangy greens while the smoky baba ghanoush served to integrate the various flavors.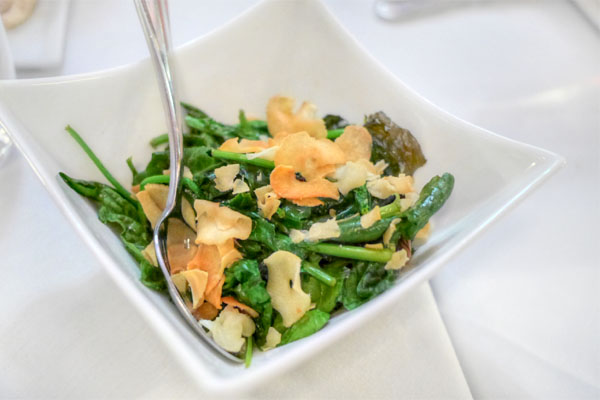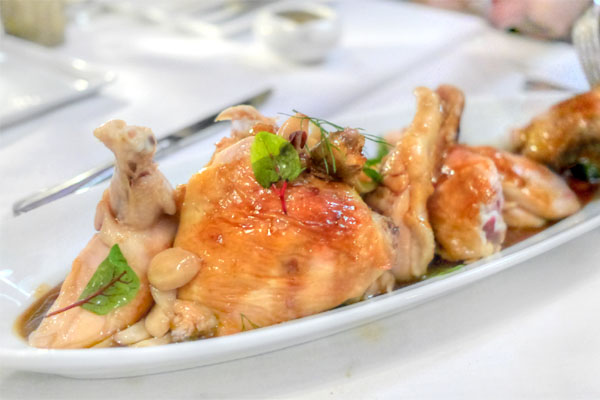 Poulet Rôti [$48.00]
| whole roasted chicken / les épinards / ail doux / jus naturel
Acabar turns out a good roast chicken, a hearty, tender, juicy presentation of the bird that was positively imbued with an herby, garlicky flair. The
poulet
comes with a side of spinach, which veers delightfully garlicky and salty and acerbic, a fitting complement to the chicken.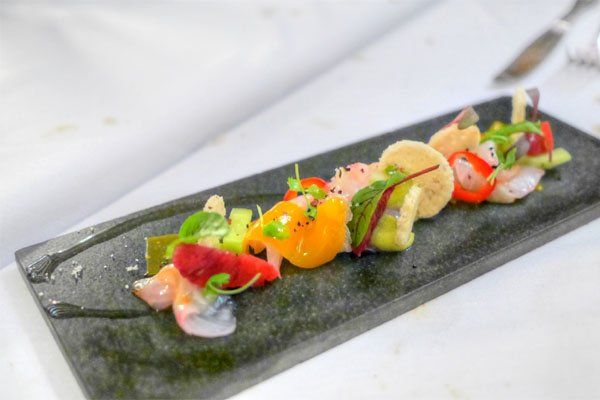 Kanpachi Crudo [$14.00]
| amber jack fish / mango / blood orange / fresno chilli
Amberjack was clean and crisp, though I wish that the fish could've stood out just a bit more against its vibrantly sweet and sour accoutrements.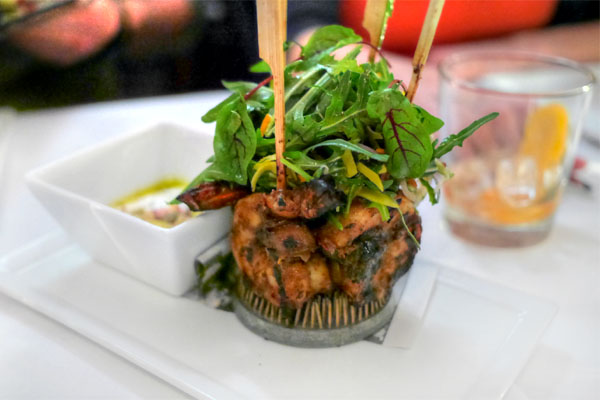 Skewered Spicy Prawns [$14.00]
| harissa / dates / labneh yogurt / pistachio
I read somewhere that owner Roland Emmerich is particularly partial to these prawns. However, they were a touch over for me, and also on the sweet side, though the smoky char and heat from the harissa did help reel things in. Also much appreciated: the cool, creamy labneh and zesty salad up top.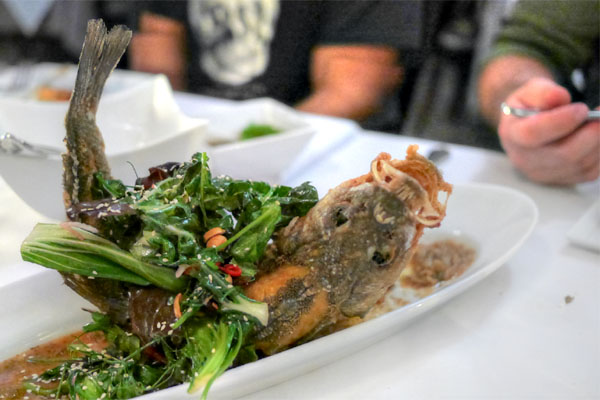 Whole Crispy Sea Bass [$46.00]
| choy sum / tendrils / peanuts / sichuan peppercorn sauce
Finally, the evening's
pièce de résistance
brought us a delightful whole sea bass. The fish itself came meaty and moist, with a satisfyingly crispy skin, and displayed a restrained sort of salinity that worked beautifully against the spice of the Sichuan pepper. I was a big fan of how the brightness of the choy sum and pea tendrils evened out the plate as well, and the nutty crunch of the peanuts was much appreciated, too. Pretty impressive.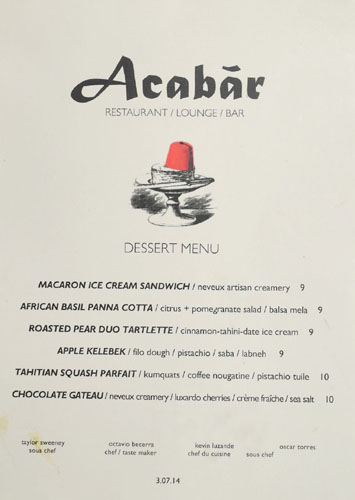 Time for the sweet stuff, and not surprisingly, Acabar's dessert menu takes inspiration from the same place as the savories. Click for a larger version.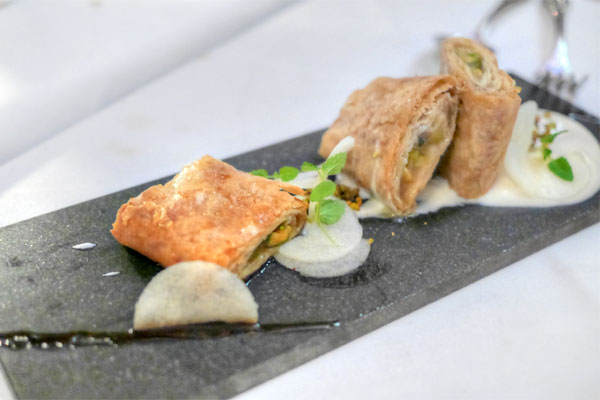 Apple Kelebek [$9.00]
| filo dough / pistachio / saba / labneh
First up was an apple-stuffed phyllo pastry, a wondrously flaky sort of thing that masterfully incorporated the sweetness of apple with the honeyed character of labneh. Quite nice.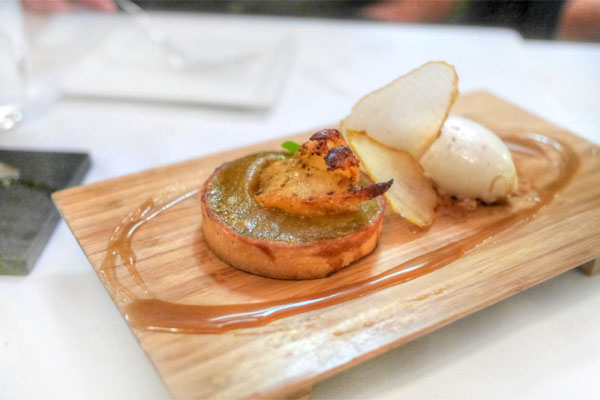 Roasted Pear Duo Tartlette [$9.00]
| cinnamon-tahini-date ice cream
Pear was presented in rustic fashion here, its softly sweet flavors meshing well with its pastry base. The best part, though, was clearly that ice cream, a marvelous amalgamation of sweet, spicy, and nutty flavors that really perked up the tartlette--gimme a whole pint of the stuff please.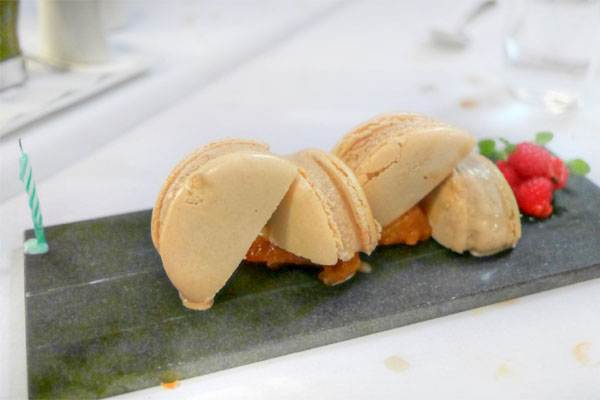 Macaron Ice Cream Sandwich [$9.00]
| neveux artisan creamery
We concluded with an ice cream sandwich featuring Neveux's espresso varietal stacked between layers of fruity, moist macaron.
Despite the sexy environs and even sexier waitstaff, the kitchen largely delivered here under the leadership of Kevin Luzande. The exact style of the cooking is a bit hard to define, but it seemed to somehow flow together, tied together by that common underpinning of French influence. Cocktails were, of course, indubitably worthwhile, and the service was surprisingly affable and efficient as well. Acabar's a welcomed addition to the oft precarious Hollywood dining landscape; there's enough of a "scene" going on, but the cuisine doesn't seem to suffer because of it. Lo and behold, the old Dar Maghreb has finally found food befitting its glamour.