Castagna (Portland, OR)
Castagna Restaurant
1752 SE Hawthorne Blvd, Portland, OR 97214
503.231.7373
www.castagnarestaurant.com
Fri 02/28/2014, 07:00p-11:00p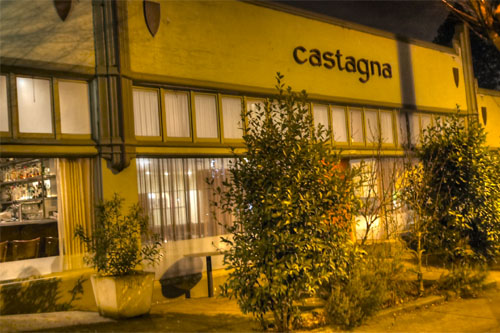 After an invigorating meal at
Pok Pok
the previous evening, we decided upon pretty much its polar opposite tonight: Castagna, the sole bastion of modernist-ish cooking here in Portland. The restaurant was founded back in 1999 (and the attached cafe in 2002) as a rustic Italianate place by Monique Siu, who's known around these parts as the former pastry chef/co-owner of Christopher Israel's groundbreaking Zefiro (where, coincidentally, Andy Ricker worked prior to delving head first into Thai). Her opening chef/partner was Kevin Gibson, who left in 2007 and has since launched both Evoe and Davenport. He was replaced by Elias Cairo, who stayed for a year before leaving to start Olympic Provisions.
The chef who really put Castagna on the map, though, was Matthew Lightner, who took over in late '09. Siu took a gamble on the 28-year-old Mugaritz and Noma alum, and in less than two years, he'd transformed the eatery into the most cutting edge joint in the City with his naturalistic, heavily-foraged plates. People took notice. In 2010, Lightner was deemed a semi-finalist in the annual James Beard awards, cooked a dinner at the Beard house in New York, and also snagged
Food & Wine
's "Best New Chef" prize, while Castagna was named "Restaurant of the Year" by
The Oregonian
. Lightner eventually got the itch to move to NYC, though, and left at the end of 2011 to start Atera, which has since garnered two stars from Michelin. He was replaced by his right hand man, Chef de Cuisine Justin Woodward, who had some pretty big shoes to fill.
About the Chef
: Woodward was born in 1982 in Boston, but grew up in the San Diego region, helping his grandmother in the kitchen and his father in the family garden. He attended Torrey Pines High School, graduating in 2001, and started working at various restaurants in the area. Feeling a need for a more formal education, he enrolled at the Art Institute of California's San Diego campus in 2003 and secured a culinary degree two years later. During his tenure at the AI, Woodward cooked at Blackhorse Grille in Del Mar under Ryan Johnston, a friend of Grant Achatz's who introduced him to the modernist techniques that were being pioneered at
Alinea
at the time. His interest piqued, he started working at L'Auberge Del Mar in 2005 (where
Paul McCabe
made a name for himself), which is where he first met Matt Lightner.
Woodward's next move was to New York's
wd~50
in 2008, where he spent a year in pastry under Alinea vet Alex Stupak; also in his cohort there was Rosio Sanchez, who just happens to be the head pastry chef at Noma now. He would
stage
at Noma the following year, as well as at Mugaritz, Corton, and Eleven Madison Park--an impressive compendium no doubt. He then moved back to California, where he worked briefly under Steven Rojas at El Bizcocho at Rancho Bernardo Inn, but quickly relocated to Portland to cook for Lightner once he was hired at Castagna. The two formed a tight, well-oiled team together, and when Lightner left in 2011, Woodward was able to transition relatively seamlessly (and yes, he was asked to work at Atera, but declined). Like his predecessor, he's been singled out by James Beard, first in 2013 as a "Rising Star Chef" semi-finalist, then just recently in February as a semi-finalist for "Best Chef: Northwest."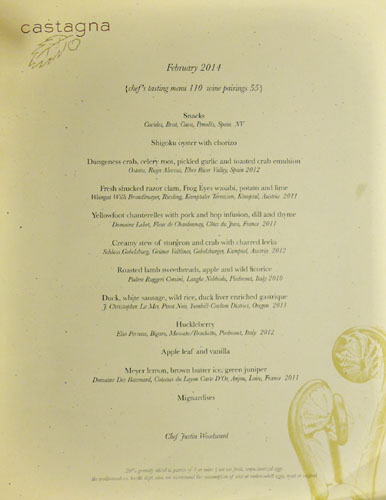 There are a couple ways to dine at Castagna. First is a three-course prix fixe at $65 plus $35 for wine pairing, and then a Chef's Tasting Menu at $110 plus $55 (seen above), both options preceded by a half-dozen or so "snacks." For fans of the sweeter stuff, there's also a previously off-menu three-course dessert flight at $25+$12. If you opt out of the beverage pairings, you'll also find a varied selection of wines (corkage is $20 a bottle) as well as cocktails by Bartender David Cooper. Click for a larger version.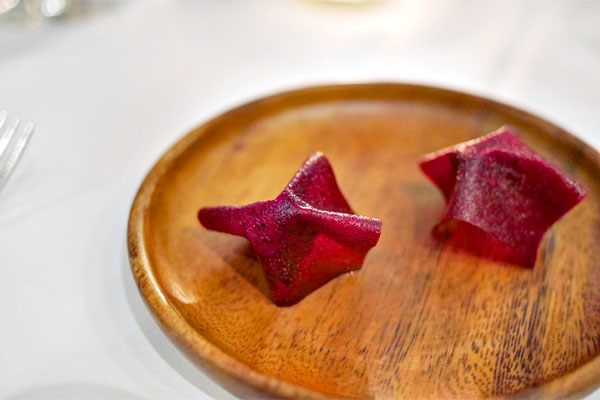 1a: Beet chips, beef tartar, black truffle
Covides, Brut, Cava, Penedés, Spain NV
Our gauntlet of snacks began with these beet chips, draped over black truffle and beef tartare. They were fun little amuses, the sugariness of the root veggie playing off of the savory, slightly tangy meat well.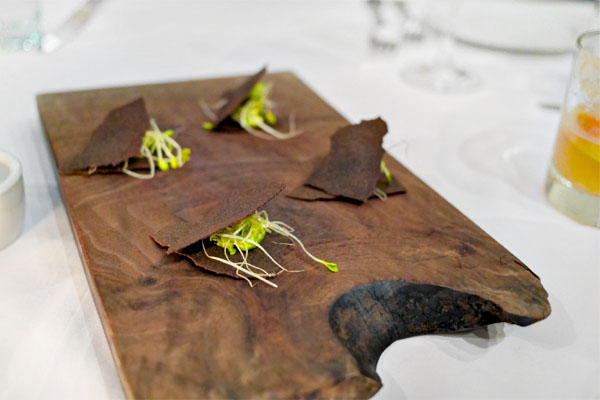 1b: Buckwheat, avocado, jalapeño
Covides, Brut, Cava, Penedés, Spain NV
Even better were these dollops of avocado, jalapeño, and clover sprout, sandwich between shards of buckwheat tuile. Here, I really liked the refreshing brightness of the bites--that astringency of the sprouts in particular--and how that paired with the nutty heft of the crackers. Very good.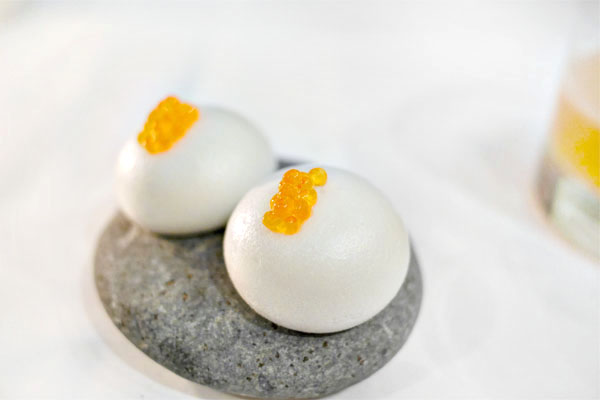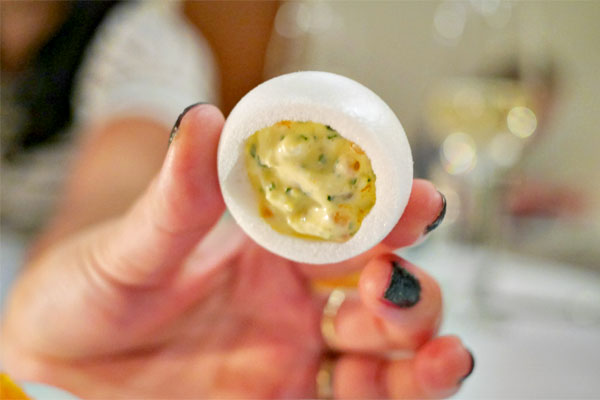 1c: Buttermilk, trout roe, egg
Covides, Brut, Cava, Penedés, Spain NV
Yes, I know, these look like boobs. With that out of the way, I must say that were damn tasty. The buttermilk meringue really melted on the tongue, in the process evening out the lushness of the egg underneath, all while the trout roe contributed a salty accent to the bite.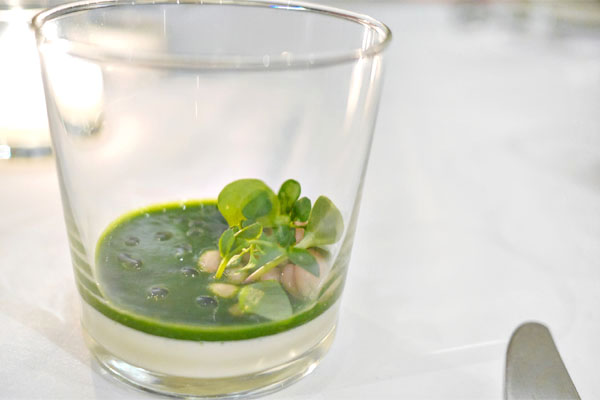 1d: Onion, white bean, winter cress
Covides, Brut, Cava, Penedés, Spain NV
A base of savory cipollini onion custard served as the foundation to this dish, providing an earthy, weighty backdrop against which the piquant flavors of scallion, winter cress, pea shoots, and charcoal drops could really dance. I was a fan of the white bean here as well, which moderated the interaction and provided a bit of textural variation to the mix.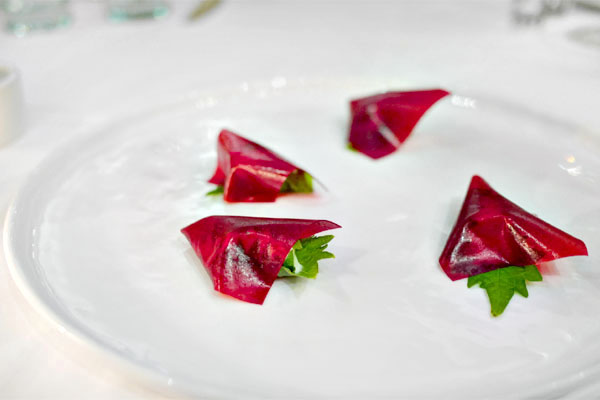 1e: Raspberry, sheep cheese, shiso
Covides, Brut, Cava, Penedés, Spain NV
Here, raspberry leather was swathed atop a combination of sheep's milk cheese and shiso, the tart sweetness of the fruit really working well alongside the contrasting lactic and minty flavors below.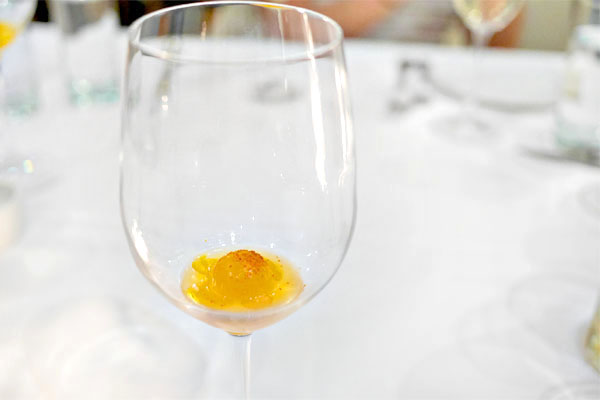 1f: Satsuma, Mandarin, espelette
Covides, Brut, Cava, Penedés, Spain NV
In a wine glass came a Satsuma and Mandarin gelée, which put forth a blast of citrusy sweetness that transitioned to the creeping spice from the
piment d'Espelette
drizzled on top.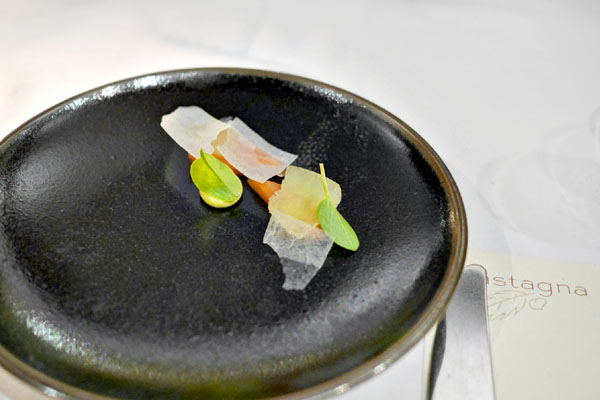 1g: Salmon, daikon, ginger
Covides, Brut, Cava, Penedés, Spain NV
Our final snack brought us smoked salmon, ginger, and daikon. I was impressed here by how the smokiness of the fish was so smartly paired against the daikon and ginger, all while icy bits imparted a great temperature contrast to the dish.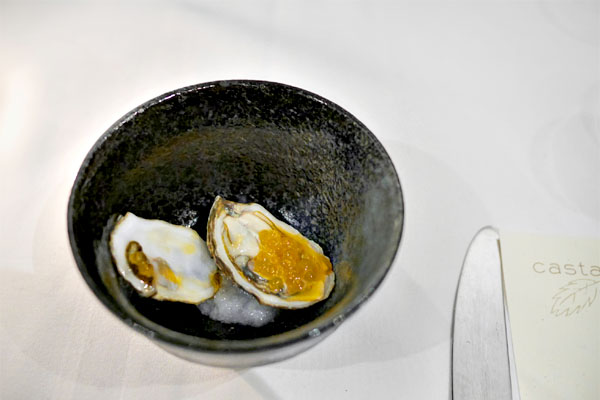 2: Shigoku oyster with chorizo
The first proper course of the evening was a singular Shigoku, one that really conveyed an intense brine, a burst of salty, ocean-y goodness that was moderated only slightly by an overarching touch of chorizo spice.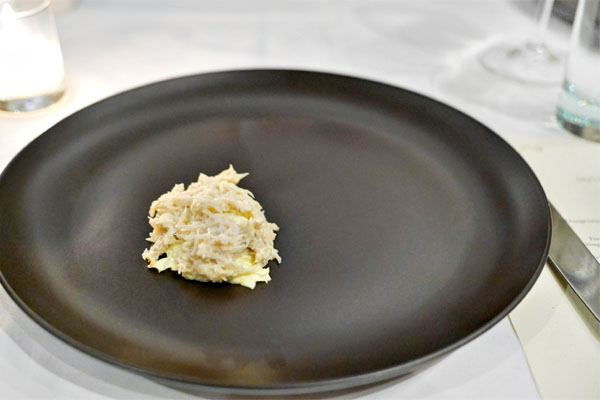 3: Dungeness crab, celery root, pickled garlic and toasted crab emulsion
Ostatu, Rioja Alevesa, Ebro River Valley, Spain 2012
Dungeness was superb, the sweetness of the crustacean on proud display, acute and unmistakable, yet perfectly paired with the herbaceous, slightly sweet-n-sour notes in the course. A real showcase of crab--delicious.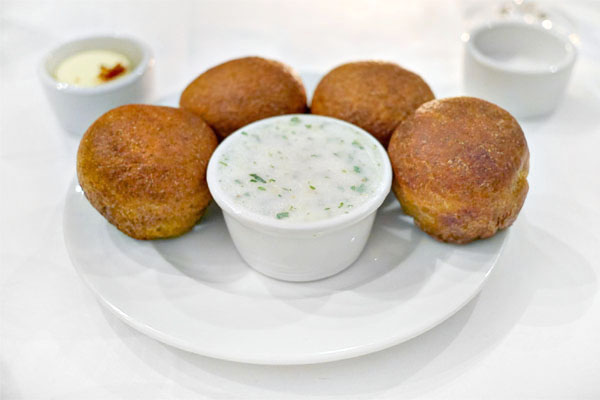 Bread service consisted of lovely rye dinner rolls, accompanied by smoked pork lardo and house-churned butter. I was rather enamored with the bread even by itself, but a smear of butter (regular or porcine) made it all the better.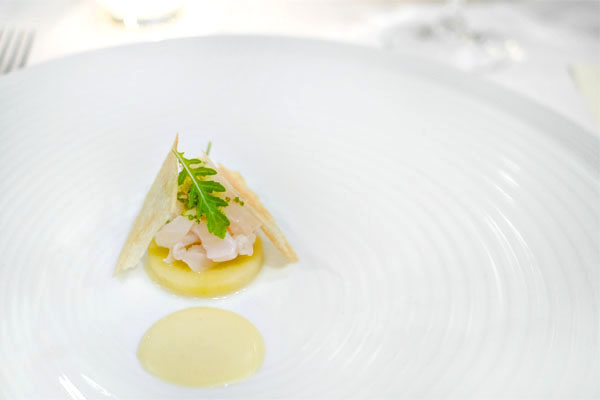 4: Fresh shucked razor clam, Frog Eyes wasabi, potato and lime
Weingut Willi Brundlmayer, Riesling, Kamptaler Terrassem, Kamptal, Austria 2011
I'm a big fan of razor clam, and Woodward did them proud here, balancing their bright, saline flavors--augmented by what I believe was an oyster purée--against the zing of kaffir zest. The potato, meanwhile, was key as well, serving to ground and temper the entire dish.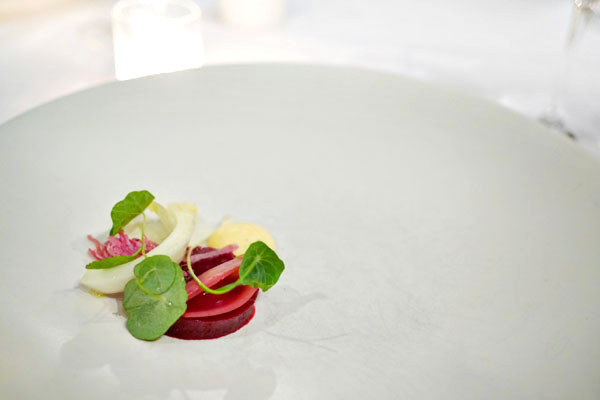 The kitchen sent out a "bonus" course comprising roasted beet, blood orange Béarnaise, cipollini, endive, nasturtium, wild onion, and tarragon powder. It was a smart presentation of the root veggie, its sweetness well matched by the myriad of bitter, astringent flavors at play, the endive imparting a superb crunch to the dish. I think I'm starting to like beet more and more...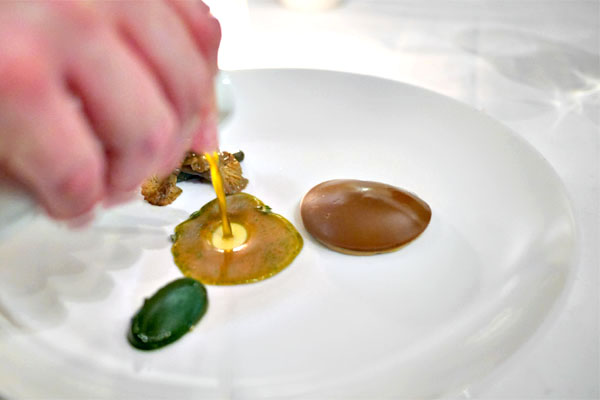 5: Yellowfoot chanterelles with pork and hop infusion, dill and thyme
Domaine Labet, Fleur de Chardonnay, Côtes du Jura, France 2011
Yellowfoots arrived with roast carrot, mushroom and parsley purées, thyme, malt, dill oil, and pork jus, displaying shades of the mushroom's earthiness amplified by the meatiness of the pork infusion, all while the various herbs countered with a bright, bitter tint. Quite a lot going on here, though I would've liked the chanterelle to have been more forward in its presentation.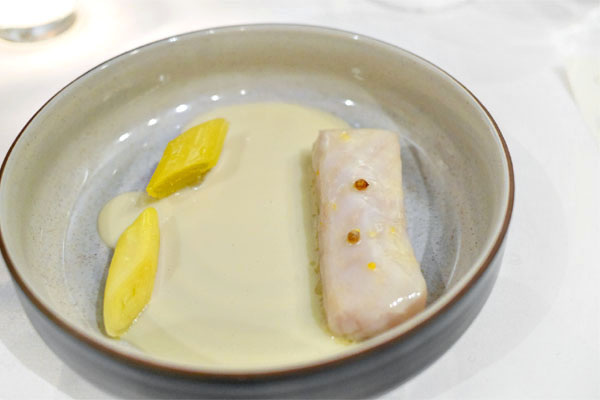 6: Creamy stew of sturgeon and crab with charred leeks
Schloss Gobelsburg, Grüner Veltliner, Gobelsburger, Kamptal, Austria 2012
A favorite was the sturgeon, which came with coriander, kohlrabi, leeks, crab, and Meyer lemon. The fish itself was spot on, giving us a fantastic salinity and savor that melded swimmingly with the crab. At the same time, I loved the leeks as well, which provided the course with a counterbalancing crunch and astringency that really brought everything together.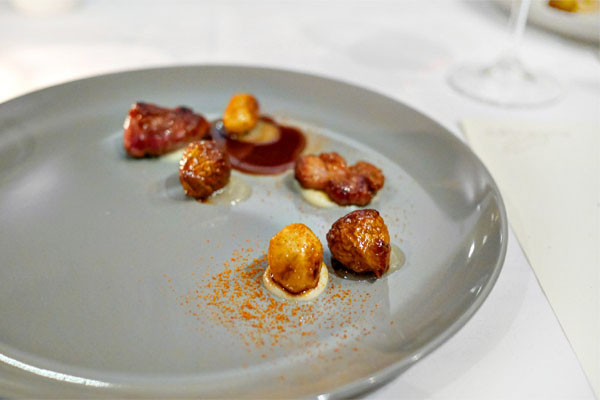 7: Roasted lamb sweetbreads, apple, wild licorice
Podere Ruggeri Corsini, Langhe Nebbiolo, Piedmont, Italy 2010
Sweetbreads were deftly presented, their earthy, offal-y richness vibrantly conveyed, yet enhanced by a touch of brown butter while celery root provided a moderating element. The use of apple and licorice, though, was key, adding a sweet spice to the dish that really set it apart.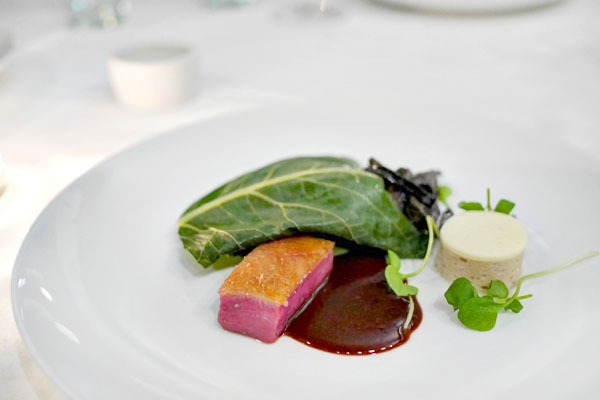 8: Duck, white sausage, wild rice, duck liver enriched gastrique
J. Christopher, La Mer, Pinot Noir, Yamhill-Carlton District, Oregon 2011
Duck comprised our final savory course, and was one of the most "ducky" preparations of the protein I'd had in recent memory, the liver-enriched jus really amplifying the bird's inherent flavors. Fortunately, the large leaf of kohlrabi contributed a much-appreciated bitterness to the course, and I was a big fan of that chicken sausage, too.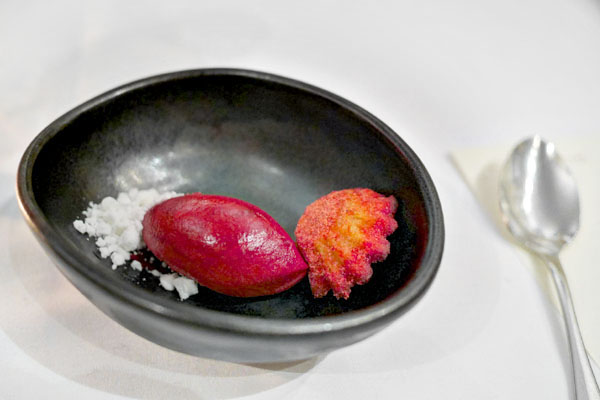 9: Huckleberry
Elio Perrone, Bigaro, Moscato/Brachetto, Piedmont, Italy 2012
The first dessert was a hit at the table, a well-constructed mélange of sweet, tart, and floral nuances in the form of a huckleberry sorbet and frozen buttermilk financier.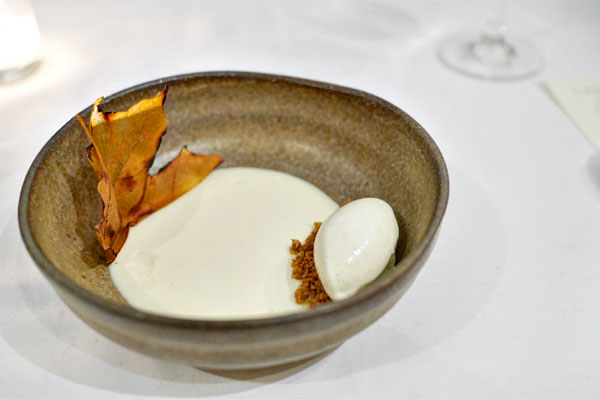 10: Apple leaf and vanilla
Apple was the star of the show in our next dessert, the fruit working flawlessly with the rich, buttery notes in the dish, the pecan streusel adding a great savory crunch to the mix. Yum.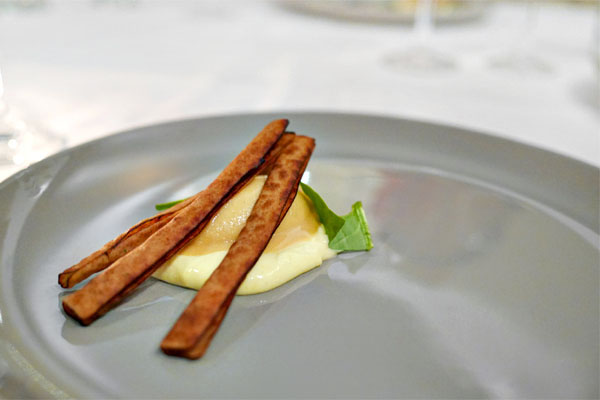 11: Meyer lemon, brown butter ice, green juniper
Domaine Des Baumard, Coteaux du Layon Carte D'Or, Anjou, Loire, France 2011
Here, the tartness of Meyer lemon and sugariness of brown butter worked hand-in-hand together, forming a base on which the green flavors of garden sorrel, pine, and juniper could really sing. Sticks infused with cinnamon, meanwhile, imparted a sweet spice to the dessert, and also provided some textural variation.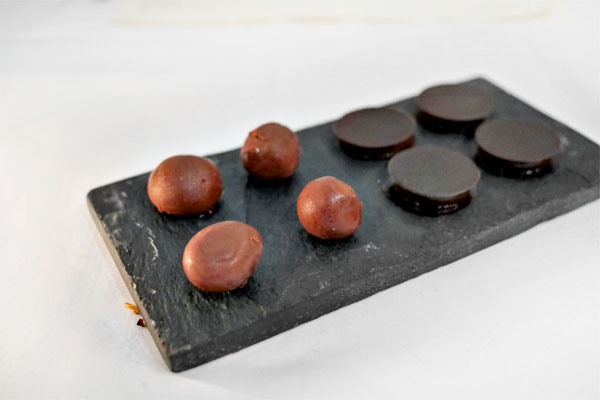 12: Mignardises
Lastly: Crème anglaise bonbons, and coffee-enriched wafers.
Sadly, I never had the opportunity to dine at Castagna while Matt Lightner was at the helm, but Woodward appears to be holding down the fort just fine. His food is oft described as "New Northwest Cuisine," which to me means a manner imbued with a sort of modern sensibility, but one with a naturalistic bent highlighting a sense of place unique to the region. The food may look precious, but the flavors are smartly-crafted and worth experiencing, yet somehow grounded. It's a style that speaks to me, and you'd be remiss if you visited Portland and didn't at least consider this place.