Rivera (Los Angeles, CA) [4]
Rivera Restaurant
1050 S Flower St, Los Angeles, CA 90015
213.749.1460
www.riverarestaurant.com
Sat 09/03/2011, 07:20p-11:55p
Rivera
has firmly established itself as one of the top eateries in Downtown, if not Los Angeles in general. But before John Sedlar was doling out his signature pan-Latin victuals on the bottom floor of the Met Lofts, he was chef and owner at Saint Estèphe in Manhattan Beach. Partnering with Sommelier Steve Garcia, Sedlar opened Saint Estèphe in 1981 as a French restaurant. However, it quickly evolved into the birthplace of Modern Southwest Cuisine, in which Sedlar merged the tastes and techniques of the Southwestern kitchen with his background in nouvelle French cuisine. This new style of cooking earned Sedlar considerable acclaim, and eventually spread across the country, and around the world--think of it as fusion before people knew about fusion (and before fusion became passé). Having been following the LA dining scene for several years now, I've often wondered what the world of haute cuisine was like in the 1980's. Thus, when I was invited to attend a special tasting of original Saint Estèphe dishes, I jumped on the opportunity.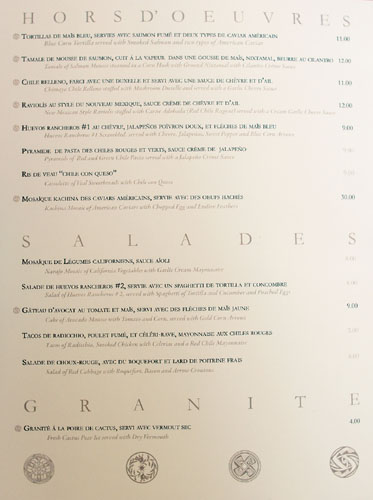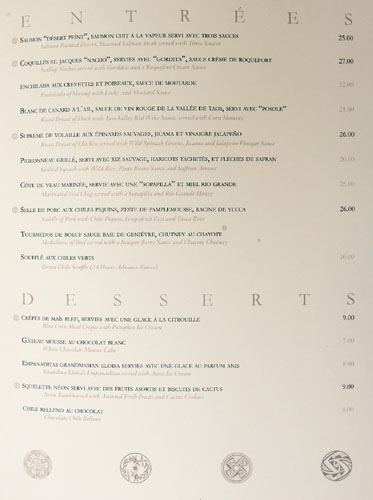 This throwback to Saint Estèphe runs throughout the month of September, and features many of the same dishes that Sedlar served at the restaurant in the 80's. In fact, the menu is virtually an exact copy of an original, and I like how everything's in French (translated by Linda Fredricks), replete with long, drawn out descriptions of the items. A specially curated French
wine list
by Sommelier Benjamin Broidy is also on offer to pair with the eats. However, if you're not in a particularly retro mood, rest assured that food from Rivera's standard menu will also be available during this event. Click for larger versions.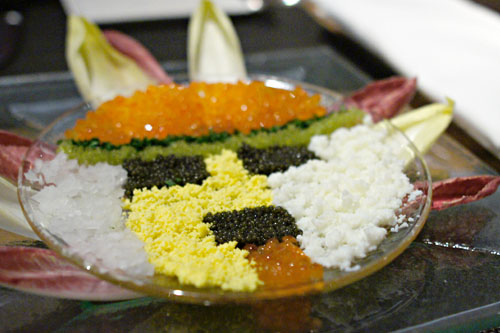 1: Mosaïque Kachina des Caviars Américains, servie avec des Oeufs Hachés [$30.00]
| Kachina Mosaic of American Caviars with Chopped Egg and Endive Feathers
Gruet, Blanc de Blanc, New Mexico 2007
Our first course certainly made a visual impact: a
kachina
(a mystical being in Pueblo religious tradition) mask comprised of salmon roe, paddlefish roe, wasabi caviar, egg yolk, egg white, parsley, onion, and Belgian endive "feathers," with lime, crème fraiche, and toast points on the side. Where to begin? I started with the paddlefish caviar, and appreciated its sharp yet refined salinity. The
ikura
was similarly commendable, as was the stinging heat imparted by the green-tinted roe. I enjoyed how the egg--in both forms--managed to temper the brine of the caviar, but my favorite element here was the chicory, which had a refreshingly crisp bite and slight astringency that paired wonderfully with the various roes.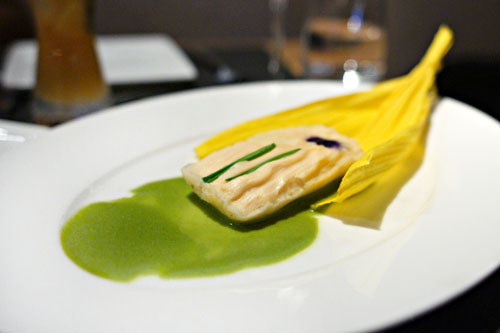 2: Tamale de Mousse de Saumon, cuit á la vapeur dans une Gousse de Maïs, Nixtamal, Beurre au Cilantro [$12.00]
| Tamale of Salmon Mousse steamed in a Corn Husk with Ground Nixtamal with Cilantro Crème Sauce
Chateau Loudenne, Blanc, Haut-Médoc, Bordeaux, France 2007
Sedlar's tamale of salmon (puréed and blended with butter) may have been the best version of the dish I've had. The fish was unbelievably silky, velvety, with a lush savor that was deftly moderated by the corn, as well as the zesty tang of the cilantro sauce. Yum.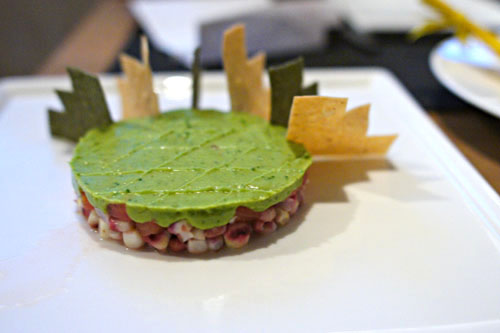 3: Gâteau d'Avocat au Tomate et Maïs, servi avec des Flèches de Maïs Jaune [$9.00]
| Cake of Avocado Mousse with Tomato and Corn, served with Gold Corn Arrows
Chateau Loudenne, Blanc, Haut-Médoc, Bordeaux, France 2007
Upon first glance, I thought this was some sort of tuna tartar, but the reality was far from it, with the crimson being the result of red corn and tomato, not fish. The combo did, however, make for a marked sweetness at first, one that transitioned into a delightful creeping spice. At the same time, the creamy weight of the avocado lent body and depth to things, helping to tie everything together, while the tortilla "arrows" provided some crunch to the dish.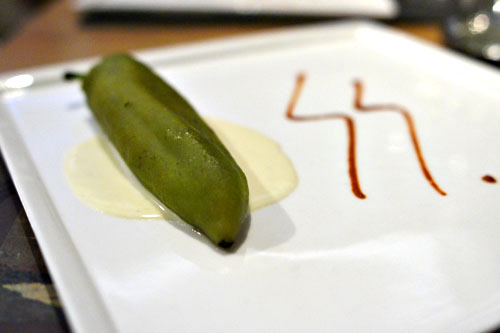 4: Chile Relleno, farci avec une Duxelle et servi avec une Sauce de Chèvre et d'Ail [$11.00]
| Chimayo Chile Relleno stuffed with Mushroom Duxelle and served with a Garlic Chevre Sauce
Chateau Loudenne, Blanc, Haut-Médoc, Bordeaux, France 2007
The chile relleno, also, was one of the best preparations that I've experienced. It arrived stuffed with an ancho-mushroom
duxelles
and garnished by a goat cheese cream sauce and New Mexico chile "lighting." I really liked the crispness and tanginess of the pepper, and how it played off the earthy relish of its mushroom stuffing. The chèvre, meanwhile, added nice integrating heft to the dish. One of Saint Estèphe's signature dishes, and with good reason.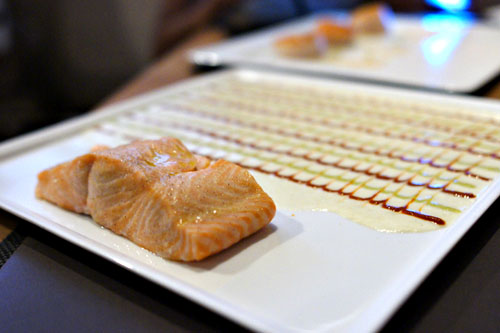 5: Saumon "Désert Peint", Saumon cuit á la vapeur servi avec Trois Sauces [$25.00]
| Salmon Painted Desert, Steamed Salmon Steak served with Three Sauces
Domaine Lafage, El Maset, Cotes du Roussillon, Roussillon, France 2005
A steamed salmon steak sat simply separate a striated sea of shallot cream, red chile, and green sorrel sauces, reminiscent of the nouvelle cuisine mainstay
saumon à l'unilatéral
. The fish itself was delicate, tender, yet surprisingly flavorful, with a lovely salinity that paired well with the trio of dressings. Quite nice.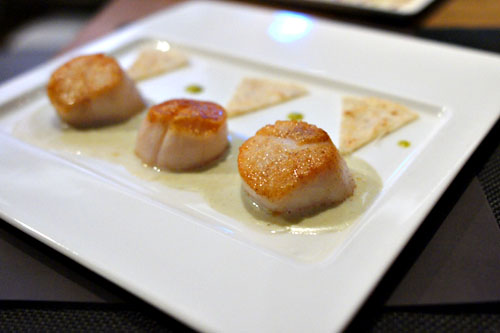 6: Coquilles St. Jacques "Nacho", servies avec "Gordita", Sauce Créme de Roquefort [$27.00]
| Scallop Nachos served with Gorditas and a Roquefort Cream Sauce
Domaine Lafage, El Maset, Cotes du Roussillon, Roussillon, France 2005
Scallops arrived well-cooked to a medium temperature, showing off a pleasantly meaty consistency that I appreciated. However, they seemed overly salted, making it somewhat difficult for me to really enjoy the natural sweetness of the bivalve. Fortunately, the combination of the tangy cheese sauce and tortilla helped balance things out somewhat, as did a subtle whisper of spice on the palate.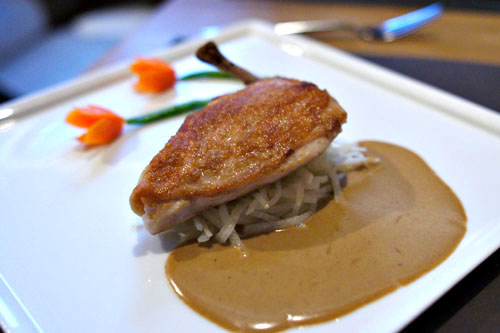 7: Supréme de Volaille aux Épinards Sauvages, Jicama et Vinaigre Jalapeño [$26.00]
| Roast Breast of Chicken served with Wild Spinach Greens, Jicama and Jalapeño Vinegar Sauce
Chateau Haut Beauséjour, St-Estéphe, Bordeaux, France 2007
Chicken, meanwhile, was quite nice: tender, succulent, with a particularly in-your-face savoriness and delightful layer of skin. The paired jalapeño-vinegar dressing amped up the flavor of the bird even more so, while the greens and jicama served to lighten the course.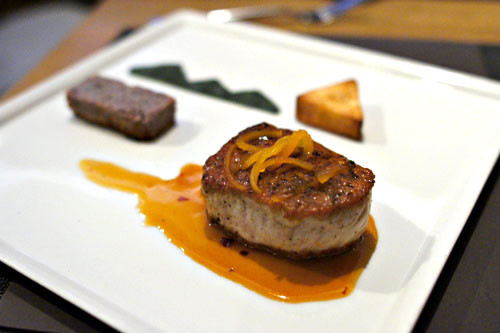 8: Selle de Porc aux Chiles Piquins, Zeste de Pamplemousse, Racine de Yucca [$26.00]
| Saddle of Pork with Chile Piquin, Grapefruit Zest and Yucca Root
Chateau Haut Beauséjour, St-Estéphe, Bordeaux, France 2007
This dish was originally made with veal, but pork was used here instead. It wasn't a bad substitution, as the tenderloin itself was juicy, tender, flavorful, and quite delicious. The grapefruit sauce provided a countervailing piquancy, but was a bit too dominant at times, hiding some of the meat's inherent character. At the same time though, I liked how the blue corn helped to subdue things, and I absolutely adored the tempering effect of the yucca.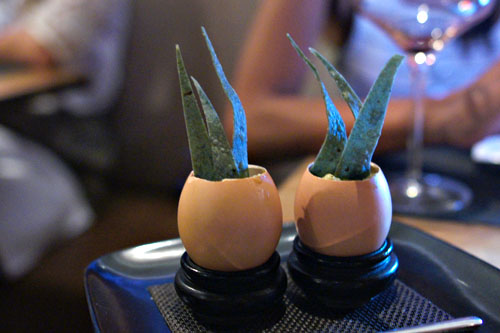 9: Huevos Rancheros #1 au Chèvre, Jalapeños Poívron Doux, et Flèches de Maïs Bleu [$9.00]
| Huevos Rancheros #1 Scrarmbled, served with Chevre, Jalapeños, Sweet Pepper and Blue Corn Arrows
Chateau du Donjon, Grande Tradition, Minervois, France 2009
Looking like a Southwestern spin on Alain Passard's famed Arpege egg mayhaps, next up was Sedlar's reimagined, refined riff on the classic breakfast dish
huevos rancheros
. The combination of scrambled egg with goat cheese and peppers was just about perfect, a keen amalgam of spicy, sweet, and savory flavors that was spot on. The corn chips, meanwhile, helped to provide some textural variation to the dish.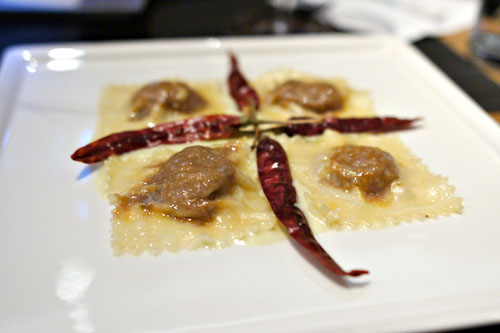 10: Raviolís au Style du Nouveau Mexique, Sauce Crème de Chèvre et d'Ail [$12.00]
| New Mexican Style Raviolis stuffed with Carne Adobada (Red Chile Ragout) served with a Cream Garlic Chevre Sauce
Chateau du Donjon, Grande Tradition, Minervois, France 2009
Ravioli is almost always a safe bet, and today was no exception. The
carne adobada
was delicious, with a wonderfully meaty savor highlighted by a touch of creeping spice. It went swimmingly with the weight of the garlic-cheese sauce (there goes that
chèvre
again--it was sort of the ingredient
du jour
back then), with the pasta dough itself serving as a counterweight to the power of the dish.
11: Crêpes de Maïs Bleu, servies avec une Glace á la Citrouille [$9.00]
| Blue Corn Meal Crepes with Pumpkin Ice Cream
Chateau du Donjon, Grande Tradition, Minervois, France 2009
Despite the title of the course, I believe the ice cream here was actually made from canella, not pumpkin. It was perhaps a fortuitous substitution, as the ice cream was superb, with a wonderful sweet spice that worked beautifully against the comparative austerity of the blue corn. It tasted like breakfast!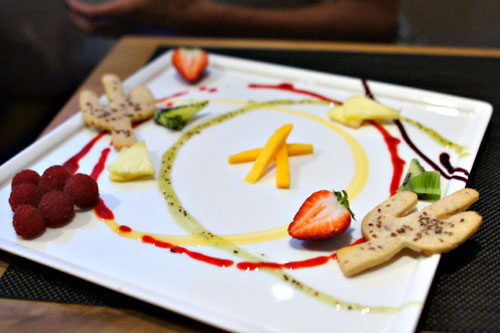 12: Squelette Néon servi avec des Fruits Asortis et Biscuits de Cactus [$9.00]
| Neon Tumbleweed with Assorted Fresh Fruits and Cactus Cookies
Chateau du Donjon, Grande Tradition, Minervois, France 2009
One of my fellow diners described this final dessert as "Jackson Pollock meets Marcel Duchamp," and indeed Pollock was Sedlar's muse in this riff on the nouvelle cuisine contrivance "dialogue of fruits," basically a mishmash of various fruit purées on a plate. Kiwi, raspberry, papaya, and blackberry formed the tangy, punchy base of the dessert, one punctuated by the earthy, floral spice of the anise-laced
bizcochito
cookies.
This was one of the funner meals that I've had in a while. Eating the food, I could definitely picture myself rocking a Members Only jacket, ripped acid-washed jeans, and big hair. The tastes, techniques, and plating all gave off a decidedly retro,
nouvelle
flair that I found quite endearing. It wasn't all about nostalgia though; the flavors were definitely there as well, and in a way, you might even say that Sedlar was ahead of his time at Saint Estèphe. Definitely worth a visit, if nothing else but for historical value.