Joule (Seattle, WA)
Joule Restaurant
3506 Stone Way N, Seattle, WA 98103
206.632.5685
www.joulerestaurant.com
Sun 03/02/2014, 08:00p-10:20p
After a brief tour of
Portland
during the preceding days, I made my way up to Seattle for a quick visit, first stop: Joule. The restaurant is the brainchild of the wife-and-husband team of Rachel Yang and Seif Chirchi, and serves up the duo's unique style of French-Korean cuisine. It was a curious proposition for me, coming from the Korean food capital of the country.
About the Chefs
: The driving force behind Joule is Rachel Yang, a Seoul native who came to the US at age 15 as a parachute kid, settling in New York. She ended up studying urban studies and visual arts at Brown, graduating in 2000, and initially planned to pursue a career in urban planning. However, things went in a completely different direction when she enrolled at the Institute of Culinary Education in NYC. Following a year-long course of study there, Yang started cooking at Daniel Boulud's DB Bistro Moderne, then moved to Alain Ducasse at the Essex House (where she met Chirchi), and later to
Per Se
in 2004. In 2005, she became Executive Chef of Lannie Ahn's short-lived modern Korean eatery D'or Ahn, where she was reintroduced to the cooking of her homeland, an experience that would ultimately lead to Joule.
Seif Chirchi, for his part, was born to a Tunisian father and grew up in Chicago. He attended the University of Illinois at Urbana–Champaign, and during his tenure there, got his first taste of the restaurant biz while working as a server-slash-bartender. However, he was asked to help out in the kitchen one night, and immediately fell in love with cooking. After this, Chirchi went on to work at a few places in the area, then enrolled at the Western Culinary Institute in Portland for his formal education. While in school, he worked on the line at local eatery Jake's Grill, and after graduating in 2001, dabbled in catering for a bit before moving to New York and spending two years at Alain Ducasse. After meeting his future wife there, Chirchi went on to cook at Asiate at the Mandarin Oriental.
The two eventually got engaged in NYC, and were itching to move out to Seattle (one motivating factor: Chirchi's parents were in Portland). In 2006, they were given an opportunity to do just that when Portland-based chef Tom Hurley hired them to open Coupage after meeting Chirchi at a James Beard event. It was the couple's first attempt at doing a Kor-French menu, and the place opened late that year to considerable acclaim. However, they eventually had a falling out with the boss, and left in 2007, taking much of the staff with them. Coupage ended up folding the following year. Yang and Chirchi now had the confidence to open their own place, and did just that in November 2007 with the debut of Joule in the Wallingford neighborhood of Seattle.
The restaurant was a hit from the get go, scoring a three-star review from the
Seattle Times
and being named one of
Seattle Metropolitan
's "Best New Restaurants" in 2008. 2008 also saw the duo garner a "Rising Star Chef" semi-finalist nod from James Beard, a feat that was repeated by Yang in 2009. 2010, meanwhile, began with her being nominated by Beard for "Best Chef: Northwest," and the couple even made an appearance on
Top Chef America
, losing by one point to Jose Garces in "Battle Hawaiian Moi." Given the success of Joule, Yang and Chirchi went on to launch Revel, a Korean street food joint, and its associated bar, Quoin, in December 2010. This new restaurant, too, managed to become a success, really cementing the couple's position in Seattle. The following year, they were once again semi-finalists for James Beard's "Best Chef: Northwest" award, and made the same list in 2012 as well.
In October that year, the two relocated Joule to the new Fremont Collective complex, right next door to Renee Erickson's The Whale Wins. With the location change came a reinvigorated menu, a more focused one that further tightened the Korean influences in the food. The updated cooking was apparently a hit with James Beard, as the organization bestowed semi-finalist status on the two yet another time. This was followed by Joule's placement on
Bon Appetit
's "Best New Restaurants in America" list in 2013, and a spot on
Seattle Magazine
's collection of "Best New Restaurants" as well. Finally, we come to 2014, and, you guessed it, in true Susan Lucci fashion: James Beard semi-finalists for what must be the seventh time.

Joule's interior space was penned by the Seattle-based
Heliotrope Architects
, and is quite a bit larger than the original, coming in at 60 seats instead of 40. It's also much hipper with its clean cut lines, marble-topped bar and kitchen counter, neat wallpaper, concrete flooring, and requisite combination of open kitchen and communal table.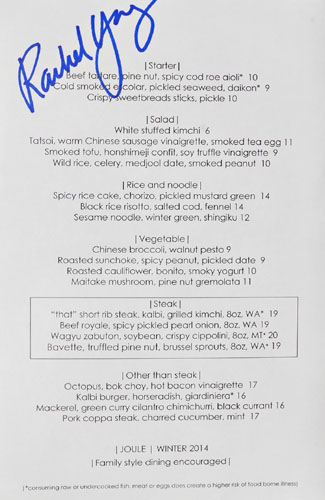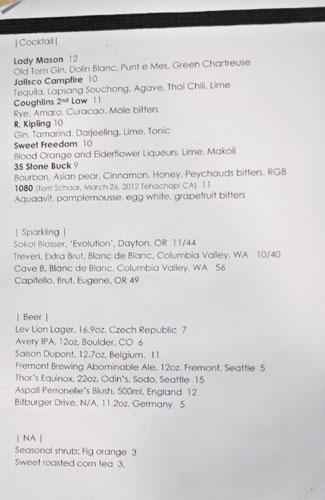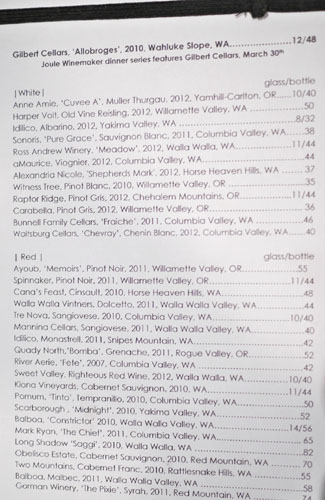 Joule's menu reads well, and is divided neatly into logical sections, ones you tend to work your way down while deciding which ones to share (yes, this is definitely a sharing-is-caring sort of place). To imbibe, you'll find an only-Washington-and-Oregon wine list, some pretty-interesting-sounding cocktails, and a smattering of decidedly non-Hite beer. Click for larger versions.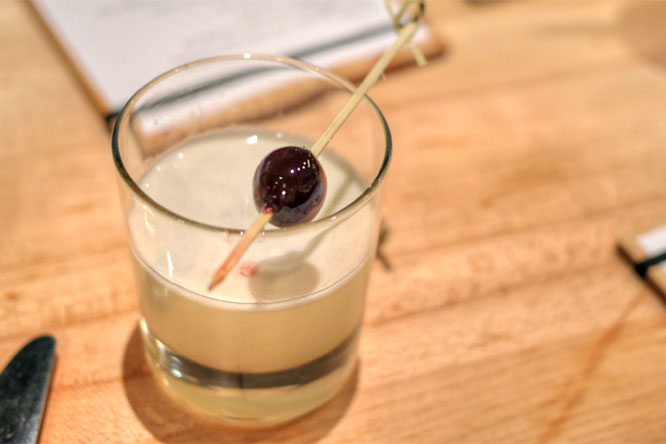 1080 (Tom Schaar, March 26, 2012 Tehachapi CA) [$11.00]
| Aquaavit, pamplemousse, egg white, grapefruit bitters
We opted for cocktails this evening, the first of which featured the Scandinavian favorite akvavit. I was a big fan of the drink, its sweet spice on the attack, overarching essence of citrus, and hints of anise on the back end all coming together flawlessly.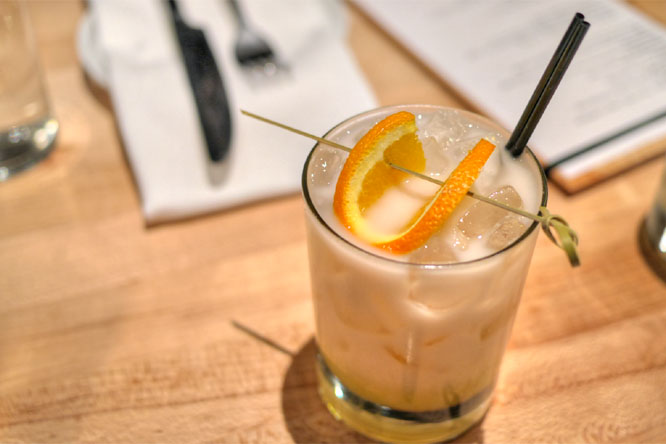 Sweet Freedom [$10.00]
| Blood Orange and Elderflower Liqueurs, Lime, Makoli
The next cocktail also featured a rather unconventional base:
makgeolli
, a sort of Korean rice wine. It actually worked out pretty well, the sweet 'n' sour notes in the drink pairing smoothly with the ricey undertones here.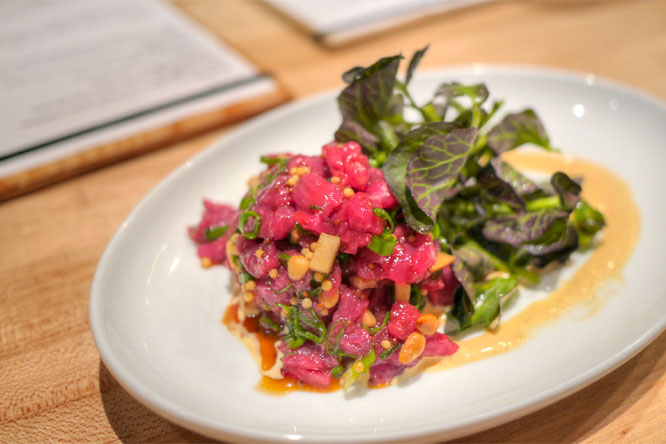 Beef tartare, pine nut, spicy cod roe aioli [$10.00]
Our first course was Joule's take on the Korean dish
yukhoe
, basically a steak tartar. It was a laudable rendition of the classic, with a palpable beefiness to it that was augmented by the strong umami notes present, all while the aioli helped tie everything together. I also appreciated the sweetness imparted by the fruit here, as well as the points of crunchiness provided by the pine nuts.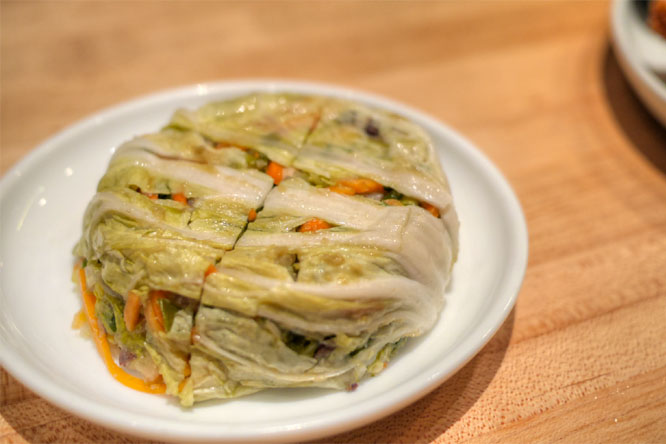 White stuffed kimchi [$6.00]
Naturally, we had to try the
baek kimchi
, a white version of the staple that wasn't spicy at all. Instead, it was delightfully crunchy, and displayed a tart, acidic relish and lingering tang, a suitable counterpoint to the other heady flavors at play in the meal.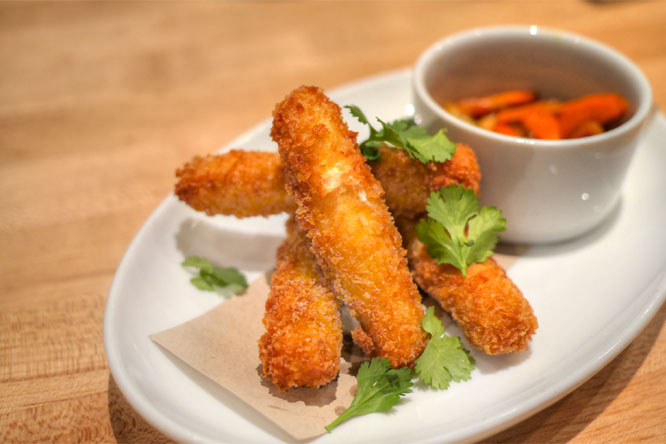 Crispy sweetbreads sticks, pickle [$10.00]
Up next was the most innocuous way that I'd ever seen to introduce someone to sweetbreads. They really were like fish sticks in a way, but with an earthier, more complex savor and a slightly creamier consistency--really tasty in a straightforward sort of manner, and great with the included pickles.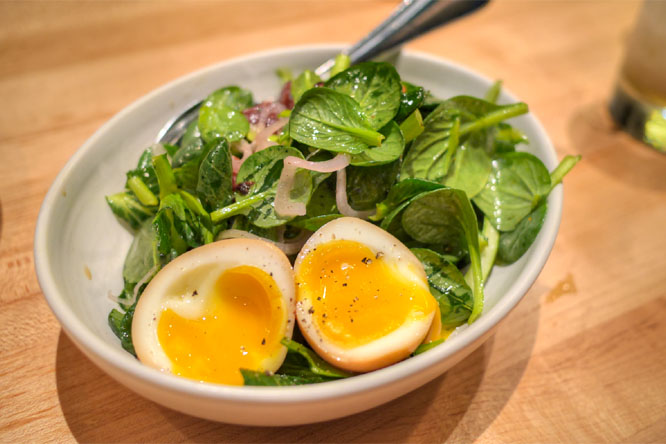 Tatsoi, warm Chinese sausage vinaigrette, smoked tea egg [$11.00]
A salad of tatsoi was soft and silky on the palate, the bitterness of the vegetable complemented by the savory weight of Chinese sausage, all while the lushness of the egg helped bring it all together.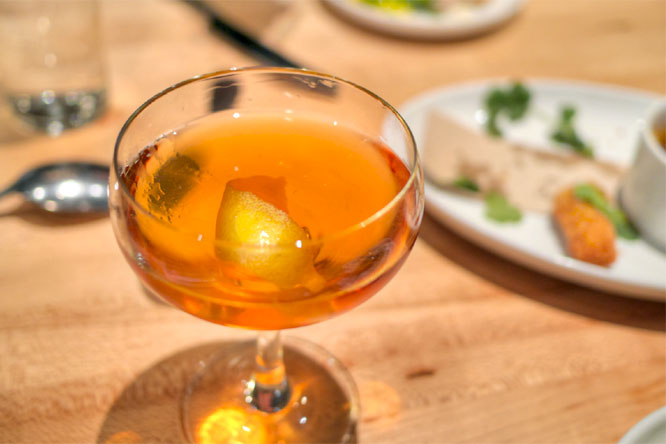 Lady Mason [$12.00]
| Old Tom Gin, Dolin Blanc, Punt e Mes, Green Chartreuse
Time for more cocktails. This one was easily the stiffest of the night, with its classically bittersweet, boozy character brightened by just the right amount of citrus.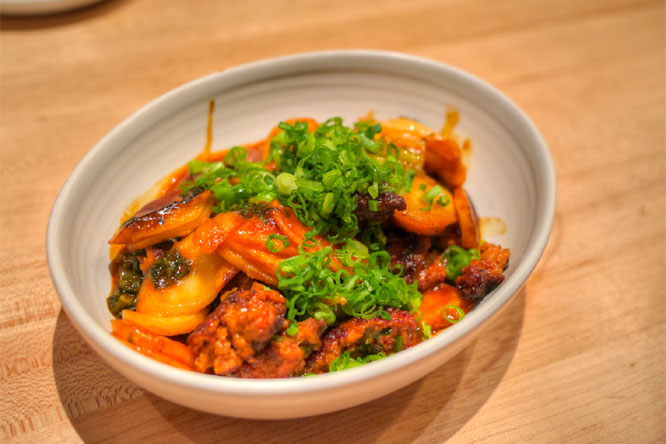 Spicy rice cake, chorizo, pickled mustard green [$14.00]
My favorite course was the
tteokbokki
, which managed to be the best version of the dish I've had. I loved how the soft, pliant consistency of the rice cake was contrasted by their crispy crusts, and the heat imparted by the chorizo was spot on, not overwhelming, but just enough. Finishing things off was the mustard, which provided a hit of astringency that kept the course from going too heavy.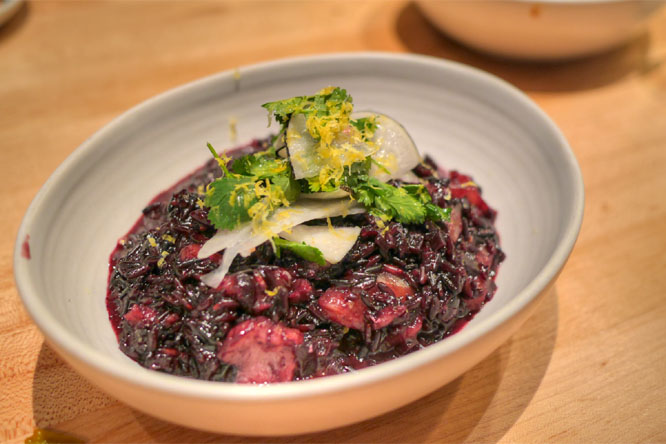 Black rice risotto, salted cod, fennel [$14.00]
I'm a sucker for risotto, and Joule's was a winner with its hearty pieces of cod and overarching brine that really permeated the rice. The fennel, meanwhile, gave up a counterbalancing crunch and piquancy, and I was much appreciative of the cilantro as well. Yum.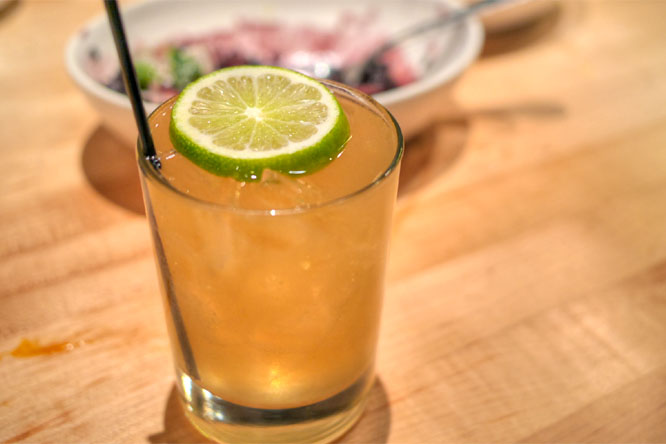 R. Kipling [$10.00]
| Gin, Tamarind, Darjeeling, Lime, Tonic
Joule's Rudyard Kipling-monikered cocktail was enjoyable as well, bringing forth the floral qualities of the tea in concert with the sweet spice of tamarind, the gin and lime serving as the balancing force in the drink.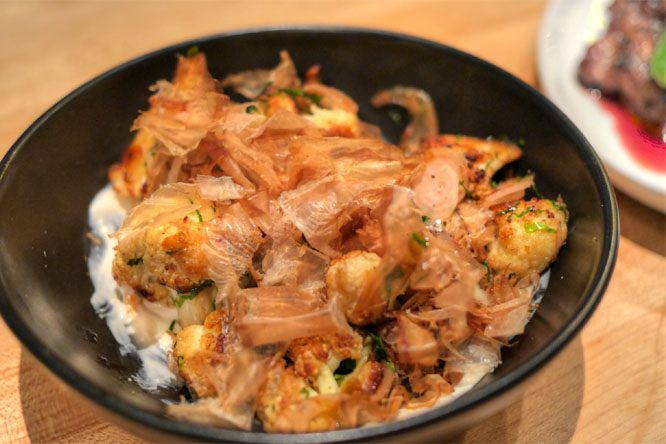 Roasted cauliflower, bonito, smoky yogurt [$10.00]
Cauliflower was next, the mild taste of the vegetable augmented by the umami-laden flavors of
katsuobushi
while the yogurt imparted a creamy, yet smoky slant to the dish. I would've liked the cauliflower a bit crisper, though.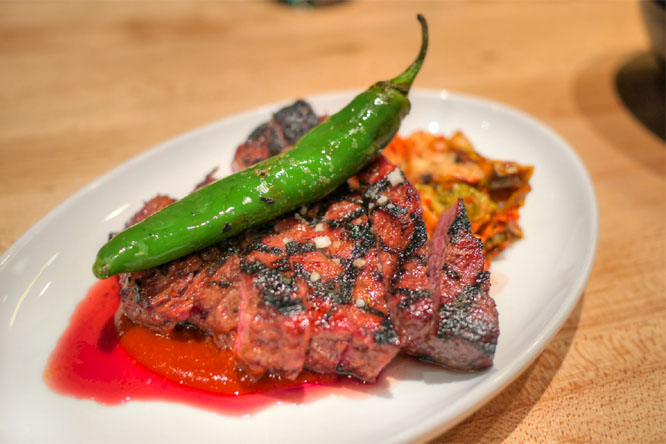 "that" short rib steak, kalbi, grilled kimchi, 8oz, WA [$19.00]
We had to give Joule's take on
galbi
a go, naturally. It really did recall the traditional dish, with the meat's rich, bovine flavors enhanced with just the right amount of sweetness and a great bit of char, the
gochuchang
and kimchi imparting a lovely tinge of spice to the dish.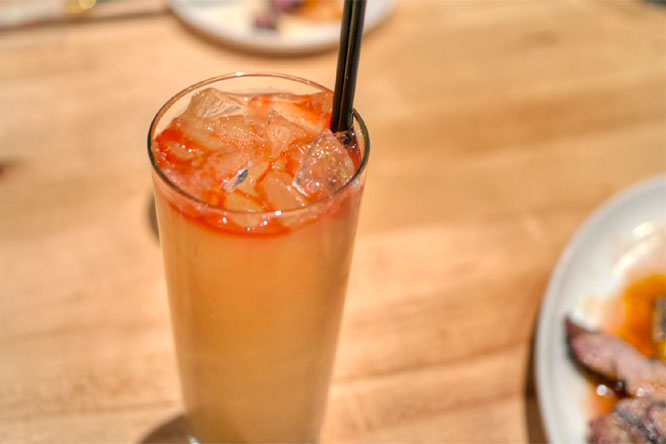 35 Stone Buck [$9.00]
| Bourbon, Asian pear, Cinnamon, Honey, Peychauds bitters, RGB
Rachel's Ginger Beer provided a refreshingly gingery base to this drink that did a great job setting the stage for the bittersweet and spicy flavors present. Pretty refreshing.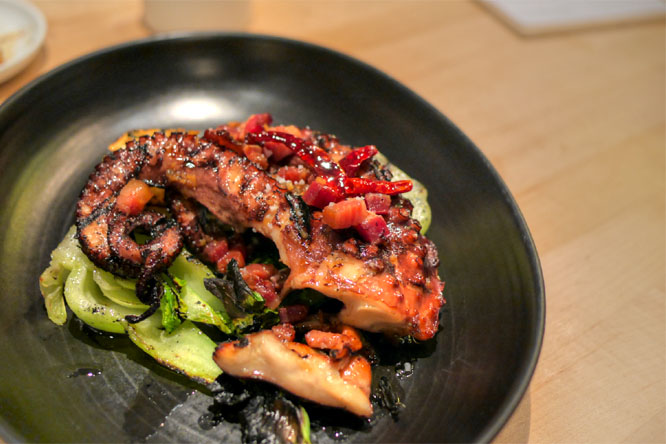 Octopus, bok choy, hot bacon vinaigrette [$17.00]
A surprisingly large serving of octopus came out tender and smoky, with a nice amount of char, its comparatively mild flavors underpinned by spicy, bacon-y notes while the bok choy gave up a moderating crispness and lightness.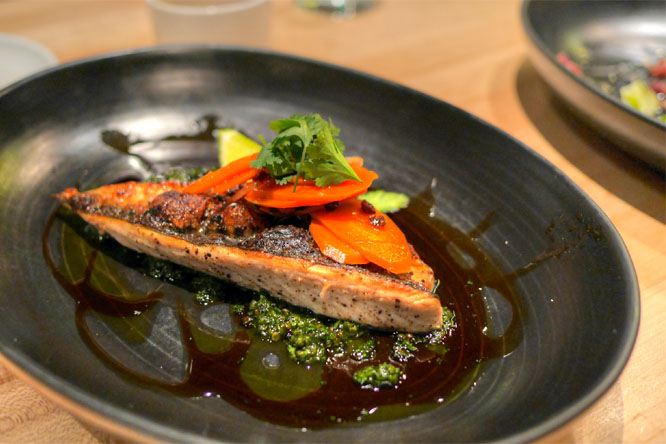 Mackerel, green curry cilantro chimichurri, black currant [$16.00]
Rounding out the savories was the mackerel, a briny, succulent, oily presentation of the fish tempered in potency by the incorporation of chimichurri. Pickles were much appreciated here too, providing crunch and burst of acidity to things.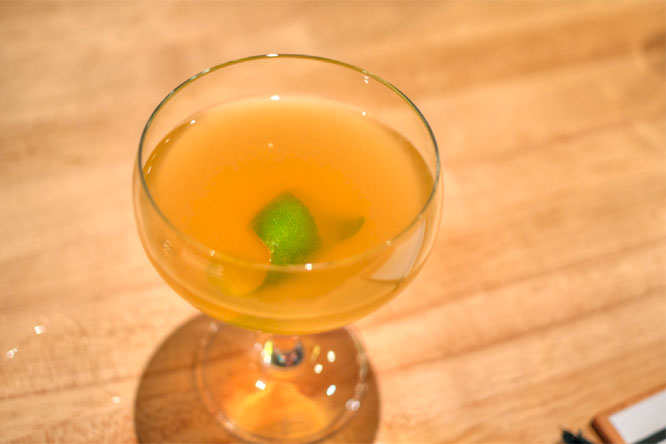 Jalisco Campfire [$10.00]
| Tequila, Lapsang Souchong, Agave, Thai Chili, Lime
Our final cocktail melded smokiness from the tequila and tea with the sweet-n-sour interplay of agave and lime, the Thai chile imparting a growing bit of heat to the drink. Surprisingly intense.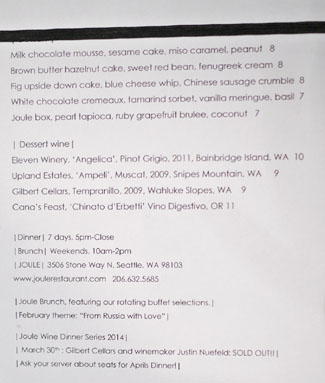 As for Joule's dessert menu, it probably slants a bit less overtly Korean, unsurprisingly, but still fits the bill. Click for a larger version.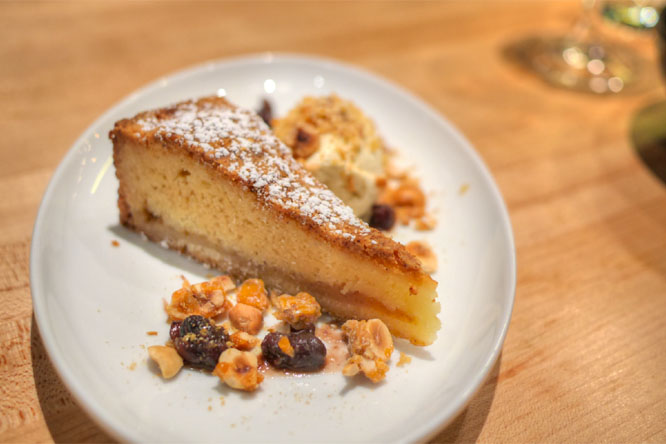 Brown butter hazelnut cake, sweet red bean, fenugreek cream [$8.00]
The hazelnut cake was a winner, giving off a subtle, elegant sweetness typical of Asian cakes, while the fenugreek furnished an herbaceousness that offered up a touch of the unexpected.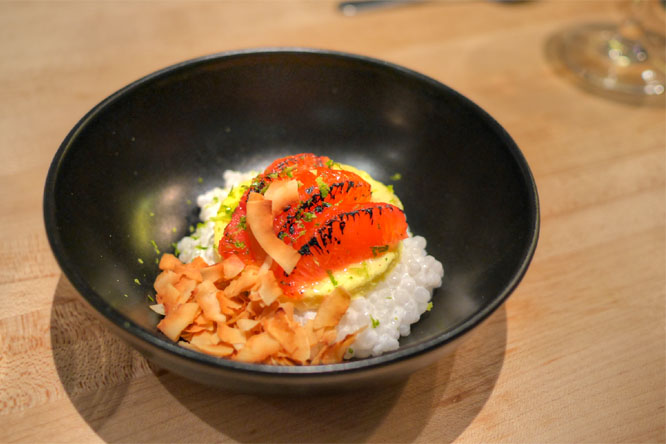 Joule box, pearl tapioca, ruby grapefruit brulee, coconut [$7.00]
Joule's signature dessert used to come in a box I'm told, hence the name, but is now served in bowl form. In any case, the dish worked, commingling the soft sweetness of tapioca with the essence of coconut, the grapefruit adding a burst of citrus-y acidity to round things out.
You can call the food at Joule "fusion," but it doesn't convey any of the negative connotations that come along with the moniker. It's not Korean food definitely, and not quite "New American" either, but a unique amalgam of the Chefs' various influences that come together in modern, brilliantly-integrated fashion; I don't think I've eaten anything quite like it before. And interestingly, I'm not sure if something like this could work down here in Los Angeles; I think our large Korean population and resultant focus on "authenticity" might preclude such a thing.