Canlis (Seattle, WA)
Canlis Restaurant
2576 Aurora Ave N, Seattle, WA 98109
206.283.3313
www.canlis.com
Mon 03/03/2014, 05:30p-08:15p
After dining at upstart
Joule
the previous day, we went for pretty much its polar opposite this evening: Canlis. Situated in Seattle's posh Queen Anne district, this bastion of fine dining has been
the
spot for a fancy night out in the City for over 60 years, and has been in the possession of the Canlis family for that entire span.
It all began with great-grandfather Nicholas Canlis, a Greek immigrant who once cooked for President Teddy Roosevelt on safari. After arriving in the US, he got married and opened the original incarnation of Canlis in Stockton, California. Peter, his eldest son, grew up in the business, but struck out on his own in the late 1930's, moving to Honolulu, where he worked first as a shoe salesman but later started managing food service for the USO during the War. In 1946, he opened his first restaurant in Waikiki (on the site of the current Hyatt Regency), taking over the Golden Palms and turning it into the Charcoal Broiler (closed 1953). Peter eventually moved back to the Mainland, settling in Seattle, and opened Canlis in December 1950, with Chef and Hawaii native Joe Ching at the helm. The building was designed by Roland Terry, and soon became a landmark in Northwest mid-century modern architecture. The success of Canlis allowed Peter to open addition outposts in
Honolulu
(1954, on Waikiki),
Portland
(1959, on the top floor of the Hilton), and
San Francisco
(1965, at the Fairmont).
Okinawan-Hawaiian Rocky Toguchi took over as chef in the late 1960's following Ching's retirement, while Peter passed away in July 1977 after a fight with lung cancer. Following, his son Chris left his job at Wells Fargo in California and returned to Seattle to run the restaurant with wife Alice. Toguchi, meanwhile, bowed out on New Year's Eve 2000, and was replaced by Greg Atkinson, who would only stay until December 2002. In 2003, Chris' sons Mark and Brian started getting involved in contemporizing the place, and would take over completely in 2005, working with new Executive Chef Aaron Wright and longtime Canlis veteran Jeff Taton (who started out in 1981 as a dishwasher) to modernize the menu. Wright would decamp in 2008, replaced by Jason Franey, the fifth ever head chef at the restaurant.
About the Chef
: Franey was born in 1977 in Austin, but was raised in West Palm Beach. He started cooking on and off at age 15, and quickly became hooked. After finishing high school, he skipped college and instead began working at various kitchens in the area before landing at The Breakers in Palm Beach at age 20. He started at a casual seafood bar at the resort, but quickly transitioned to the property's fine dining venue, L'Escalier. In 2002, Franey moved to San Francisco, landing a gig at Campton Place under Laurent Manrique, who left eight months later to helm
Aqua
. Replacing him was none other than Daniel Humm, who revitalized the restaurant and made Franey his Executive Sous. After garnering a four-star review from the
Chronicle
, Humm was poached by Danny Meyer to take over Eleven Madison Park. Franey followed him to EMP in 2006 (where he would meet his current Exec Sous Deborah Taylor), but two years later, the two decided that it was time for him to run his own kitchen.
The GM at Eleven Madison, Will Guidara, had attended Cornell with Brian Canlis, and Mark Canlis had once worked for Meyer's Union Square Hospitality Group, so Franey easily made his way to Canlis. He officially took over in December 2008 at age 31, replacing Aaron Wright, who had moved back to California. Franey breathed new life into the menu, infusing it with his "Comfort Geek" stylings and in the process gaining recognition from
Food & Wine
in 2011 as one of "America's Best New Chefs" and "The People's Best New Chef: Northwest." This was followed by nods from James Beard, the organization deeming him a nominee for "Best Chef: Northwest" in both 2012 and 2013.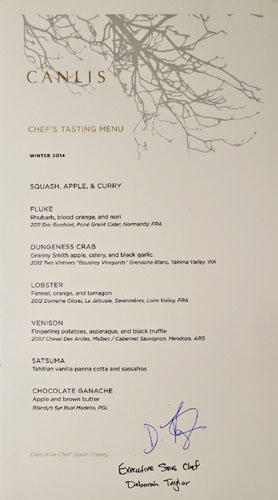 As for Canlis' menu, there are two distinct ways to dine here. You can have the old school style with three- or four-course prix fixe options ($85/$100), but naturally, we opted for the much more contemporary Chef's Tasting Menu (seen above), a seven-courser at $125, plus $65/$125 for wine/premium wine. In addition to the pairings, you'll also find a massive wine list with roughly 2,500 selections managed by Wine Director Nelson Daquip and Sommelier Kevin Weeks. There's also a surprisingly good array of beer, as well as cocktails from Head Barman James MacWilliams. Click for a larger version.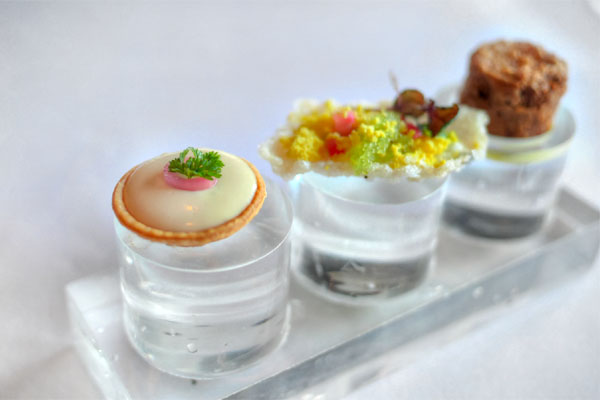 A trio of amuses set the stage for the evening. I ate left to right, and first up was a mushroom tart, its combination of creamy, earthy flavors evened out by its crisp, savory crust. A rice chip with egg, edamame, and wasabi
tobiko
was even better; I was a big fan of how its commixture of Asian-y elements all worked together so seamlessly. Lastly, we had Canlis' version of a Tater Tot, a hot, hearty presentation of the grade school classic that showed off a particularly silky texture.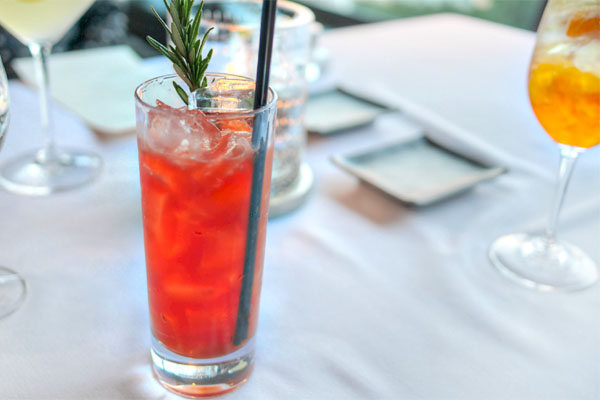 Nemean Lion (Jose Castillo) [$16.00]
| Royal Dock gin, Cynar, Cherry Herring, grapefruit, lemon, rosemary
Time for a couple cocktails. The
Nemean Lion
was rather enjoyable, a deft blend of bittersweet, vegetal, and tart flavors overarched by the intoxicating aroma of rosemary.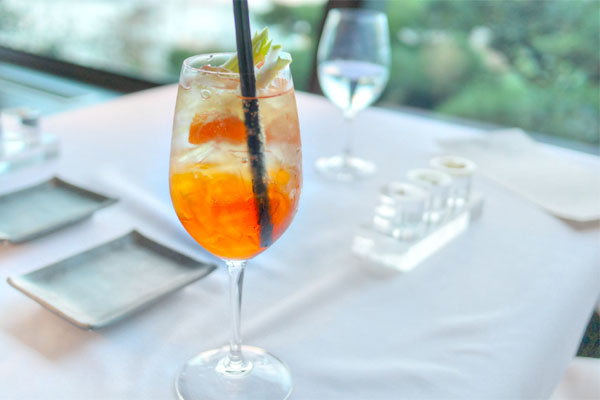 Arc de Cézanne [$14.00]
| Cappelletti, Suze, sparkling wine, seasonal fruit
The
Arc de Cézanne
, meanwhile, wasn't a bad choice either, its initial thrust of astringent, herbaceous notes leading to a rich, fruity character on the finish.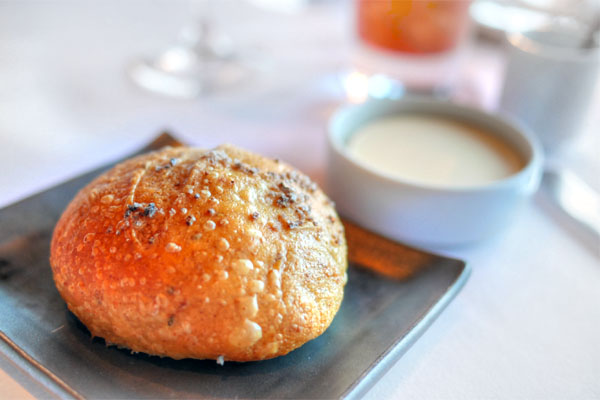 Bread comprised an excellent sourdough roll encrusted with fennel.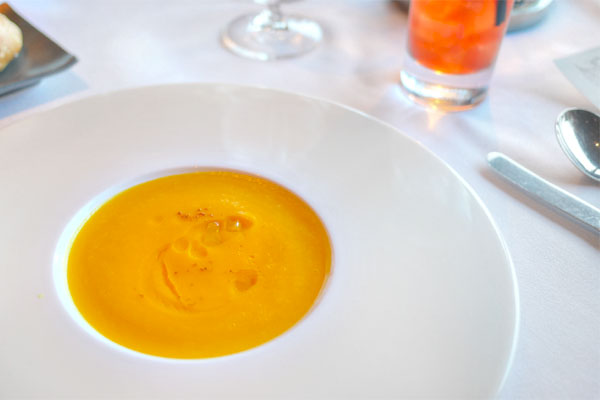 1: Squash, Apple, & Curry
Squash soup was fortunately subdued in its sweetness, a comforting, home-y sort of potage brightened up by juicy bits of apple, all while curry imparted a much-appreciated savoriness and spice to the mix.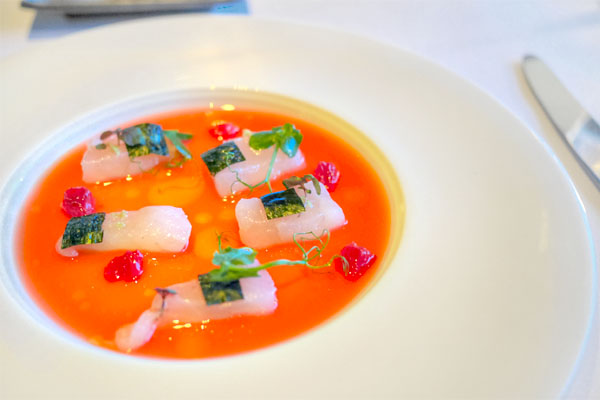 2: Fluke
| Rhubarb, blood orange, and nori
2011 Eric Bordelet, Poiré Granit Cider, Normandy, FRA
Fluke crudo was very satisfying texturally, and conveyed a mildly briny relish beautifully amped up by contrasting sweet, tart, and herby notes, the nori providing a wonderful jolt of umami toward the end.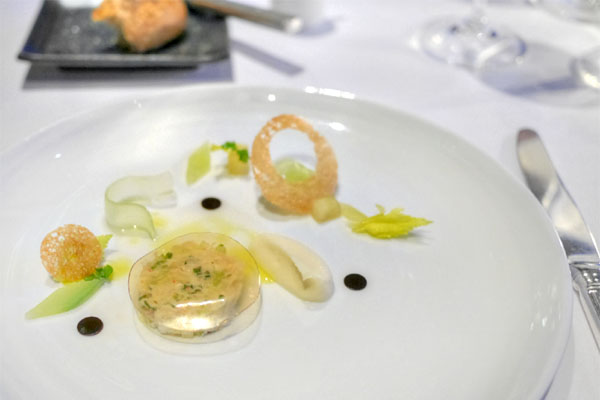 3: Dungeness Crab
| Granny Smith apple, celery, and black garlic
2012 Two Vintners "Boushey Vineyards" Grenache Blanc, Yakima Valley, WA
Dungeness was a favorite of mine, arriving super sweet, yet ocean-y, delicious on its own, but even better when taken with the fruit, which amplified the inherent sugariness of the crustacean. I was also impressed by the use of celery here, which really added a perfect exclamation point to the dish.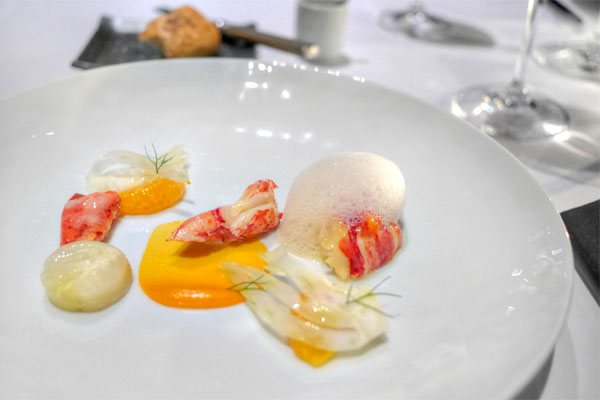 4: Lobster
| Fennel, orange, and tarragon
2012 Domaine Closel, La Jalousie, Savennières, Loire Valley, FRA
Lobster was pretty much flawless, springy and snappy to the bite and utterly imbued with a sweet salinity. I enjoyed the meat on its own, but the citrus was a smart, complementary pairing, and I was really into the zesty kick of the fennel here as well.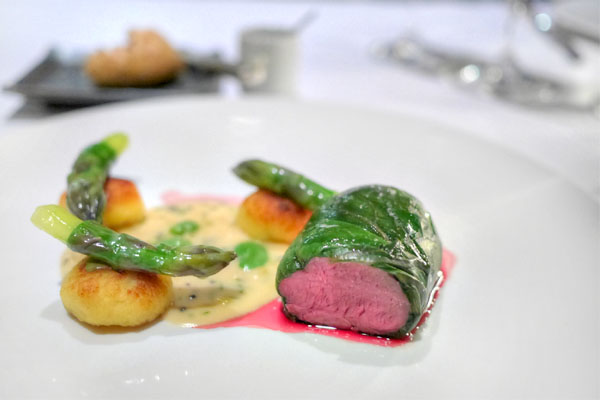 5: Venison
| Fingerling potatoes, asparagus, and black truffle
2007 Cheval Des Andes, Malbec/Cabernet Sauvignon, Mendoza, ARG
We ended our savories with venison, its lean, gamey flavors proudly displayed, yet tempered by the bitterness of the included greenery. I loved how the gnocchi here served to ground the dish as well, and appreciated the veil of earthiness imparted by the truffle, too.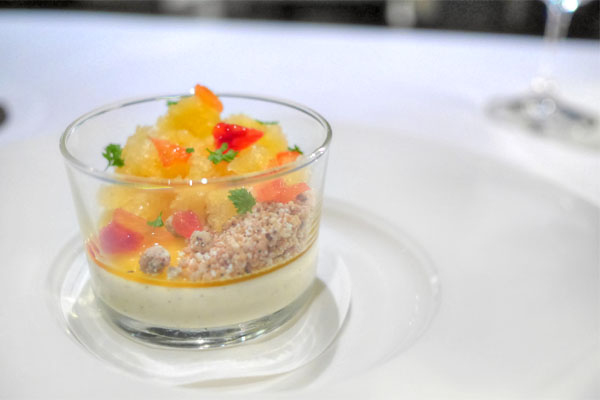 6: Satsuma
| Tahitian vanilla panna cotta and sassafras
Time to sample the work of Pastry Chef Baruch Ellsworth, who comes to Canlis from San Francisco's
Benu
and
The Dining Room
at the Ritz-Carlton. Satsumas were presented here in both gelée and granité form, giving us a burst of citrus-y tartness moderated by the lushness of panna cotta, with the crumbs of sassafras contributing a delightful savory crunch to the fray.
7: Chocolate Ganache
| Apple and brown butter
Blandy's 5yr Bual Madeira, PGL
Next, the requisite chocolate dessert was spruced up with the addition of apple, the sweet 'n' sour nature of the fruit melding flawlessly with the rich, sticky ganache, all while the brown butter ice cream made the dessert all the better.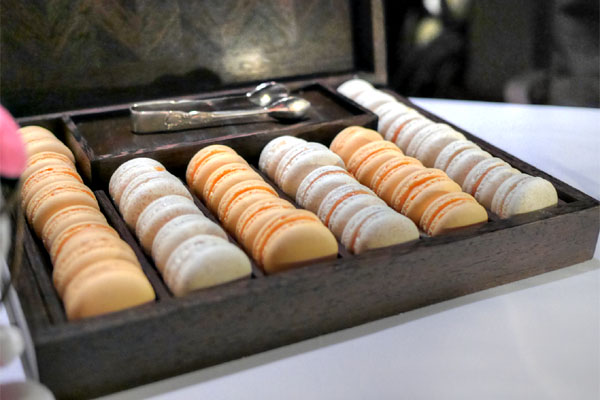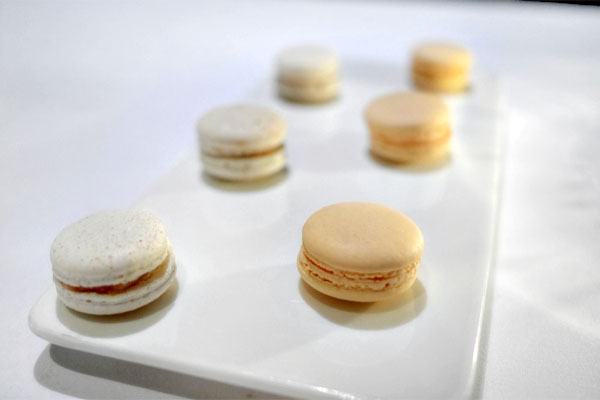 Our meal coming to an end, we were presented with a box containing two types of macarons. The Campari version played the bitterness of the apéritif against the sweetness of white chocolate; and on the other hand, the apple pie variety really did taste like its name would imply, replete with a cinnamon-y spice.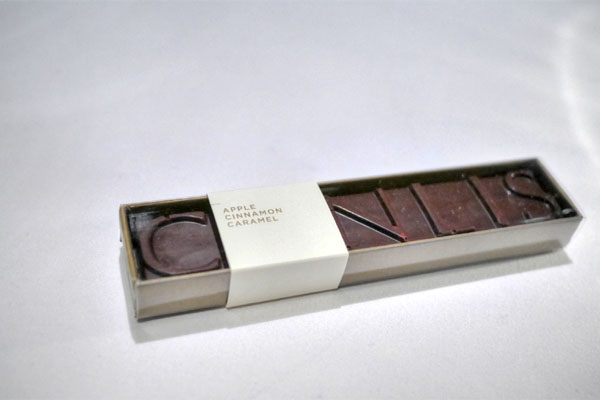 To take home: Apple Cinnamon Caramel chocolate bars, imprinted with the Canlis name.
Before coming to Canlis, I had a bit of trepidation that the food here would veer anachronistic. Certainly, that may very well be true on the prix fixe side of things, but the tasting menu was surprisingly contemporary. There's definitely a palpable sort of modernity at play, but it doesn't draw too much attention to itself. The cooking is still approachable, and the flavors not too otherworldly, but also far from humdrum. So despite being 64 years old, Canlis has somehow still managed to stay relevant, which is a commendable thing.