Beer Belly (Los Angeles, CA)
Beer Belly Restaurant
532 S Western Ave, Los Angeles, CA 90020
213.387.2337
www.beerbellyla.com
Sun 03/23/2014, 07:00p-09:35p

If you're a fan of beer, then I'm sure you've heard about Beer Belly, the K-Town brew bar from longtime aficionado Jimmy Han and wife Yume. I'd actually been here before, but this was my first time doing a proper dinner. The place opened back in May 2011, but had been in work ever since 2008, when Jimmy dreamt up the idea after the economic downturn took a bite out of his commercial real estate flow. Business was solid from the get go, but really took off when the restaurant was featured on an episode of Food Network's
Diners, Drive-Ins and Dives
last March. Joining the Hans here are Director of Marketing Paul Choi, Beer Manager-slash-comedian Ric Syberg, and of course, Executive Chef Wes Lieberher.
About the Chef
: Wesley Lieberher was born in Philadelphia, and spent his formative years far more interested in music than cooking. However, he did work in restaurants to get by, and cemented his foundation at Robert Rosato's Scoogi's Classic Italian in the Philly suburb of Flourtown. He cooked there for five years, making his way around the various stations, and was eventually forced to give up music due to a bout with tinnitus. In 2006, Lieberher moved to Center City's new Vintage Wine Bar, starting on the line before becoming Sous and eventually Executive Chef after three years. He would stay there until early 2011, when he relocated to Los Angeles to cater a wedding and start a sausage business called Grindhaus, partnering with ex-Vintage manager DeJuan Black, former Marathon manager Tom Lambiase, and Philly-area chef Trevor Rocco. They did house-made specialty sausages, and also launched a food truck, but the business collapsed by December that year. It was at the sausage shop where Jimmy first met the Chef; Lieberher was tapped to create a special sausage for Beer Belly, but ended up taking over the kitchen completely when the restaurant's regular team of cooks bailed.


Beer Belly occupies the former home of Yoo Won Restaurant/Cafe Yesterday, and was revamped by the LA-based firm
MAKE Architecture
, which won an AIA Restaurant Design Award for the wood-centric design in 2013. Meanwhile, murals are by local artist
Yoshi Takahashi
.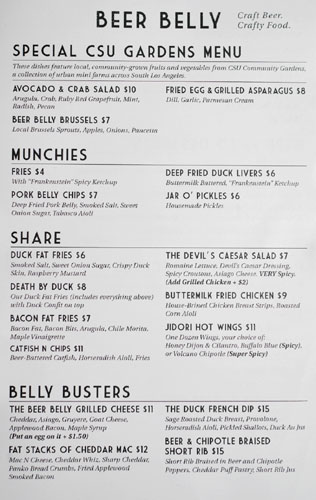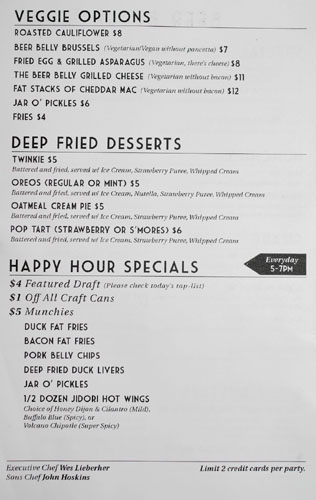 The menu at Beer Belly features "crafty" takes on bar food from Chef Lieberher, and tonight he had a some specials available featuring local produce from
Community Service Unlimited
's Community Gardens, a collection of small urban farms spread across South Los Angeles. Equally as important, though is the beverage selection here, which features a dozen beers on draft and more by the can or bottle, along with some interesting sodas and a few requisite wines. There's also a One Night Stand tap takeover series that started in late 2012, and Beer Belly has even gone as far as to make their own beer, collaborating with The Bruery for their 2nd anniversary ale FUBRue, a jujube, black sesame, and Azuki red bean sour. Click for larger versions.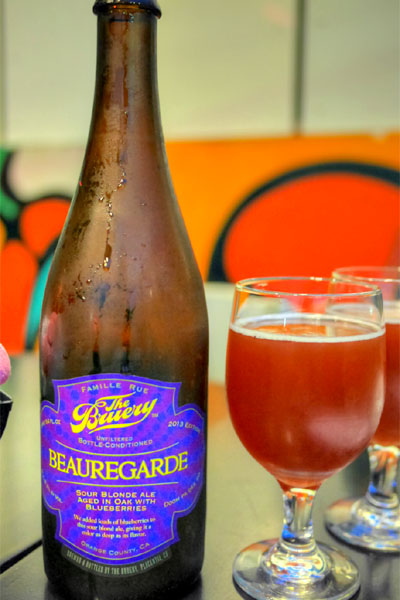 Our first beer was the
Beauregarde, The Bruery [$30]
, an oak-aged sour blonde ale with blueberries. It was my first time having a blueberry beer, and did not disappoint, with aromas of the fruit on the nose leading to tart, puckering, and woody qualities on the palate, the berry coming through and lingering toward the back end. Very nice.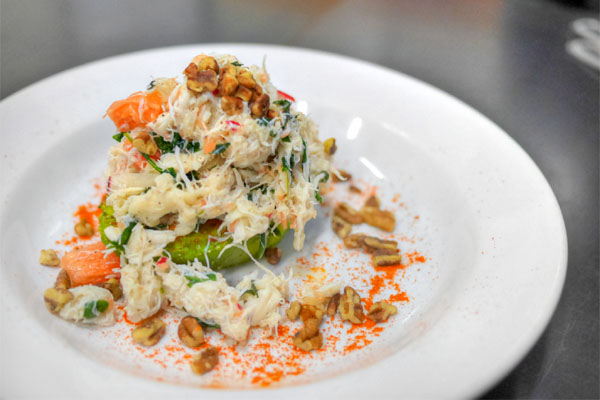 Avocado & Crab Salad [$10.00]
| Arugula, Crab, Ruby Red Grapefruit, Mint, Radish, Pecan
We began with a dish from the CSU menu that was far lighter than you'd expect from Beer Belly. The salty sweetness of the crab was vibrantly conveyed here, accented by the tartness of grapefruit while a whisper of spice elevated the dish further. However, the avocado veered toward underripe, and lacked the lushness that I was hoping for.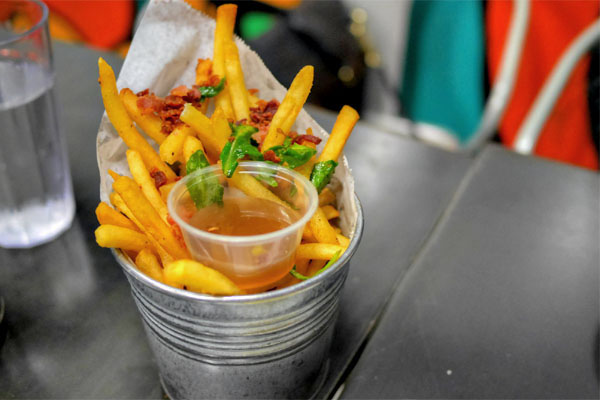 Bacon Fat Fries [$7.00]
| Bacon Fat, Bacon Bits, Arugula, Chile Morita, Maple Vinaigrette
Fries were done in bacon fat, and arrived wonderfully crisp and thoroughly enjoyable on their own. However, I much appreciated the saltiness of the bacon bits, and the peppery arugula was an excellent counterpoint as well. The paired maple condiment, though, was a bit polarizing at our table.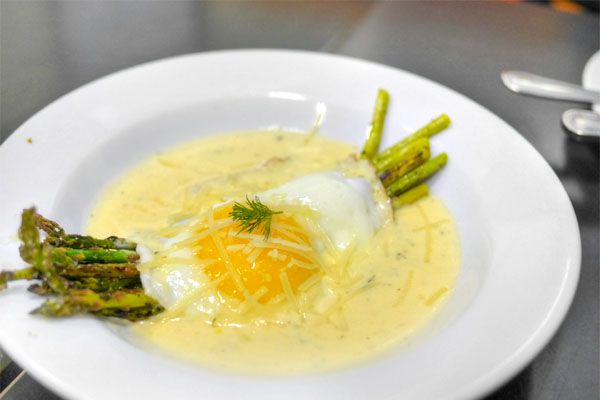 Fried Egg & Grilled Asparagus [$8.00]
| Dill, Garlic, Parmesan Cream
Another CSU selection brought us a great rendition of asparagus, the bright, bitter veggie working flawlessly against the rich, cheesy sauce while the egg added even more luxuriousness to the mix.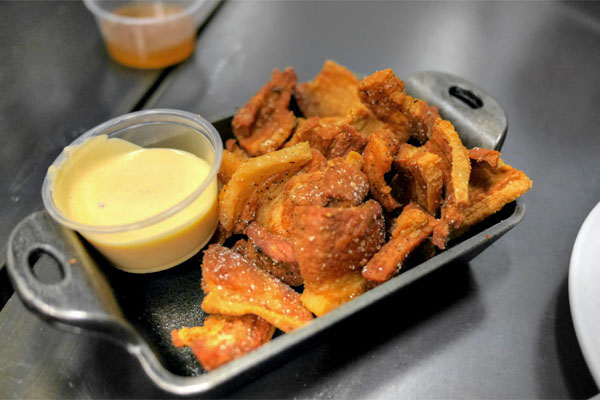 Pork Belly Chips [$7.00]
| Deep Fried Pork Belly, Smoked Salt, Sweet Onion Sugar, Tabasco Aioli
Fried pork belly was another standout, a beautiful balance of lean and fat that came out utterly crunchy and loaded with piggy goodness. Tasty alone, and also very appealing with that bracingly tangy aioli.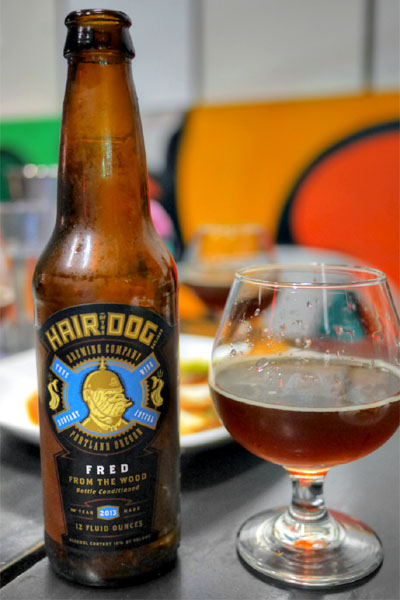 Our next beer was the
2013 Fred from the Wood, Hair of the Dog [$22]
, a barleywine aged in American oak for six months. I found it a shining example of the style, a lovely balance of roasty malt, oak, and sugary maple/caramel notes, set off by just a touch of hop bitterness and spice. Delicious.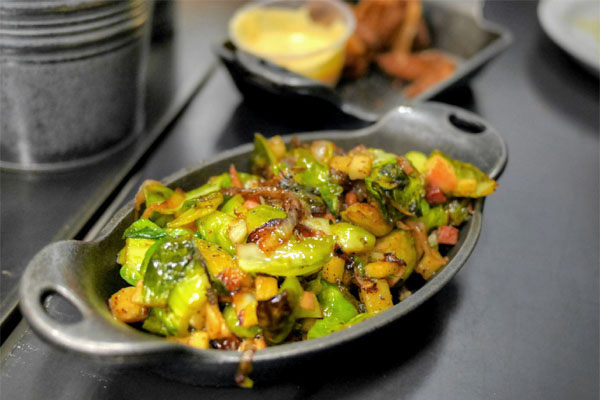 Beer Belly Brussels [$7.00]
| Local Brussels Sprouts, Apples, Onions, Pancetta
Brussels were one of the more intriguing presentations I'd had, conveying a sweet, almost autumnal spice against the inherent bitterness of the vegetable.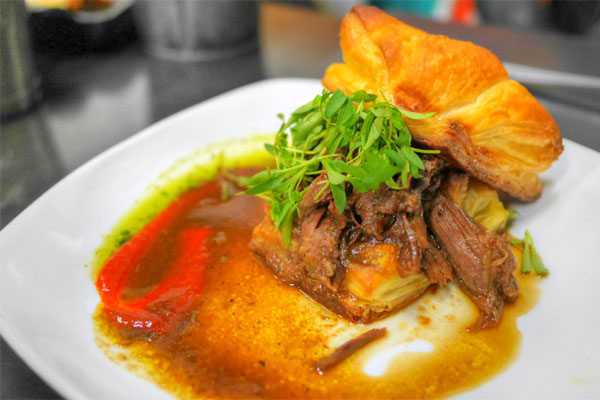 Beer & Chipotle Braised Short Rib [$15.00]
| Short Rib Braised in Beer and Chipotle Peppers, Cheddar Puff Pastry, Short Rib Jus
An old school favorite of Beer Belly's was one of my favs too, the properly tender chunks of meat giving up some deep, dark flavors that definitely satisfied. When taken in concert with the included cilantro, I swear I tasted whispers of Chinese beef rolls. The puff pastry worked as a great pairing to the short rib as well, and the sriracha on the side provided a yummy bit of heat to round things out.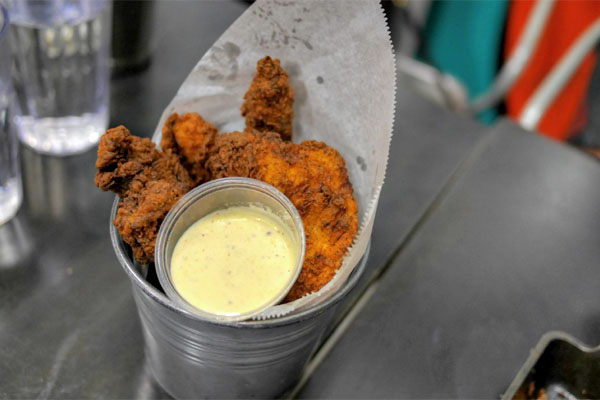 Buttermilk Fried Chicken [$9.00]
| House-Brined Chicken Breast Strips, Roasted Corn Aioli
Our final savory was the fried chicken, which came out suitably tender and juicy for breast, with an herb-y, bitter/briny character that made sense with the paired condiment.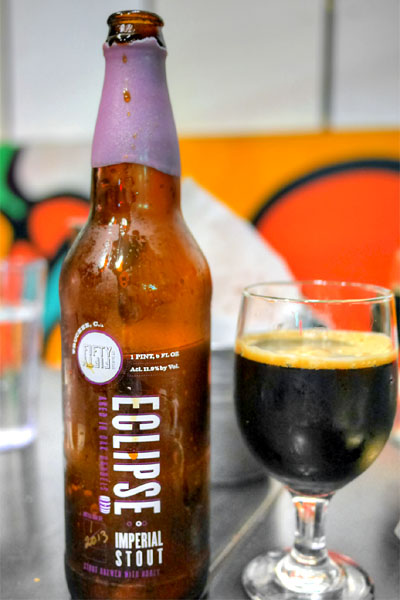 To go with dessert, we opted for a bottle of the
Imperial Eclipse Stout (Java Coffee), Fifty Fifty [$33]
. It was pretty awesome, one of the best stouts I've had in recent memory, a blend of 300-day aged Elijah Craig 12 Year Eclipse, Totality Stout, and French Roast Cold Toddy coffee from the Reno-based Wood-Fire Roasted Coffee Company. Think classic stout aromas on the nose, but interlaced with coffee, and a taste that was wonderfully malty, roasty, and bourbon-tinged, with a subtle layer of java over the top.
Twinkie [$5.00]
| Battered and fried, served w/ Ice Cream, Strawberry Puree, Whipped Cream
Desserts at Beer Belly are solely of the deep-fried variety, and according to our server, the one to get is the Twinkie version. She was right on, as the frying seemed to enhance the snack cake's inherent goodness, playing its sweet, slightly savory qualities against the tartness of the berry purée.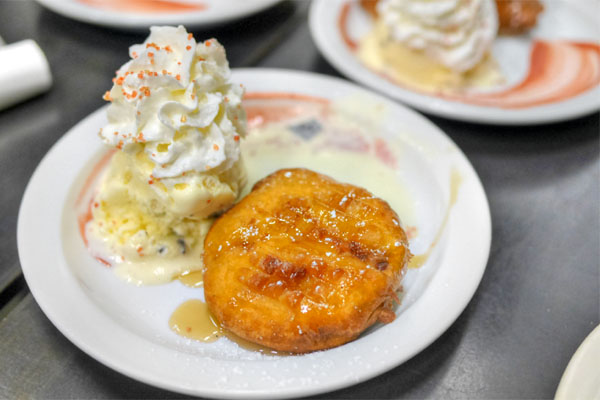 Oatmeal Cream Pie [$5.00]
| Battered and fried, served w/ Ice Cream, Strawberry Puree, Whipped Cream
The Oatmeal Cream Pie was tasty too, though also the least unique I'd say, conveying a sort of oatmeal cookie character to it that worked well with the paired vanilla ice cream.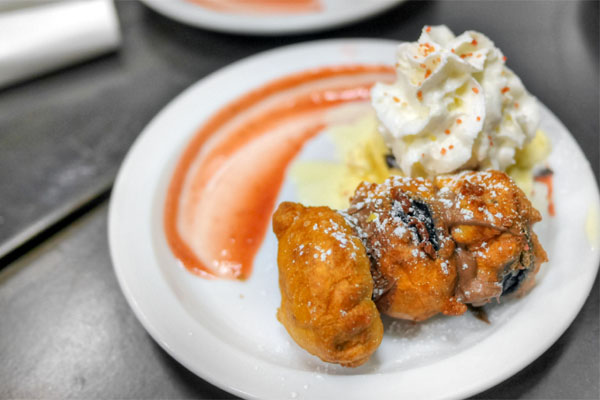 Oreos (Regular) [$5.00]
| Battered and fried, served w/ Ice Cream, Nutella, Strawberry Puree, Whipped Cream
Oreos also made a strong showing, the classic flavors of the cookie going well with the Nutella.
It's too bad that it's taken me this long to do a proper write-up on Beer Belly, because I quite enjoyed my time here. Lieberher really does elevate the food above common pub grub. It's comforting, satisfying fare that nonetheless incorporates some unexpected twists, and just begs to be paired with beer. And speaking of beer, the place's selection of top-notch, oft hard-to-find brews is worthwhile as well--all three bottles we had tonight were superb. Definitely a destination for all you beer lovers out there.